Racing Ram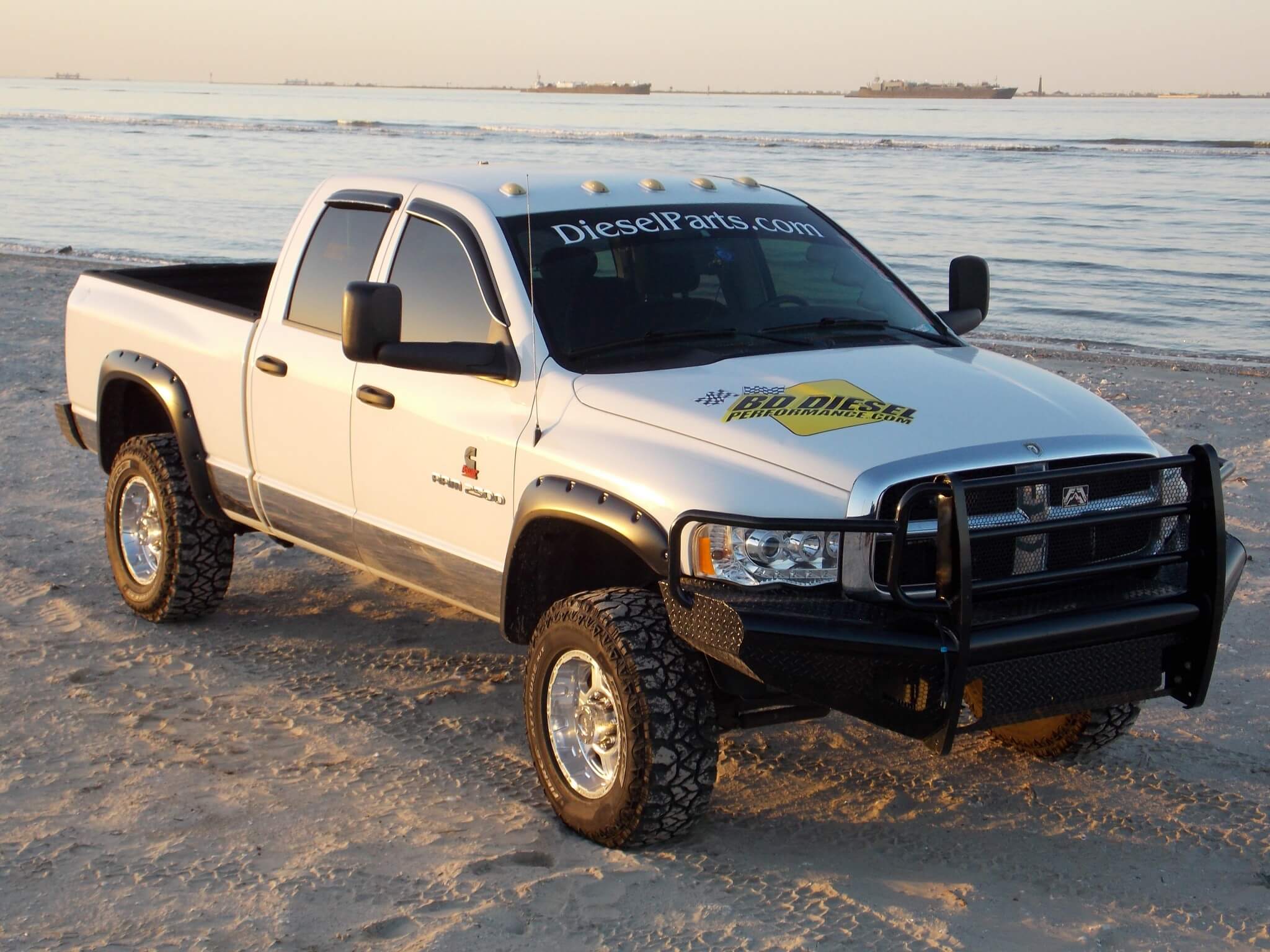 Nathanael Snyder has racing in his blood. "My family has been racing for more than 50 years," he tells us. Hailing from Reelsville, Indiana, which is just down the road from Indianapolis (sometimes called the "Racing Capital of the World"), the 29-year-old Nathanael built his 2005 Dodge Ram 2500 for speed. It also apparently does pretty well on the dyno.
It all starts under the hood. The 5.9L 24V Cummins turbo diesel engine was modified with an S&B cold air intake, Sinister Diesel coolant filtration kit, 150-hp injectors from Premco Diesel Performance, BD Diesel S365 Super B turbo and exhaust manifold, and FASS 150 fuel pump. Nathanael relies on Smarty UDC tuning and pillar-mounted ISSPRO gauges.
Not all of the mods were performed under the hood. The suspension was upgraded with a Pro Comp leveling kit and Longhorn Fab Shop traction bars. Nathanael also installed a Mag-Hytec differential cover and BD Diesel torque converter. The exterior of the Dodge was addressed as well with Fab Fours black steel front and rear bumpers, Bushwacker fender flares, Recon cab lights, halo headlights and clear taillights. The racing Ram rolls on Goodyear Fierce Attitude M/T tires wrapped around 17-in. Pro Comp wheels.
Nathanael thanks his friends Cory Broderick of Core Diesel, Kaleb Rennamen, Daniel Pell and Ryan Spencer for their invaluable help in doing up his Dodge. The end result is a Hoosier cruiser with power to burn.
Power Project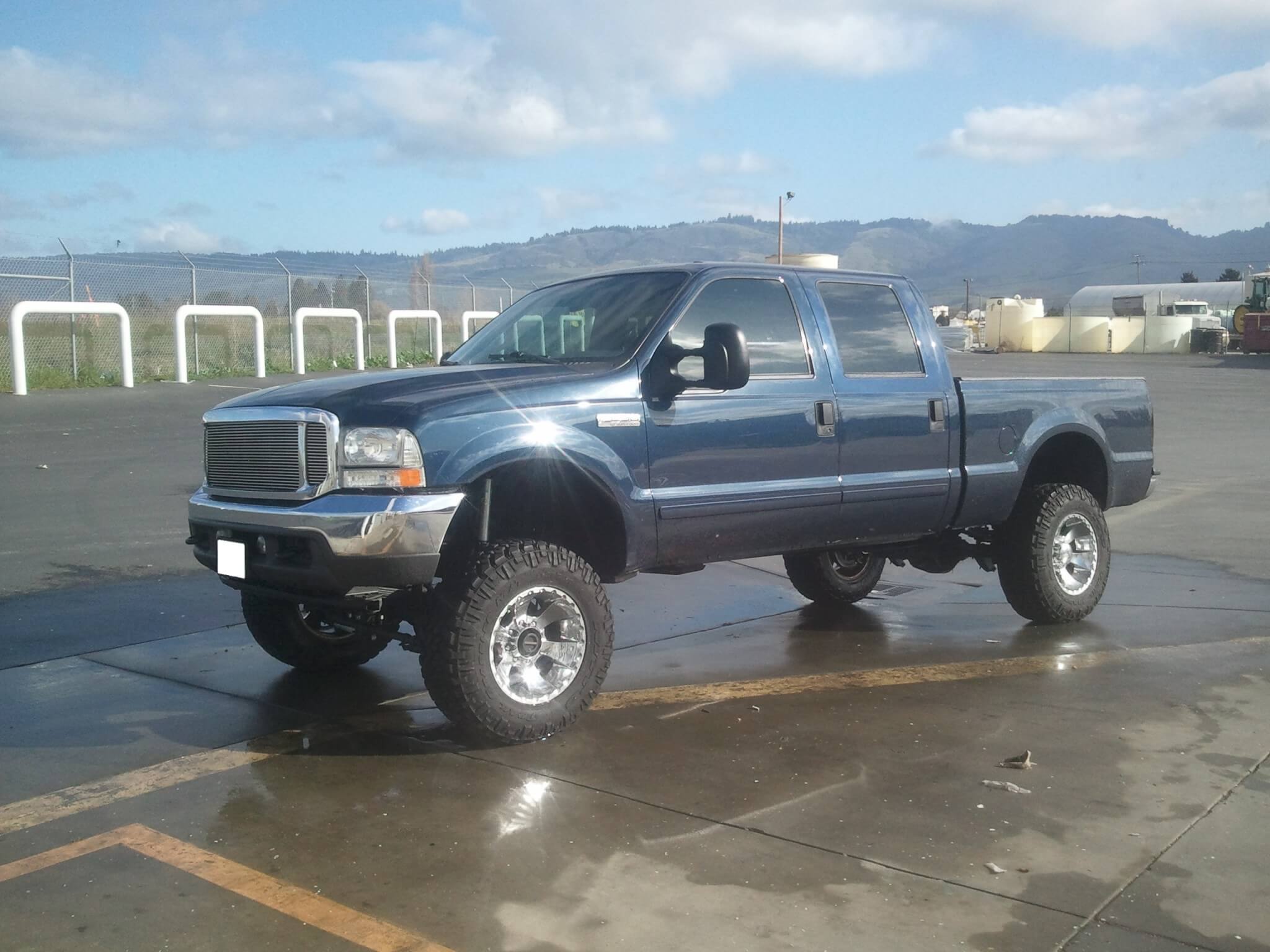 Brad Peterson of Watsonville, California, has been cruising his 2001 Ford F-250 in and around the picturesque Monterey Bay area on California's central coast for the past three or four years. This is his first diesel and the project began when he decided to "rescue" a newly acquired 2001 from looking like "a tired, dated and worn-out pickup."
Actually, Brad credits his sister for turning him on to the advantages of driving a diesel. "My sister was the first in my family to ditch the spark plugs," Brad relates. "She drives a newer Duramax. My dad jumped into our boat about a year after I made the plunge. We're just truck people."
Brad's 7.3L Ford Power Stroke engine was built up with an S&B cold air intake, FASS 150 Titanium fuel pump, performance turbo with gutted EBPV, Garrett non-EBV pedestal and S&B intake. A Zoodad mod gets even more air to the engine. Being a Ford guy, Brad went with lots of Riffraff Diesel Performance parts, including an AIH delete plug, CCV crankcase vent and FRx fuel rail crossover. Brad lists other potent upgrades such as bellowed up-pipes, MBRP 4-inch exhaust, Sinister Diesel fuel tank sump, PHP (Power Hungry Performance) Hydra chip tuning and Edge Insight CTS monitor.
Power inside the cab is provided by Kenwood 1,000-watt amp and a pair of Kicker CVT 10-in. subwoofers. Outside, you'll find AMP Research PowerSteps, matching tonneau cover, smoked-out taillights, 6-in. ICON leaf spring lift, Bilstein shocks, and 18-in. Moto metal wheels encircled by Nitto Trail Grappler tires.
Brad tells us that he did all of the work himself, except for the tranny rebuild. He gives a "huge thanks" to the online diesel forum community. He especially recommends FTEDiesel.com, a Ford Power Stroke diesel forum.
So how does Brad feel now that he's done (more or less) with his first diesel? "I won't go back to a gasser anytime soon," he says emphatically. Does that answer your question?  DW