Like many businesses in the truck industry, ShowTime Metal Works started out as a hobby.
Brandon and Dustin Naivar were two brothers out of Taylor, Texas, who had a passion for lifted trucks. "We had a couple of 1/2-ton Chevys and we would try to get them taller and bigger and stronger," says Brandon. "If it won't hold up to 40-inch tires, we're not interested in it." The Naivars quickly found that the bolt-on suspension kits they were buying didn't deliver the performance they were looking for. The brothers grew up around metal fabrication and are both certifi ed welders, so instead of spending more money on suspension parts, they invested in fabrication equipment and began building their own.
"We decided the only way to achieve our goals was to build the trucks ourselves," Brandon says. The Naivar brothers' creations took several best-in-show and best-engineered suspension awards. Soon they started doing weekend work on other people's trucks, and before long ShowTime Metal Works was born. The bumper business started in much the same way as the suspension business. The brothers weren't happy with what was out there, so they started making their own. Bumpers have now become a major portion of STMW's business.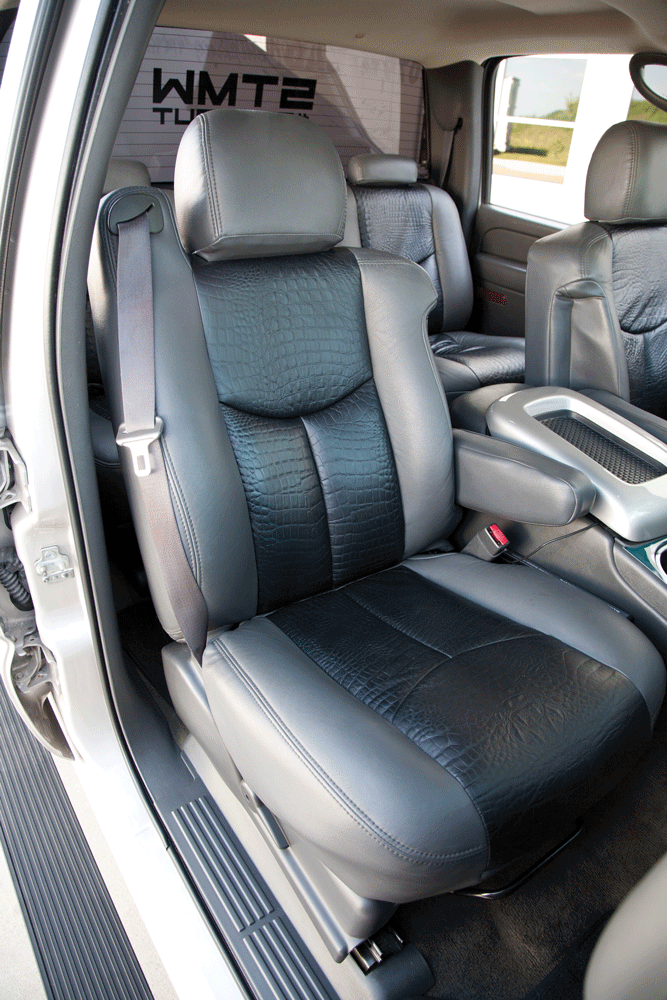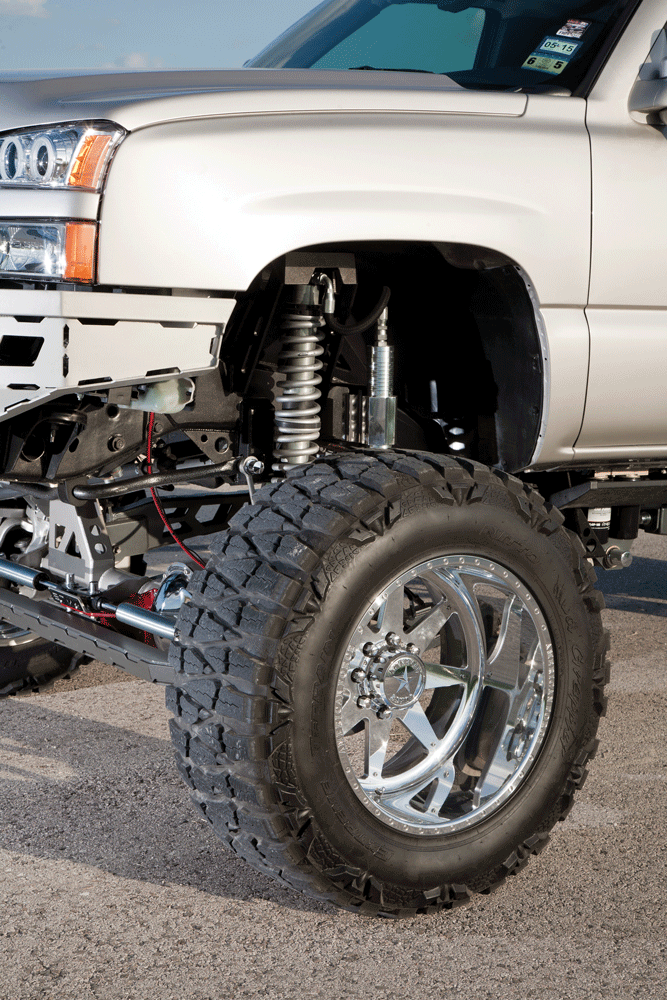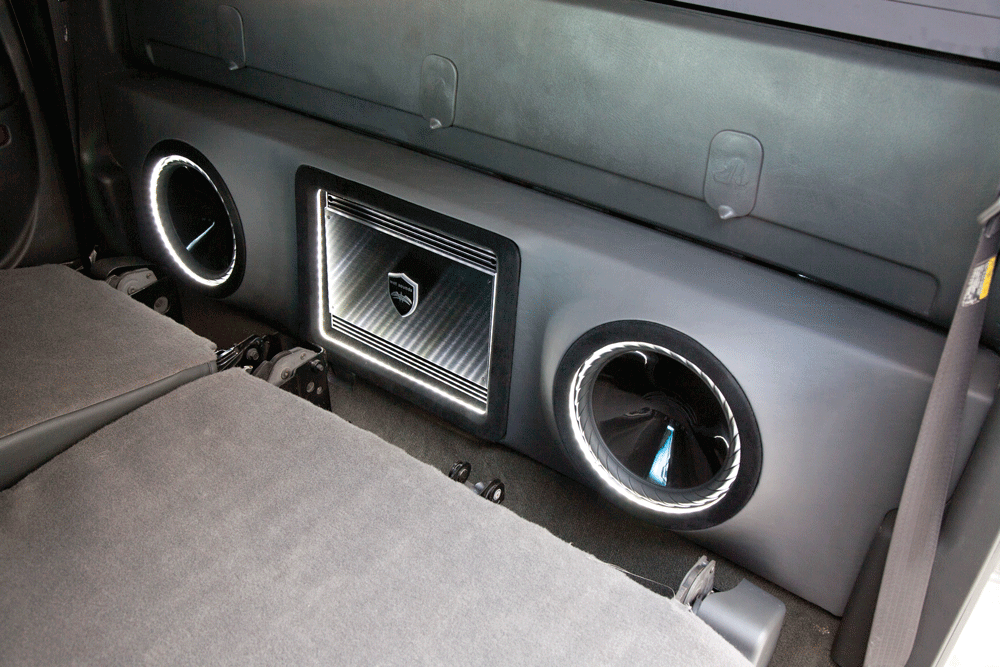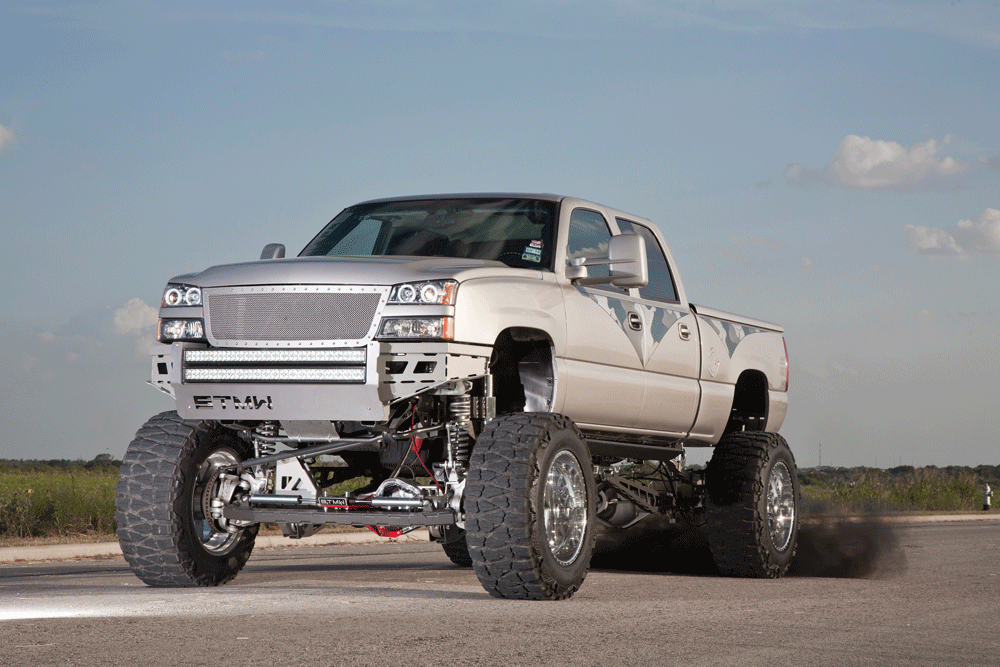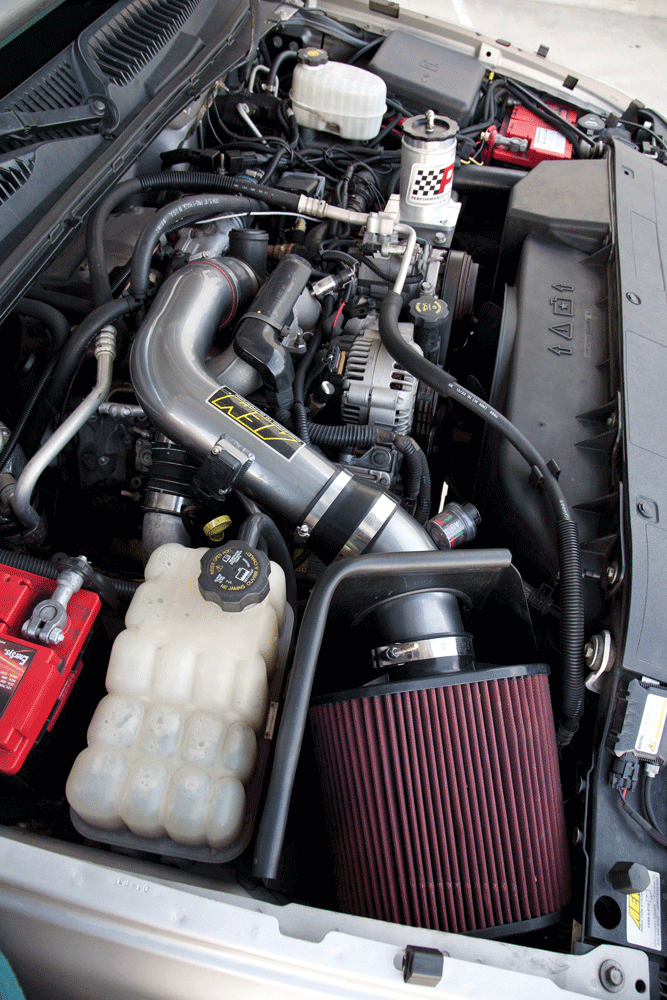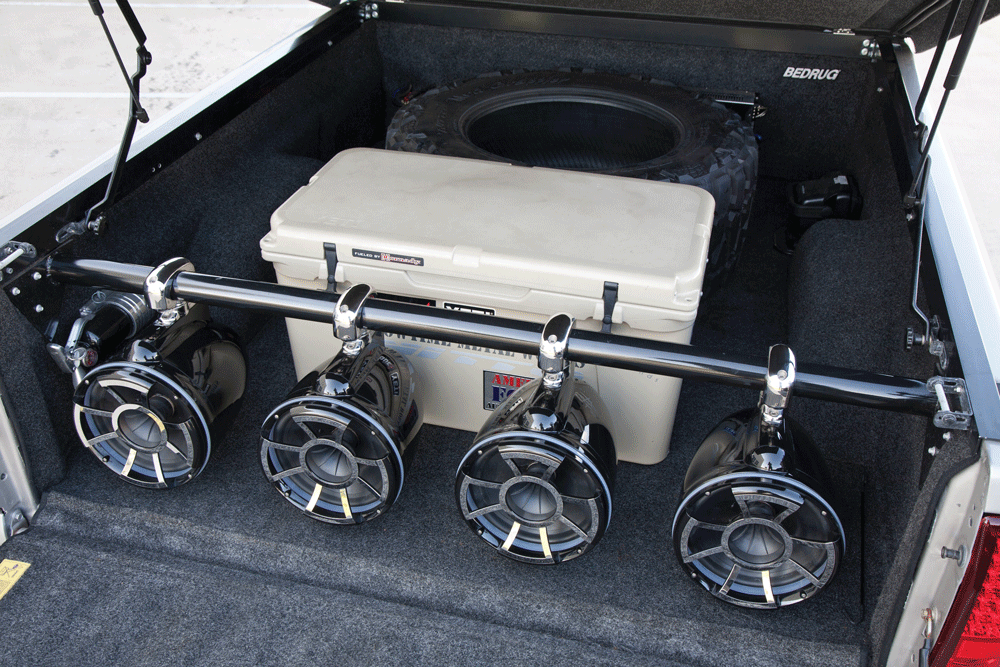 This '07 Silverado was built to show them off at SEMA, and Brandon now uses it as a daily driver. One of the fi rst things to go was the independent front suspension. "We wanted a ¾-ton Duramax where you could get the front wheels off the ground, land it, and still be able to drive it home," Brandon says. Evidence of the attention to detail can be seen in the front suspension. The Naivars planned to install a Dana Super 60 front axle out of a Ford Super Duty with a 12-inch lift and a custom long-arm 4-link suspension.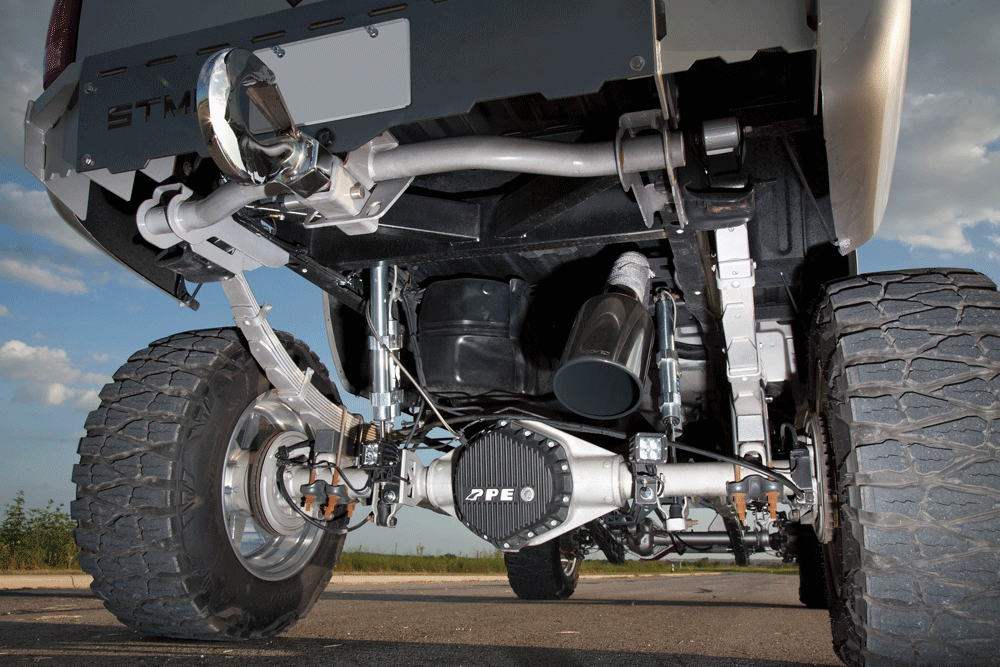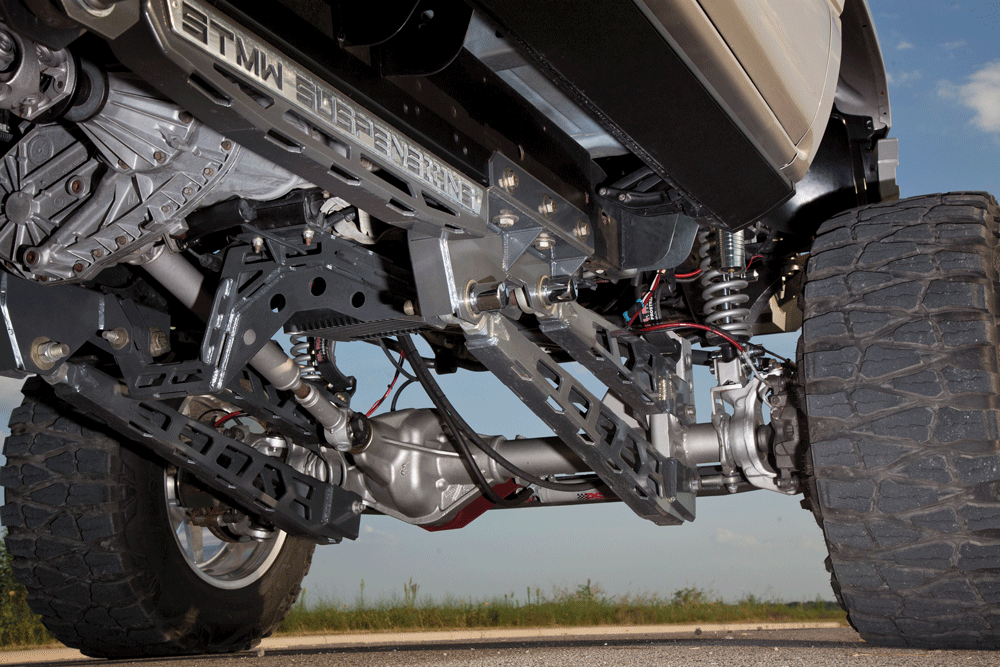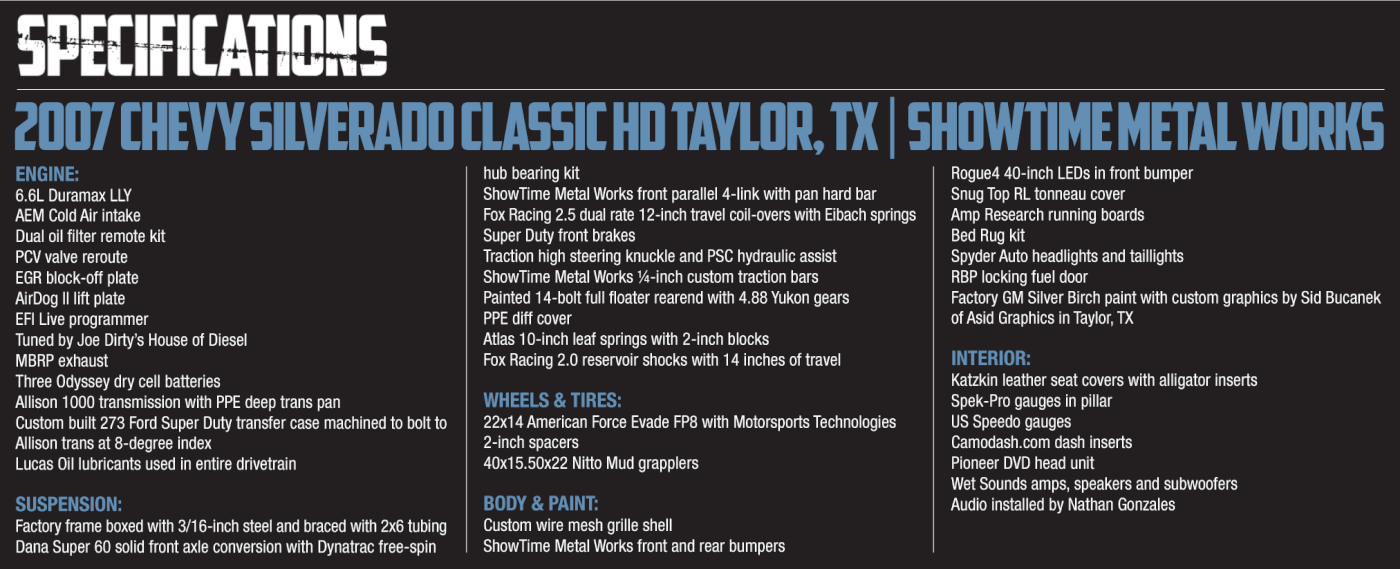 For paint, the Naivars decided to keep the Silverado in its native Silver Birch, with subtle graphics on the doors, bedsides and tailgate. Keeping the truck in touch with the ground are 22-inch American Force Evade FP8 wheels and Nitto Mud Grappler tires (40-inch, of course). We like the less-is-more look of the truck, which highlights the outstanding metal fabrication work on STMW's suspension and bumpers. The Naivars' Chevy is a great showcase for ShowTime Metal Works components and a real testament to the art of truck building. DW