In a world where daily-driven diesel pickups can turn 12-second quarter-miles one day and move houses the next, it's easy to forget that the diesel engine also has a long history in off-roading around the world. There have been on-again, off-again forays by the American 4×4 manufacturers to produce diesel trucks, but most of the development in diesel has come from overseas in the form of small, high-revving, economical engines. One of the premier and longest-running 4×4 manufacturers on the globe, Land Rover, has a long history with diesel-powered 4x4s. After reading this story, you'll have a new appreciation for the term "trail tested."
Land Rover's history with diesel goes back to 1957, when they introduced their own 2.0L IDI diesel in their 88- and 109-inch wheelbase models. This engine featured a Ricardo Comet V combustion chamber much like the later GM 6.2L and Ford 6.9L. Most notably, this engine featured a totally new wet-sleeve design with roller tappets that met all the cutting-edge standards of the day. With all that, the Rover 2.0-liter made 52 horsepower at 3,500 rpm. This durable little diesel became the role model for Land Rover's 2.28-liter gas engine (commonly known as the 2 1/4) and is often cited as one of the few times an engine designed as a diesel provided the basic architecture for a gasser.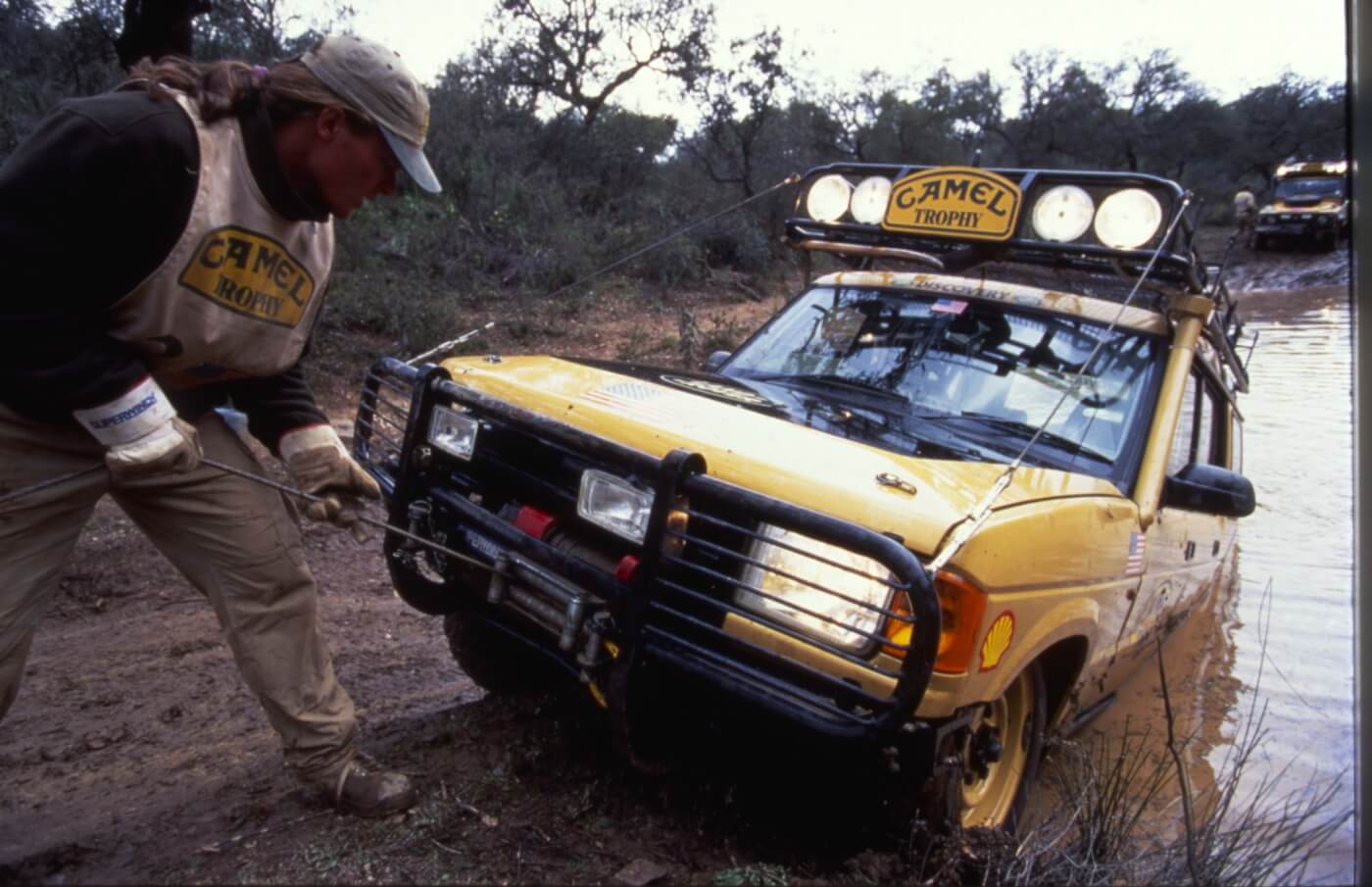 In reality, they were designed at about the same time but the diesel came first. The gas version came out in 1958 with the new Series II models and had nearly a quarter-inch larger bore with the same stroke. In 1961, the diesel was upgraded to the same 3.56 by 3.5-inch bore and stroke as the gasser by eliminating the wet sleeves, gaining about 10 horsepower in the process. By then, the diesel engine was a very popular option for Land Rover buyers in every corner of the world.
In the early 1990s, a five-door Land Rover Discovery 4×4 was built at the assembly line at Solihull, England, powered by Land Rover's latest evolution of that original diesel and painted an odd shade of yellow/gold they called "Sandglow." It was broken in by the Vehicle Operations department and sent to the Special Installations Department for conversion into a Camel Trophy competition vehicle.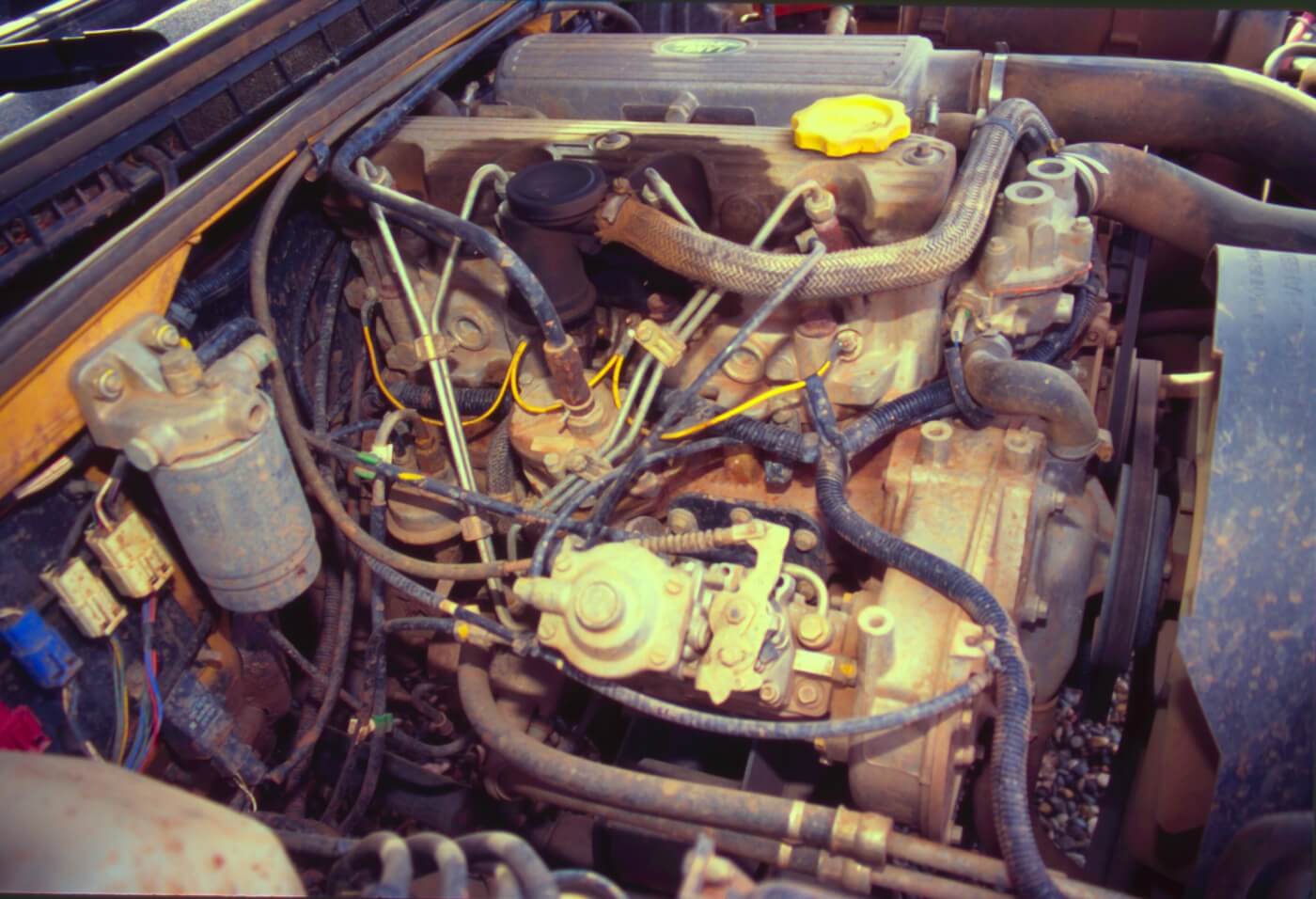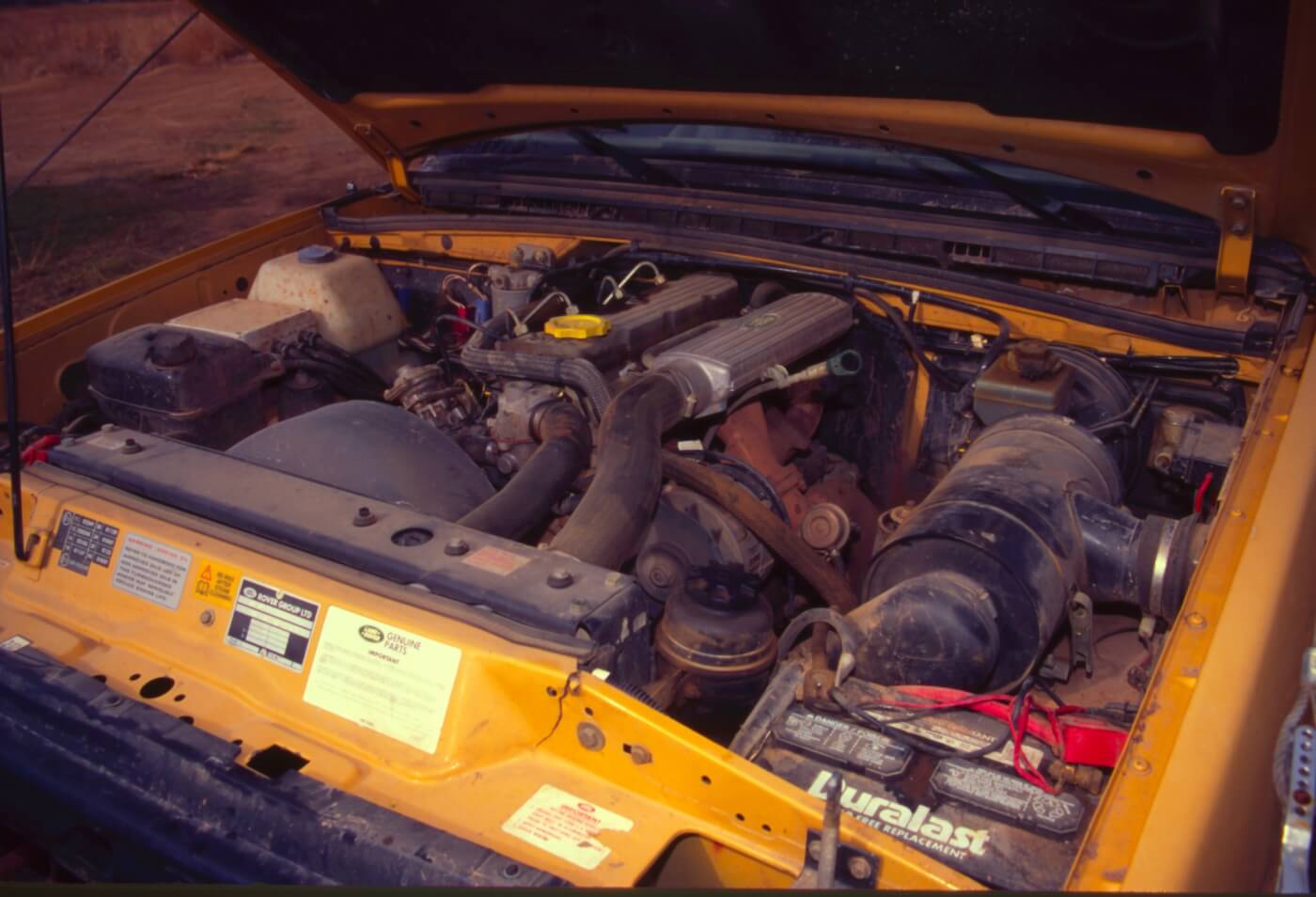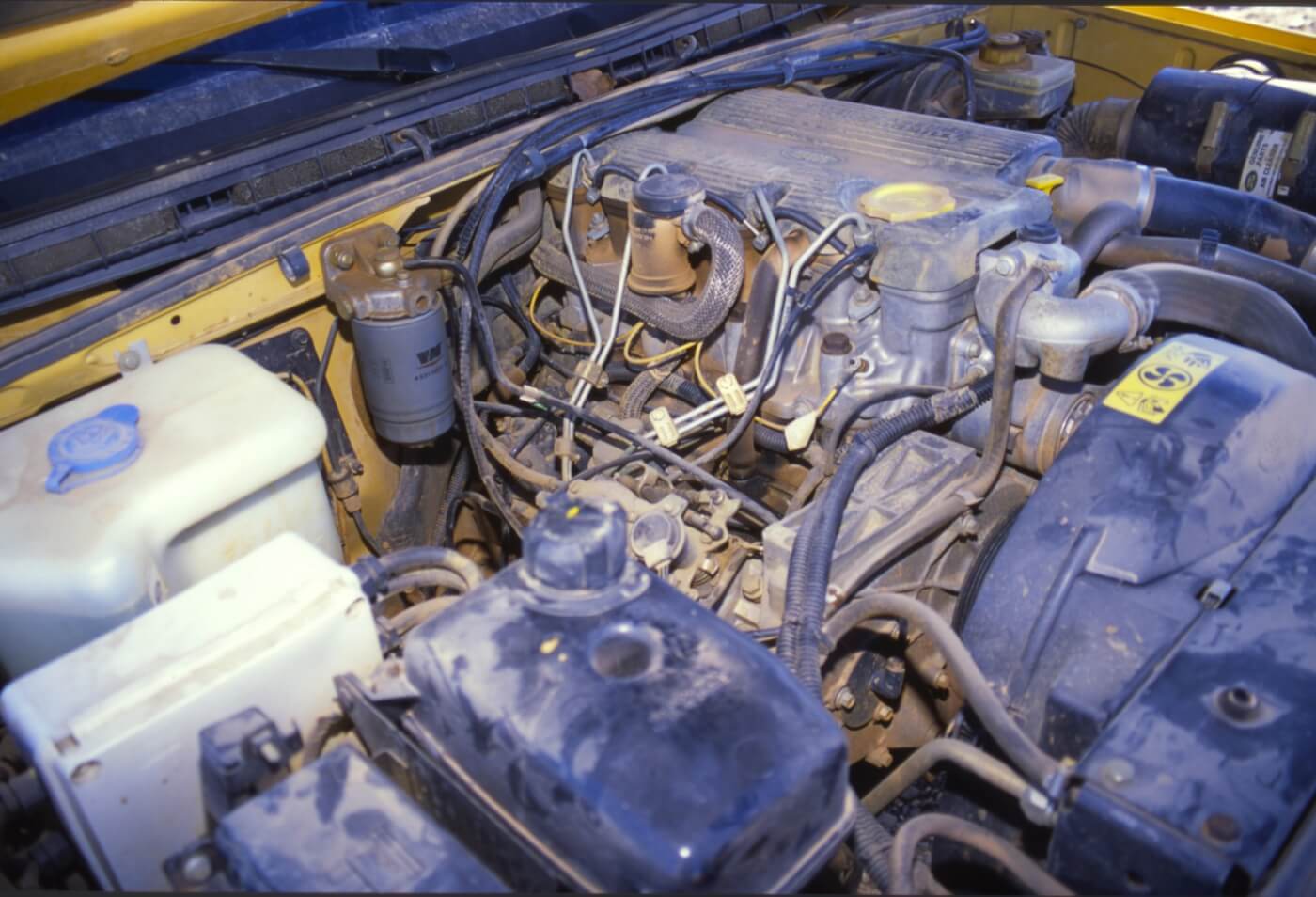 ABOUT THE CAMEL TROPHY
The Camel Trophy has been gone long enough that it requires a little explanation.
Imagine taking a small fleet of identical, basically stock, expedition-prepped vehicles to areas of the world where "road" is a loosely translated term that could mean "goat track" in the local language A course is plotted across 1,000-2000 miles of the most desolate and inhospitable terrain, the only criteria being that the locals call it a "road" and that it takes the group where they want to go. Totally unreasonable daily mileage goals are demanded and a time schedule is set that Navy SEALs might have to break a sweat over.
The vehicles are manned by two-person teams from countries all over the world. Each carries all the food, personal gear, spare parts and equipment needed by the team for the duration of the trip… sometimes 30 days long. It was a load of gear that tested the vehicle and the driving skills of the team. Later in the competition, each team vehicle was also saddled with two journalists and their gear.
They called it an "adventure/competition." The adventure part came in the form of teams helping each other to simply survive and make progress in the face of bugs, weather, poisonous reptiles and tropical diseases. Sometimes the miles covered by the group in a day—that's 24 hours, mind you—could be counted on the thumbs of one hand. Sleep came only when specific travel goals were reached and the vehicle was ready for the next day. Sometimes sleep, or enough sleep, didn't come at all for days at a time. It was a toss-up which was tested more harshly—the humans or the vehicles.
The competition came with what were called "Special Tasks." Often these tasks involved some type of athletic or human endurance competition but they could also be a navigational, recovery, construction or driving task that always seemed to come when the competitors were least able to perform at their best. Generally, competitors had to work with, and alongside, the people they were competing against in those tasks. That's why the teams were also judged by each other on team spirit and that award was always at least as prestigious as winning the event itself. In one example of a special task, teams were given a diesel engine, transmission and transfer case assembly, rope and blocks, a few logs and hand tools and told they had to get that 1,000-lb assembly across a snake- and leech-infested river while on the clock and working with people who spoke a different language.
The Camel Trophy started in 1980 with three German teams and a thousand-mile Jeep trek along the Amazon in Brazil. From that date, Land Rover supplied identically prepared competition vehicles all the way to the last event in 1998, as well as all the support vehicles. It became truly international in 1982, when teams from several countries came to play. American teams competed in 12 of the 18 years of the event.
LAND ROVER IN THE CAMEL TROPHY
The Land Rovers used for Camel Trophy competition ranged from the old, boxy Series IIIs of the early 1980s to stripped-down versions of the luxury Range Rover. Every last one of them was diesel-powered. The Land Rover Defender 90 and 110, Discovery and Freelander were also used but the Discovery competed most often, with eight events from 1991-1998. The four-door Defender 110 and Range Rover tied for second with three events each. Support vehicles were most often Land Rover Defender 110 station wagons or high-capacity pickups.
Two versions of the Land Rover Discovery were used, the 1991-1994 200Tdi and the 300Tdi from 1995-1998. Each Discovery rolled off the line as a standard, base model diesel with a manual five-speed transmission, HD coil springs (with overloads) and shocks. Different vehicles were left-hand or right-hand drive as appropriate to the nationalities of the competing teams. Four-pinion differentials and heavy-duty axle shafts were used most years and when they weren't, competitors got a crash course on axle repair on the event.
Special Installations then installed a roll cage and roof rack, with brackets for sand ladders and up to six Hella lights. A winch mount/brush guard was installed up front with an 8,000-lb winch; a Superwinch worm-drive Husky early on and various Warn winches later. Really beefy tow points would also be installed at both ends. A snorkel would be mounted with the intake at roof level and that allowed the diesel engine to run even if the driver was drowning.
A set of 7.50-16 Michelin XCL off-road tires would be mounted and while these tires are tall and skinny, they can really bite in the mud. Two spares were carried and sometimes that wasn't enough. Front, rear and center aluminum skid plates were added to protect the oil pan and undercarriage. Two fire extinguishers would be mounted, as well as a Terra Trip rally computer and, later, various GPS units.
Each team made a few minor modifications and were allowed to load their rig as they saw fit but they were designed to carry the following: two 5-gallon water cans, two 5-gallon fuel cans, two waterproof food boxes, spare parts box, tool kit, four to eight waterproof Pelican cases, tow bar, four 6-foot sand tracks, axe, shovel, pick, two spare tires, tow ropes and an air jack. They often carried more than this and often tipped the scales at more than 6,200 lbs.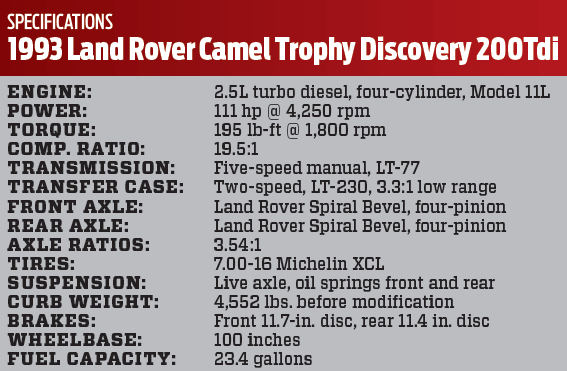 LAND ROVER DIESEL ENGINES
The 2.5L 200Tdi or 300Tdi diesels were stock and their only mod was a snorkel. The 1989-1994 200Tdi were five main-bearing DI fours, still very much direct descendants of the original 2.0 and 2.28L IDI diesels of yore, having a slightly longer 3.82-inch stroke to gain the extra displacement. They had debuted for 1989, the same year the Discovery took its first bow in England, and were rated at 111 horsepower and 195 lb-ft of torque based on 11 lbs. of boost. They differed from the previous generations in having an aluminum head, direct fuel injection, intercooling, and a Bosch VE pump with two-stage injectors. The previous Model 19J 2.5L turbo diesel had made 82 horsepower and 150 lb-ft from an IDI head and an old-style Lucas-CAV pump.
The 1995-1999 300Tdi had the same power output as the 200Tdi, and the same bore and stroke dimensions, but was a very different engine. The block was stronger and eliminated the aluminum girdle used on the 200Tdi. The head and rocker gear was redesigned and a serpentine belt system was used. Some 300Tdi engines incorporated electronic controls.
SURVIVING THE ULTIMATE CHALLENGE
The Discovery vehicles shown here are survivors in every sense of the word. They have been bent, folded and mutilated in ways we can hardly imagine. Not only did they participate in the events for which they were built, they often served as support or pre-scout rigs on succeeding events and for competitor selection and training for the U.S. team and others. To say these rigs were "rode hard and put away wet" is a gross understatement.
While they may only show 17 or 18,000 kilometers on the odometers, these rigs have been up to their door handles in water and mud more times than any other 25 4x4s you can name combined. They have more frequent flyer miles than most movie producers. Their engines have spent more time on the governor than any diesel outside the pulling truck world. They have probably hit more rocks, logs and stumps than any trail-running 4×4 you can find. Most have at least one rollover in their history.
Camel Trophy rigs are now prized collectibles all over the world. For Land Rover fans, these trucks are the epitome of everything they love about the rough and tumble side of that company's production. To Land Rover, these vehicles are monuments to their engineering prowess and more than a few are displayed in museums. Since these rigs were not DOT or EPA approved for the USA, they were operated by Land Rover North America using manufacturer license plates. They cannot be legally registered for road use here. At the time these rigs were photographed in the late 1990s, they were still in the hands of Land Rover North America. DW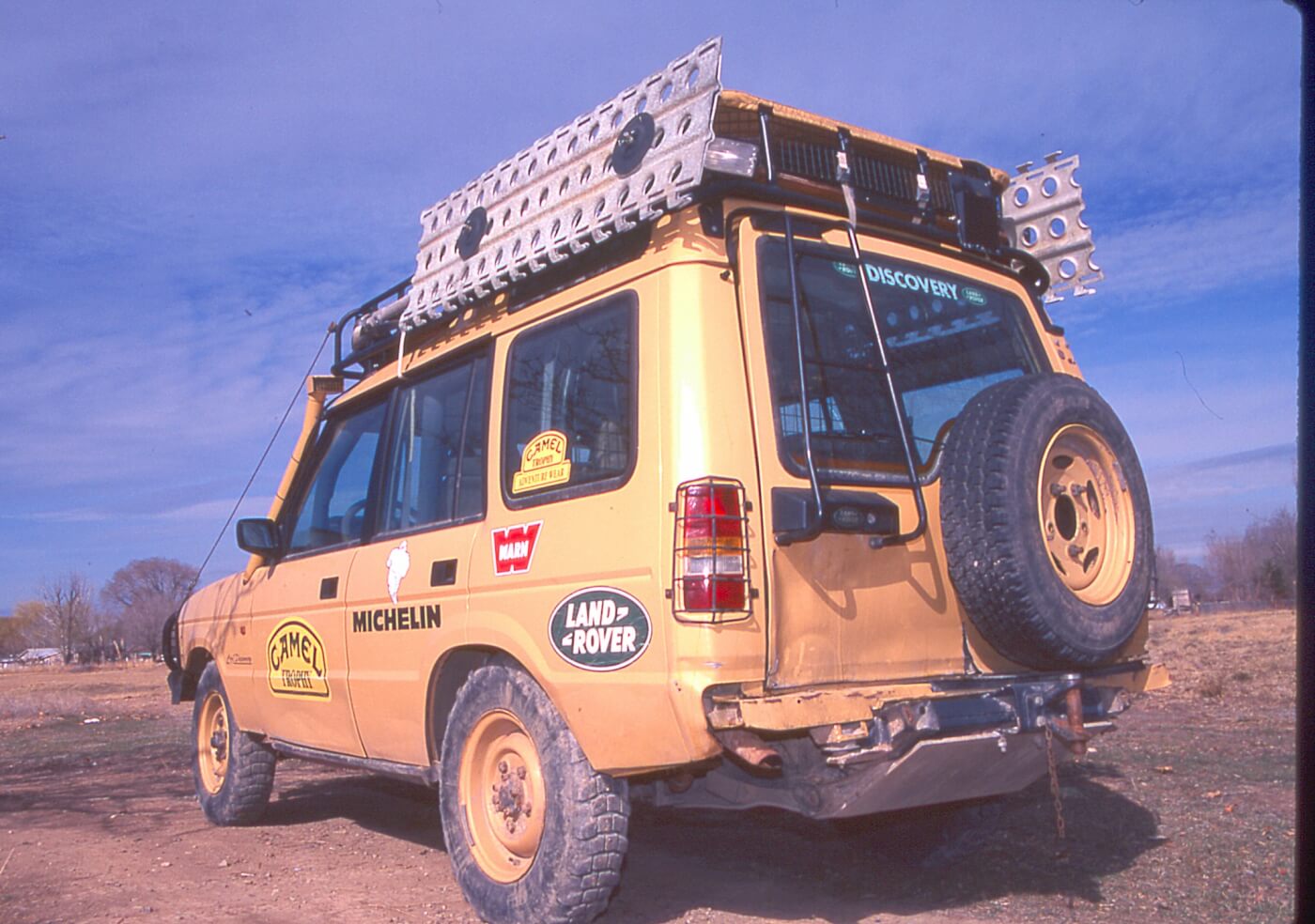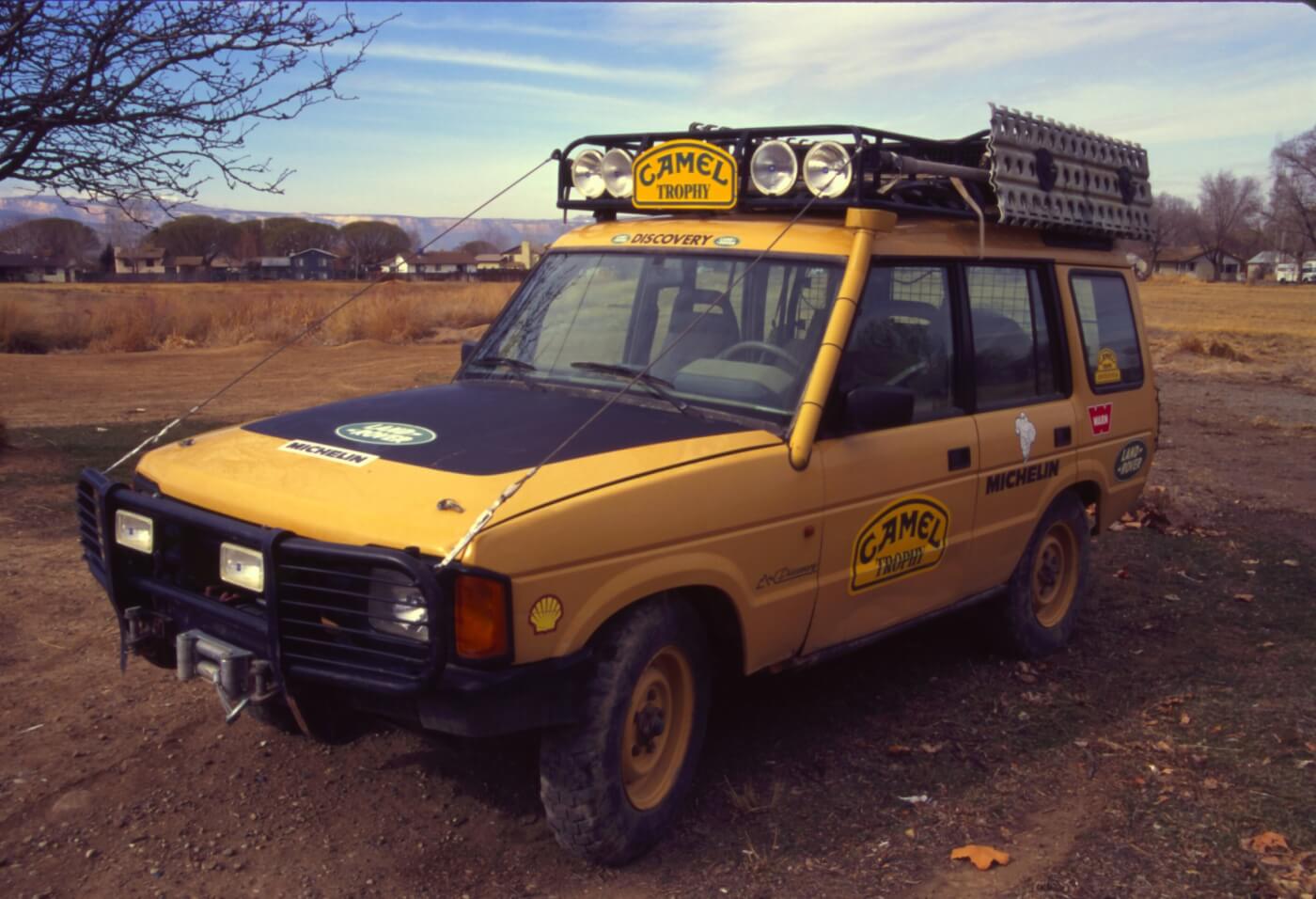 Tommy Iain
Here's a survivor of the 1994 event in South America, crossing the continent from east to west, starting off in Argentina, running through the Andes, Paraguay and ending up on the coast of Chile some 2,200 miles and 21 days later. They crossed passes as high as 15,000 feet and drove Paraguay's dreaded "Road to Hell." It was the Event Leader Iain Chapman's vehicle for 1994 and then the Polish team's training vehicle before being purchased by LRNA (Land Rover North America) for Team USA training. It did that right to the end in 1998 and then went to a private party. This truck still exists! At the time these pictures were taken, it was showing a bit more than 18,000 clicks but the engine still ran like a top. It still smelled like a jungle on the inside and the rattles, creaks and groans going down the road were giveaways of this rig's tortured past. This one didn't have a nickname with Team USA so we named it after the U.S. Team Leader, Tom Collins, and the Camel Trophy Event Coordinator for many years, Iain Chapman.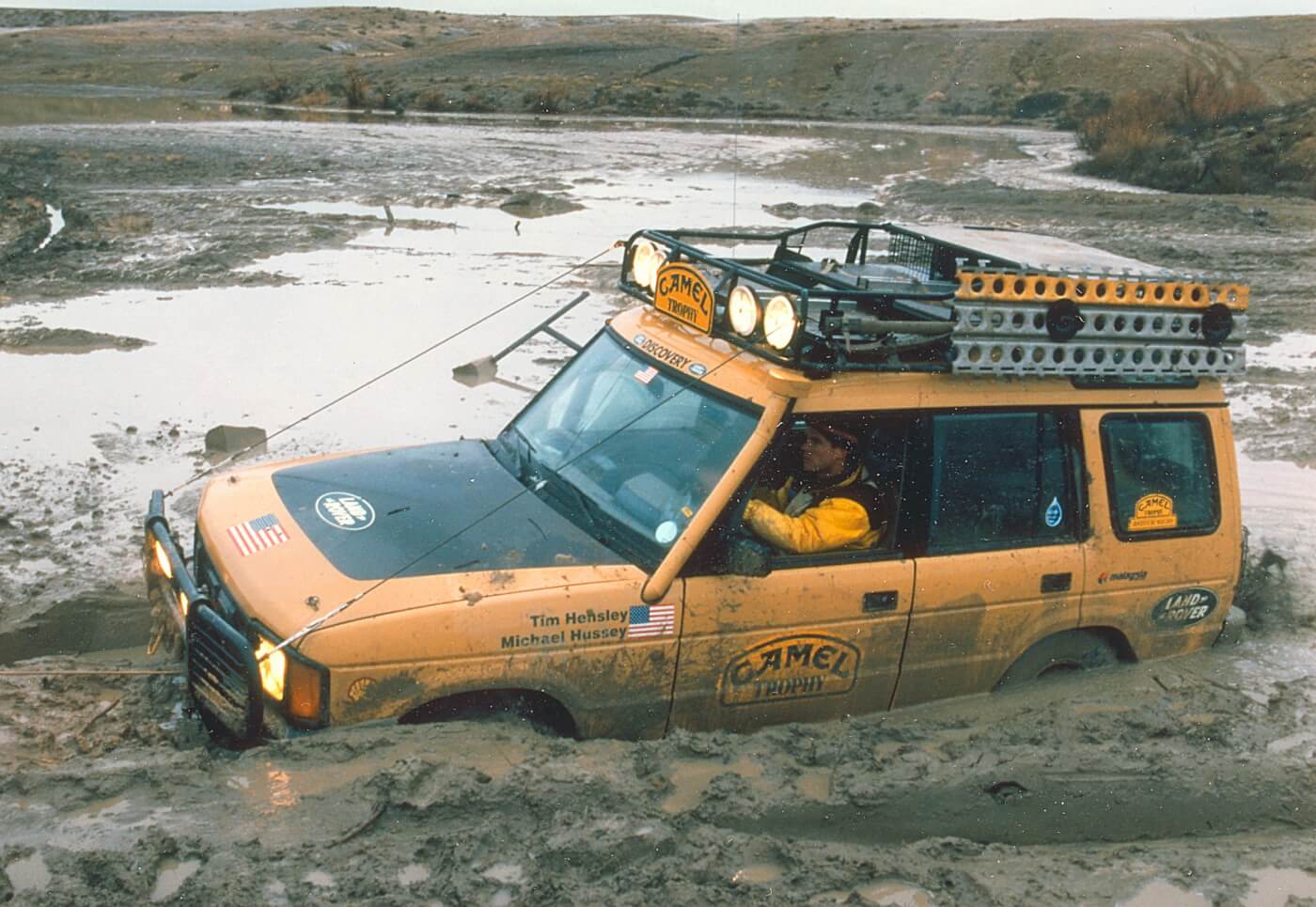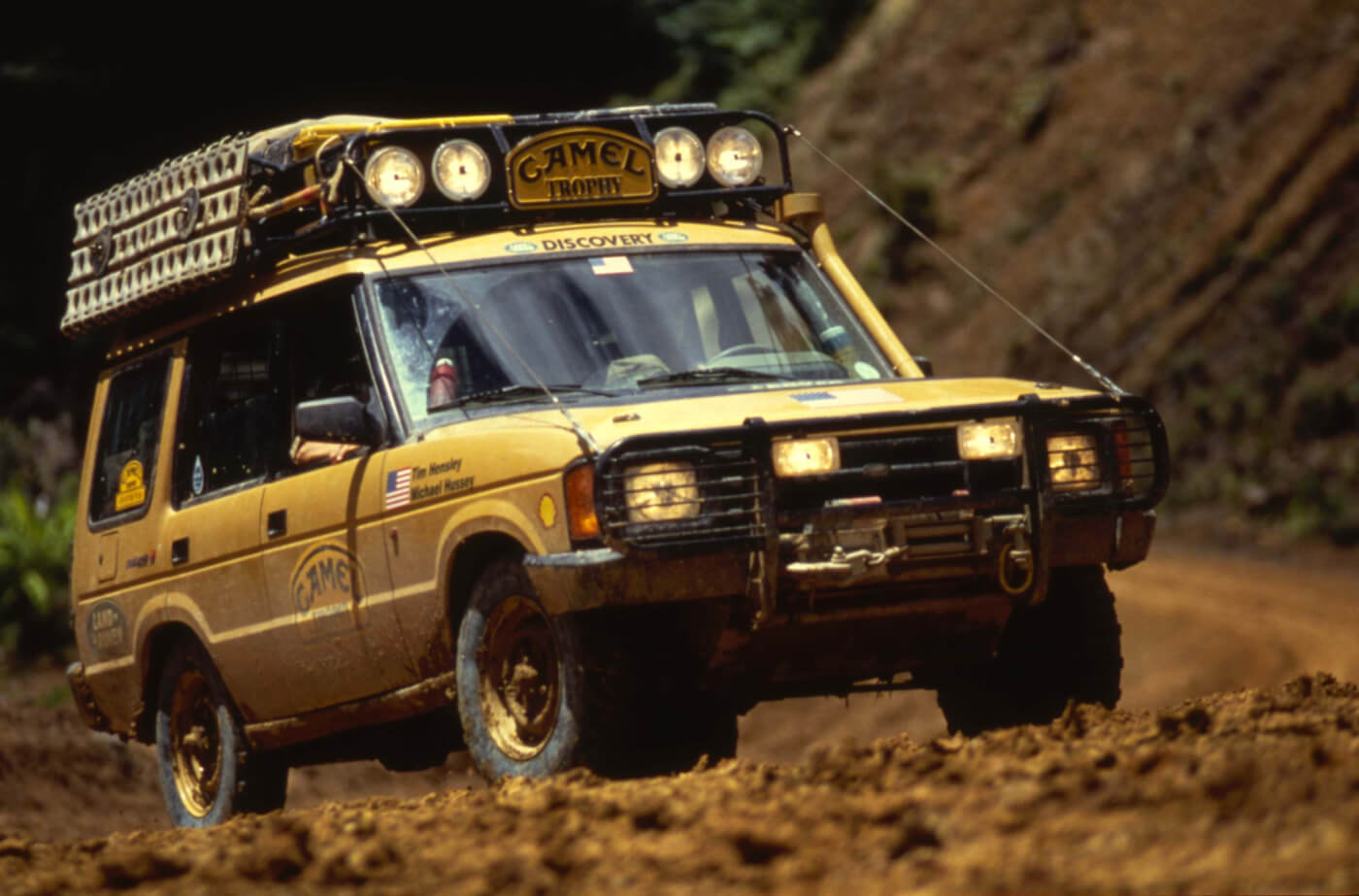 Tim Mike
Team USA won the Camel Trophy just once. It was on the 1993 Sabah, Malaysia, event in this 1992 200Tdi with Tim Hensley and Mike Hussey as the team. This race was a 30-day, 1,000-mile marathon; grueling even when judged in Camel context. Their victory was a masterful display of driving prowess, intelligent application of well-honed skills and a positive and helpful attitude that endeared them to all. For U.S. fans of Camel Trophy, "Tim Mike" is the holy grail of Camel discos. It was purchased by LRNA immediately after the 1993 event and used in promotion and advertising for several years because the Discovery was just being introduced here. It crossed the USA several times under its own power but in 1995 a transport driver fell asleep at the wheel in Indiana and sent it sliding down a quarter-mile of I-70 on its side. The damage was extensive, but mostly cosmetic. It was corncobbed and went on to be a Team USA training vehicle. This truck went into private hands in 1999 after the Camel Trophy was discontinued, and it still exists in its battered and beaten condition.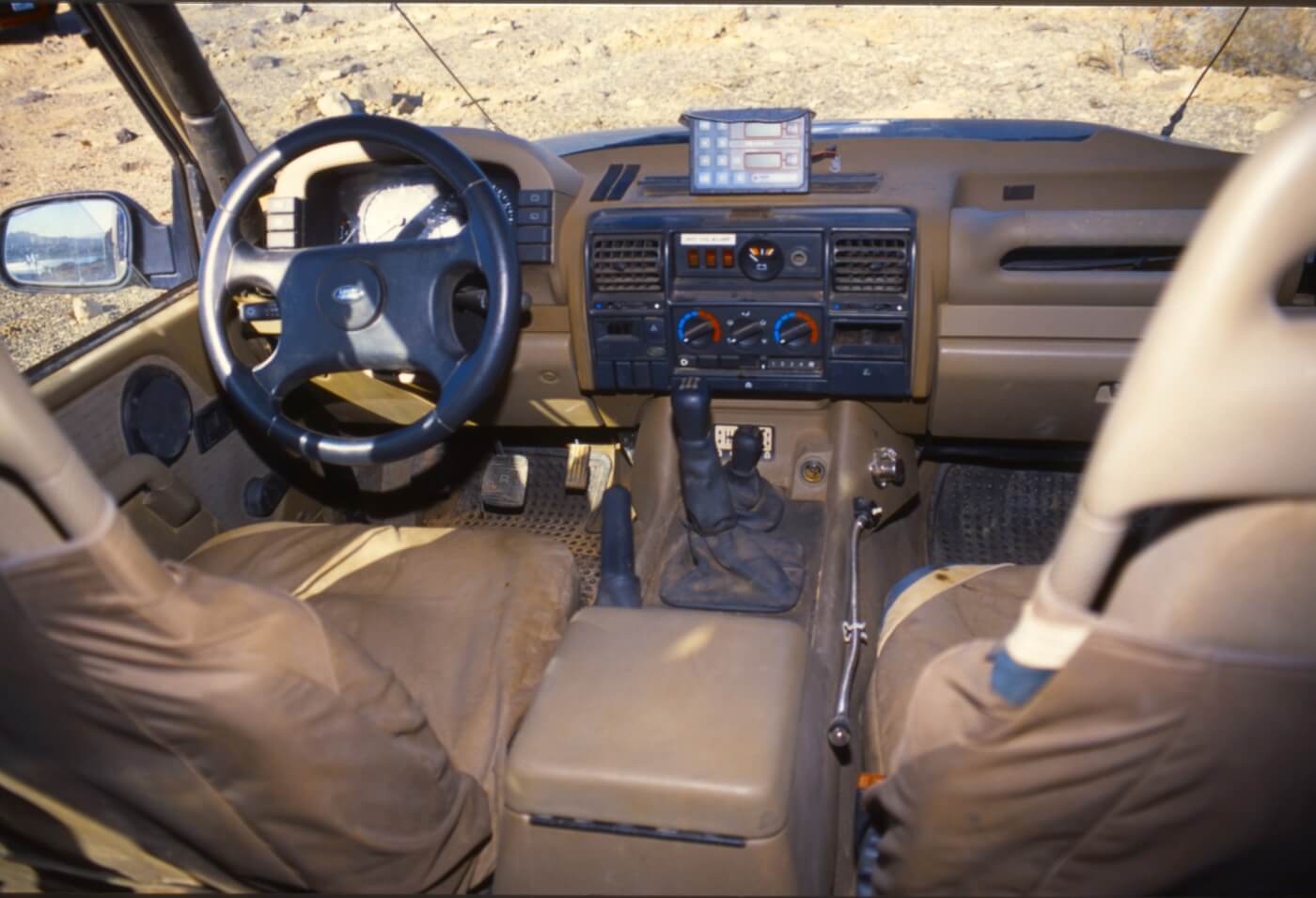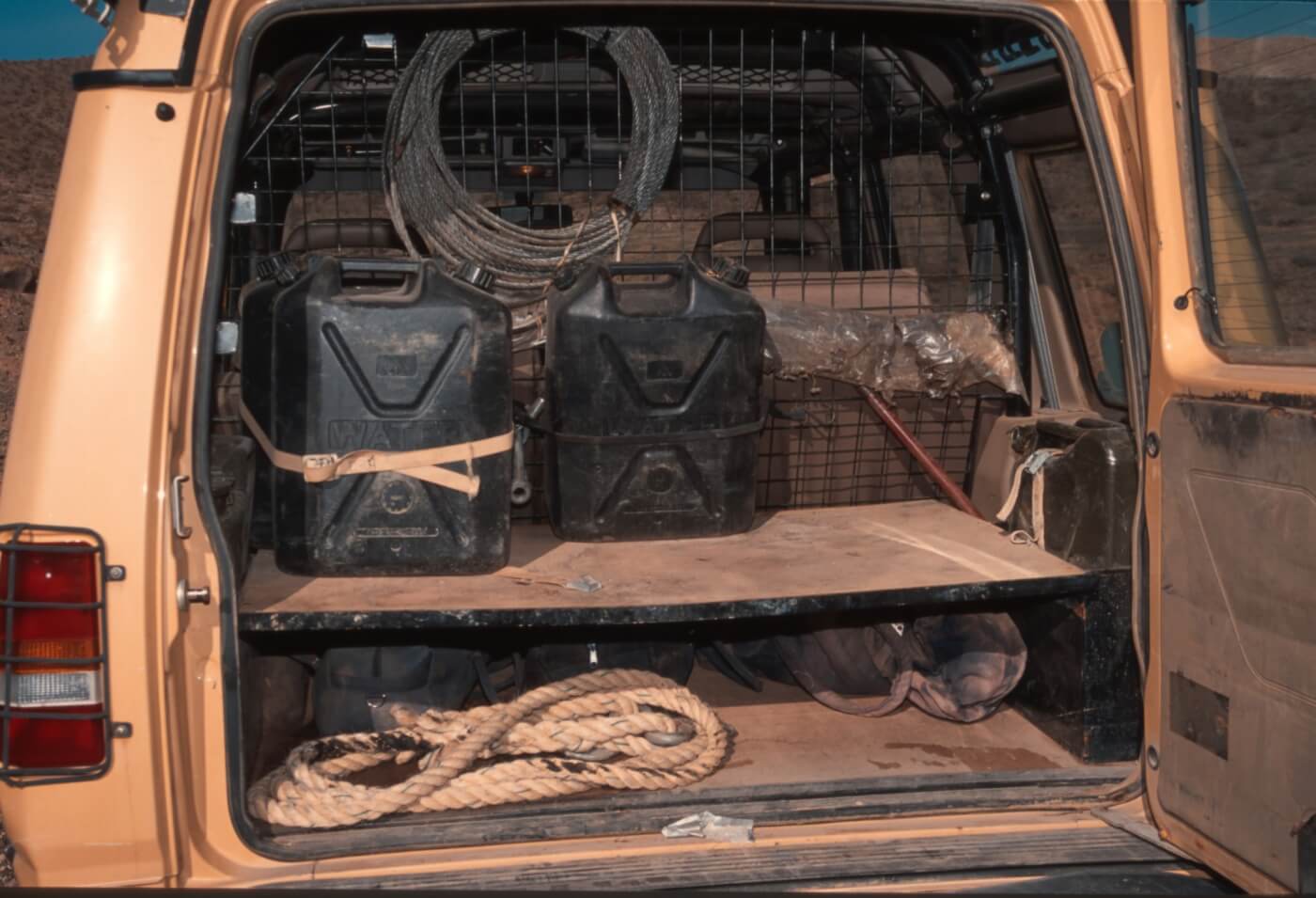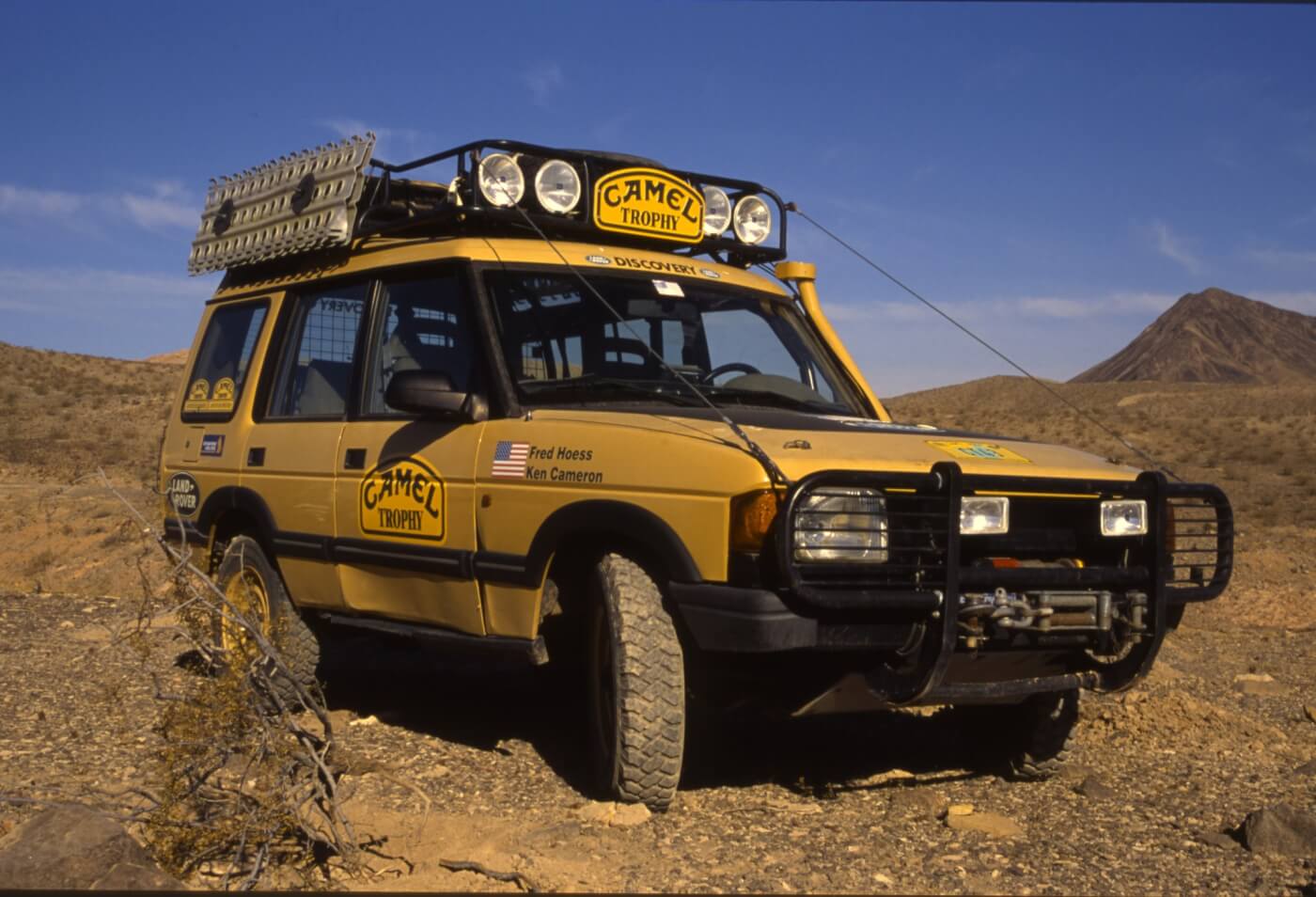 Fred Ken
The 1995 Discovery was the first of the 300Tdi trucks used on the Camel Trophy. This rig was piloted by Fred Hoess and Ken Cameron on the 1996 Kalimantan, Borneo, event. It was a thousand miles across the Indonesian part of Borneo and it was said the route had more water crossings than any before. The incessant equatorial rains and severe flooding ensured that if there wasn't water, there was mud. Fred and Ken provided Team USA with their third second place finish. After that event, "Fred Ken" was used by LRNA for shows and press events and went into private hands in 2001. It's seen here in that year at the U.S. introduction of the Land Rover Freelander. At that time, the truck still contained many of the tools and gear used on the event.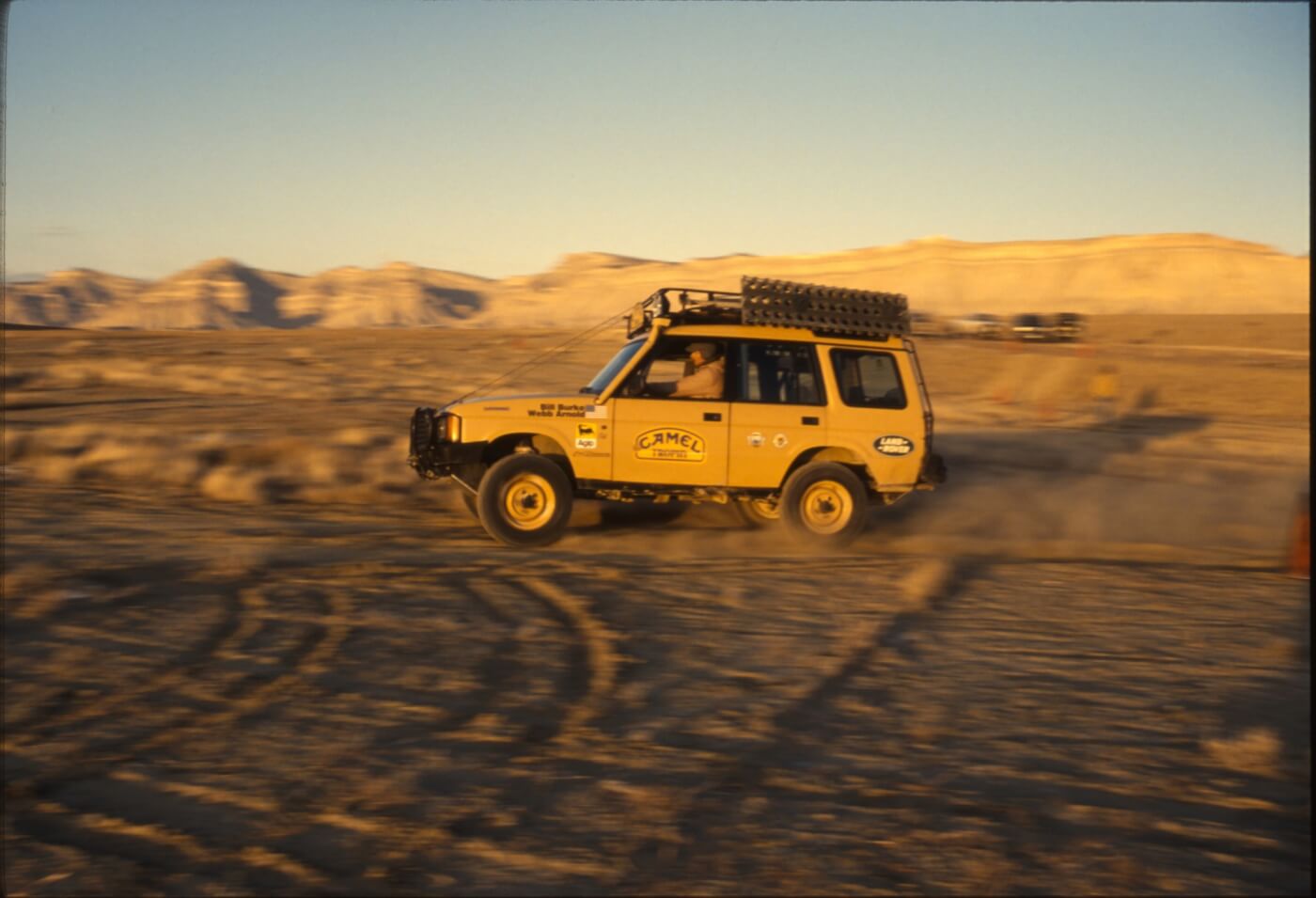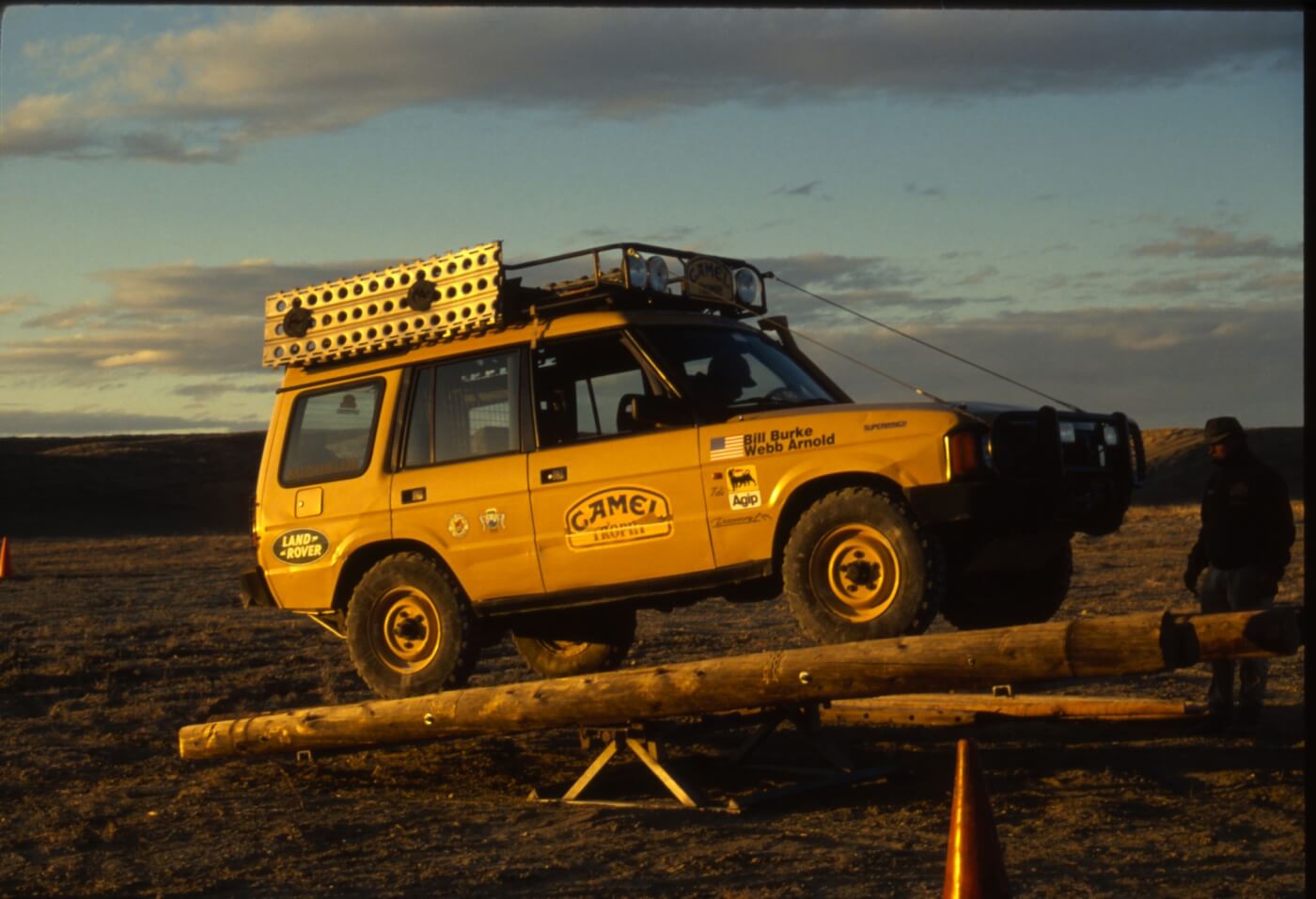 Billy Webb
This 1990 Discovery 200Tdi competed in the 1991 Tanzania-Burundi event in Africa, piloted by Bill Burke and Webb Arnold. It's shown here in 1993 while being used as a training vehicle for Team USA. Burke and Arnold managed a sixth place finish in the event with 17 teams. The route ran about 1,000 miles from Dar es Salaam, Tanzania, to Bujumbura, Burundi. Billy Webb was a Team USA training rig through 1994 but went back into harness for the 1995 event in Central America as a support vehicle. It was deliberately and completely sunk in a river for a recovery competition. It was then refurbished by LRNA and donated to an AIDS research facility in Haiti and is presumably still there.