The Off-Road Icon
Rules and perceptions are meant to be broken, and Hellwig did just that with its 2016 Nissan Titan XD Diesel overland build.
This bright yellow truck and camper combo is known as the Hellwig "Rule Breaker XD" and was finished just in time for The SEMA Show 2016, being built in just two months. The concept was to construct the ultimate overland vehicle, which could also be used as an everyday driver. Hellwig also wanted to create a more youthful and aggressive version of the traditional truck camper build, as the full-size truck camper's image has been squarely with an older crowd in recent years. Who says you can't build an eye-catching, comfortable and capable camper-based overland adventure-mobile?
The Camper
The traditional slide-in truck camper hasn't historically been the go-to choice for overland vehicle builds. They tend to make the vehicle too large for many off-road routes, are not built to a standard which can handle the abuses of off-road travel, and generally aren't very lightweight, which is extremely hard on truck components in an off-road environment. On the flip side, truck campers are known to have all the creature comforts of home, can be luxuriously appointed, and represent a good value for your money. The main reason for the use of a truck camper in this application is for its ease of removal, making it easy to convert the overland truck into a daily-driven pickup. Similarly, the camper can be set up on its own as a base camp, and the truck can be used to go out and explore more challenging routes.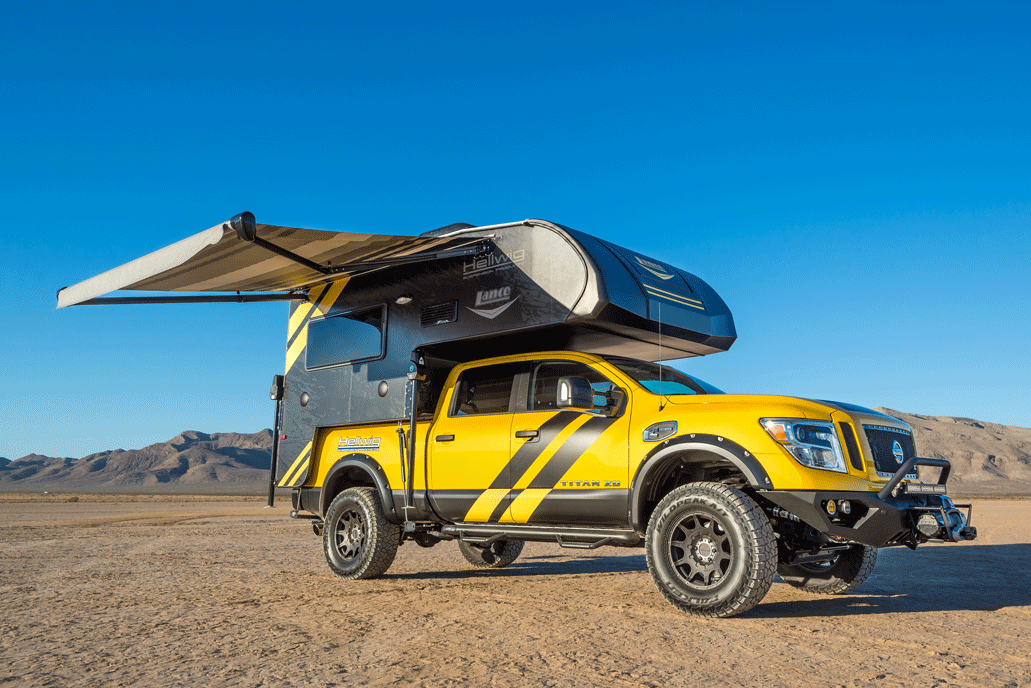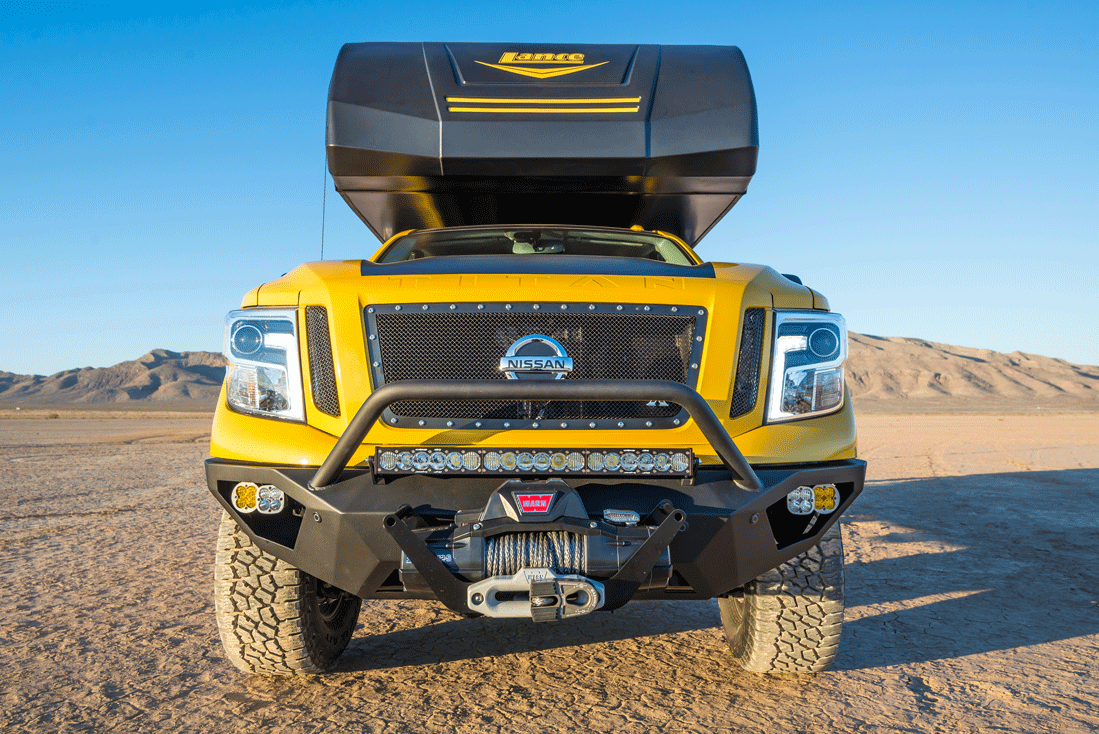 The Hellwig Rule Breaker XD features a Lance 650 slide in truck camper, which retails for about $28K. The 650 is Lance's smallest truck camper and designed to work with half-ton pickups. It features a queen-size Serta mattress, ergonomic layout, a full bathroom, lots of big windows, and all the creature comforts you could want. Hellwig has a long-standing relationship with Lance campers since they are both located in the same area of Southern California and offer complimentary products. Hellwig sway bars, helper springs and air bags have been helping Lance owners set up their trucks for many decades now.
The Truck
The backbone of this build was a brand-new 2016 Nissan Titan XD Diesel PRO-4X Crew Cab in Solar Flare Yellow. It was chosen for a wide variety of reasons, one of the biggest being that it was a new and interesting choice versus the traditional Big Three American truck options. The Aisin six-speed auto gearbox transfers the impressive 310-hp and 555 lb-ft of torque from the 5.0 L DOHC 32-valve V-8 Cummins engine to all four wheels. That's a lot of grunt in a half-ton pickup, and is one of the many stats that nearly puts the Titan in the three-quarter-ton category. The Rule Breaker XD has averaged about 12 mpg so far, and that's with a fully loaded camper on it and drivers who aren't necessarily light on the go-pedal. The PRO-4X model is also quite capable for off-roading, straight from the showroom, offering a rear electronic locking differential, hill descent control, and steel skid plates to protect the transfer case and front of the truck. The truck itself wasn't cheap, coming in over $69K, but it is fully option-equipped and offers an interior that is a truly luxurious and comfortable place to find yourself.
Go Anywhere
This vehicle was designed to go where traditional truck camper builds wouldn't dare. It is also designed with a balance of on- and off-road manners and performance in mind. The truck benefits in all conditions from a stout Hellwig rear sway bar and Hellwig Big Wig Air Springs. This combination of components controls the tall and heavy load of the camper while allowing the refinement of the ride when the camper isn't loaded by lowering the pressure in the air springs.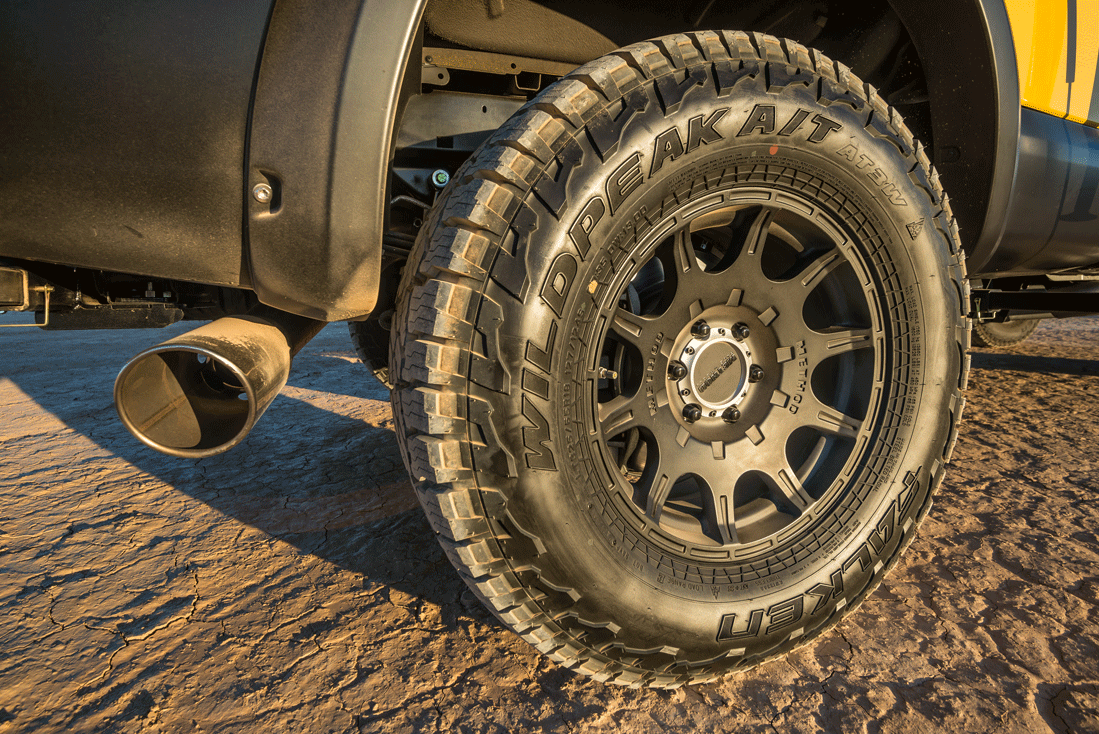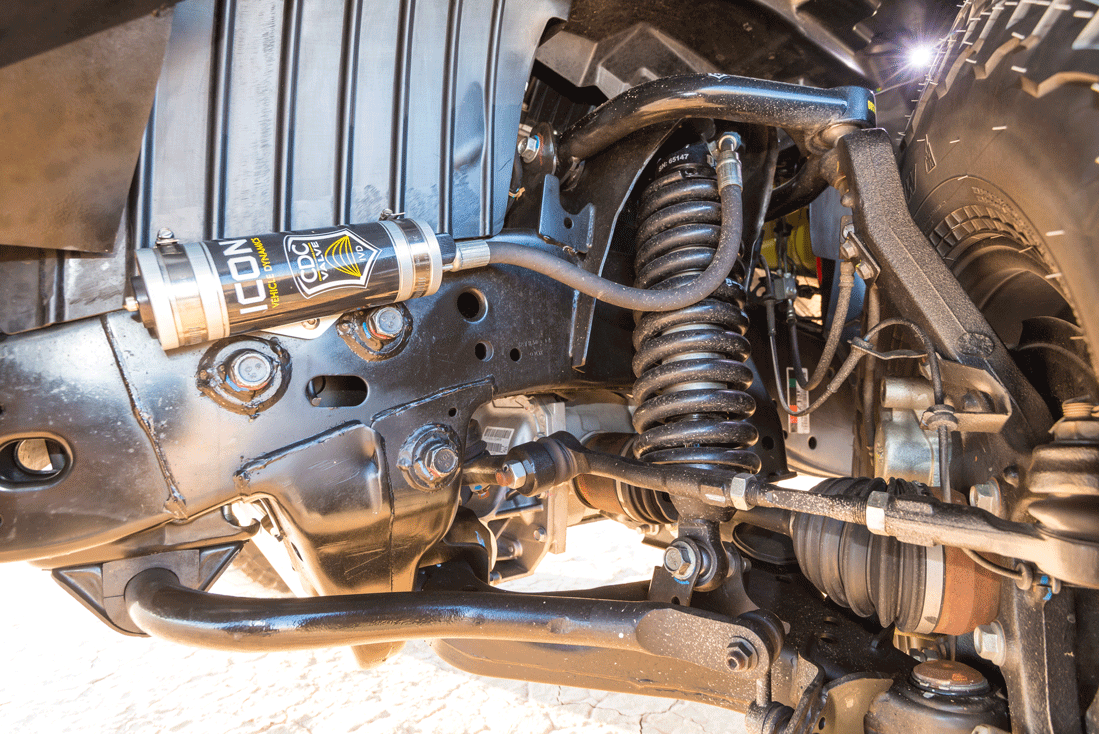 One of the most important performance considerations of any overland vehicle— particularly in an off-road setting—is the tire and wheel combination. For this build a 35×12-inch Falken Wildpeak AT3W tire was wrapped on Method Roost 18×9 wheels. This combination provides the perfect balance of low on-road noise, off-road traction, and increased ground clearance, all while not raising the center of gravity too much. The front fender wells did need to be trimmed to fit these tires without rubbing, even with a 2 to 3-inch lift. A full Icon Vehicle Dynamics Stage 3 suspension system specifically designed for the Titan XD was utilized. It provides a plush go-anywhere ride while allowing for the bigger tires to impart a more aggressive stance and offer better off-road clearance.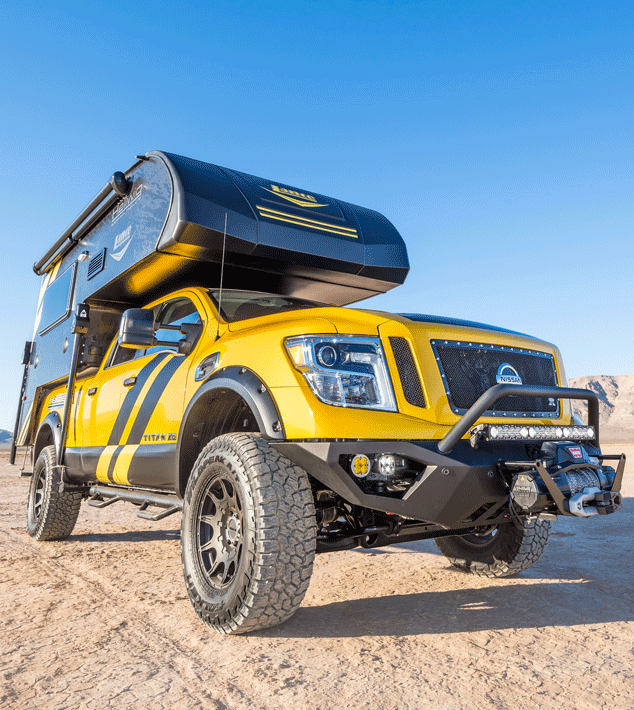 This build was designed to handle tough off-road terrain and the accessory choices show this. The slim Fab Fours Vengeance front bumper with its pre-runner style guard allows for a quality entry angle, front rock protection, and some grille protection. A Warn Zeon 12-S Winch is mounted on the versatile Warn Multi- Mount Winch Carrier, allowing the winch to be used on the front or rear of the vehicle as well as be locked up inside when not in use. A plethora of recovery gear is on board, including a Hi-Lift Xtreme Jack and Krazy Beaver Shovel. N-Fab Nerf-Steps provide some rocker protection and allow easy entry and exit from the lifted truck.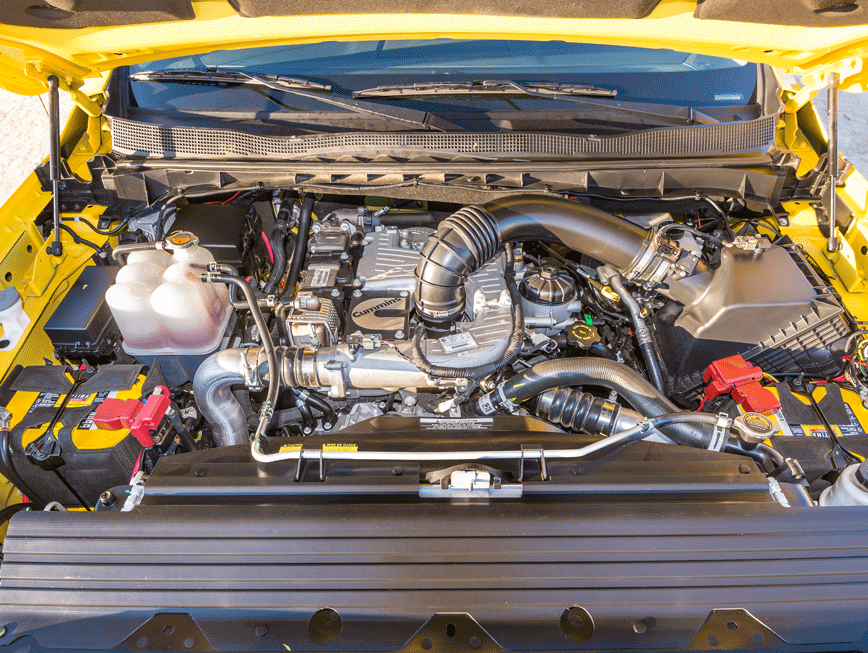 While the truck is no slouch in the performance and reliability department off the showroom floor, Hellwig has made a few key upgrades to make it even better. The batteries were upgraded to Optima Yellow Tops for long-term reliability in a wide range of climates. A DPF back stainless exhaust from Magnaflow lets the engine breath a bit better, while also providing a bit more of an aggressive exhaust note. To increase the range of the Titan for long haul, remote overland adventures, the stock 26-gallon tank was swapped for a Transfer Flow 50-gallon unit.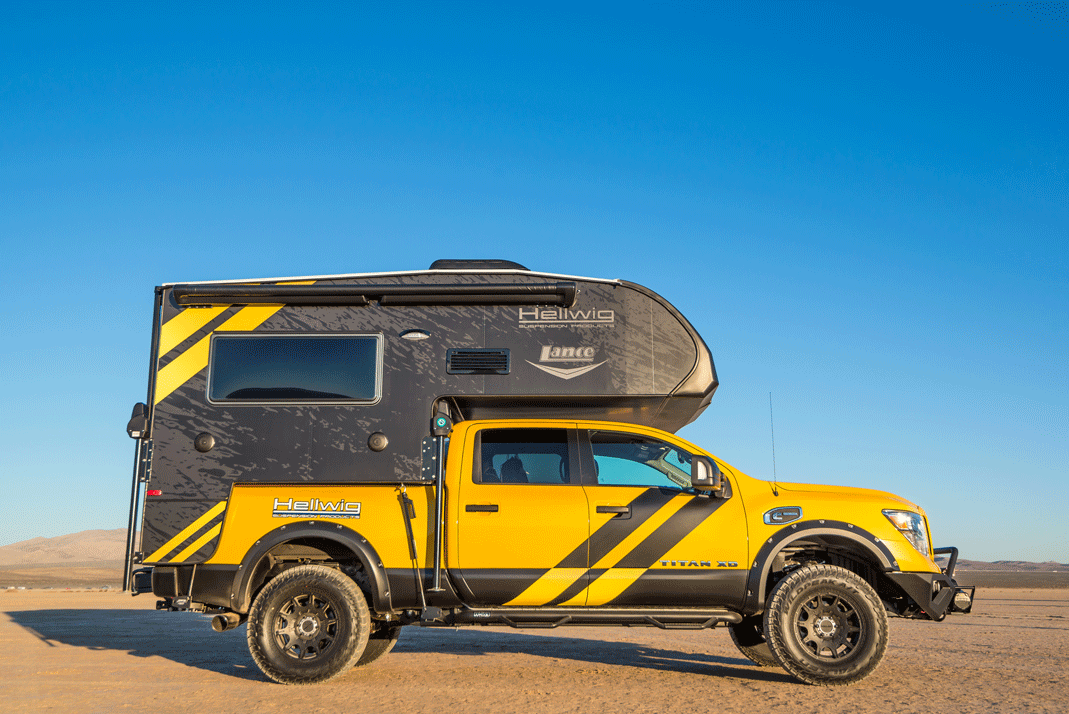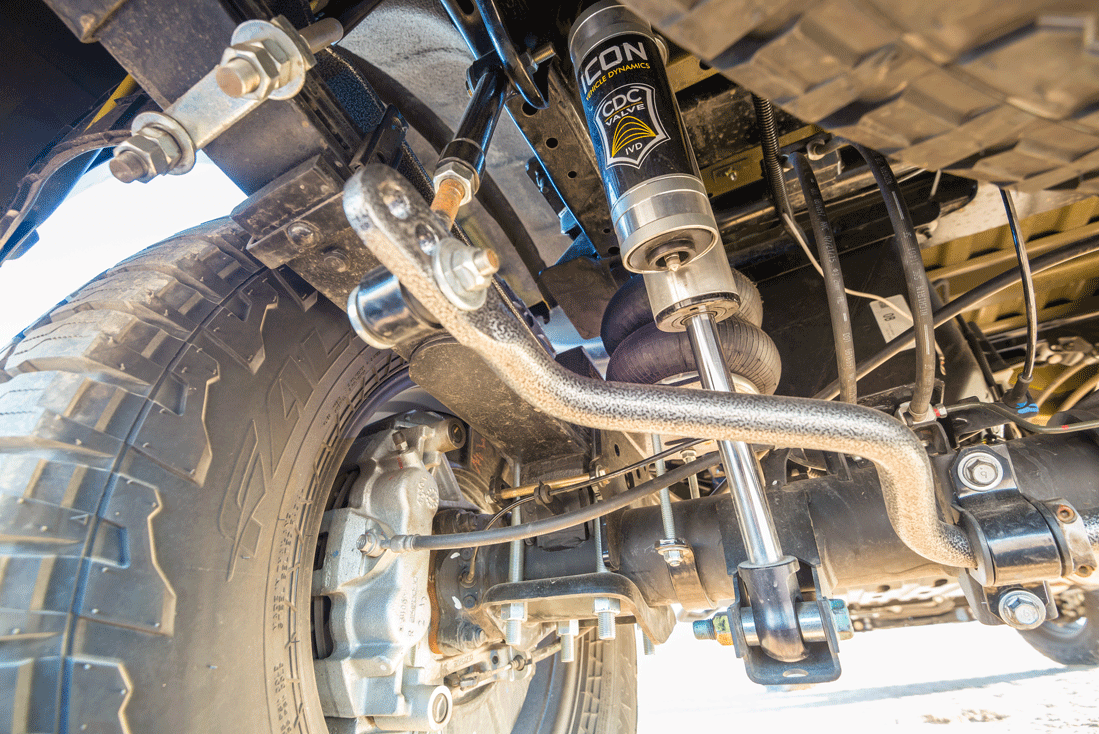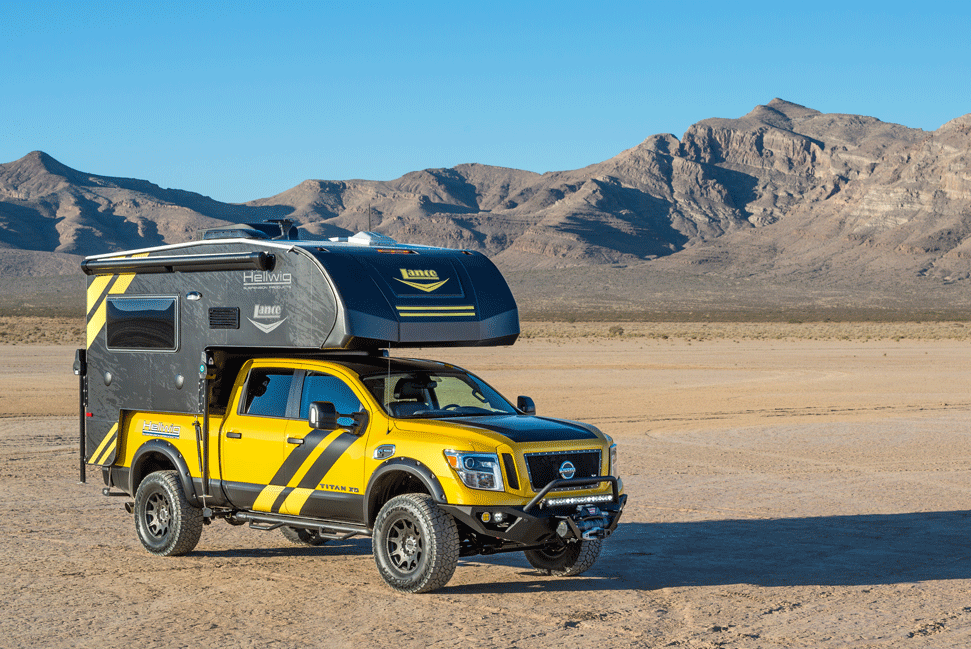 The Titan is also outfitted with a full compliment of Baja Designs lights. From driving lights to area lights and rock lights, this truck has them all. The in-fender rock lights also double as display lights to show off the shocks, tires and Hellwig suspension components at events.
Good Looks
The Rule Breaker XD isn't all "go." It was designed to highlight Hellwig's quality products at events across North America so it also needs to have a lot of "show." The truck and camper were vinyl accented by Daley Visual to highlight the lines of both and make the yellow and black color scheme pop. A T-Rex X-Metal grille and Bushwacker fender flares finish off the aggressive exterior looks on top of the Fab Fours bumper and N-Fab Nerf-Steps. The interior is finished off with the custom-fit Weathertech floor mats.
Getting Out There
While this rig spends a lot of time traversing highways across America getting to and from its many appearances at off-road, overland, and general automotive events, it isn't a show queen. This truck was designed to be used off the pavement, and the crew at Hellwig have already proven that they don't mind showing off the Rule Breaker XD's capabilities. The vehicle was recently at the King of the Hammers event and set up camp in the spectator area halfway up the infamous "Chocolate Thunder Hill." This is a steep, rough grade that requires some momentum, 4×4 low range and first gear to tackle. It also got the Rule Breaker XD a bit off camber, with the lean angle getting to 14+ degrees in the cab at one point. You can expect to see this incredible rig at all sorts of events around the country, including Overland Expo West and the NW Overland Rally, where its capabilities are sure to be displayed even further.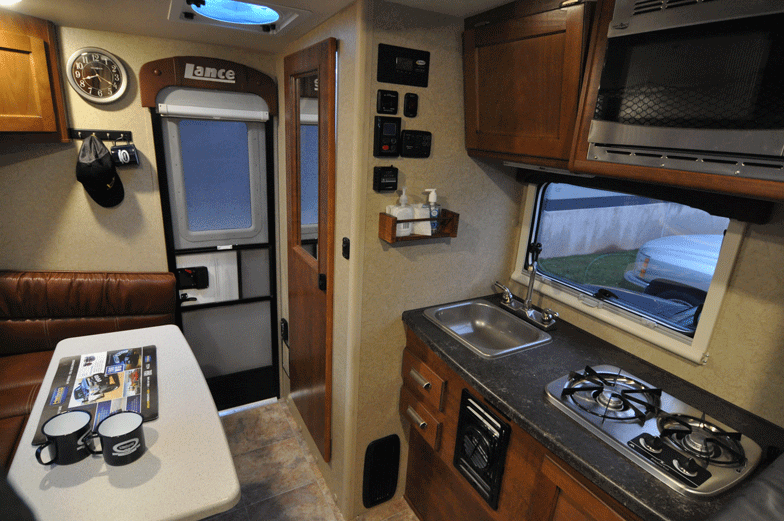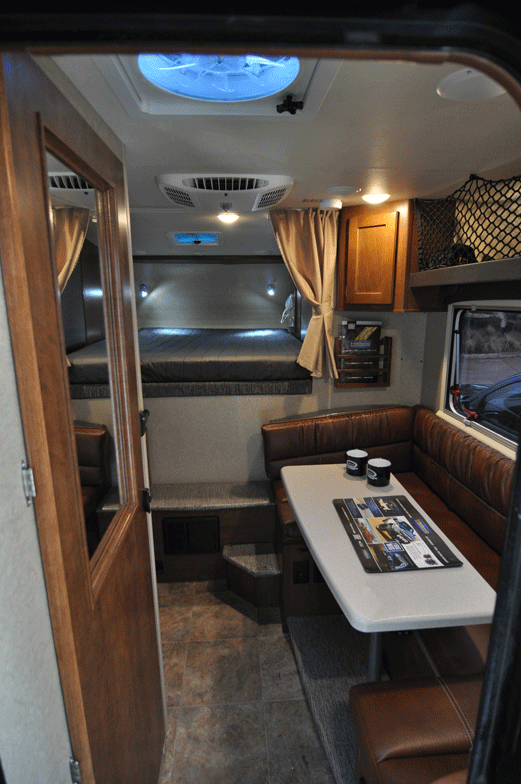 The Hellwig Rule Breaker XD overland adventure-mobile wasn't a cheap build, coming in at a completed cost of $121,000. While that might seem like a lot, just consider what you're getting—a factory-warrantied truck and camper that are impressively comfortable, extremely capable, and suitably aggressive-looking. It's a home on wheels that can also be utilized as a versatile daily-driven pickup. DW