For an off-road racer, the night before the biggest race of the year—the Baja 1000—can be fraught with anxiety and trepidation, not to mention the thousand last-minute things that need to be accomplished before heading south of the border. Instead of getting a good night's rest before hitting the road in the morning, last November, Brian Bush was putting the finishing touches on the latest vehicle in his stable of chase trucks: his 2007 Chevrolet Silverado.
BUSH RACING
Brian Bush from Gilbert, Arizona, began pro racing utility task vehicles (UTVs) in SCORE, Best in the Desert (BITD), and King of the Hammers (KOH) series' since the infancy of UTV racing in 2006. Since then, he's driven his Polaris RZR XP 1000 to a huge collection of trophies, a first place in his class at the 2014 Baja 1000, and a very respectable smattering of podium finishes, including a third-place at the 2011 King of the Hammers and a fourth ranking at 2014's Baja 500.
Building a successful team and enduring the punishing hellscapes of a desert dotted only by saguaro cactus and dusty checkpoints requires a great deal of durable equipment and something to haul it all in.
Following the race cars along the course (actually following them on sketchy public roads around the course) are a series of mobile pit-stop-equipped trucks, specifically designed to carry enough equipment to solve any problem that Bush might encounter on the course: tires, fluids (transmission, oil, water, gas), spare parts, transmissions, suspensions, and tools. Bush's 12-man pit crew utilizes three such chase trucks per race, but this one is special to Bush, as it not only is his personal daily driver and continues to be his preferred truck, but it means that he will no longer need to rely on other racing teams for assistance.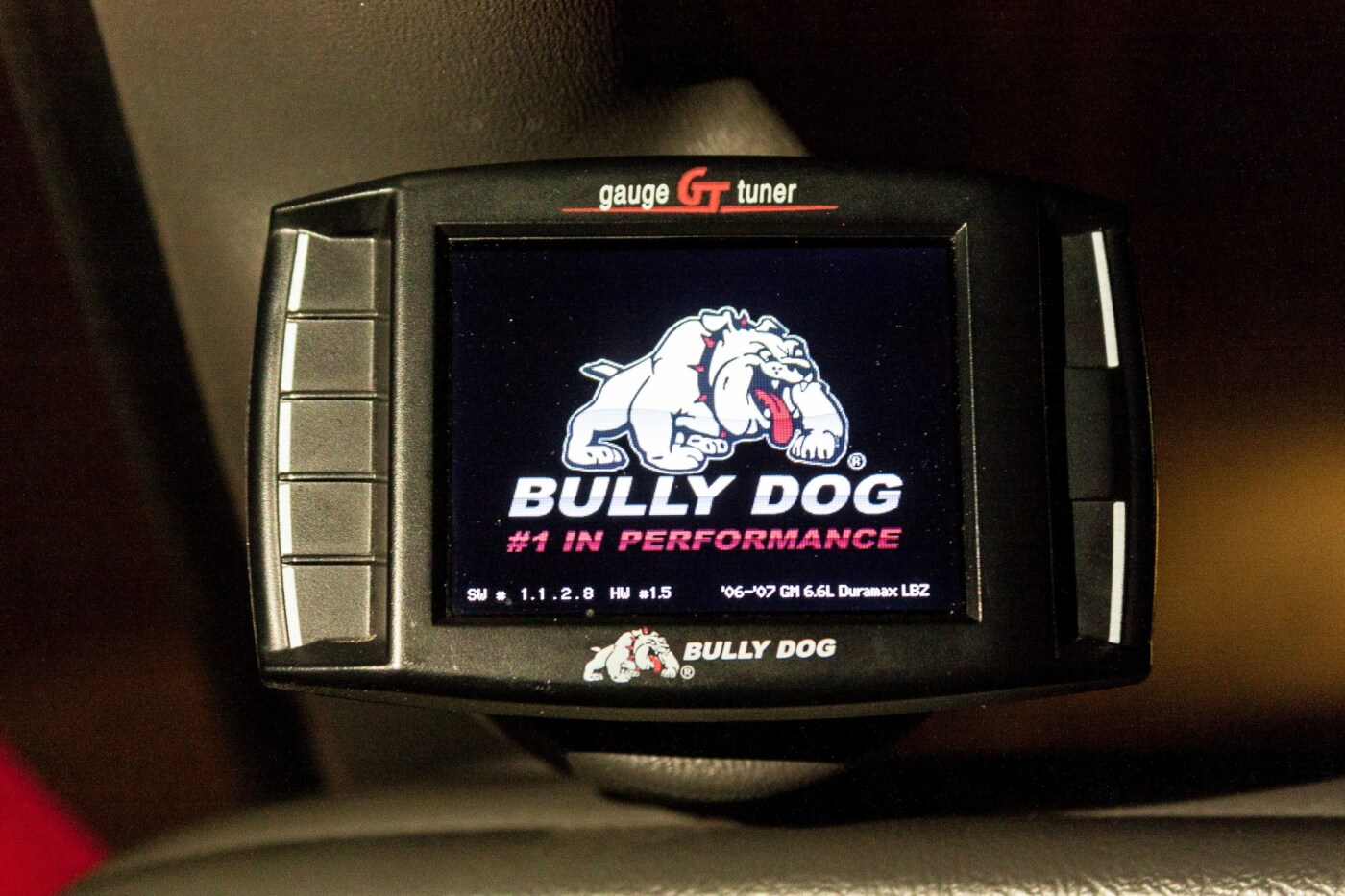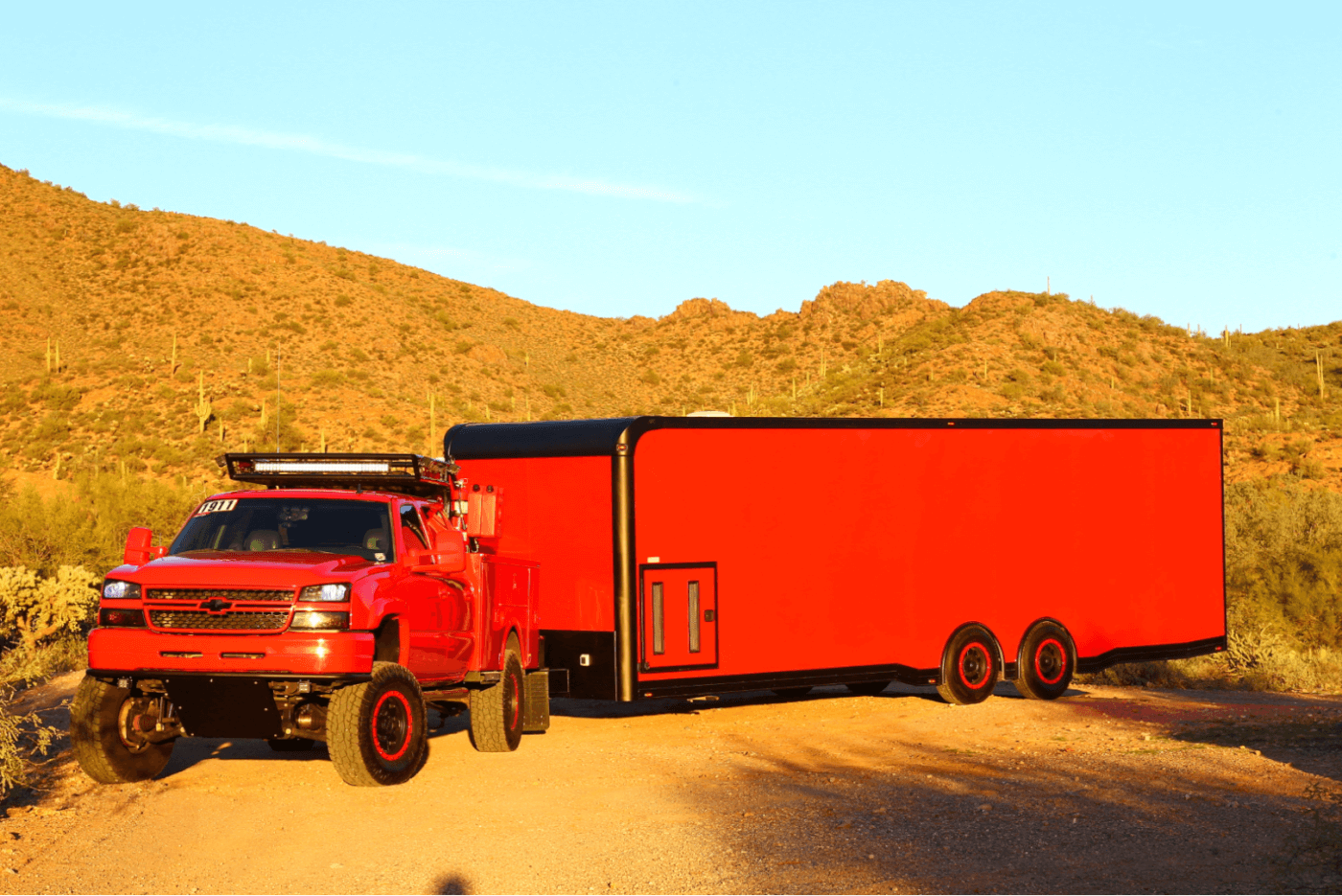 BUILDING THE CHASE TRUCK
For years, until Bush paid off the loan on the truck, it remained largely unchanged from its factory configuration as a gray, short-bed Duramax. To be an adequate chase truck, the first order of business was to lengthen the frame 18 inches to accommodate the Omaha service body (sourced from a local junk yard) with enough storage space to handle the needed equipment. The Omaha unit was torn apart, rebuilt, and reskinned for strength and durability to help support the Baja Kits Chase rack.
For even more storage, a CTech tool storage cabinet was added along with a custom Wilco Tiregate tail gate. Mounted to it is a Pro Eagle floor jack and cradle. Below the bed, a Bedslide 50-gallon fuel transfer tank was bolted in and paint-matched to the chassis. Stainless-steel shelving and a Bedslide able to handle up to 2,000 pounds was then fitted. Axia Alloys was tapped to provide all of the mounting hardware for the various equipment, while LoPro mounts keep the Honda 2000-watt generator locked in place. Bolted to the fore and aft are custom-built bumpers by Precision Chassis Works in Gilbert, Arizona, and an 18,000-pound Curt trailer hitch resides on the rear.
"… enduring the punishing hellscapes of a desert… requires a great deal of durable equipment and something to haul it all in."
To keep the Silverado rambling over those landscapes where gas stations are few and far between, Bush doubled the standard 26-gallon fuel tank with a 52-gallon polyethylene unit from Titan Fuel Tanks.
John Melvin of JM Collision in Laveen, Arizona, finished up the bodywork with several coats of PPG's Ford Race Red provided by Single Source in Phoenix. They were topped off by a few layers of clear coat, giving the whole truck a deep glossy shine, not to mention an attention-grabbing presence whether cruising down the road as Bush's daily driver or bombing through the dusty trails of the Mexican deserts.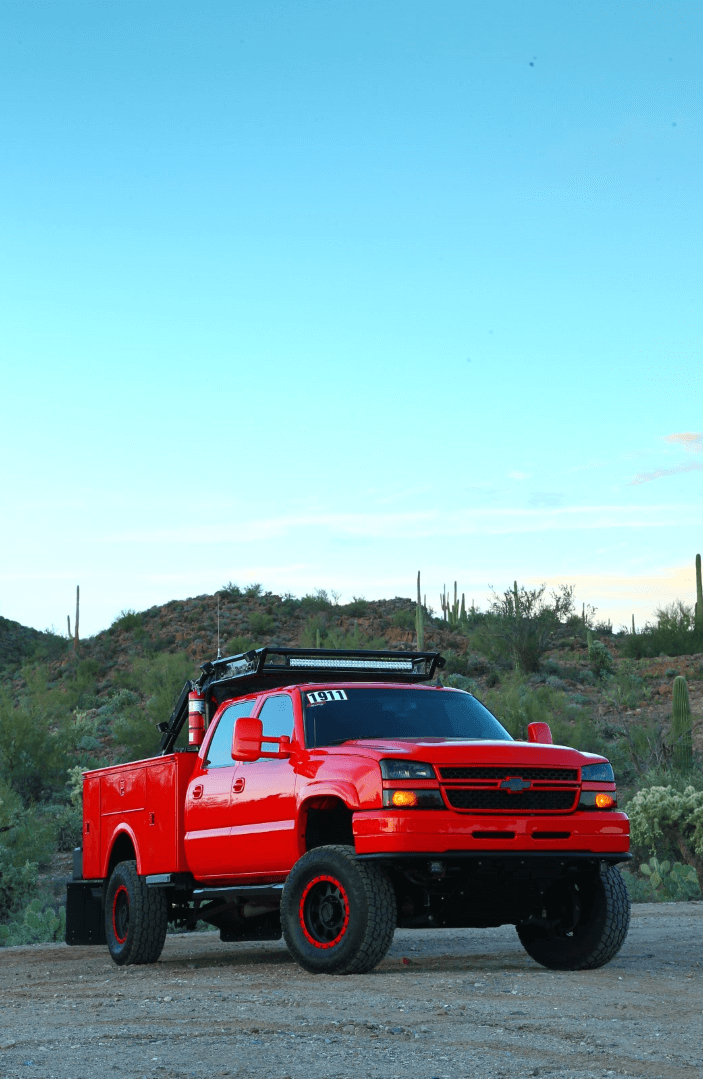 PERFORMANCE ALTERATIONS
With the cab and bodywork sorted, attention was directed under the hood in an effort to not only make sure the truck remains reliable but to provide it with much needed power and performance, especially since the overall weight of the truck was steadily climbing as the build progressed. The 6.6-liter Duramax diesel was outfitted with a Bully Dog Triple Dog tuner and monitor that increased horsepower, improved fuel economy, and provided a set of diagnostic functions.
For the deep breaths the 6.6-liter engine would need to take, an Airaid MXP SynthaMax air intake system was fitted, while exhaust gases exited through the four-inch Swept Side turbo-back exhaust system with a black tip from Gibson Performance Exhaust. The always durable six-speed Allison transmission was left unchanged but power is routed through a custom-made aluminum drive shaft.
CHASSIS WORK
To surmount the terrain, the truck will be expected to tackle, most of the underside of the truck was scraped and replaced by beefier gear than what came from the factory. Cognito Motorsports offered up its 7- to 9-inch lift kit package, featuring a full array of Cognito products, from trac bars, pitman and idler brackets to its front sway bar and tie rod kit.
The bumps in the road are subdued by a set of adjustable Fox shocks with remote reservoirs and Deaver's mini pack leaf springs, while the ride height is controlled with Firestone air bags and an on-board compressor. Installation of the kits was done by XTC Motorsports in Gilbert, Arizona.
All four corners are shoed with 35-inch Toyo Open Country AT tires on 17-inch 301 Street wheels with OMF Performance street locks from Method Race Wheels. In the bed and at the ready are two full-size matching spares.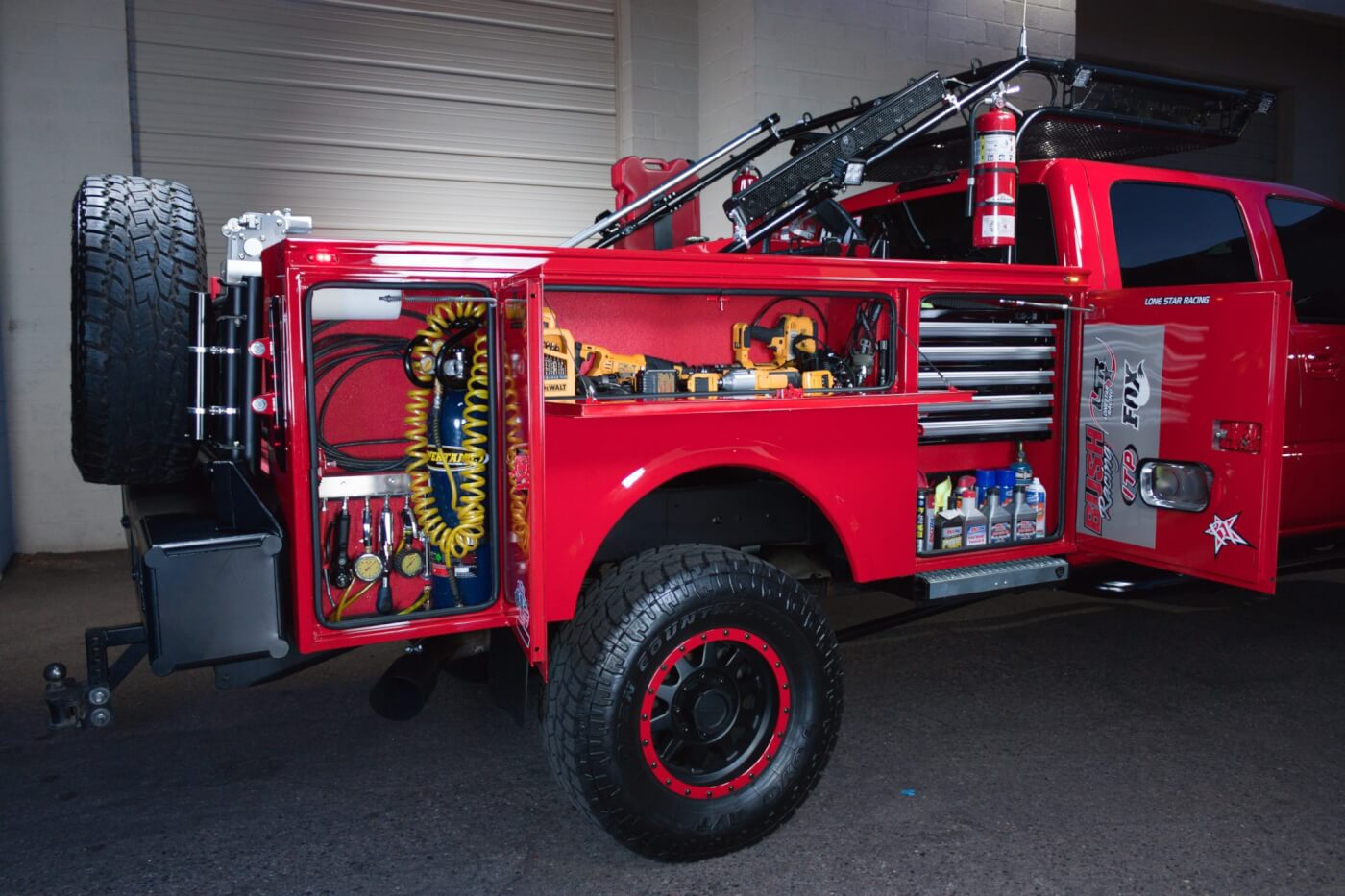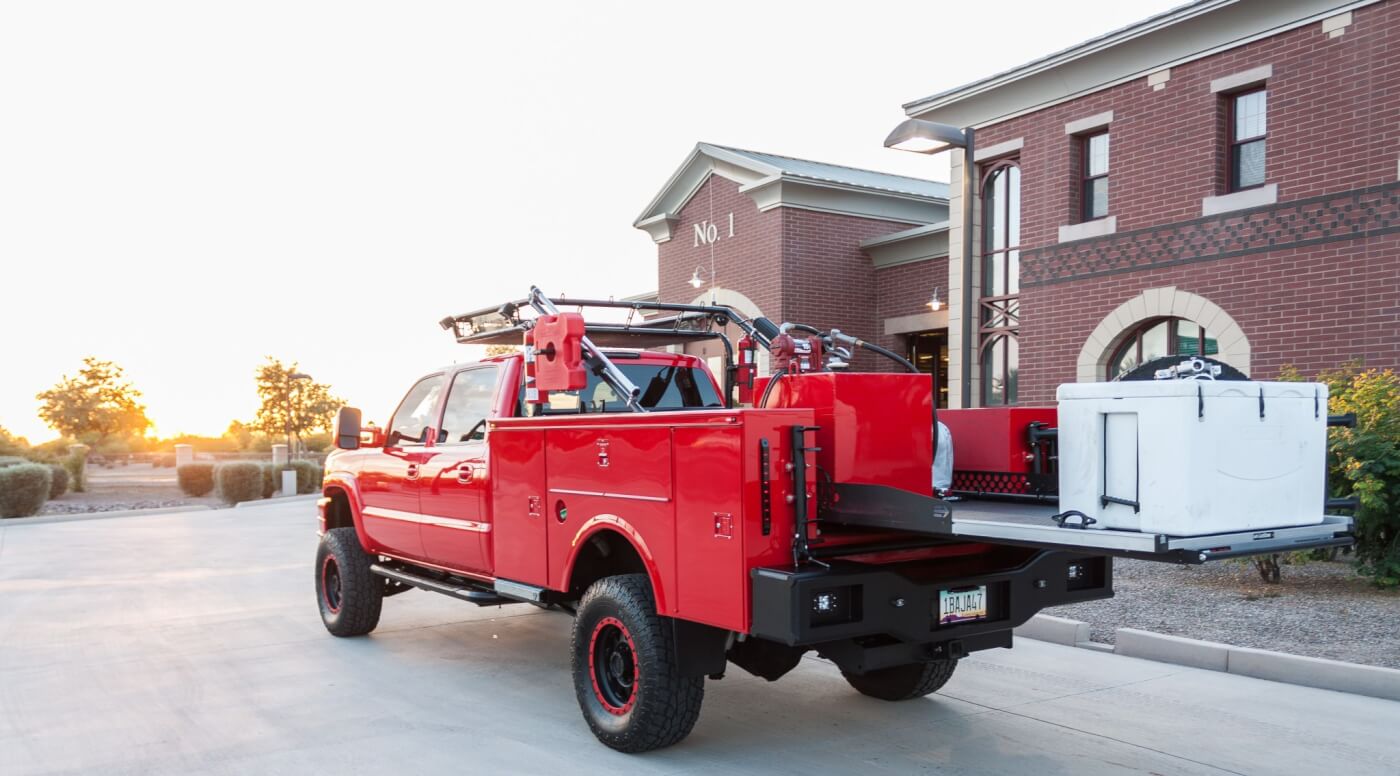 SPARKS AND SOUND
The Chevy underwent a much-needed upgrade in the electronics department with the addition of an Icom F5021 VHF Chase Package radio with 50 watts of power and 128 channels from PCI Race Radios. For entertainment, a Pioneer NEX 8000 head unit was installed, backed up with a 500/1 JL Audio Class D amplifier with 500 watts. Sound blasts through three JL Audio W3 eight-inch subwoofers as well as a Wet Sounds Stealth 10 Ultra V2 sound bar for outside music and radio communications.
One of the big challenges for any chase truck crew is to locate the racer, made especially difficult when they're dealing with 1,000 miles of open desert. To overcome this, Bush installed a Lowrance Elite-5M HD Baja GPS system specifically designed with off-road capabilities. An alarm system from Autopage keeps the whole package secure, and all of the exterior lights were converted to LEDs and are controlled via light switches surrounded by a custom-made aluminum panel.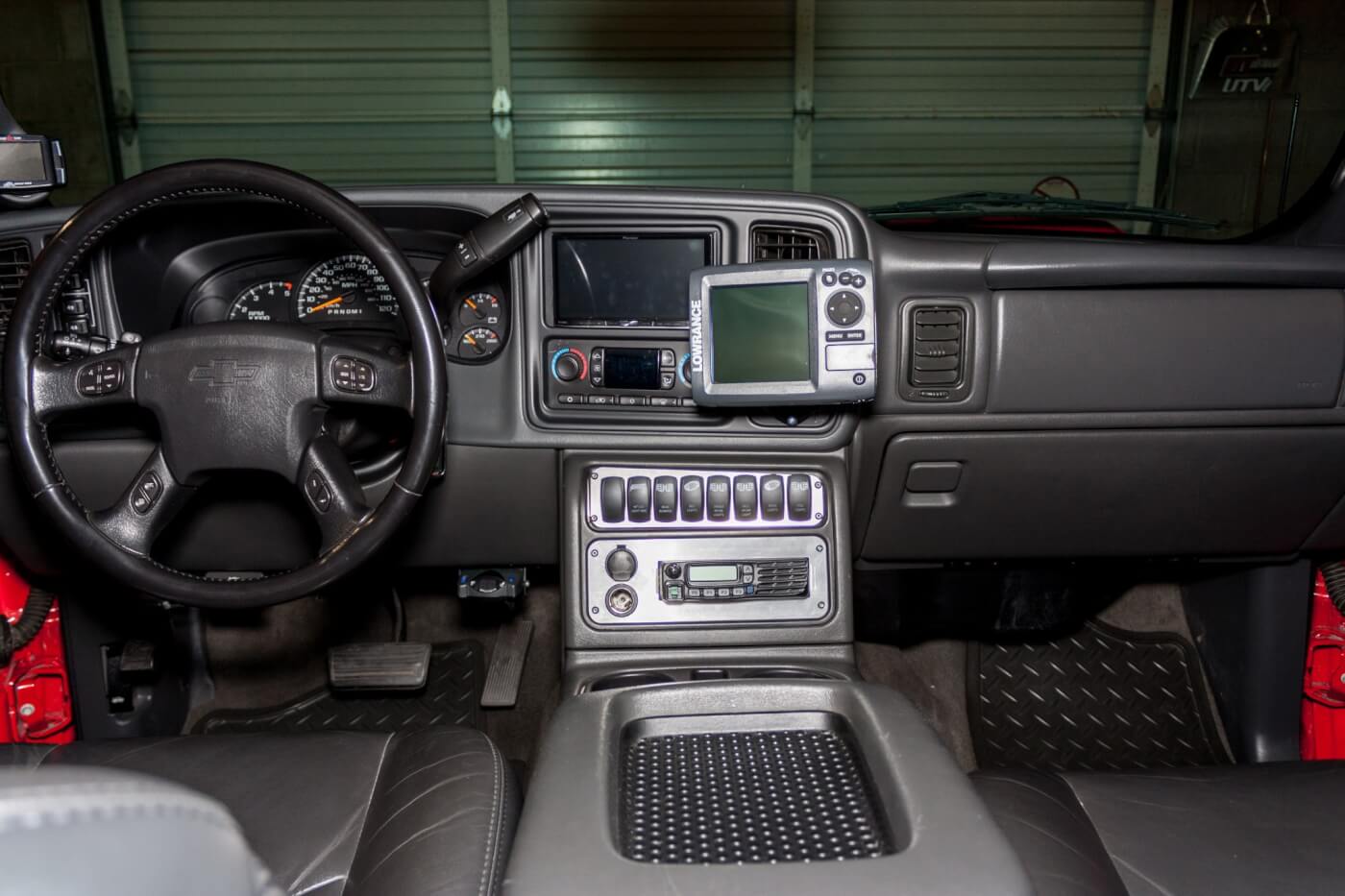 THE FUTURE
Though most would consider the truck completed as it performed admirably at over 10 off-road races so far this year, Bush still works on it almost every day. There are always future plans. In addition to some upgraded parts (billet torque converter, for example) Bush is always reworking the storage spaces, looking for the optimum efficiency for his team.
"I will use this truck next year and for the rest of my life. As long as I am racing, this will be my chase truck," Bush added. "Chasing is almost as fun as racing. I love it." DW