While most enthusiasts eventually part ways with their first diesel, a select few hold onto them for practically forever. For these holdouts, their first diesel represents the first time they realized how easy it was to add horsepower, tow whatever they wanted, and still get respectable fuel economy. Matt Berlemann bought his '03 Chevy Silverado 2500HD to do all of these things. From the time it had 16 miles on the odometer it's been programmed, lifted, towing anything he's needed it to, and knocking down more than 21 mpg on the highway when empty.
"By the end of the quarter mile I had him by about 2½ car lengths." —Matt Berlemann on racing a '13 Corvette (from a 35 mph roll)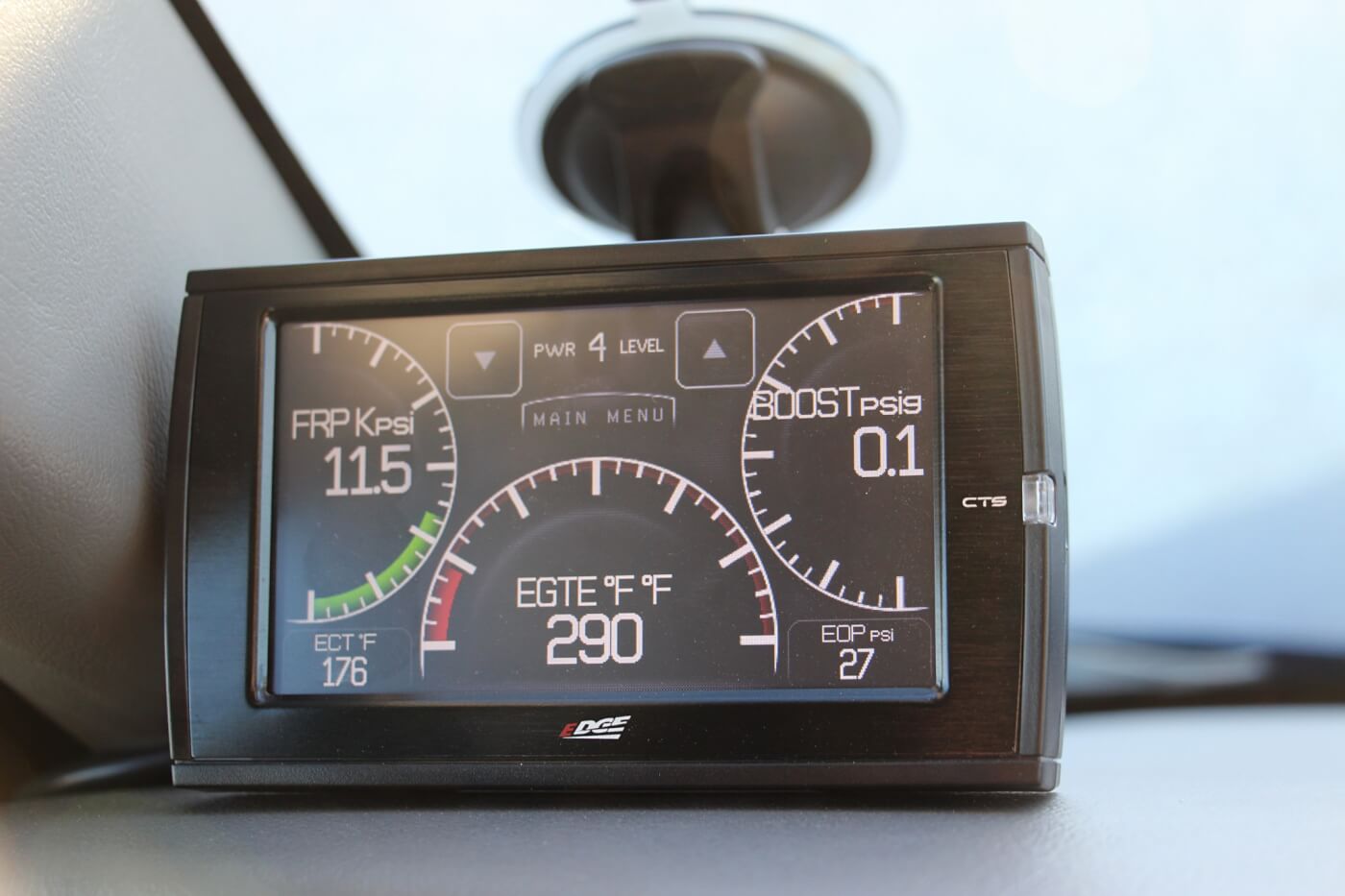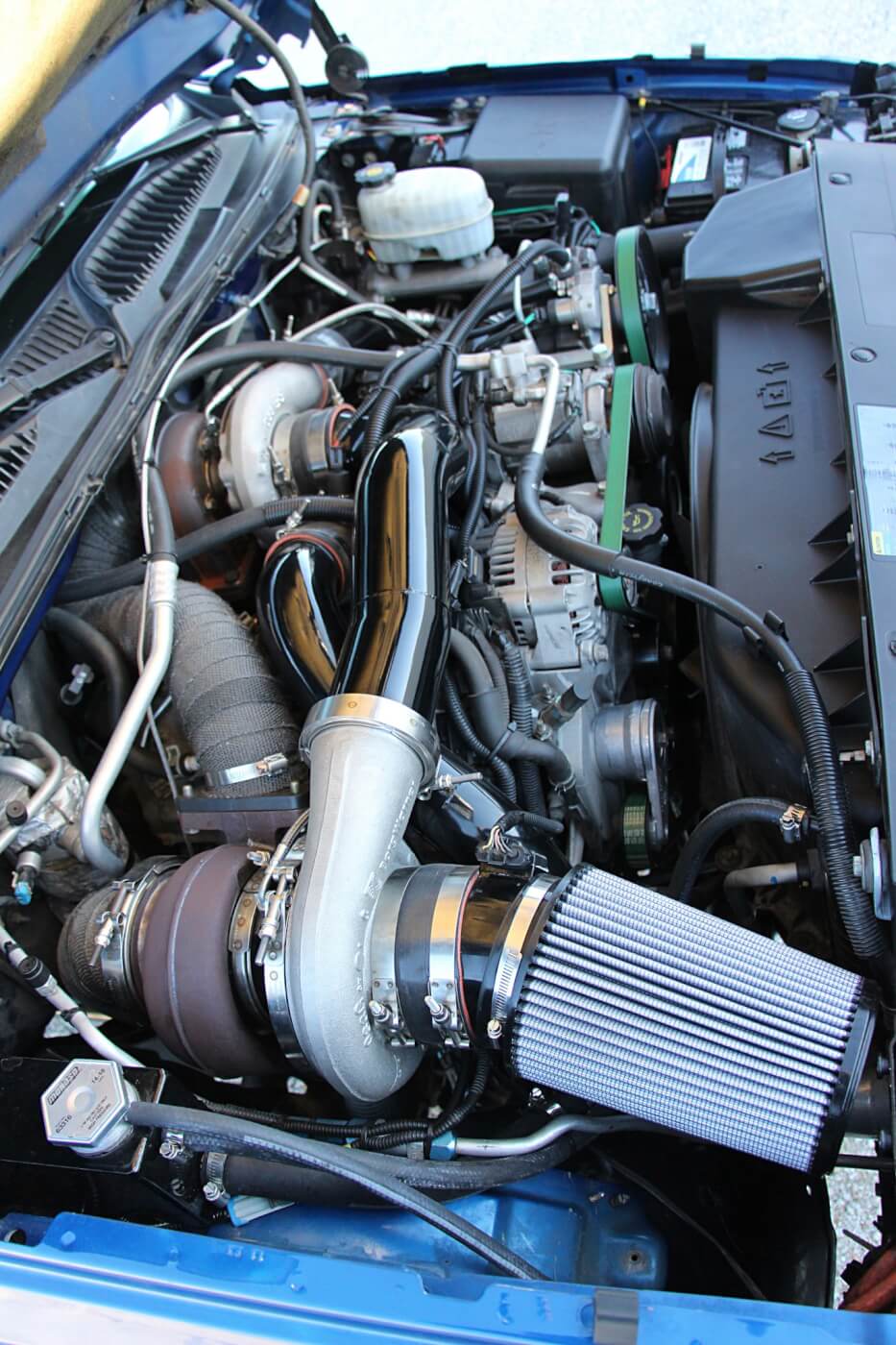 FORCED HAND
But after racking up 240,000 trouble-free miles, the injector failure that LB7's are notorious for finally sidelined the truck in the summer of 2013. With his Silverado waiting to be repaired at Flynn's Shop in Alexander, Illinois, Matt started kicking around the idea of adding more power. "I knew I needed injectors, the turbo was old, my weak links were the rods and transmission, so I thought hell, let's build it right and be done with it," he told us.
ENGINE WORK
With orders to build a bulletproof drivetrain, the guys at Flynn's got to work on the Duramax mill under the hood. The original block was fitted with Carrillo connecting rods, which employ ARP rod bolts, Mahle Motorsport coated stock replacement pistons, and a brand new OE spec camshaft. Coated main, rod, and cam bearings were utilized, as well as a set of ARP main studs.
The bulletproofing continued by keying both the crankshaft and camshaft, and in order to keep the factory water pump from failing at higher engine speeds the drive gear and impeller were TIG welded to the pump's shaft. Up top, the heads were polished, and then fitted with Diesel Technology Source valve springs. From there, factory head gaskets and ARP Custom Age 625+ head studs finished off the long block's list of hard part upgrades.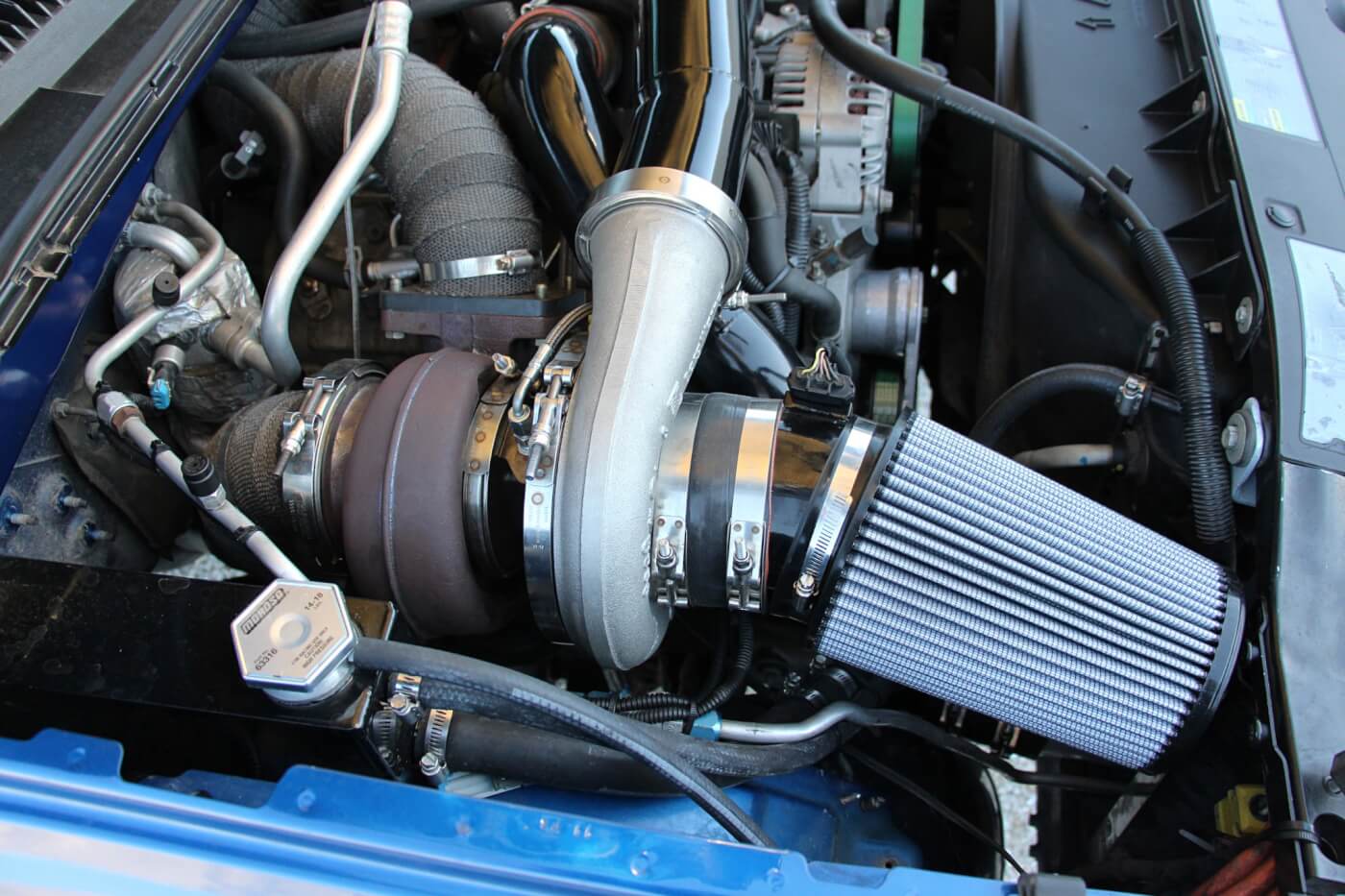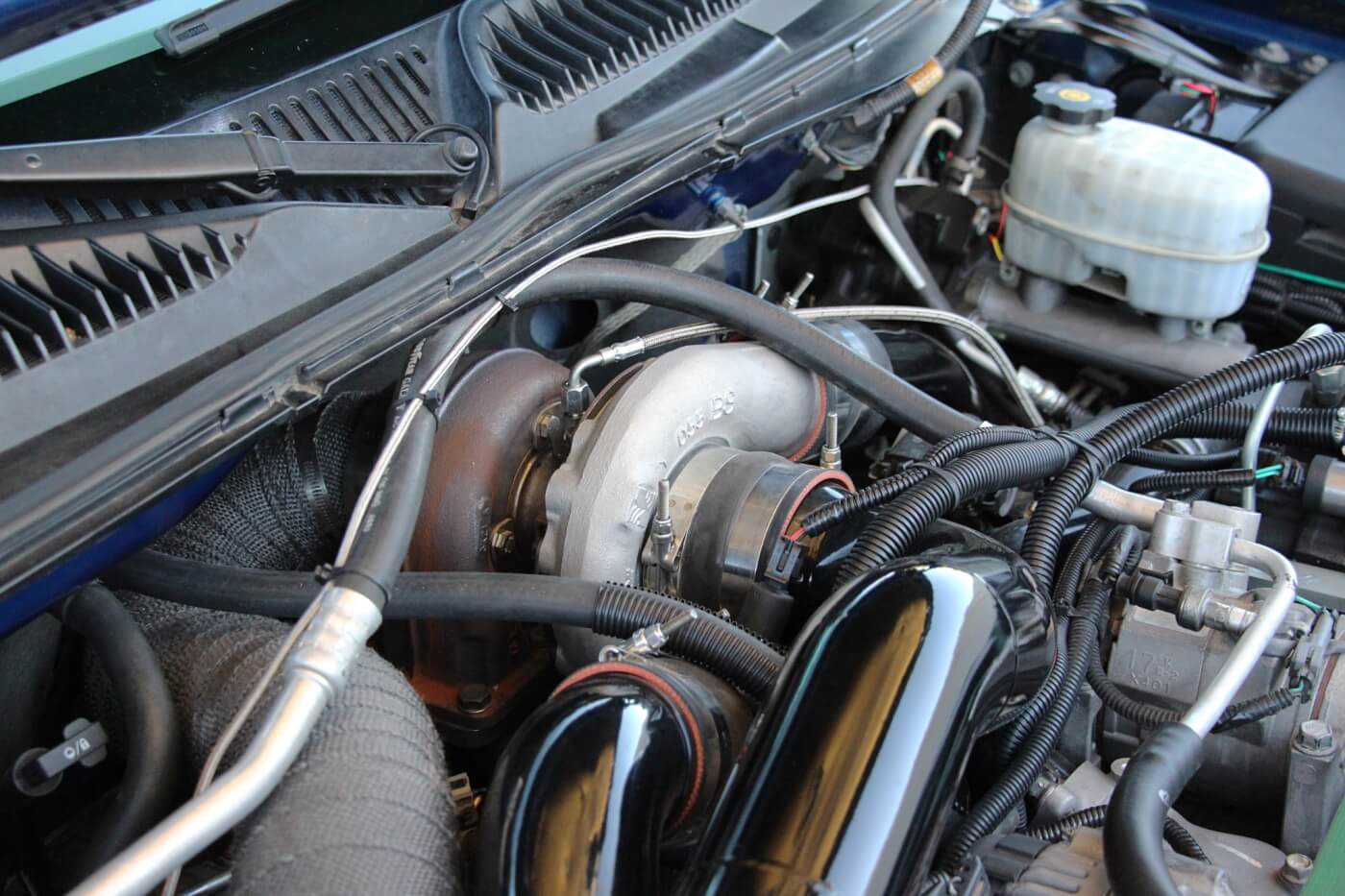 BIG FUEL
On the fuel side, a set of 100 percent over injectors from Exergy Performance offer the potential to make in excess of 900 hp yet can be tuned to make a smoke-free 700. A Dual Fueler CP3 system from PPE ensures adequate rail pressure is always on tap for the injectors to use. Not leaving anything to chance, a 260-gph Titanium series lift pump system from FASS—coupled with a Bean's Diesel fuel tank sump—has no problem keeping the CP3's supplied with plenty of low pressure fuel.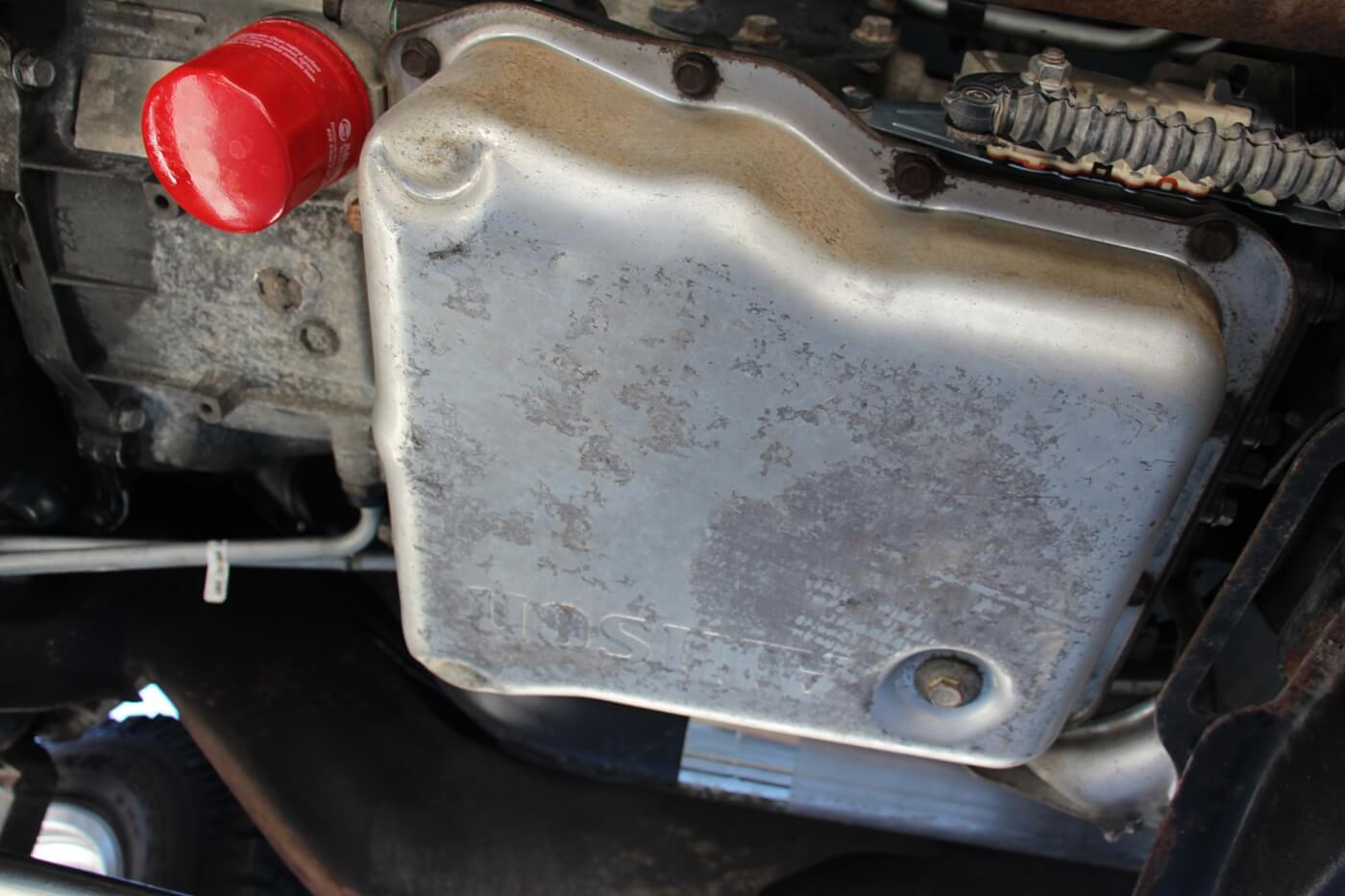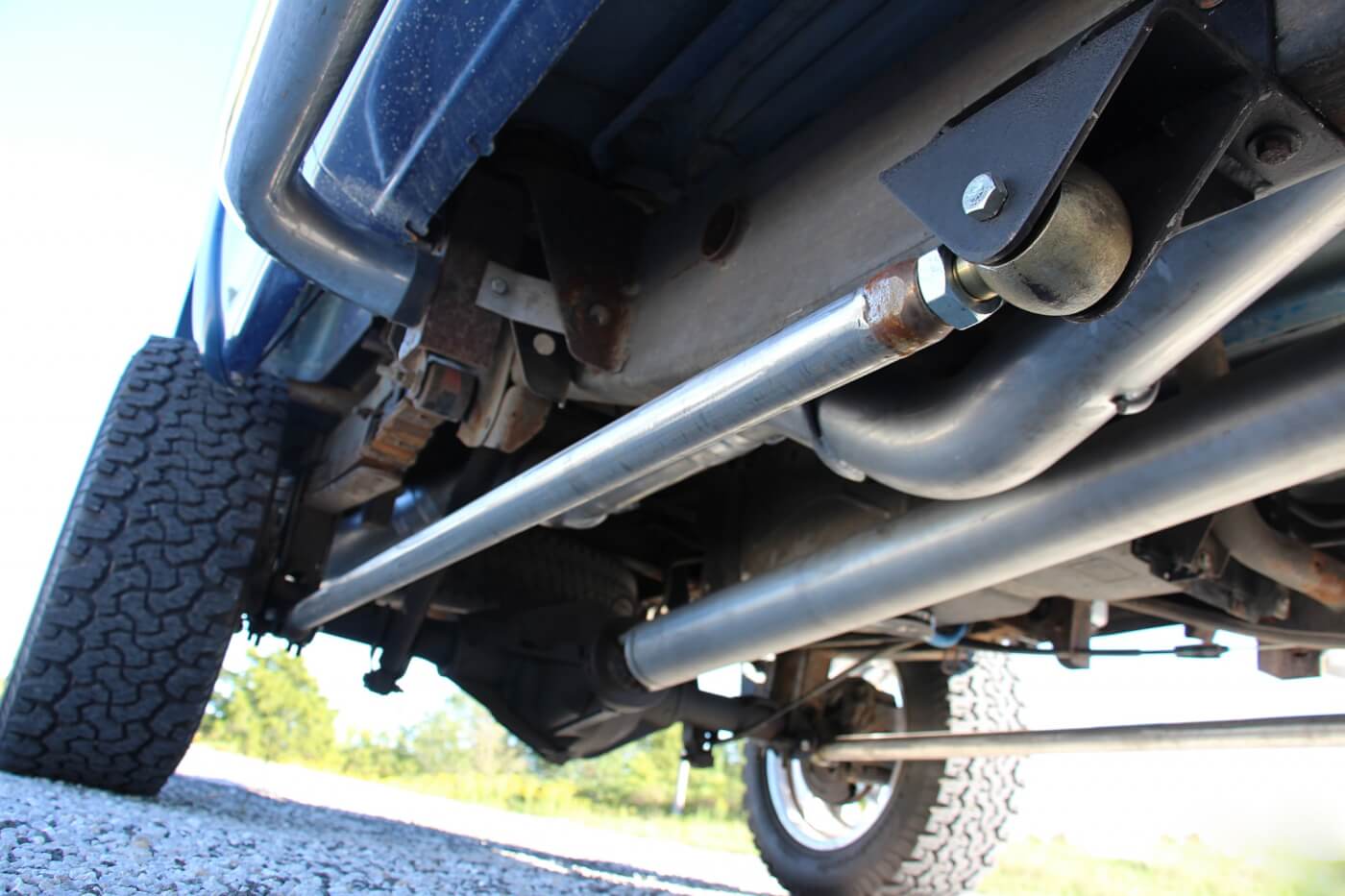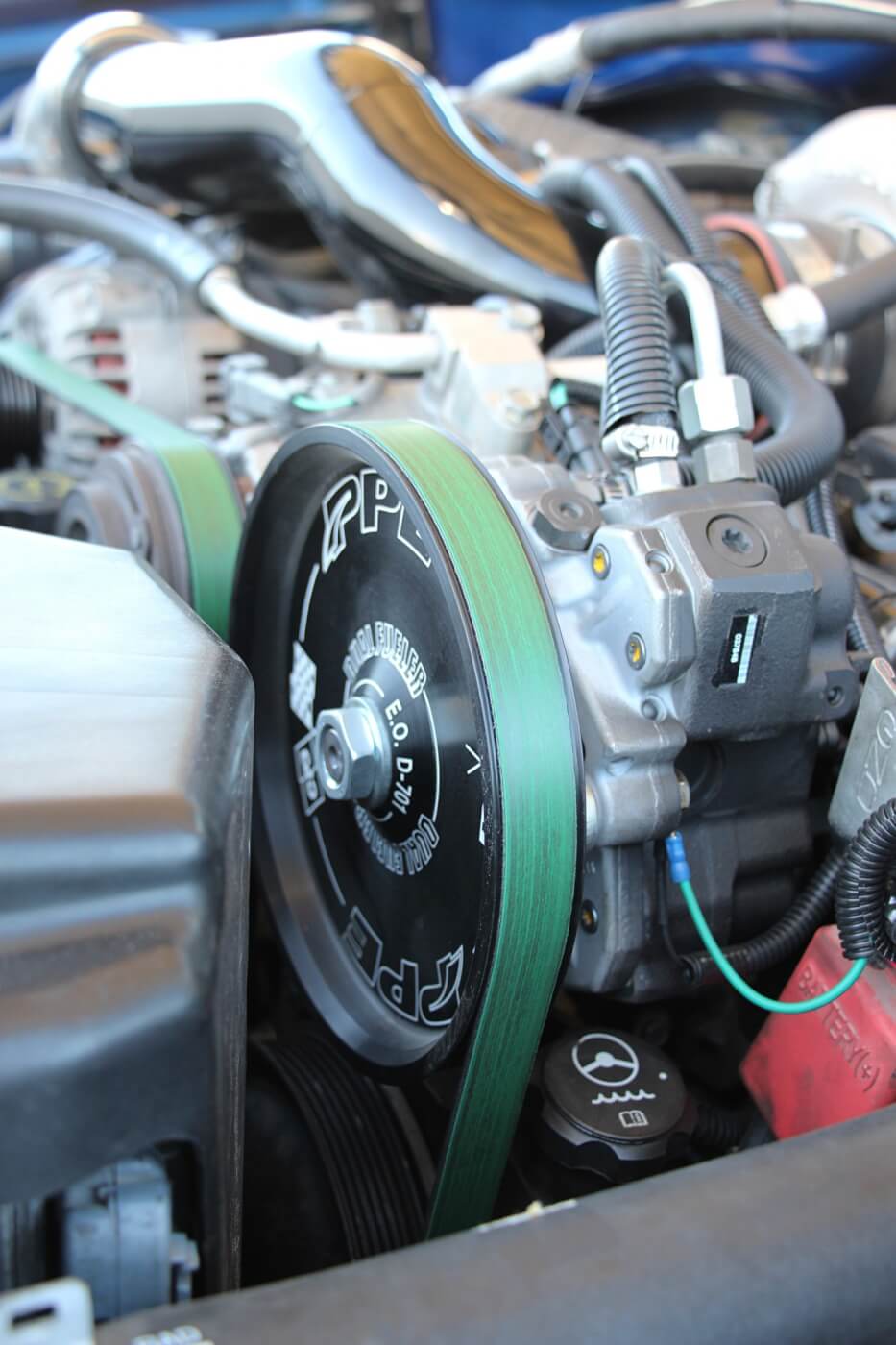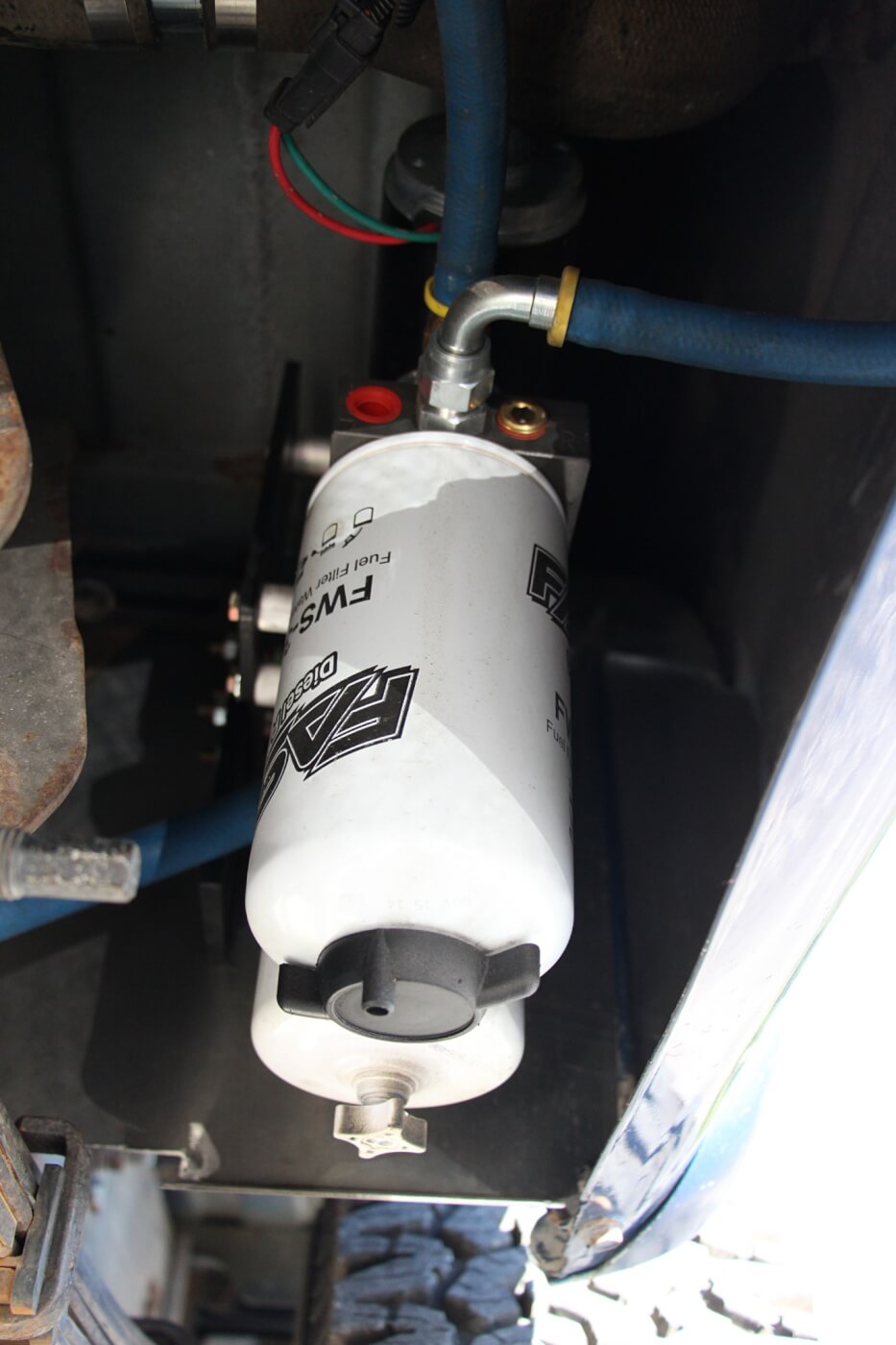 366 OVER 480
Sized with room for future growth, Flynn's installed a complete compound turbo arrangement from Wehrli Custom Fabrication. Called its Big Twin kit, the Wehrli setup uses an S366 BorgWarner in the valley, and an S480 in place of the passenger side battery (which was relocated along the frame rail). Both chargers feature billet compressor wheels—helping them to spool quicker and flow more air up top than their cast wheel'd cousins. A 3-inch diameter, high flow Y-bridge, 3-inch hot side and cold side pipes also accompany the turbo kit. Helping to cool EGT and stand up to big boost is an aftermarket intercooler from Mishimoto.
"Both chargers feature billet compressor wheels—helping them to spool quicker."
TRANSMISSION
Known for building indestructible Allison 1000 transmissions, the guys at Flynn's wasted no time tearing into the 240,000-mile stocker and making it four times stronger. Employing a Sun Coast Gmax 5-pac, billet input and output shafts, a 1058 triple disc converter and billet flex plate, this Allison has no problem harnessing the torque being created by the potent LB7 in front of it.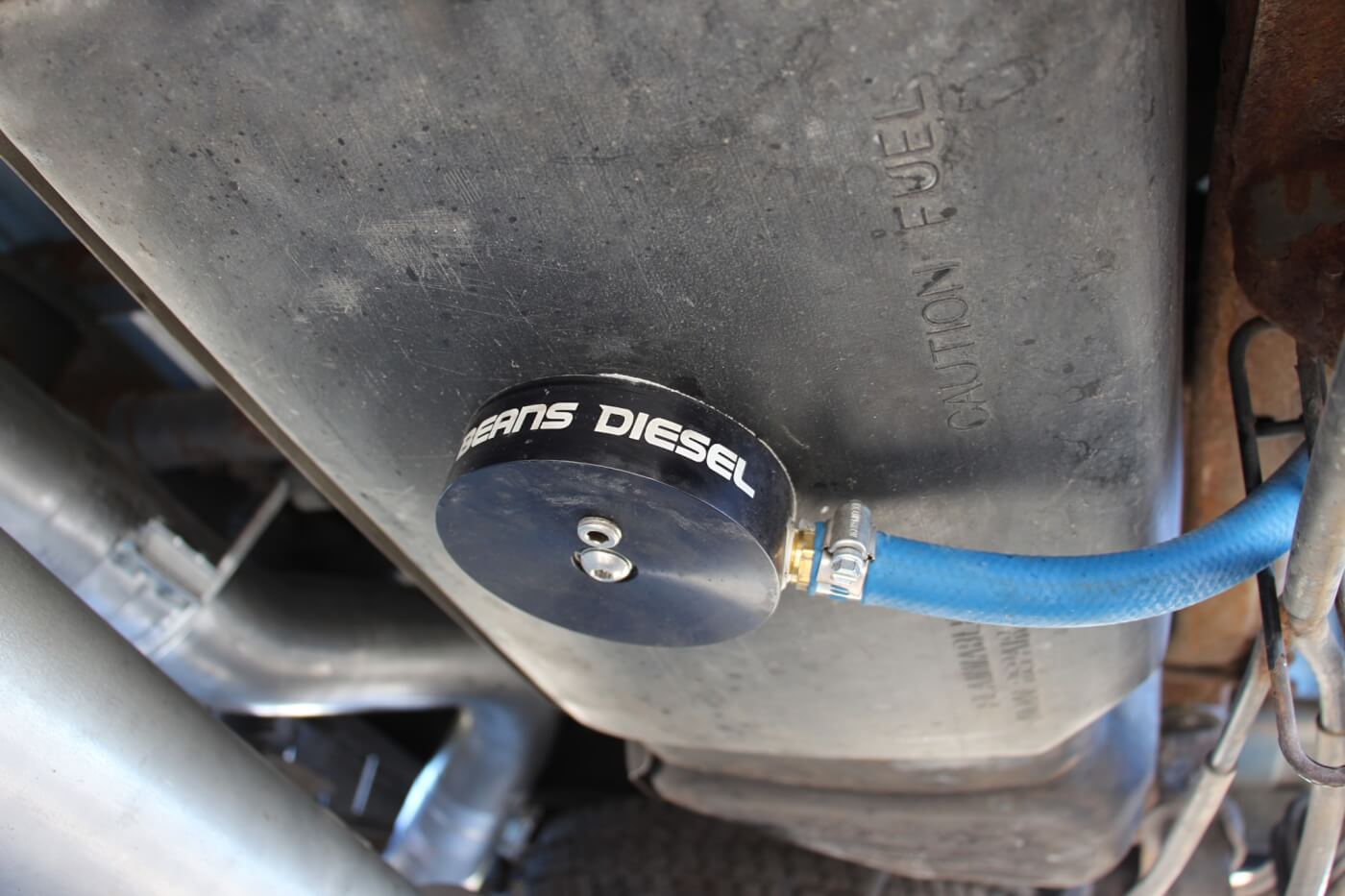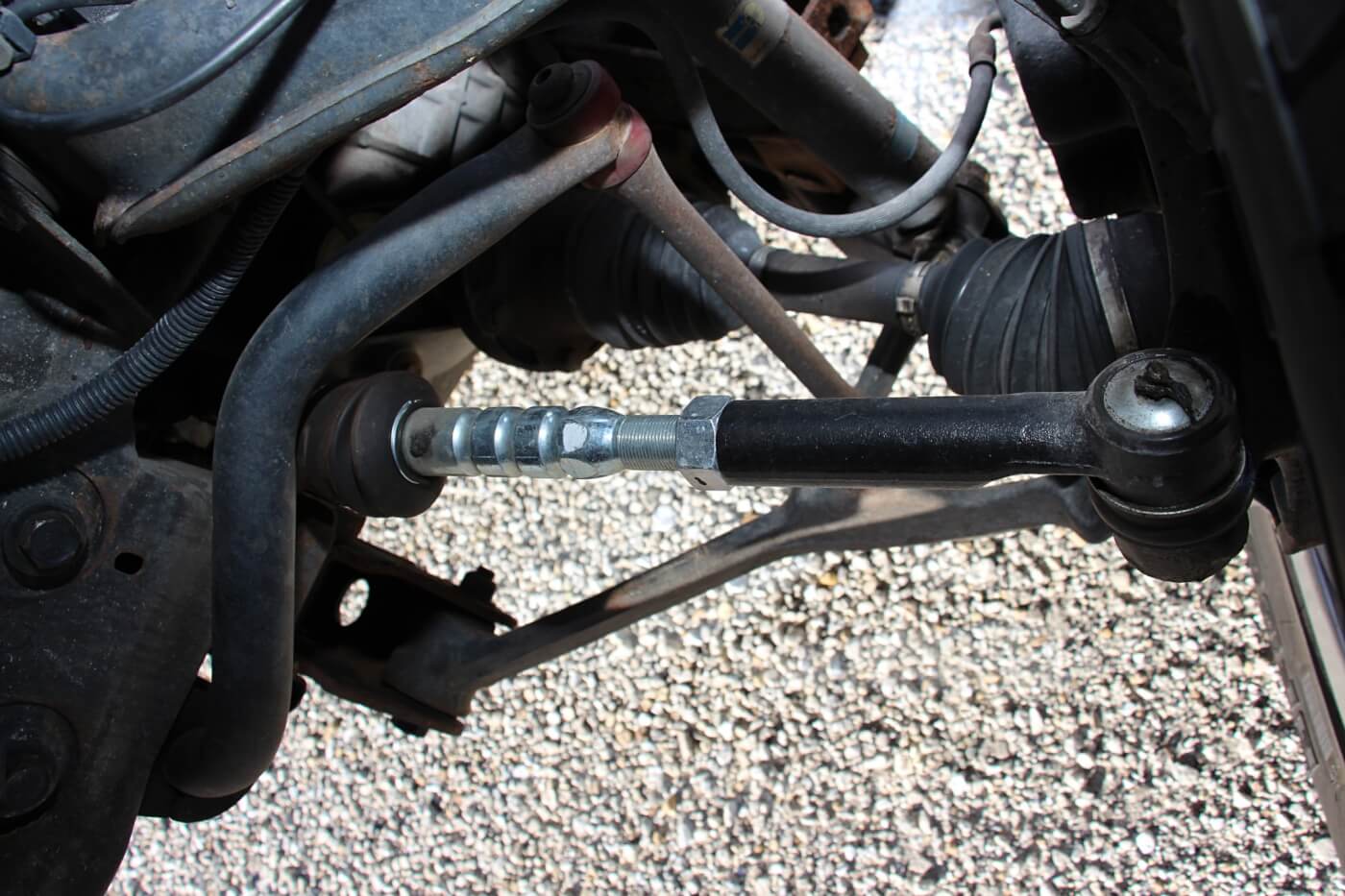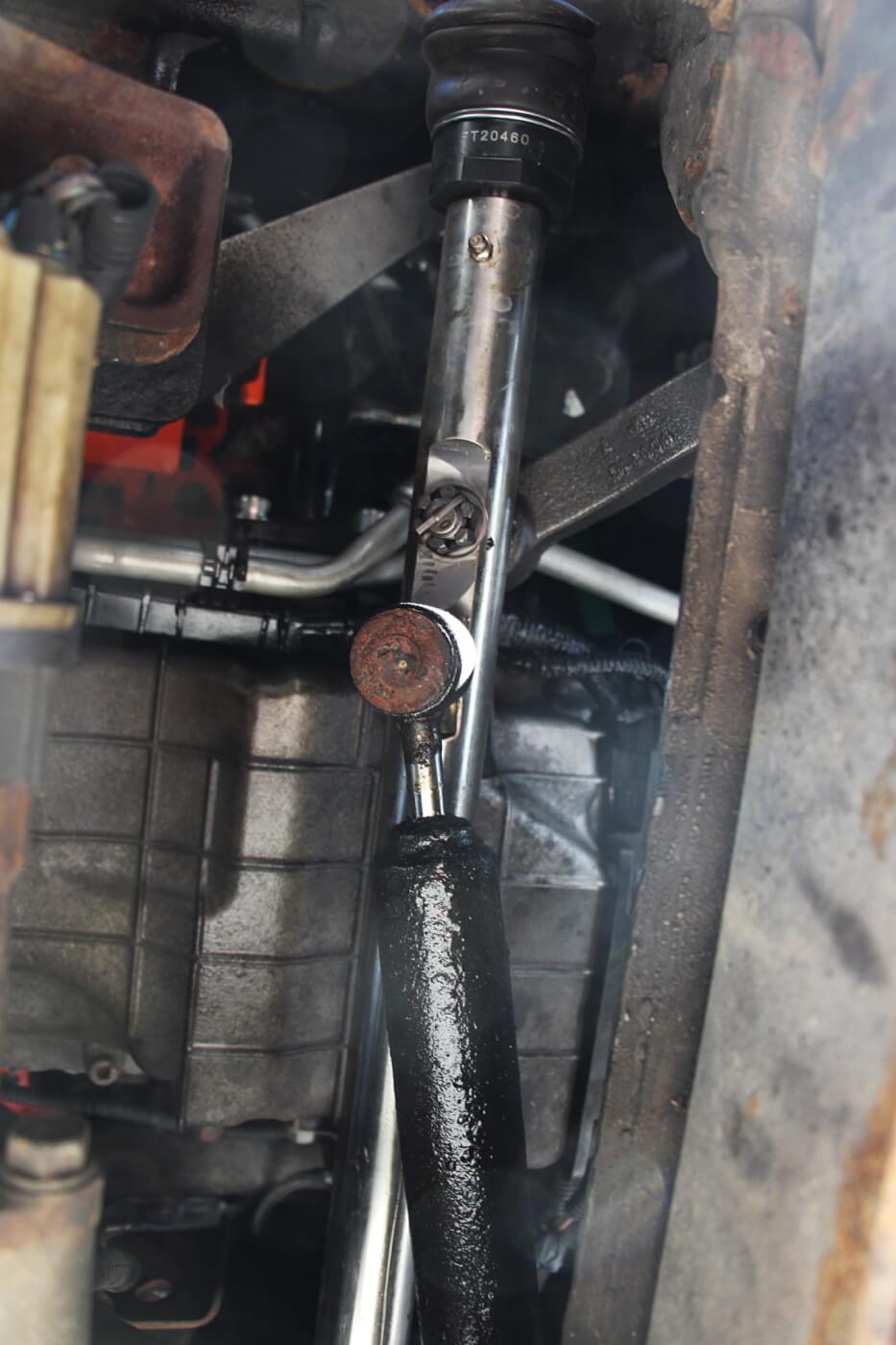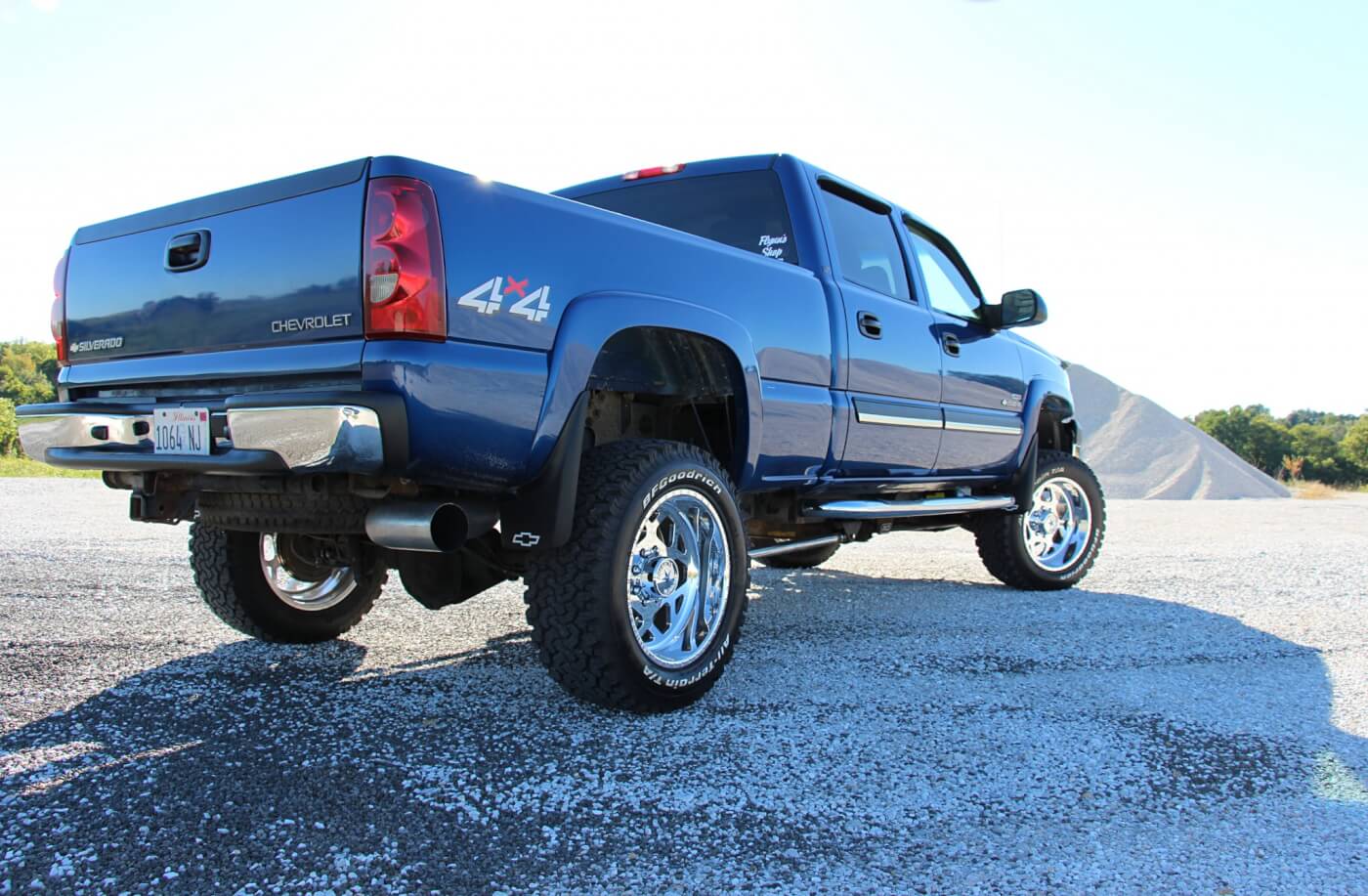 DURAMAX TUNER
Tying the overall package together was left to DuramaxTuner.com. Through use of EFI Live software, their carefully crafted tuning files have made a 900hp, 13-year-old truck extremely drivable, well mannered, virtually smoke-free, and a blast to drive. "It cleans up so fast, you don't even know it's a diesel until it blows by you," Matt told us.
"A set of 100 percent over injectors from Exergy Performance offer the potential to make in excess of 900 hp."
If there's one thing we picked up in talking with Matt, it's that he expects his truck to do a little bit of everything. That means when it's time to hunt, you'll find it somewhere out in the mud, snow, and timber. When it's time to haul horses, it's getting hooked to the trailer. And when it's time to run down to Florida and back, it's full steam ahead. So while we're not sure if he'll use his truck for commuting, road tripping, towing, or as a Corvette killer, one thing's for sure: the next quarter-million miles of this Chevy's life will be a lot more entertaining. DW