The National Association of Diesel Motorsports (NADM) is the sanctioning body for national diesel-based motorsports competition. Diesel motorsports have a strong following in the Rocky Mountain region, so naturally the NADM holds its annual drag race, dyno competition, and sled pull in Utah. NADM can also stand for "never a dull moment" and this year's event—hosted by Industrial Injection—spanned two days and two venues, with Friday night quarter-mile drags at Rocky Mountain Raceways in Salt Lake City and a Saturday sled pull and dyno runs at the Wasatch County Fairgrounds in Heber City.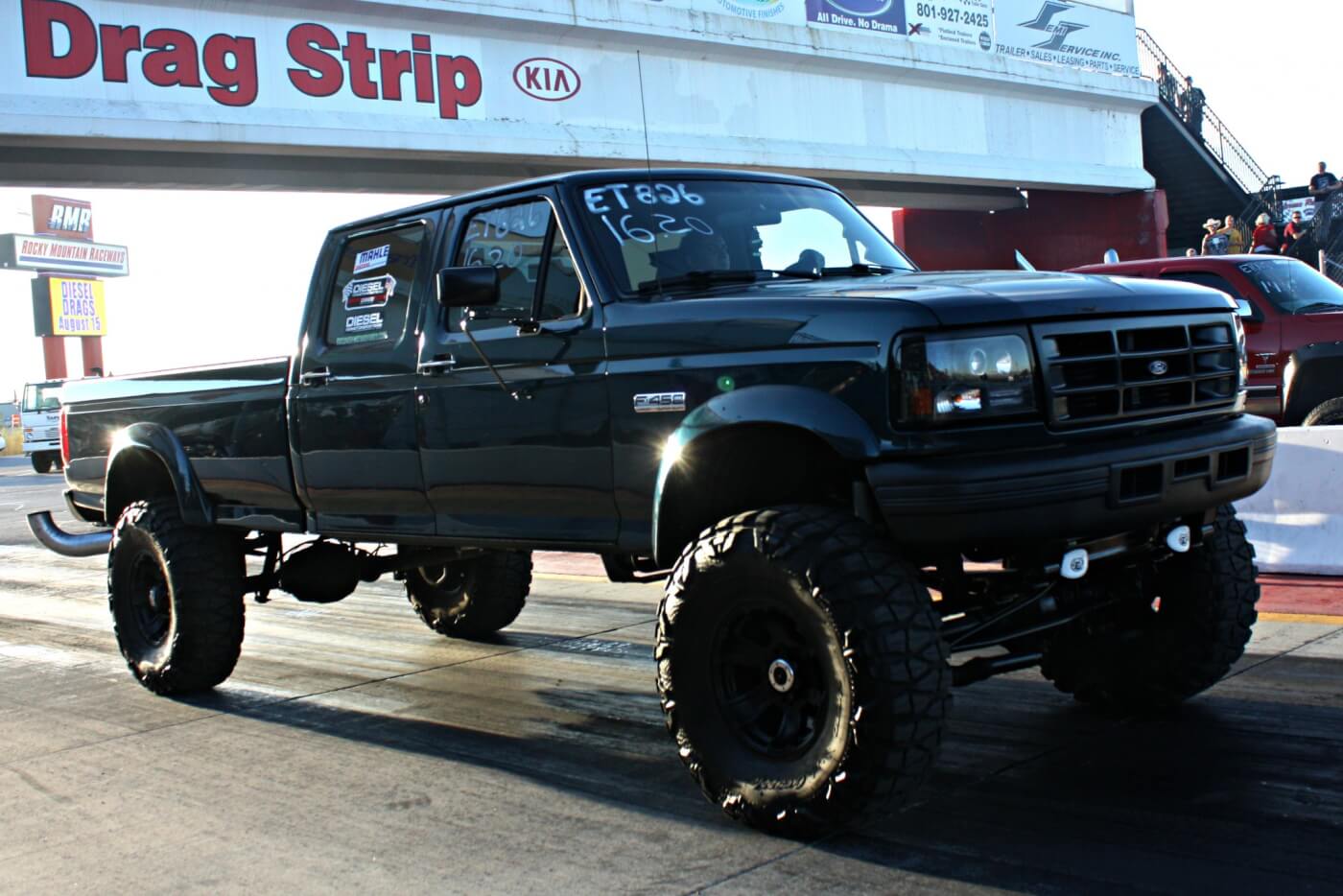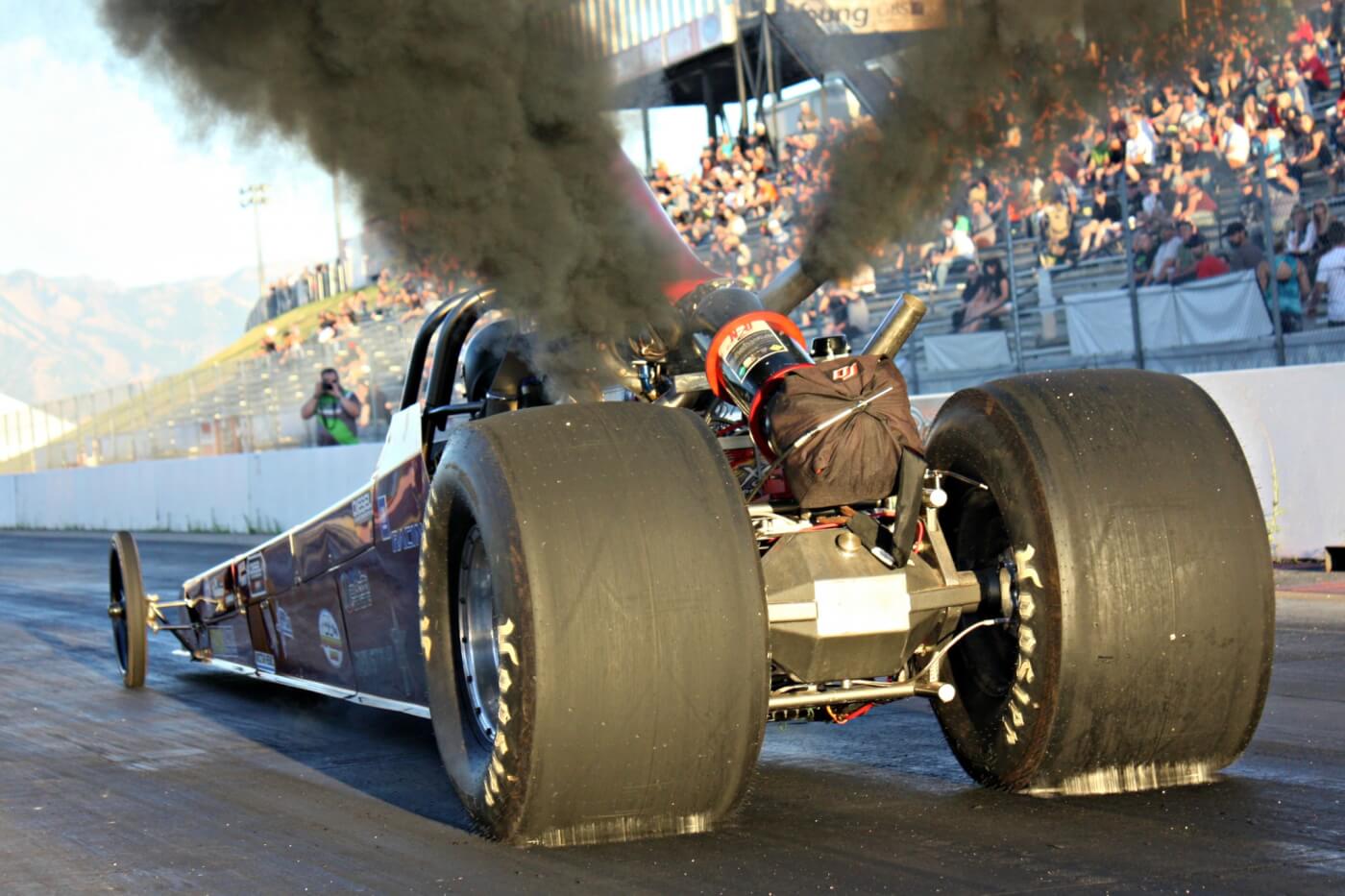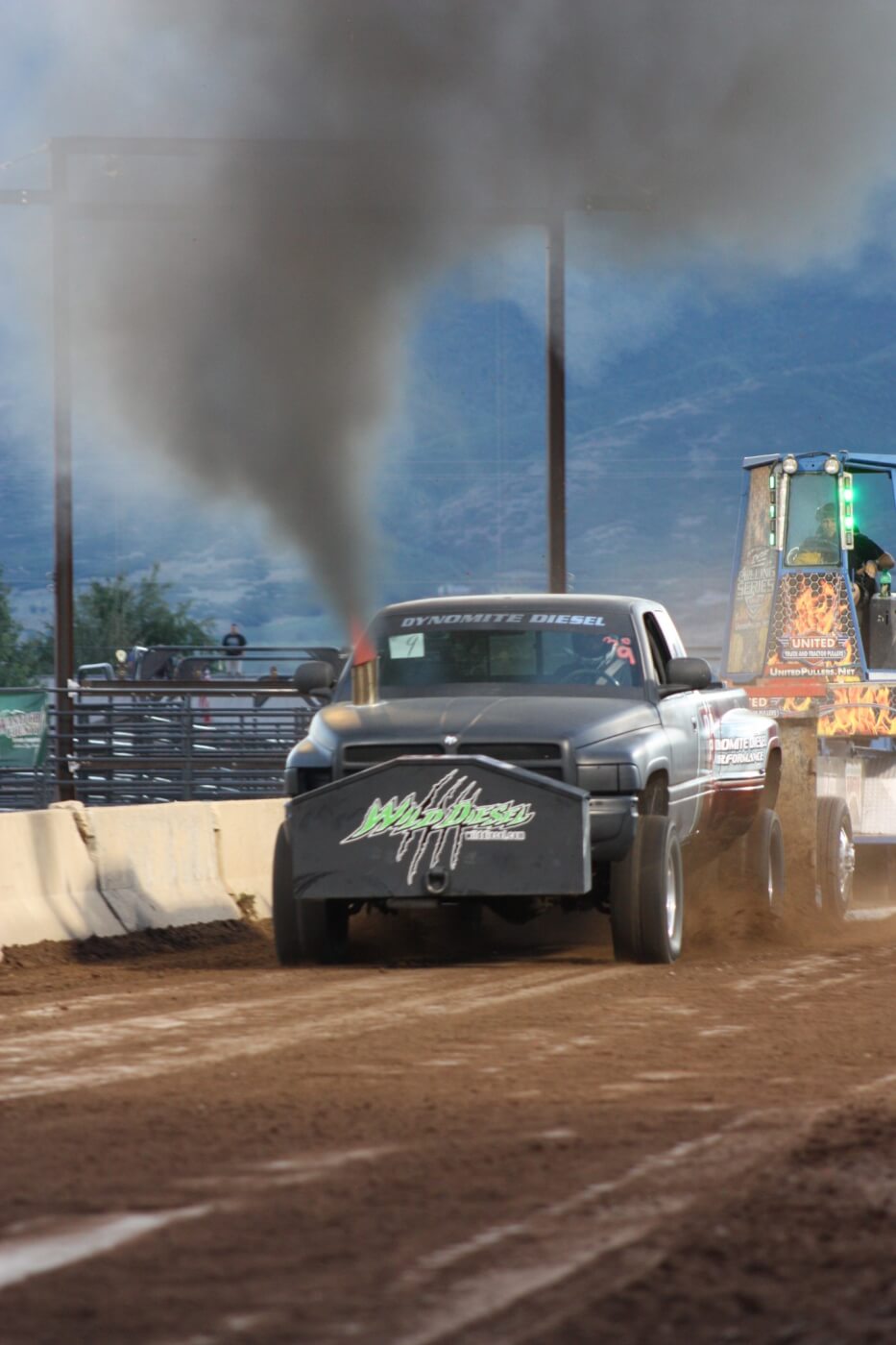 DRAG RACE
The E/T Bracket class had a strong turnout with trucks (and a few diesel-powered cars) running anywhere from 19-second quarter miles down to mid-12s. First place went to seasoned drag veteran Verlon Southwick in his 2007 Chevrolet Duramax, who ran a 12.344 e/t on a 12.35 dial time. Coming in second was Chris Weiss with a 14.096 on a 14.12 dial time.
The 12.0 Quick Diesel Heads-Up class is always super-competitive with multiple trucks capable of running right on the 12.0 e/t breakout threshold. The 12.0 Index class takes both a skilled driver and a consistent truck with plenty of horsepower under the hood. After making their way through the elimination rounds, Trevor Peterson and Lyle Richmond found themselves in the final, but Richmond's Mega Cab launched a bit too hard and broke a flexplate, making it an easy win for Peterson who ran a 12.31 at 101 mph.
The Unlimited class is always the crowd favorite thanks to the all-out "run what ya brung" competition, For the second straight year, the Bully Dog 5.9L Cummins truck driven by Jarid "Ironman" Vollmer took home the win, with a new diesel track record of 8.81 seconds at 159 mph—an impressive feat when you factor in the tough track and nearly 4,500-ft. elevation. Pulling those kinds of results requires just over 1,300 horsepower. The second place trophy went to the Industrial Injection LB7 Duramax driven by Shawn Baca.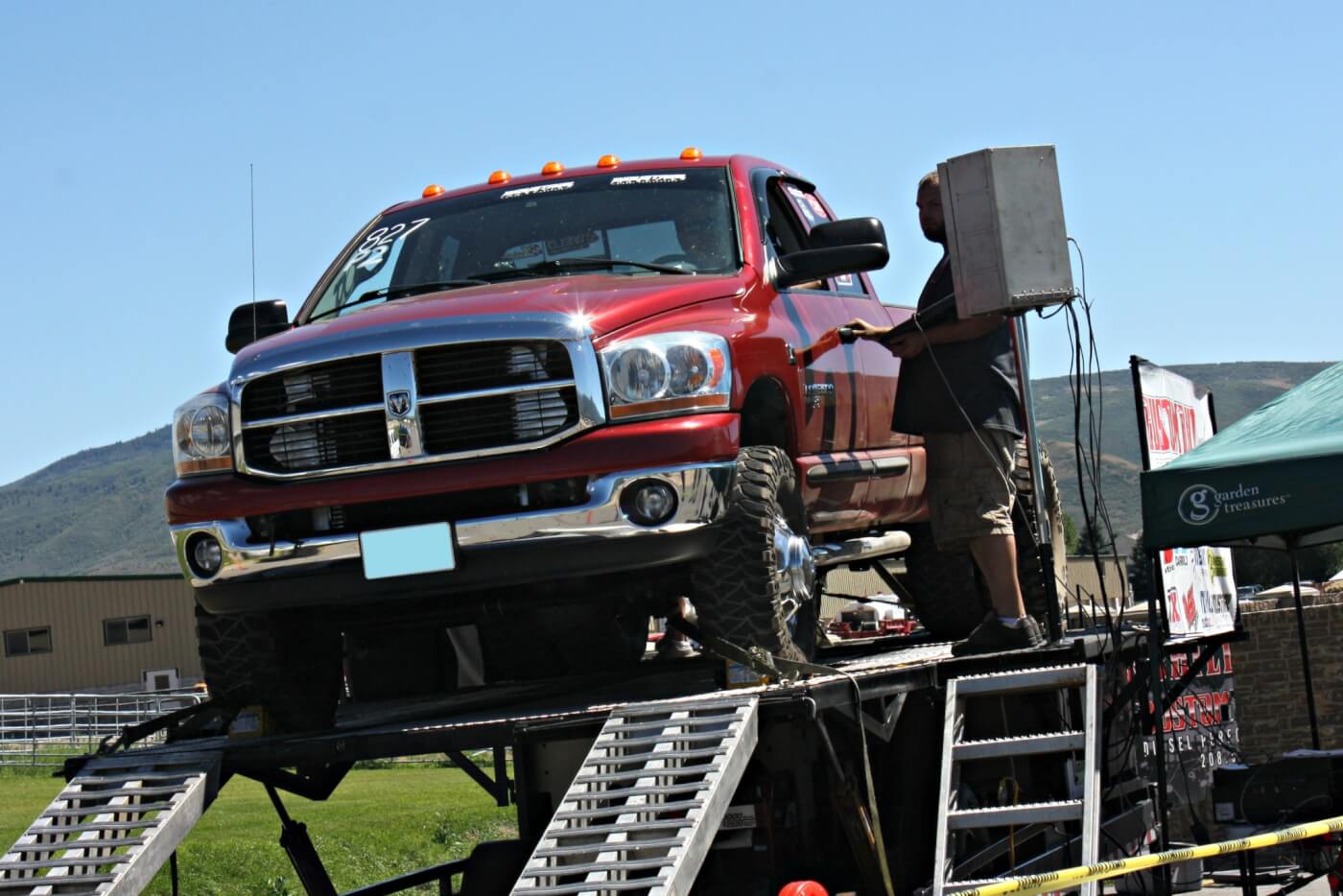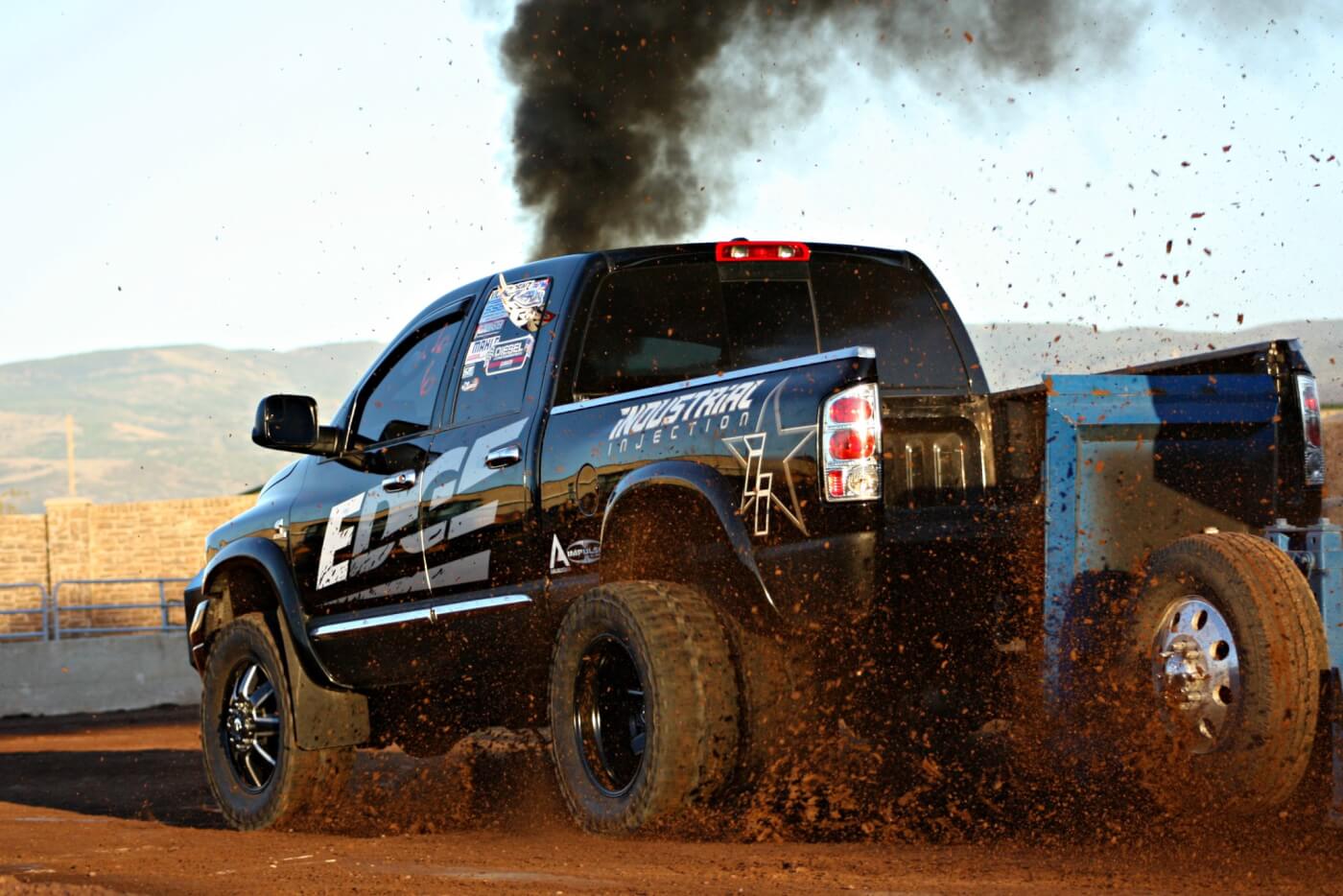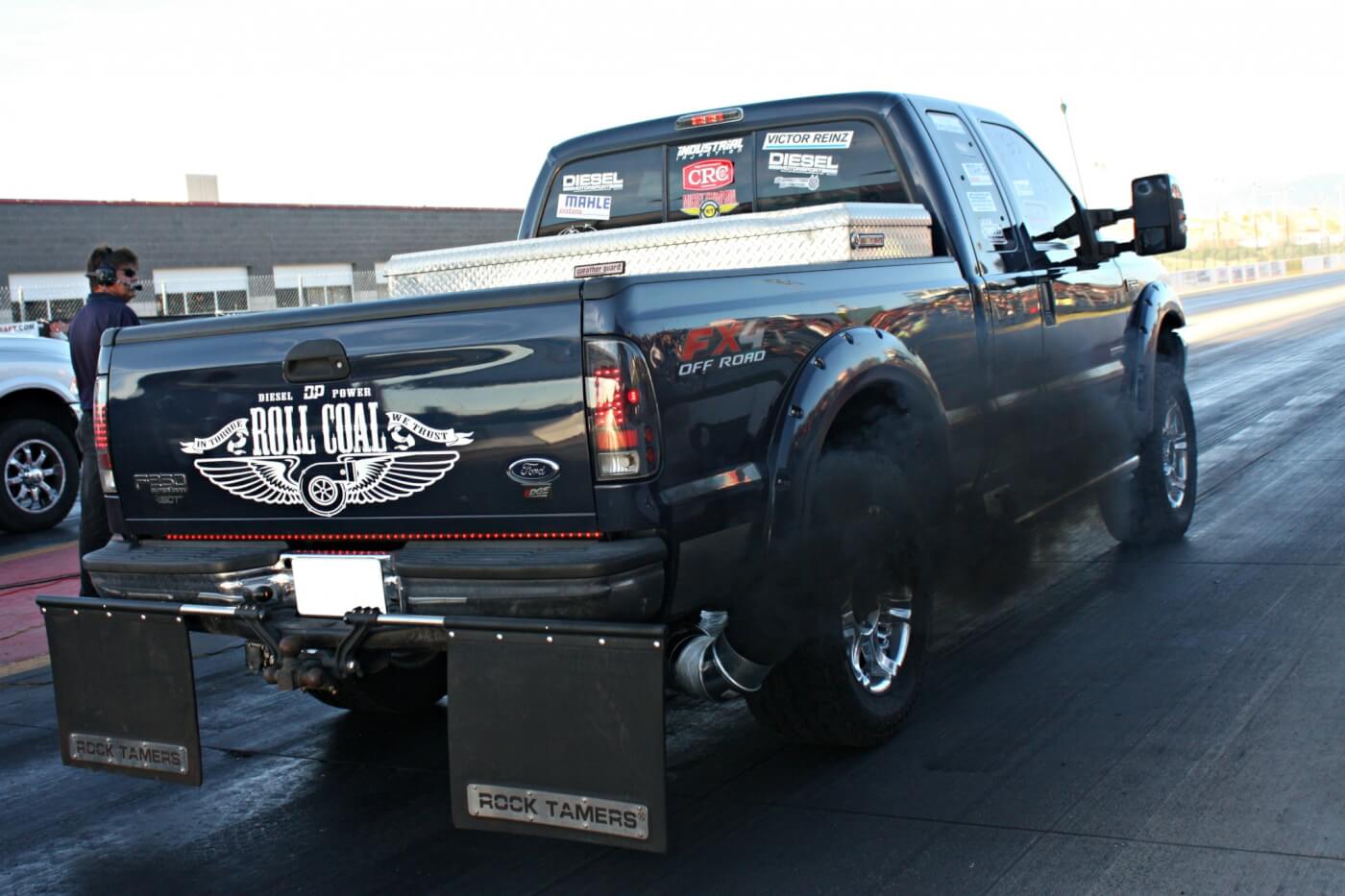 DYNO
After finishing up the racing at Rocky Mountain Raceway in Salt Lake Friday night, the festivities moved over the mountain to the Wasatch County Fairgrounds in Heber City, for Saturday's dyno competition, show 'n' shine and sled pull. The United Truck and Tractor Pullers Association have a strong following along the Wasatch front, so the competitor and spectator turnout was strong, and the Diesel Motorsports crew and UTTPA worked well together and put on a great show for the crowd. Custom Auto of Idaho Falls, Idaho, hauled down their portable Superflow chassis dyno for those who wanted to flex their truck's muscles.
The dyno competition was broken into three categories with cash prizes for the top-performing Ford, GM, and Dodge/Ram trucks. Custom Auto's purpose-built 2006 LBZ Duramax dominates dyno completions all over the country, so it was no surprise when they laid down the top number of the day at 1,701 horsepower, almost 900 hp higher than the next closest competitor. The Dodge Cummins crowd was well represented, however, with Randy Reyes' 5.9 common rail laying down 794 hp thanks to some big compound turbos. Dylan Higley's 6.4L Power Stroke took home top Ford bragging rights with 584 hp.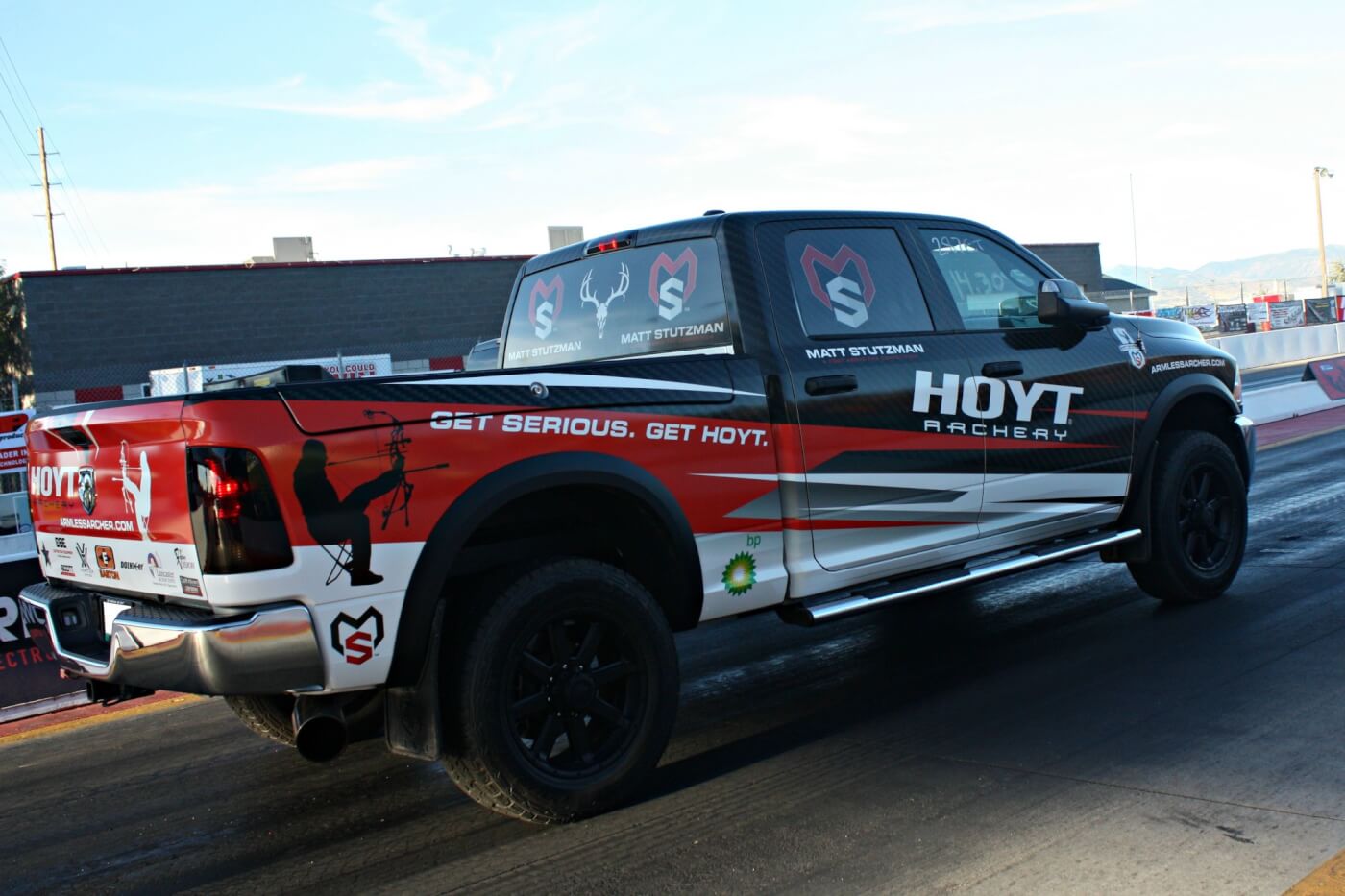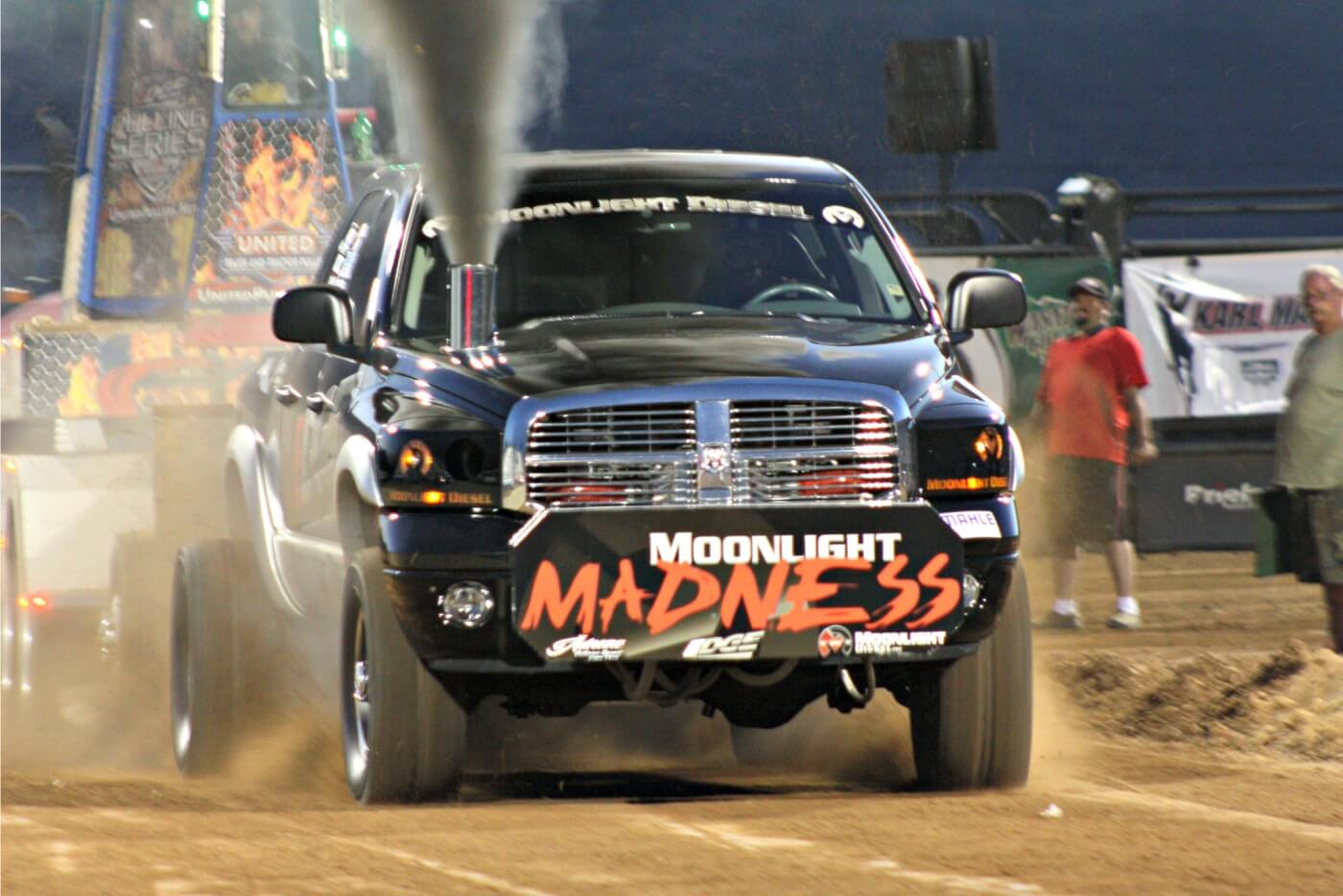 SLED PULL
With the beautiful Wasatch Mountains as a backdrop, the sled pulling action started late in the afternoon. The Work Stock class had more than 20 entries willing to put their daily drivers in the dirt and try their luck at moving 40,000 lbs. of dead weight. Joe Harrell's 6.7L Cummins landed the third spot with a 353-ft. pull, just 3 feet short of the second place LB7 Duramax piloted by JD Bailey. Winning the class was Liz Stott of Rock Springs, Wyoming, who drove her 2012 Dodge 6.7L Mega Cab to an incredible 368 feet, which ended up being one of the best distances of the night.
As the sun was setting over the mountains behind the starting line it was time for the 2.6 Inducer trucks to hit the track. Around these parts, Cummins is king in the bigger classes and the common rail injection platform has taken over as the sled pull leader replacing the old P-pump 12-valve, but that doesn't mean there aren't a few 12-valves left that can hold their own. Weylin Richards, who always finds himself at the front of the pack thanks to the purpose-built 6.7L Cummins and custom 2.6 turbo, won top prize money for the night with 381-ft. pull. Adam Hulse runs a pretty stout 5.9L Cummins and came in second at 364 feet, 28 feet ahead of Isaac Fronk, the third place finisher.
In the 3.0 Inducer class, a tight rivalry between Bully Dog-sponsored Nick Adamson and Edge Products-sponsored Tom Hansen has been going on all season. Adamson's Mega Cab took home the win on this night, his 327.17-foot pull beating out Hansen's 326.68 feet by less than 8 inches. Bob Millican's second-gen Dodge landed a close third at 323 feet.
The 3.2 Inducer class allows trucks running compound turbos to compete, and as long as the atmosphere turbo inducer is smaller than the 3.2 bore, trucks can also run this class with an unlimited size single turbo. These rules are somewhat unique to the area, due mostly to the extreme elevation and the troubles often encountered with large single turbos. Coming in third place was Dodge-class dyno winner Randy Reyes at 278 feet. Second place prize money went to Kevin Orton's 12V Cummins at 284 feet, and the top spot went to Ryan Thain's 2007 5.9L Cummins with a 310-ft. pull.
In the Modified Diesel class pretty much anything goes, and most of these trucks sport cut pulling tires, triple turbos, and up to 2,000 hp. Jason Stott's "Addicted Diesel" was the first place finisher with a 320-ft. pull, beating out Ed Boyle's 314-ft. second place run in "Get Sum."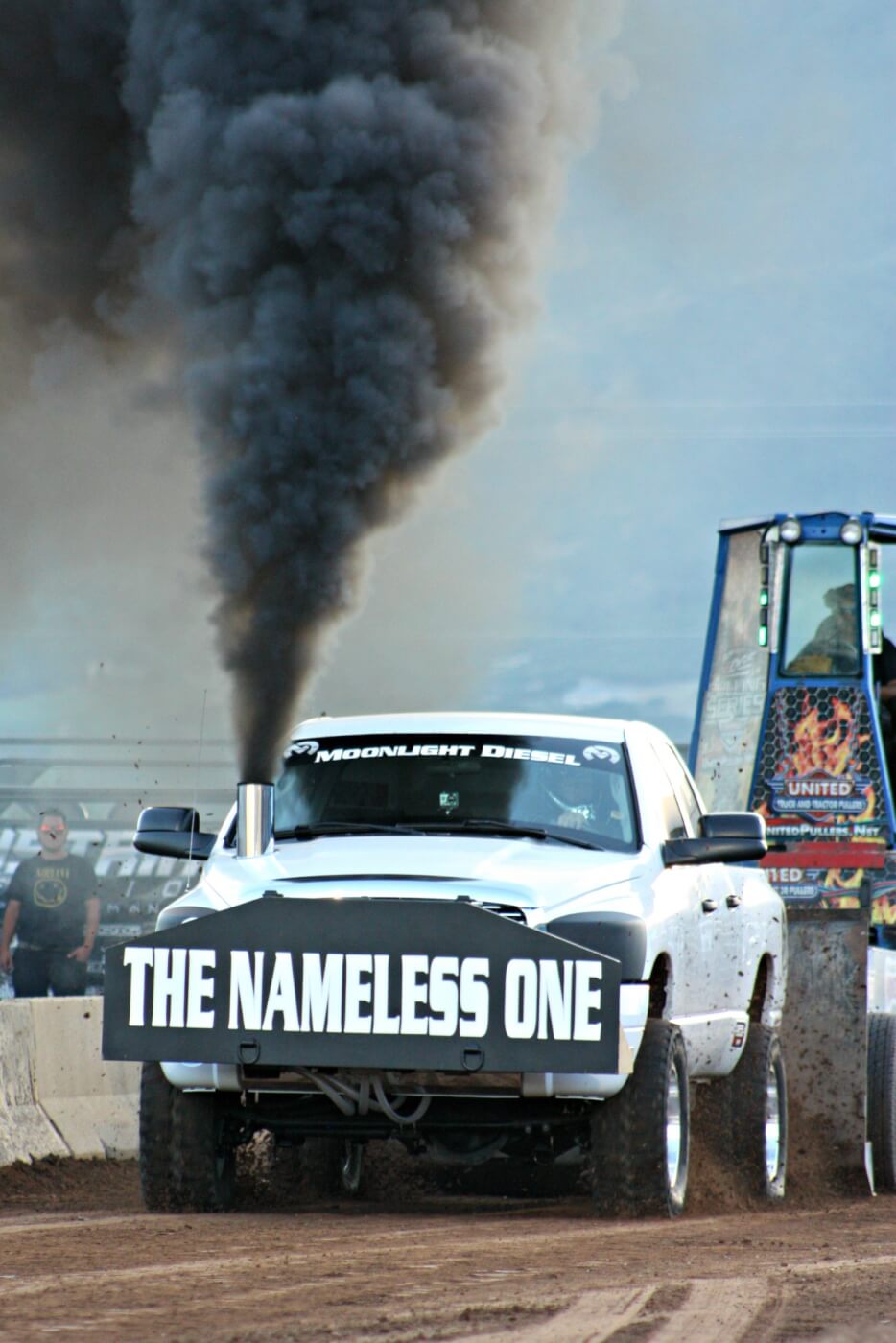 TWO GREAT DAYS IN UTAH
When the dirt had settled and the smoke had cleared, it was safe to say that the Diesel Motorsports and Industrial Injection Rocky Mountain Shootout was a great success. A happy crowd proved that diesel performance is alive and well in the West, and we look forward to next year's event. DW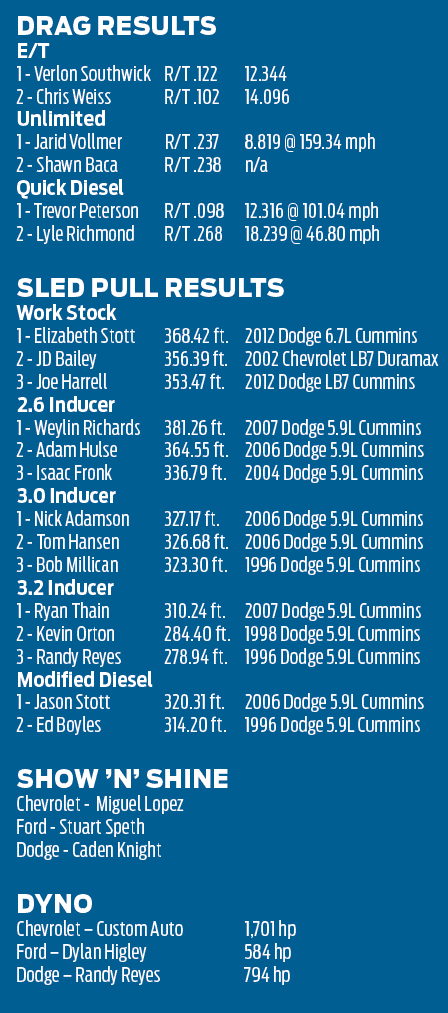 ONLY AT DIESELWORLDMAG.COM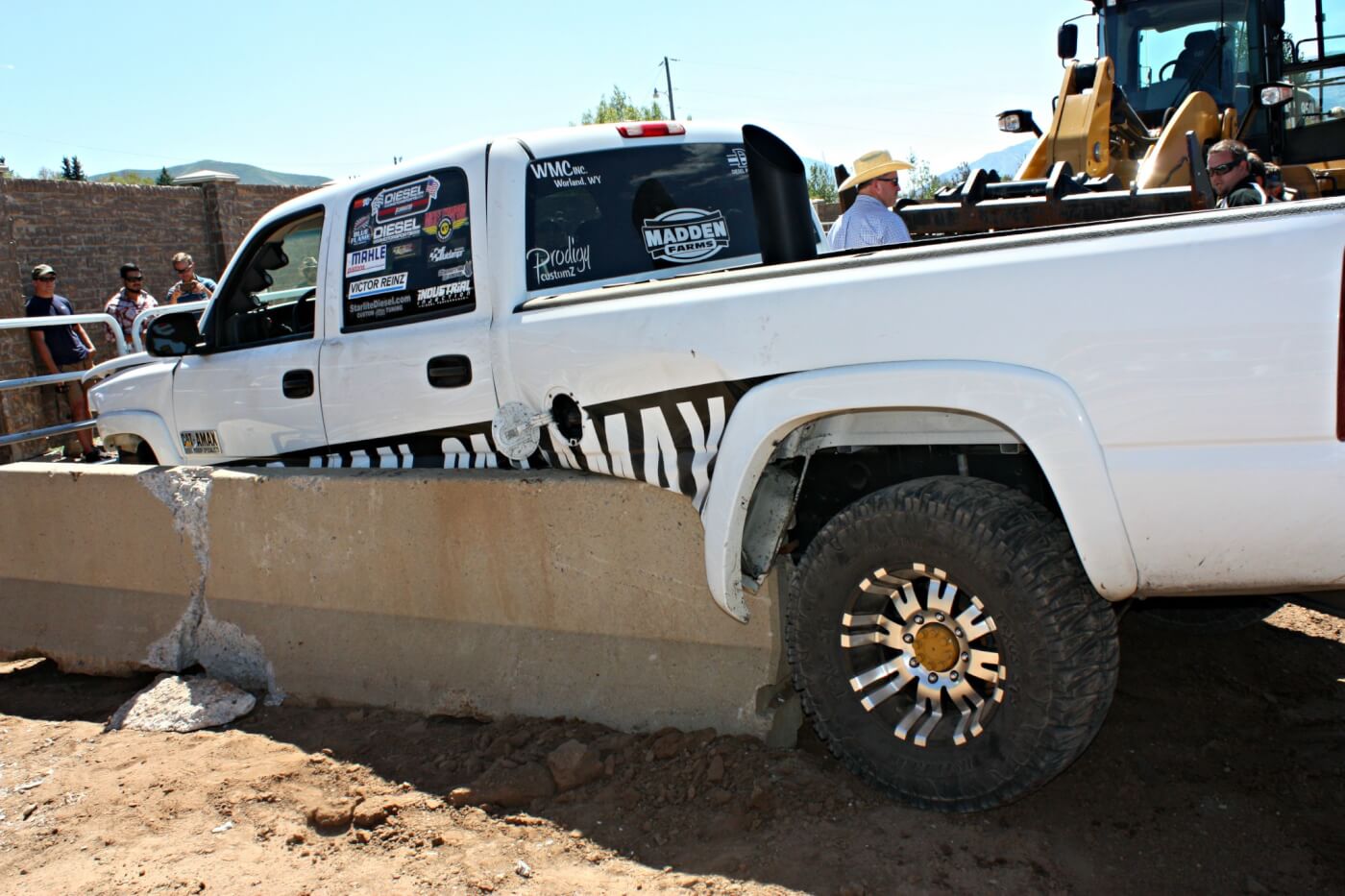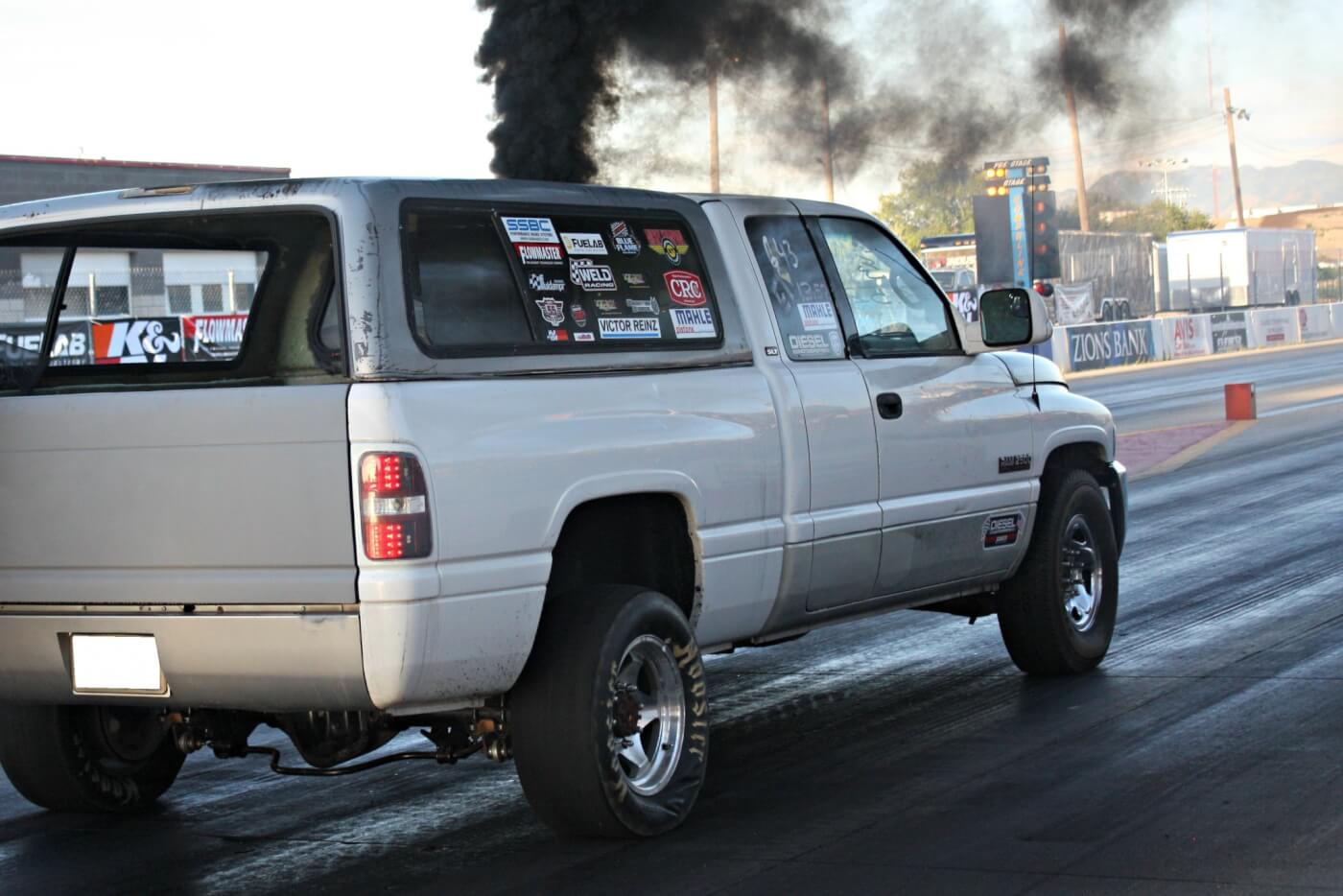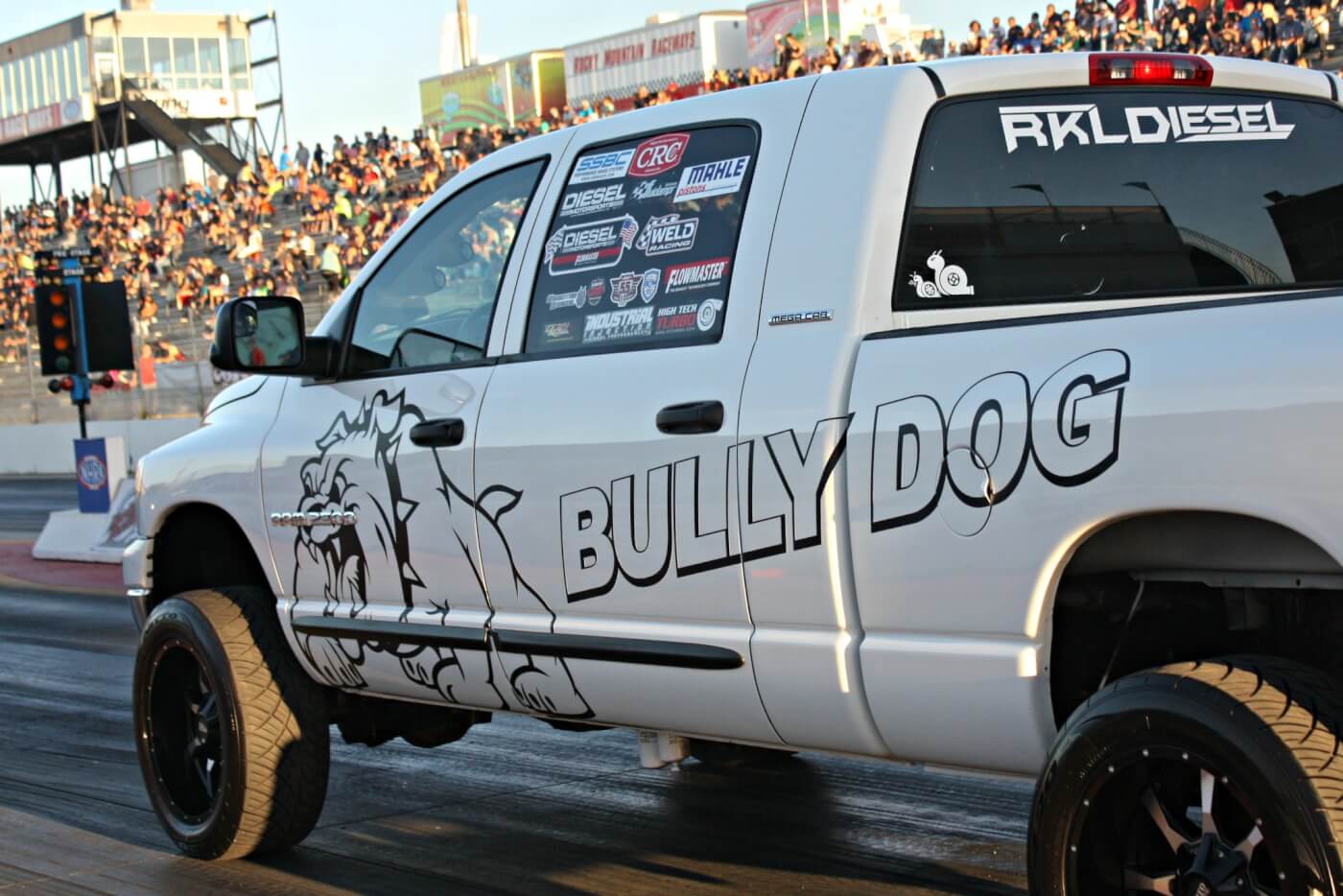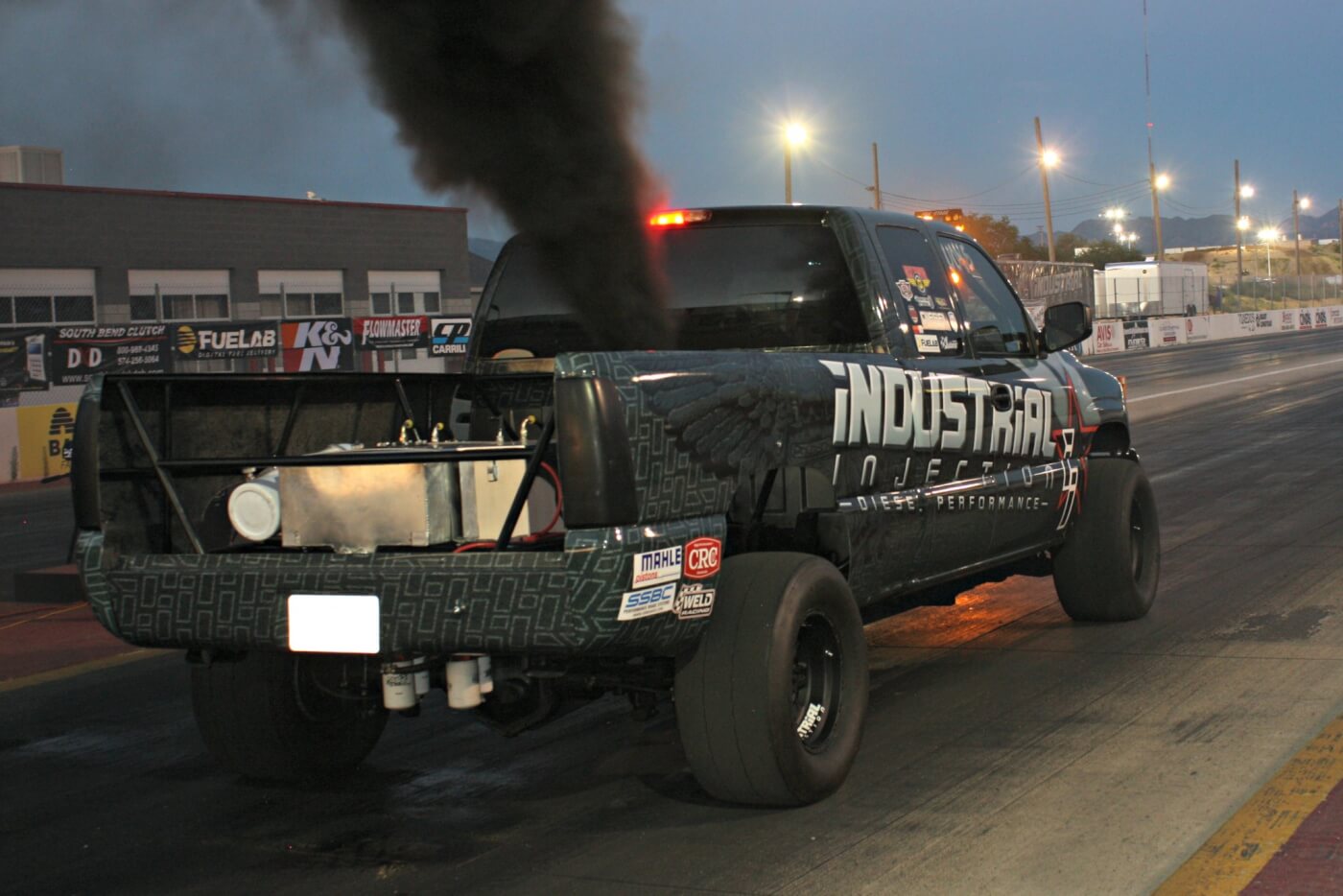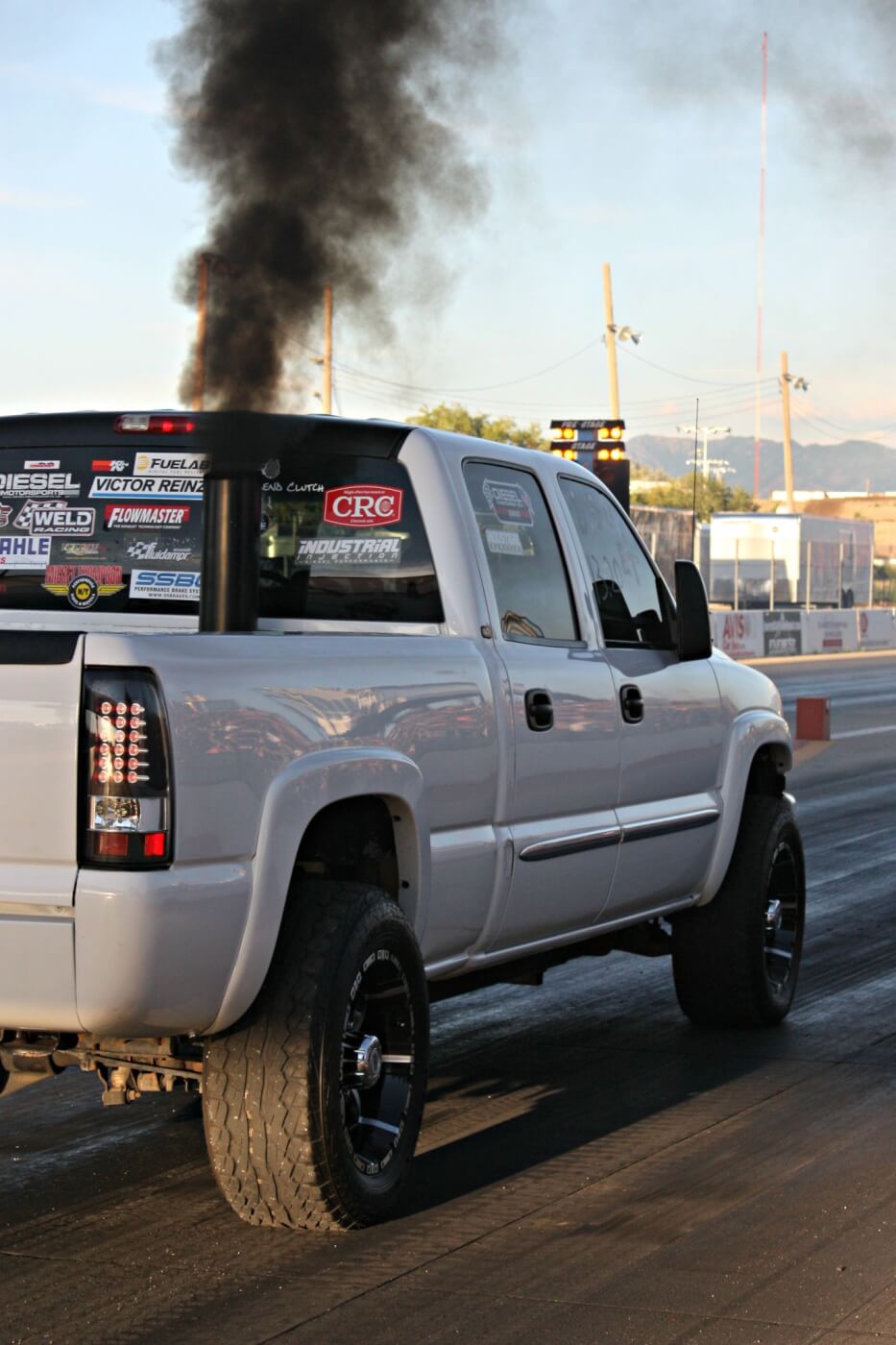 SOURCES:
Diesel Motorsports
866.786.6236
Industrial Injection
800.955.0476