The story starts with the engine. This 1967 Scout 800 is fitted with beta engine #1 of the new Cummins R2.8 Turbo Diesel crate motor. New Legend 4×4 connected with Cummins at Overland Expo East 2016, where the two companies hatched a plan to put an R2.8 into one of New Legend's Scout 800 builds. Needless to say, it wasn't hard for New Legend to fi nd a customer for such a unique vehicle, even considering the $100K price tag for the build.
New Legend 4X4
New Legend 4×4 is passionate about preserving and elevating the functionality of classic 4x4s, and the company's roots began with the parts, service and restoration company Anything Scout. As customers demanded higher levels of refi nement, performance and ability over the years the company started integrating modern parts and systems, while retaining the classic vehicle's looks and style. The company uses OEM and top aftermarket engineering to breathe new life and performance into classic 4x4s. In the end, the vehicles New Legend 4×4 creates provide a modern driving feel while providing a driving experience that just can't be had in modern vehicles.
Cummins Crate Motor
The Cummins R2.8 Turbo Diesel is now being offered as a crate motor, which fi nally provides vehicle builders with a quality new small diesel engine swap option. New Legend 4×4 was lucky enough to get the fi rst customer engine offered outside Cummins and stuffed it into this Scout 800 build. The engine is a fourcylinder, 171 cubic inch, turbocharged and intercooled unit, which has a 94mm bore and 100mm stroke with a compression ratio of 16.9:1. It puts out 161 hp at 3,600 rpm and 267 lb-ft of torque between 1,500 and 3,000 rpm. The R2.8 is fi tted with a Bosch Electronic fuel system and weighs in at 503 pounds. Dimensions are always a potential issue with engine swaps, but the R2.8 should fi t a wide variety of applications with its relatively small size, which is 28.3 inches high, 25 inches wide and 25.1 inches deep. The motor comes ready to go with auxiliary systems including a power steering pump, 120 amp alternator, vacuum pump, grid heater, passive diesel oxidation catalyst, universal wiring harness, engine control module, accelerator pedal, OBD port and digital J1939 display.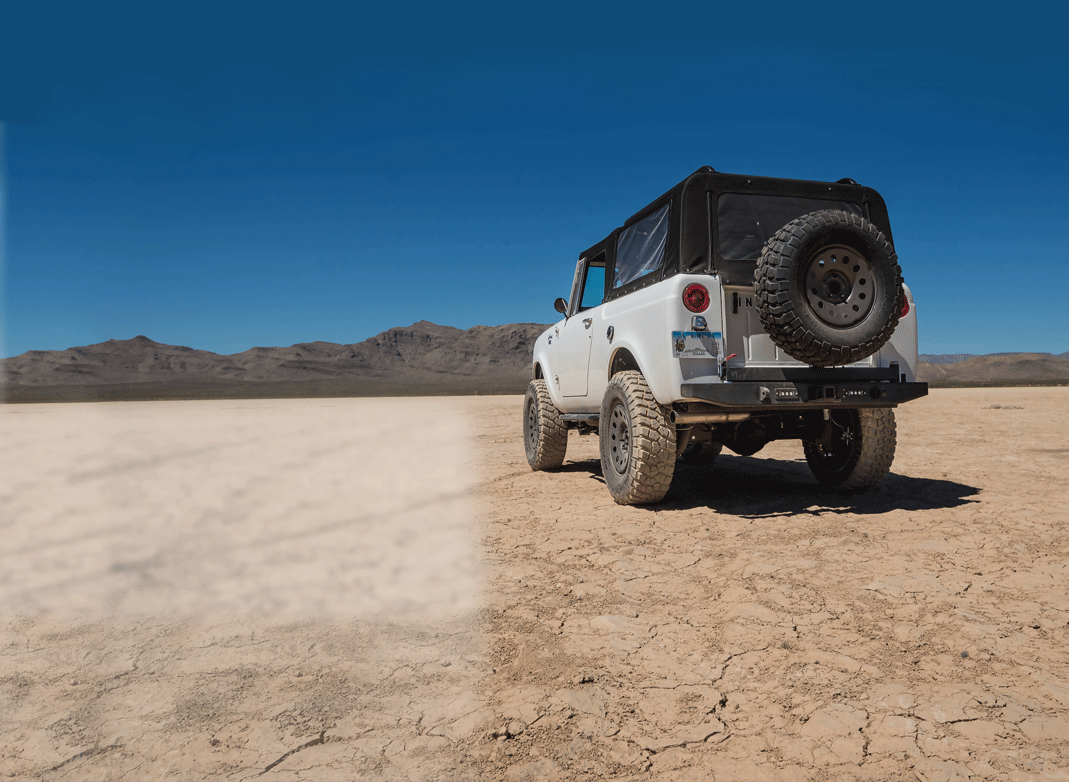 Fuel consumption with the Cummins R2.8 will vary widely with the vehicle application and gearing, but the New Legend Scout 800 with 4.10 gears and a vehicle weight of about 4,600 pounds has averaged mid-20 mpg over its first 4,000 miles. New Legend says the install was extremely straightforward and the aftermarket support is already strong. Above all else, the Cummins R2.8 offers up plenty of fun when you mash the go pedal!
Full-Restoration
This vehicle might just look like a nicely restored 1967 Scout 800 from the outside, but underneath the gorgeous sheet metal you're sure to find more than one surprise. The body, dash and seats are all original restored Scout 800, but everything else has been upgraded and refined. The Scout 800 body and Cummins R2.8 diesel sit atop a 2016 Jeep JKU frame and Rubicon D44 axles, which have all been tweaked to make all the systems look and work well together.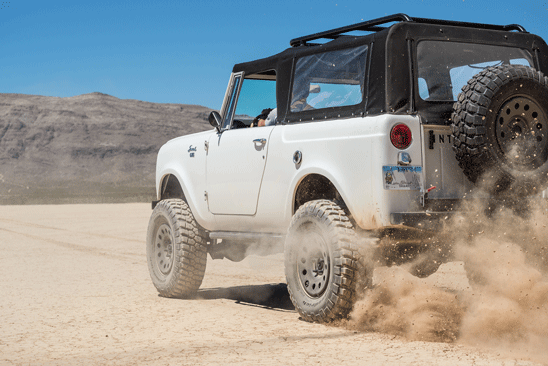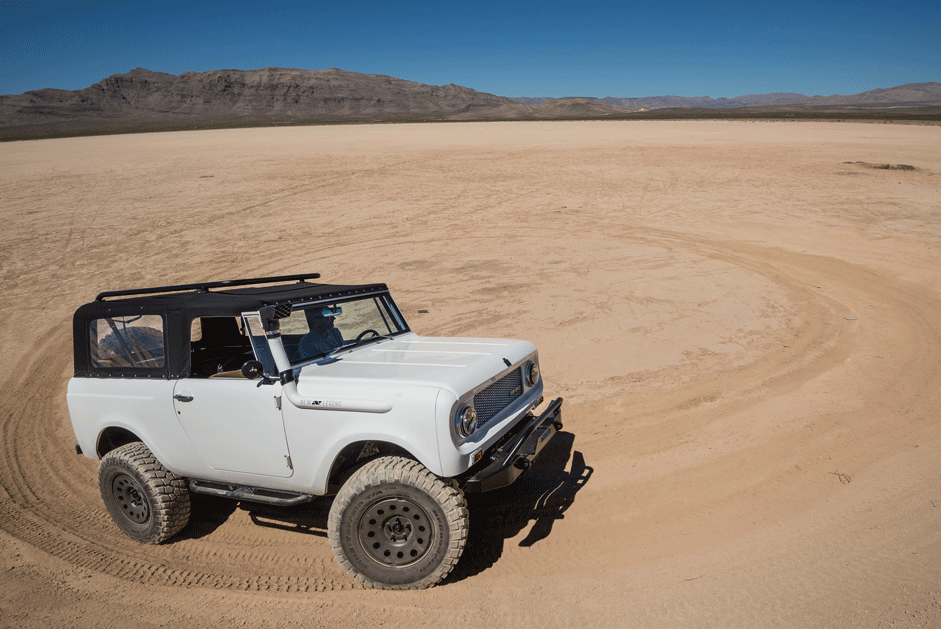 Only top-quality parts are installed on this build, and the suspension and lift are all AEV. To provide a durable, aggressive, and classic look Jeep steel "Winter Wheels" were installed and wrapped in BFG 33-inch MT tires. Bumpers, rock sliders, roof rack and soft-top are all New Legend Workman Series parts, made specifically for the Scout 800. The little things matter as well, which is why this vehicle has a custom 3-inch, mandrel-bent stainless exhaust from Jones, OEM Jeep Rubicon E-Lockers, diff breathers and an ARB single air compressor.
The interior looks and feels generally like a classic Scout 800. There are a few things that stand out from the original though. The first is the Duluth Pack rugged waxed canvas upholstery throughout. The second thing you'll notice is the twin sticks from the Atlas transfer case sticking through the floor. Other fine touches are the Tuffy center console and Focal speakers throughout, featuring a 10-inch flush-mounted sub in the rear of the vehicle.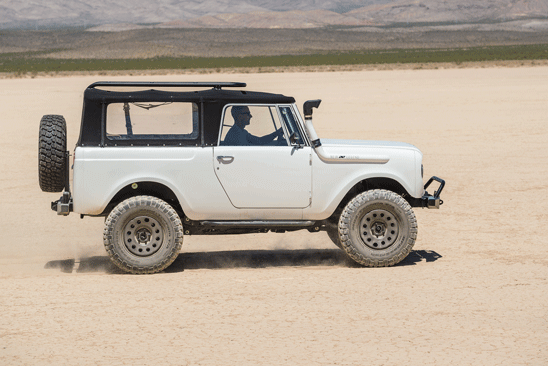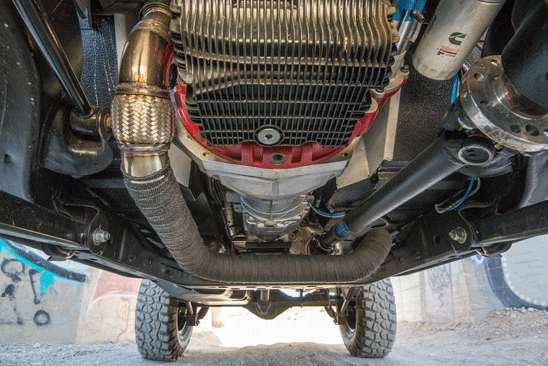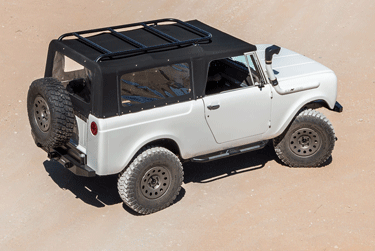 While this Scout 800 is a thing of beauty, function is key. The owner has a family of five, so a custom jump seat in the rear of the Scout was installed for one of the kids. The custom soft-top fits perfectly on the custom roll cage, which was built to original hardtop OD specs. The soft-top features roll-up side and back windows for that open air off-road motoring experience. The soft top on this build is also a prototype, and will be replaced soon with a new production top that New Legend plans to offer all its customers.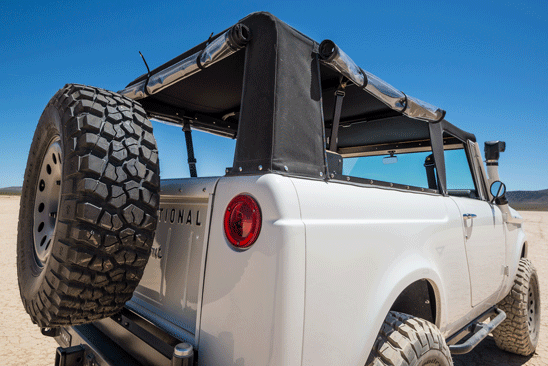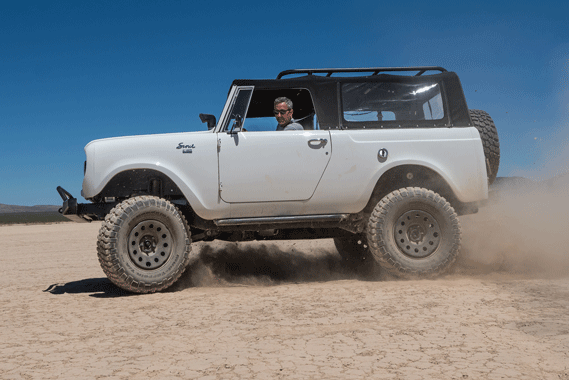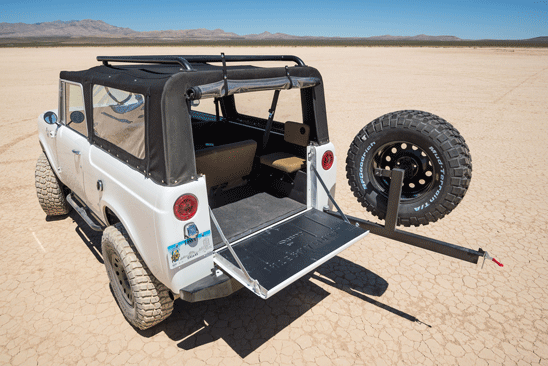 Not everyone is a fan of snorkels, especially as they can break up the clean classic lines on the Scout. A lot of work and attention went into the custom integrated snorkel on this build, and it's gorgeous—if you're into snorkels. If not, New Legend built the system to be modular, requiring only a new replacement fender, which is quick and easy to replace.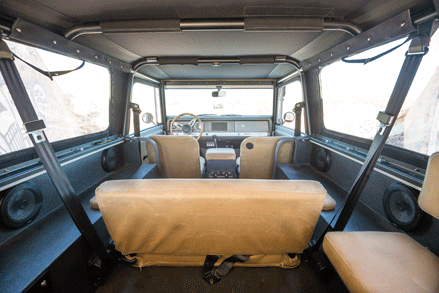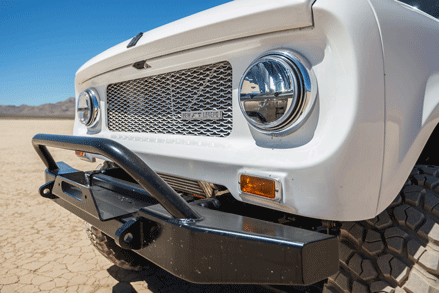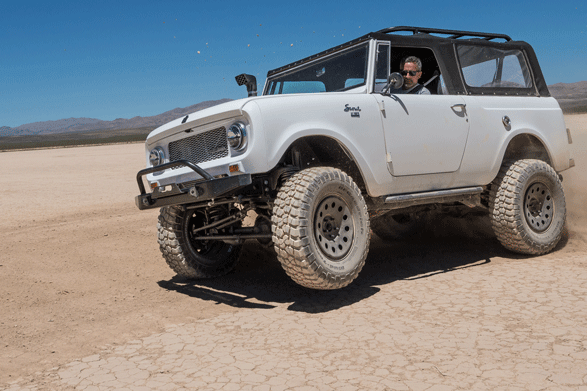 New Legend 4×4 isn't stopping at reimagining Scout II and Scout 800s. The company also plans to modernize other classic 4×4 legends as well. In the next year you can expect to see Grand Wagoneers and Range Rover Classics com e out of the company. You can also expect to see more interesting motor choices, and a continued relationship with Cummins. DW
[divider]SPECIFICATIONS[/divider]
NEW LEGEND 4X4 1967 SCOUT 800
DRIVETRAIN: Cummins R2.8 turbodiesel (Beta Engine #1), NV3550 5-speed manual trans, Atlas II 3.0 T-Case
CHASSIS: 2016 Jeep JKU "Outrider Chassis," D44 Rubicon axles with E-Lockers
WHEELS & TIRES: JK Steel "Winter Wheels," BFG MT 285/70-17
SUSPENSION: AEV 2.5" Suspension Lift with Bilstein Shocks
EXTERIOR: New Legend custom fit soft top w/roll-up windows, New Legend Workman Series front winch bumper/rear bumper with tire swingout/sliders, New Legend custom snorkel, Trucklite headlights, Putco rear bumper lights
INTERIOR: Duluth Pack Rugged Waxed Canvas Upholstery, Custom Roll Cage, Focal Speakers, Tuffy Center Console, Custom Rear Jump Seat, SPod HD
OTHER ACCESSORIES: Jones 3" stainless exhaust, Axis Industries motor mounts, Custom diff breathers, ARB single air compressor