While diesel drag racing got its start with street trucks, we're starting to see more and more purpose-built race vehicles. One of the meanest Dodges in these new crop of race trucks is Ben Shaddy's awesome mid 8-second '05 Dodge Ram 1500, which has been converted to a diesel with the addition of a 6.4L Cummins engine.
DROPPIN' WEIGHT
This story actually began a few years back, with Ben campaigning a 6,000-pound four-wheel drive truck through his shop Done Right Diesel Performance in the NHRDA's Super Street class, and at outlaw races across the nation. While the big 3/4-ton was extremely fast (eventually running low 9s), Ben couldn't shake the feeling that he'd be going a whole lot faster with a two-wheel drive half-ton. So the Osgood, Indiana resident made the switch and changed classes to Pro Street, which allows for a 4,500-pound minimum weight.
Ben acquired the '05 as a project vehicle that was already partially finished, but it still needed a lot of work, so Ben's first stop was Greg Risk Racecraft in Indianapolis, Indiana. The chassis and drivetrain needed to withstand 2,000lb-ft of torque, so only the best components were used. At the front of the truck, the factory a-arm suspension remained intact, but a manual rack-and-pinion setup was swapped in to reduce weight. The truck also received a 2-inch drop, and the factory a-arms were replaced with Keyser tubular units, which swing a set of AFCO Racing coil-over shocks. The other big news at the front of the truck was that the firewall was radically altered, so that the engine could be moved back a whopping 5 inches for better weight distribution.
Moving to the rear of the chassis, the stock heavy frame was removed completely, and replaced with a back-half chromoly tube chassis. An impressively strong Fab 9 Ford 9-inch rearend was used to handle the diesel's torque, and was filled with a Mark Williams centersection, 40 spline axles, and 4.11 gears. Dampening for hard launches are double-adjustable reservoir coil-over shocks from AFCO, which are connected to the 9-inch rearend by a highly adjustable 4-link rear suspension. Since safety is always a priority, both the front and back of the truck are tied together with a 25.5-spec rollcage built by Greg.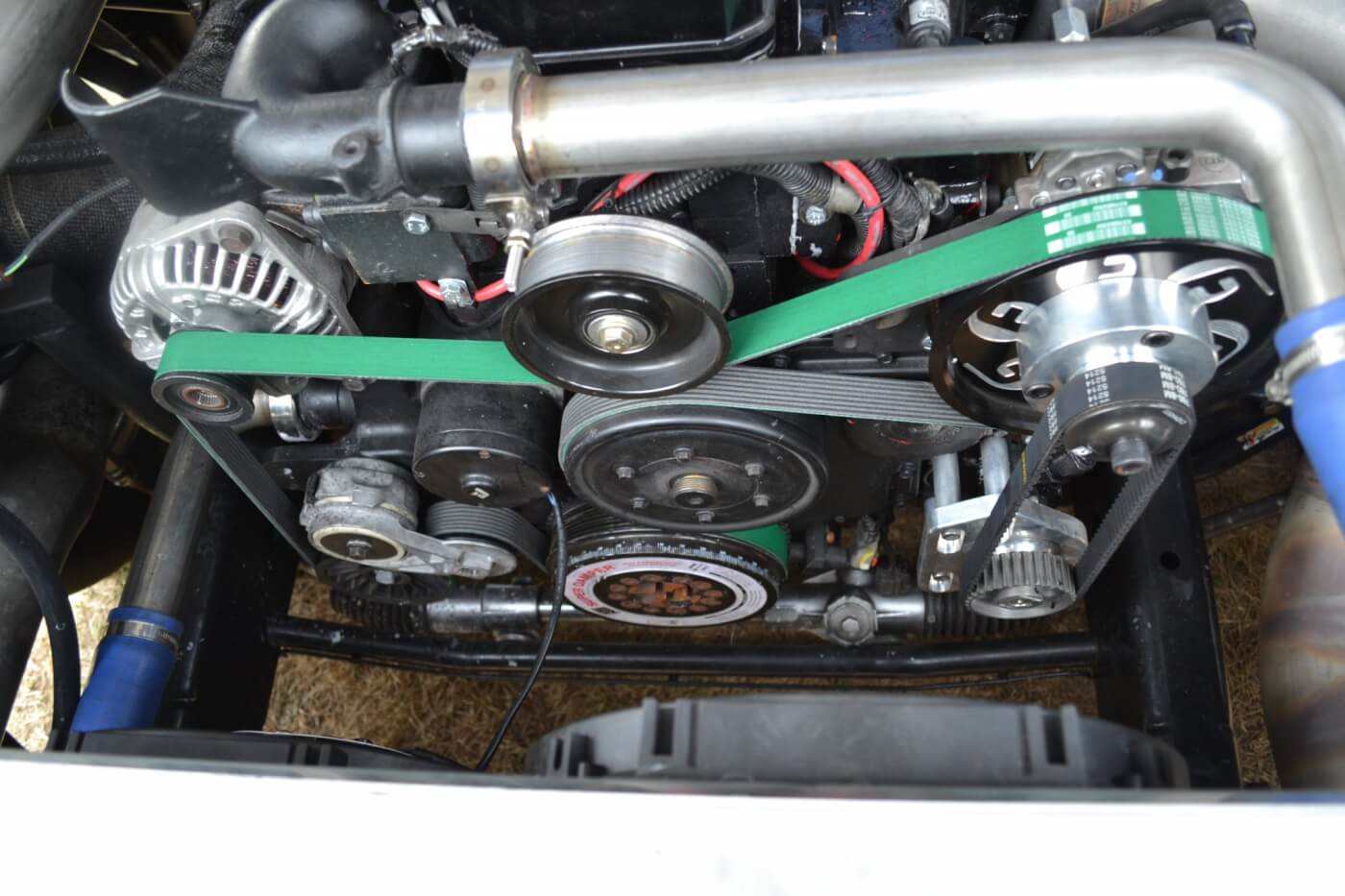 RWHP
With a radically lightened chassis and suspension, Ben progressed to the part he was familiar with–making horsepower. The engine that would power his half-ton was built with zero compromises by Fleece Performance Engineering (FPE). Fleece started with a 6.7L block that was sleeved and fitted with a Fleece block girdle for even more strength. From there, a 6.7L crank on an ATI balancer swings a set of Carrillo rods, Diamond forged pistons, and a Hamilton Cams camshaft, pushrods, and valvetrain. Airflow was also improved through the cylinder head, as a ported head from Fleece was secured with ARP 625 studs and installed with a Banks side-draft intake. Final displacement on the sleeved common-rail block was 6.4L of displacement.
"Ben couldn't shake the feeling that he'd be going a whole lot faster with a two-wheel drive half-ton."
BOOST AND SPRAY
With a foundation that could support 1,500-2,000 horsepower without thinking twice about it, Ben was ready to push his air and fuel systems as far as he could, to actually make that kind of juice. Since Ben didn't want to rely on nitrous to make big power, he needed some big parts to make things happen on diesel only. Air is courtesy of a large over huge 80mm/106mm compound setup, which pushes air through a Banks intercooler and into the engine. On the fuel side of things, twin FPE Powerflow 750 CP3 pumps and a CP3-driven DSR lift pump send pressure to crazy 450-percent over injectors from S&S Diesel Motorsport. Ben handles the tuning himself through a stand-alone wiring system and tuning via EFI Live software and a FPE data logger.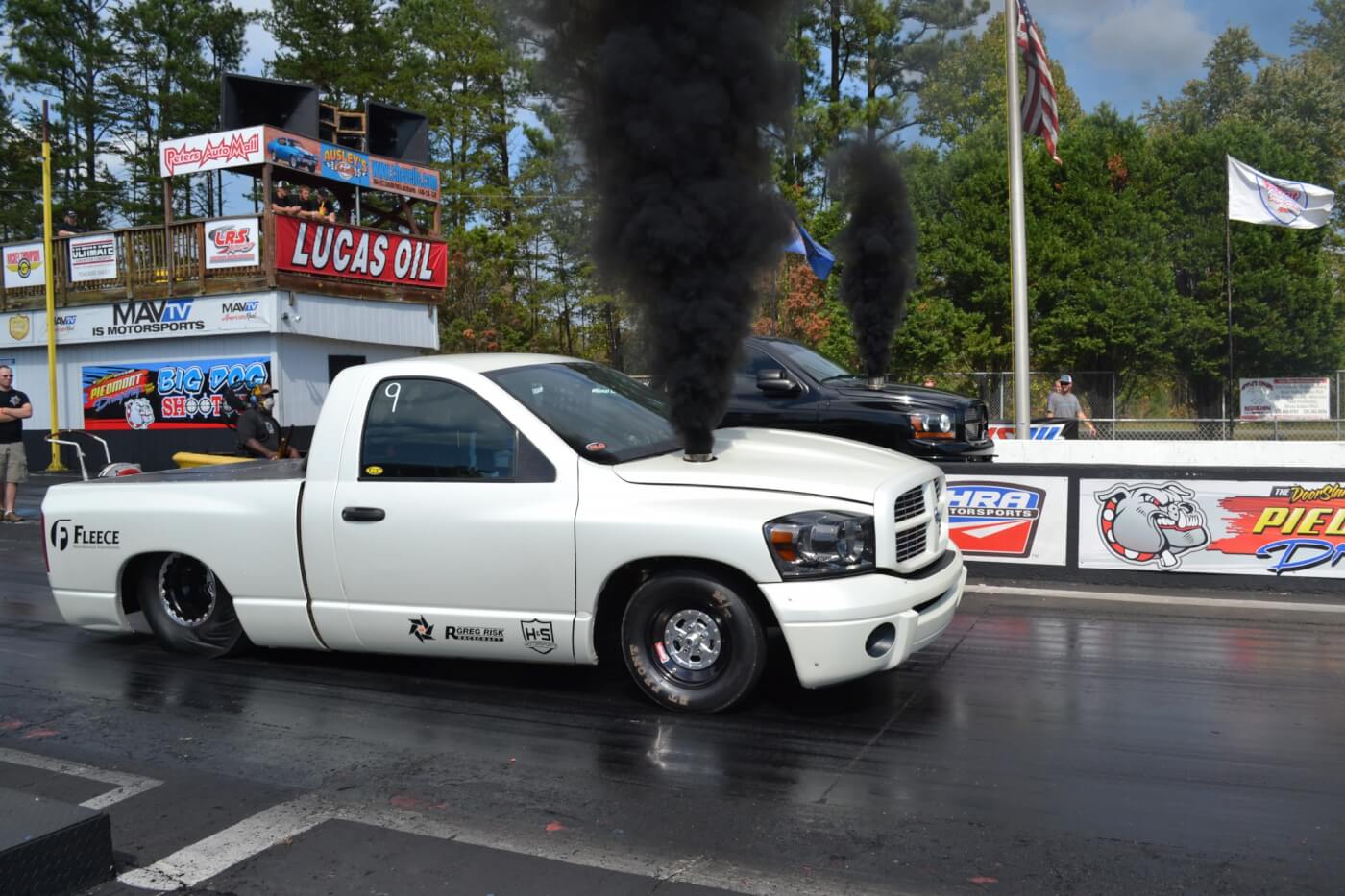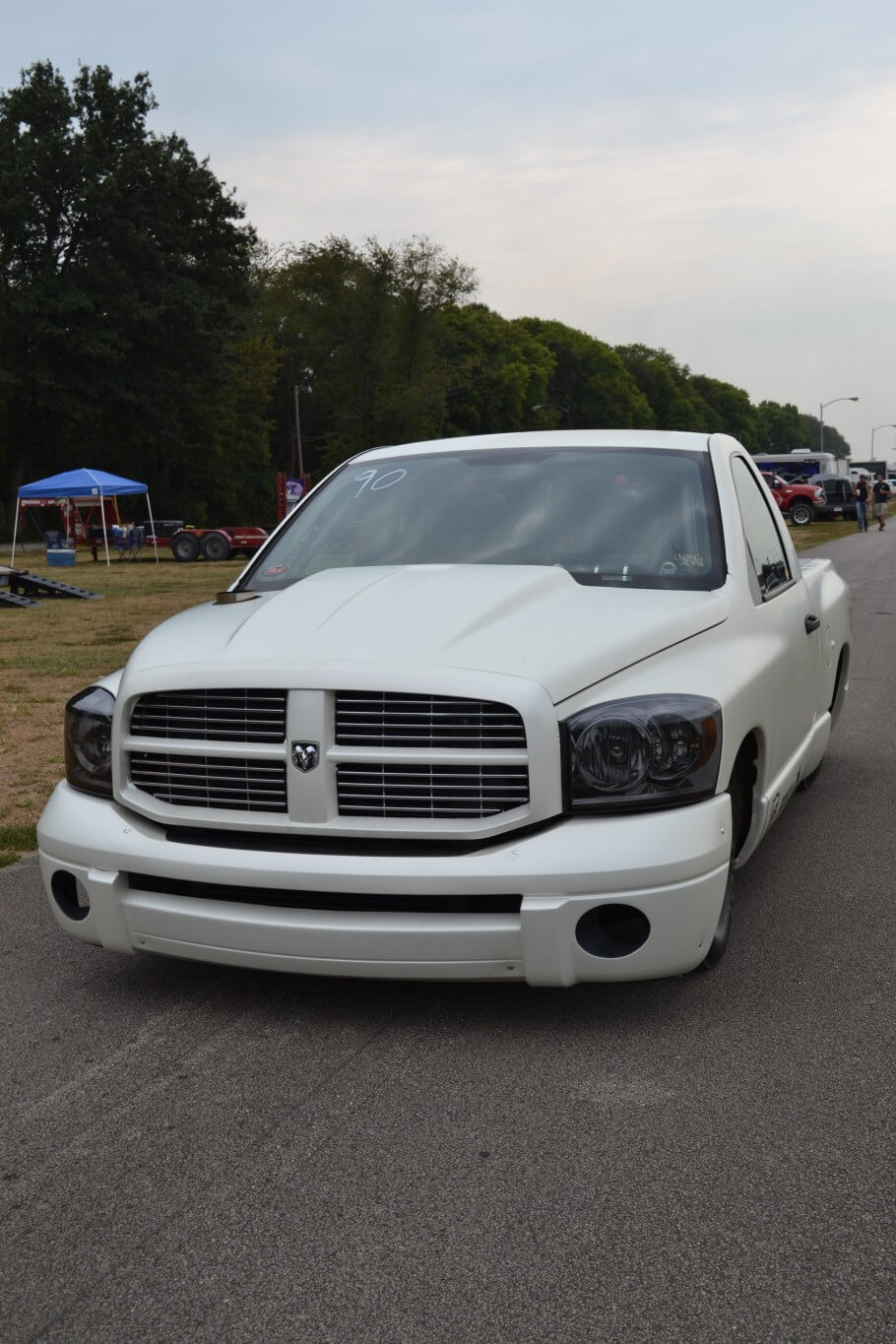 TOUGH TRANNY
On paper, Ben had everything going his way, with a state of the art chassis and some major power. But there was one link left…the transmission. The first few races of the year were tough for Ben, resulting in early exits due to transmission damage. With reliability in mind, Ben went to SunCoast Diesel Transmissions, and basically picked the strongest of everything in their catalog. For starters, the input shaft was replaced with an oversize version, along with a high-stall triple disc torque converter. The intermediate was also upgraded, and a "shorty" 4wd output shaft conversion was installed on the back of the case. The drums were upgraded, and the valvebody was switched to a full-manual valvebody with a transbrake, so Ben can control his own high-boost launches and 4,500-rpm shifts. The final assembly for the ultra-strong four-speed was done by Steven Abdoo at South Run Performance Auto and Diesel in Carrollton, Kentucky.
After a Matte White wrap by CSI Signs, the Dodge was ready to hit the track. The 2015 racing season proved to be a learning experience for Ben, but he and his awesome Ram 1500 came out on top, running a best of 5.68 at 130mph in the eighth mile, and 8.73 at 160mph in the quarter mile. What's more, is Ben's truck has been consistent and reliable enough to win the last two outlaw races of the year; including the Rudy's Diesel Pro Street Shootout. While Ben's 1500 still has a lot to prove in 2016, he's definitely off to a flying start with his state of the art drag truck. DW