A Sky High 640-hp Ford
Dorian Reyna, owner of Power Stroke Enginuities in Houston, Texas is no stranger to Fords and going fast. He's been drag racing for years, and has progressed from the 12s, to 11s, to 10s. After he got done making power, he decided to try something a little different for 2018. "We get a lot of lifted rides, and it looked like a lot of fun," says Dorian. "We decided our '17 Ford would be the perfect fit to break into the off-road market," says Dorian.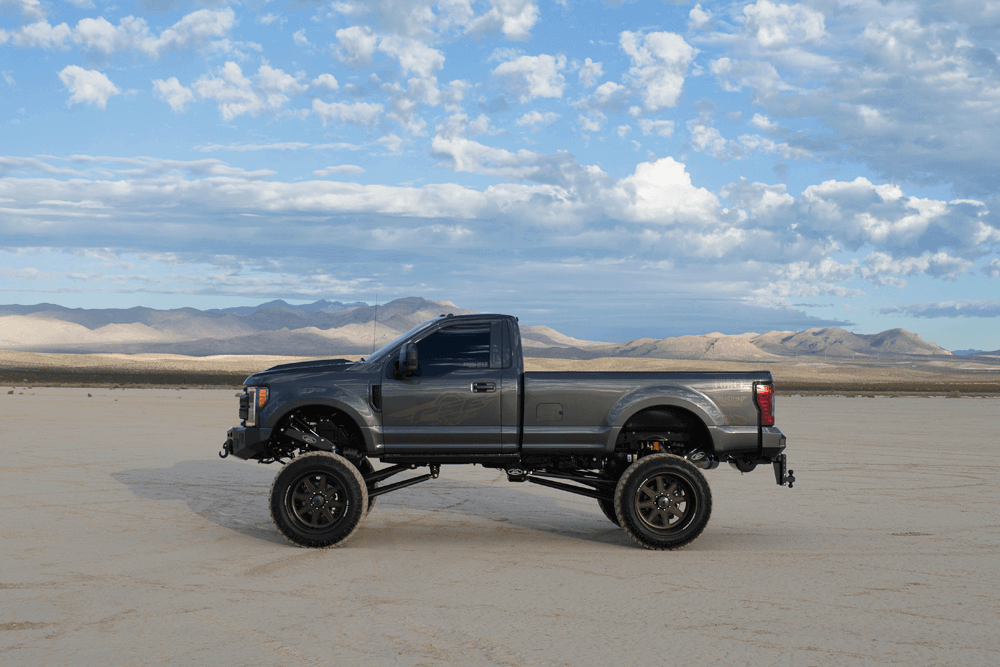 Since his Ford was a shop truck, he decided to throw the kitchen sink at it, which is how he got in touch with Any Level Lift out of Ballston Lake, NY. "We didn't want to build something everyone else had," says Dorian, "…so this seemed to be the perfect fit." The Any Level Lift kit uses hydraulically adjusted mounting points for the suspension, so that it can go from a 1-inch front, 4-inch rear drop, to a 13-inch front, 12-inch rear lift. The kit was designed with a complete steering system in addition to the lift, so the geometry doesn't get all out of whack. "It was a fairly complex system to install," says Dorian, "But totally worth it."
With such an intense lift, Dorian had to make the rest of the truck look the part. The front and rear of the F-350 had its factory bumpers replaced with off-road pieces from Fusion Bumpers, along with a light bar and light cubes from Rigid Industries. For towing, a Bulletproof Hitches 6-inch drop hitch was installed, and to get people out of the way, a Hornblasters 6 horn system was mounted with a kit from Wicked Offroad. Wheels and tires are also much larger than factory, with 40×15.50R24 inch Dakar tires mounted on 24×14-inch American Force Range wheels.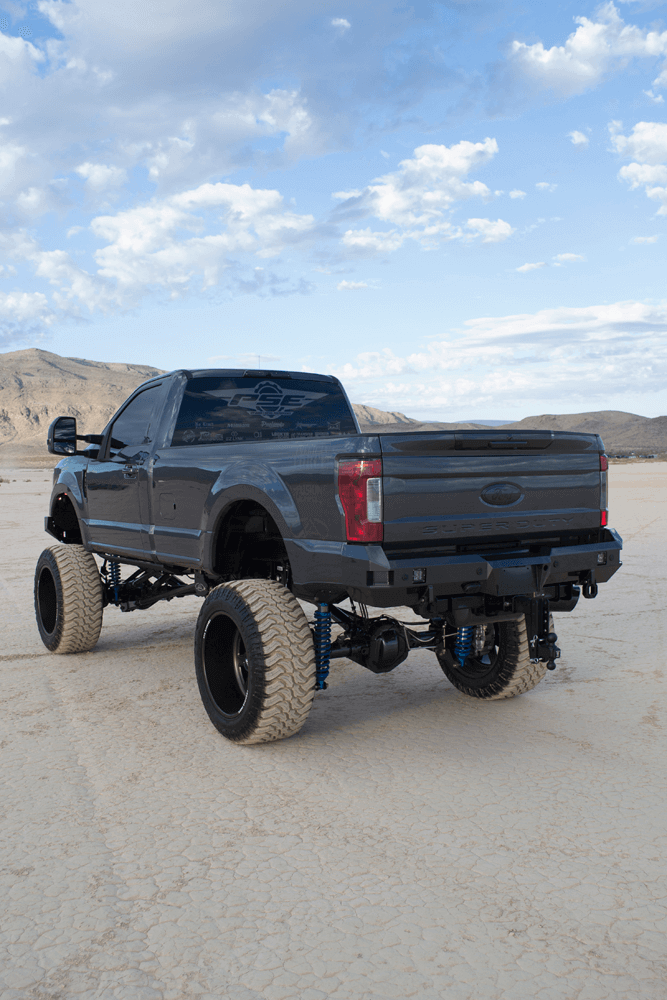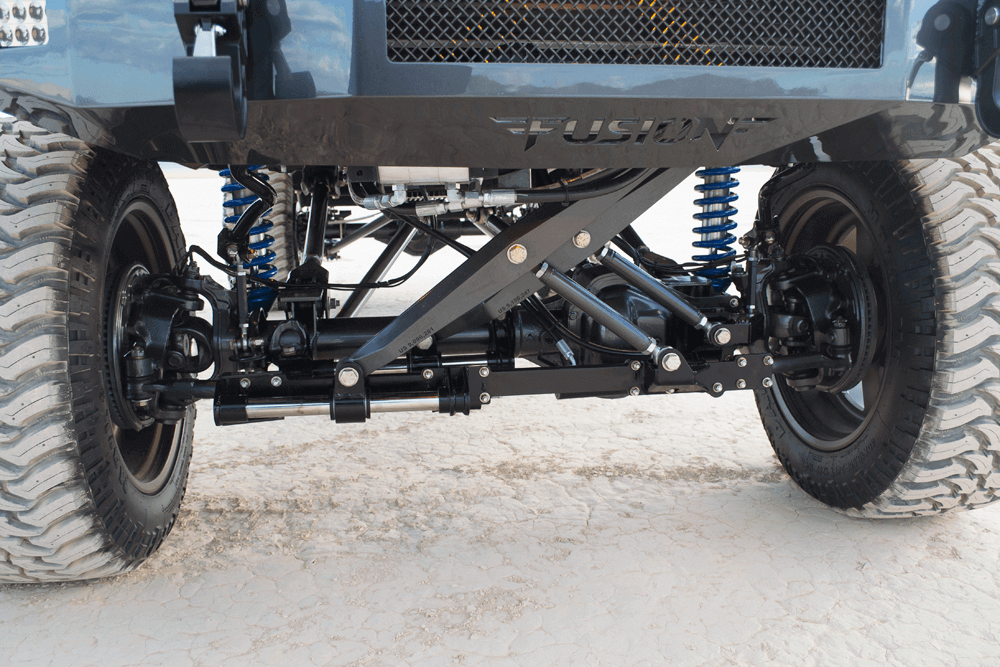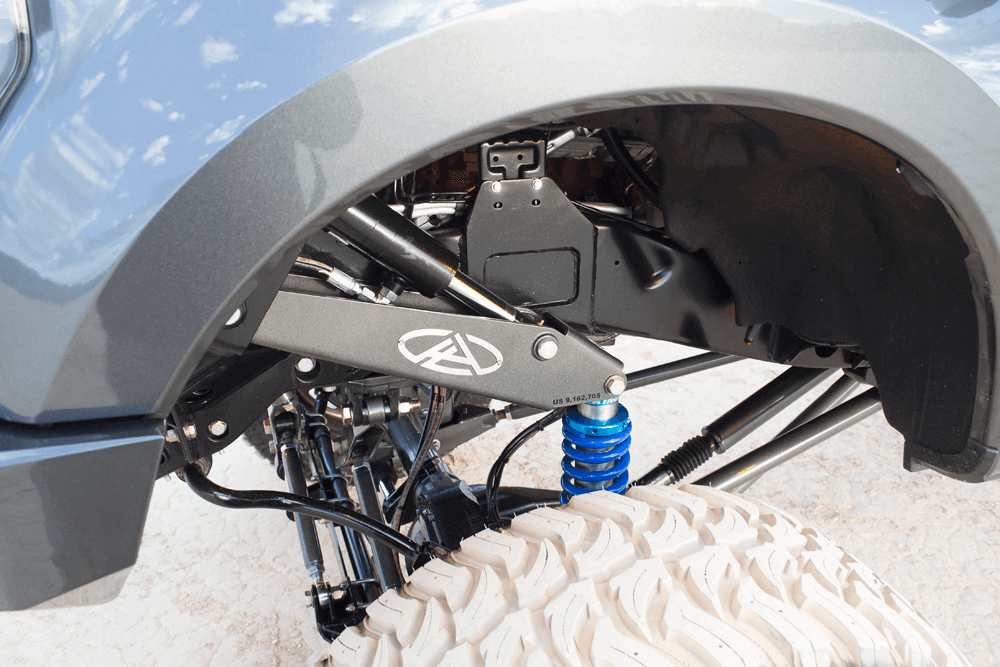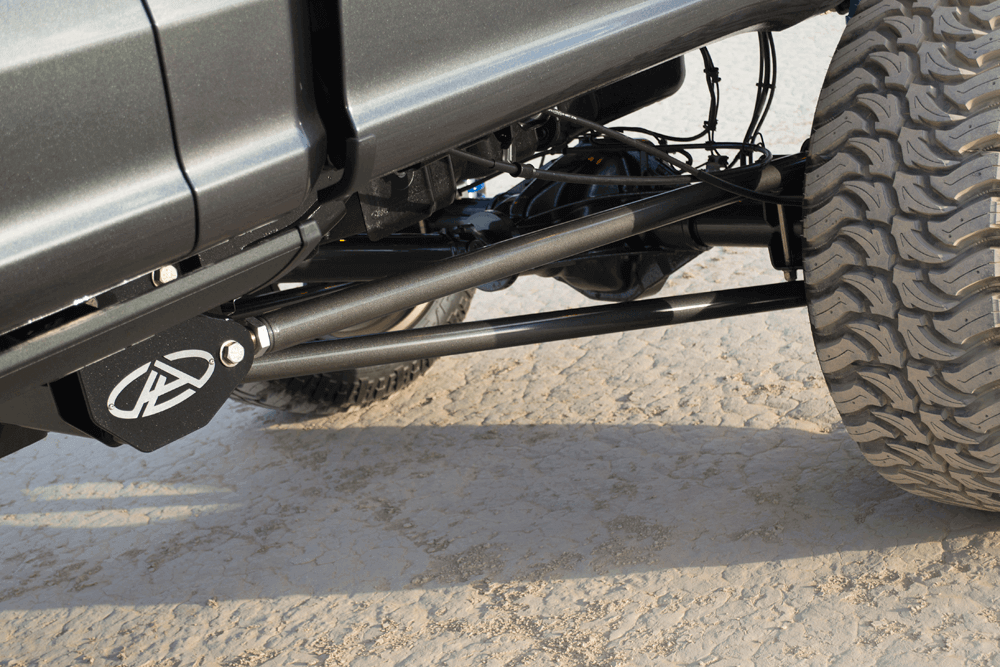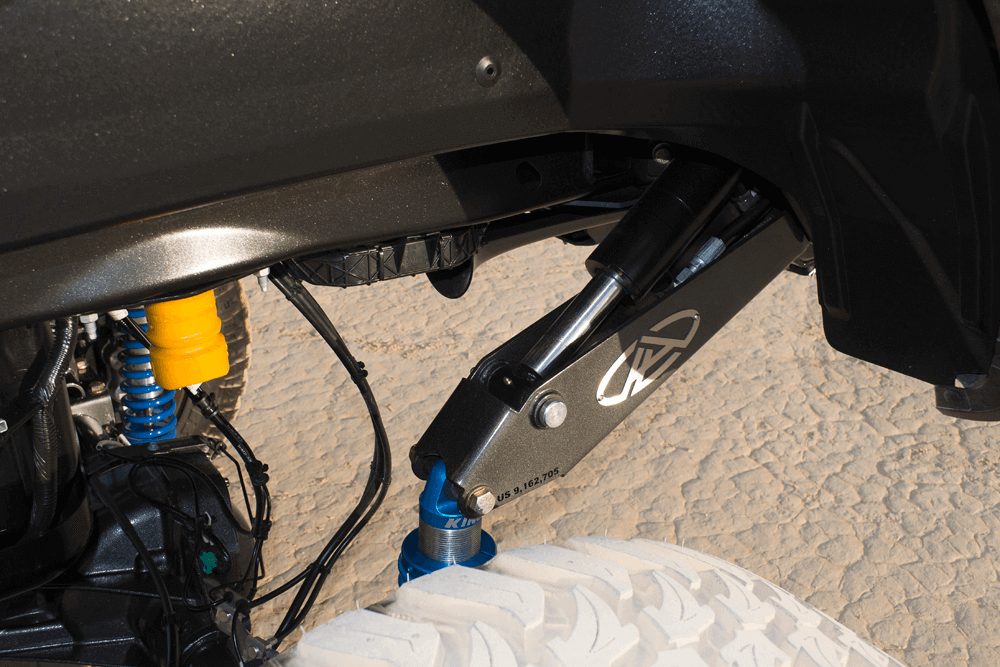 Since Dorian got his start by making power, he couldn't just add a programmer to his new project and call things done. Making an estimated 640 rear-wheel horsepower, the Ford is no slouch, and has a number of modifications aimed purely at increasing performance. Dorian started with an intake from No Limit Fabrication, which feeds into a 69mm S300 BorgWarner turbo that was mounted with a Maryland Performance Diesel swap kit. MPD also got the nod for its engine dress up kit and CCV re-route, while it was No Limit that took care of the charge air with an upgraded intercooler. While he was digging into the engine, Dorian also installed a River City Diesel Superstroker CP4 for if he wants more power in the future. The truck gets tuned through PPEI via EZ Lynk, and so far the factory transmission has held up well to 44 psi of boost and more than 600 hp.
With such a laundry list of parts you might think that Dorian's ride is a show-only deal, but it's not. He was more than willing to do some donuts in the desert with his unconventional lift kit "somewhere in the middle," and he also has some hard proof after a clueless lady in a Toyota Camry pulled into him in traffic. "Luckily it was just a fender–but we really do use this thing!" Dorian comments. With such a unique truck, we'd be driving it all the time too!