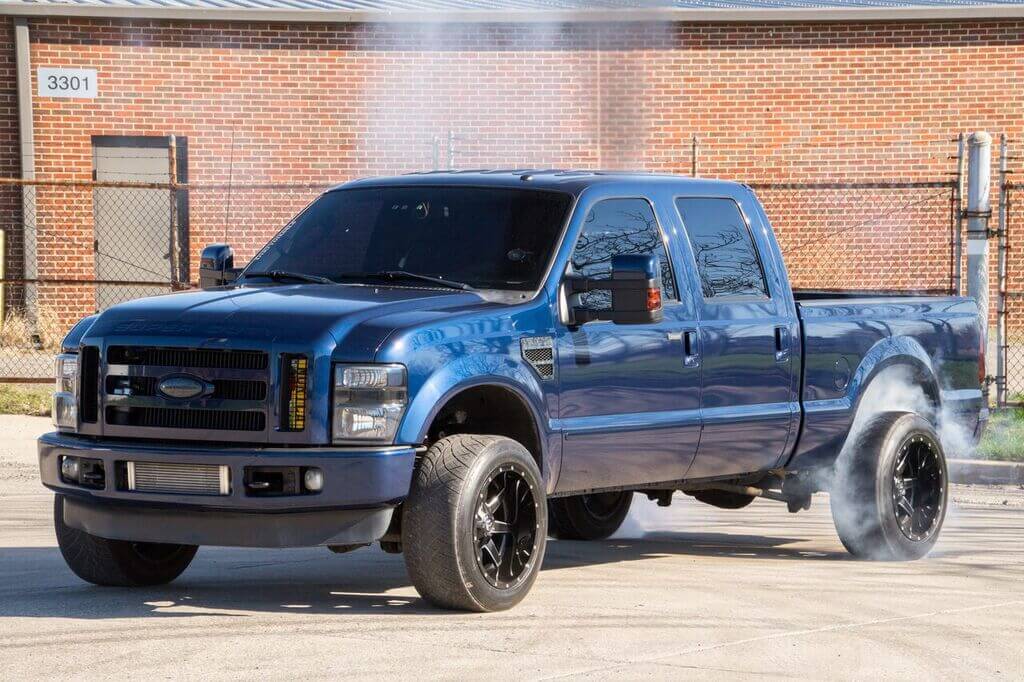 Michael Corsilli of Pasadena, Maryland, thinks of diesel drag racing when the topic of American pastimes and values—the Armed Forces, Old Glory and baseball in the spring—comes up in conversation. As a full-time firefighter and EMT for Anne Arundel County, Corsilli stays busy working overtime putting out fires and saving lives; but during his time off, he enjoys wrenching on and racing this 2009 6.4L Power Stroke dubbed "Murica," which has not only turned out multiple, low-11-second quarter-mile times, but was the first single-turbo 6.4L Power Stroke to crack that 1,000hp fuel-only milestone.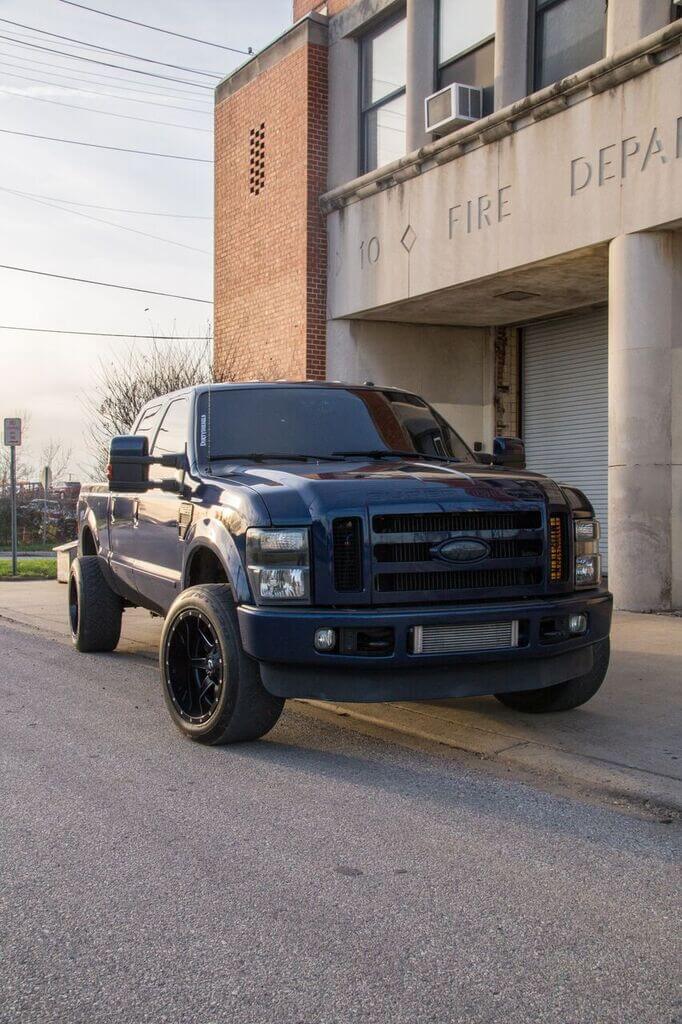 "Michael Corsilli built this 2009 Ford for two reasons: one, to go fast and, two, to go even faster."
MODEST INTENTIONS
After first purchasing the Ford new in late 2008, Corsilli vowed that this one was going to stay relatively stock, with maybe just some performance tuning and a better exhaust. Unfortunately, when you're best friends with Craig Briggs, owner of Maryland Performance Diesel (MPD), and just an hour away from Innovative Diesel, where owner Eric Eldrith has specialized in Power Stroke tuning for more than 10 years, that's a promise nearly impossible to keep.
While the truck was making close to 600hp with mild bolt-ons, it soon grew "boring" and a single-stage NX nitrous kit was added to push power levels a bit further. After a few engine troubles on the sled pull track, the cab was raised so the engine could be repaired and upgraded with ARP head studs. Still running stock turbos, this setup was good for an 11.60@118 mph at the track but eventually this setup started taking its toll on the stock transmission.
At this point, Corsilli was hooked on drag racing and there was no turning back. Again, he turned to MPD for help; the factory 5R110 transmission was pulled and worked over with upgraded clutches and billet shafts. The factory torque converter was replaced by a triple-dis billet unit from Diesel Performance Converters of McDonough, Georgia. With a transmission that could finally hold some power, Corsilli jumped into things a bit further: helping MPD test and develop a single turbo conversion kit to get rid of the factory VGT compound system in favor of an S472. Still running stock injectors, this combo was a bit laggy for daily driving needs, but managed to put down 947hp with nitrous on the dyno and run an 11.35@122 mph at the track.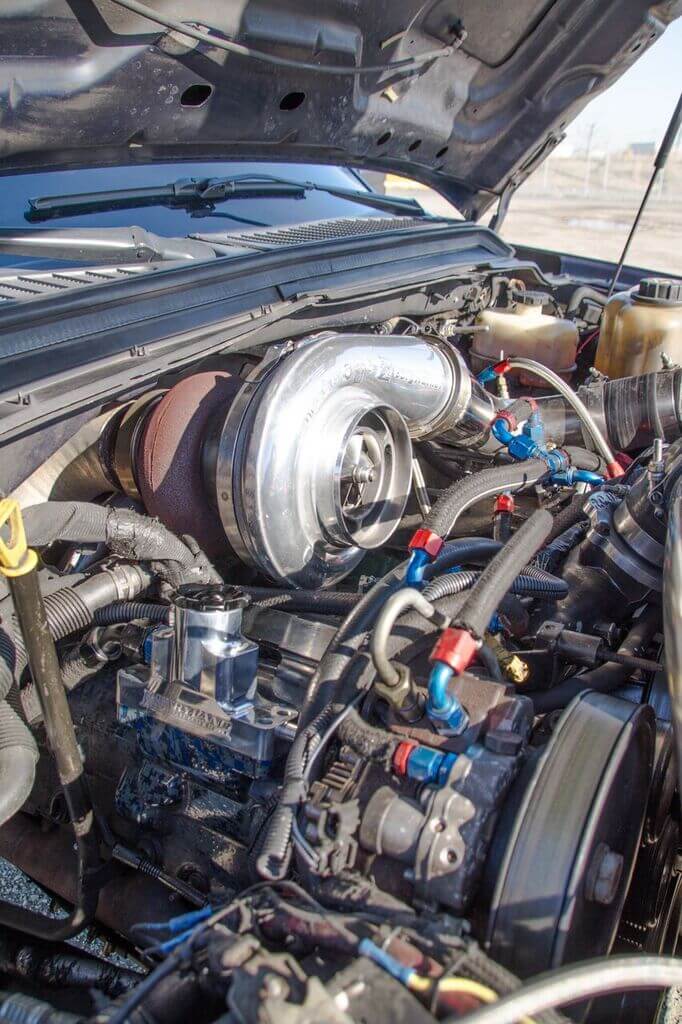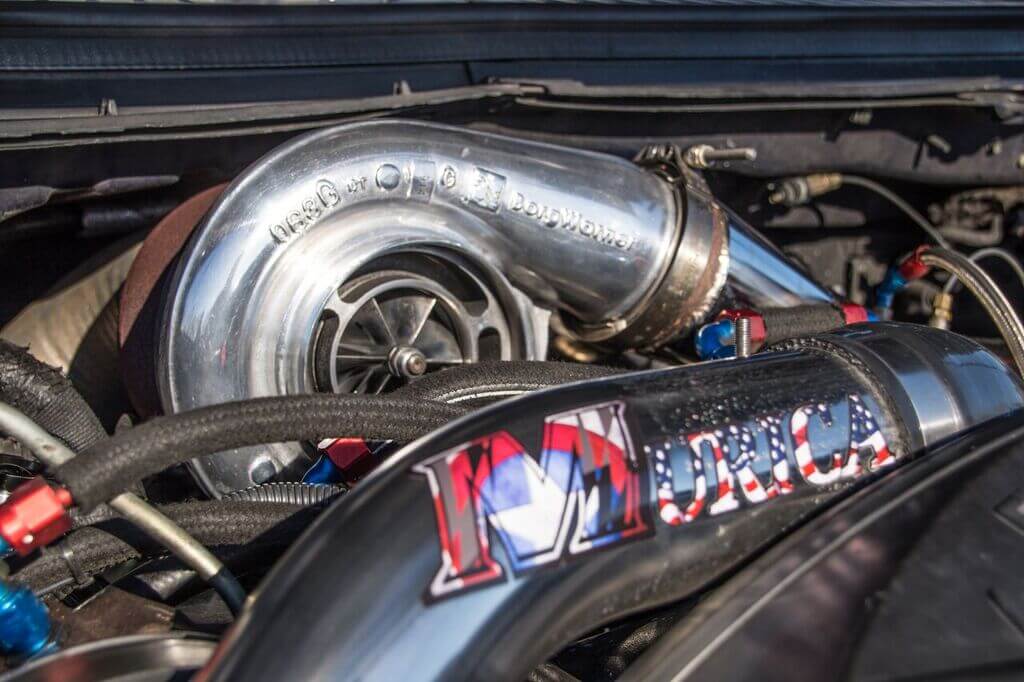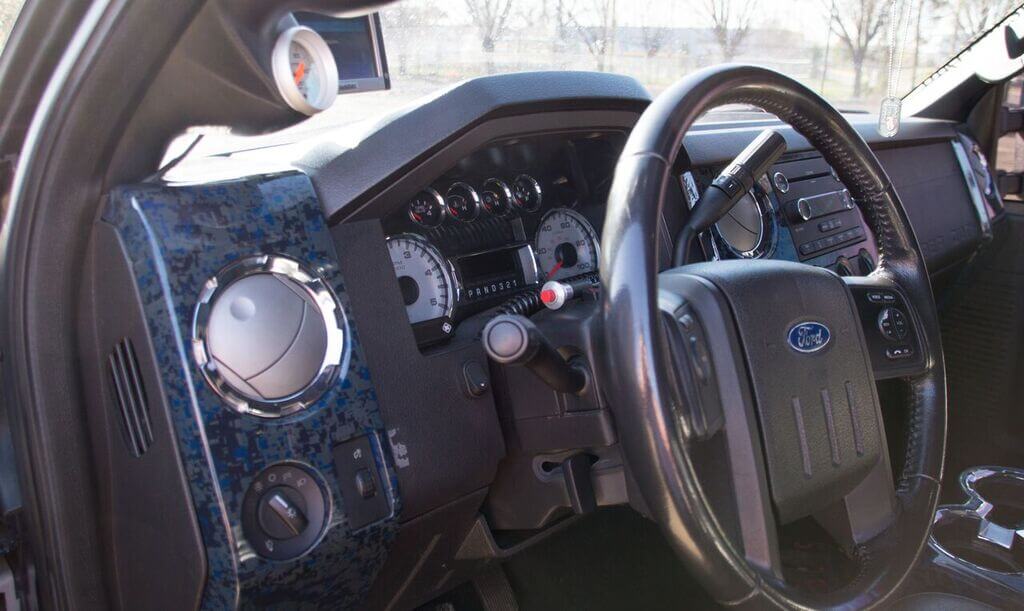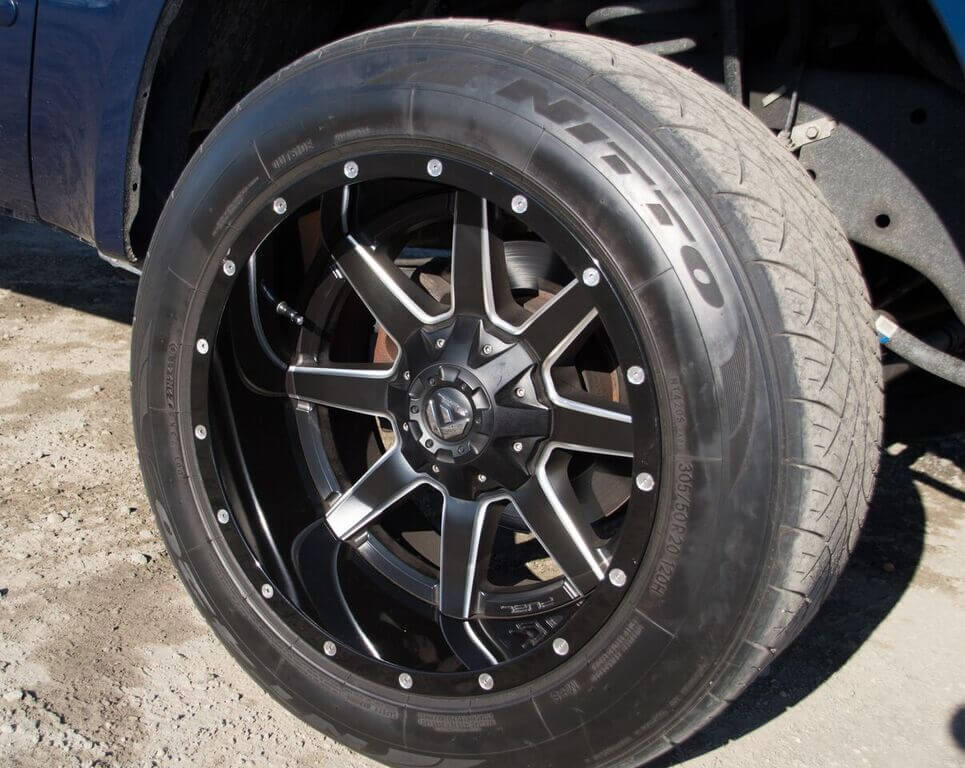 ALL IN
After driving the truck in this form for a few months, MPD fabricated a more conventional compound turbo kit for the truck that fitted a BorgWarner S483 in the fender well to help feed the S472. To go along with all that air, additional fuel was added with some 60 percent over injector nozzles from Maryland Fuel Injection; an Industrial Injection Dragon Fire injection pump and Aeromotive A-1000 lift pump were added to help maintain rail pressure under hard load. This combo made dozens of fuel-only mid-11-second passes; however, after 60,000 miles, the factory pistons and pushrods finally decided enough was enough and led Corsilli to start a complete engine rebuild from the crank up.
"It's the first single-turbo 6.4L Power Stroke to crack that 1,000hp fuel-only milestone."
The new engine was fully balanced and blueprinted by MPD and included .020+ Ford pistons machined with delipped bowls and deeper valve reliefs. The camshaft was upgraded to Colt Cams Stage 2 to increase lift and duration for better power at higher rpm. Cylinder heads were left basically stock, but upgraded with River City Diesel pushrods and valve springs. Along with the internal upgrades, the injectors were also honed out further to 100 percent over and matched up to a Dual Fueler injection pump kit from River City Diesel. The compound turbos were removed and a billet 76mm S400 with 92mm turbine wheel and 1.10 A/R T4 was run again on the MPD single-turbo kit. After some time on the chassis dyno at Innovative Diesel, after dialing in the fueling and tuning via the SCT Livewire tuner, the truck has bested all previous times at the track with an 11.05 e.t. on fuel only. The new powerplant also lit up the dyno room as the first single-turbo 6.4L Power Stroke to break 1,000hp, with a 1,016hp and 1,599 lb-ft of torque dyno chart to prove it.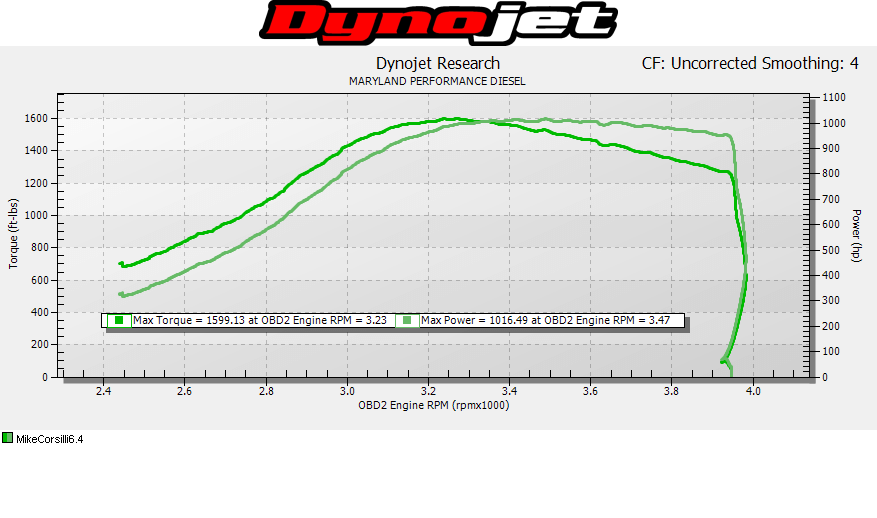 LOOKIN' GOOD
Since you can't have a stock-looking 1,000-hp truck, the chassis and body have also undergone multiple upgrades. The factory suspension has been lowered by removing the rear blocks and replacing the front coil springs with shorter, 4,400-lb coils from Ford. Shock absorbers have been upgraded to Rancho RS9000, which allow some suspension adjustment for both street and drag use. For tires, the slightly lowered Ford sits on 305/50R20 Nitto 420 tires wrapped around Fuel Maverick two-piece 20×12 wheels. The pumpers and grille were painted to match the factory deep blue metallic paint to really set the truck apart. The factory fender vents were then removed and hydro-dipped in blue/grey digi camo by Baltimore Hydrographics. The 7-inch single-exhaust stack and MPD traction bars were coated by DB Powder Coating to keep its appearance nice and clean. Don't forget that custom "Murica" Maryland license plate.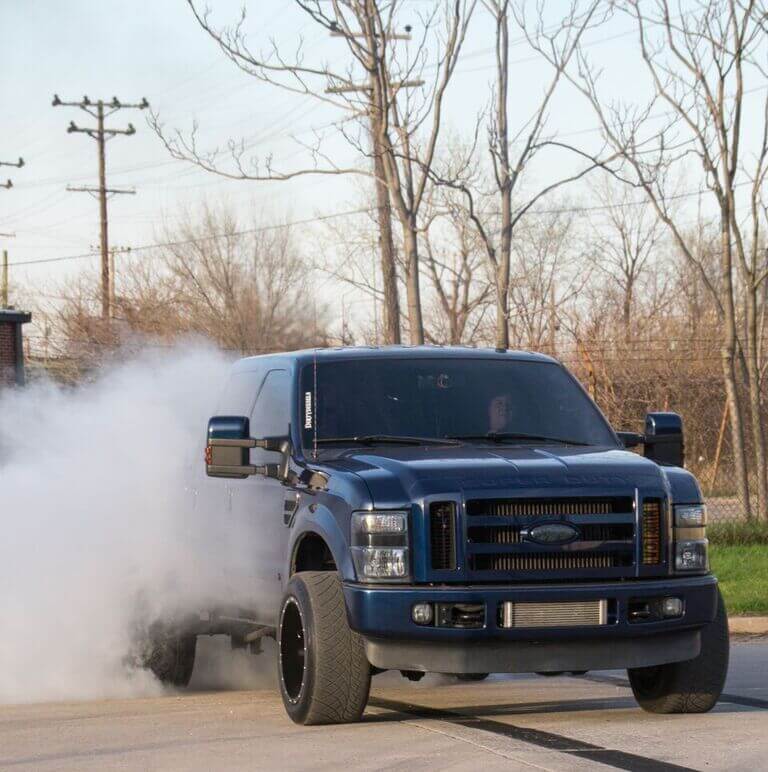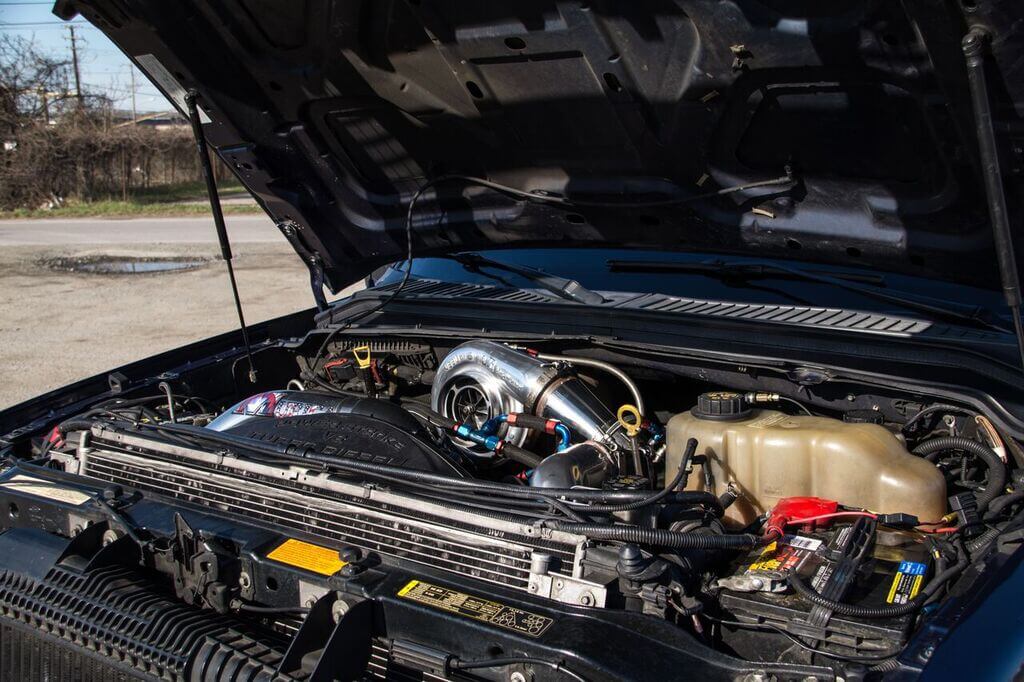 INTERIOR MODS
On the inside, Corsilli had most of the removable door panel and dash pieces hydro-dipped in blue digi camo as well. For gauges, just a pyrometer and two 100-psi gauges, for watching boost and drive pressure are needed. Future plans for the truck consist of upgrading the cylinder heads to some fully ported units along with a ported intake manifold in hopes of reaching 1,100hp, fuel only. Corsilli would love to see some fuel-only, 10-second quarter-mile times from the truck this season and is ready to take this Ford to the front. For those Cummins and Duramax boys that don't think a Power Stroke can keep up, keep your eyes out for this one, you're going to be surprised. DW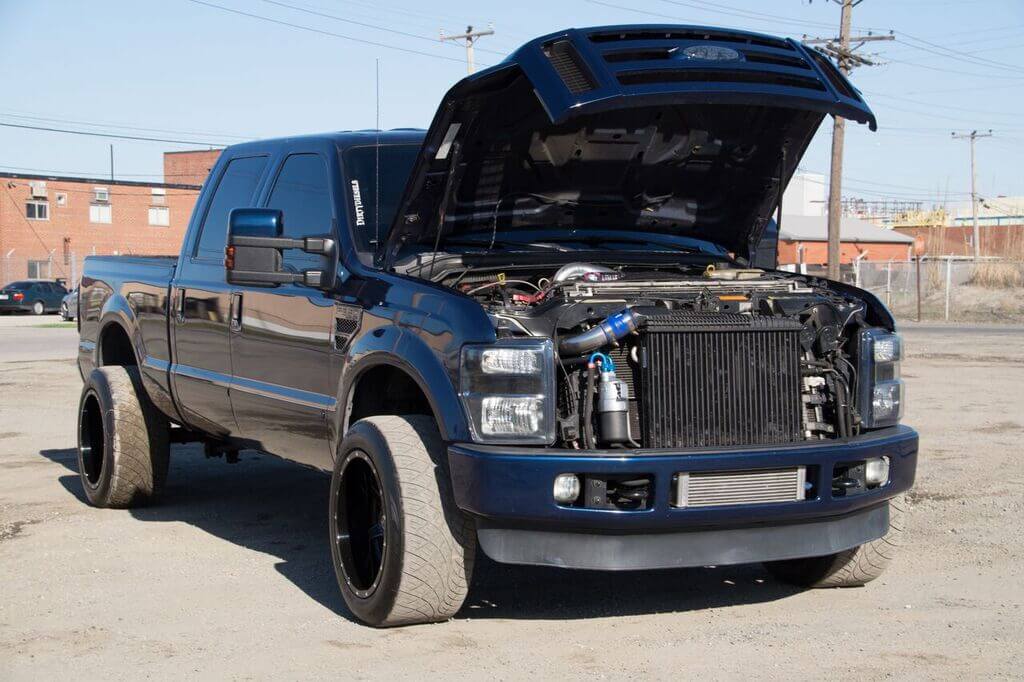 This rig is an absolute beast and is one of the most powerful trucks to be featured. If you like diesels with 1000+ horsepower, check out these five GM trucks that are packing some serious heat!