A Barn-Built, Body-Swapped '78 Ford Packing A 700HP Cummins
No, it's not a High Boy. It just happens to look like one—and we'll dare say it's better than any all-original dent side. It's a '78 Ford body fastened to a second-gen Dodge frame, suspension, and axles, and it's got a well-fueled and compound turbocharged 12-valve Cummins under the hood. It also happens to belong to Jared Jones, driver of one of the fastest oil burners in existence, the Scheid Diesel dragster. As a diesel technician at Scheid, you could say Jared knows a thing or two about a B-series Cummins, along with how well the '94-'02 Dodge chassis holds up to high horsepower. In combining his '94 Ram with his uncle's old F-100, he built a vehicle any truck guy would envy.
An Idea Is Born
Following a lengthy period of spirited street driving, boosted four-wheel drive launches, and beating up on Corvettes and Camaros in his 500hp regular cab '94 Dodge, Jared snapped the input shaft in the truck's 47RH. With the Ram out of commission, he grabbed the keys to his uncle's two-wheel drive '78 F-100. Then, after the Ford's C4 automatic gave up a year or so later, Jared had a "wait a minute" moment one night. With the two broken down trucks parked side by side, he noticed the wheelbase of the second-gen was close to the F-100's. After measuring, the wheels started turning and Jared began to kick around the idea of swapping the Ford body onto the Dodge chassis.
What followed was the piecing together of a one-of-a-kind Fummins using the parts he had available to him, and sourcing everything else either from the junkyard or the aftermarket. "I didn't start out with a High Boy, I just used what I had," he told us. "I didn't have a lift so I bought an A-frame at the scrap yard, the wife and I got started pulling the body off the Dodge." Due to the difference in frames, mounting the cab and dog house on the second-gen chassis called for 2.5-inches of body lift. Aside from that, the process of swapping the body over proved pretty straightforward.
From A Split-Block To A Brand-New B-Series
Two years after Jared's creation became road-worthy, the 330,000-mile 12-valve that'd been raced, beaten, and regularly exposed to 2,000-degree EGT in its previous life split the block. Its replacement would be based on a 24-valve crankcase, which Jared had machined to accept fire rings, 14mm main studs, and 14mm head studs (which were donated courtesy of the Scheid dragster engine). The fresh 5.9L also features ARP fasteners throughout, including the rod bolts that fasten shot-peened factory rods to the stock crank. A Scheid street cam, Trend Performance push tubes, and 165-lb Hamilton valve springs sum up the valvetrain upgrades.
Benched P7100 And 5x13s
Long gone are the days of Jared's P7100 being set up to support a docile 160 hp. With a trip over to Scheid's pump shop, the '94 model year P-pump was made to flow 470cc of fuel while retaining optimum street manners. It's been graced with 5,000-rpm governor springs, and 191 delivery valves, and is set at 22 degrees of timing. Downwind of the pump are six SAC-style, Scheid-built injectors equipped with 5×0.013-inch nozzles. An OEM Cummins lift pump supports the P-pump, but in order to maintain fuel supply at high rpm its inner valve spring was upgraded with a replacement spring from Comp Cams.
Street And Tow-Friendly Compounds
After the first Cummins, a well-fueled single turbo 12-valve that'd allowed the truck to make 500 to 550 hp at the wheels, Jared decided to run compounds with the new 5.9L. Now, the truck is considerably more streetable and he spends a lot less time watching the pyrometer. The quick-spooling combo begins with a 57mm S300 mounted on a T3 Steed Speed exhaust manifold. An S475/96/1.10-atmosphere turbo contributes 35 psi of boost at full tilt. Jared fabricated the 3.5-inch diameter intercooler piping that routes boost to and from a factory '94 Dodge intercooler, and a Scheid billet-aluminum intake plate sits in place of the stock piece.
NV5600 Swap
Between the costs and hassle associated with fixing broken 47RH parts and knowing a third-gen owner who was looking to swap an automatic in place of his NV5600, Jared decided to pull the trigger on a manual conversion. A twin disc street clutch from McLeod Racing sits on the input shaft of the '05 model year six-speed. On the opposite end rests an NP241 transfer case, which was part of the original drivetrain equipment on Jared's '94 Dodge. The only change required to accommodate the NP241 was an input hub swap. Cruising in overdrive (sixth gear), Jared's Ford returns as much as 22-mpg on the highway.
One Of One
It all started with a tape measure, and now Jared always has the coolest truck in the parking lot. Whether it's from the rattle of the 12-valve Cummins, the sweet whine produced by the well-spec compound arrangement, or the simple fact that it's a High Boy-era Ford out cruising around in the year 2022, Jared's one-of-one creation has endless attention-grabbing power. When he tossed us the keys, we promptly fired it up, jammed a few gears, and moved it to a more photo-friendly location. Thirty minutes later, we'd already lost count of all the raised thumbs and complements thrown our way.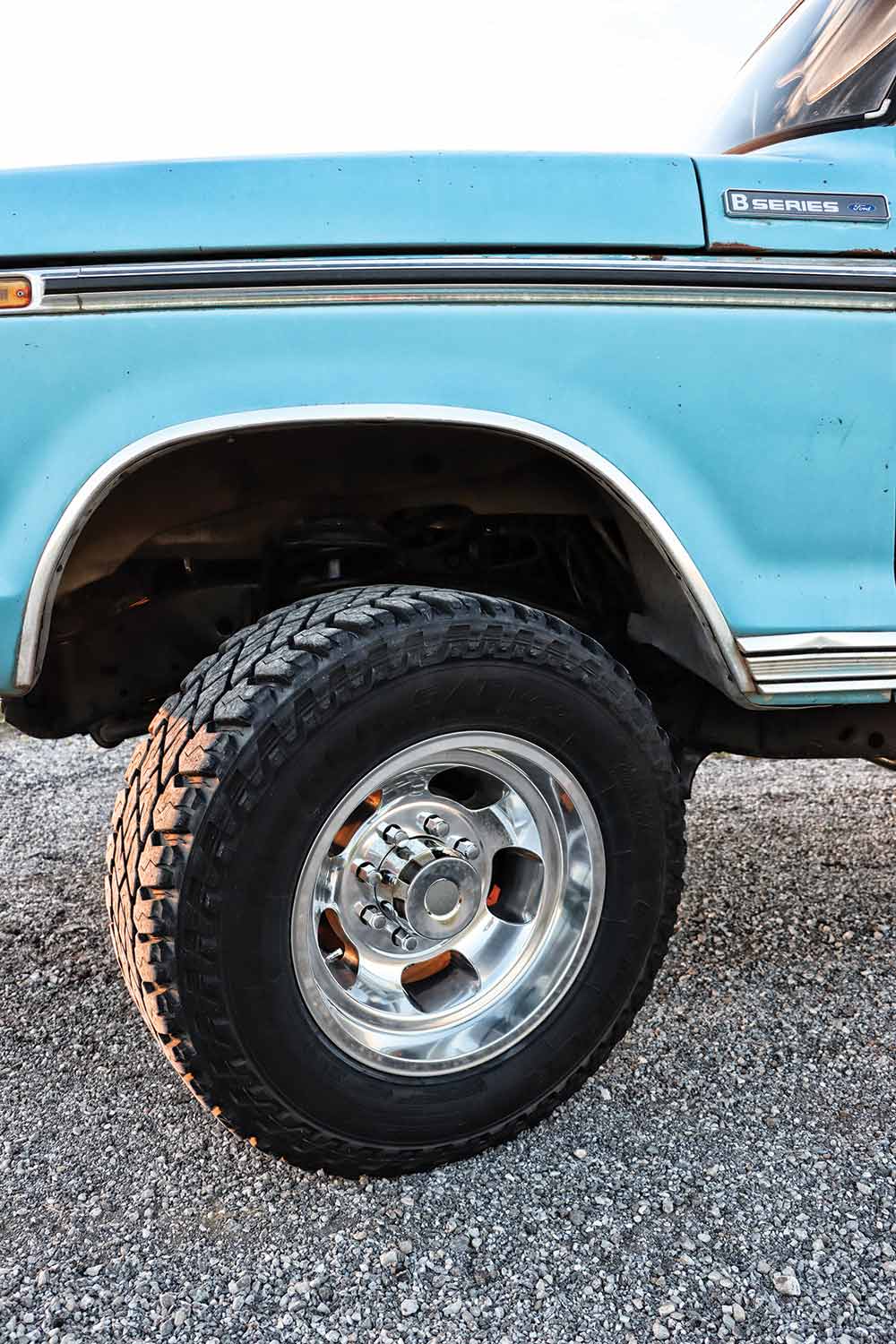 In a world overflowing with brand-new, $80,000 pickups, Jared's trapped-in-time Ford is a welcome change of pace. It combines the iconic, old-school looks of the '73-'79 F-series line with the ruggedness of a second-gen Dodge chassis—and a 700hp P-pumped Cummins backed by a manual transmission doesn't hurt matters, either. But most importantly, it can't be bought.