Ford has been talking numbers lately and two of their favorite numbers begin with four: 440 horsepower from the 6.7 diesel and 40,000 lbs. GCWR on the F-450 courtesy of the Class 4 hardware underneath. Ford points out that this is half, or 50 percent, of the GCWR for most 18-wheelers on our highways. Another number worth considering is the price—with window stickers beginning in the 50-, 60-, or 70-thousand-dollar range, depending on model and upgrades.
THE TRUCKS
Apart from minor cosmetic adjustments, the changes revolve around the diesel and the F-450 model. Alongside three new paint hues—Blue Jeans, Caribou and Bronze Fire—and lightly revised interior trim, an exhaust brake switch was added and the F-450 was given new aluminum wheels. Also, every Super Duty now comes with the programmable MyKey system.
Expect the next-generation Super Duty to have significant upgrades to the cabin and NVH—especially the SuperCab with a huge aperture on each side of the structure, two areas where Super Duty lagged behind the competitors and needed to be addressed.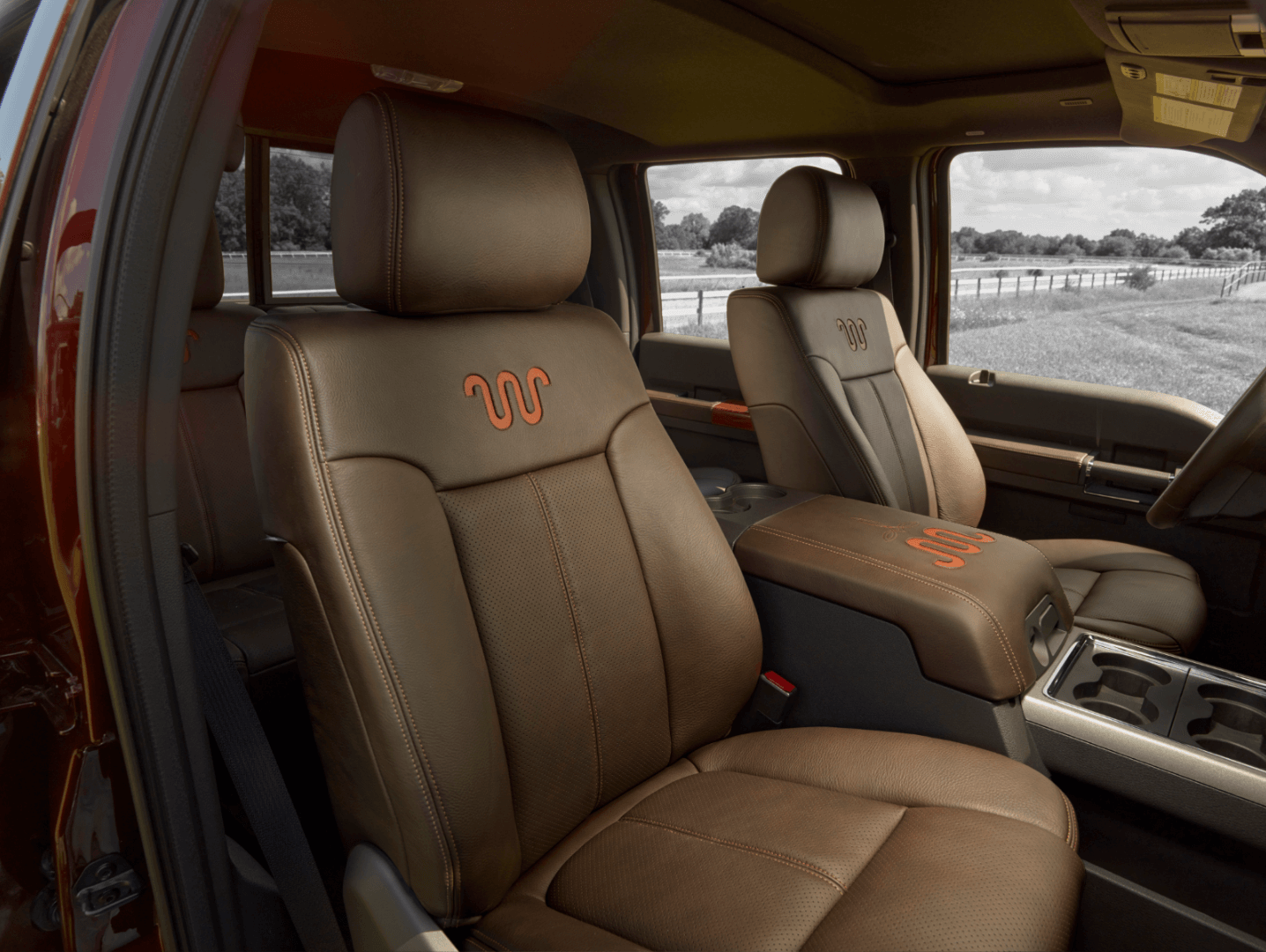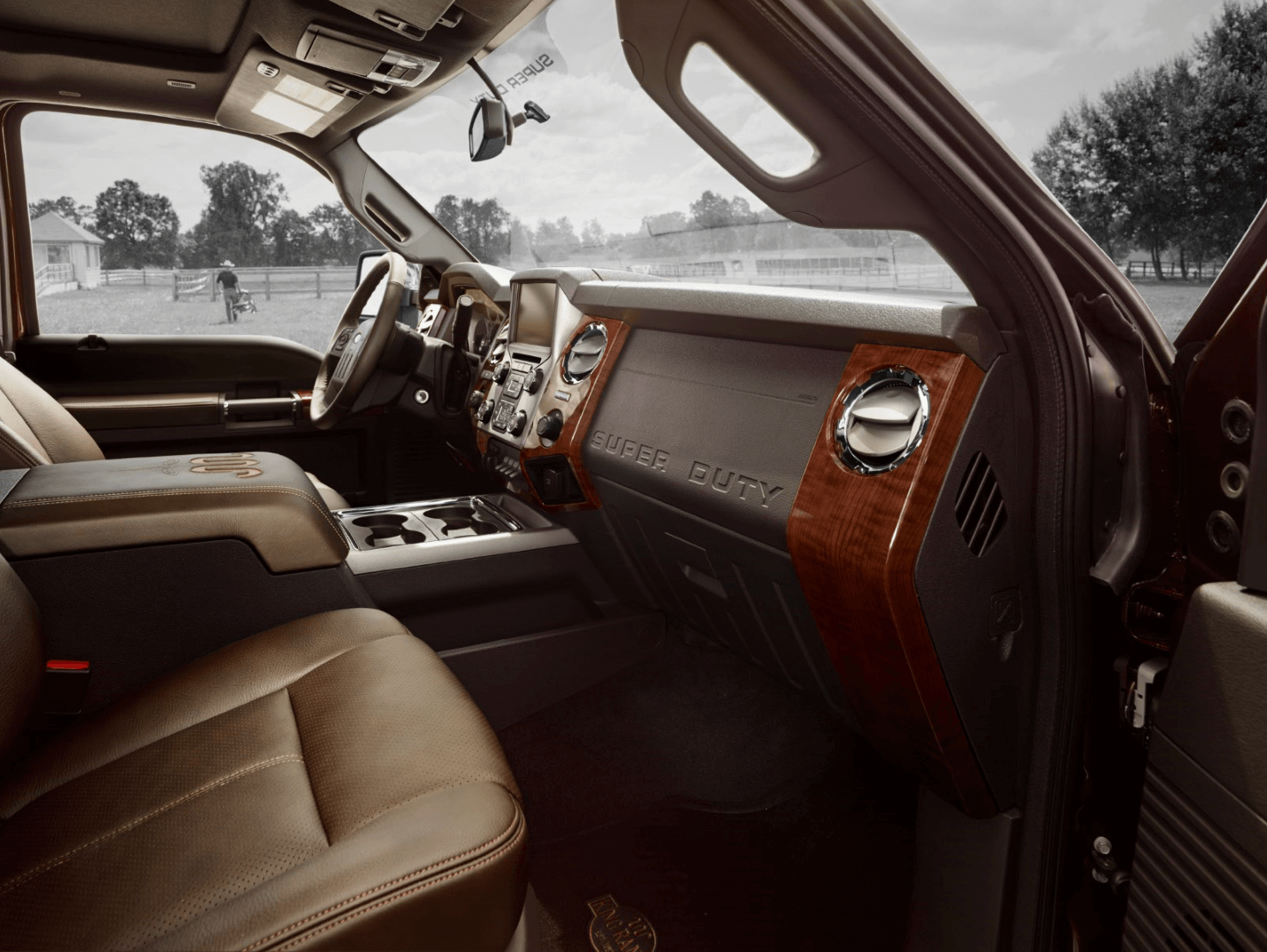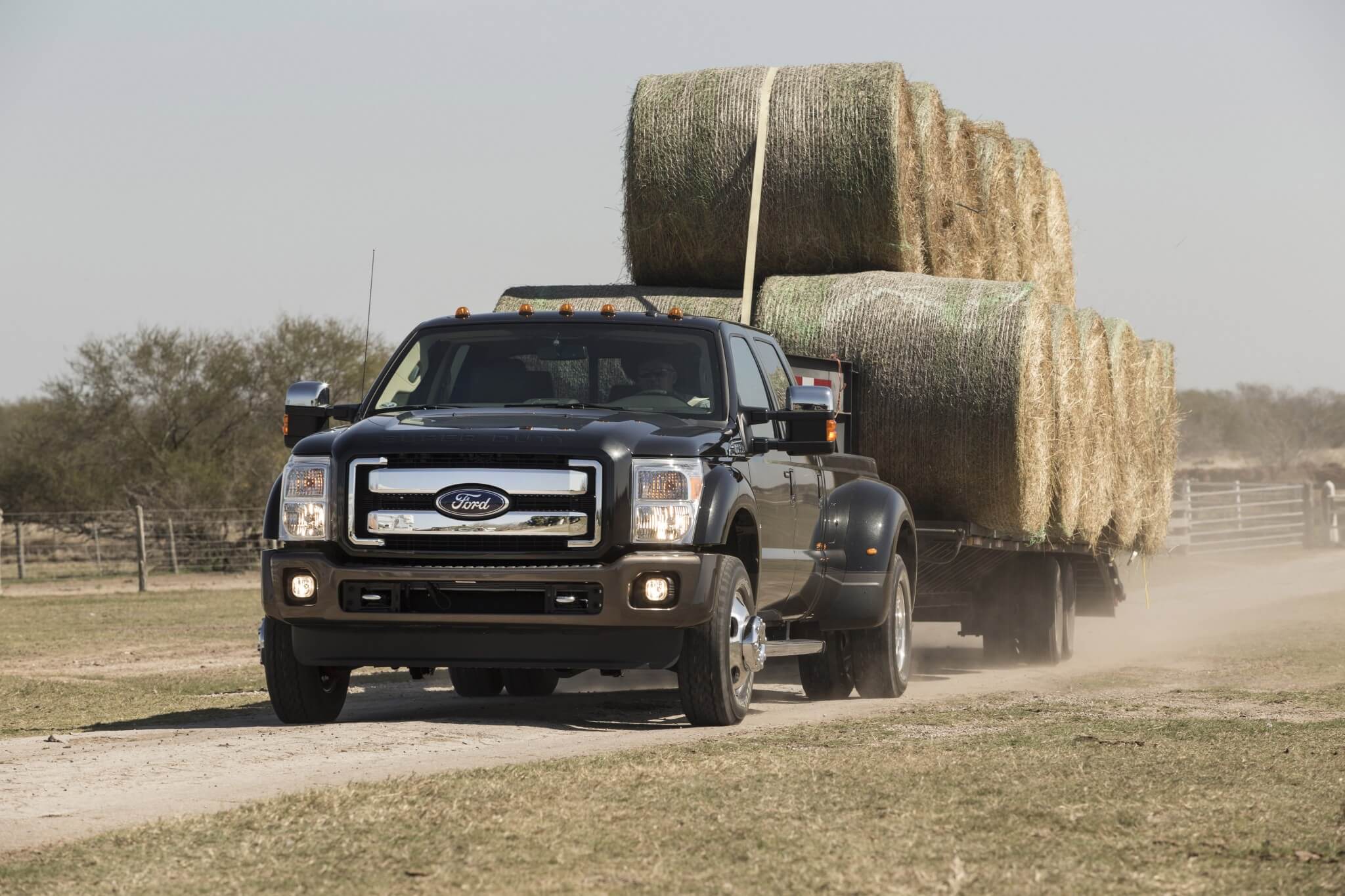 The 6.2-liter gasoline V-8 is unchanged: 385 hp and 405 lb.-ft. of torque on some single-rear trucks and 316/397 on everything else. The top tow rating for that engine is 16,100 lbs. for conventional trailers, and slightly less for fifth-wheel/goosenecks. These ratings place it between GM and Ram in gas towing capacities.
One F-350 model, the same long-bed, dually Crew Cab 4×4 configuration that the F-450 comes in, offers a new towing package that includes different front springs, a wide-track axle and 4.30:1 gears for a GCWR of 35,000 lbs. and a maximum tow of 26,700 lbs. It sounds a lot like last year's F-450, doesn't it? If you see an eight-bolt wheel with a 450 flare and bumper extension, it's this special F-350.
Essentially undoing the changes made in 2011 to accommodate customers complaining about the 81-mph tire-imposed speed limitations of the 2008-2010 model, the 2015 F-450 returns to its commercial roots. It uses an upgraded pickup-style frame rather than the straight-rail frame of the F-450 chassis, but a good portion of the bits attached have commercial origins. Changes from last year include new tires with an 87-mph speed rating, wheels, springs, Dana S-130 rear end, rear driveshaft U-joints, antiroll bars, shock absorbers and braking systems.
All those changes have pushed the F-450 gross combined limit to 20 tons, 5,000 lbs. beyond any 350-550 chassis cab. The top tow rating is quoted at 31,200 lbs.; which Ford is calling best-in-class. (See sidebar.)
THE DIESEL
Ford is proud of their integration, noting more than once that they are, "The only manufacturer that develops and builds our own powertrains in this class." Although our German's a bit rusty, we've been unable to confirm rumors that Austrian engine specialist AVL List GmbH played a part in designing the 6.7 "Scorpion" engine.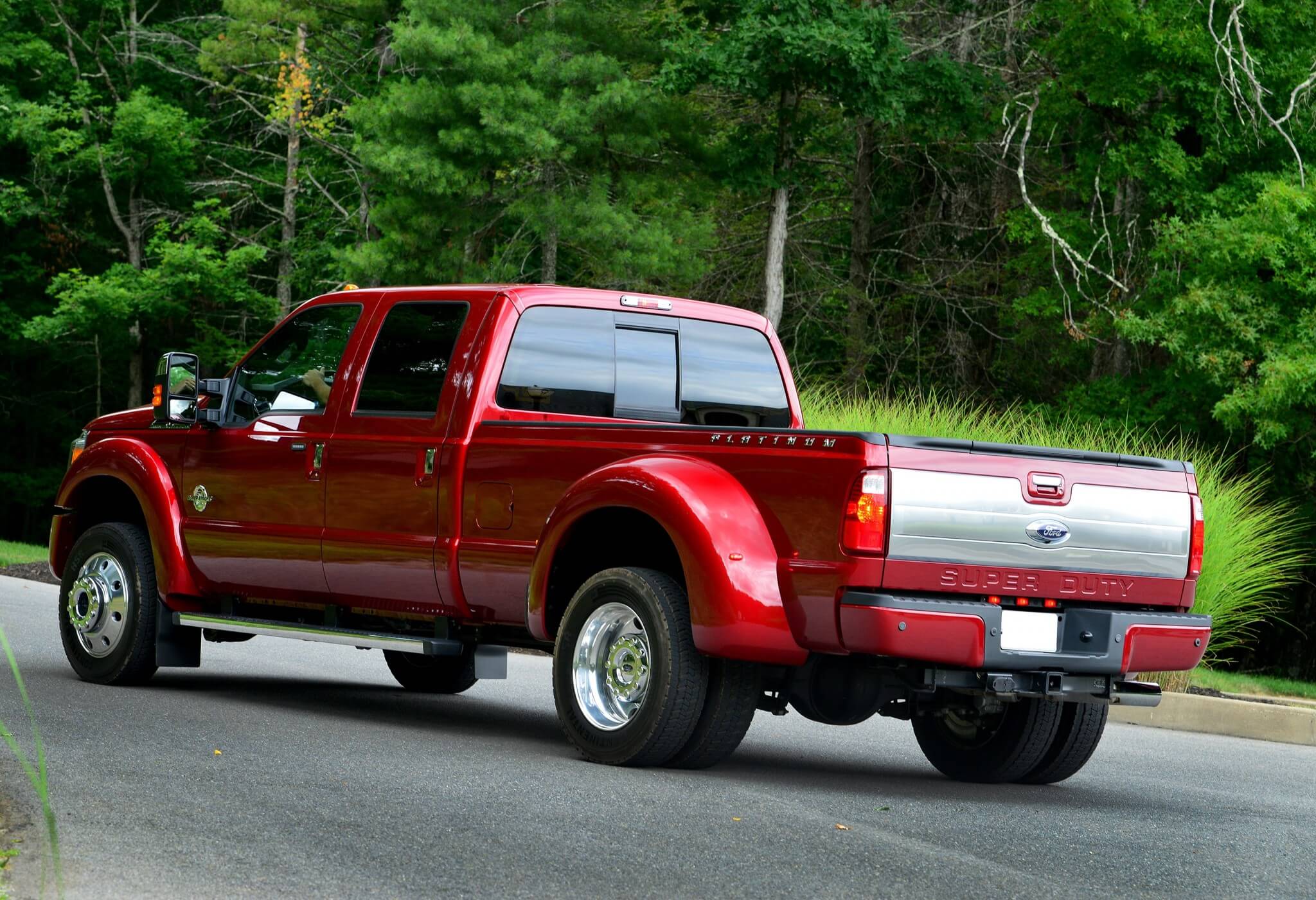 This second-generation of the 6.7 Power Stroke is more than just a new turbo, though as one engineer put it, "We called up Honeywell and told them we wanted something better than what GM has" for a power gain and a wider compressor map. Honeywell supplies the variable-nozzle Garrett GT37 spinning a single-sided compressor wheel and larger 72.5mm turbine wheel for less drive pressure (and sealing surface strain) and much more airflow.
More air means more fuel, so the CP4 pump is tweaked for more top-end flow and the injector nozzle tips have been revised; ASTM-standard B20 is approved. Other changes include a re-profiled crankshaft with coated bearings, damper, pistons, multi-layer head and exhaust-manifold gaskets, and more meat on the heads, valve gear and exhaust manifolds. The EGR cooler now runs on the high-temperature loop of the split cooling system and has no maintenance requirements.
To better cope with the added input, the 6R140 automatic has a new torque converter, heat-treated damper springs, a revised intermediate shaft and new software.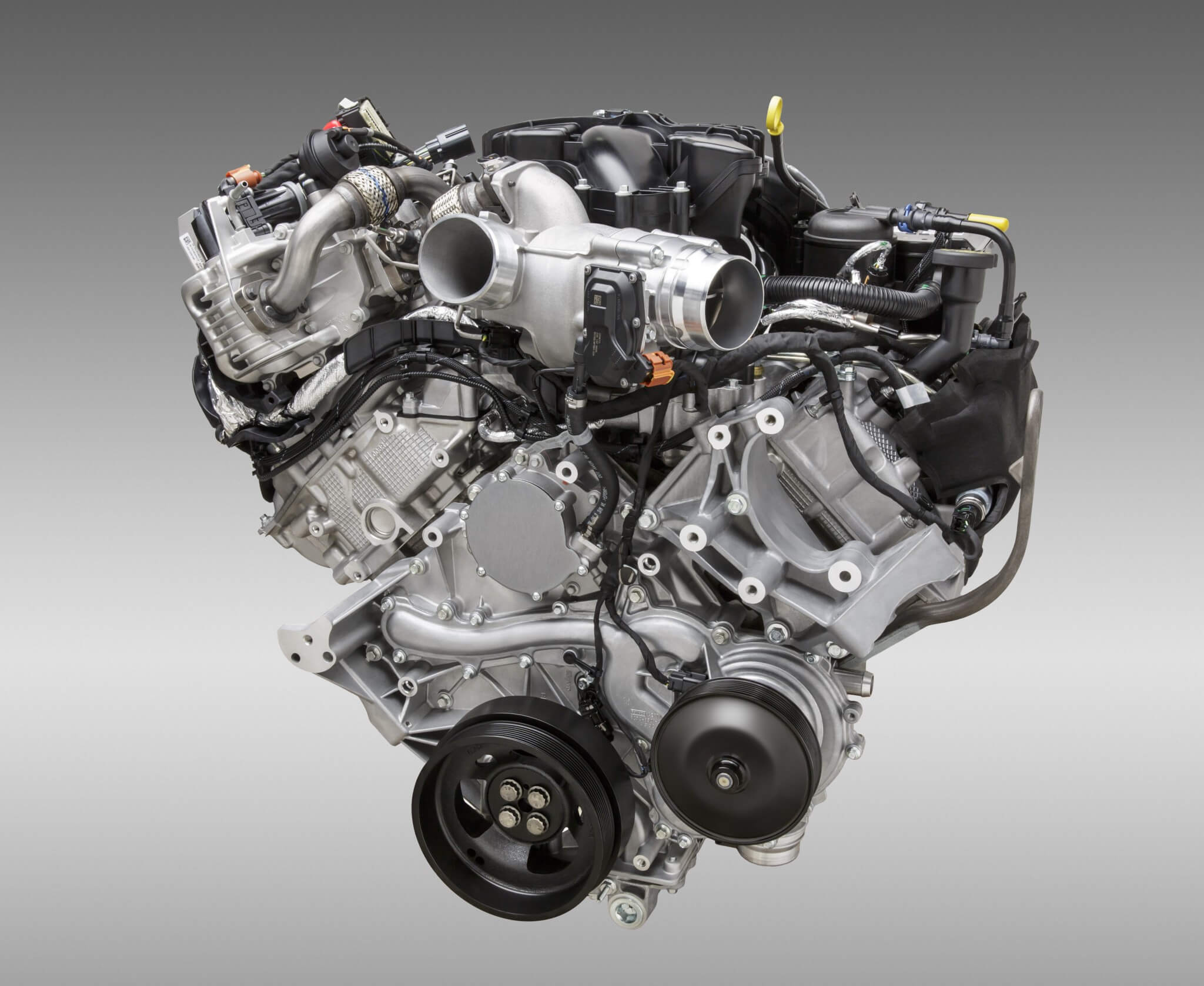 [divider]BACK TO SCHOOL OR CLASS WARFARE[/divider]
The controversy about towing claims began within hours of the 2015's debut. Ford claims best-in-class horsepower, torque and fifth-wheel/gooseneck towing, the footnote being, "When properly equipped. Class is full-size pickups over 8,500 lbs. GVWR." Ram maintains their best-in-class claim because the F-450 and Ram 3500 are in different classes. It's worth noting that both manufacturers limit fifth-wheel weight to thousands less because only recently did anyone offer a 30,000-lb. fifth-wheel hitch. The hardware adds weight, and fifth-wheel trailers with GVWR more than 25,000 lbs. are very uncommon. There's also the thorny issue that 20-percent tongue weight on a big fifth-wheel would put many of the trucks over rear GAWR and/or GVWR.
The power and torque claims aren't a factor; even we don't get excited about a one-percent advantage. The towing numbers center on interpretations of DOT truck classifications: Class 2 is GVWR 6,001-10,000 lbs. (sub-split into 2A <8,500 and 2B 8,501-10,000), Class 3 10,001-14,000 lbs. GVWR and Class 4 14,001-16,000 lbs. GVWR. Those numbers are for a vehicle in operating condition, meaning curb weight, but according to trade publication Automotive News, Ford says they determine payload using a base truck with everything that can be deleted on a vehicle order applied to it, which is how their 8611-lb. F-450 quotes a 5,450-lb payload that puts GVWR into Class 4 territory. As of this writing, a 450 XL on Ford's build-and-price website offers no options to delete anything.
Whether or not you consider a Ram 3500 and Ford F-450 in the same class or not, we're betting most buyers know the differences. You could argue Ford's best-in-the-class-of-full-size-trucks-more-than-8,500-GVWR claim works because one trim of the solo-configuration F-450 pulls more than Ram's top rating. You could argue it doesn't because you'd call F-450 a Class 4 truck. One could argue the claim isn't accurate since GM and Ram both offer higher tow ratings in Class 2B, inside Ford's 8,500-plus envelope. We would argue that until Ford and GM apply SAE's J2807 to big pickups. Until then, there's no way to know best-in-class.
Insurance and emissions requirements typically change at Class 2B and 4, but whatever class you consider an F-450, note it comes with a heavy rear axle and Load Range G tires. A base F-450 costs $3,500 more than an F-350 which carries 470-1,220 (diesel-gas) lbs. more, and each F-450 tire costs $185 more.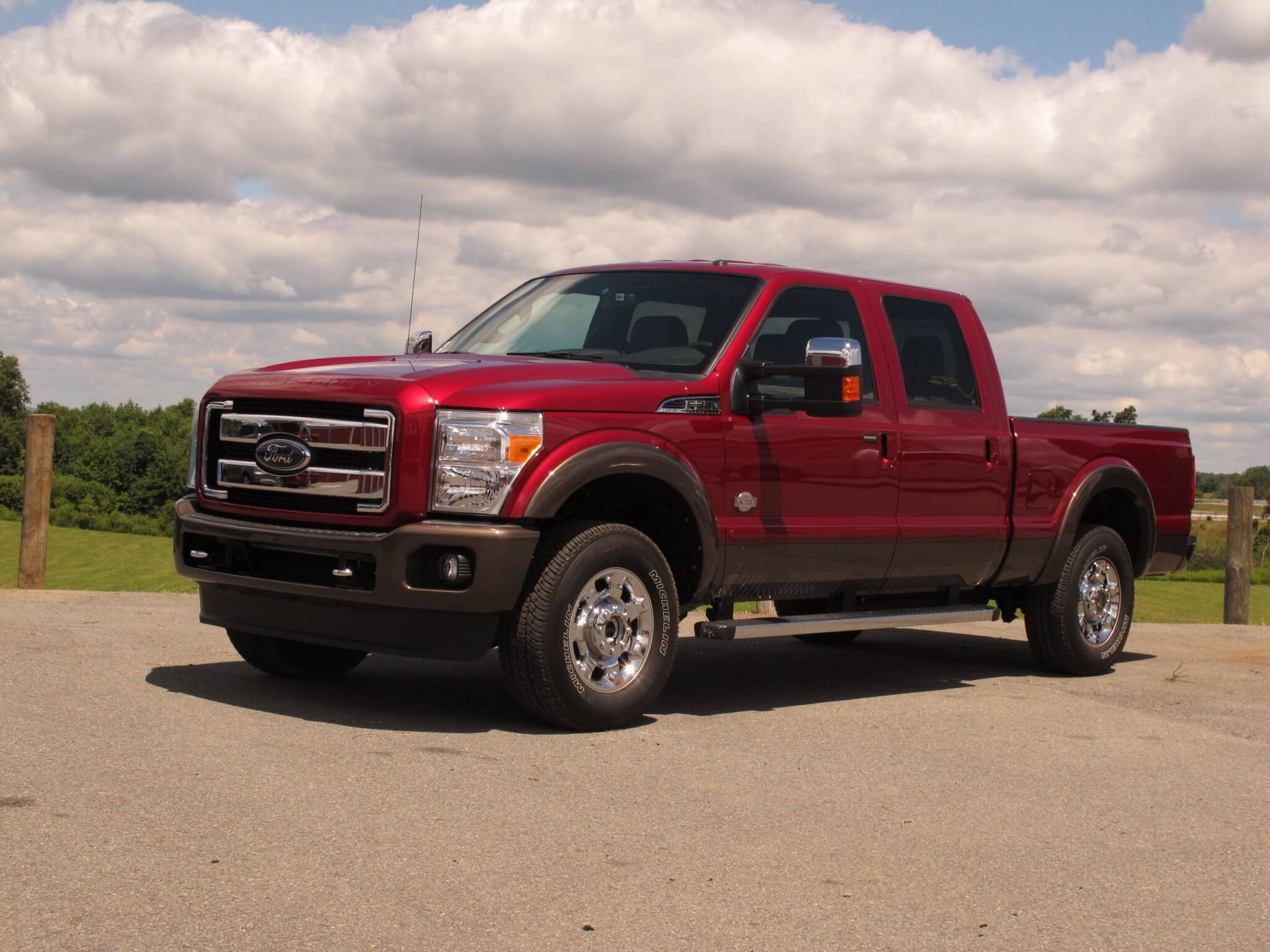 THE DRIVE
It's clearly evident the Power Stroke has more grunt, whether you're in an empty F-250 or a 9,300-lb. Platinum F-450 hauling cement blocks. It feels like it builds boost more progressively and has more "beans" everywhere on the rev band, and we had to work it hard in 66ºF weather to get the fan clutch to come on; peak observed coolant temperature was 239ºF and the ATF cleared 210ºF only once.
Exhaust braking—which the Ford people called engine braking—is well integrated with transmission and cruise control software. A rep told us they'll rev it to 3,900 rpm for braking, a smidge higher than on-throttle overspeed. We only saw it that high once as passengers, but we'd say you need 2,500 rpm or more onboard to get significant retarding. There's little braking action until you press the switch (next to the power point) because the vanes are set for quick response when you get back into the throttle.
Only the F-250 could be driven with or without a trailer (all carried bed weight to help the ride). Trailer or not, it was more than happy to spin a rear tire and invoke traction control; we're sure you could put down a quartet of lengthy stripes in an empty dually. F-350s pulling 12,000-lb. fifth-wheels and F-450s pulling double that on goosenecks provided a great demonstration in ride quality. The F-350 rear seat heater switches are placed so Rover can keep himself warm. A scribbled note reveals that the F-450 "doesn't ride nearly as well as the F-350 DRW pulling a fifth-wheel." DW