Coeur D'Alene, Idaho, has long been one of the region's top destinations for vacationers looking for a cool summer getaway. The city is also home to Alligator Performance, one of the largest performance diesel retailers in the country. And while it's a bit of a drive to get to, diesel enthusiasts flocked to their facility in September for the Third Annual Hunting For Horsepower dyno competition. With the help of great sponsors like Edge Products, Flo-Pro Exhaust, MBRP, SCT, PPE, South Bend Clutch, ATS Diesel, Diamond Eye Exhaust, Diesel Race Parts, Duramax Tuner, Schaeffer's Racing Oil, AirDog, Motion Sports Racing, Industrial Injection, PPEI Tuning, Rare Parts, Fuel Wheel and aFe Power, the crew at Alligator Performance pulled off one of the largest dyno competitions in the country, despite being in the relative middle of nowhere.
With the help of two chassis dynos, the Alligator crew and dyno operators were able to run almost 180 trucks and cars across the rollers in what could quite possibly be the biggest one-day dyno event ever. With the portable "Heartbreaker" Mustang dyno of Haller's Repair from Cheyenne, Wyoming, running all gas-powered and stock turbo diesels and Custom Auto of Idaho Falls, Idaho, running big Single, Twin and Open class trucks on their Superflow dyno, the line of entries moved pretty quickly. After a few hiccups with consistency early in the morning, the Custom Auto dyno got dialed in and ran well into the night, while Haller's Repair was able to push through their list of competitors and call it a day before dusk. The unofficial list was tallied and completed; the diesel-only count on the day came in at somewhere near 110 trucks and more than 56,000 total rear wheel horsepower.
Stock Turbo Class
Stock Turbo classes at diesel dyno competitions have started to become dominated by 6.4L Power Strokes, due to their factory twin-turbo system and massive tuning potential locked inside their ECM. Even though a Duramax powerplant topped the leader board with 554 horsepower, the vehicle wad owned by an Alligator Performance employee who was unfortunately exempt from winning. Official first place went to Mike Lewis, in nothing other than a 6.4L Power Stroke with 551 hp. Back nearly 40 hp, the next two trucks at 512 hp and 510 hp were both Duramax-powered GM trucks, one driven by an Alligator employee, the other by Chad Acock.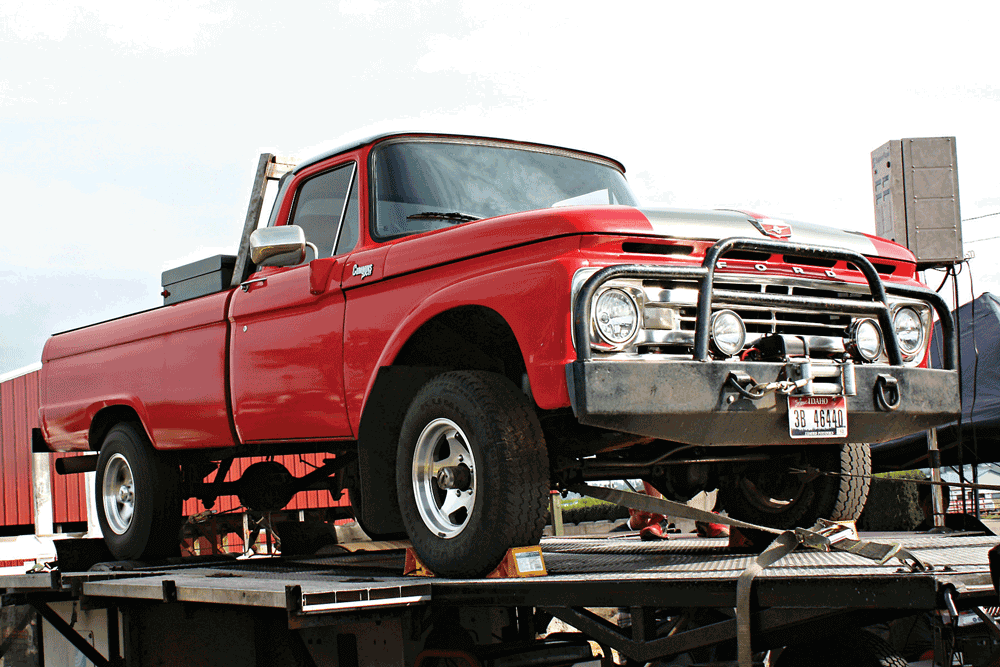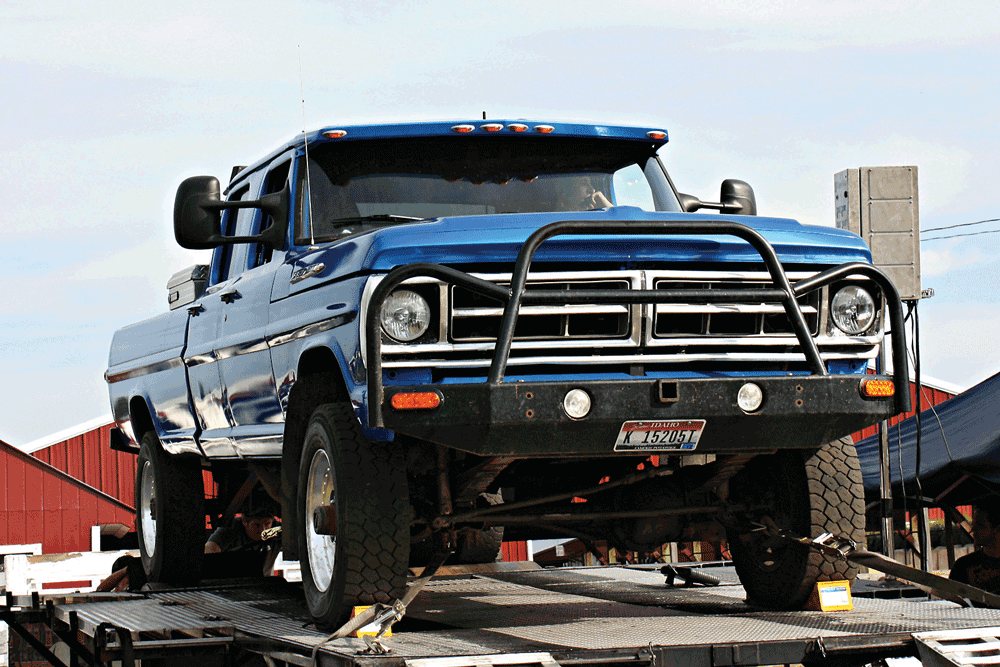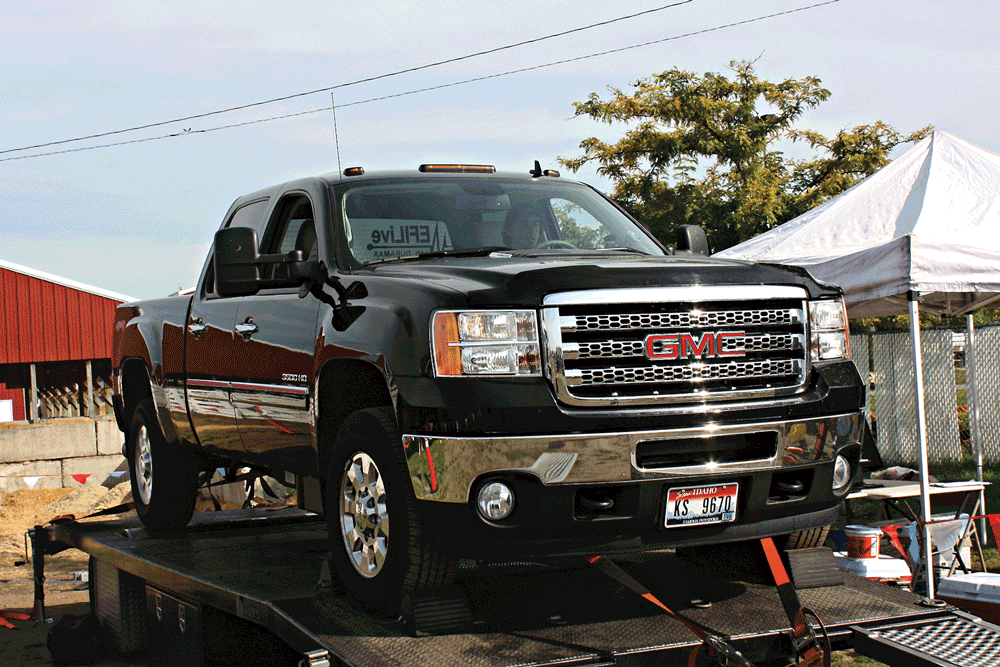 Single Turbo Class
The Single Turbo class was the next grouping of trucks tested and was one of the biggest classes of the day with more than 35 entries. Since the Single Turbo class could mean anything from a modified stock turbo to a massive 80mm inducer turbo hung off the manifold, horsepower numbers vary greatly and depend on the truck's use and modifications. A correctly selected single turbo can make for a great tow rig and dyno comp winner. Taking home top honors on the day was Garrett Palette in a Cummins powerplant with 737 hp. Garrett also ran in the Unlimited class, where his truck made an even bigger number of 880 hp with the help of some nitrous. Second place in the Single class was another Cummins owned by Matt Schwartz with 683 hp, followed closely by Daniel Garvin with a 663 hp Cummins.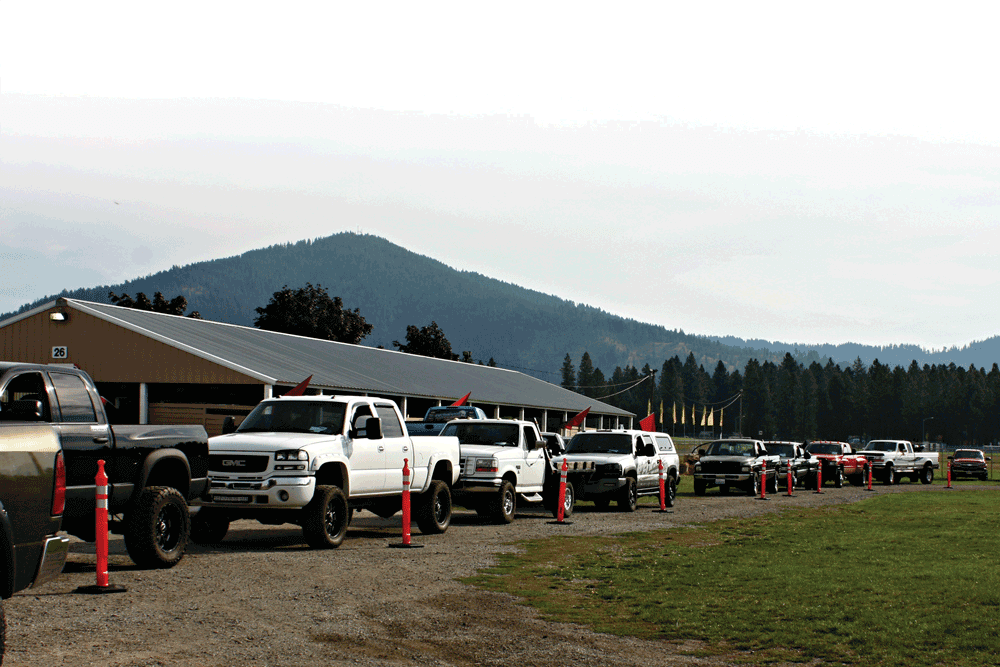 "The diesel-only count on the day came in at somewhere near 110 trucks and more than 56,000 total rear wheel horsepower."
Twin Turbo Class
In the Twin Turbo class, both mild-performance street twins and all-out race twins are grouped together, which helps explain the nearly 800-hp gap between Jason Burton's 463-hp daily-driven Dodge and class winner Dmitri Millard's purpose-built 1/4-mile drag strip Duramax at 1,259 hp. As the Duramax engine and transmission specialist at Custom Auto, it's no surprise that Millard's LB7 Duramax would bring home top honors on the rollers. Cam Hulse, the owner of Adrenaline Performance in Shelley, Idaho, wrapped up second place in his big Red Chevy at 949 rear wheel horsepower. Third place went to another Duramax-powered truck at 906 hp owned by veteran drag racer Verlon Southwick.
Unlimited Class
In the Unlimited Diesel class, anything goes, and a no-holds-barred "run what ya brung" attitude sends competing numbers through to unimaginable heights. Like in the Twin Turbo class, Duramax extraordinaire Dmitri Millard took his 1,200-hp fuel-only numbers even higher with the help of nitrous injection where his numbers put him just over 1,500, the highest number of the day. US Diesel Parts had their built Cummins up on the dyno during the day as well, where it landed a second place trophy at 1,116 rear wheel horsepower. The white regular cab owned and built by Chad Hall, owner of Alligator Performance, got a third place win just short of 1,100 hp at 1,093 with some wicked-sounding ball bearing Garrett turbos singing at full boost.
Other notables on the day would have to be the rusted-out and slammed mid-'70s Toyota truck powered by a naturally aspirated diesel engine that poured black smoke out of a custom single stack to bring home the lowest numbers of the day at just 33 hp. A Fox body Mustang made its way across the Haller's Dyno where the twin turbocharged gas powerplant ripped off more than 1,000 horsepower on back-to-back runs.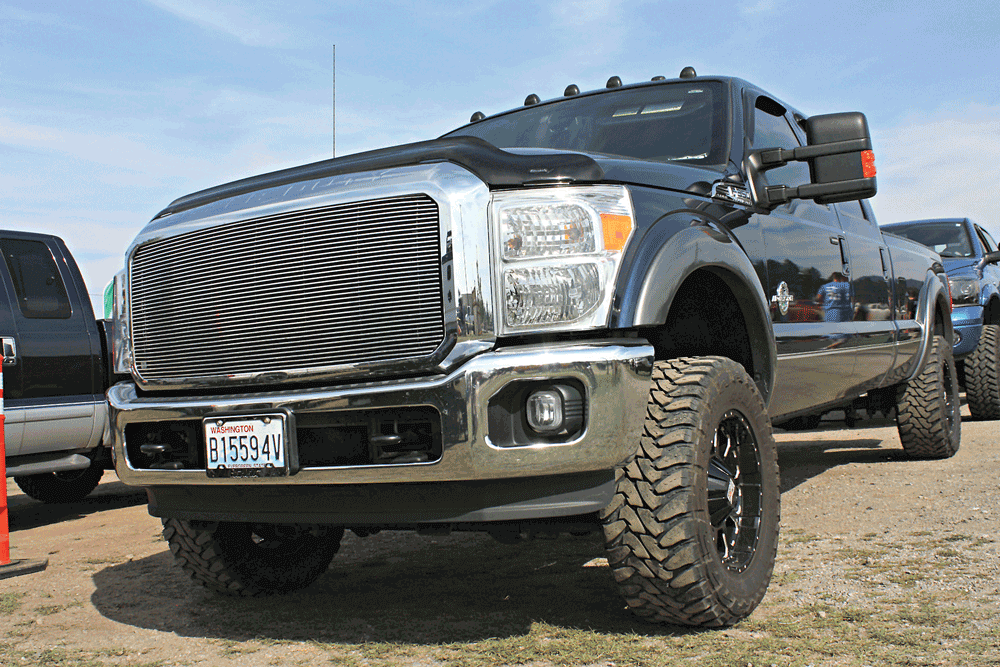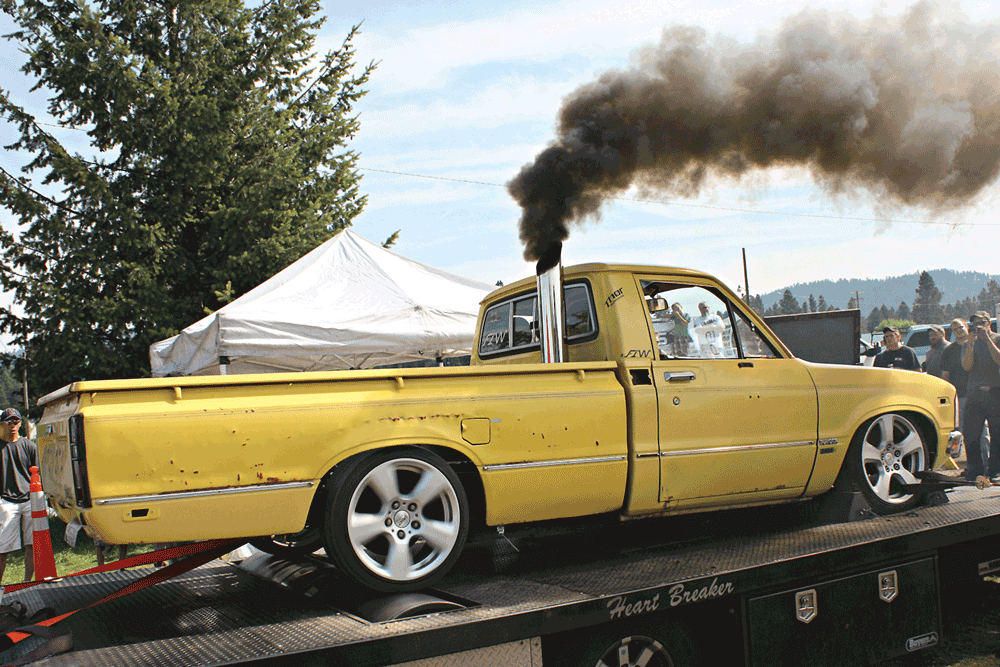 A packed show 'n' shine contest had line after line of street cars and trucks for spectators and judges to drool over between runs at the dyno. Also, a long list of industry leaders were on hand showing off their latest products and talking with competitors and spectators throughout vendor alley. Multiple local food vendors had been called in with specialty foods and cold drinks to keep the record-breaking heat a little more manageable.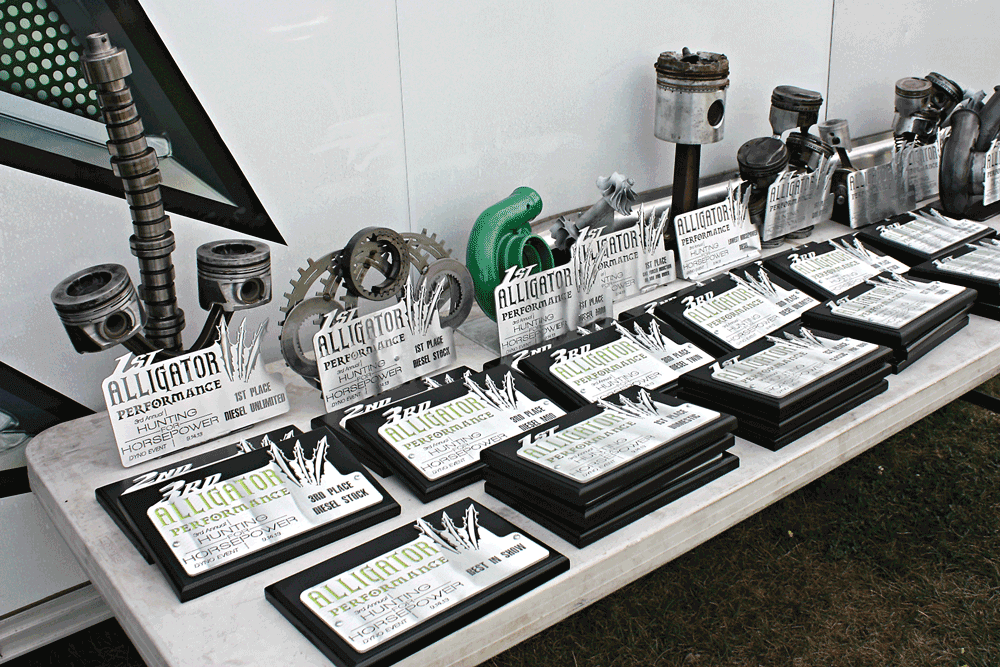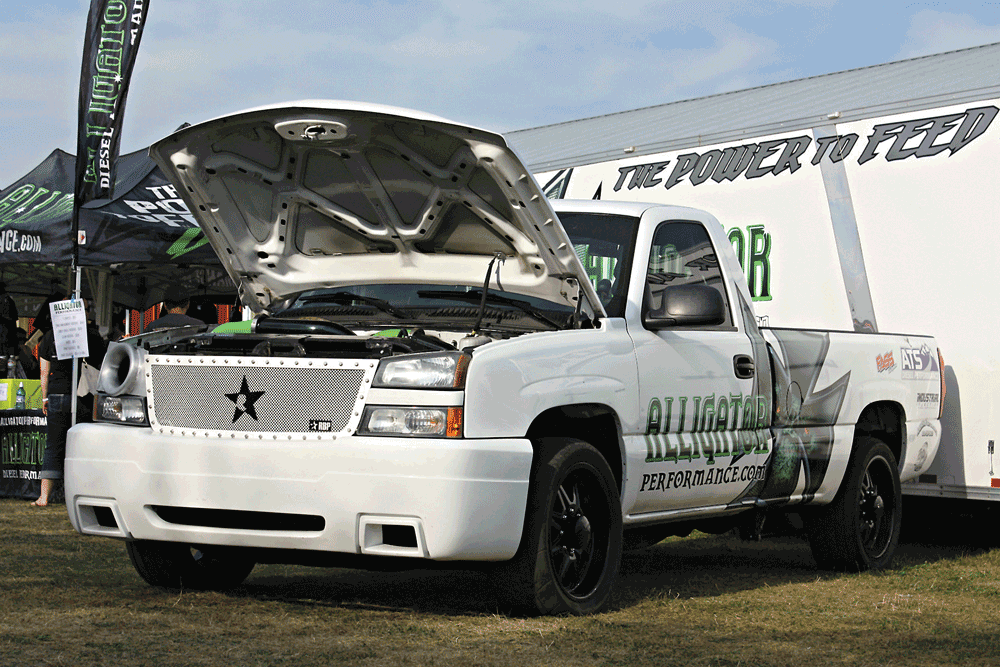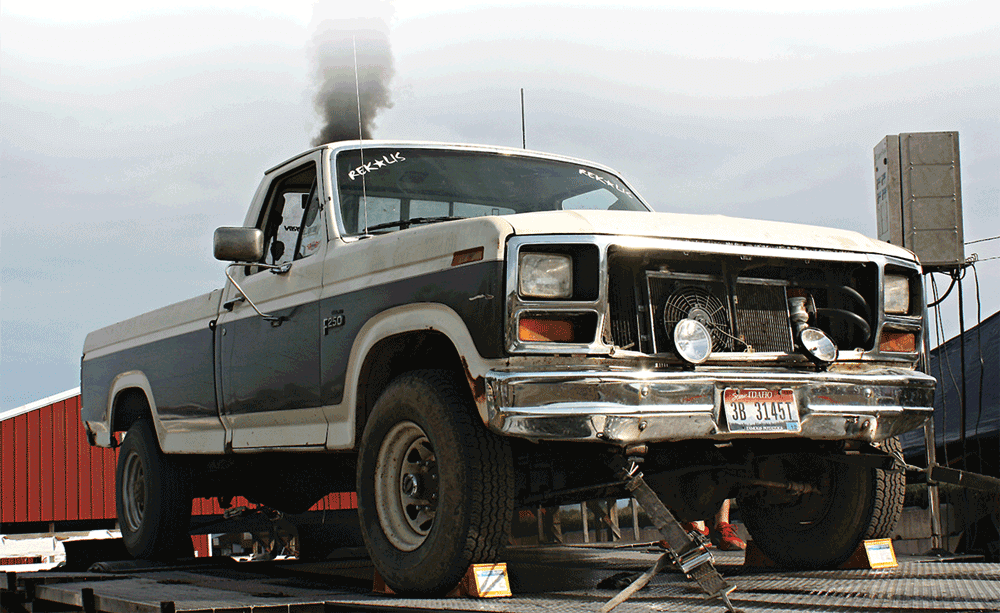 With one of the largest dyno competition turnouts we've had the pleasure to witness, you can be sure next year's Hunting For Horsepower event won't be one you'll want to miss. Besides, who could say no to a weekend getaway in one of the most beautiful destination spots Idaho has to offer with plenty of diesel action to go around while you're in town? DW