A Silverado Used For Testing And Fun
Mark Broviak has been into performance enhancements for some time now… performance-enhancing parts, that is. In the late '90s, he was enthusiastic about performance on the gasoline power front. Supercharging Corvettes, and swapping LS motors for older, carbureted small-block engines were common occurrences in his life at the time. When GM introduced the Duramax diesel engine, he began to notice the power potential of a diesel and in 2006 he finally came over to the diesel side. Mark's been a proponent of power-producing upgrades for oil burners ever since. 
As the Performance Products Manager for Danville Performance, Mark has a wide range of diesel performance products he can choose from. He's often out at the track to test some new product or new combination of products to see what makes the most power and retains reliability. His customers, friends and co-workers originally steered Mark into sled pulling, but being a drag racer at heart, Mark was drawn back to the track and now owns a 2WD truck so he's not tempted back to the dirt side.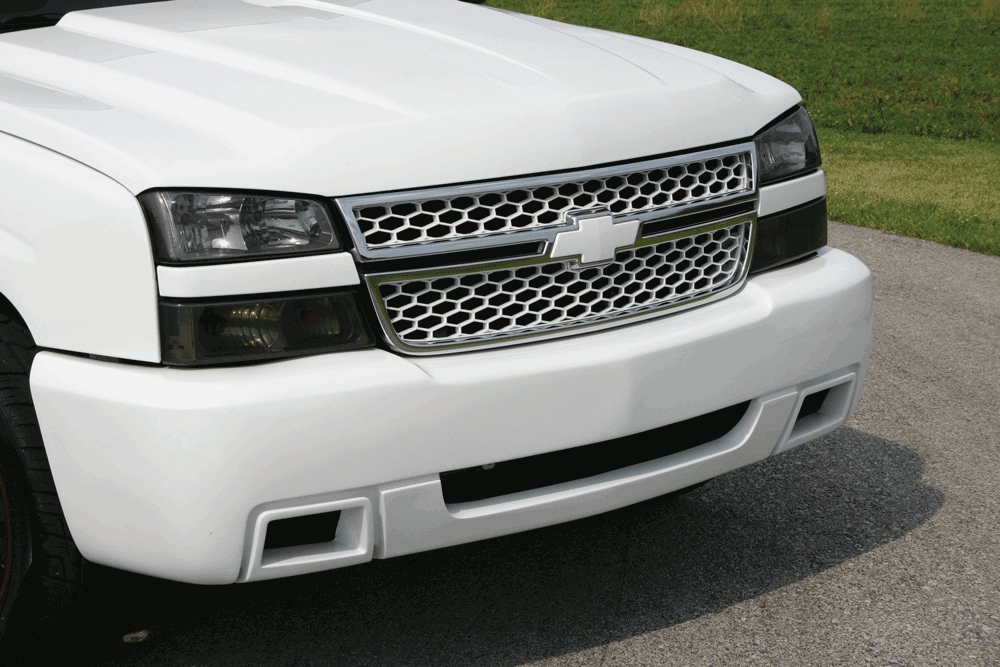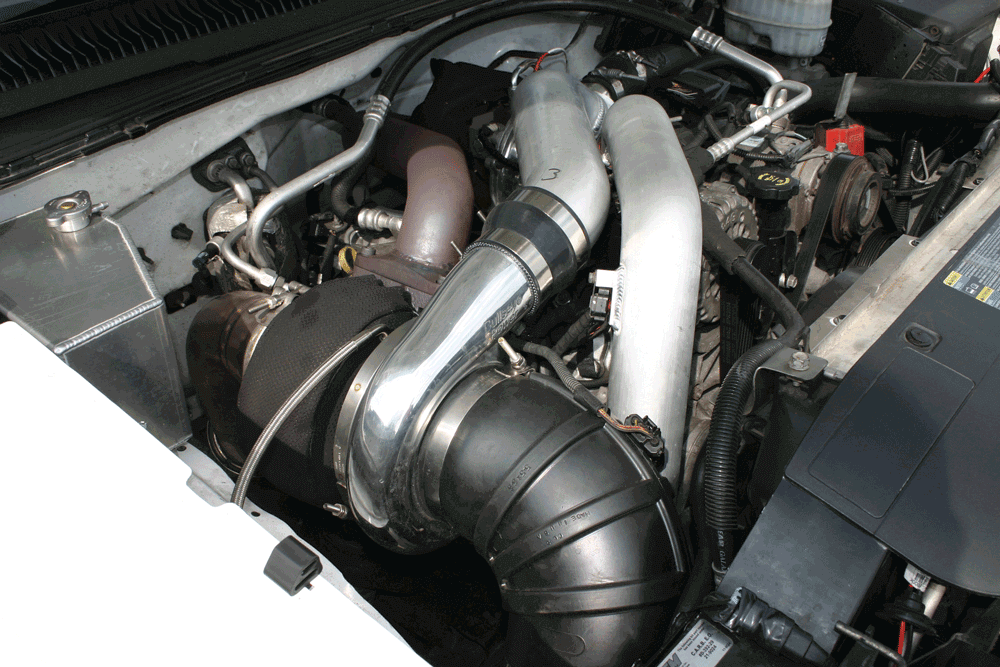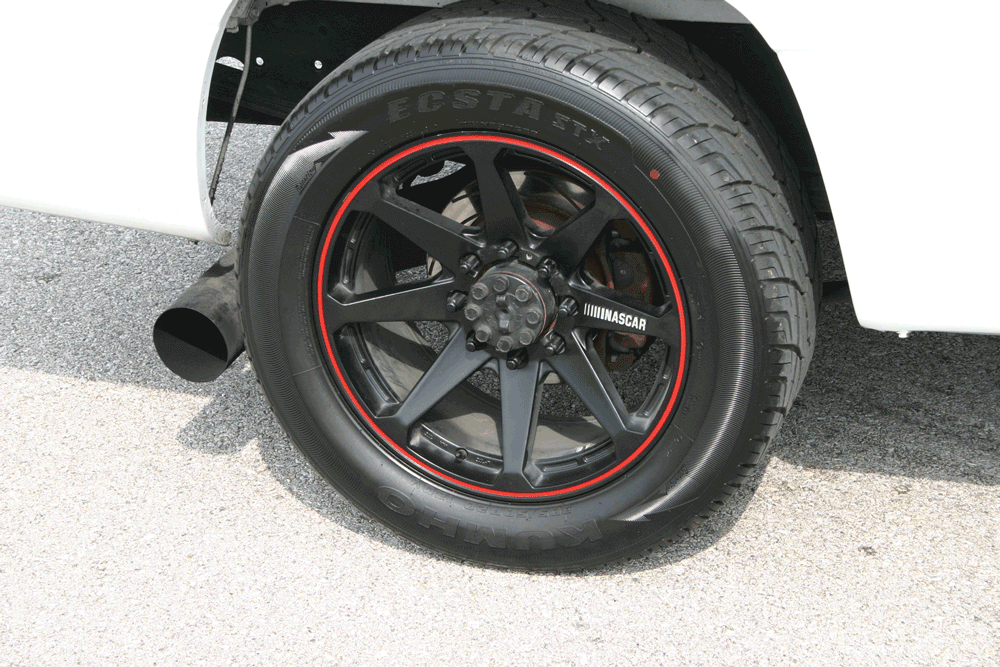 We were lucky enough to get a look at Mark's 2006 Silverado SS last year and bring you a snapshot in time of this ever-evolving race truck. Here are a few of the upgrades he's made to his Duramax Chevy.
This Duramax diesel was bored .040 over, for a displacement of 6.7L, by Quinlan's Machine in Indianapolis, Indiana. Mark then did the assembly himself, using Carillo rods, Mahle cast race pistons, bowls machined by Jon and APR main studs. The camshaft was upgraded to a SoCal 6480 and the engine drive fan was swapped for a Flex-a-Lite twin electric unit to reduce drag. Brodix cylinder heads with 35mm valves replace the stock units and, of course, ARP head studs were used to install them.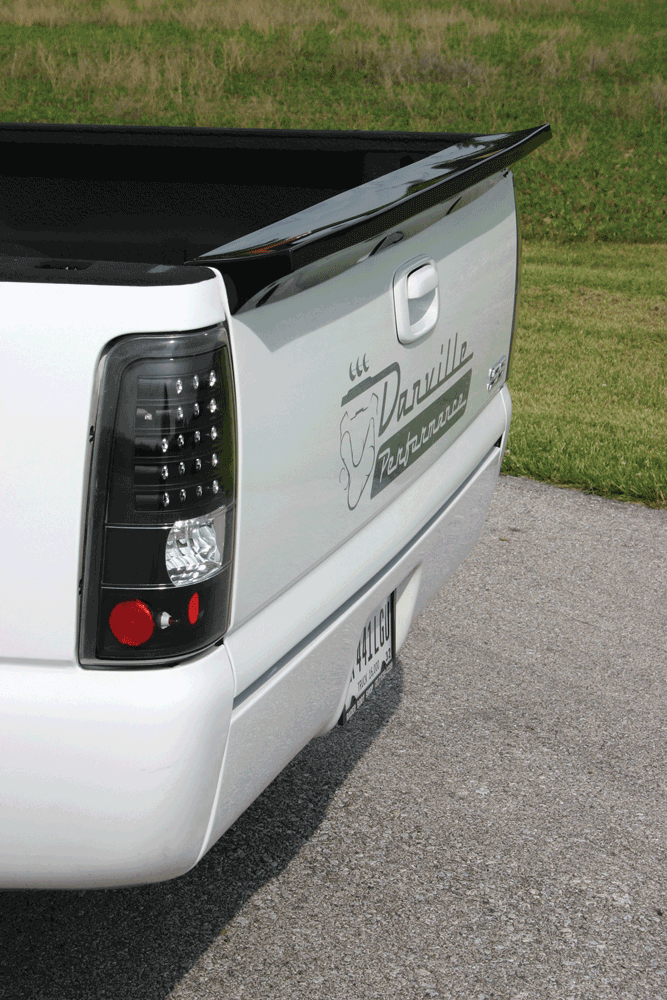 Other engine performance upgrades include a Danville Performance Billet 72mm VGTR Turbo compound with a Bullseye TCT BMW483/96 T6 twin kit from Romeo Fab. A Banks Techni-Cooler charged air cooler and an aFe Mach FORCE 3-inch downpipe were used too. Energy Performance 100-percent injectors are fed from a PPE high-performance fuel rail. A single 12mm Stroker CP3 pump is fitted with a PPE high-flow inlet fitting and FASS 150 pump on the inlet side. PPE high-flow exhaust manifolds and a 5-inch Magnaflow exhaust are at the back end of the system.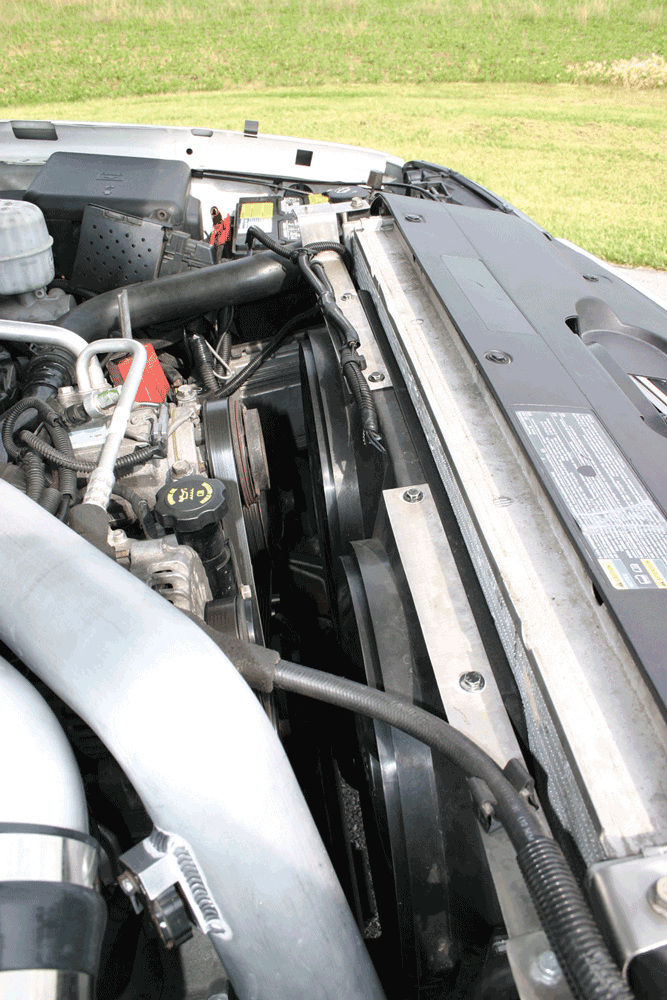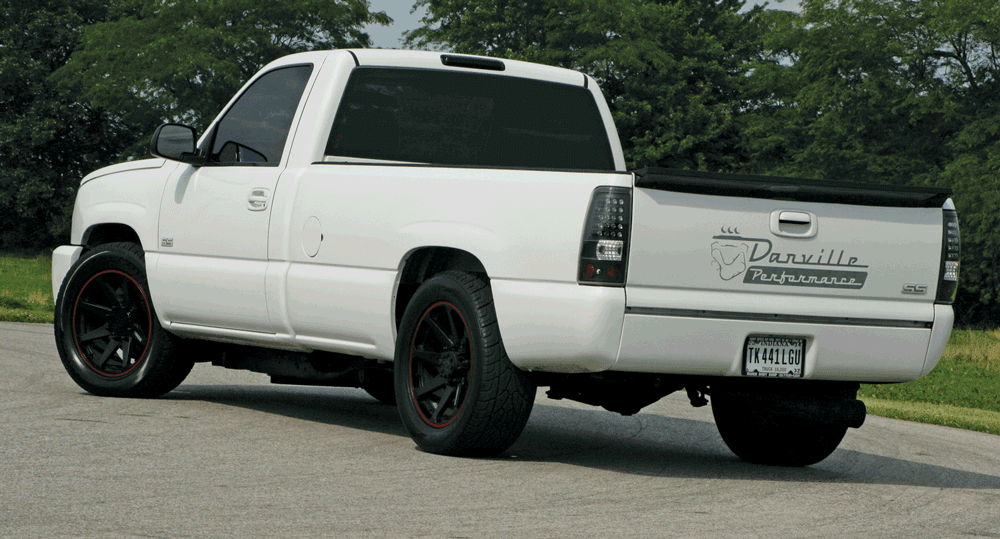 On the suspension side, the front end has stock springs used along with a set of 3-inch drop spindles. Danville slotted rotors and braided steel lines improve the front brakes. The rear suspension remains stock, except for the KYB gas shocks used at all four corners. For wheels, 20×9 Nascar Intimidators were selected. These sport 305/50R20 Kumho Ecsta STX tires. On the track, the rear street tires are swapped for 33.5×16.5R16 Mickey Thompson slicks mounted on 16×16 steel wheels. The axle ratio is a mild 3.42:1 and a Yukon Grizzly locker improves the traction on the track and street.
Programming upgrades were done on the Danville Performance dyno, using an EFI Live DSP5. The Allison automatic was upgraded at Danville Performance using a SunCoast GMax6 kit and a DHD custom billet converter. The new stall speed is 2,800 rpm and a Transgo shift kit keeps things snappy and crisp on gear changes.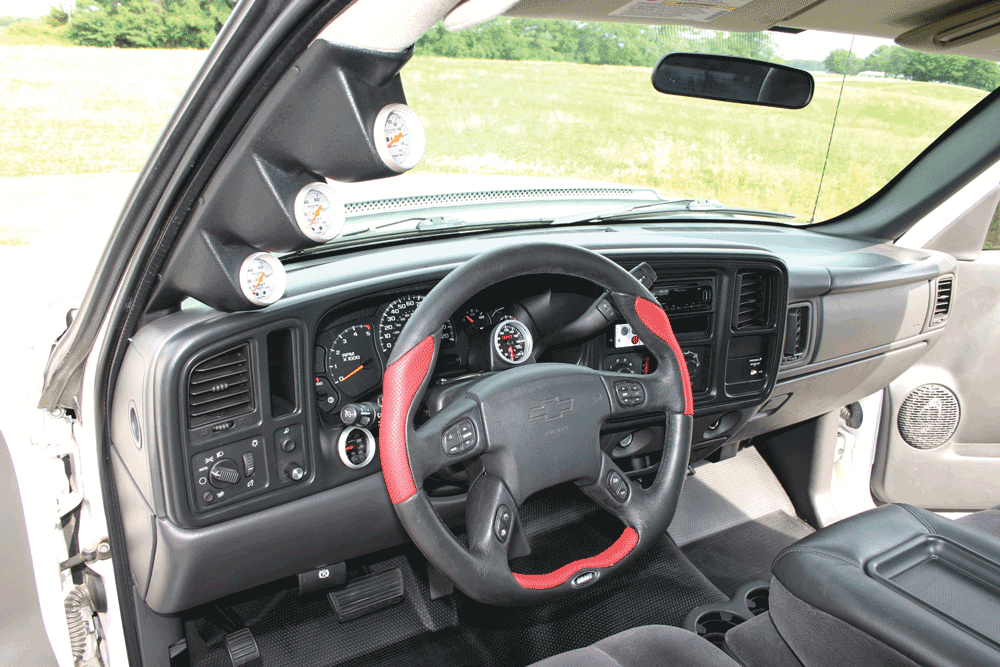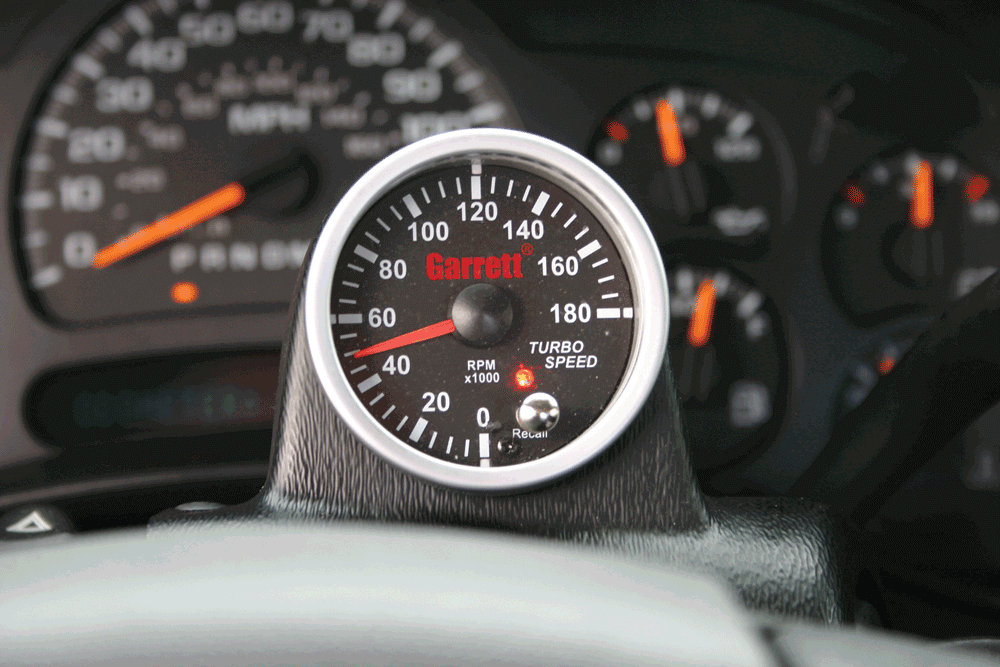 On the exterior, the truck has been turned into an SS package clone. The hood is an aftermarket cowl induction piece with custom ghost SS stripes and other touches. The windows are tinted 30-percent and the tailgate has been upgraded with a Brickyard spoiler from an Intimidator SS truck. The front bumper cover is also an SS piece and the rear bumper was replaced with a rollpan. All but the spoiler are painted white to match the body color. The headlights are smoked and chrome with HID lighting and the taillights are LED with a black surround. For a Father's Day gift, his wife and kids had the Danville logo painted on the tailgate.
Interior upgrades include a Grant steering wheel, Pioneer stereo head unit, and a set of Auto Meter gauges to monitor the engine and transmission.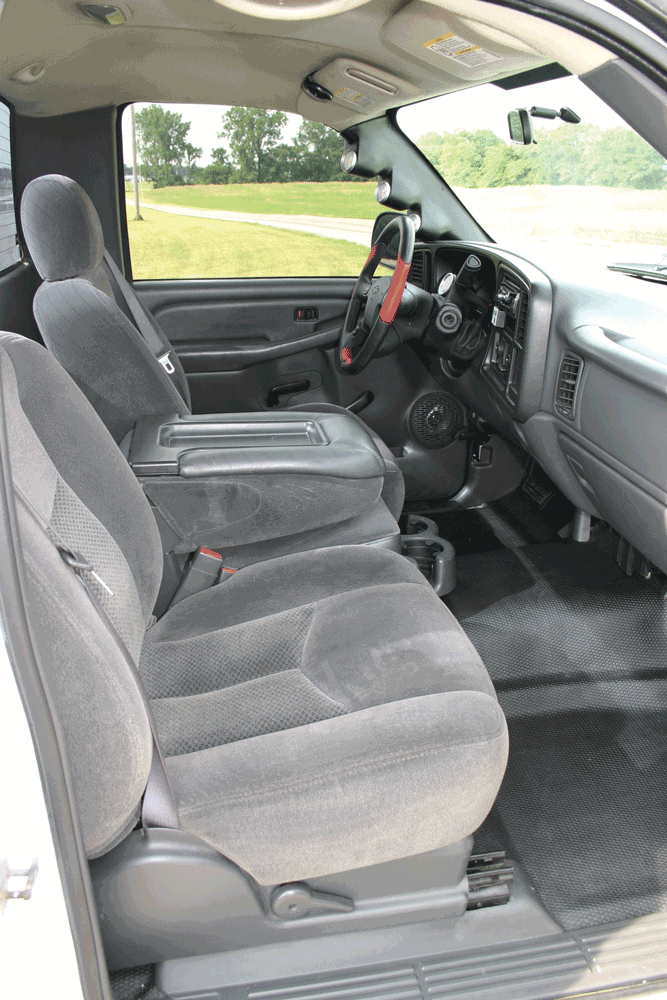 Mark's Silverado SS clone is a real performer; it produces 1,085 hp at 3,800 rpm and 1,800 lb/ft at 2,450 rpm according to the dyno checks. The truck turns in 10.96 in the ¼ mile at 127.76 mph. This equates to 165 mph as a potential top speed calculation. Mark hasn't had the chance to do any track testing to prove that out yet. All this power and the truck still gets 16-20 mpg.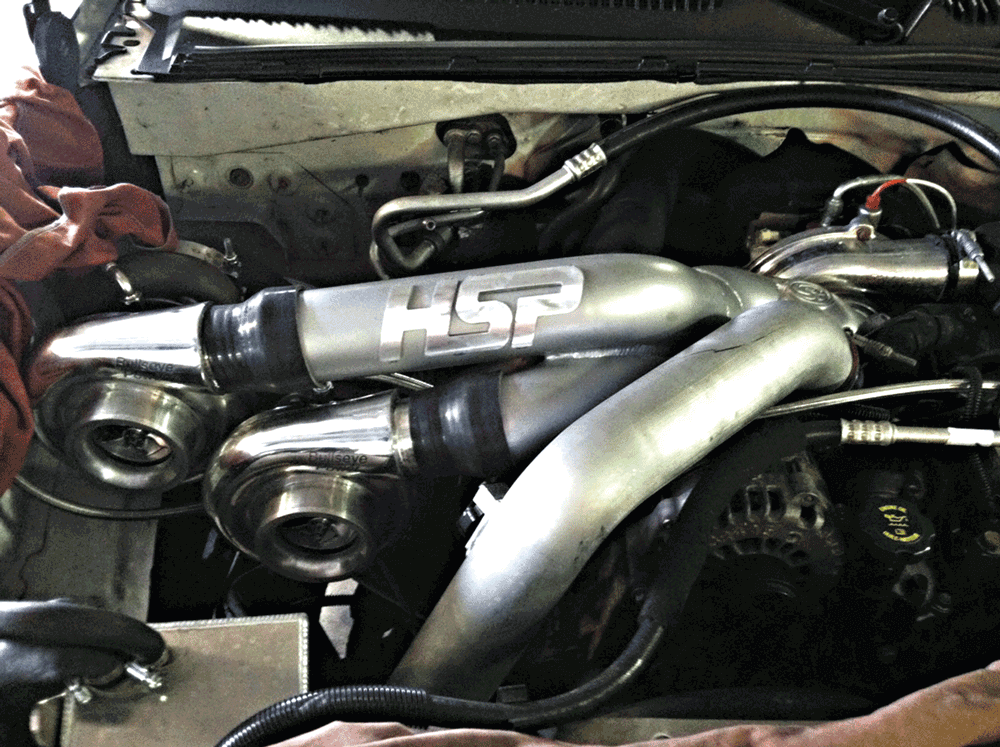 Mark will tell you about all the blood, sweat and tears that went into this diesel race rig. He also gives credit to the rest of the Danville team, Larry, Dave and Joe, who helped out with the wrenching on the rig. Mark says the truck is a lot of work, and while he's right that nothing is easy, Mark's also having tons of fun, and so is the family.
His wife Twyla often comes with him. In fact, she usually drives the Duramax-powered tow rig. Of course, the kids come too, and sons Kyler and Kaleb will likely be competing with sister Kaylyn as soon as they're old enough to be track qualified. DW
Pair of Turbos
Mark tells us that since we last saw him and his truck, he's replaced the larger second turbo with a pair of smaller S483 turbos. This setup has more street drivability and pushed-up power. The Duramax is now putting out 1,151 hp and torque is up to 2,020 lb/ft at 2,950 rpm. This is about the limit as traction issues now don't allow all the power to be used with the stock suspension setup. Of course, the suspension can be modified but this means competing in a new class and reducing streetability, so for now at least, the work is done and it's all fun from here on out.