NHRDA Drag Racing and Sled Pulling Featuring Colorado's Best!
Now in its 12th year, the National Hot Rod Diesel Association (NHRDA) has been busy hosting sled pulls and drag races across the nation to the delight of diesel enthusiasts. These competitions pit diesel racers from across the United States and Canada against each other in battles of drag racing and sled pulling diesel supremacy. On the pulling side of things, classes from Work Stock to Super Stock are represented, and there's even a big rig truck class thrown in for good measure. On the drag strip, racers can compete in a variety of index classes, bracket classes, and heads-up shootouts.
On June 8, the NHRDA stopped by at one of its most picturesque and interesting stops in Morrison, Colorado. Aptly named "The Diesels on the Mountain," the event's near 6,000-foot elevation gave sled pullers and drag racers quite a challenge as they put their compressionignited rides up against the leaner atmosphere. With a healthy turnout at both the pulls and races, it didn't look like anyone was intimidated by the thin air.
SLED PULLS
The action got started Friday night at the Jefferson County Fairgrounds, where pullers from as far away as Texas and Utah competed against the best Colorado had to offer. Especially competitive was the 2.6 Class, which had a number of serious purpose-built trucks there for the occasion. Work Stock kicked it off, a class that allows a very limited number of modifications. For the second year in a row, Laird "Spike" Fuller took the win with a 289-foot pull, proving his '08 Dodge was difficult to beat. Next up was the 2.5 Class, where an early pull by Tammy Dolan proved to be the mark everyone was shooting for. In the end, the guys couldn't catch her and she ended up winning by a mere two feet with a 240-foot pull. The heavy hitter classes came next, with Rocky Horn's classic Cummins-powered Ford, Southern Cumferdt, duking it out with last year's winner in Half Lit. When the dust settled, Horn was the winner of the Limited Pro Stock Class, with a 282-foot pull. In Pro Stock, Tom Hansen took the win back to Utah with a 275- foot effort, and Super Stock saw Josh Creason take the victory with a 240-foot pull. The pulls wrapped up with the Semi Truck, Super Farm, and Antique Tractor classes, which were won by Rick Fenwick, Jim Darnell, and Charles Ruyle, respectively.
DRAG RACING
On Saturday, the action moved out to Bandimere Speedway, where diesels would battle it out down the speedway's 1,320 feet to see who could come out on top. In the largest class, Sportsman, it was Arik Frost and his deadly mid-12- second Ram that beat all comers, running within a few hundredths of his dial-in and cutting a 0.07 light in the final. Jim Disher and Rick Fenwick were both fierce competitors in the Big Rig Bracket and Hot Rod Semi classes, with Jim taking the win in Hot Rod, and Rick taking the victory in Bracket.
Moving into the index classes, the NHRDA has both an 11.90 and 10.90 class where competitors try and run as close to those numbers as possible without going under. In 11.90 (known as Super Diesel), the winner was the consistent Verlon Southwick, who clicked off an 11.98 in the finals, and runner up Joseph Sterkel breaking out with a gut-wrenching 11.897-second ET. The 10.90 class saw another Chevy winner, with Ray Ross from San Antonio, Texas, running an 11.15 in the finals.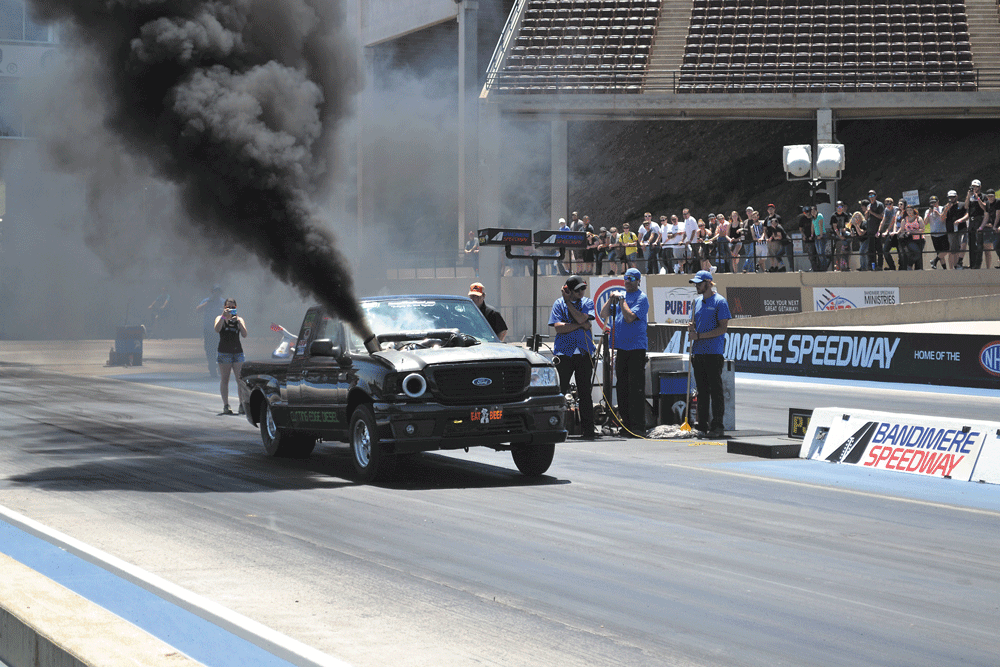 The heads-up classes of Super Street, Pro Street, Pro Stock, and Top Diesel saw some of the fastest times of the event. Even at elevation, a number of Super Street trucks had run in the mid-9s at nearly 150 mph. Still, it was Anthony Reams and his unique common rail-powered '95 Dodge that took the win, with a 9.39 at 149 mph. Pro Street saw the odd combination of a 6.0L in a Ranger break the 150mph mark, with Matt Kubick running a 9.73 at a blazing 153 mph. In Pro Stock, the ever popular '41 Willys from G&J Diesel, driven by Jarid Vollmer, rocketed to 7.46 at 185 mph, its fastest time yet and nearly a Pro Stock record. In Top Diesel, the H&S rail, which had a good shot of being the quickest car on the grounds, had a malfunction with its air shutoff and coasted to a 10- second pass at a little more than 90 mph.
We saw some amazing sights in two days of sled pulling and drag racing. Rick Fenwick was able to win a class at both the drags and sled pulls with his Peterbilt; we saw the Duramax-powered Willys click off a new personal best; and a number of new rides debuted in both the sled pull and drag racing venues. The next time someone talks about elevation, don't let them fool you—the action is just as thick up on the mountain. For more race coverage, check out Diesel TV and NHRDA.com. DW