Big Blue Beauty
Something you don't necessarily consider when deciding to take the wrenches to your rig is how easy it is to go over the top. Obviously, we've seen our share of modified diesels, and we've come to realize that "over the top" can take many forms. Going over the top in performance, and you'll be picking engine or transmission internals out of an oil slick on the roadway sometime soon. Go over the top with aesthetics, and you lose all your friends; your enemies laugh at you and steal your girl.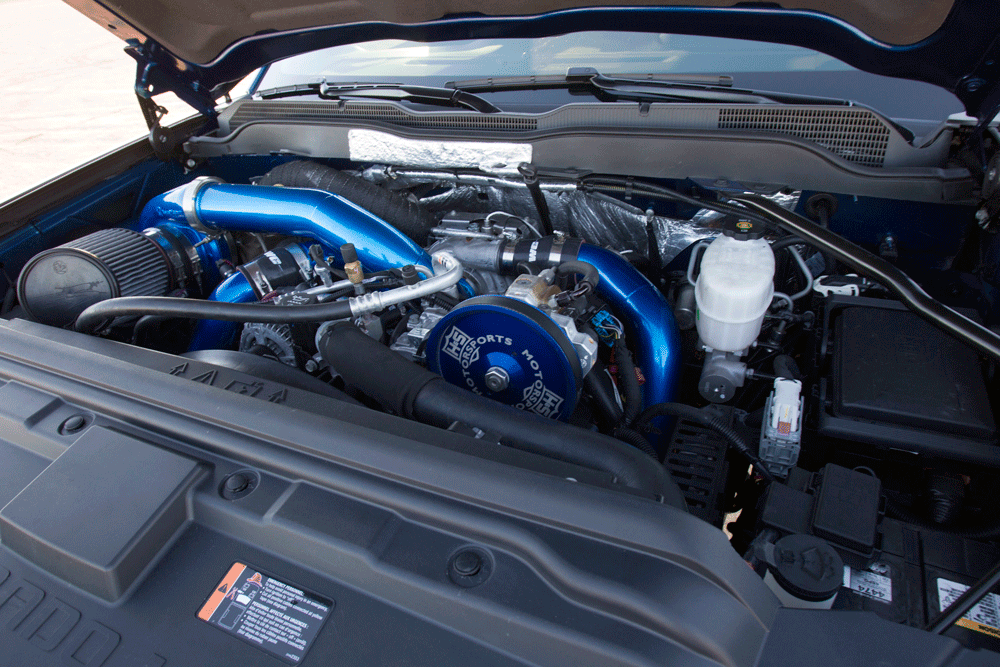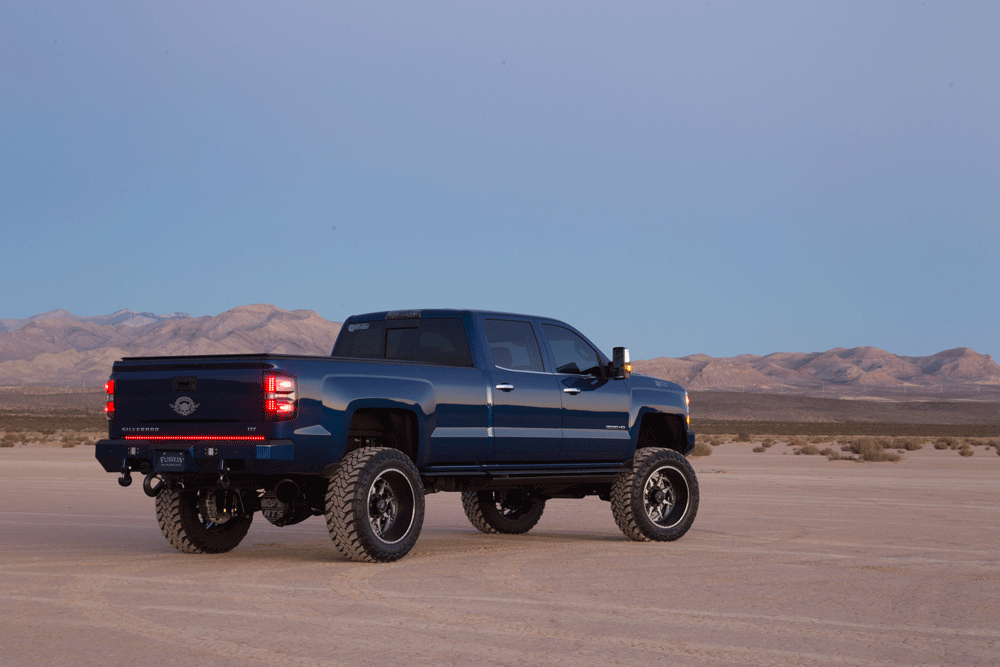 Having said all that, we think we can all agree Jeremy Powell's third-gen Duramax Silverado would fall squarely in the tasteful category, both in terms of performance and aesthetics. It's clear he had a solid plan for this build, and he stuck to it. Not at all boring, not too wild, it toes the line of "just right." Powell, of Rigley, Idaho, is a born truck enthusiast. He previously owned a built 2008 Duramax, and when that rig grew long in the tooth and he needed some new heavy metal, Powell stuck with Chevrolet and acquired this Ocean Blue 2015 3500 HD. "I love trucks," Powell says simply. The build, which was a collaboration between Powell and his good friend Brent Willsey at Power Tech Diesel in nearby Idaho Falls, took place over a period of two months.
Raised in Idaho
To jack up the front end while maintaining the clean look Powell was after, the front suspension was subjected to a 6-inch non-torsion drop lift kit from Cognito Motorsports. This kit incorporates an integrated skid plate that doubles as a subframe connector, helping to position the lower control arms and front diff. CV axle angles are also taken into consideration, proving that Cognito engineers did their homework when working this upgrade.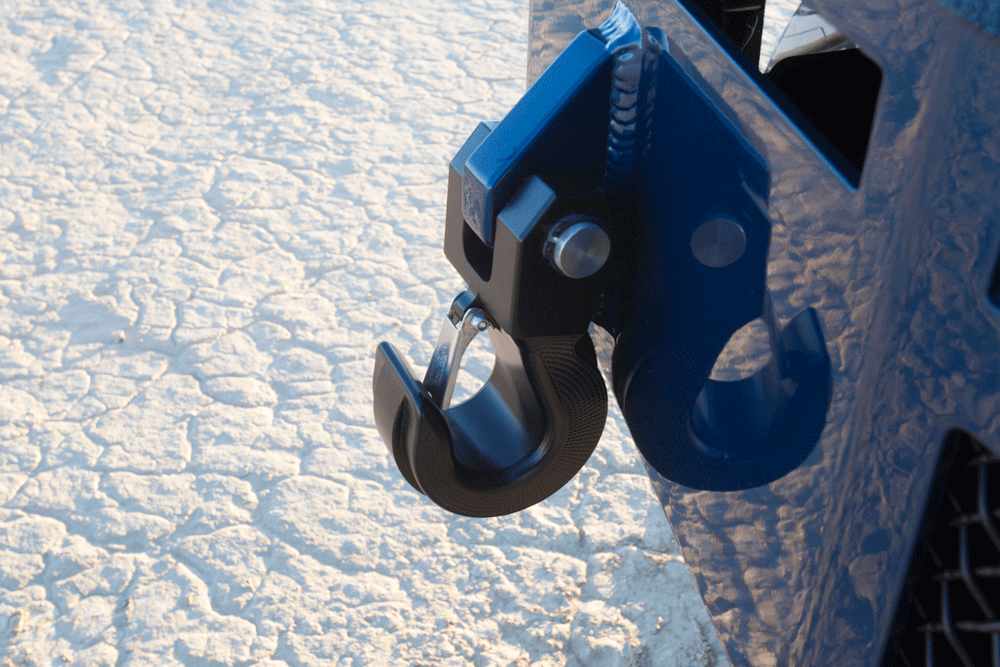 The rear is suspended with Deaver leafs that feature American-made 5160 springsteel construction with heavy duty bolt-through retainer clips and poly anti-friction intermediate pads for quiet operation. Having made springs since the days when horseless carriages first became a thing, Deaver is an old-school brand if ever there was one. The dampers were upgraded at all four corners with Fox 2.0 shocks with respect to Cognito's recommended length. Cognito traction bars are affixed to maintain leaf spring integrity and ensure the Duramax's enhanced power output— see below—goes to the ground. The rear suspension is also bolstered with PacBrake AMP air suspension, so hauling a load of whatever won't become an issue for Powell.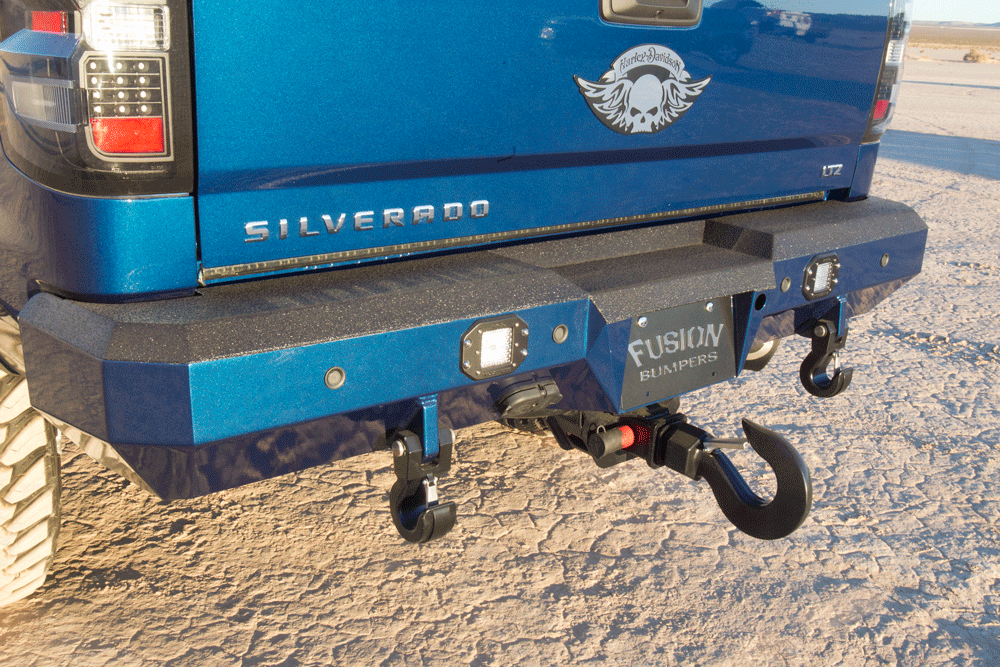 The height gains between the raised wheel wells and the wheel hubs allow Powell to run a monster combination of 22 x 12-inch American Force Rage SF8s and 37-inch Toyo Open Country tires. The SF8s feature a signature "nest of thorns" spoke pattern with machined faces, polished lip, matte-black barrel and matte spoke accents. The Open Country rubber is Toyo's flagship off-road offering, with an aggressive tread pattern that extends over the sidewall's shoulder and is designed to tear through dirt and mud. The pattern doesn't hurt the truck's overall aesthetic, either.
Wehrli Fab-Tastic
While the suspension upgrades were being sorted out, Willsey was also juggling mods beneath the 3500's hood, proving he is as adept at multitasking as he is turning a wrench. Power mods are arranged around a Wehrli Custom Fab compound turbo arrangement of the S480 variety. Induction begins with a Wehrli Custom Fab intake, which feeds into a 75mm trim, billet-wheel Borg Warner atmosphere turbo (the Wehrli system retains the factory turbo as the high-pressure unit). The compressed charge is chilled by an uprated Mishimoto intercooler before being blasted into the engine's combustion chamber. In addition to the intake, all plumbing was welded, mandrel-bent, and powder-coated blue metallic to match the truck's exterior by Wehrli Fab.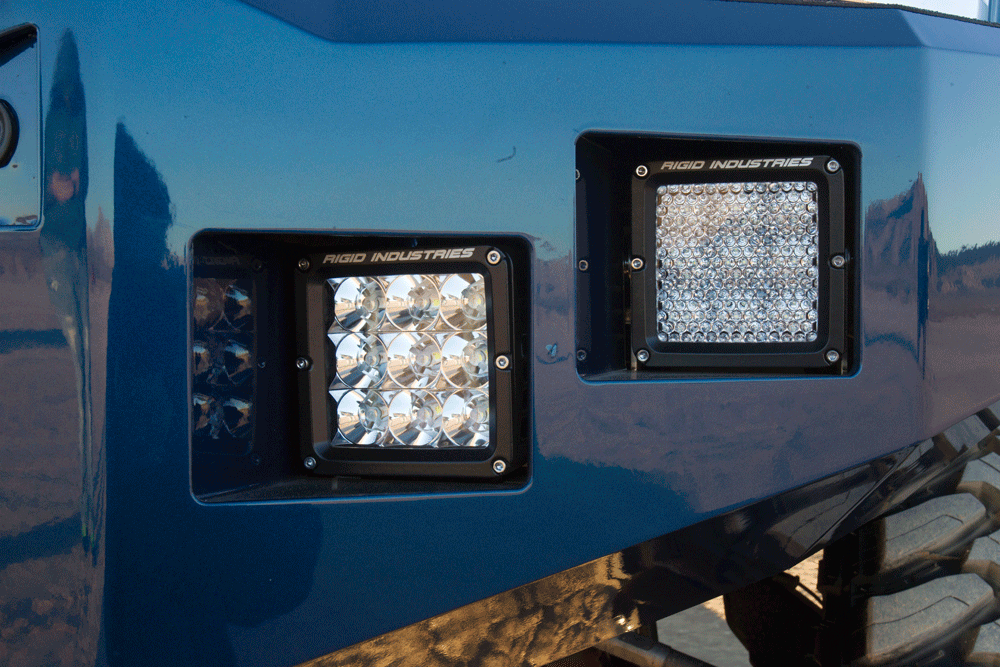 Augmented fuel flow is supplied by HSM dual CP3s, fed by a FASS 150 lift pump, pushing sweet, sweet Number 2 through the factory injectors. Powertech Diesel's own Brent Willsey handled the programming via EFI Live. Inside the cab, an Edge Insite CTS allows the operator to monitor the pumped-up Duramax's vital signs.
On the hot side of things, exhaust fumes are evacuated through ATS manifolds and hot-coated up-pipes, through a Flo Pro muffler, and out an exhaust tip fashioned by Powertech Diesel. Citing similar builds, Powell estimates his engine's output to be around 650 horses and a shade over 1,200 lb-ft of twist. Power and torque reach the ground via the trusted 2015 Allison transmission, whose only upgrade was a new ATS pan; the rear differential (3.73) is also fitted with an engraved ATS cover. Powell uses Amsoil lubrication exclusively to keep the gears turning smoothly.
Clean, Inside & Out
Keeping with the truck's clean, low-profile theme, the exterior mods were integrated neatly into the Silverado's existing lines and color-matched to the rest of the panels. A T-Rex X-Metal grille spearheads the Silverado's forward progress. Fusion bumpers, imported from West Idaho, were placed front and rear. Both bumpers house Rigid Industries LED lighting, the front with dual staggered arrays on each corner, the rear with single lamps recessed on either side of the license plate well. Each bumper also features dual Monster tow hooks and another in the hitch receiver. The taillights were upgraded with high-visibility Anzo LEDs, including the addition of an LED stripe tucked beneath the tailgate. The bed was sprayed with Linex Premium and is isolated from the elements by a Truxedo Deuce tonneau cover.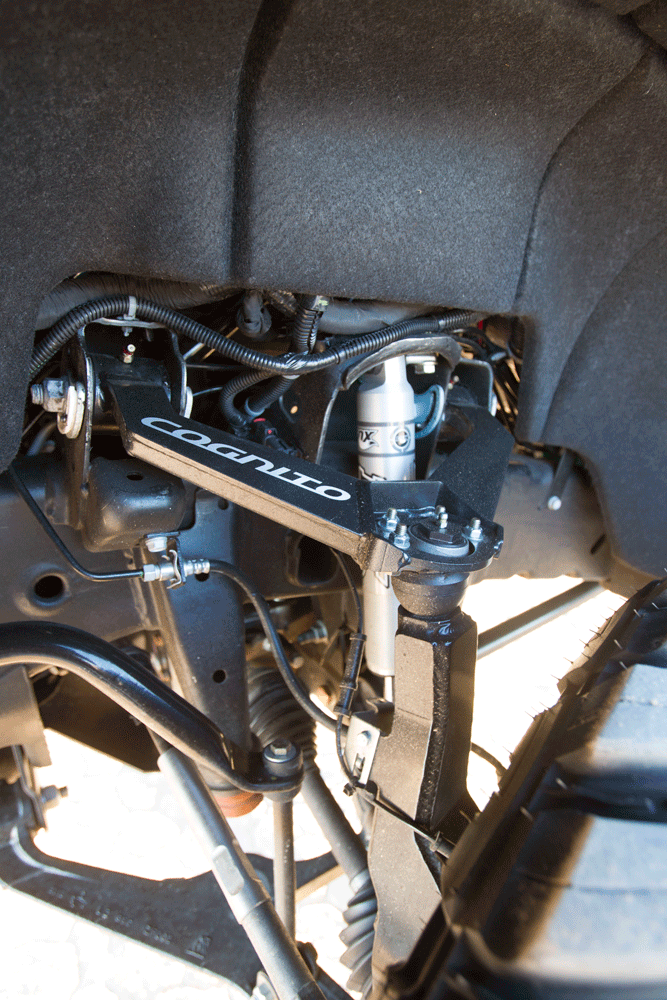 AMP Research 1500 PowerSteps have been installed to assist the driver and passengers with ingress and egress into and out of the lifted truck. The exterior's finishing touch is a custom-etched skull-and-wings Harley-Davidson badge supplanting the Chevy bowtie on the tailgate, indicating Powell's preferred mode of transportation when he's not rocking this Duramax.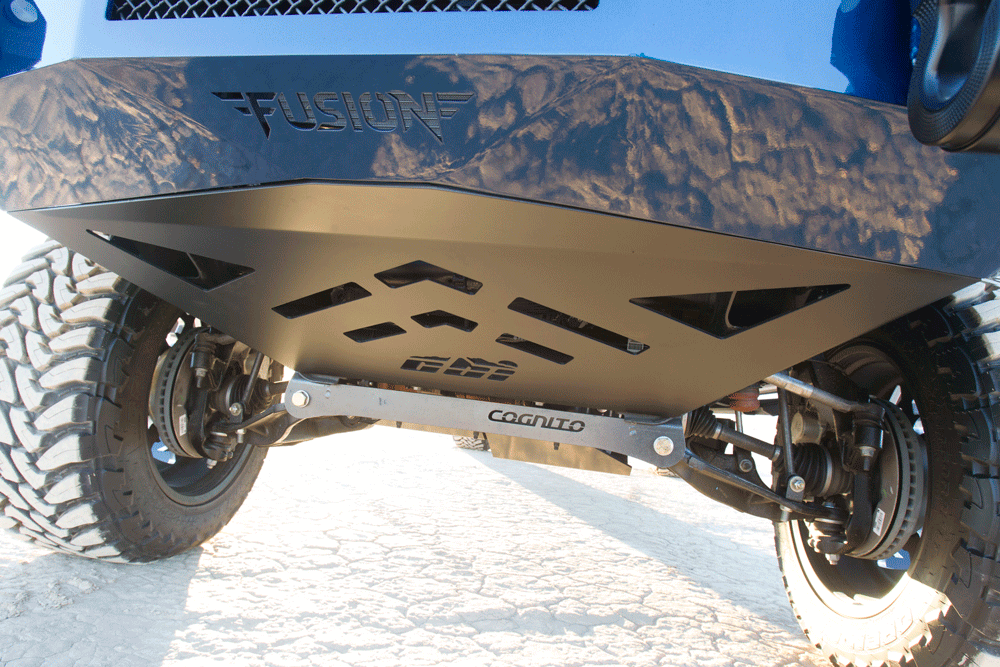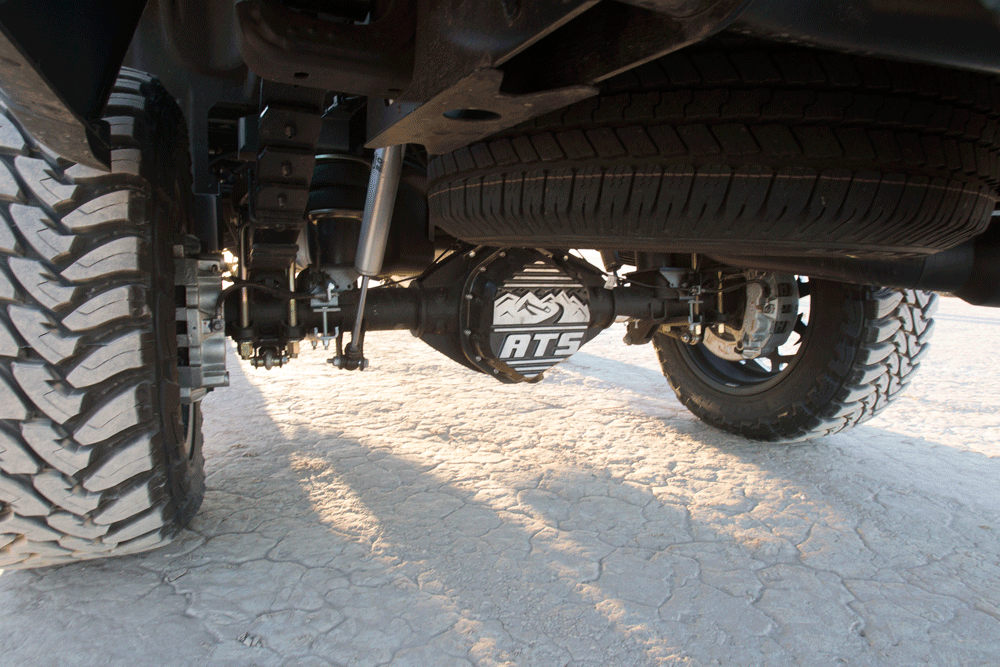 As with most trucks of this class—that is, usable, unpretentious trucks that still get driven to work every day—the interior remains mostly stock aside from the Edge Insite monitor. Powell did have a thundering sound system installed, comprising JL Audio components, amps, and subs tied to the factory head unit. But you'd be hard pressed to tell at first glance. The stealth installation was performed by Eminent HiFi located up the road in Rexburg.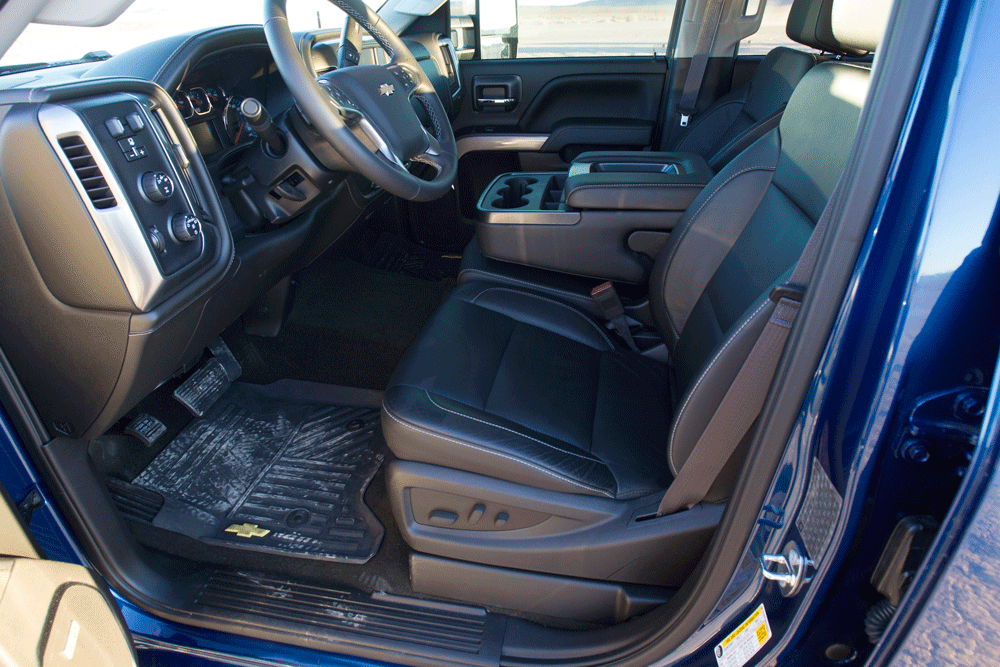 We caught Powell's Silverado in the Nevada desert following SEMA 2015, where he was called on to fill a space in the Fusion Bumpers booth. Powell and the truck drove the 650-mile trek to Vegas and back again, illustrating once again that this rig is meant to be used, not just looked at. Last year he used it to flatbed a couple of project trucks Power Tech Diesel helped put together for the show. And he'll be making the trip again this year—with updated engine and tranny mods, new running lights, an air horn, among other things. And it's anyone's guess what he'll be pulling this time. DW