Repeat 6.0L Power Stroke owners aren't common. Still, they are out there. And their love for the 365ci International V-8 runs deep. After owning an '05 F-250 that ran mid-12s and made roughly 650-rwhp, Justin Gerebizza set his sights even higher with this competition killing '06 F-350. With a built engine, compound turbos, hybrid injectors, and one hell of an affordable price tag, he simply couldn't keep himself from purchasing the truck. "It was a great deal on a fully built truck to build off of," he told us. "I'd like to get it up into the 1,300hp range, eventually."
"The 6.0L mill incorporates a cryogenically treated factory block and crank"

"85 psi of boost"
Power Foundation
First things first, a rock-solid foundation was put together by Robert Shockley, the original owner of the truck. The 6.0L mill incorporates a cryogenically treated factory block and crank, R&R chromoly steel connecting rods, River City Diesel fly-cut, de-lipped, and ceramic coated pistons, and a Stage 2 cam for hot street use. The factory cast-iron heads were fitted with River City Diesel High-Rev valve springs and chromoly pushrods, utilize OE Ford head gaskets, and anchor to the block via ARP Custom Age 625+ head studs.
HEUI Fueling
Wise parts selection on the fuel injection side of things keeps the HEUI system both effective and affordable. Known to be conservative on high-pressure oil demand, a set of hybrid injectors was chosen over traditional (oil-hungry) units. Built by Maryland Performance Diesel, the hybrids flow 340cc's worth of fuel, utilize 150-percent over nozzles, and only require a stock displacement (OE) high-pressure oil pump to perform at their peak potential. Getting fuel up to the injectors starts with a sump in the factory tank, followed by an Aeromotive A1000. Ensuring the 70-psi of fuel pressure supplied by the A1000 circulates effectively throughout the heads, a regulated return system, built by Precision Automotive and Diesel, is employed.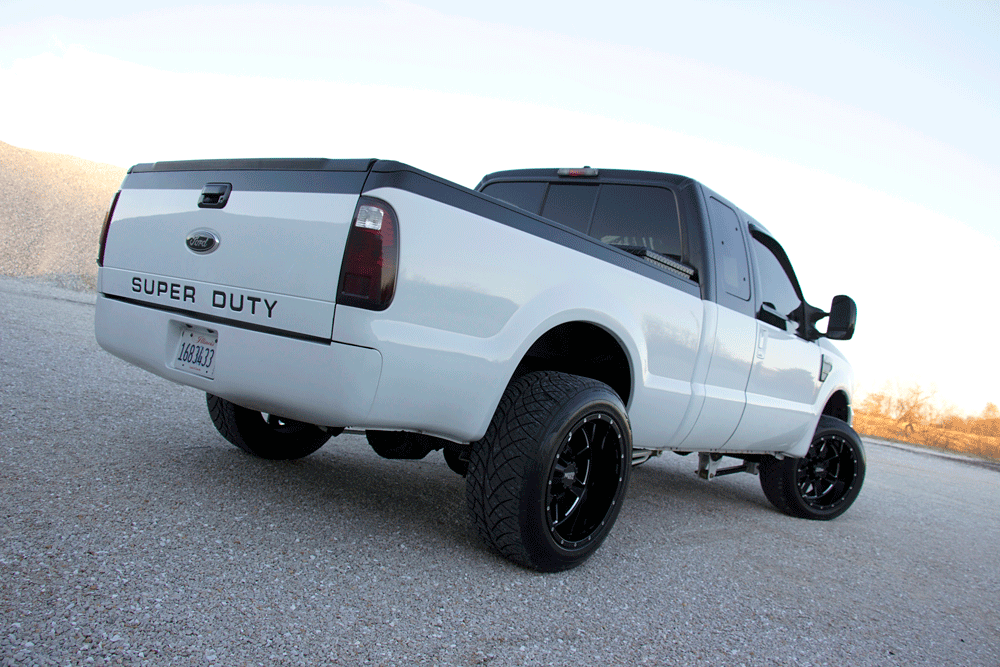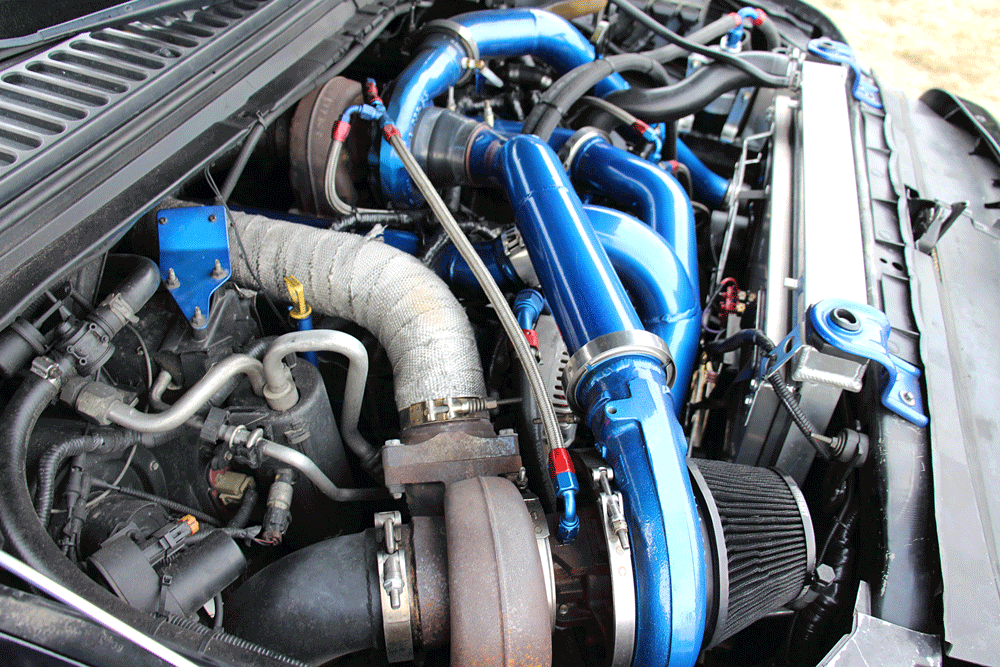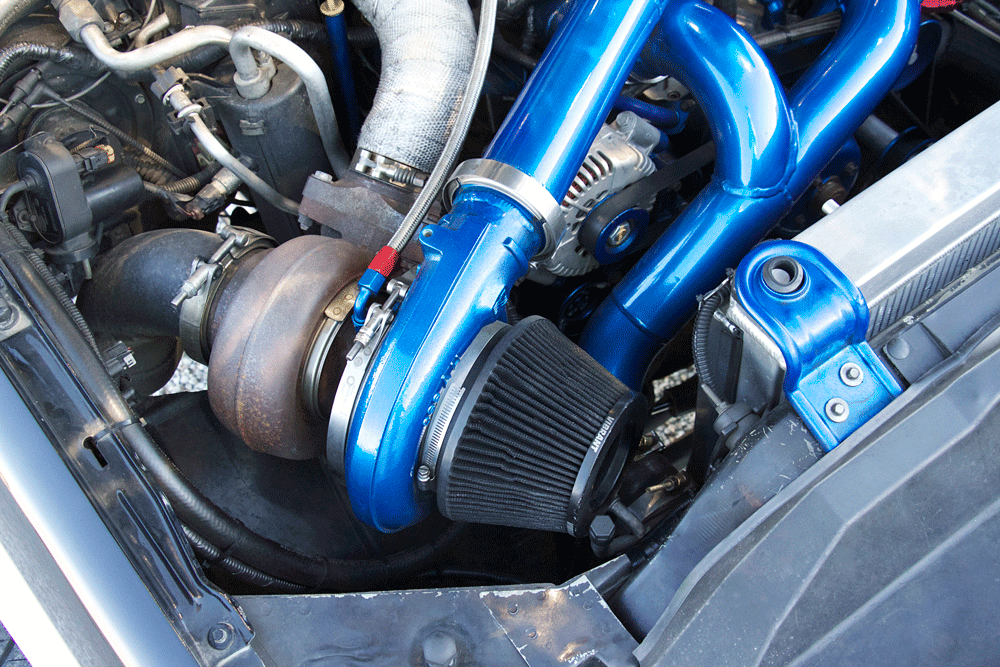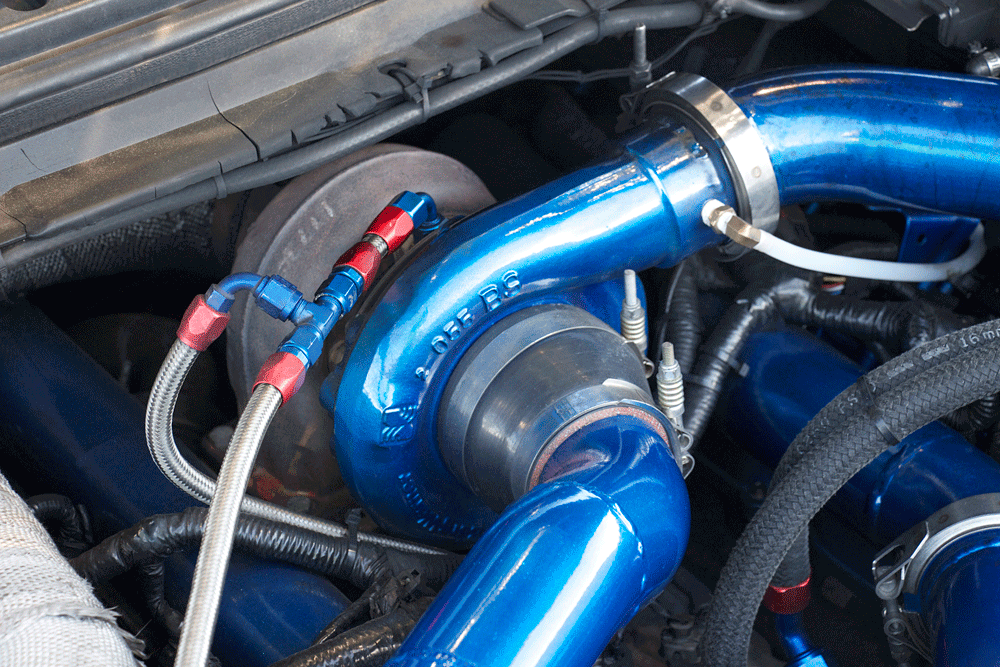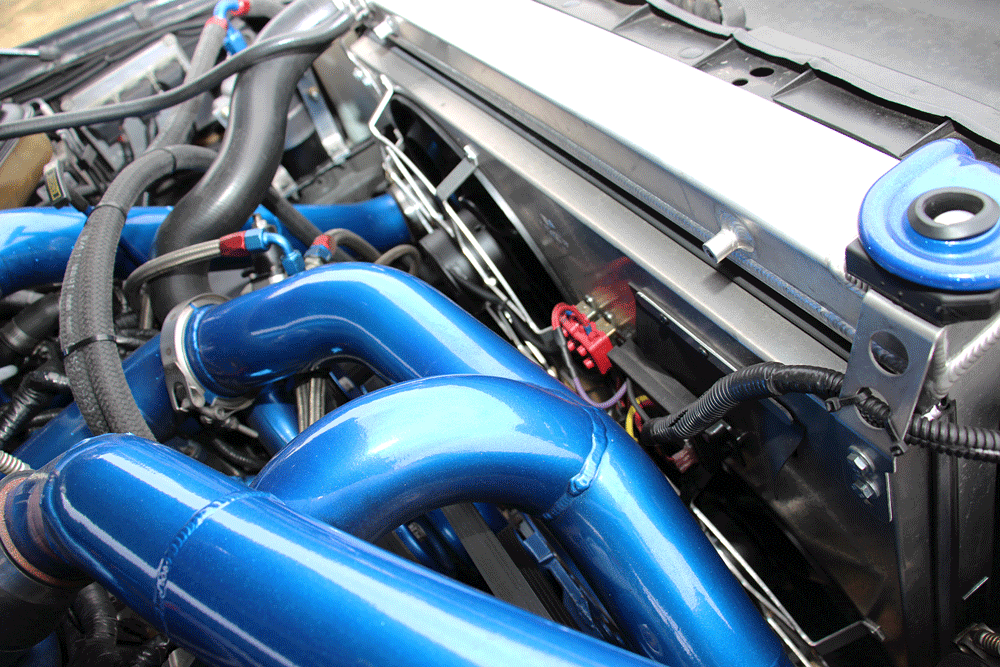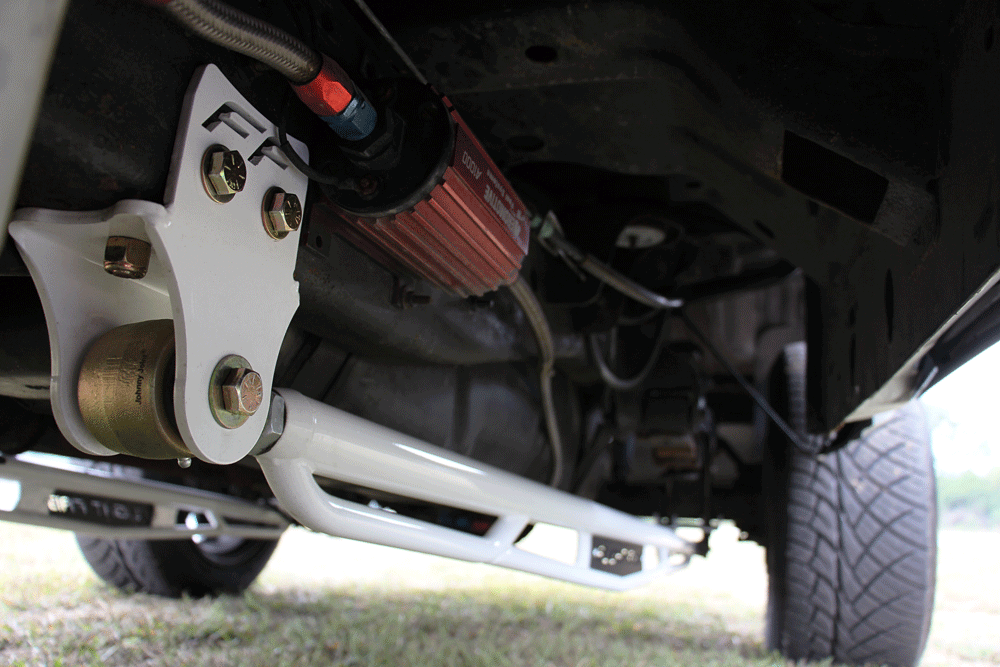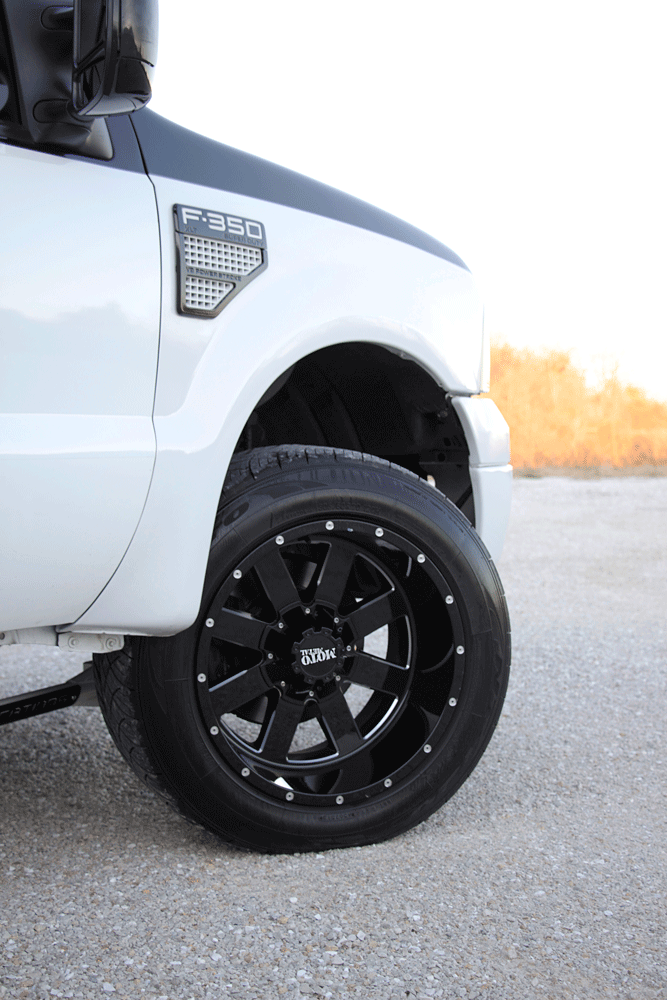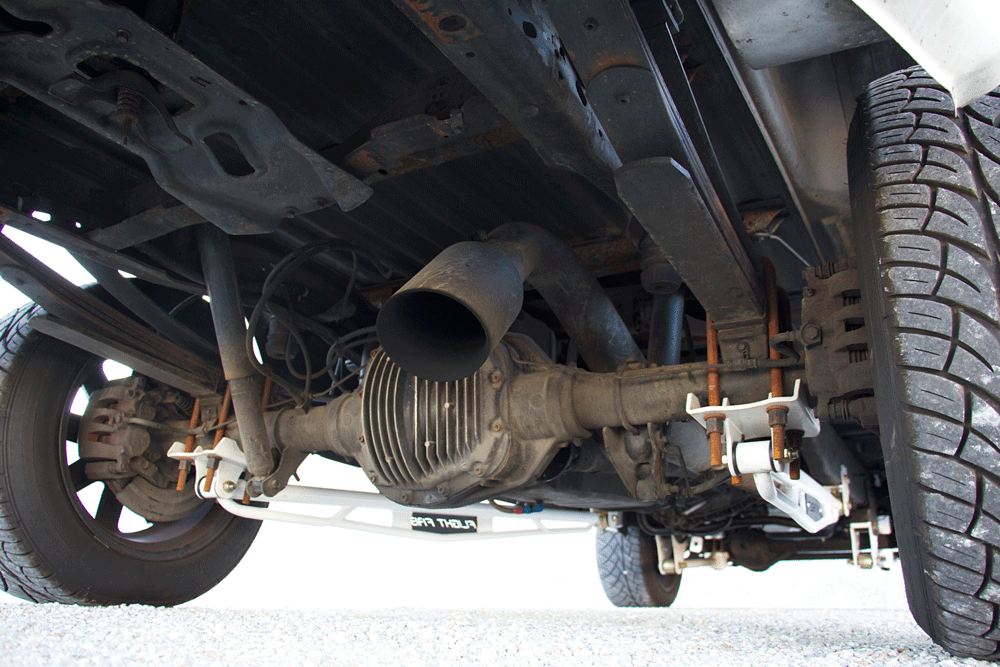 Compounded Effort
As for air, Justin's got that covered, too. An 88mm S400 serves as the atmosphere charger in a compound arrangement, and relies on a 66mm S300 to get things rolling. The two snails combine for 85 psi worth of boost, which is shoved through a Mishimoto intercooler prior to entering a ported intake manifold. The T4 turbo pedestal in the valley and all intercooler and exhaust plumbing were a collaborative effort put forth by Maryland Performance Diesel and the truck's previous owner, Robert Shockley.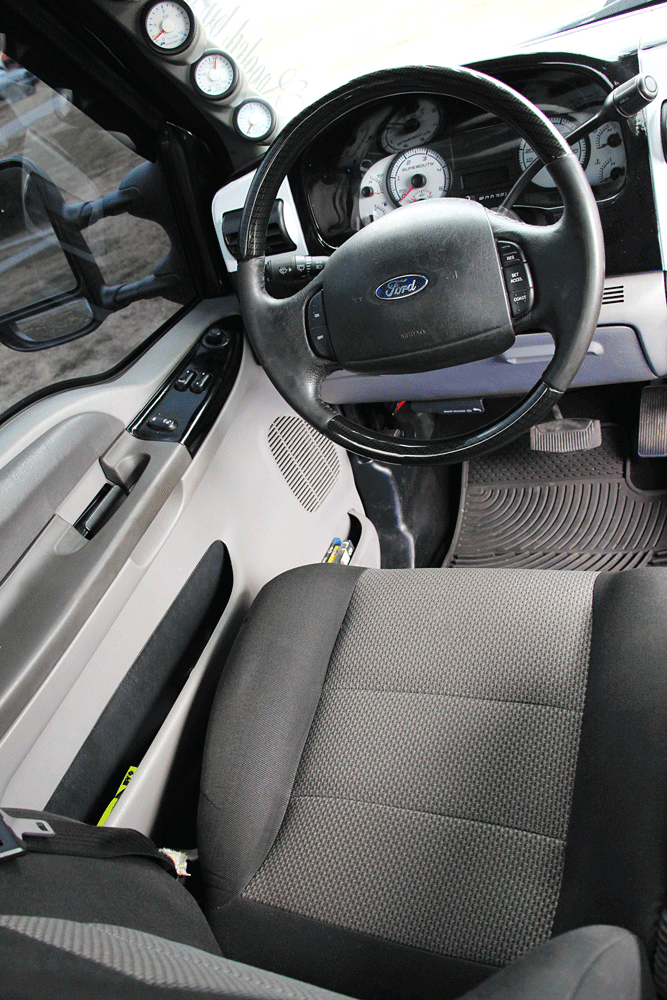 Power Transmission
Soaking up all the abuse the built 6.0L can dish out is a Stage 2 TorqShift automatic from Maryland Performance Diesel. The competition-proven slushbox houses a Diesel Performance Converters billet, triple-disc torque converter, billet input, intermediate, and output shafts, and a custom modified valve body. Dialing in both the PCM (for the engine) and TCM (for the transmission) was left to Matt Robinson at Gearhead Automotive Performance. And thanks to his tuning prowess, the large hybrid injectors never drop ICP, the transmission shifts firm but not harsh, and the truck is exceptionally streetable despite everything that's done to it.
Addicted
For a lot of folks who own 6.0L Power Strokes, it's a learning experience that oftentimes doesn't end well. But for someone to modify one 6.0L and then push the envelope even further with a second—that's called an addiction. Rest assured, Ford lovers, wherever Justin's 6.0L addiction takes him, you can bet his hard-hitting Super Duty will be every Ram and Bow Tie owner's worst enemy. DW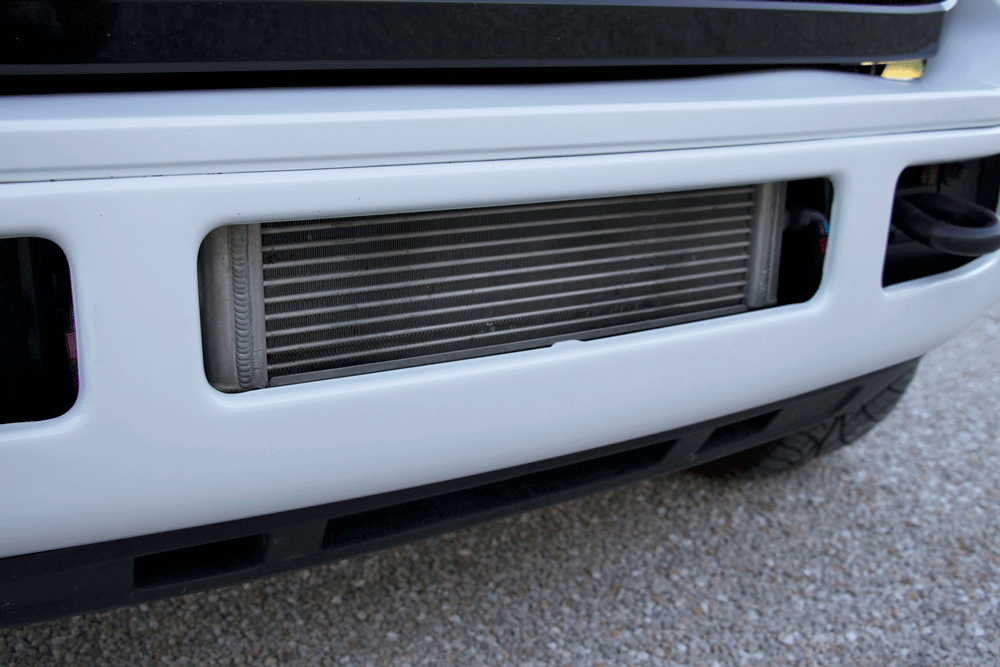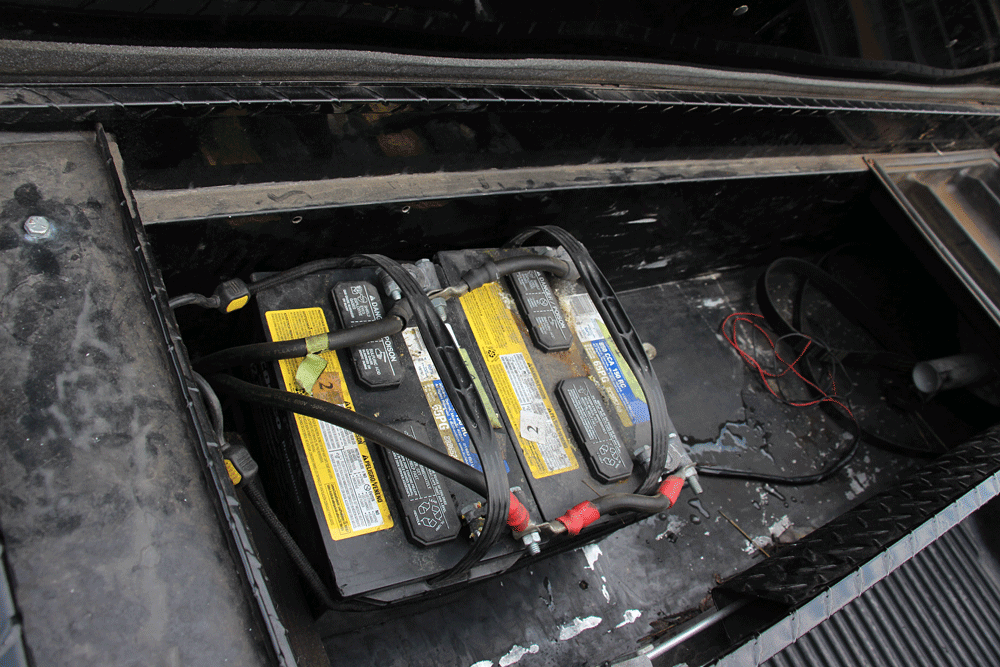 [divider]Specs[/divider]
Year/Make/Model: 2006 Ford F-350
Owner: Justin Gerebizza
Hometown: Crystal Lake, Illinois
Odometer: 100,000 miles
Engine: 6.0L Power Stroke built by Precision Automotive & Diesel with cryogenically treated factory block and crank, R&R Racing Products chromoly steel connecting rods, River City Diesel 0.020 over valve-relieved, de-lipped, ceramic coated pistons, River City Diesel High Rev valvesprings, chromoly pushrods, and Stage 2 cam, ARP Custom Age 625+ head studs with OEM Ford head gaskets, Maryland Performance Diesel intake manifold and oil cooler relocation kit, Flex-a-lite electric fans, Mishimoto aluminum radiator
Fuel: Maryland Performance Diesel 340/150 hybrid injectors, stock high-pressure oil pump, Precision Automotive & Diesel regulated return fuel system, Aeromotive A1000 lift pump, fuel tank sump
Air: S488/S366 compound turbos (High Tech Turbo S488, box BorgWarner cast S366), Maryland Performance Diesel/ Precision Automotive & Diesel piping, pedestal, up-pipes, Mishimoto intercooler
Exhaust: 5-inch over-axle system with 8-inch tip
Transmission: Maryland Performance Diesel Stage 2 5R110W with Diesel Performance Converters billet, triple-disc torque converter, billet input, intermediate, and output shafts, modified valvebody
Tuning: Gearhead Automotive Performance via SCT X3 tuner
Tires: Nitto 420S 305/50R20
Wheels: 20×12-inch Moto Metal 962
Suspension: Flight Fabrications four-link front suspension and rear traction bars
Fun Fact: Justin used to own a single (S400) turbo'd 6.0L that made roughly 650hp and ran mid 12's. But that didn't even come close to quenching his thirst for more power. With a deal too good to pass up, he purchased this truck in its current state: fully built and ready to turn heads.