AM General is without qualification an American survivor. Its heritage has roots which run deep into the 1800s when Standard Wheel Company—located in Terre Haute, Indiana—decided to change focus from its established carriage, wheel and bicycle business into the country's latest craze, "the horseless carriage." Their new effort, uniquely dubbed the Overland, arrived to market, like many others in 1903. One Charles E. Cox was the driving force behind the new Overland project, but like similar automotive firms, he needed financial assistance. David M. Perry, who had vast knowledge of the traditional carriage business, appeared and became the fledging firm's moneyman.
 "AM GENERAL is without qualification an American survivor. Its heritage has roots which run deep into the 1800s."
Overland's meager facilities, though functional, suffered an unplanned boiler explosion, which occurred in its main manufacturing plant and halted all product operations. This caused Standard's management to reconsider the new venture, eventually withdrawing further interest and financial support. Cox immediately scrambled to keep his pet project alive by purchasing the few facility ruminants of the firm along with Standard's initial investment for $8,000. It soon became readily apparent that this seed money was not enough to keep a project of this magnitude moving. Cox again approached Perry to help finance a re-organization. This was completed in 1906. As before, with the previous plan, the money came with a high price. Perry, for his efforts, received a 51-percent stake in the new firm and was also elected as its president.
Within months, the new firm found itself affected by the economic recession of 1907. Financial interest in large ticket seasonal novelties like automobiles suddenly evaporated with production activities immediately ceasing. Overland was at a standstill, with its facilities under lock and key.
The 10-Grand Caper
John North Willys—a well-known and highly regarded profitable automotive dealer in Elmira, New York—had become impressed with the Overland motorcar. The platform was moderately priced and well built. As a result, after initial analysis, he sent the firm a certified check in the amount of $10,000 as a deposit on 500 automobiles. When follow-up communications were ignored, and no vehicles appeared at his dealership, he traveled by train to the Overland factory in Indianapolis. Initially stunned, he found the factory closed, its management absent and (after finally gaining access) he found a few partially assembled automotive platforms sitting on the final assembly floor.
Willys took stock of his situation and immediately decided to take advantage of a unique opportunity. He was in contact with several financial associates to raise the capital necessary to purchase Perry's defunct firm. The factory re-opened its doors for production in 1909 and the Willys-Overland brand was born.
The quality of the low-priced runabout platforms of the revived Overland firm allowed Willys to purchase the assets of the Pope-Toledo automotive firm in Toledo, Ohio. As a result, Willys Overland became the second largest seller of automotive platforms in North America in the period from 1912 to the beginning of World War I, second only in sales to the Ford Motor Company.
The name "Humvee" is actually a nickname that was give to the HMMWV or High Mobility Multipurpose Wheeled Vehicle. Much like Jeep, Humvee was not its true name. The Jeep upon inception was actually a GP or General Purpose (also known as Government Purpose) vehicle.
Willys remained a strong player in the market, producing a variety of automotive lines from the famous Willys Knight to the popular low-priced 'Whippet." Company operations thrived until the mid-depression years. In 1936, the firm was forced, like many others, to declare bankruptcy protection. A revised Willys Overland Motors, Inc. was the result.
With global war clouds again appearing on the horizon, tiny American-Bantam and Willys Overland began competing for a share of government contracts. The Army was looking to replace its motorcycle sidecar units with a then radical "tactical scout truck." Bids were placed for the design and operational prototypes of a quarter-ton four-wheel-drive mechanized platform. Bantam did the majority of the design work but was forced to drop out of the competition because of production limitations. Willys was up and running by 1941. With the global outbreak of war, Ford also entered the picture due to their massive production capabilities. Within the next four years, more than 350,000 Jeep quarter-ton platforms were produced.
Kaiser Enters the Picture
The post war years were not kind to Henry J. Kaiser. Though his companies were profitable during the war, his automotive ventures during the post war period had failed in North America. Always looking for expansion of his global interests, and because Willys Overland had a global platform with the Jeep brand, Kaiser purchased the operation in 1953. The new organization was named Willys Motors, now a member of Kaiser Industries. With more than adequate cash flow the brand maintained a strong presence in the civilian, government and military fields.
The 1960s found the firm engaged in the production of a new quarter-ton delivery van for the U.S. Postal Service. Some 14,000 of these platforms were designed and produced. This mini-box (2wd) truck would be the first of many supplied by the company.
After much internal debate and discussion, the Willys Motors brand was eliminated in 1963. The corporate decision was to place the new Kaiser Jeep Corporation closer to the Kaiser umbrella. With the exit and demise of the Studebaker Corporation in 1964, Kaiser moved immediately to purchase that firm's Chippewa Avenue assembly plant in South Bend, Indiana. The decision was an obvious one. This facility had been Studebaker's military operations hub. Kaiser-Jeep could now expand and assume production of the M-39 5-ton truck series. In addition, Jeep received a contract for the M-44 2 ½-ton version as well. Both of these contracts equaled close to 300,000 units. Jeep also convinced the military to replace their established M-37 4×4 platform with a military version of the civilian Gladiator truck. Military contracts were good to Kaiser during this period.
Internal changes appeared again in 1967. Kaiser Jeep decided to form another division, directed solely for the purpose of securing government contracts. In addition, its thrust was active research, development, testing and production of government-engineered vehicles. The Postal Service again returned to Kaiser to bid on a new quarter-ton delivery vehicle. The Jeep Dispatcher DJ-5 (2wd) was the result with a profitable production run of more than 150,000 units.
"In 1979, AM GENERAL engineers began working quietly on a totally new and radical platform dubbed the HMMWV or, in plainer language, the Humvee."
The AMC Connection
American Motors was on a roll by 1970. The product line was refreshed and sales were up. To further improve the balance sheet and gain further profitability with diversification, the corporation purchased the entire assets of Kaiser Jeep. Jeep operations were now set up as a fully owned subsidiary. Company engineers lost no time in modernizing and standardizing the famous branded lineup.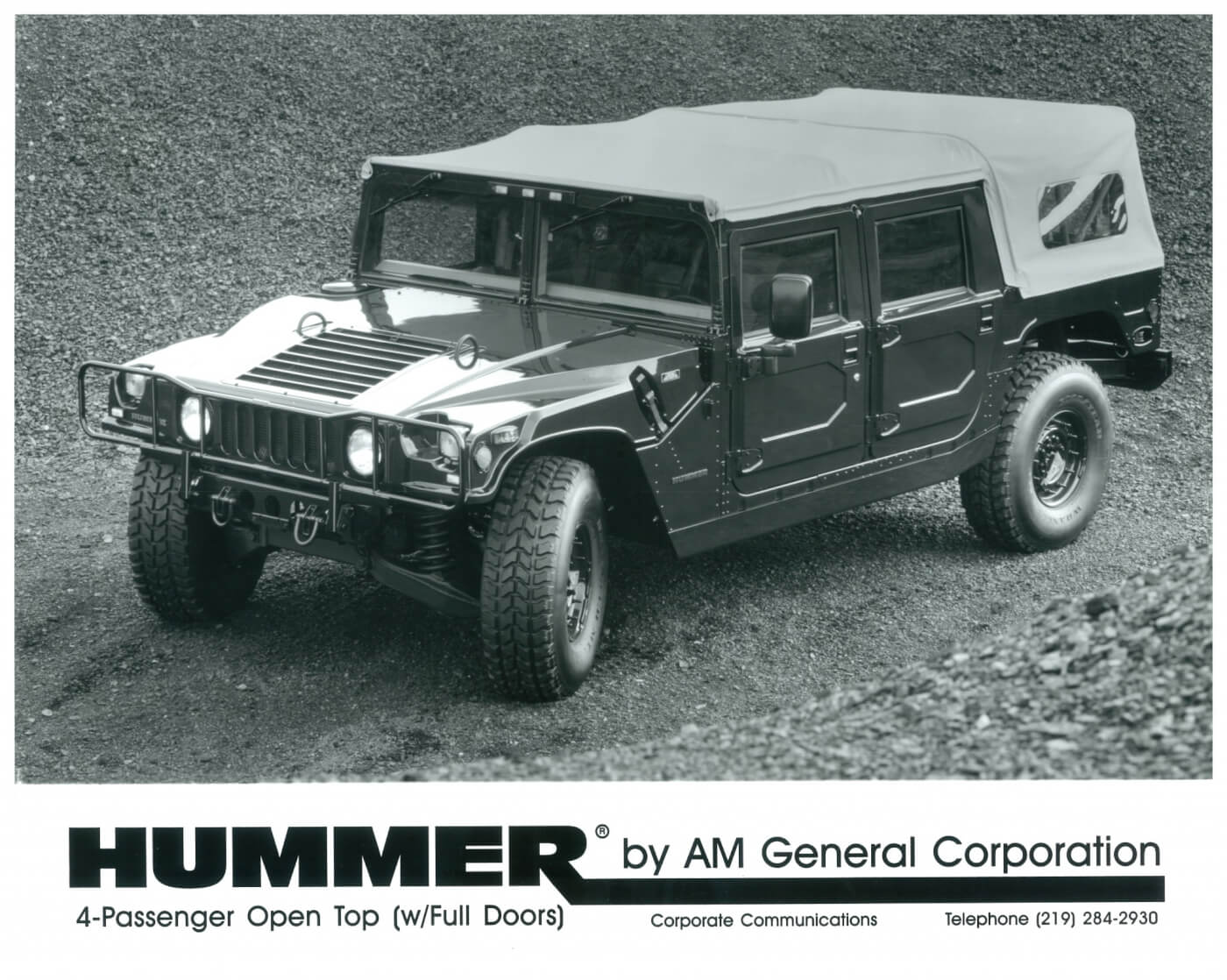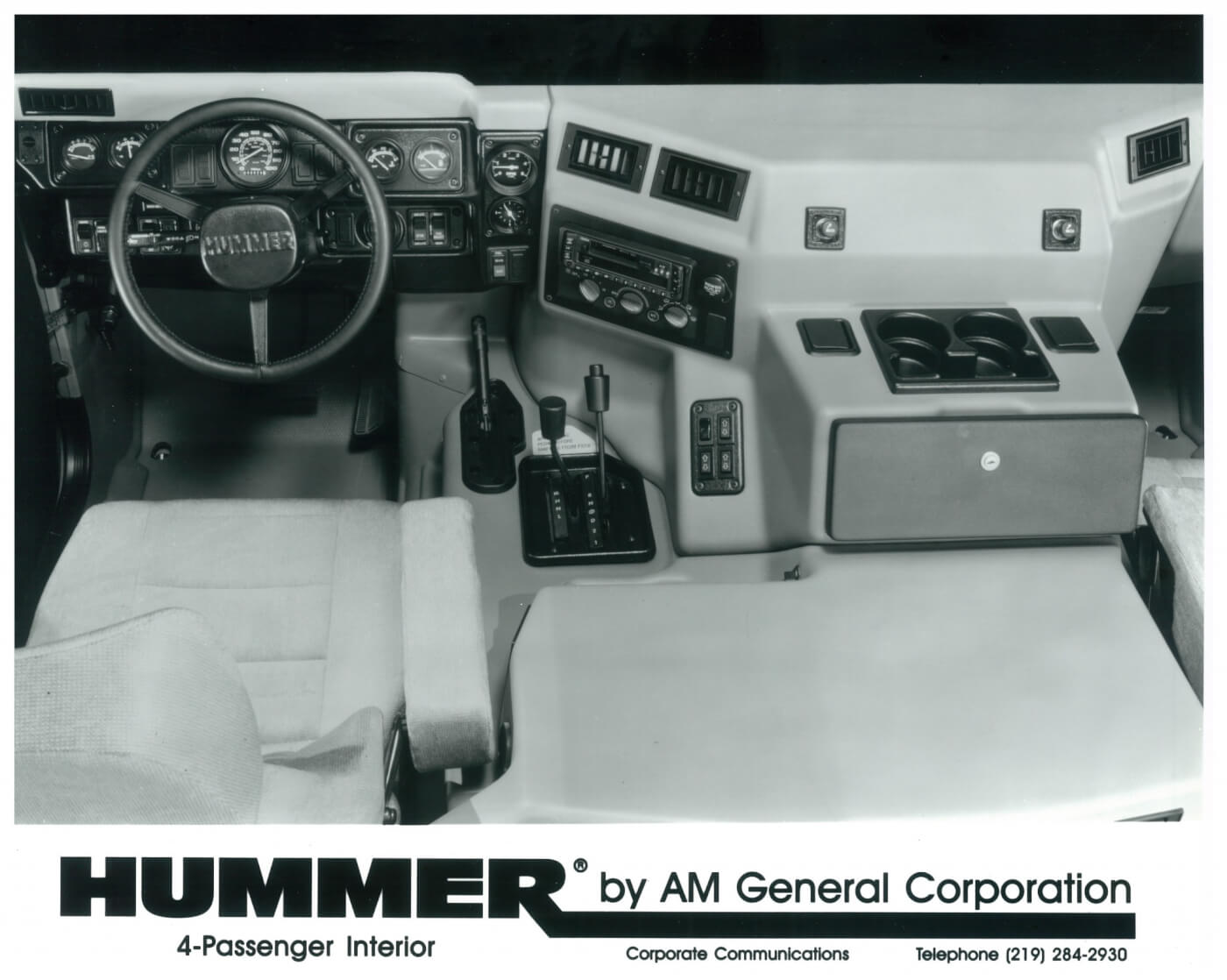 The new owners next focused their attention internally by combining Kaiser's original Commercial and General Product divisions to form AM General. Greater independence and product flexibility were the keys for the development of niche markets, and this included the established government base as well as global commercial transportation needs. The firm also looked at bus transportation as a profitable entity for the first time. The firm was responsible for production of more than 5,400 buses from 1974-1979.
The Humvee Arrives
In 1979, AM General engineers began working quietly on a totally new and radical platform dubbed the HMMWV or, in plainer language, the Humvee. This newly christened High Mobility Multipurpose Wheeled Vehicle was also referred internally as the M-998. Its purpose was to replace not only the famous quarter-ton M151 Jeep, but also a variety of other lightweight platforms then currently in use by the military.
The new Humvee concept was unique in that it displayed multi-purpose capability in several configurations straight from the assembly line, much like civilian vehicles to reduce costs and expand profitability. The new platform displayed extreme mobility, agility and increased off-road and pavement speed to support its multifunctional roles. Initial prototype contracts were completed in 1981, with ongoing development and real-time prototype testing completed within the following five-month period.
AM General gained the initial $1.2-billion, five-year contract in March of 1983 supplying 55,000 units. Five basic Humvee platforms utilizing 15 different configurations were produced during this initial run. The government added an additional 15,000 units for a total of 70,000. The deliveries began in 1985, ending four years later.
First generation Humvee's featured GM's 6.2L diesel engines along with Turbo-HydraMatic 400 transmissions running through a full-time four-wheel-drive system, with fully independent suspension. The new platforms provided 16 inches of ground clearance with the ability to run up a 60-percent grade combined with steep incline and departure angles.
Yet Another Owner
Sadly, the last American independent automaker, American Motors Corporation, was sold to the French government-controlled Renault in 1982. The LTV Corporation purchased AM General in 1983 because of U.S. government rulings regarding foreign company involvement with government contracts. As expected, AM General headquarters were combined back to South Bend from Renault/AMC headquarters in Southfield, Michigan. Humvee contracts continued through LTV's Aerospace and Defense. AM General continued as a subsidiary of this firm. Production output slowed with 33,000 units produced in 1989. An additional 10,000 units appeared during the years 1995 and 1996.
The Firm Goes Private
The privately-owned Renco Group purchased AM General in 1992, the same year that General Motors introduced its civilian Hummer platform. In 1999, AM General purchased the manufacturing rights to produce GM's 6.5L diesel engine. Immediately the firm set up its new General Engine Products (GEP) division, when the General dropped this mill in favor of their new 6.6L Duramax.
Further GM Joint Efforts
Another milestone agreement occurred in 1999 with General Motors and AM General signing a joint agreement to market and distribute civilian Hummer-branded platforms. Of particular interest is the agreement only gave GM marketing rights regarding the Hummer label. No other part of AM General's other operations were included. Obviously, AM General has utilized many GM components and assemblies in their products (particularly engines and transmissions). AM General produced the General Motors-dubbed H1 civilian version until June of 2006.
The firm built a new manufacturing facility to produce the H2, which was both designed and marketed by General Motors launching in 2002 and ending in January of 2009. The last H3 platform was designed, engineered and produced by GM. DW
If you like diesels used in the military, you would love this modern military diesels article!