As race season heats up, racers and builders across the land prepare to roll their rigs into race venues all over the country. Many will campaign old vehicles that have in one way or another been reinvented for the new year: new paint schemes, new body work, new turbos, new engines, new names.
Others will be rolling out something entirely new. Performance Authority out of Bend, Oregon, falls into the latter category. You're looking at their Pro Street entry for 2017, a '60s-era GMC C10 which has essentially been torn down from top to bottom and completely reassembled from the ground up.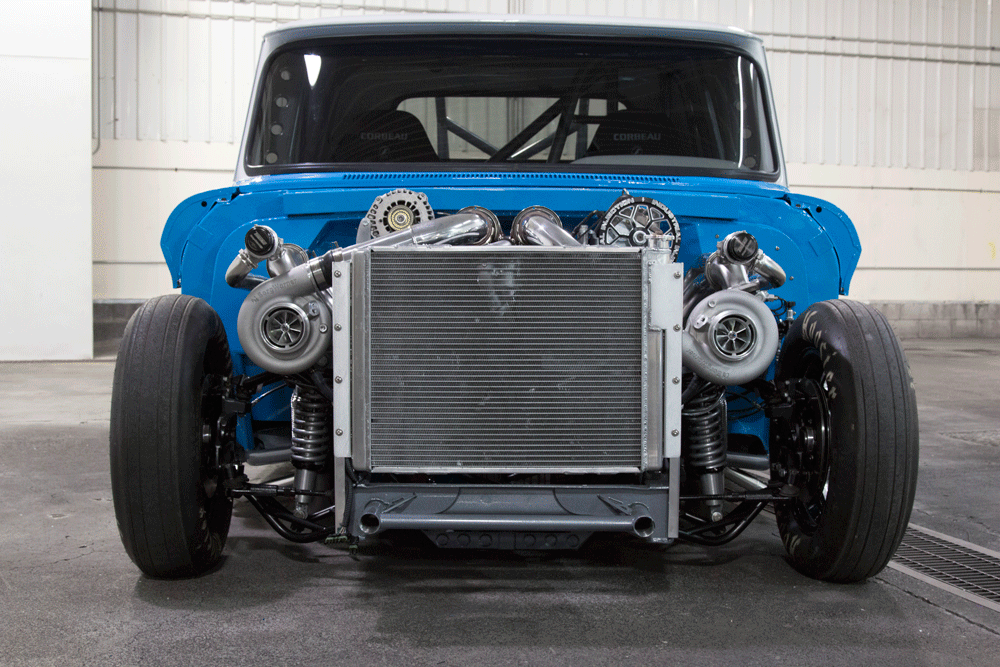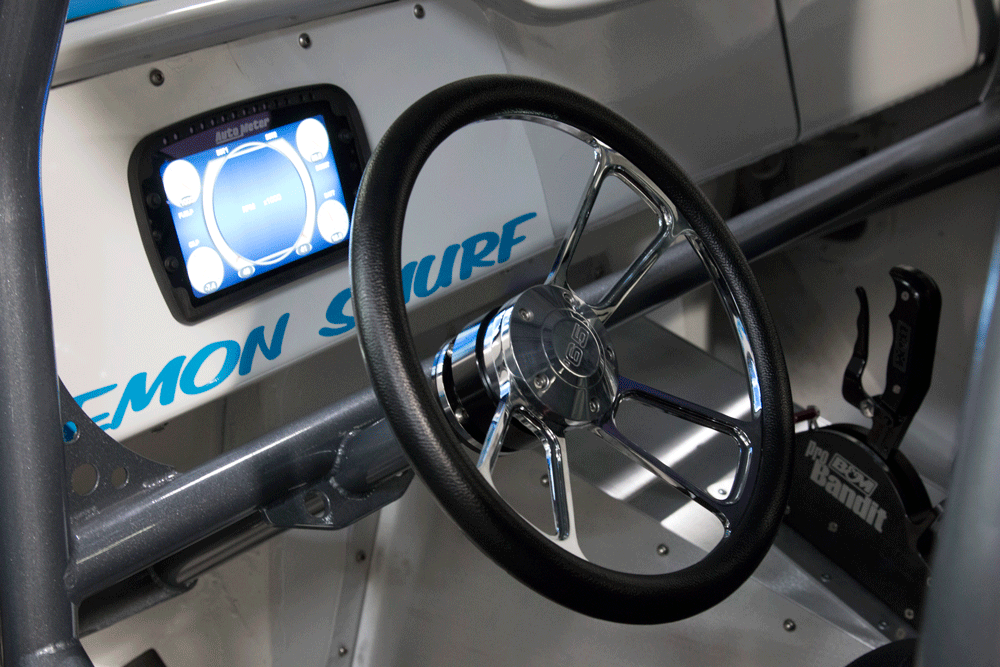 The C10 was originally purchased in the spring of 2014 for the paltry sum of $1,200. Two and a half years and a good six fi gures' worth of sweat, blood, grease, metal shavings, bruised knuckles and capital outlay, it was fi nally transformed into what the builders affectionately call "Demon Smurf." In addition to racing, it was also carefully put together to serve as an exhibition piece for Performance Authority and Diamond Eye Performance in the Diamond Eye booth at SEMA 2016. Believe it or not, it also remains street legal for what Performance Authority owner Bennett Leffl er calls "Saturday night ice cream runs."
DIVIDE AND CONQUER
Since the plan was to run in Pro Street, no time was wasted in dicing up the chassis and back-halving the truck with a 1-3/4-inch chromoly steel framework to support a four-link setup. The chassis underpinnings were bent, welded and laser-cut offsite at 369 Custom Fabrication, Crawl2Run, and Diversifi ed Products (all three also located in Bend), then returned to Leffl er's shop for fi nal assembly. The rear axle is comprised of a Fab9 nine-inch chromoly housing and a medley of Strange Engineering components—the same Strange Engineering that supplies drive components to Top Fuel NHRA dragsters. The solid axle is suspended beneath the chassis by 200-pound coilover springs and Varishock double-adjustable dampers.
The C10's cabin section retains most of its original outer metal but has been reinforced with a multi-point chromoly tube cage jigged, bent and welded by 369 Custom. The front suspension employs 550-pound coil springs to shoulder the heavy load set by the planned Duramax power unit. The springs are wound over Varishock double-adjustable dampers in a coilover confi guration similar to the rear. The front end was also improved with tubular control arms adapted from a Chevelle application, as well as a rack-and-pinion steering assembly stolen from a Ford Thunderbird.
STORM SYMMETRY
With the front clip removed, the motivation and raison d'etre for all this custom structural work is a sight to behold, each half of the powerplant and its individual induction system a virtual mirror image of the other. The center point, ground zero so to speak, is a reinforced '06 LBZ Duramax largely built to spec by Industrial Injection in Salt Lake City. Pistons are swung by forged CP-Carillo rods, which in turn spin a blueprinted Callie billet crankshaft encased within the stock iron block. CNC-ported factory heads top the block; a Hamilton alternate-firing-order camshaft was installed to actuate the stock valves. Fuel is supplied via Dynomite Diesel 150% over injectors fed by dual Industrial Injection 85% over CP3s, which in turn are fed by dual FASS 150 lift pumps pulling fuel from a Pyrotect 15-gallon aluminum cell mounted far aft at the rear of the chassis. At the truck's other end, another tubular chassis extension supports a substantial aluminum radiator core and Perma- Cool electric fan assembly.
The hard-drinking fuel delivery system merges diesel fuel with an angry whirlwind of supercompressed air courtesy of modified twin Borg Warner S369SX-E turbochargers— 69mm compressor, 88mm turbine, 0.91 AR housing—each mounted on its own custom stainless steel header fabricated by Metal Art, and each pushing between 40 and 45 psi when tuning is finalized. After driving the twin compressors, exhaust exits through a dual straight-pipe system fashioned by Diamond Eye Performance. Each side dumps through oval tips that emerge from underneath the chassis just in front of the rear slicks. A SunCoast 48RE competition gearbox with standalone PCS controller transfers shock and awe via a custom-built driveline with 1410 Series U-joints to a 3.50 Strange spool turning 40-spline axles. Finally, the rubber meets the road via 33×17.5-inch Hoosier drag slicks wrapped around 16×16-inch Race Star monocoque wheels.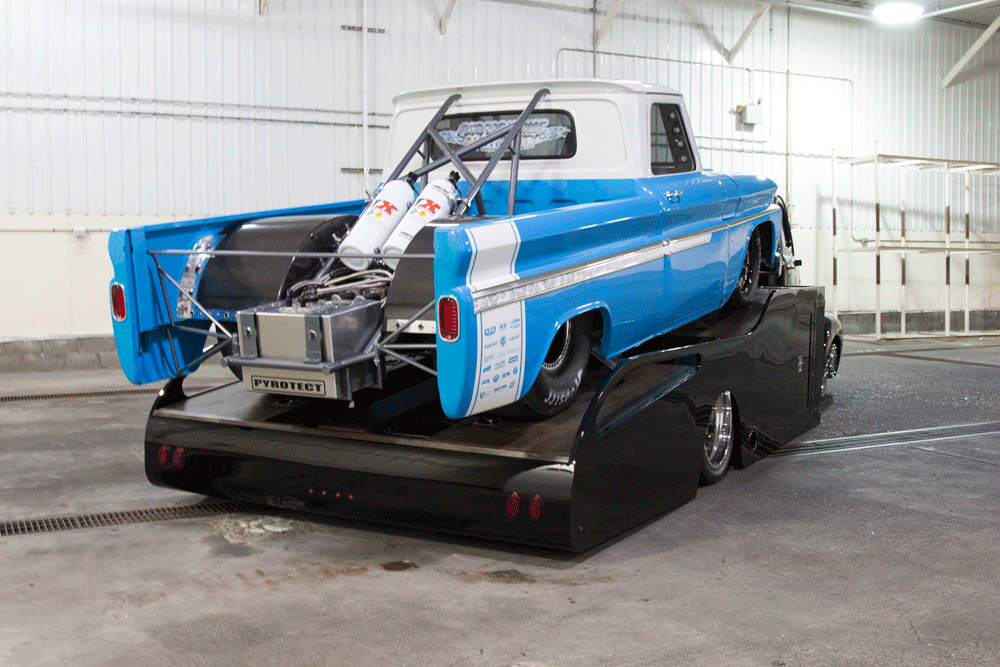 Chassis wiring was provided by Ron Francis and engine wiring was performed at PA. Preliminary air/fuel tuning was performed by "Idaho Rob" Coddens of ATP Truck, Meridian, Idaho, via EFI Live. Initial testing will have already begun by the time you read this; for now, engine output is estimated based on similar builds. Leffl er estimates horsepower to be in the range of 1,500 on fuel alone, and a conservative 2,000-plus when the Nitrous Express two-stage progressive system is toggled on. Once fi nal tuning and chassis setup is complete, Leffl er is eyeballing 8s in the quarter mile.
BUSINESS SUIT
In spite of its purported street-legal status, the Demon Smurf's cabin is necessarily lean on creature comforts. Occupants strap into Corbeau race buckets and are snugly secured by Pyrotect harnesses. Driver input is facilitated by a Forever Sharp steering wheel, which directs the 17-inch Race Star Recluse front wheels via that Thunderbird rack. Gear selection is actuated by a B&M linkage and sequential shift lever. The whole of instrumentation is contained in an AutoMeter LCD data acquisition module set into the dash; the unit is fully customizable by the driver to display virtually any aspect of the engine's operation and performance.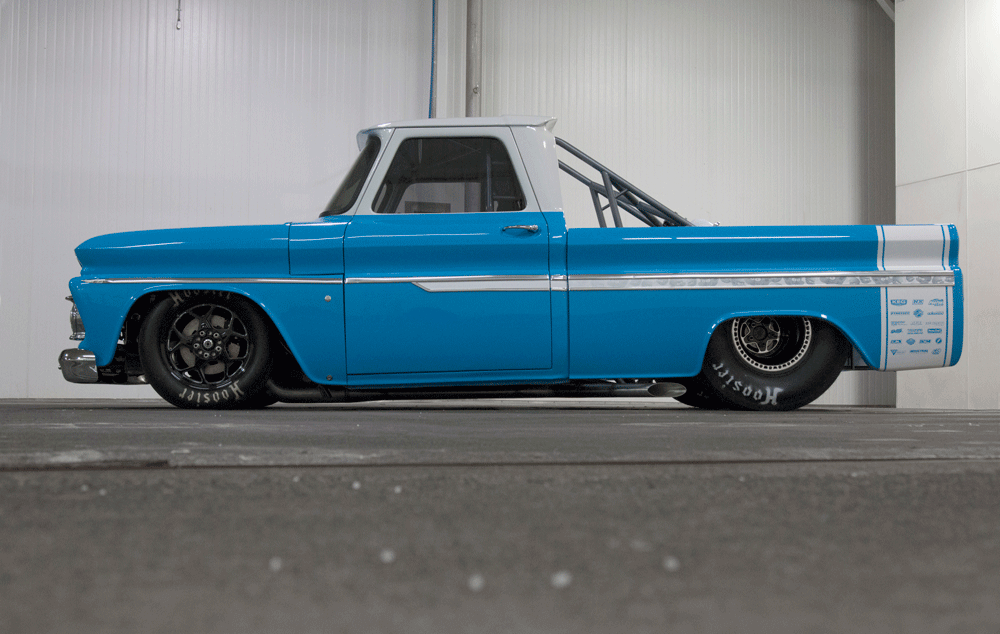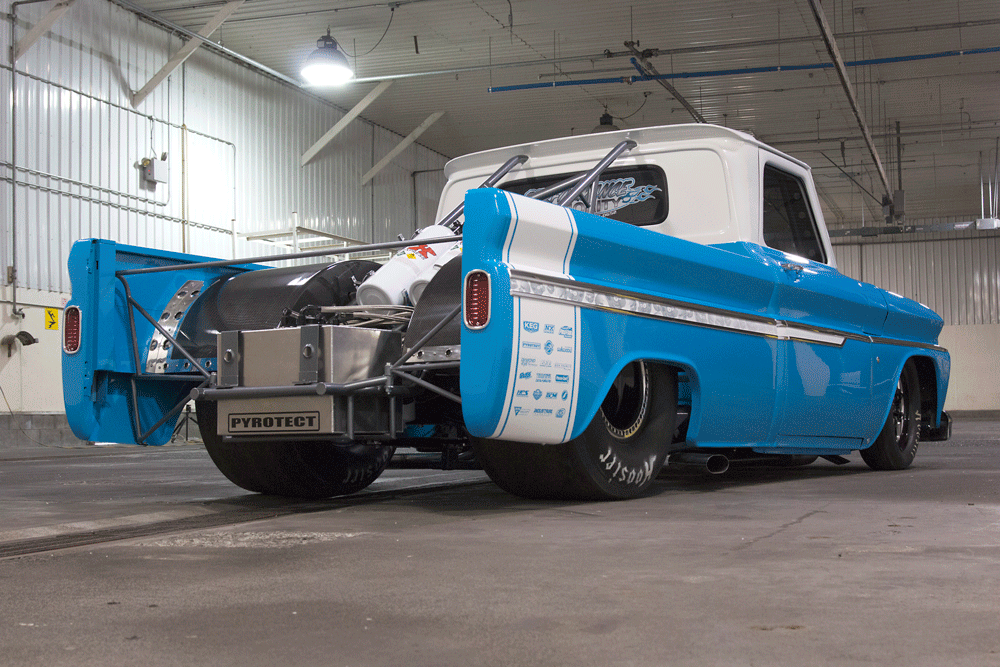 Obviously, with the back-end race reconfi guration there's very little left in the way of traditional pickup bed. The area is fi lled primarily with substantial carbon-fi ber wheel arches and an extension of the roll cage that ties into the chassis and holds the twin 15lb Nitrous Express bottles. Last but certainly not least, braking is accomplished by hard-biting Wilwood hardware at all four corners.
The previously mentioned front clip, formed by US Fiberglass in the image of a 1965 GMC, was prepped and painted (as was the rest of the exterior and interior) by Greg's Custom Creations, also located in Bend. The powdery blue is a custom Sikkens hue mixed to mimic a period GM color and evoke nostalgia for the good old days when men were men and trucks were trucks; likewise, the white is modeled after Ford's Oxford shade from the 1980s. DW