Thinking Small—Sizing Turbos For Both Response And Power
Not too long ago, I was at a photo shoot with a hopped-up Dodge, and the owner suggested he do a burnout. Unfortunately, we were up at about 3,000-ft. altitude, rather than at sea level where the truck's owner resided. Why was this unfortunate? Well, try as he might, the big turbo on his Cummins engine wouldn't light at that elevation, or even get the tires spinning at all. Sure, the truck rocked under boost, but from a dead stop he could be beat by a Prius. If this story sounds farfetched, it's actually not. Most people who talk about how well their truck spools have never been up in high altitudes.
On the same excursion, I also drove a turned-up early Ram, which had the itty-bitty stock turbo on it, along with the super-loose factory torque converter. Guess what? It was great at sea level, and it was great up in higher elevations, which got me to thinking that maybe people are over-turboing their diesels. After all, shouldn't response and drivability count for something?
When I worked at a diesel shop, one of the most common technical questions we would get was regarding turbo sizing. "I want something that spools like stock, but can make more power," was what virtually everyone would say. Even though I worked at a shop at sea level, many diesel owners needed to pass on two-lane roads with trailers, pull out into traffic, and perform other maneuvers that required a lot of low-end response. While an 80mm single turbo might be great for horsepower, it sure won't do much from idle to about 2,500 rpm.
"Even though it's been disproven by now, there are still plenty of people who think that you need a 66mm turbo to make 500 hp, but that's simply not so."
So now for the million-dollar question: is there a turbo that will make more power than the factory version and be even more responsive? Why, yes there is! There's actually more than a few of them. A while back, I drove a second-generation (1994-1998) Dodge that was equipped with an ATS Aurora 3000 turbo, basically a modified version of an S300. Despite the fact that the turbo was only 57mm in size, it made 450 rear-wheel horsepower on the dyno, and held up under nearly 50 psi of boost. It was also even quicker spooling down low than the factory Holset HX35, which was impressive.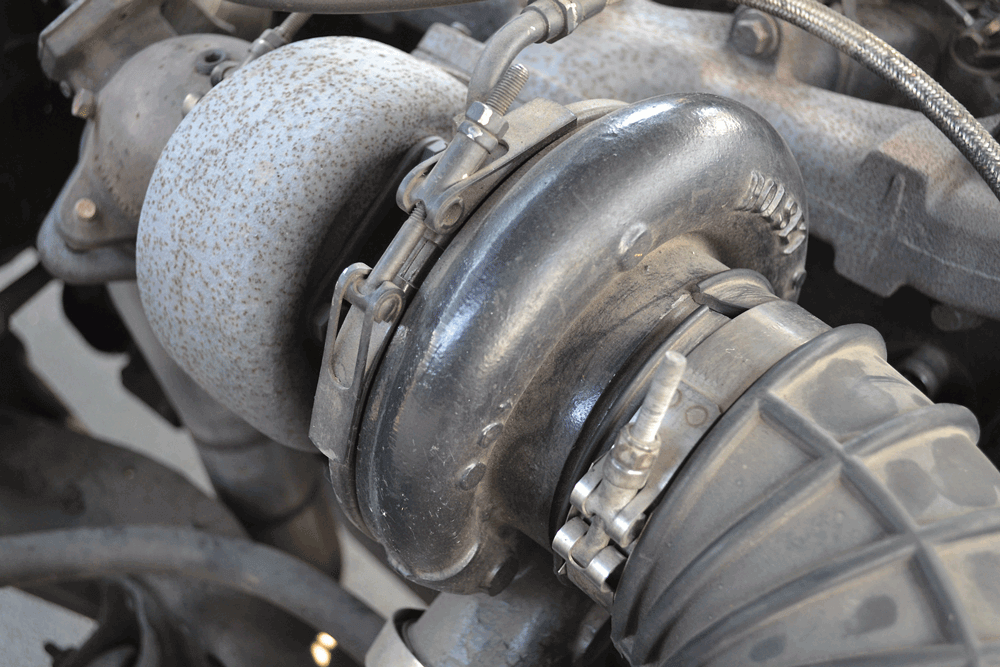 Even though it's been disproven by now, there are still plenty of people who think that you need a 66mm turbo to make 500 hp, but that's simply not so. In fact, Garrett and BorgWarner have each released a new line of turbochargers that are small but tough, and can handle 45-50 psi of boost. The Garrett GTX3582R, for instance, is only 62.5mm, but its improved wheel design flows 75 lb/min of air, which are old 64mm turbo numbers, and good enough for 600 rear-wheel horsepower.
BorgWarner will soon release its S200SX-E and S300SX-E series, which will be in 52mm to 69mm sizes, and geared specifically towards high boost pressures (read diesels). Thanks to some revised designing, and modern day technology, the 69mm will even spool like a 66mm, while supporting well over 800 rwhp. Even the little 52mm, the smallest in the line, should still be good for 300-400 rwhp.
If you're part of the modern day VGT turbo crowd, don't worry, you won't be left out. BD Diesel just came out with a new Ford kit for 6.4L trucks that's flying off the shelves. Garrett's line of PowerMax turbos can break 500 rwhp with ease on a Duramax or 6.0L Power Stroke, and Fleece Performance has an entire line of quick- spooling Cummins turbos.
So, if you're looking for a turbo upgrade on your truck, don't just skip to the bottom of the page. An honest 600 rwhp makes for a truly exciting ride (remember, that's about 750 hp at the crankshaft), and a turbo of that size isn't a let-down in the drivability department. Want a turbo that does it all? The solution may be smaller than you think. DW