High-Horsepower Diesels Invade Colorado
This year, ATS Diesel Performance took dyno contests to a whole new level with their "Gauntlet Challenge," a winner-take-all dyno event with a $500 buy-in, where the cream of the crop in diesel performance could strut their stuff. Not surprisingly, many of the trucks that entered were either owned by shops, or heavily influenced by a shop, as power levels above 1,000 hp to the rear wheels were expected to be common.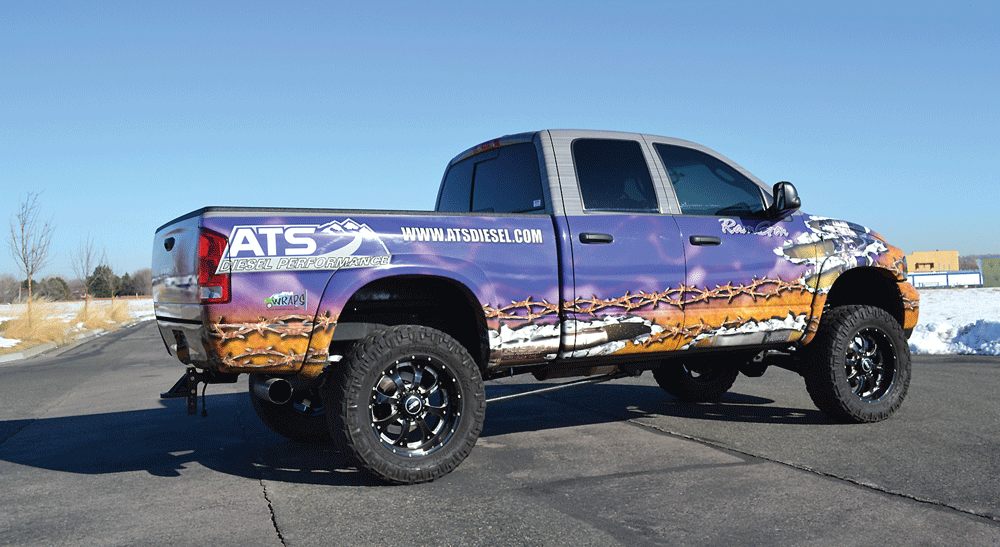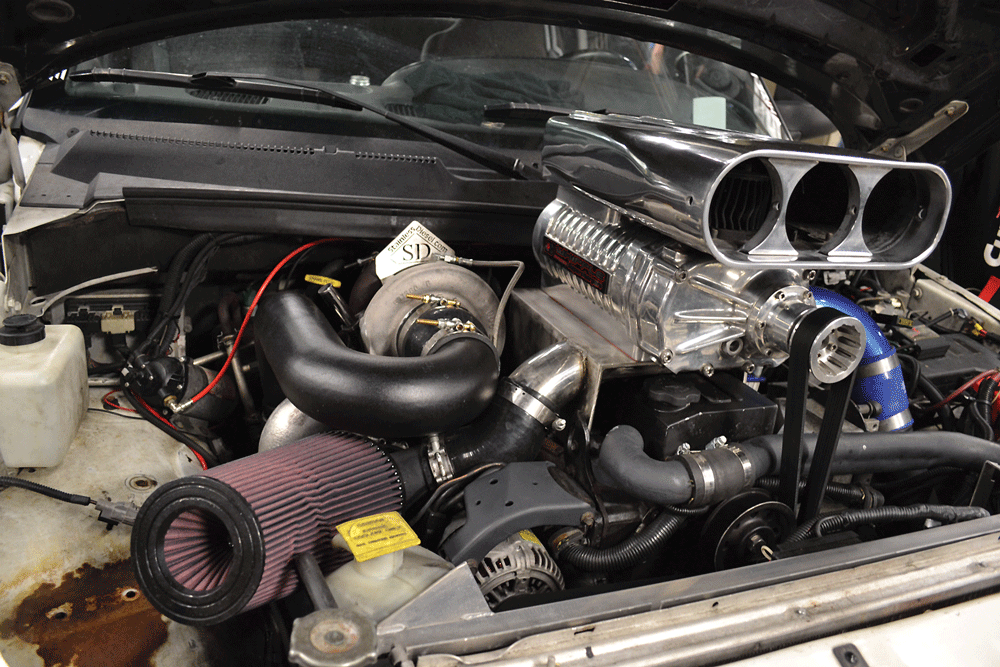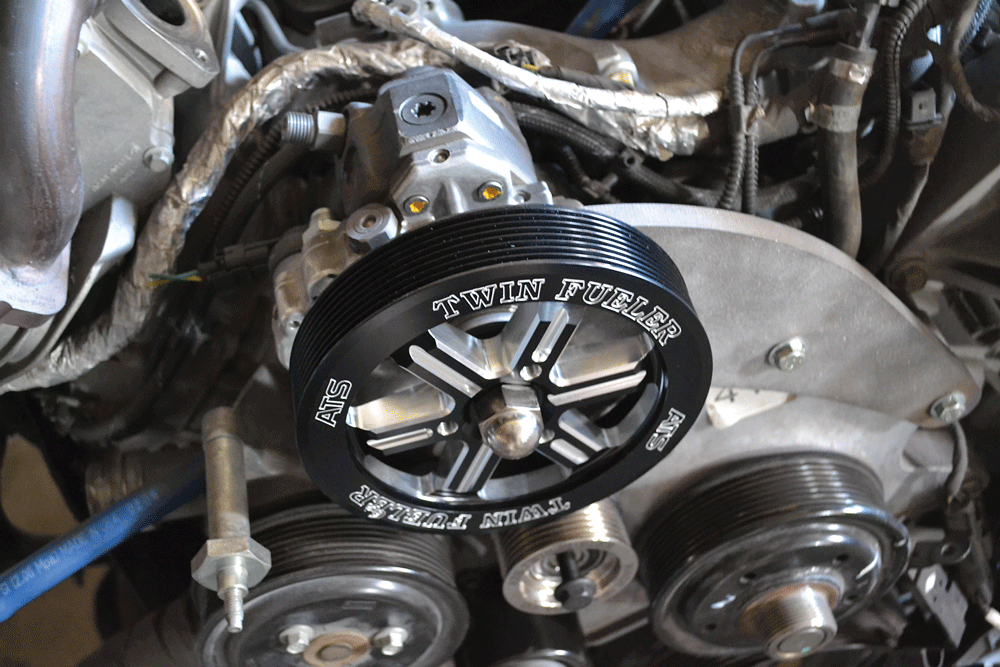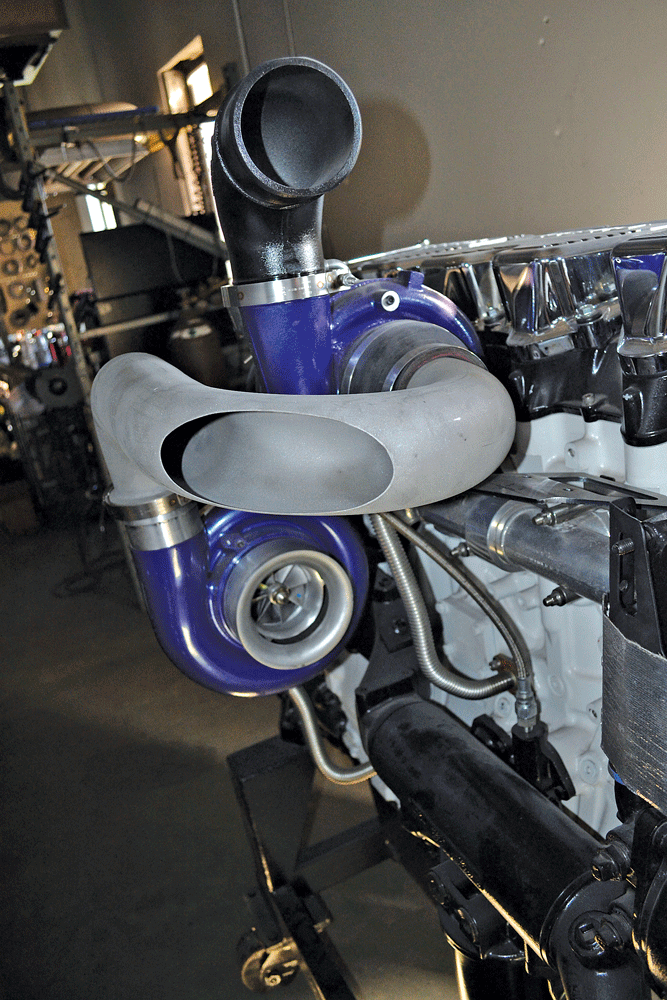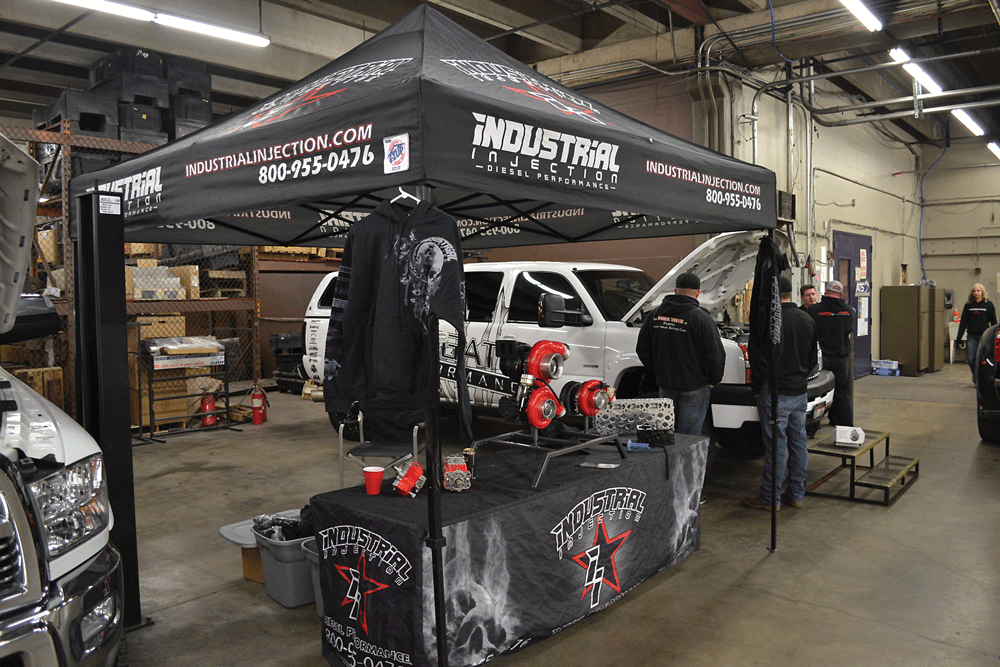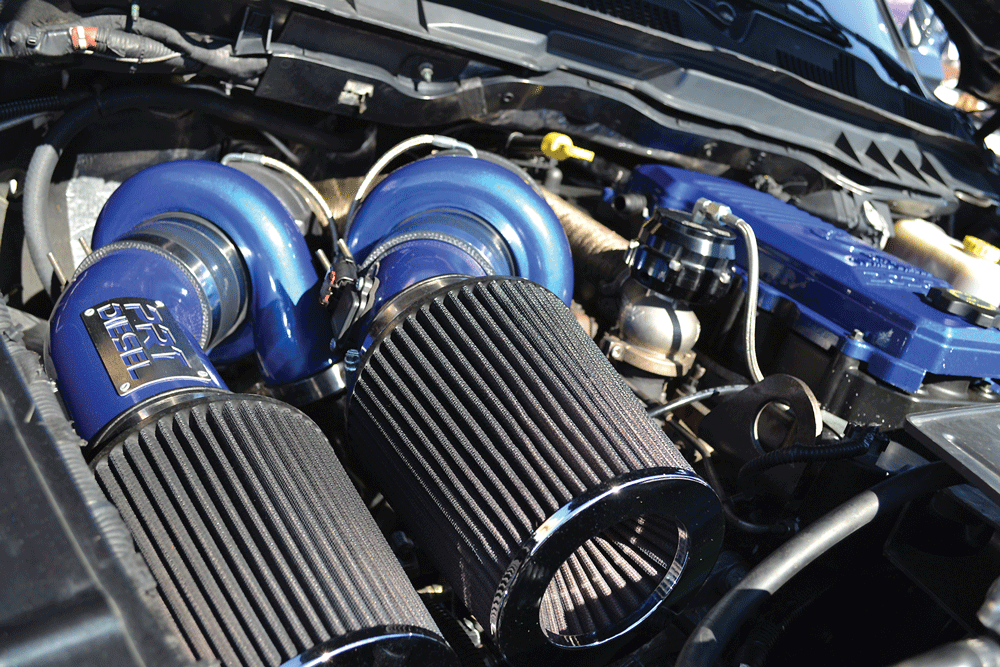 An interesting twist added by ATS was the caveat that the truck that made the most power and torque combined would be the overall winner—not just the truck that made the most overall power. This horsepower/torque combination meant we saw a lot of quick-spooling turbo setups, as well as some early triggering of nitrous oxide systems to try and boost torque numbers. While we figured the torque being added into the competition would favor Cummins-powered rides, that didn't scare away a number of hot Duramax-powered trucks that showed up to the competition.
In addition to the Gauntlet Challenge, there were a number of other hot diesels on display, including the DieselSellerz.com six-door Dodge, and a wild supercharged, compound turbocharged 5.9L VP44 truck. There was also a vendor area, where folks could learn about parts from ATS, Alligator Performance Diesel, Industrial Injection, and a host of other companies.
While some initial software troubles with the dyno stalled the action for a couple hours, the horsepower race was on as ATS dyno'd trucks all afternoon and well into the night. Without further ado, we present to you the 2015 ATS Gauntlet Challenge. DW
First Place: James Brendle, Custom Auto, Total Score: 3,180
The well-deserved winner of the Gauntlet Challenge was James Brendle from Custom Auto, and as folks say "there was more in it." Halfway through the dyno run, James had a mishap with his intake piping on his turbos, and only hit a peak boost of about 75 psi versus a normal 110 psi. Still, the shortened dyno run was still good for First Place, at 1,311 hp and 1,869 lb-ft, with power still climbing. The Duramax short bed makes the crazy kinds of numbers it does, thanks to Garrett GT45/GT55 compounds, Cobra injectors from Industrial Injection, twin stroker CP3 pumps, and a healthy dose of nitrous. The bottom end of the Duramax is also heavily reinforced, with Carrillo rods, pistons, and ARP 625 head studs. Nearly all of the truck was built by Custom Auto, including the engine assembly.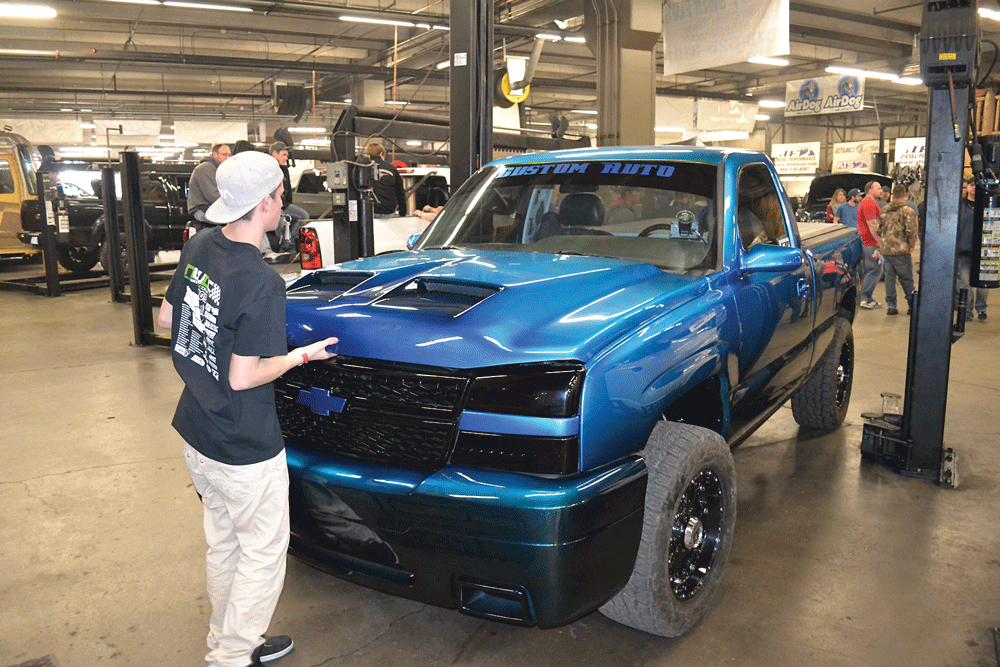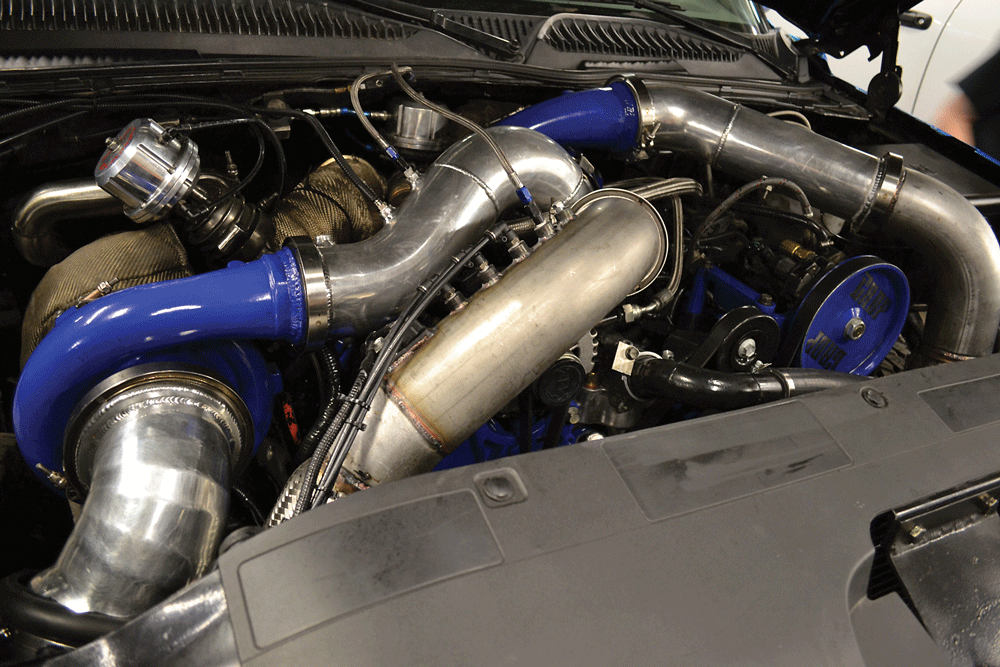 Second Place: Chris Rosscup, Deviant Race Parts, Total Score: 3,149
Chris continued the surprising Duramax domination of the Gauntlet Challenge with a strong showing in both horsepower and torque. Chris had huge air, thanks to ATS 5000 and 8000 turbos (that's a 95mm over a 71mm for those who are counting), and bunches of fuel thanks to ATS Dual Fuelers, and Industrial Injection injectors. A built bottom end kept everything together while Chris made an impressive 883 rwhp, along with 1,440 lb-ft of torque. Guess what, though? That was without nitrous, and when the bottle was added, power jumped to an incredible 1,253 hp at the wheels, along with 1,949 lb-ft of torque. On any other dyno day, Chris probably would have been your winner.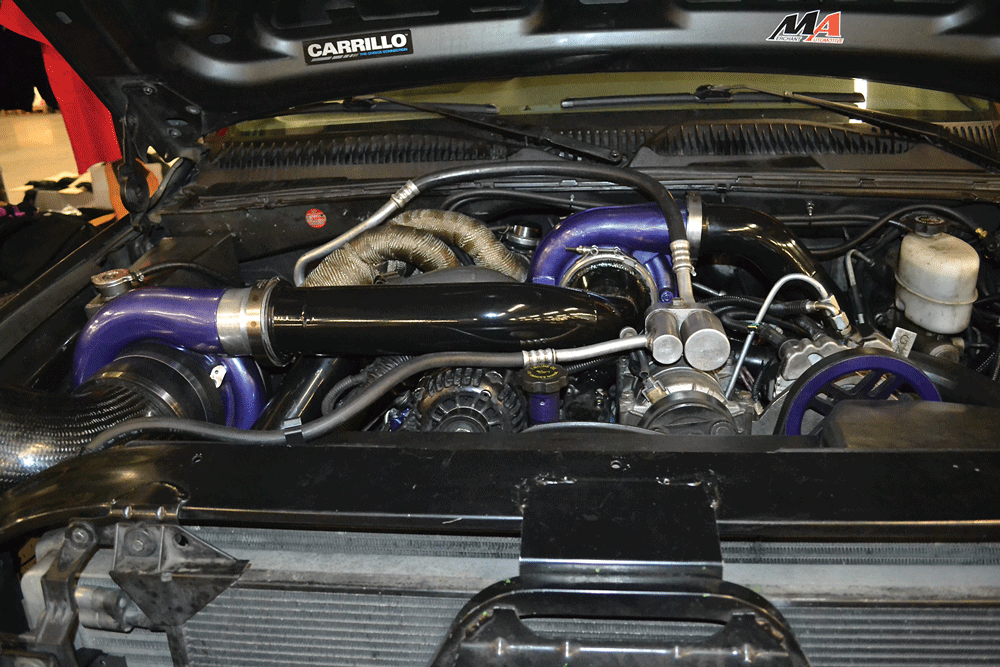 Third Place: Jason Scheffer: Gomer's US Diesel Parts, Total Score: 3,095
When we watched the big USDieselParts.com Cummins shift into overdrive, hit lockup, and ramp boost and nitrous up starting as low as 2,000 rpm, we knew his Dodge was going to be a serious contender. The Cummins, true to inline six fashion, made the best torque, with a crazy 2,029 lb-ft. Thanks to goodies like Mahle Monotherm pistons and ARP head studs, the engine handled the grunt with no problem, and made 1,066 hp along the way as well. The truck has the same-sized Aurora 5000/8000 turbo setup as Chris' Duramax, along with injectors from Industrial Injection. With a combined horsepower and torque score of 3,095, the Cummins was just a few ticks away from the lead.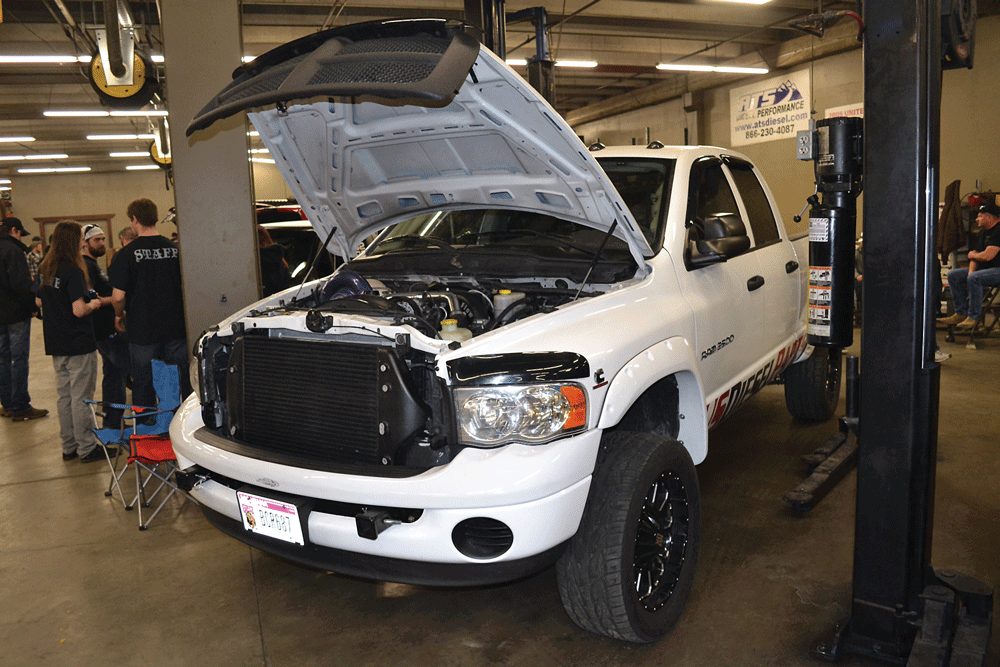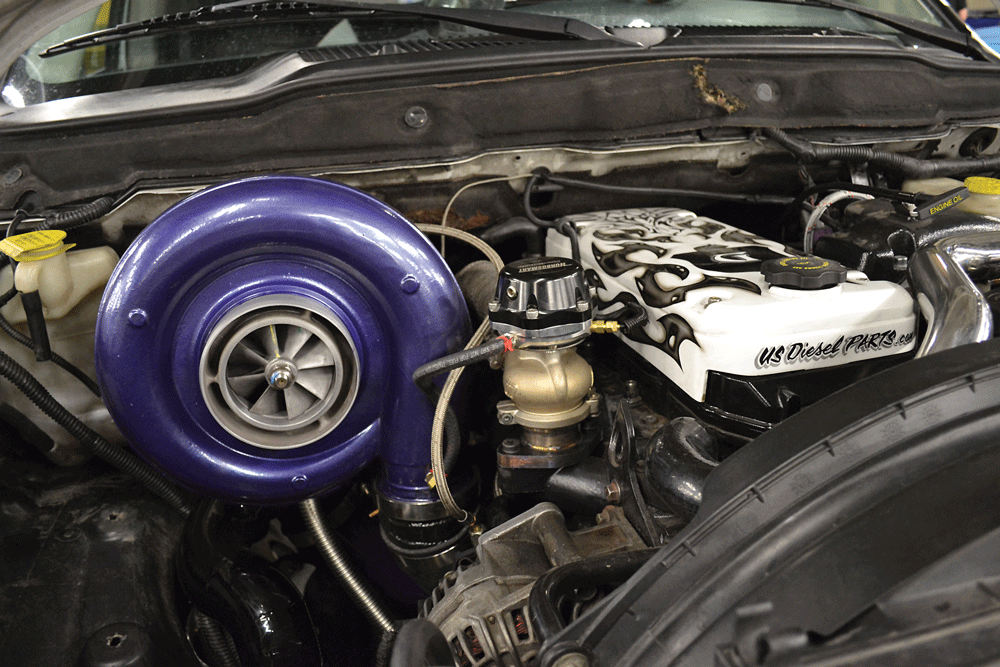 Fourth Place: Matt Kauffman, Firepunk Diesel, Total Score: 3,050
Matt Kaufman and Firepunk Diesel trans builder Lavon Miller showed major guts by driving Matt's Dodge to the event, with no back-up truck or trailer or anything else to help if something broke. The Cummins-powered Ram was another truck that would be in the hunt for the lead, thanks to a 5.9L Cummins with Carrillo rods, an MJ Tool and Fab 190/220 camshaft, ARP 625 head studs, and 66mm/84mm compound turbos from Engineered Diesel. Exergy Engineering injectors, dual CP3s and nitrous round out the combination, which was good for a torque-heavy 2,000 lb-ft, along with 1,050 horsepower.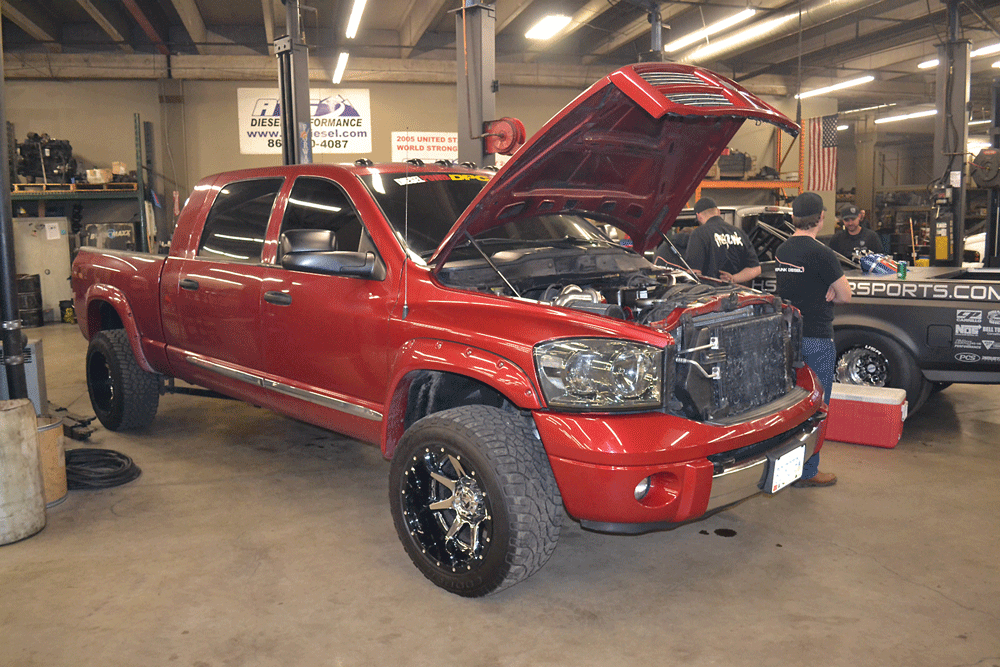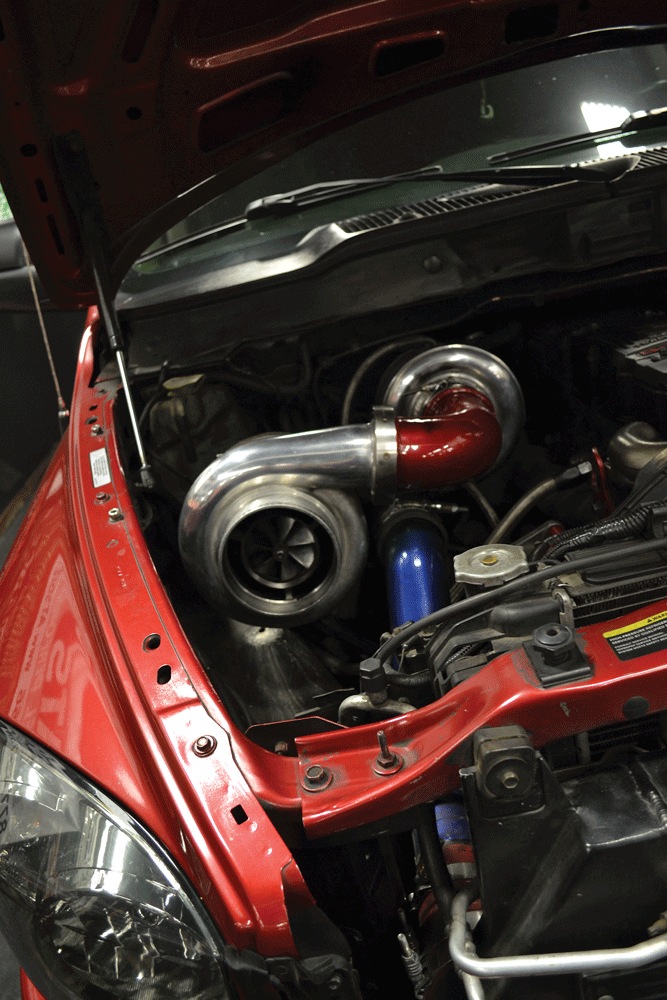 Fifth Place: Payton Hugie, H&S Performance, Total Score: 2914
When everybody showed up, all the competitors started eyeing each other and sizing everyone else up. But, when the H&S drag truck pulled in, with no front end, huge triple turbos, and multiple nitrous solenoids, everyone had a look like they should have just stayed at home. With 80mm atmosphere turbochargers blowing into a 64mm turbo, the Cummins-powered Lightning has been as fast as 8.80's at more than 160mph in the quarter mile, and made 1,000 rear-wheel horsepower on fuel alone. Power-producing hardware is a 6.7L Cummins engine outfitted with Carrillo rods, modified pistons, and a Hamilton Cam. In addition to the crazy turbo setup, the engine also has H&S dual 10mm stroker CP3 pumps, Dynomite Diesel injectors, and is tuned through a 5.9L CM849 ECM. Unfortunately for the team, some tuning issues along with possible nitrous issues (at least that's our guess) limited the scary intimidating truck to 1,154hp and 1,760lb-ft.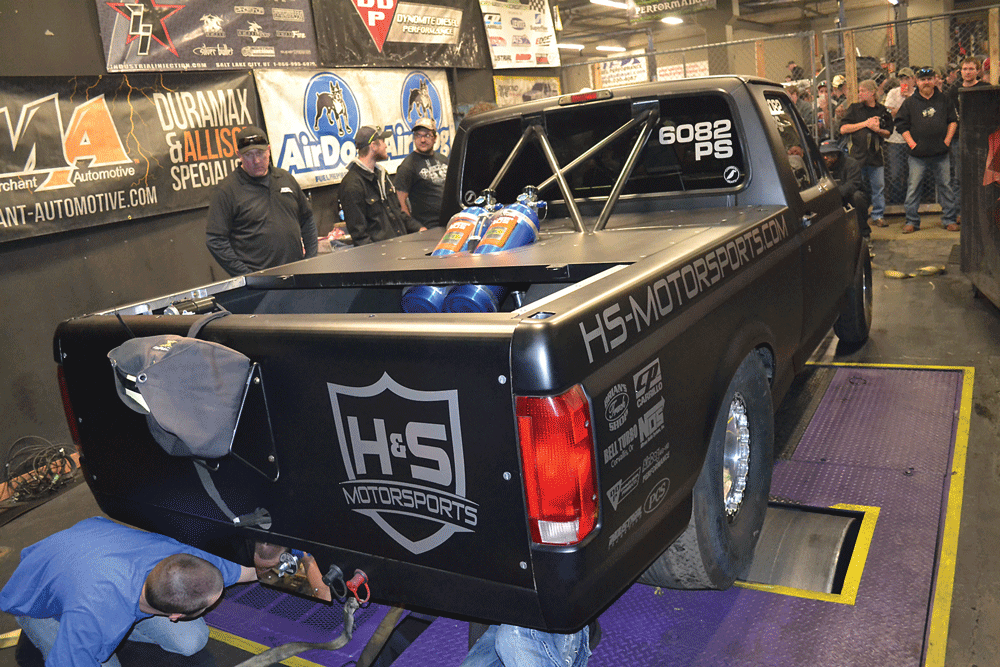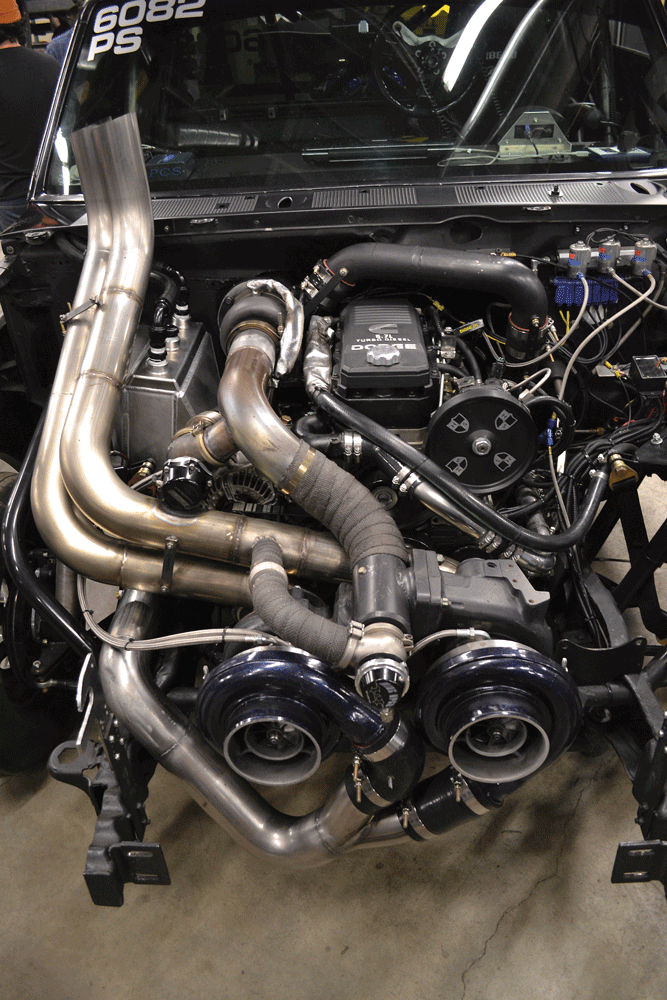 Sixth Place: Cam Hulse, Adrenaline Performance, Total Score: 2746
Cam Hulse brought his Duramax to the Gauntlet Challenge with mean intentions. His ride was equipped with a built short-block that included Carrillo rods and forged pistons, and the engine had plenty of airflow thanks to cylinder heads from SoCal Diesel. The rest of the power plant was equally impressive, with GTX4202R and GTX5533R turbos, and extensive fueling modifications, including Dynomite Diesel's new Super Mental injectors. While the truck had made more than 1,300rwhp at a previous event, at ATS the transmission had issues with downshifting and holding the power on the long dyno sweeps. Cam walked away with figures of 967hp and 1,779lb-ft respectively, and a good attitude of "we'll get 'em next time."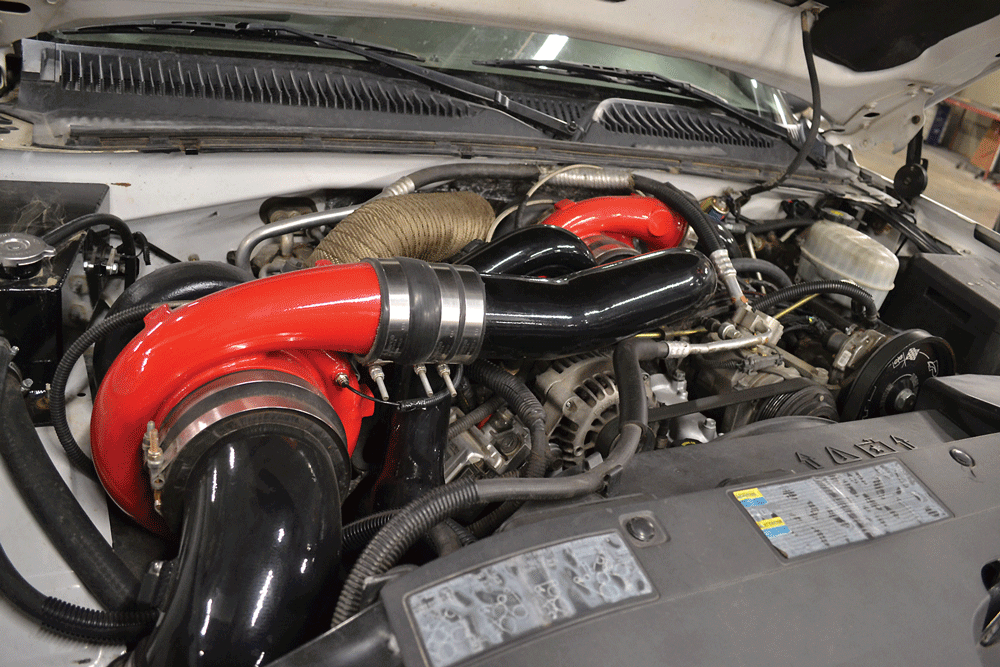 Seventh Place: Mark Brower, Dynomite Diesel, Total Score: 2411
Lenny Reed from Dynomite Diesel brought down a customer's truck with the assertion that they were "just going to run it on the dyno a little." It turned out to be entered in the Gauntlet, and made very good power (especially for a work truck) considering Lenny was using very small jets and a lot less nitrous than most of the competition. The Cummins engine was also one of the most overbuilt of all the competitors, with a 3/4-filled block, 14mm ARP head studs, custom pistons, and a Hamilton Cam. The 5.9L also had twin stroker pumps, Dynomite Diesel Injectors (of course) and an 80mm S400 turbo with a billet wheel over a 71mm Aurora 5000. The Dodge also has 4,500rpm capabilities, thanks to custom tuning from Jarid Vollmer at Bullydog. The conservative nitrous approach and thin air meant "only" 930rwhp, although the team hopes to hit 1,300rwhp by the end of the year.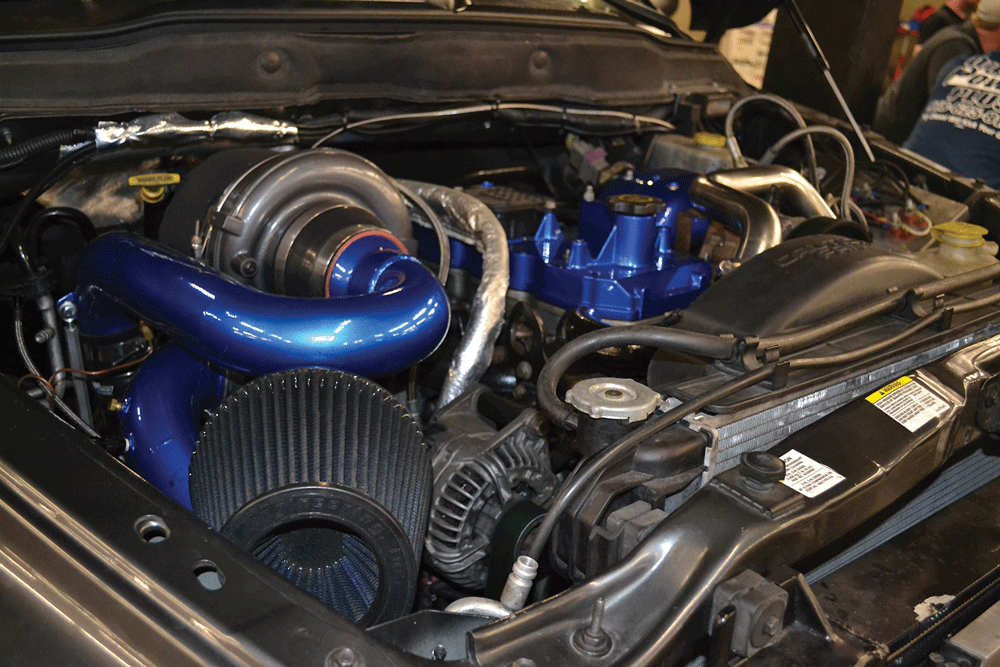 Honorable Mention: Armor Inc.
While the Armor Inc. Dodge wasn't in the Gauntlet Challenge, we were still very impressed with its performance. The Canada-based ride has a very interesting turbo combination of a single 88mm turbocharger, BD Diverter Valve, and modified 5.9L Cummins engine. The short-block has aftermarket rods, and head studs, but that's about it for mods, the rest of the setup is strictly power-producing parts. While virtually everyone (including the Armor crew) figured the truck would have trouble lighting the big single at Denver's 5,000 plus foot altitude, it actually proved to be no issue, with the truck well into boost by 2,500rpm, and hitting full boost from 3,000rpm to 4,000rpm. While it wasn't the highest horsepower truck there, its 715hp (fuel) and 920hp (nitrous) numbers made it one of the more powerful non-gauntlet trucks to hit the dyno, and well worth of an Honorable Mention.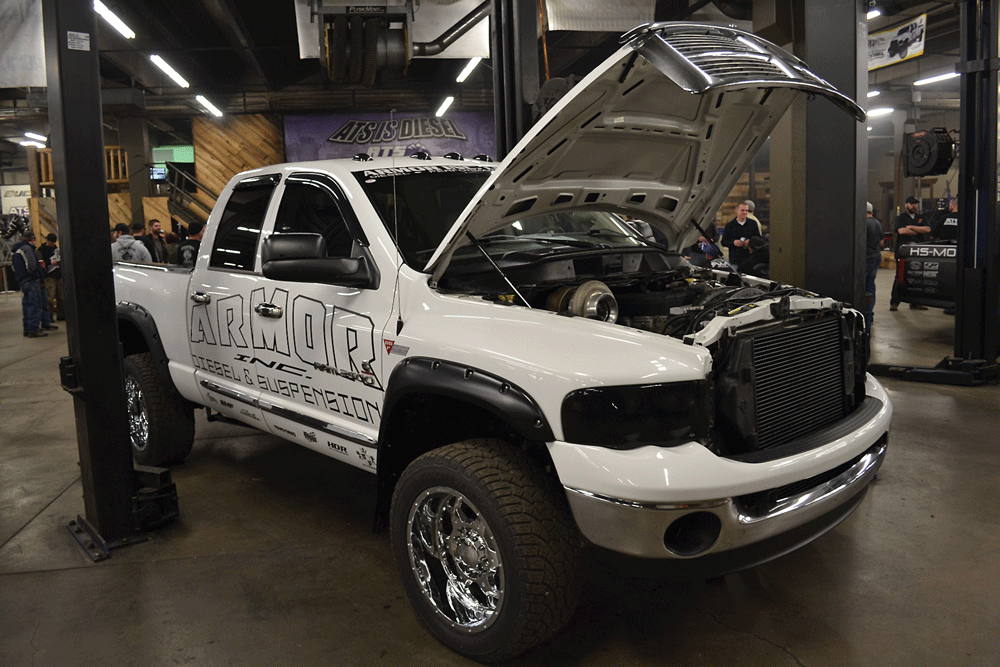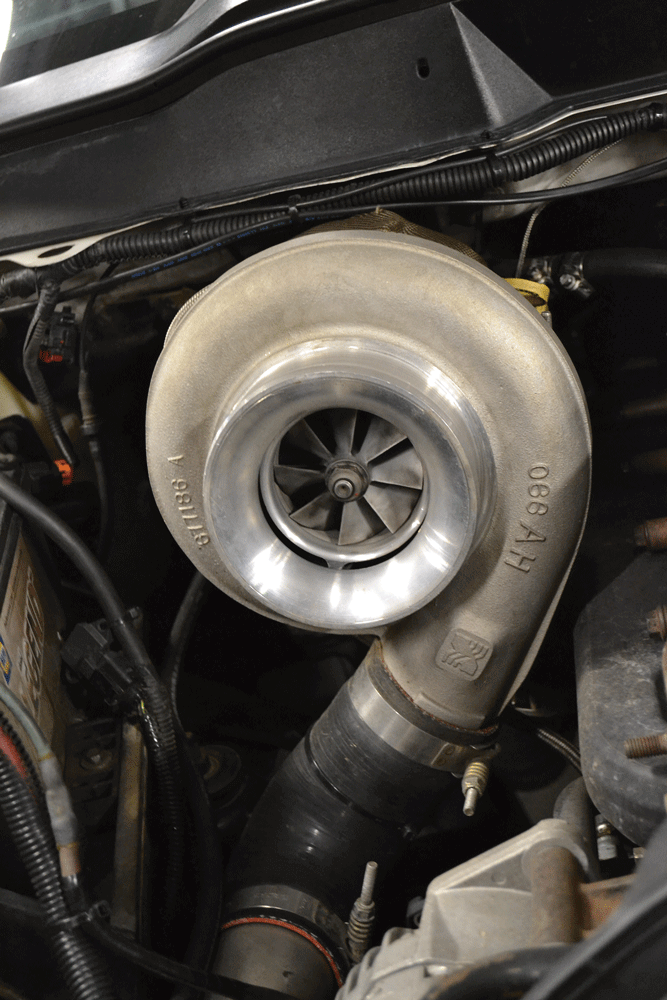 SOURCE
ATS Diesel
Performance Inc.
866-209-3695
www.ATSDiesel.com