Truck Of The Week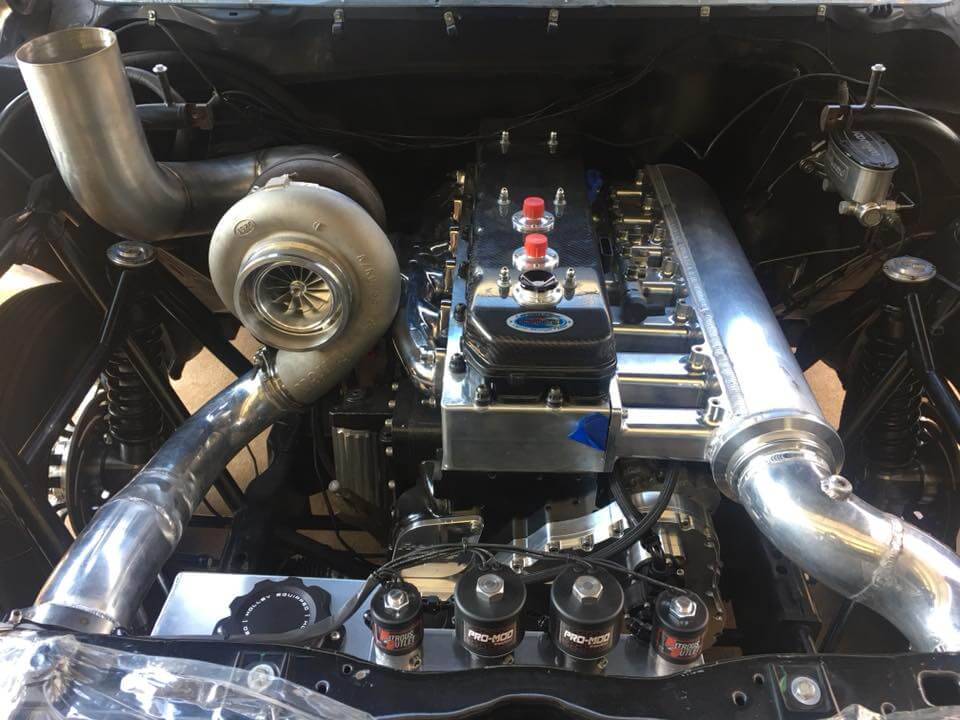 Cummins, Cummins, Cummins
Spied: Mini-Wheat at Customs by Bigun
In preparation for the coming racing season, the two-wheel drive, Cummins-powered '14 Ram 1500 affectionately known as Mini-Wheat is undergoing a slew of upgrades. Now owned by Midget Diesel Performance's Andrew Tovornik and currently under the care of Customs by Bigun, it's being treated to a new side-draft intake, front fuel cell, front and rear suspension work, a fresh battery setup, and a few other select upgrades. The bad-black half-ton has turned out low 5-second eighth-mile passes in the past, and its latest additions might just make it a contender for the likes of Pro Street phenoms Lavon Miller and Dustin Jackson.
Highlights

Compound Turbo 8.3L
Motorhome Performance
Ready for something you don't see everyday? How about an 8.3L Cummins toter home with compounds! Although the customer rolled in to Calibrated Power Solutions' facility making 430 hp at the wheels, the single S467 on the mechanical 8.3L was a bit laggy with the trailer attached. So, employing the top-notch fabricating services of nearby Wehrli Custom Fabrication, a high-quality compound arrangement was built. Expected results include a smoke-free 450-rwhp and a pyrometer that never crests 1,200 degrees.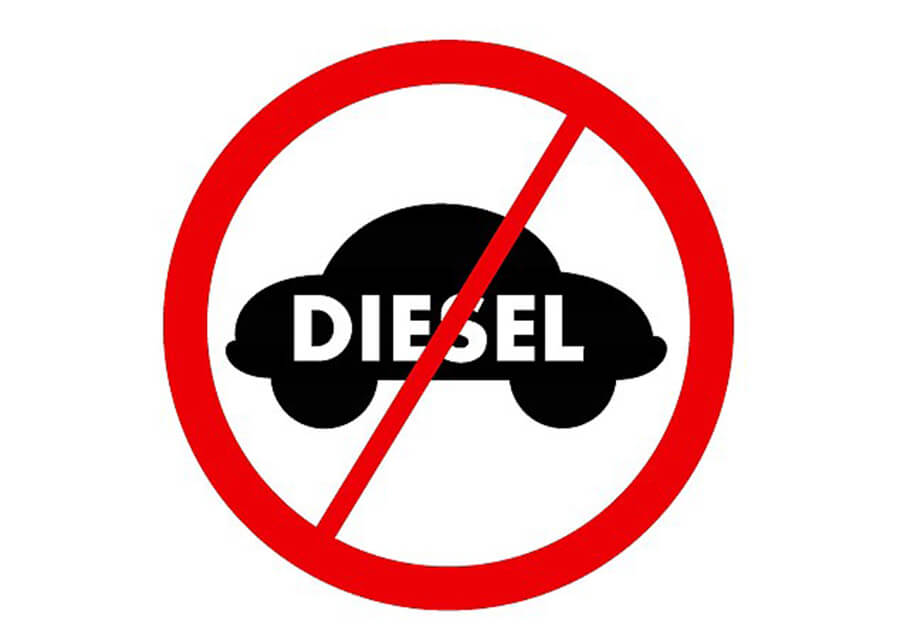 Across the Pond
Diesel Scrapping Program…
Here's a frightening proposition from the U.K. that we can only hope never sees the light of day, or (worse) sweeps westward. While currently no longer being considered by the British government, the proposed diesel scrappage scheme would've compensated diesel owners who either traded in their diesel vehicles or had their older model oil-burners modified to emit lower emissions. However, under the Clean Air Fund, county councils with poor air quality can still enact their own, local diesel scrapping programs. Could this type of legislation be brought to America?
Events

West Coast Sand Blasting
Diesel Dirt Drags Becoming Popular in CA
While dirt drags have caught on in the Midwest, the guys out West seem to be breaking out the paddles and slinging sand. Over the weekend, the Southern California Sand Drag Association (SCSDA) held its first event of the year at the Soboba Casino in San Jacinto. Among the competitors was local Russ Kennel, the owner of nearby Maximum Diesels. His '94 12-valve would put together several impressive passes, blazing down the 300-foot track in 4 seconds. The next event is set for September 28-29 at the same venue.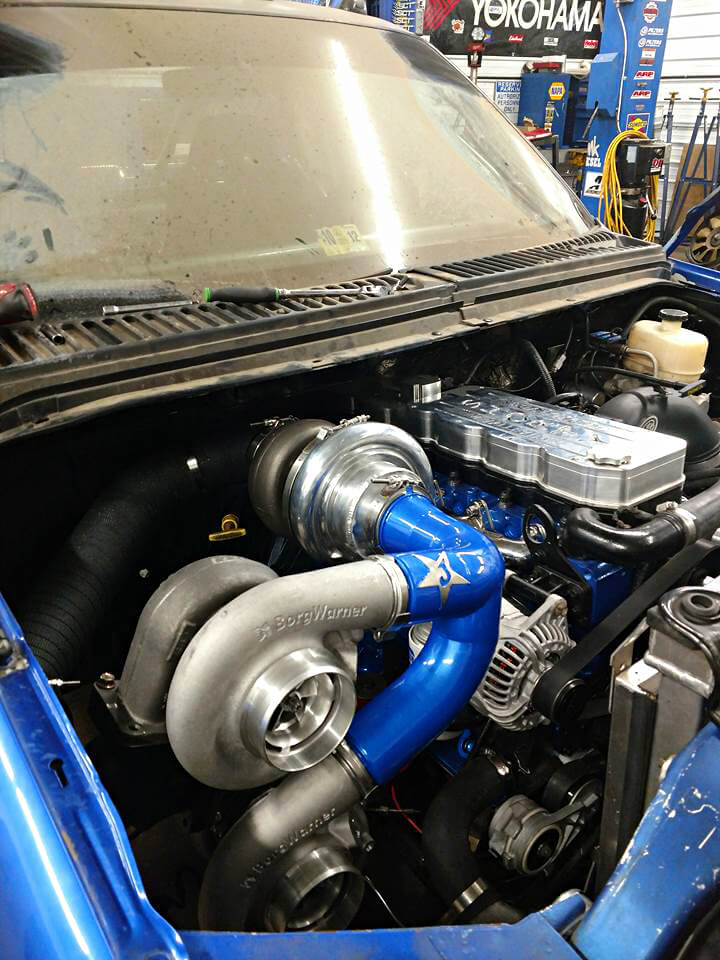 Ultimate Callout Challenge
38 Days and Counting
It's crunch time for UCC 2018 and UCC Qualifier Jeremy Kudera has been hard at work readying his '06 F-250 short bed for battle. Among the all-night wrench sessions, he's added a triple-turbo arrangement to the common-rail Cummins under the hood, along with a cage that's certified to 8.50 in the quarter-mile for the drag races and a Dana 80 that accommodates dual rear wheels out back for the sled pull. The trio of BorgWarner-based chargers was sponsored by Stainless Diesel.
Parts Rack
Cummins Performance
Scheid Premium Injectors
When you need a superior injector, Scheid Diesel's red top premium units for the 5.9L and 6.7L common-rail Cummins deliver. The red solenoid nut indicates you're dealing with a top-quality reman injector. That means all new parts: fresh solenoids, valve pieces, and nozzles. Scheid's Premium injectors are available in stock, 50hp, and 100hp form, with '03-'12 stock and '03-'07 50hp units including a 2-year (unlimited mileage) warranty, and '03-'12 100hp versions coming with a 1-year warranty.
Transmission Performance
6R140 Pressure Enhancer
BD Diesel's transmission pressure enhancer for the 6R140 TorqShift delivers as much as 320 psi worth of apply pressure and offers a 79-percent increase in clutch holding power. This means no more flared shifts or clutch slippage—common occurrences thanks to the immense low-end grunt of the torquey 6.7L Power Stroke. BD's solenoid upgrade simply replaces one factory solenoid and can be installed in a matter of minutes. Best of all, it won't conflict with any existing TCM tuning you may already be running.