7.3L GOODNESS
PSP'S FABRICATED POWER STROKE ALUMINUM VALVE COVERS
The latest offering from PSP Diesel are the company's custom fabricated aluminum valve covers for the 7.3L Power Stroke. The new covers are custom made in the USA from 0.090" thick 3003 billet aluminum. Featuring -12 female accessory fittings for crank case reroute/evacuation, these covers are guaranteed to dress your 7.3L up!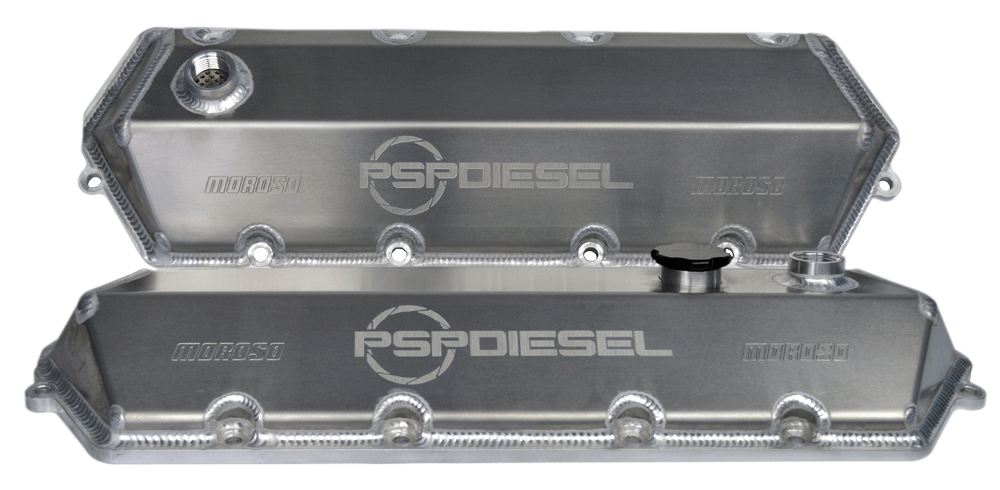 PSP Diesel
713.941.1135
PSPdiesel.com
CAP IT OFF
PPE BILLET ALUMINUM OIL FILL CAP
Now you can both dress up your 6.6L Duramax's engine bay and virtually eliminate oil cap blow-off. This new billet, milled-aluminum Oil Filler Cap features an easy grip to assist you when installing and removing between tight engine spaces. It has also been designed with a secure cam-lock fi t to match your OEM or aftermarket fi ller neck and ensure it stays in place.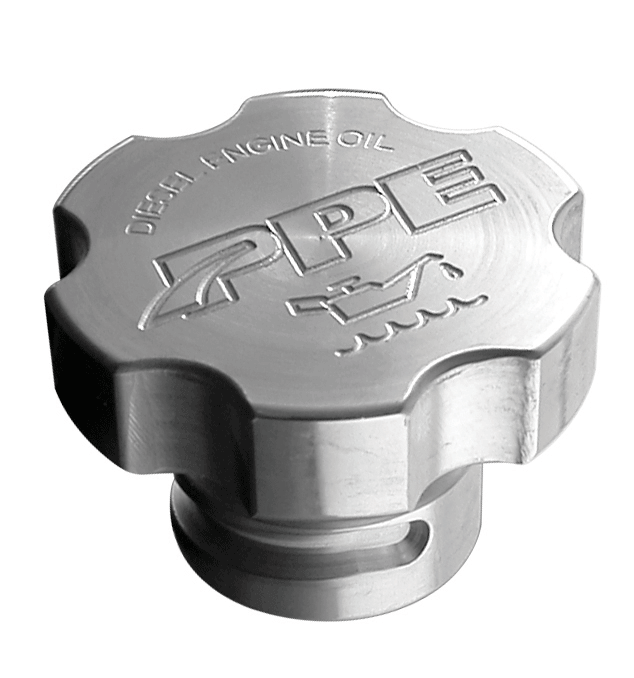 Pacific Performance Engineering
714.985.4825
PPEdiesel.com
DOG WILL HUNT
AIRDOG MOUNT AND SKID PLATE FROM LONGHORN FAB SHOP
Obviously, one of the most critical performance aspects of your truck is its fuel system. So don't just let your AirDog hang down from the frame and expose it to road and fi eld hazards. Longhorn Fab Shop has created a completely new mounting system for your AirDog pump system. It's a completely bolt-on design with an integrated skid plate that provides extreme protection for your AirDog and fi lters. It's great for driving on and off mobile dynos, trailers, entering and exiting fi elds, and for hunting and off-road trails.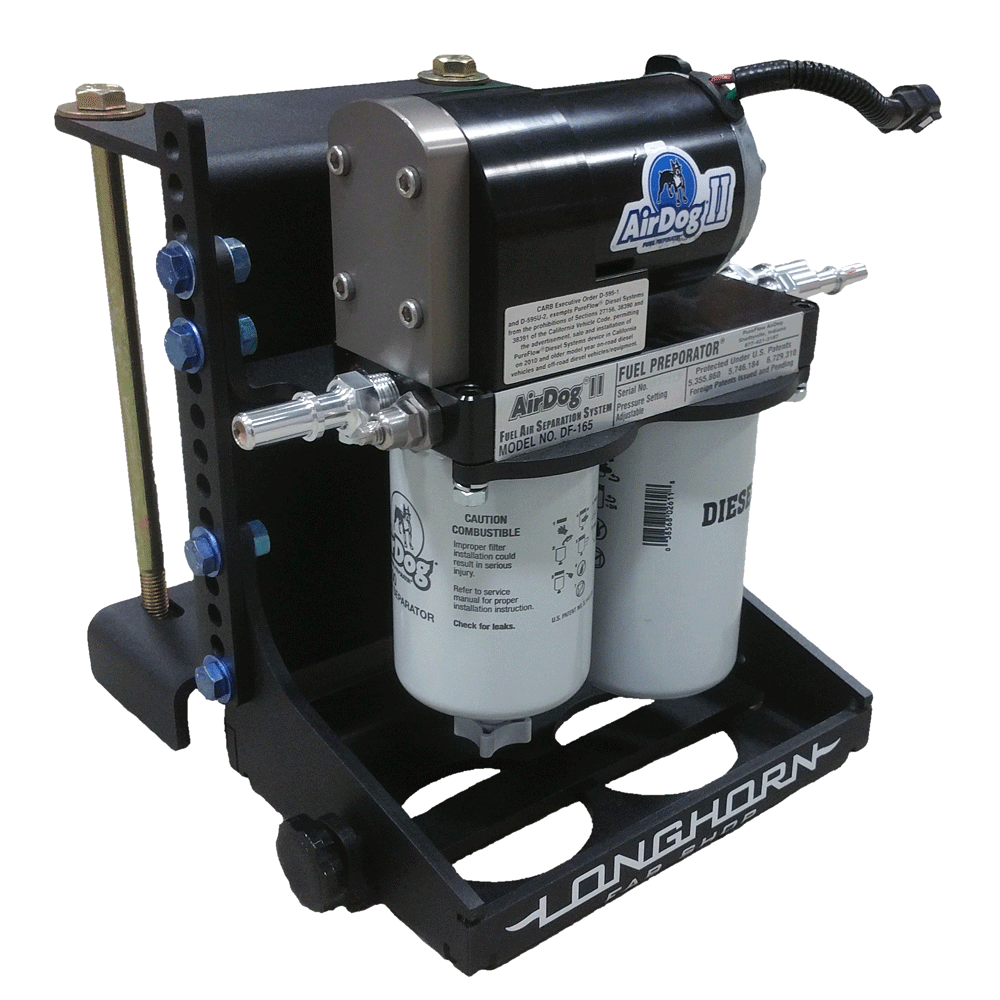 Longhorn Fab Shop
855.797.8478
LonghornFabShop.com
FLOW-THRU FUELING
BILLET DELIVERY VALVE HOLDERS FROM ATTITUDE PERFORMANCE PRODUCTS
Designed for all Bosch P7100 injection pumps like those used in 1994-1998 Dodge Cummins engines, these Billet Delivery Valve Holders are engineered to allow more fuel fl ow to the injectors. This is due in large part to the removal of the internal spring found in the factory holders, thus allowing for a true fl ow-thru design. These stainless steel BDVHs also help reduce pump wear and tear and contribute to your engine's custom look.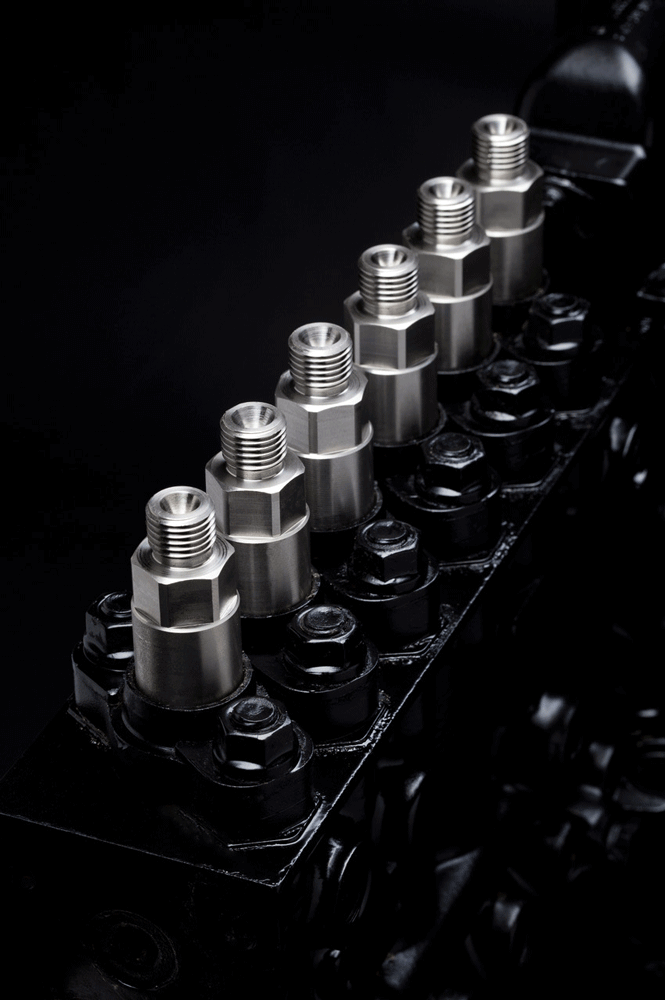 Attitude Performance Products
855.781.6100
AttitudePerformanceProducts.com
EMPOWERED STEERING
DIESELSITE HIGH VOLUME STEERING PARTS
The addition of larger tires for most light duty trucks has become a normal upgrade for the enthusiast. Dieselsite now offers a high-volume power steering pump along with an overdrive power steering pulley for most light duty diesel trucks. The new high volume p/s pump offers more volume to overcome the restrictions at lower rpm. It reduces steering effort by more than 50%. The overdrive pulley can be installed on the stock p/s pump or a new high-volume p/s pump from Dieselsite; no serpentine belt change is required. The new Dieselsite pulley offers ease in steering of more than 20% with the OE p/s pump and more than 75% with Dieselsite's new p/s high volume pump.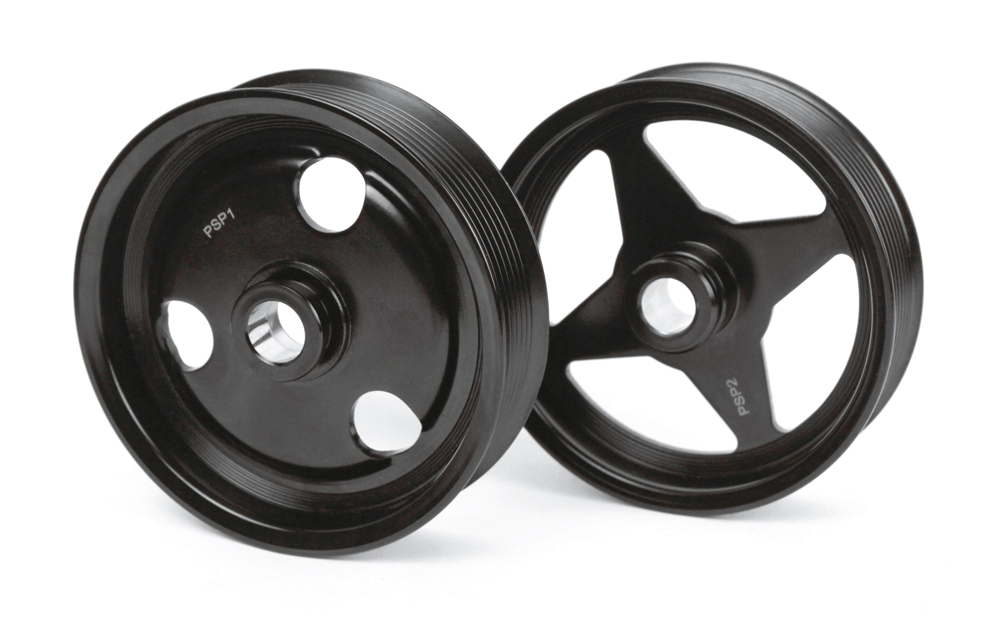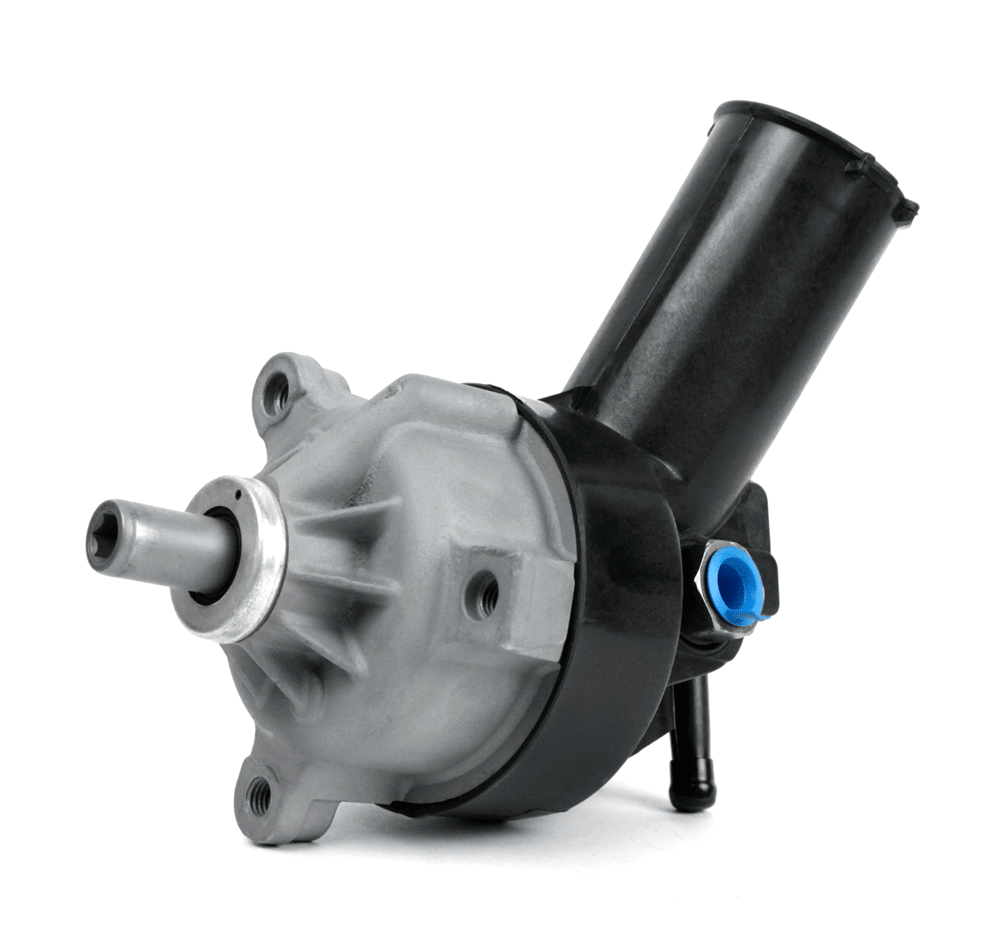 DieselSite
888.414.3457
DieselSite.com
FROSTY INTERCOOLER
DEI CRYO2 INTERCOOLER SPRAYER KIT
Reduce your intake temperatures by as much as 35% and increase intercooler efficiency by up to 50% by spraying CO2 at the intercooler using this kit from Design Engineering Inc. Cooler intake air means denser air, which means more power. DEI's kit is a 100% bolt-on system, is cheaper than nitrous, and includes everything you need for installation.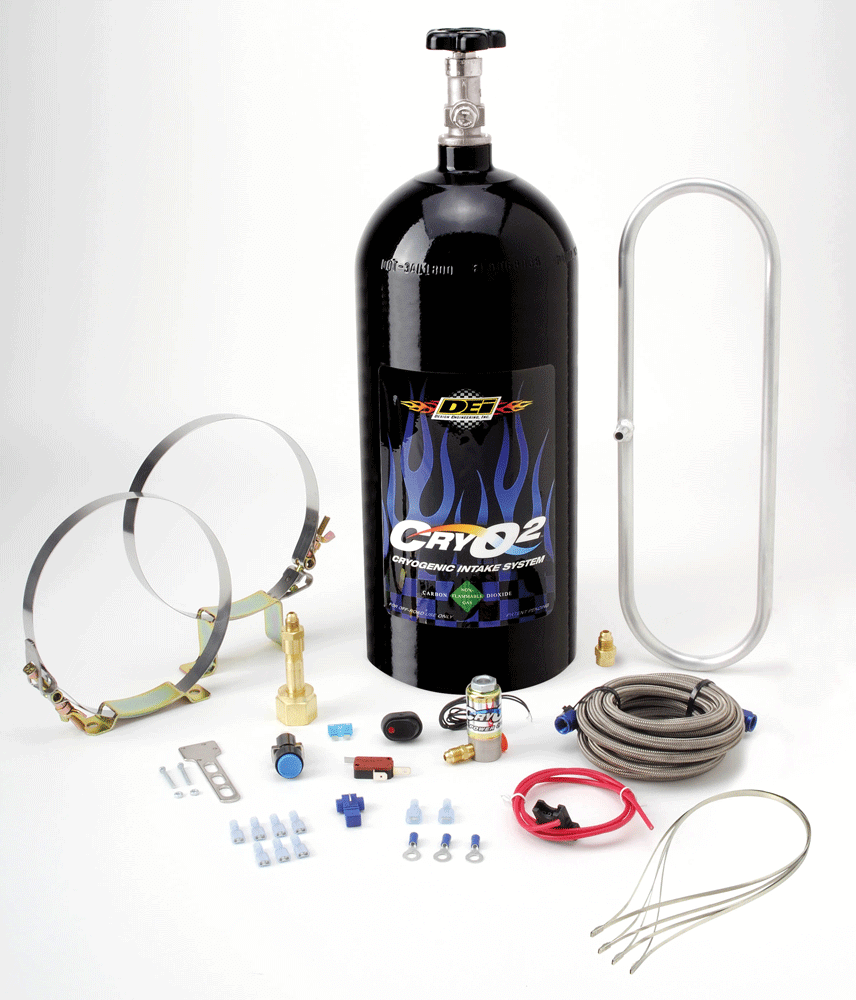 Design Engineering Inc.
440.930.7940
DesignEngineering.com
DRIVING IN REVERSE
GARRETT'S NEW REVERSE ROTATION TURBOCHARGERS
Garrett's new reverse-rotation turbochargers are for fabricators and installers seeking an option for symmetrical twin-turbo setups, which eliminates the need to run extra plumbing. The reverse rotation design also allows for more aesthetically pleasing visual symmetry best suited for V-block shaped engines. The new design is engineered for the compressor wheel to rotate counterclockwise, thereby pointing the housing outlet, in the opposite direction from a standard rotation turbocharger.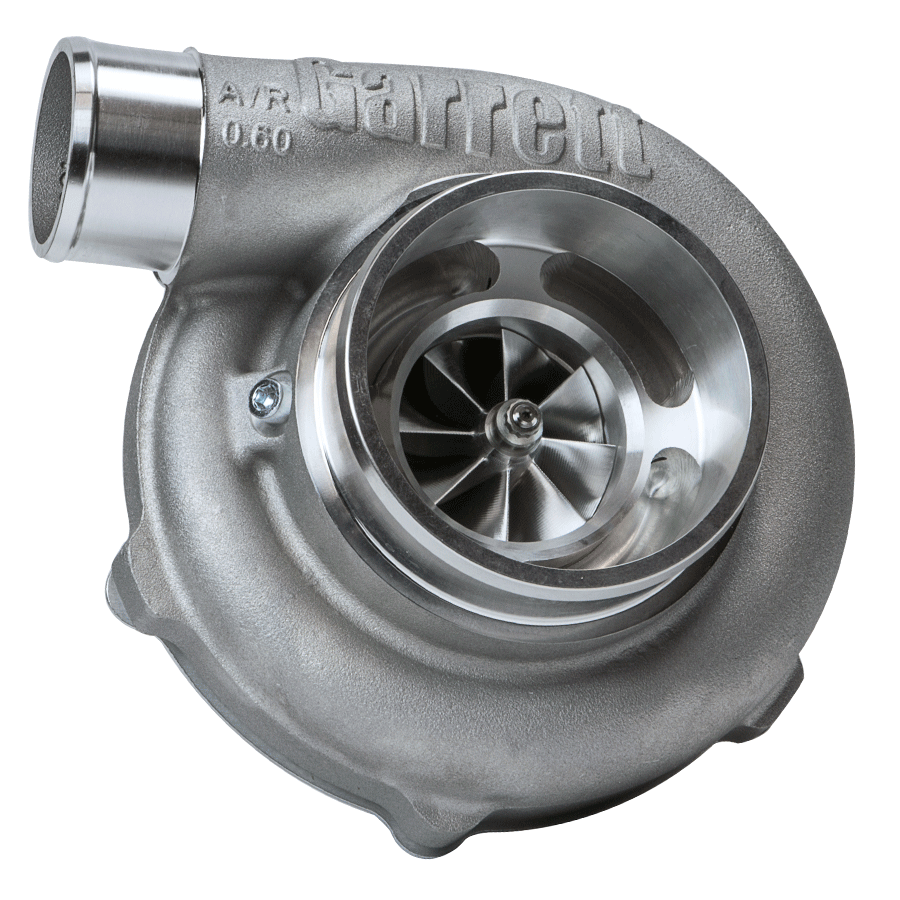 Garrett By Honeywell
TurboByGarrett.com
COOL TRANS
PAN GOEREND FORD E4OD/4R100 TRASNMISSION PAN
Constructed of lightweight cast aluminum for effi cient heat dissipation and durability—that's the story behind Goerend's new transmission pan. The new pan holds approximately 4.5 more quarts of fl uid than a stock transmission pan to offer more fl uid capacity without overdoing it. The patented sloped fl oor design results in 100% drainage, while also incorporating a fl at bottom for easy installation. The convenient magnetic drain plug (with copper sealing ring) attracts worn gear material to keep the fluid at its best while also creating a leak-proof seal.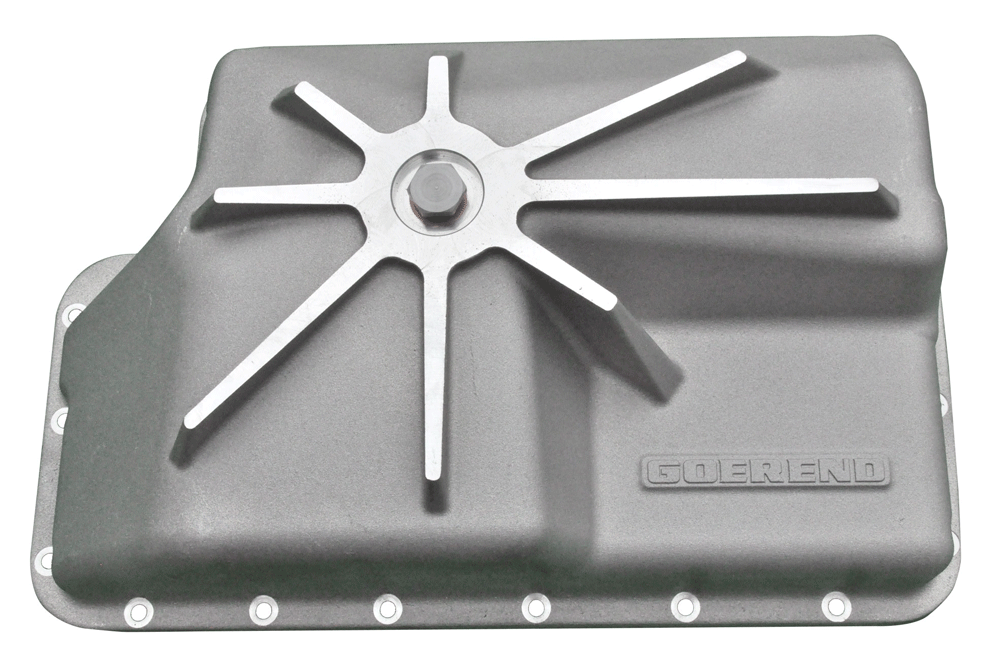 Goerend Transmission Inc.
563.778.2719
KEEP YOUR COOL
PSP 7.3L POWER STROKE ALUMINUM COOLANT RESERVOIR
PSP Diesel and Moroso Performance Products have produced a Ford 7.3L aluminum coolant reservoir bottle that's both highly functional and great looking. Its 5052 aluminum constructions makes it significantly stronger than the plastic OEM and aftermarket units, which will eliminate the constant cracking, breakage, and subsequent leakage that most 7.3L owners are familiar with. The aluminum material also acts as a heat sink to keep your coolant temperature down. This is the last coolant reservoir you will ever buy.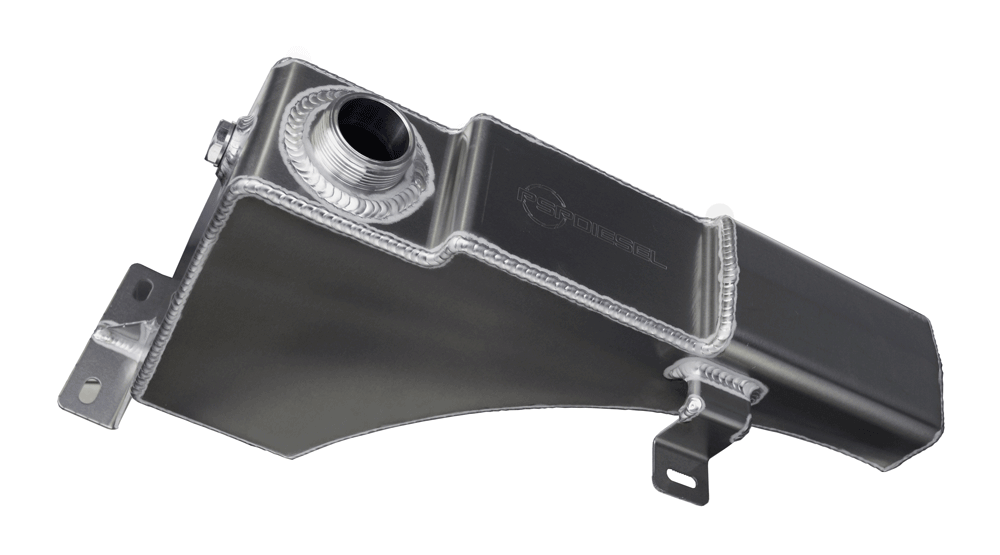 PSP Diesel
713.941.1135
PSPdiesel.com
FAB TO ORDER
PPE CUSTOM PRE-BENT TUBING
PPE now offers high quality, CNC-machined, pre-bent 6061 aluminum and 304 stainless steel tubing in your choice of size and angle. It's perfect for custom applications, including exhaust fabrication or any other special application you may have in mind.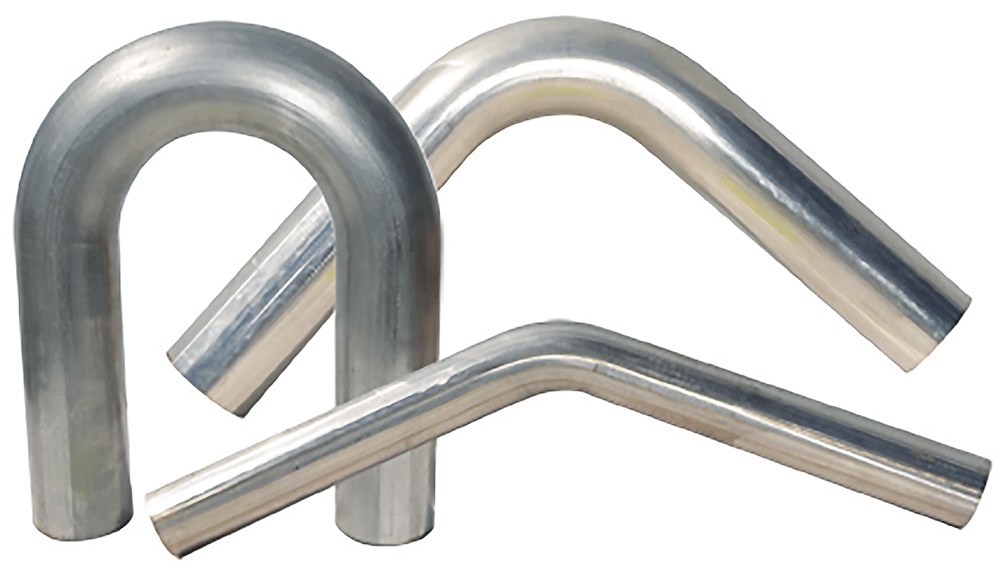 Pacific Performance Engineering
714.985.4825
PPEdiesel.com
EASY CUMMINS POWER
ATTITUDE PERFORMANCE BILLET RACK CAP APP's
Billet Rack Cap (also sometimes called the "rack plug") allows for full rack travel of the Bosch P7100 injection pump. The Attitude Rack Cap is drilled to 12mm, which is 4mm deeper than a stock rack cap. This allows additional travel, which in turn provides more fuel flow, which in turn equates to more horsepower. The APP billet cap is designed to fit on all Bosch P7100 pumps.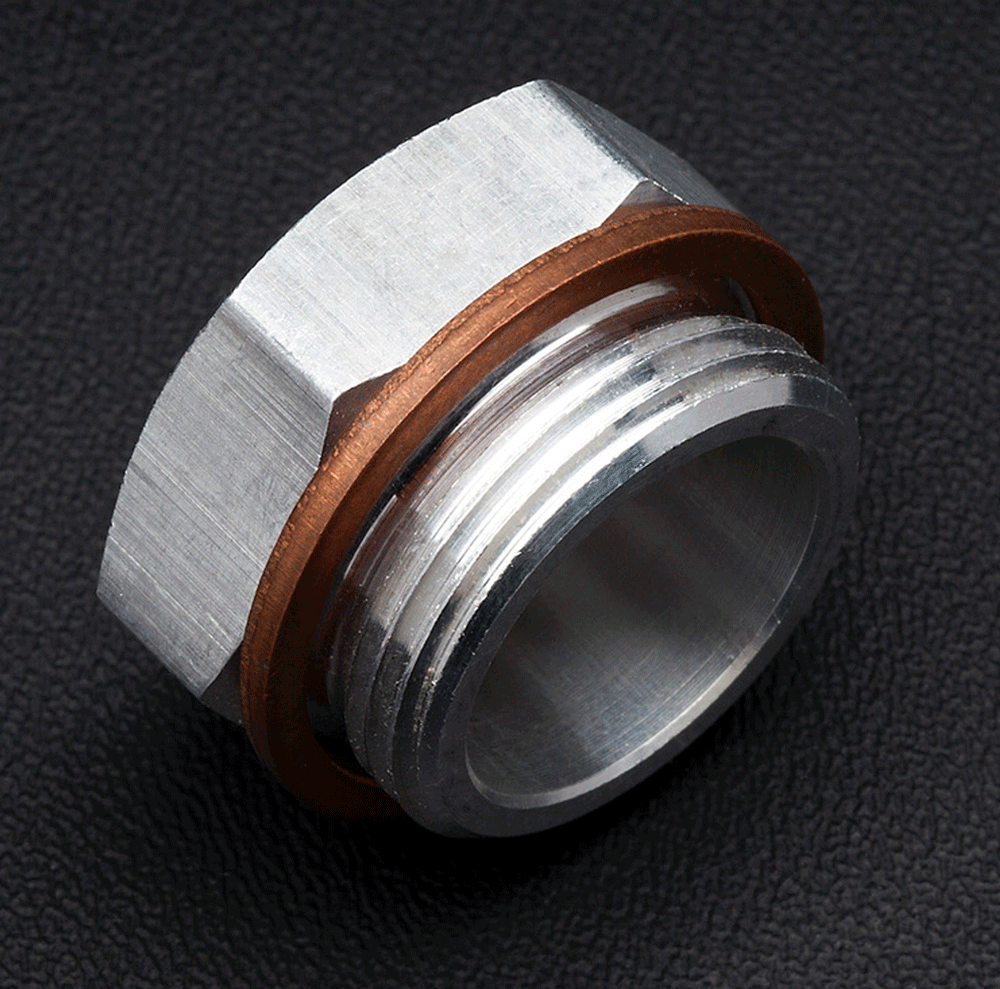 Attitude Performance Products
855.781.6100
AttitudePerformanceProducts.com