EASE OF ACCESS
Bullet Proof Diesel Remote Mount 6.4L Oil Cooler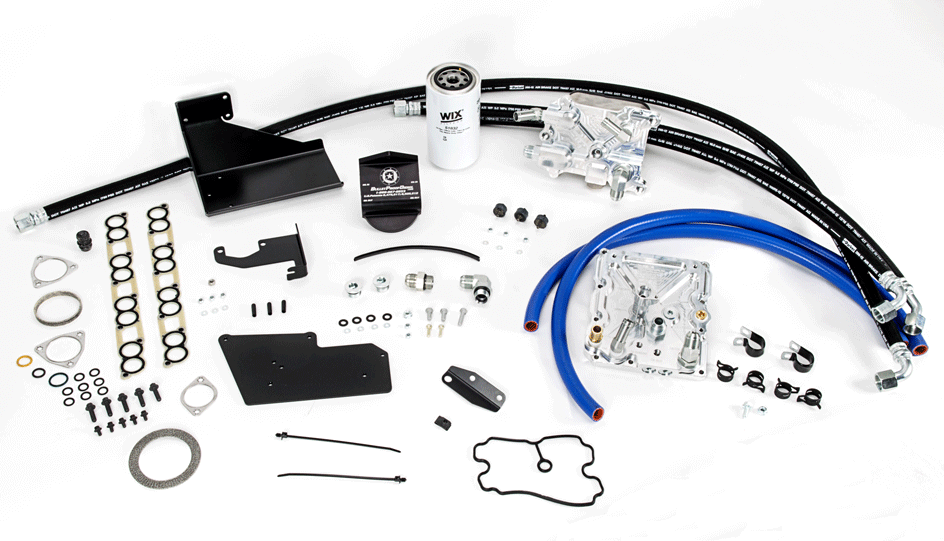 Just like with the 6.0L Power Stroke, many owners of 6.4L-equipped trucks end up replacing their oil cooler repeatedly—a costly and time-consuming process. This new product provides all needed equipment to move the oil cooler unit from the "valley" of the engine block to an easily accessible location against the firewall. It allows for replacement in less than half the time when compared to the factory location.
Bullet Proof Diesel
480.247.2331
BulletProofDiesel.com
---
SUPER FINE
Hot Shot's Secret FR3 Advanced Friction Reducer

Hot Shot's Secret FR3 utilizes patented carbon nano-particles to fill in microscopic irregularities on the machined surfaces in an engine. FR3's ability to smooth engine surfaces provide an optimal surface for the host oil and FR3 formula to form a superior lubricating film. FR3 is an advanced friction reducer formulated for use in diesel or gasoline engines.
Hot Shot's Secret
800.341.6516
HotShotSecret.com
---
HIGH FLOW 6-OH
DieselSite 6.0L Performance Intake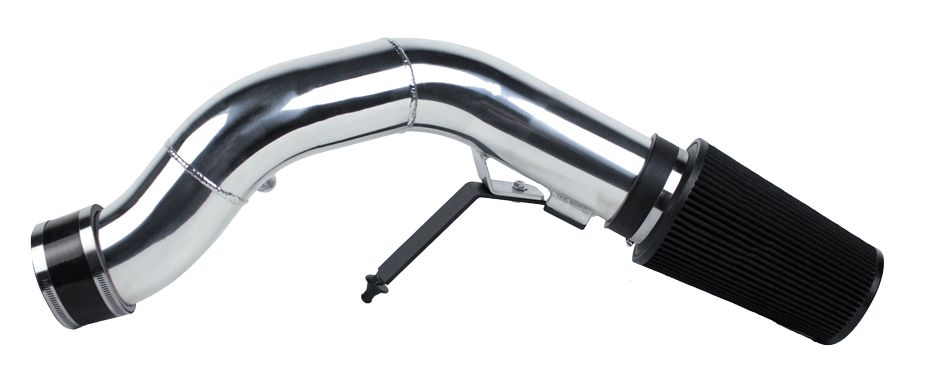 The DieselSite Cold Air Intake, which comes with a high-flow, oiled-cotton air filter, has been engineered and tested to give you an airflow increase of 40-50% over stock. The incoming air will also be cooler and denser to give you more horsepower and torque, and probably more smiles too!
DieselSite
888.414.3457
DieselSite.com
---
UPGRADED BOX
Super Duty RedHead Steering Box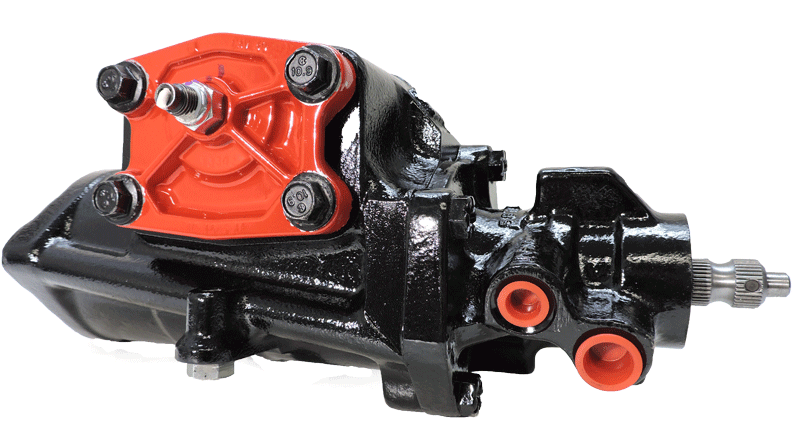 RedHead has been producing upgraded steering boxes for full-size trucks for years now, and new from RedHead is their box for some 2010 and all 2011-17 Ford Super Duty trucks. Due to these trucks developing a lot of steering play over time, RedHead oversizes the recirculating ball bearings in the worm and piston assembly, a process designed to remove the play entirely.
Red Head Steering Gears
844.334.7325
RedHeadSteeringGears.com
---
PUMP PROTECTION
Longhorn Fab Shop AirDog Skid Plate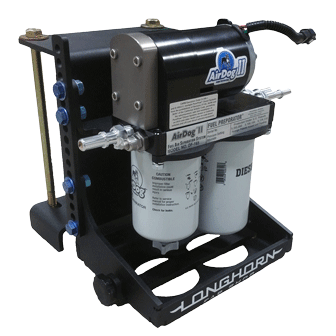 One of the most critical parts of your truck is the fuel system. Don't let your AirDog hang down from your frame and expose it to road and field hazards. Longhorn Fab Shop has created a completely new mounting system for AirDog fuel pumps. The completely bolt-on design with integrated skid plate provides extreme protection for your AirDog and filters. Great for driving on and off mobile dynos, trailers, entering and exiting fields, hunting, and off-road trails.
Longhorn Fab Shop
937.657.1162
LonghornFabShop.com
---
COMPOUND TURBOS
BD Diesel Cobra Turbo Kits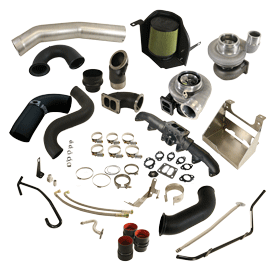 New from BD Diesel are their Cobra Ultra-High Performance Turbo Kits for the 2003-2012 Ram Cummins powerplants. The new compound turbo kits come in four different sizes capable of supporting horsepower levels all the way to 1,400. These kits are designed to be truly complete and come with everything you need, intake to downpipe.
BD Diesel
800.887.5030
DieselPerformance.com
---
NO LEAKS
DieselSite Stainless Steel 6.0L Up-Pipes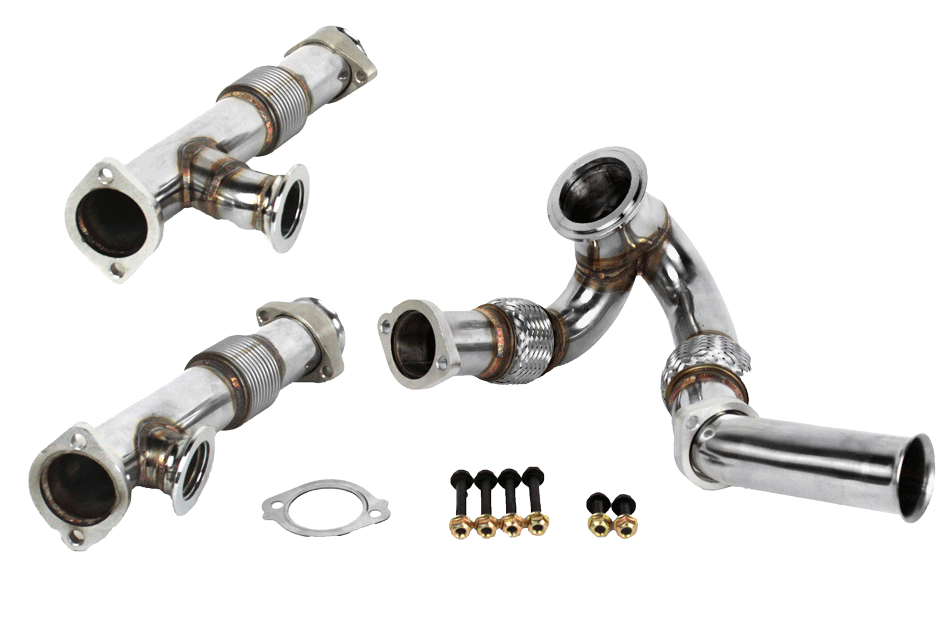 DieselSite has Introduced an all-new upgraded stainless steel Bellowed Up-Pipe Assembly for the 6.0L Power Stroke. The factory up-pipe assembly is prone to failure, which can cause power-robbing exhaust leaks that reduce engine performance, efficiency, and drivability. This kit is a bolt on replacement featuring stainless steel construction and heavy-duty flex couplings with inner braid liners for increased durability and long service life.
DieselSite
888.414.3457
DieselSite.com
---
IT'S GOOD TO BE DENSE
Banks Power Intercooler for 2013-17 Ram Cummins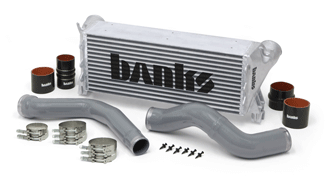 Banks' latest intercooler offering is designed to eliminate airflow restrictions and increase boost air density. The new kit includes oversized mandrel-bent, high-flow boost tubes with larger diameter inlets and outlets for increased flow,  Computational Fluid Dynamics designed cast aluminum end tanks providing uniform airflow into the intercooler core—a core that is 1.66 inches thicker than stock. The combined result is an overall 44% improvement in cooling volume flowing 53% more CFM than stock.
Banks Power
800.438.7693
BanksPower.com
---