STREET DIESEL PERFORMANCE'S NEXT-GEN F-450
The SEMA crunch is real, and no one knows that more than Sean O'Hara and his team at Street Diesel Performance (SDP), who have been building impressive SEMA show trucks for American Force Wheels since 2012. For the 2016 SEMA Show they built up a true monster, a 2017 Ford F-450 6.7L crew cab, long bed dually. The idea behind the project was to build an eye-catching truck that would showcase the American Force Wheels, Toyo Tires, and RIZE Industries suspension well. While the body has lots of custom touches, and lots of sponsor logos, it was done in a way to give it a very clean look that wouldn't draw eyes from the impressive rolling stock and suspension.
ONE MONTH BUILD
The SEMA crunch is a real thing, but gets even more real when you're dealing with an all-new vehicle, as the Ford Super Duty line got a full body and frame makeover for the 2017 model year. The 2017 trucks hit the market about a month before SEMA this year, giving the SPD crew a tight window in which to build out a custom vehicle of this magnitude.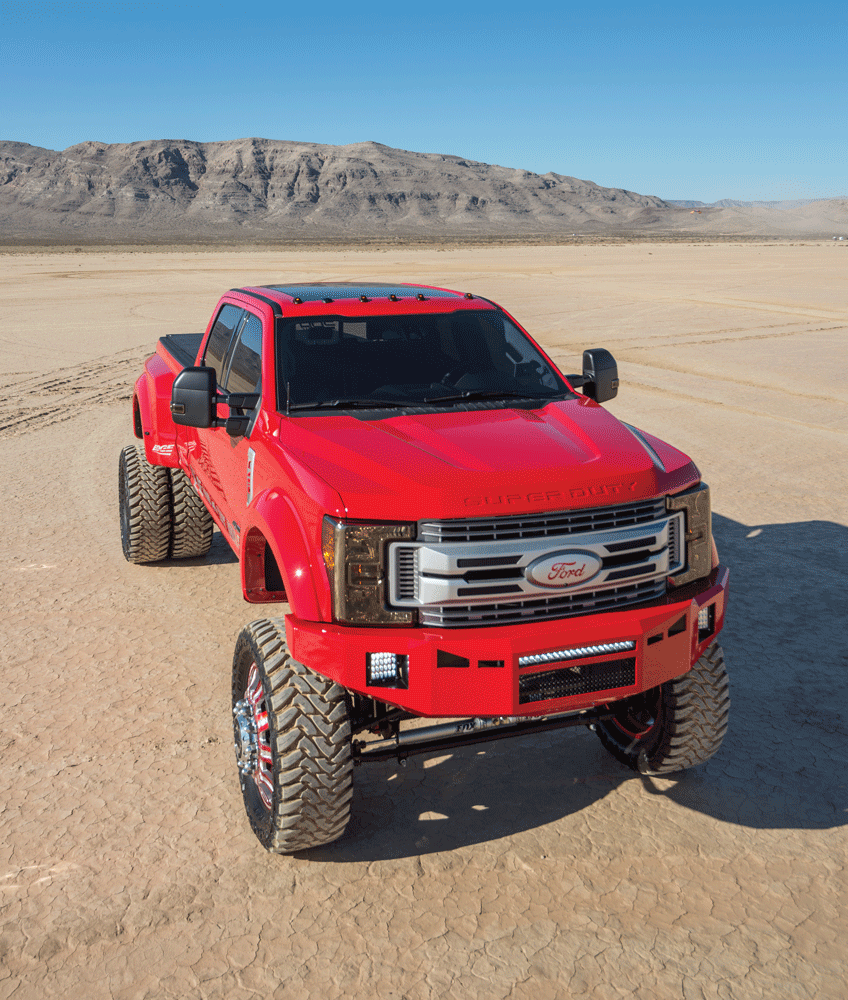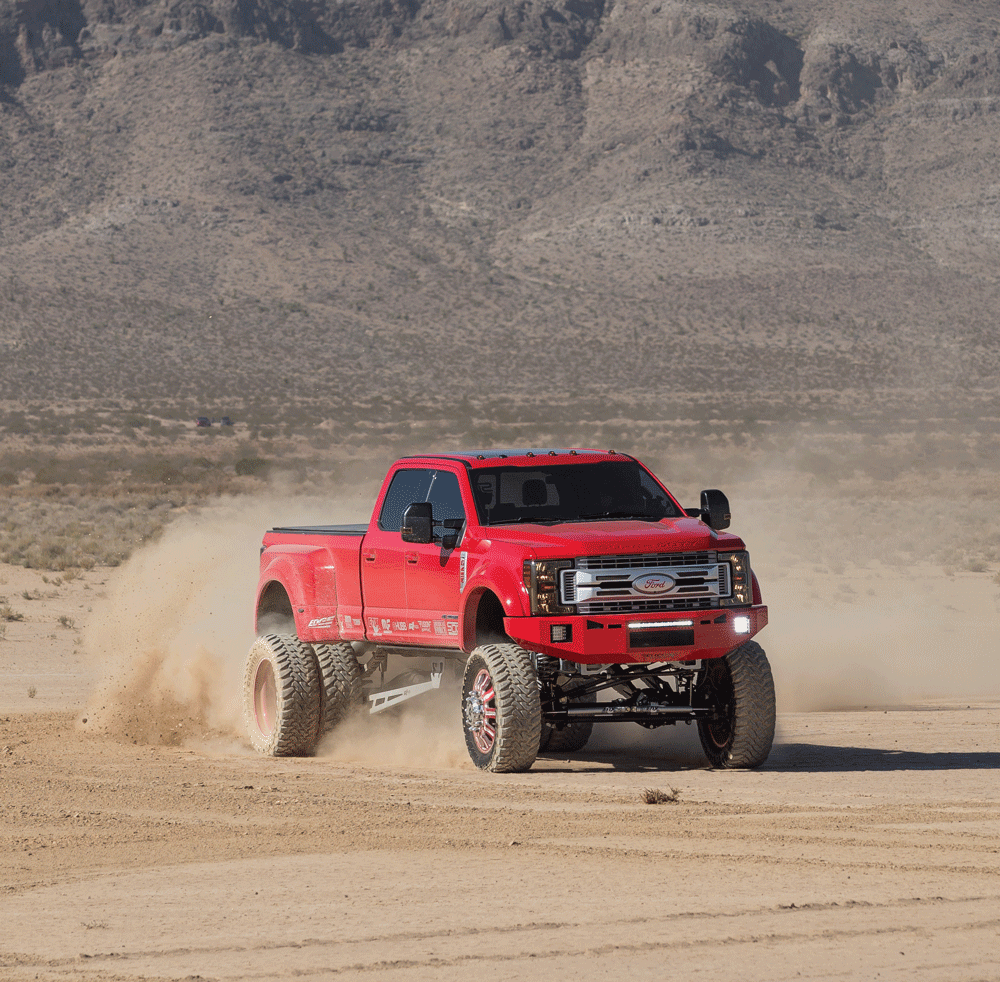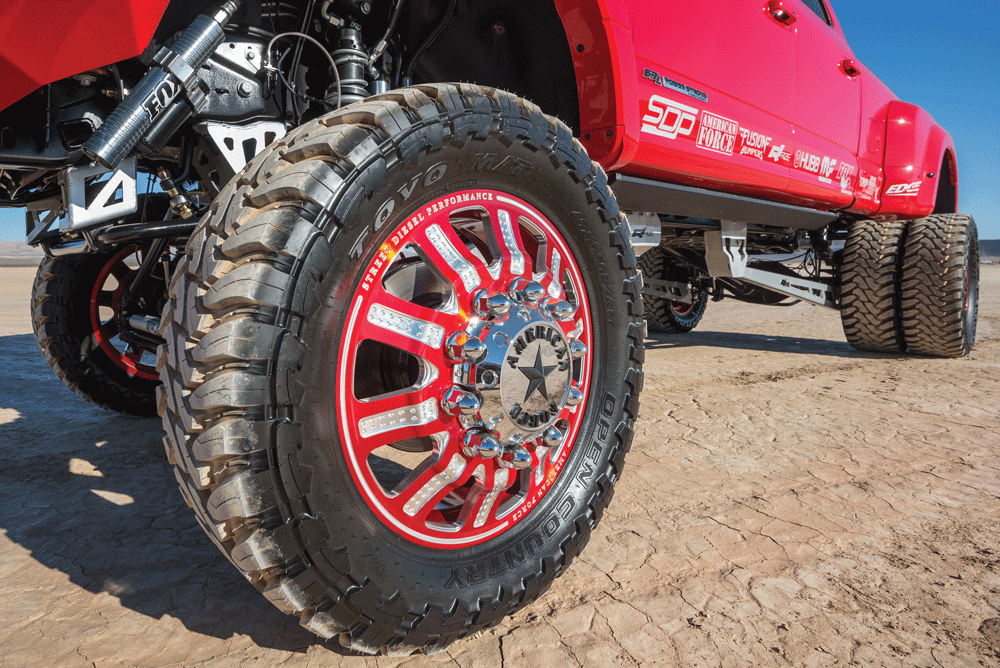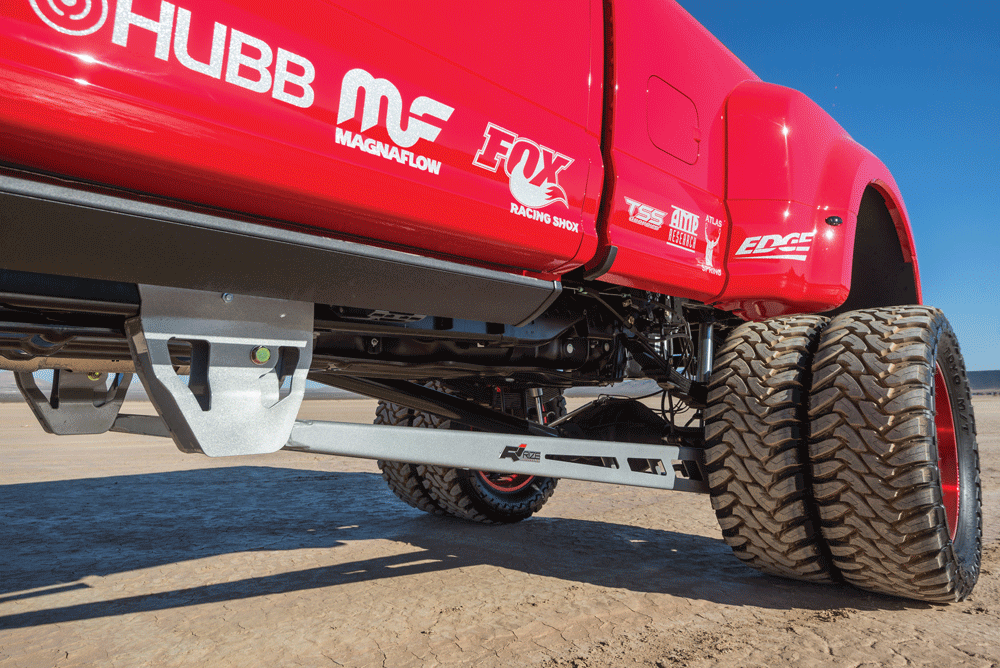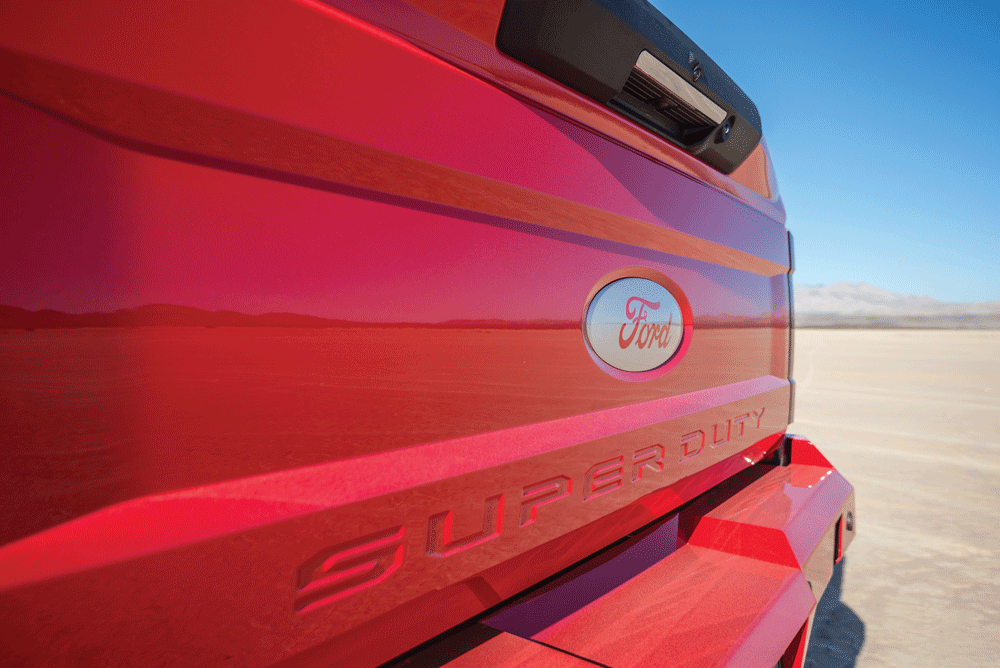 O'Hara ordered up the exact truck he wanted, a 2017 Ford F-450 6.7L crew cab long bed dually in Race Red with the Ultimate Lariat interior, on the same day the 2017s went on sale. But the truck he ordered has still not materialized. Only three weeks before the show, O'Hara scrambled to find a 2017 F-450 that met his needs. The most important factor was the Race Red paint, as that color would work perfectly with the American Force booth that had already been designed. He lucked out in finding the exact truck he was looking for on a lot in South Carolina, but the long haul down and back from and to his shop in Connecticut ate into the already-tight build schedule.
While SDP is known for high-horsepower diesel performance, this build would have to forgo the power numbers in order to focus on good looks, a quality suspension build, and a functional driveline in order to be ready for SEMA. Time crunch aside, the fact is the 2017 Super Duty is simply too new for functional performance mods to exist quite yet—particularly when this truck was built.
Aside from the gorgeous custom SDP American Force Code Special Force 24 x 8.25 wheels, wrapped in Toyo Open Country M/T 40- 15.50 x 24 tires that fairly scream custom, the rest of the cosmetic modifications are designed to create clean lines that could be OEM but are actually quality custom touches that elevate the vehicle's good looks. The red, black and silver theme was carried throughout the build with a customized OEM front grille with custom painted Ford logo, color-matched Fusion bumpers front and rear, colormatched door handles, blacked-out side mirror covers, smoked OEM headlights and taillights, limo-tinted windows, silver sponsor logos, and so much more. TJ Ryan at Johnson Auto Body, who has been helping with the SDP SEMA builds for more than four years, handled all paint and bodywork on this project..
PROTOTYPE SUSPENSION
Getting this rig's stance right is done via the full custom suspension system that features RIZE Industries components, Atlas rear spring packs, Fox Shocks, and Eibach front coils. The setup on this F-450 provides about a 12-inch lift overall, giving it quite an impressive presence. SDP works closely with RIZE on custom suspension systems that are designed to work as well as look good. This F-450 build was used to develop a new 4-link system, as the truck's suspension changed quite a bit with the 2017 Super Duty refresh.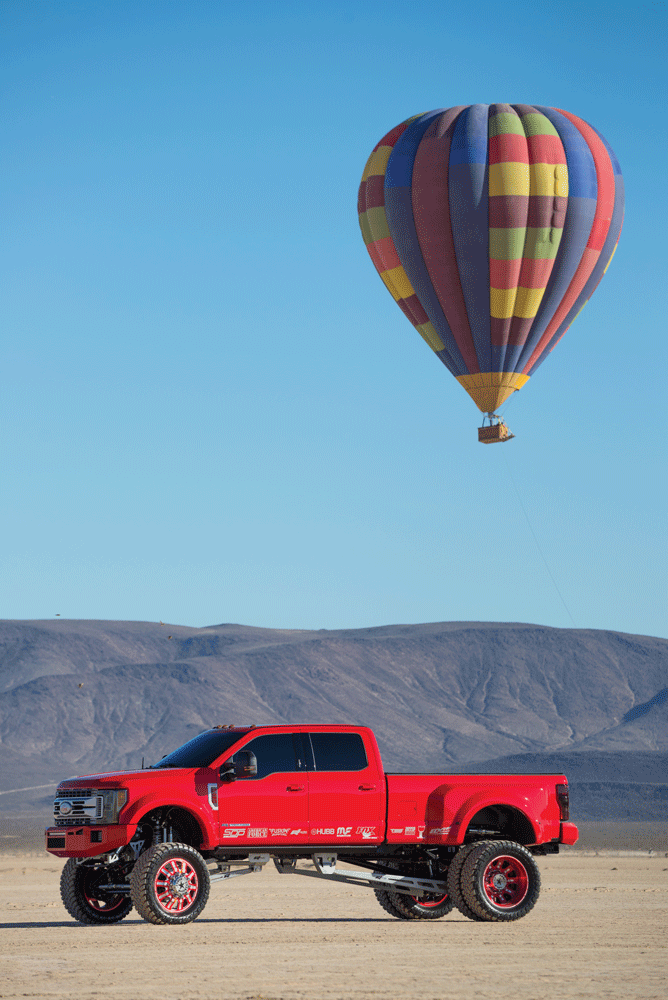 With all the suspension mods, the driveline had to be heavily modified as well. Custom driveshafts allow this machine to put down the power to all four wheels. The front is a 1410 series CV unit by High Angle Driveline, which can operate at a 42-degree angle and eliminated the need to clock the transfer case, which would have caused issues with the way the truck was 4-linked. The rear has a 1480 series by Driveshaft Services. The steering system was upgraded with an SDP custom adjustable drag link, WC Motorsports track bar and dual 2.0 Fox steering stabilizers with SDP mounts.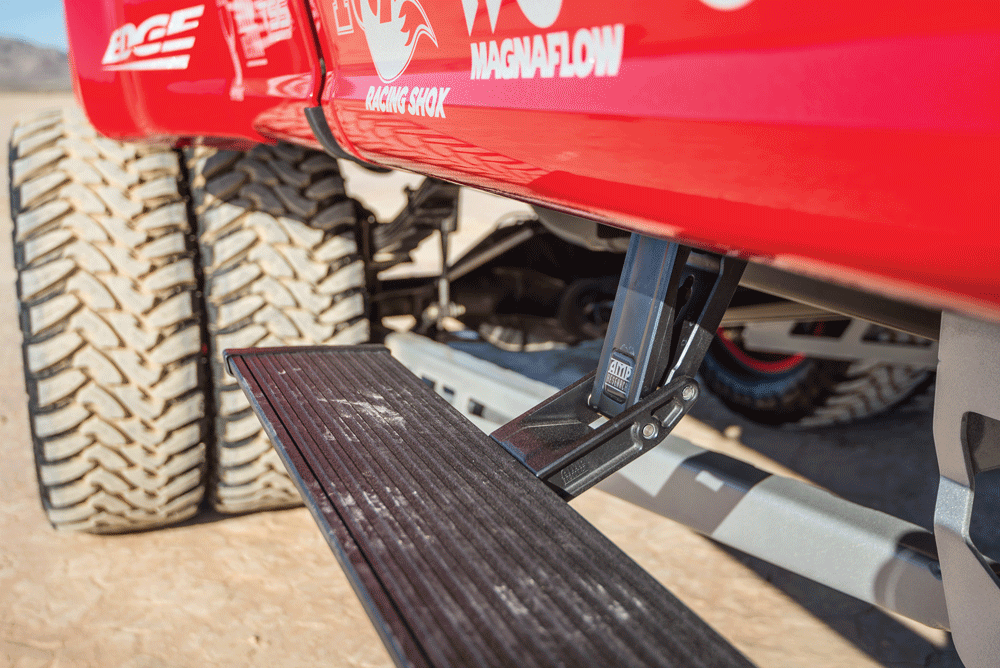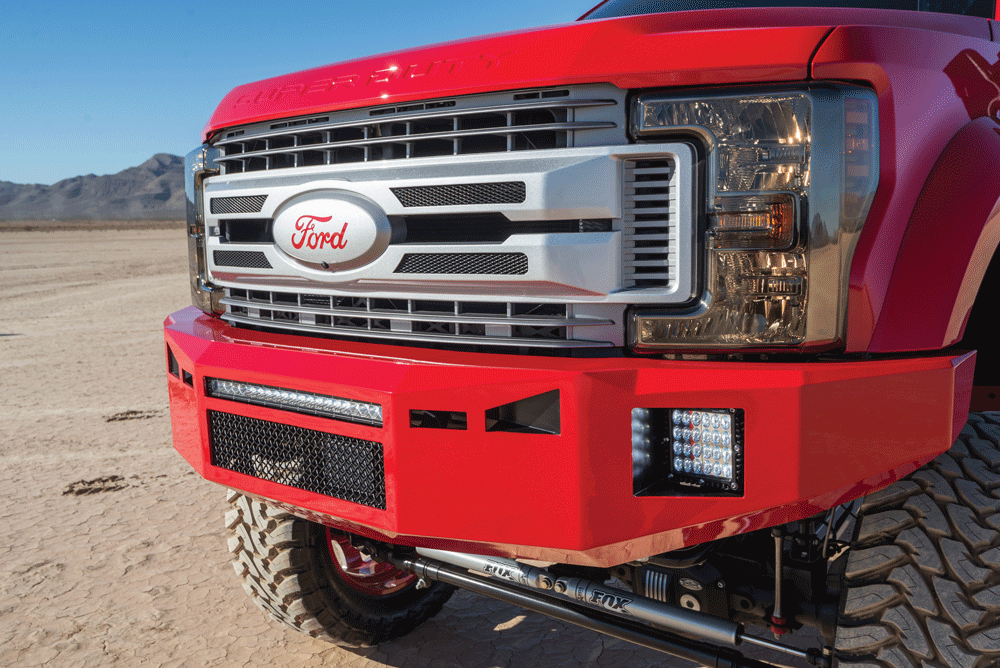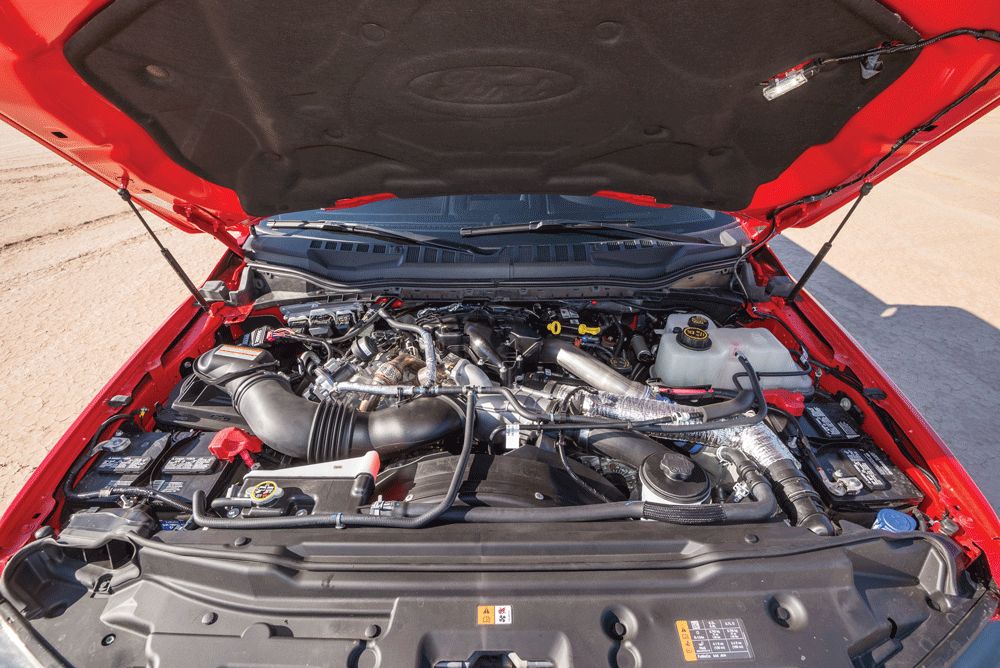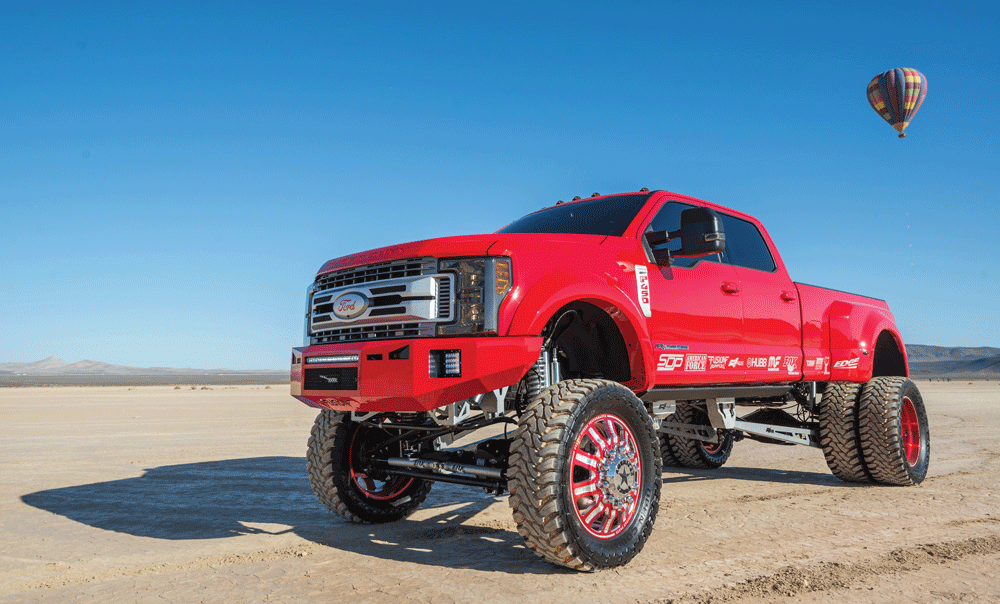 While the clean looks, wheels and tires, and suspension are the hallmarks of this impressive F-450 build, it's the small finishing touches that bring it all together. The bed is topped with an Extang Revolution bed cover and fitted with a Ford bed mat. Engine monitoring is handled through an Edge Insight CTS2. Transmission temps are kept down with a MagHytec trans pan. The unique 6.7L engine note resonates through a 5-inch stainless MagnaFlow exhaust with a 6-inch axle turn-down tip under the bed. Custom flex brake lines routed to each caliper improve brake pedal response. Practicality is considered as well, as the 12-inch lift makes Amp Research automatic powered drop-down running boards essential to getting in and out of this monster. The OEM safety features are also all maintained, as the front Fusion bumper has a center screen area that's specifically designed to allow the forward-facing radar module for the adaptive cruise control to function properly, and the rear Fusion bumper is designed to incorporate the factory backup sensors.
THIS F-450 BUILD WAS USED TO DEVELOP A NEW 4-LINK SYSTEM, AS THE TRUCK'S SUSPENSION CHANGED QUITE A BIT WITH THE SUPER DUTY REFRESH IN 2017.
SDP works closely with American Force throughout the year as a Diamond Dealer, East Coast events partner, and of course SEMA show vehicle builder. You can be sure that this F-450 will make its rounds at events throughout 2017. Most of SDP's SEMA builds get repurposed after a year of looking pretty on the show circuit as shop trucks and test mules for product development. A perfect example is the older SDP F-450 SEMA build that was used to tow this new monster the 3,000+ miles to Las Vegas. This big red Super Duty turned a lot of heads at SEMA 2016, and it's sure to keep them turning at events all along the East Coast in 2017. Be sure to keep an eye out for the beauty over the next year at a show near you.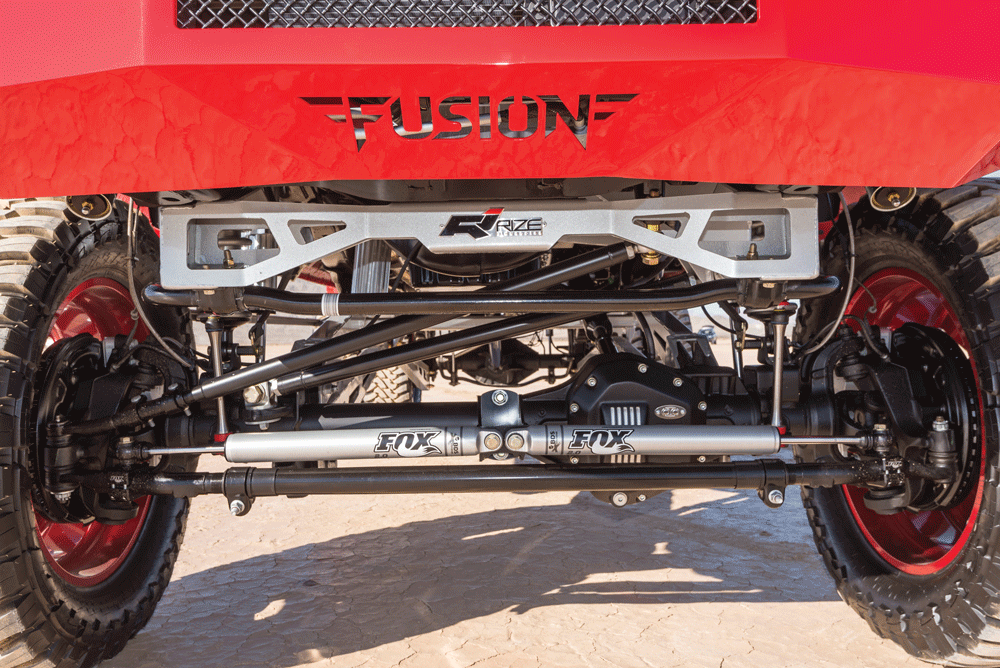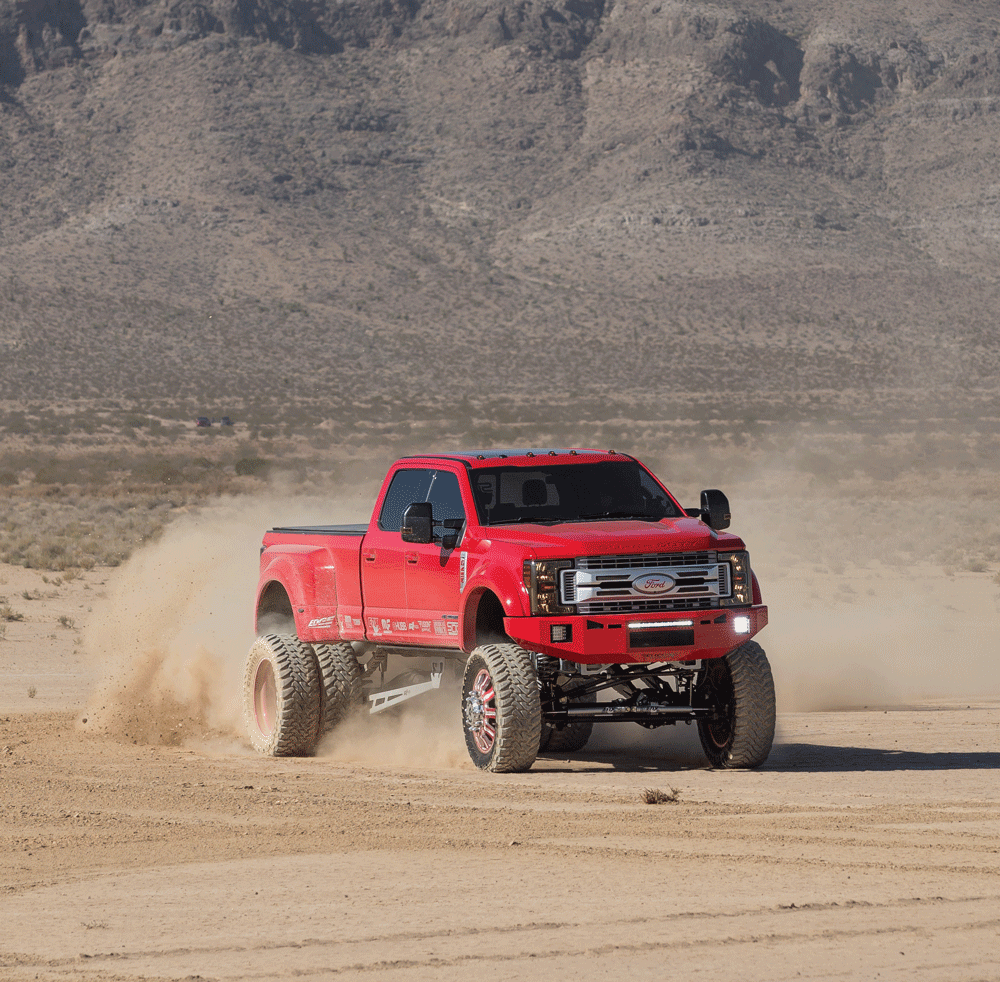 SPECIFICATION
2017 FORD F-450 6.7L CREW CAB LONG BED DUALLY
OEM OPTIONS: Race Red paint, Ultimate Lariat interior, Tow Technology package
TRUCK COST: $78,000
BUILD COST: $35,000+
SUSPENSION: RIZE 4-link long arm with custom cross member, RIZE oating rear traction bars, Atlas Springs 12" lift rear spring pack, 2.5" Fox remote reservoir shocks, Eibach 2 stage (600/800 lbs) front coils
STEERING: SDP custom adjustable drag link, WC Motorsports track bar, dual 2.0" Fox steering stabilizers and SDP Mounts
DRIVELINE: Front 1410 series CV by High Angle Driveline and rear 1480 series by Driveshaft Services
WHEELS/TIRES: Custom SDP American Force Code Special Force 24×8.25; Toyo Open Country MT 40 x 15.50 x 24
EXHAUST: MagnaFlow 5" stainless exhaust with 6" axle turn-down tip
LIGHTING: Ridge Industries lighting (Front Bumper: 20" SR Bar, Q Series x2 / Rear Bumper: Dually XL x2)
OTHER: Fusion bumpers front and rear, Edge Insight CTS2, MagHytec trans pan, Hubb oil filter system, custom brake lines, Extang Revolution bed cover, Ford bed mat, Amp Research PowerStep running boards