Body modifications are everywhere on this 2014 F-350. The rear dually fenders have actually been sectioned and lengthened to perfectly cover the American Force Wheels. Rolling stock on this "Mini-Semi" is a set of 24-inch American Force Dually Impact's wrapped with Nitto Terra Grapplers.
In The Beginning
It all started with Bryan Lin's enjoyment of designing, rendering and bringing a creation to life. Even though Bryan has a degree in biology, he decided to pursue his true passion, building distinct vehicles. He's still at it today with his newest creation, the "Black Rhino."
This 2014 Ford F-350 XLT dually started out on the drawing board as a miniature semi-truck rendering. Bryan wanted a large front air dam, a large grille and he wanted it to be low to the ground. After creating the look he was after, it was time for him and his crew at The Motorsports Authority (MSA) in Conway, Arkansas, to start searching for a Ford that offered some of the features they were looking for, like a two-wheel-drive truck, painted in Sterling Gray.
"At that moment, Bryan knew that to pull of this project for the SEMA show he would now also have to modify the frame of a four-wheel drive."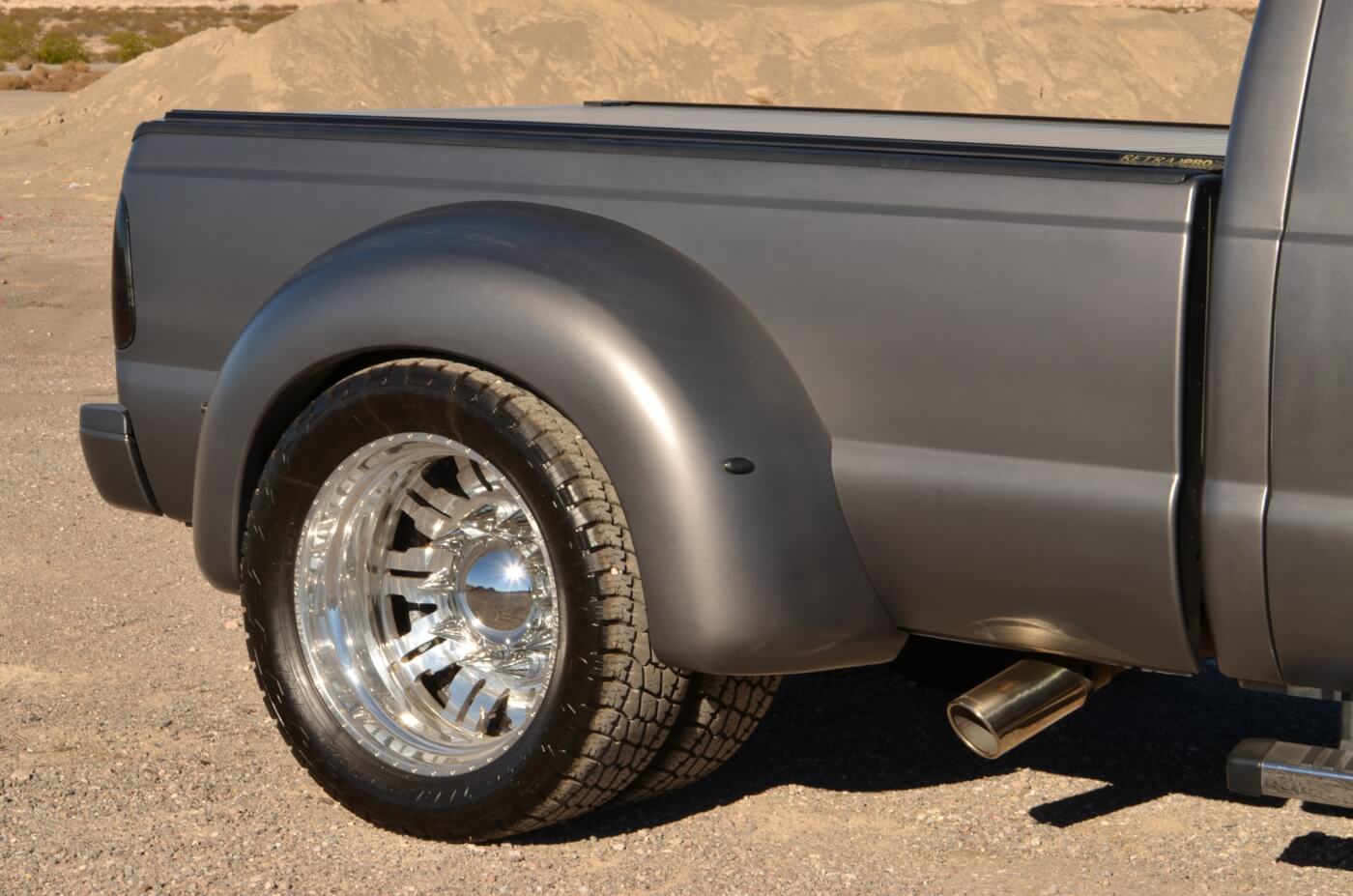 As luck would have it, one was located online less than two hours away. After Bryan went to the local dealership to pick it up, he found out that it had been sold the day before. Well, that put a kink into things. The local dealer looked for any two-wheel-drive in any color located in the Southeast. The answer came back with a big zero, none available.
At that moment, Bryan knew that to pull off this project for the SEMA Show he would now also have to modify the frame of a four-wheel drive. So, for this six-week SEMA build, he utilized as many two-wheel-drive components that they could, modifying the parts for the four-wheel-drive truck to best represent the rendering that had been created. Most people lift the four-wheel-drive trucks, not lower them like Bryan was planning, so it was another hurdle to get over, and another chance for him and his crew to show off how creative they can be.
Teardown And Buildup
After picking up the Super Duty, the crew couldn't wait to start tearing it down. First to be disassembled was the front suspension. For the front end of this truck, they went with AirBagIt.com 2,700-lb air bags and brackets to replace the original stock springs. For the truck to sit at the desired resting point without any clearance issues they had to shave down the transfer case crossmember and a few other parts. The original front brackets for the air bags were modified to accommodate the four-wheel-drive application. The front panhard bar and brackets were designed and manufactured in house by MSA for this unique application.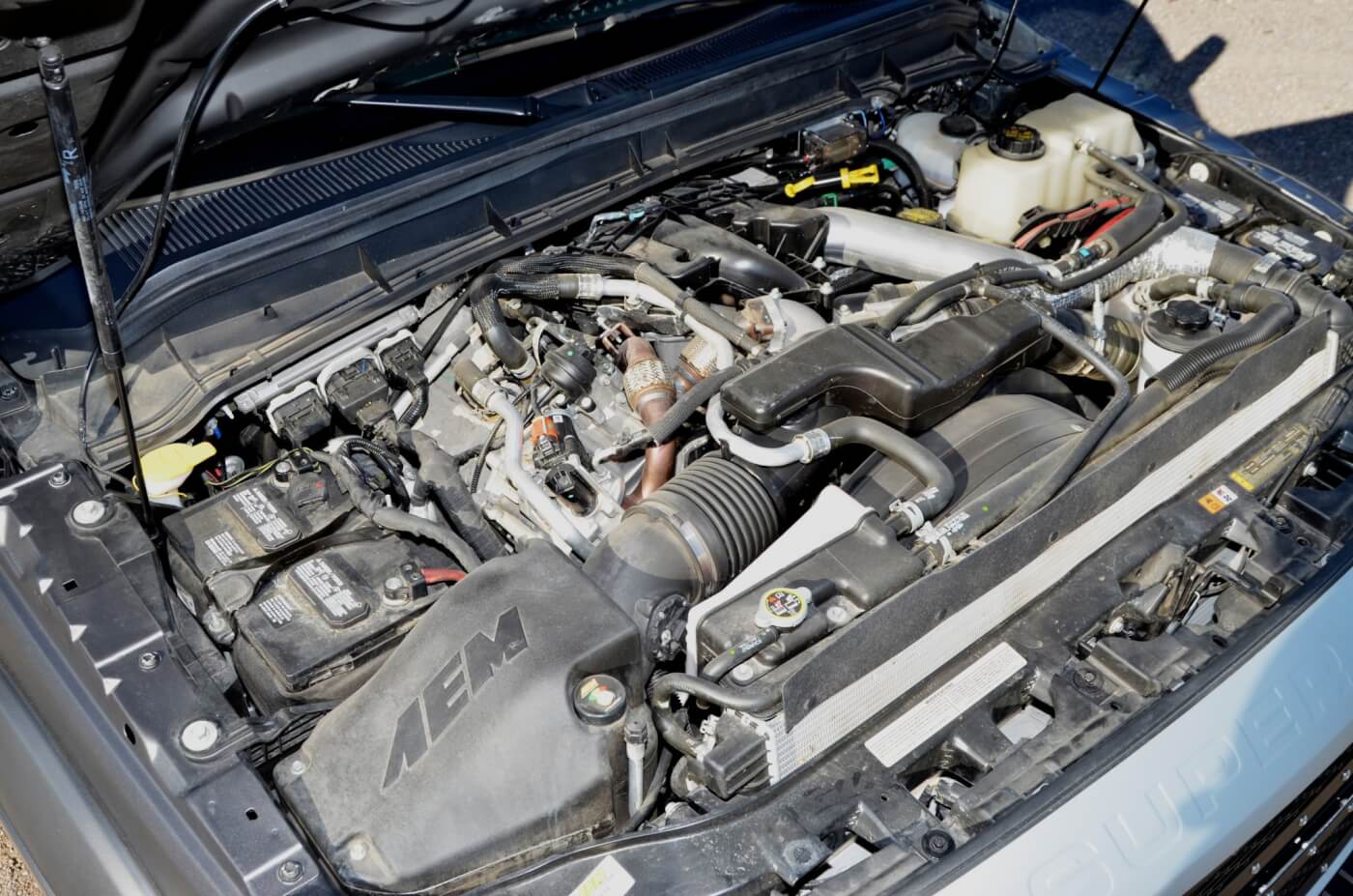 Next was the rear suspension. For this they also used AirBagIt.com parts but went with the 3,200-lb air bags and brackets. They also had to reinforce the frame. Air bag brackets, heavy-duty parallel bars, and a Watts link, along with a few other components from AirBagit.com were then modified to work on this new design. They decided not to notch the frame in the rear. That way, they could add the aftermarket BedRug and BedSlide the way their respective companies designed them. A 5-gallon, three-port stainless chrome air tank with dual 250/380 air compressors was bolted to the frame. To top it off, they installed an AB9000 controller that reads pressures with five allowable presets that will maintain the truck's height, regardless of the load on it. To assist with the steering stability they added dual steering stabilizers.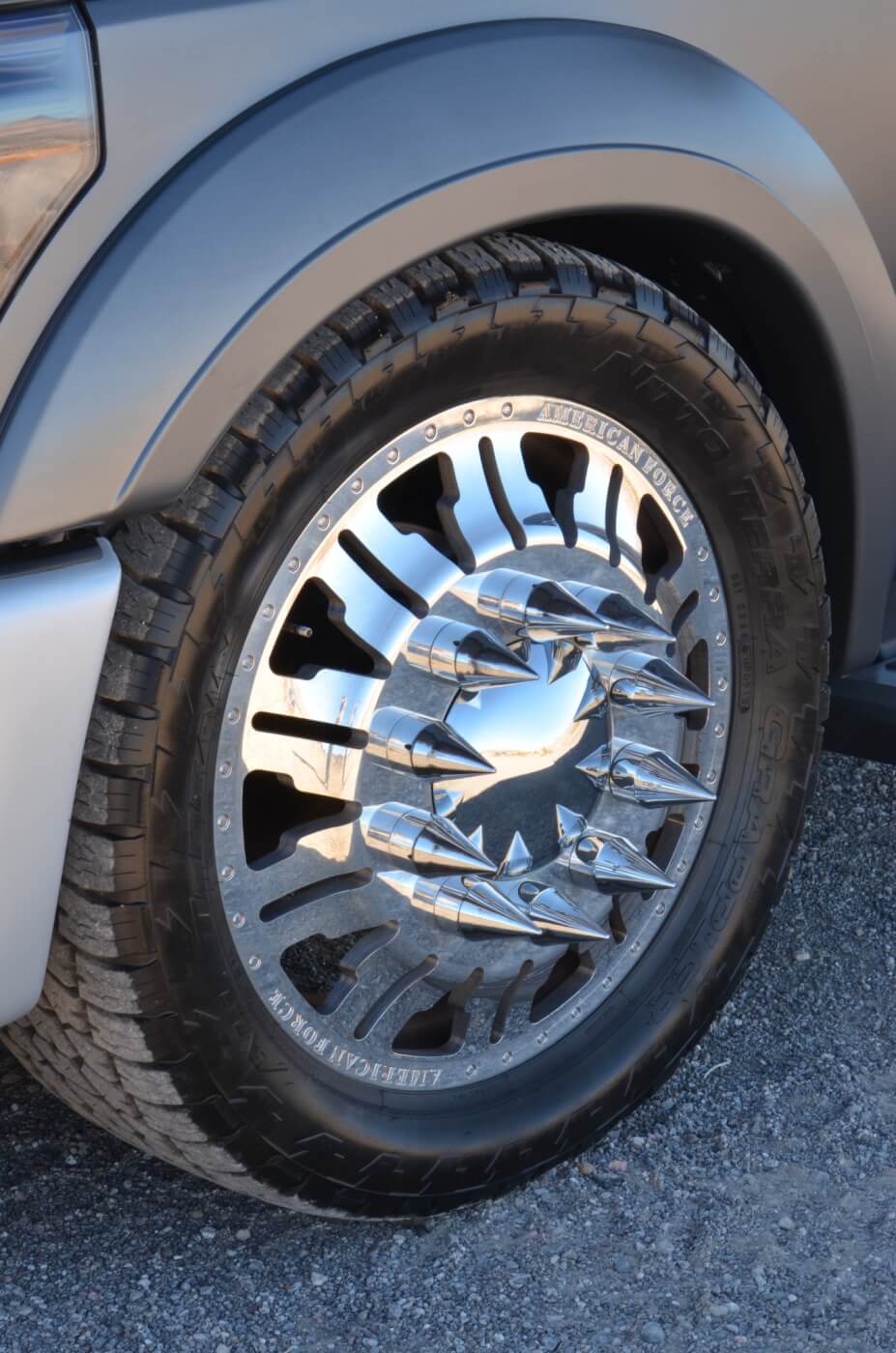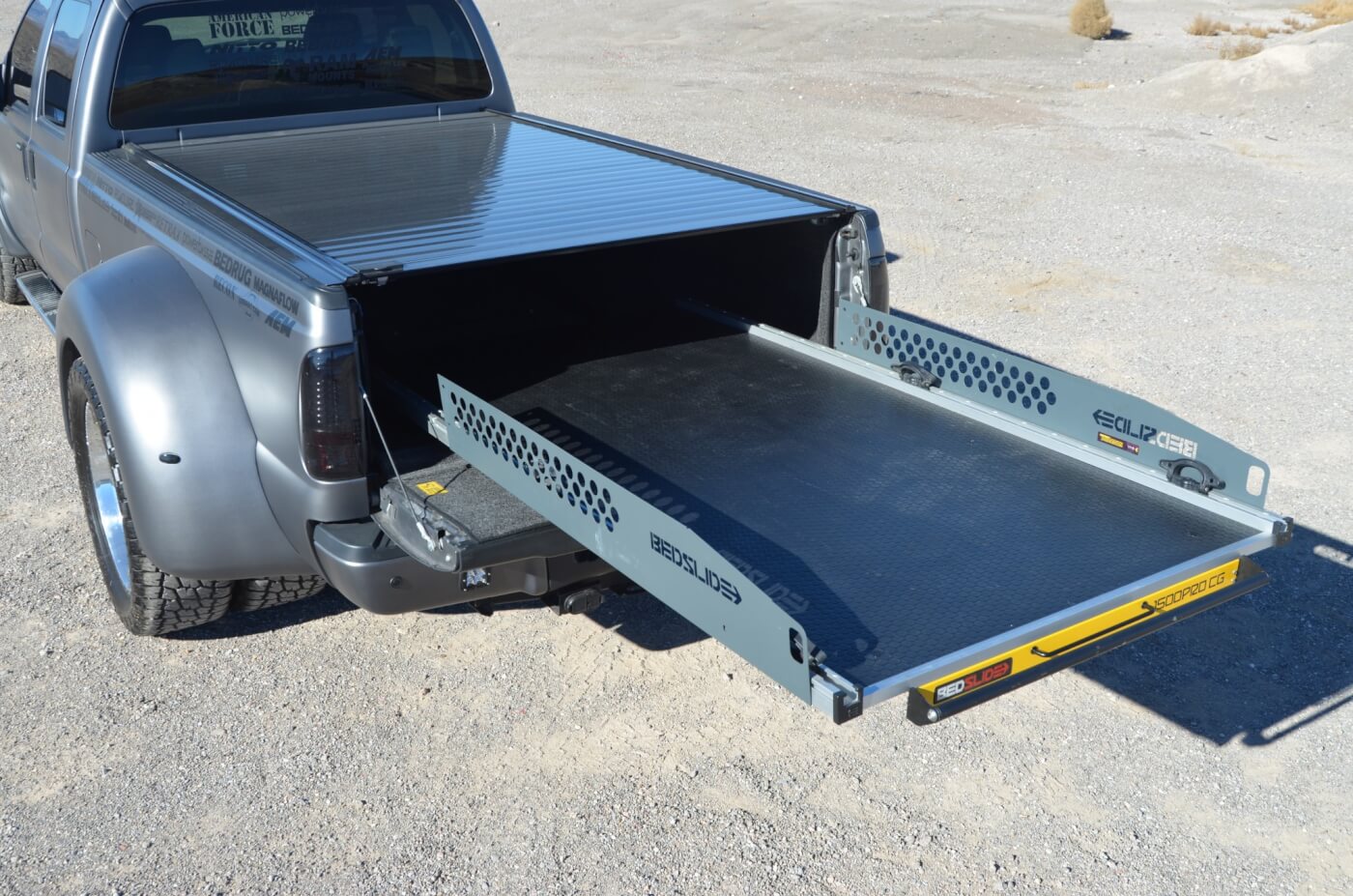 Old School Hot Rod Mods
With the suspension and chassis complete, it was time for MSA to start on the body mods. They went with some new technology and some old hot rod tricks. The grille insert is from Rigid Industries with their 30-inch E series light bar. For the front bumper, they went old school and took two front bumpers and welded/molded them into one large bumper to get the large front air dam look. For the rear, they used the stock bumper but cut and modified it to mount a set of Rigid Industries dually D2 lights.
For the front fenders, they added Bushwacker Extend-A-Fenders with a set of Recon Lighting F-350 fender badge lights. On the rear fenders they also went old school hot rod style and took two stock dually rear fenders and molded them into one unit for a completely flush rear tire look. The truck bed was otherwise left stock, but Bryan installed a Retrax Pro sliding bed cover, a BedRug, and a BedSlide Pro 1500 system. After he added Lariat running boards it was time to go back to the front to finish off the lighting. The headlights were moved to the top and retrofitted with projector HIDs while the bottom was modified for turn signals. XB light strips replaced the parking lights.
"To get it all done in such a short time Bryan had not only his friends help, but also the shop guys at Motorsports Authority."
As for the cab mods, the rear doors were removed and modified for a suicide-style opening. These doors still have all the factory latches and components like the original doors, and still open and close just like a factory door. For the exterior cab lighting, Bryan changed it to smoked LED lights to match. All the paint and body mods were completed by Motorsports Authority. The paint is Sterling Gray base coat, carefully scratched in one direction to make it look like brushed steel, and then covered with a matte clearcoat by Matrix Paint Systems.
Clean Interior/Custom Audio
Onto the interior, the carpet was left stock, but the seats were replaced with Custom Roadwire two-tone leather seats with seat heaters. MSA completed the custom upholstery in house as well. For the sound, Bryan went with a Pioneer head unit amplified with a PowerBass five-channel unit rated at 1,920 watts, sent to a whole slew of PowerBass speakers throughout. All of these are mounted in custom-built fiberglass speaker pods in all four-door panels with the custom subwoofer box mounted behind the rear seats. For rear passenger comfort, he added a headrest DVD/media center setup.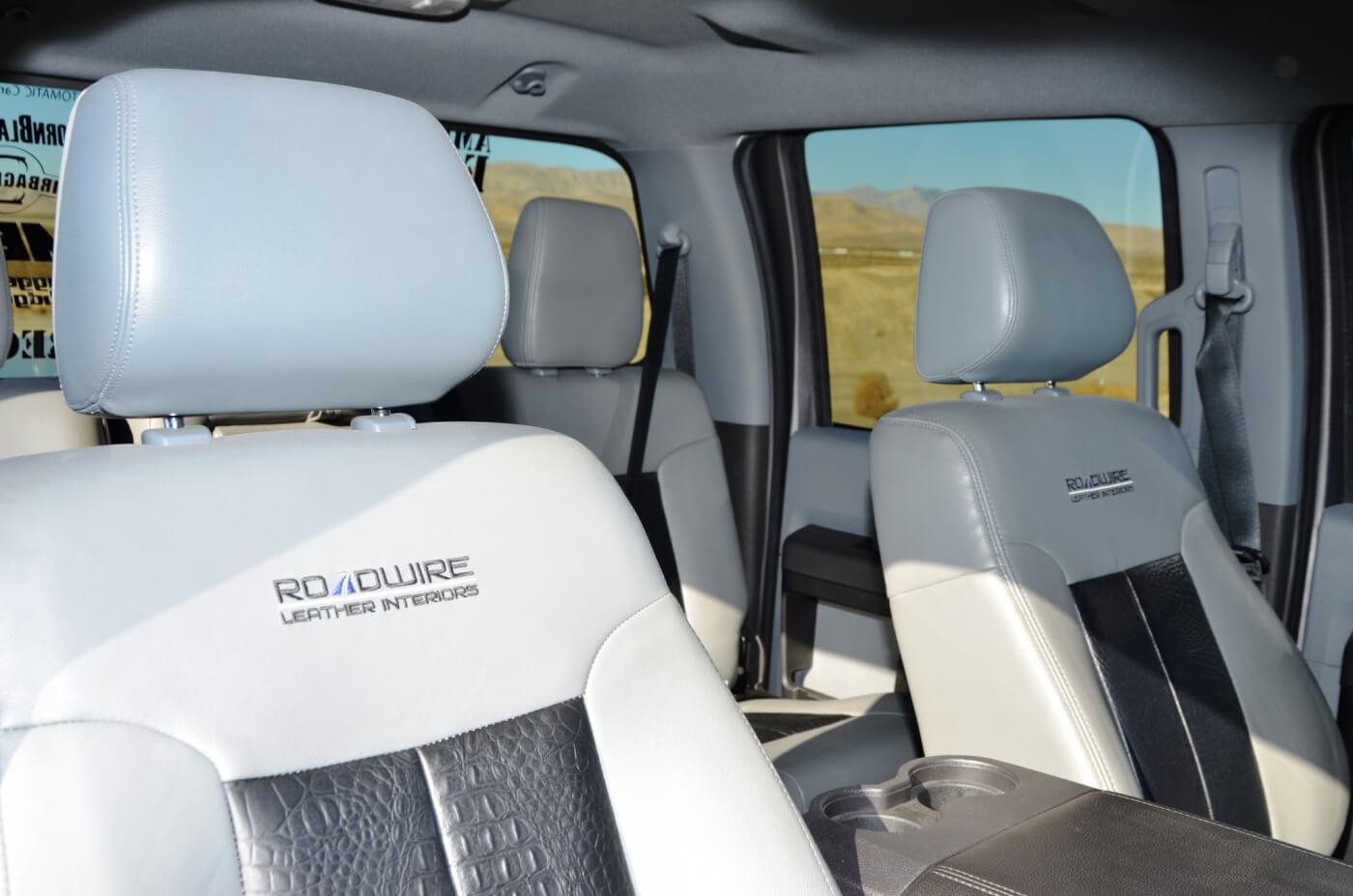 The Finished Rig
To get it all done in such a short time, Bryan had not only his friends help, but also the shop guys at Motorsports Authority like Justin Carter, Martin Mendez, Patrick Walker and Bruce Castilio. With a crew and group of friends to support you and help you build a SEMA vehicle as special as this creation on such a short time, Bryan is extremely lucky. Without this awesome support crew, if you ask Bryan, he would tell you he probably could have never got it done in time. DW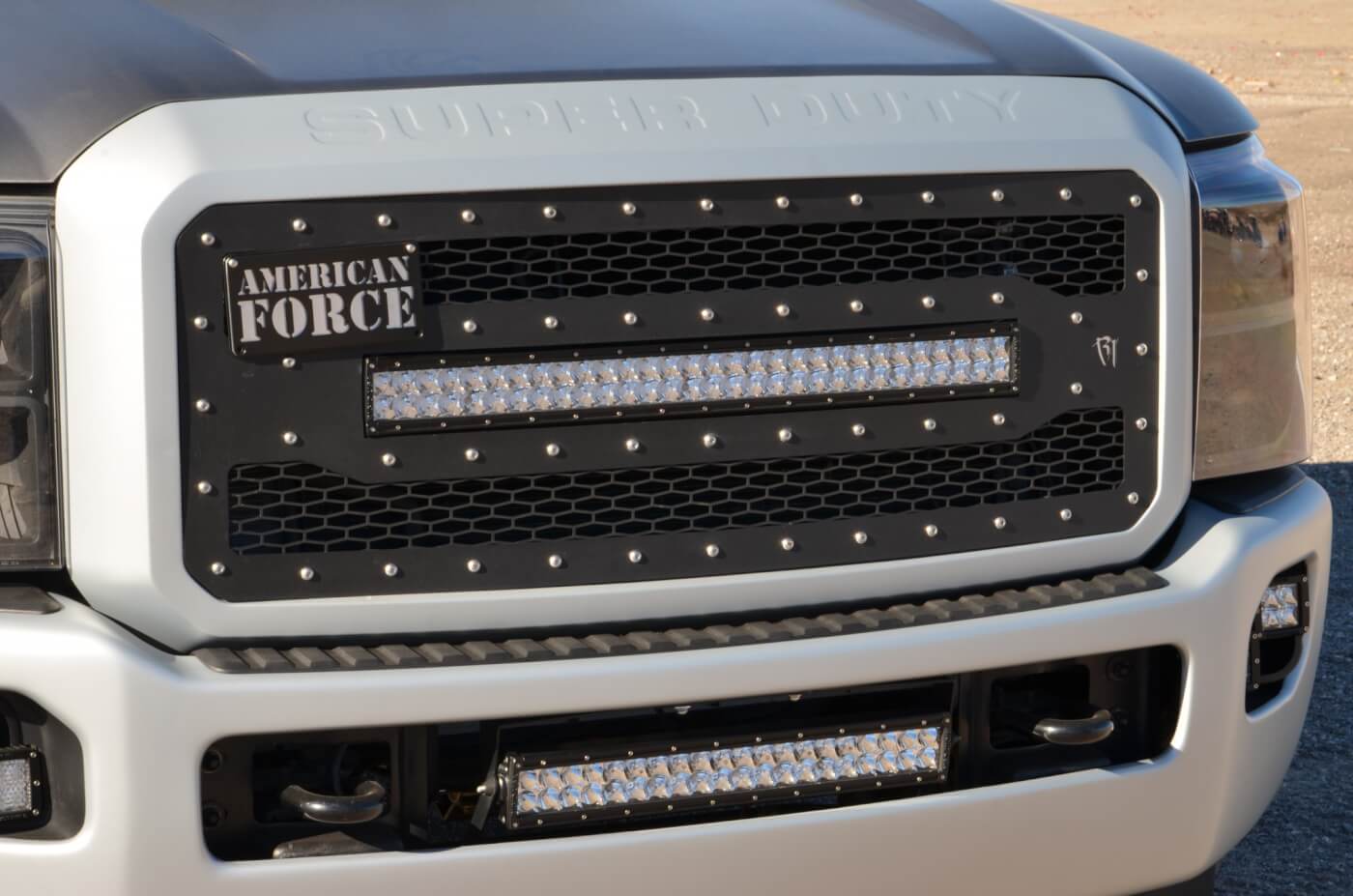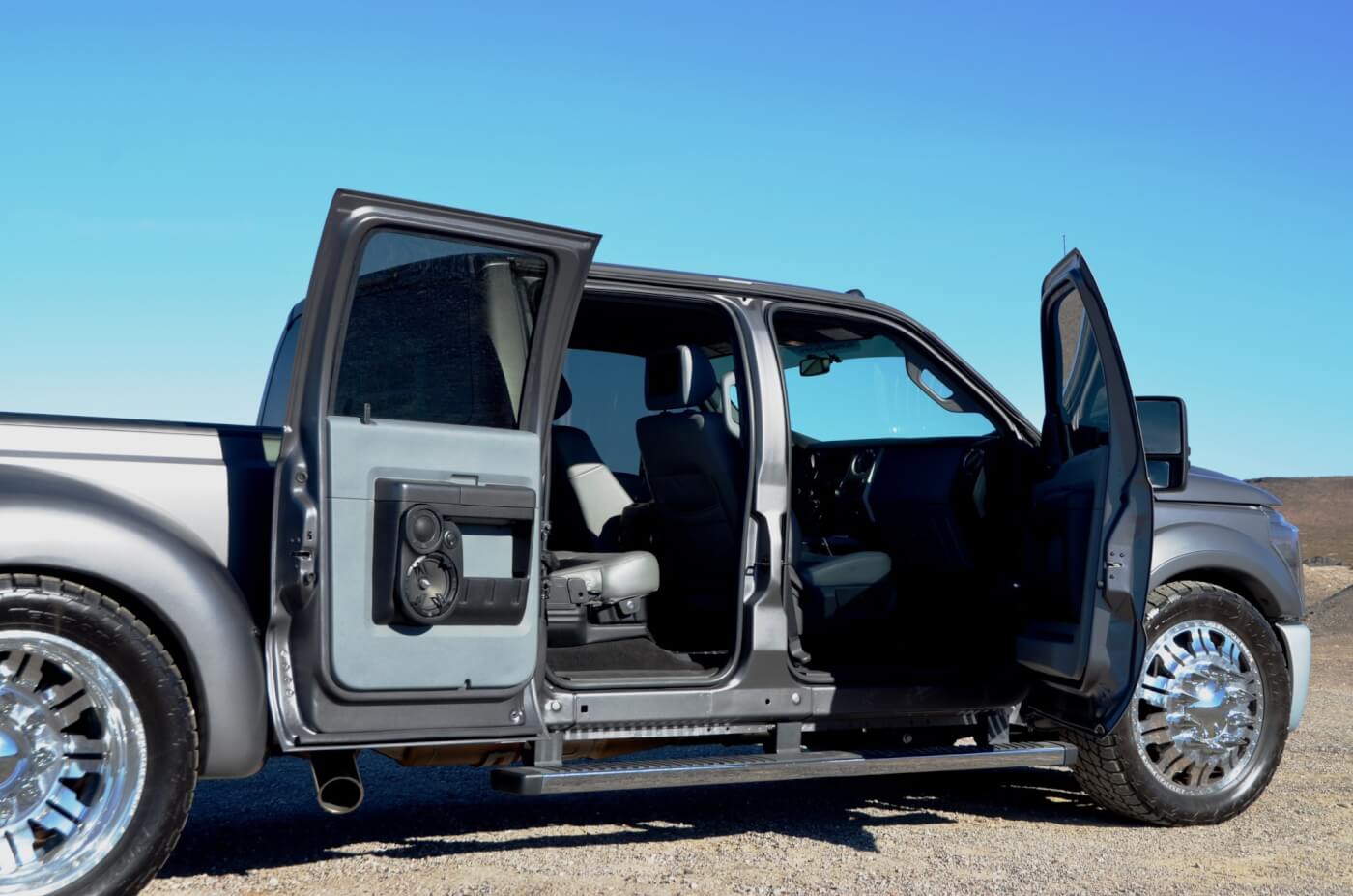 If you liked this blacked out diesel rig, check out our post on ten black trucks that produce some serious power!