Ford's F-Series Super Duty has worn many faces since its 1999 introduction, but the bones underneath that ever-changing skin have remained pretty much the same. For 2017, Ford has given the Super Duty a ground-up redesign, and it's as if nearly two decades of frustration has been released all at once. The new Super Duty is a wasp's nest of new ideas, and we're going to attempt to tell you about all of them. You might want to find a comfortable chair and pour yourself a nice cold drink, because this is going to take a while.
"The new Super Duty is a wasp's nest of new ideas"
We'll dispense with an in-depth history, as most of you know it as well as we do: The Super Duty was introduced for the '99 model year when Ford split the half-ton and heavy duty pickups into two separate vehicle lines, then restyled in 2005, in 2008 and again in 2011. Over the years the Super Duty has seen a myriad of diesel engines: The Navistar-sourced 7.3L, first to wear the Power Stroke badge; the much-maligned 6.0L; the 6.4L and finally the Ford-designed 6.7L.
65 More pound-feet, anyone?
Ironically, the 6.7L Power Stroke is one of the few elements from the old Super Duty to carry over into the new truck with few changes. Ford introduced a second-generation version of the 6.7 in 2015; 2017 Super Duty pickups get the same basic engine, though packaging it to fit the new truck gave Ford engineers the opportunity to reshape and optimize the intake and exhaust systems. The new Super Duty has beefier driveline components, and that gave Ford an excuse to turn up the torque, from 860 to 925 lb-ft. Horsepower is unchanged at 440. The engine is once again mated to a six-speed automatic transmission, and can run on biodiesel blends up to B20. Fuel capacity ranges from 29 gallons on regular-cab diesels up to 48 gallons for long-box crew cabs, and the DEF tank holds 7.5 gallons.
Bigger bones
Aside from the engine and the nameplate, nearly everything about the Super Duty has changed, and that starts with the frame. While the old Super Duty used C-channel construction, the new truck's frame is fully boxed and 95% of it is made from high-strength steel. (Mild steel is used in certain locations for better crash performance.) Ford estimates the new frame is between 22 and 24 times stiffer than the old Super Duty's frame. ("It's one thing to make a frame two or three times stiffer," one Ford engineer told us. "Twenty-four times? That's just crazy.")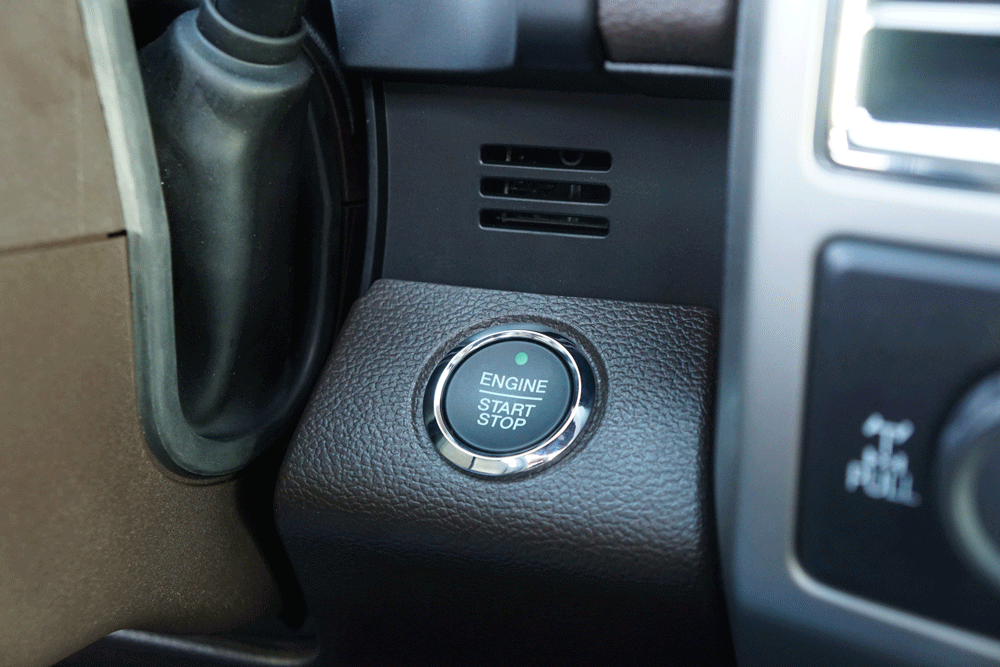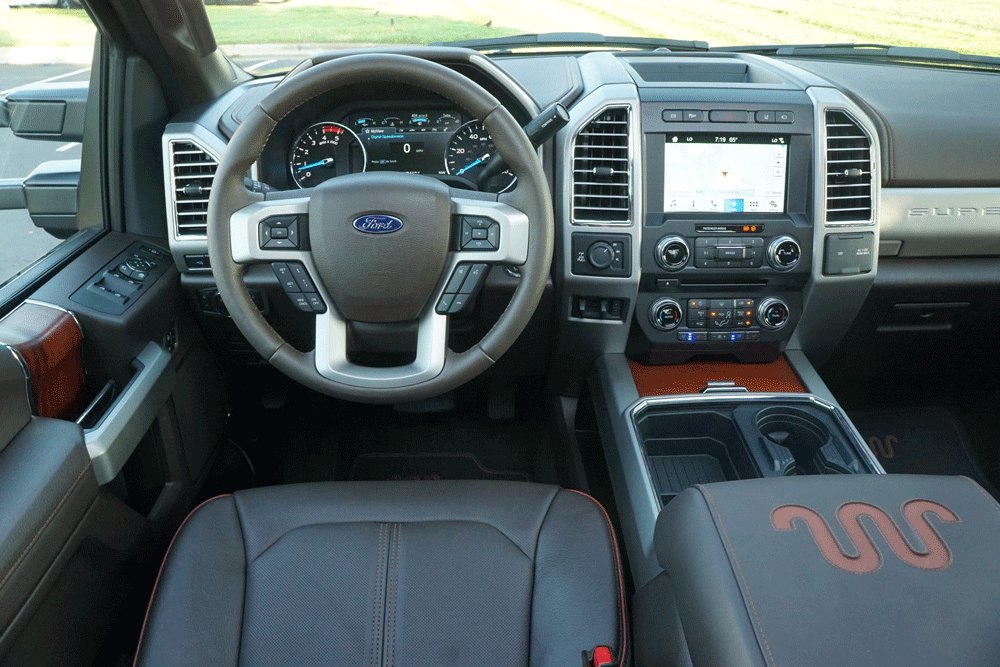 Walk 'round the back and you'll see one of the biggest differences between old and new: The 2017 Super Duty can be had with a 3-inch hitch receiver, which is required for the 20,000-lb-plus towing capacity of some models. Knowing that many owners have 2-inch and 2.5-inch equipment, Ford developed a set of soon-to-be-patented reduction sleeves to adapt the receiver for smaller hitches, as well as an adapter for a 5/8" hitch pin.
Class-leading towing, but payload trails Ram
So just how much can the new Super Duty haul and tow? Payload capacity now ranges from a low of 2,330 lbs (F-250 4×4 diesel crew cab long box) to a high of 7,200 lbs (F-350 dually 4×2 SuperCab long box with the 6.2 liter gasoline engine). Best payload for a diesel-powered F-350 is 6,460 lbs with the same cab/box configuration (with GVWR unchanged, the extra weight of the diesel reduces payload). For comparison, payload for the 2016 Chevrolet Silverado HD ranges from 2,287 to 7,153 lbs, with diesels topping out at 5,587 lbs, while Ram HDs will haul between 1,510 and 7,390 lbs, with max payload for a diesel at 6,720 lbs. (Advantage: Dodge)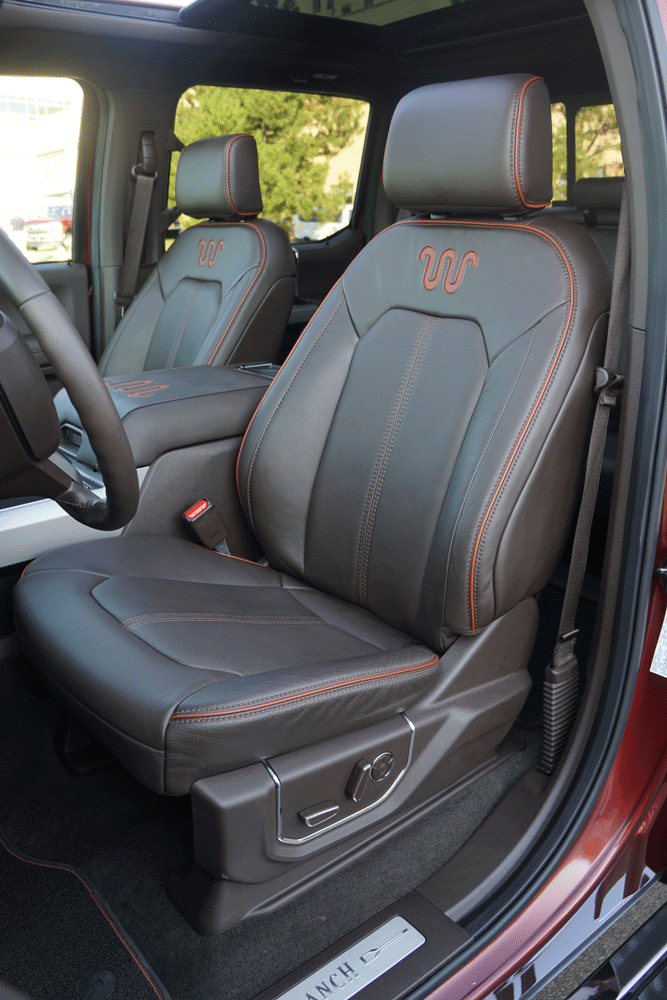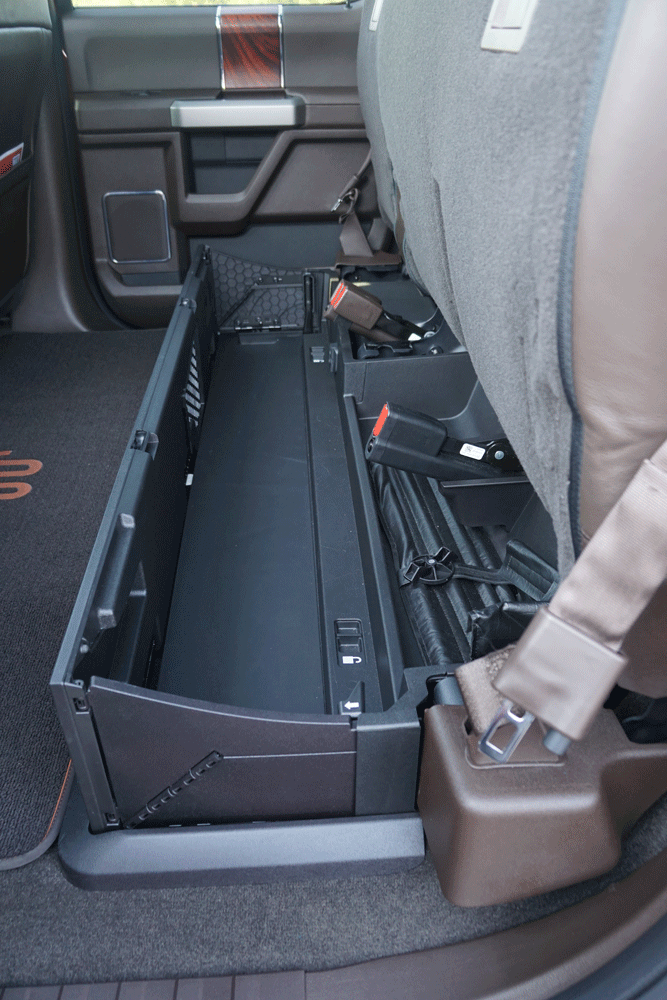 For towing, the new Super Duty comes out on top: Conventional (bumper-pull) tow ratings range from 12,300 lbs for gas-powered F-250 crew cab 4×4 long-box trucks up to 21,000 lbs for F-350 diesel duallys. Gooseneck trailer towing maxes out at 32,800 lbs for F-350 4×2 diesel duallys with a regular cab; extended-cab models top out at 32,400 lbs and crew cabs at 32,000—although you can get an F-450 crew cab 4×4 that will tow up to 32,500 lbs. (For fifth-wheel towing, F-350 single-rear-wheel trucks are limited to 18,000 lbs with a Ford factory hitch, while duallys will tow up to 27,500 lbs.) That puts Ford at the head of the pack: The Silverado HD tops out at 20,000 lbs for conventional trailers and 23,200 for goosenecks, while the Ram HD will tow up to 18,000 lbs on the bumper and 31,210 with a gooseneck.
From steel to aluminum
One of the biggest changes is the switch to aluminum for the cab and bed, something that mimics the F-150—in fact, the Super Duty now shares its cab with the half-ton pickup. (We'll talk more about that in a bit.) On the F-150, the primary purpose of aluminum is weight reduction, primarily to increase payload, towing capacity, and fuel economy. On the Super Duty, Ford pursued a strategy of "weight reinvestment"—using the weight savings from the body and bed to offset weight added elsewhere, such as the heavier frame and bigger drive axles, so as not to increase the overall weight of the truck (which would cut into payload and towing capacity). Even with several hundred pounds "reinvested", the new Super Duty is up to 350 lbs. lighter than the outgoing truck.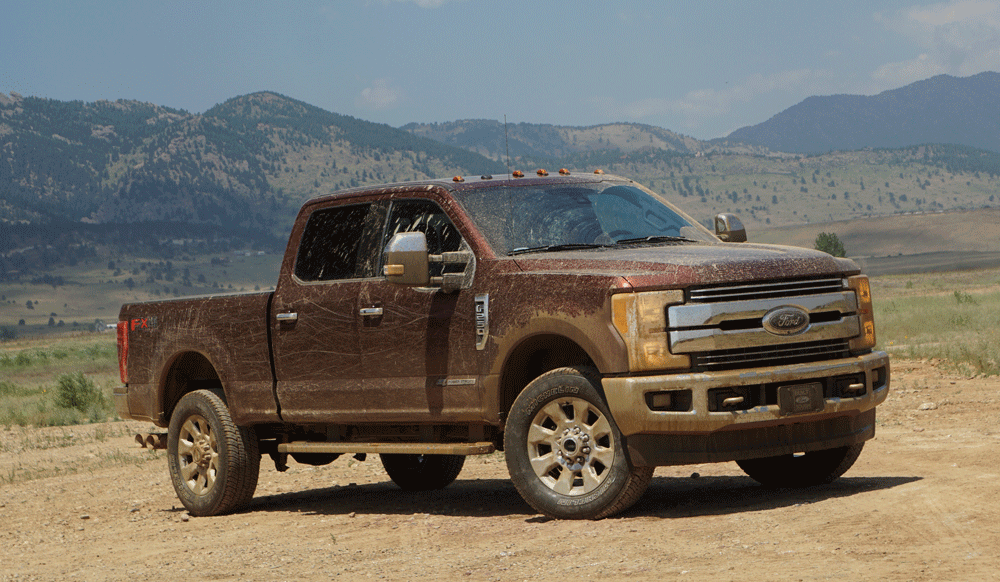 Mating an aluminum body and bed to a steel frame raises the issue of galvanic corrosion, so Ford has zinc-coated both the box and the frame, with an extra layer of protection for areas where the bed contacts the frame directly. The cab uses hydraulic mounts in order to help smooth out the Super Duty's ride.
"The cab uses hydraulic mounts in order to help smooth out the Super Duty's ride."
Beefier suspension and brakes
The suspension uses the same basic layout as the old truck, with revised components intended to improve ride and handling. 4×2 pickups and F-350 4×2 chassis cabs stick with the twin I-beam front suspension, while 4x4s and rear-drive 450 and 550 chassis cabs have new front radius arms. All springs, axles, front stabilizer bars and rear suspension bushings have been upsized or upgraded. F-450 and F-550s get bigger brakes, and the electronic stability control system on duallys and chassis cab models now has the same trailer sway control system as single-wheel pickups. 4x4s get an electromagnetic synchronizer in the transfer case in place of the old mechanical unit. Once again, the front hubs have an automatic locking feature but can be locked manually as well.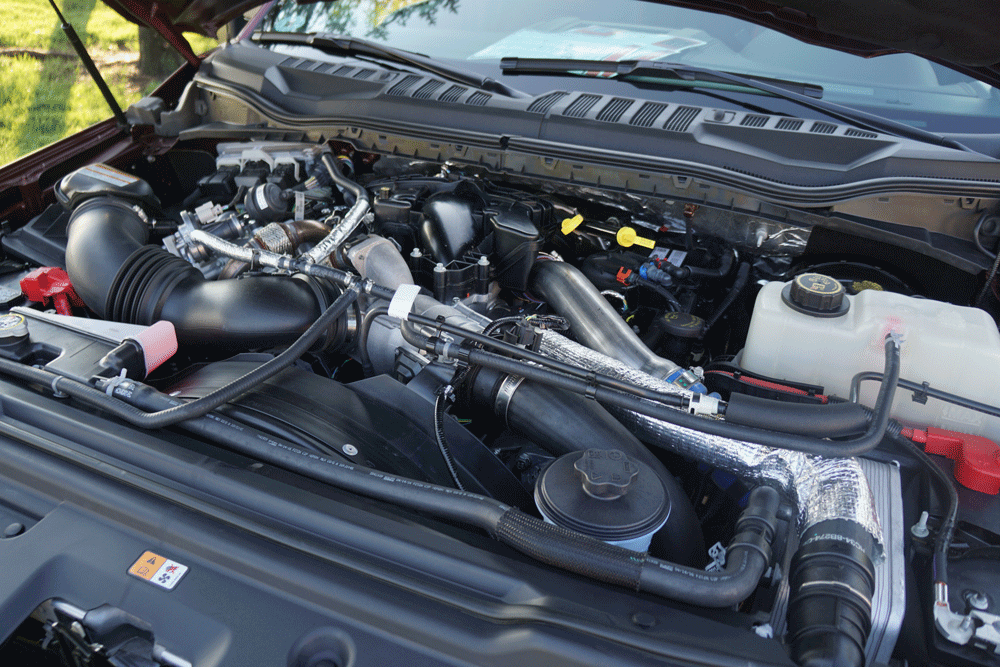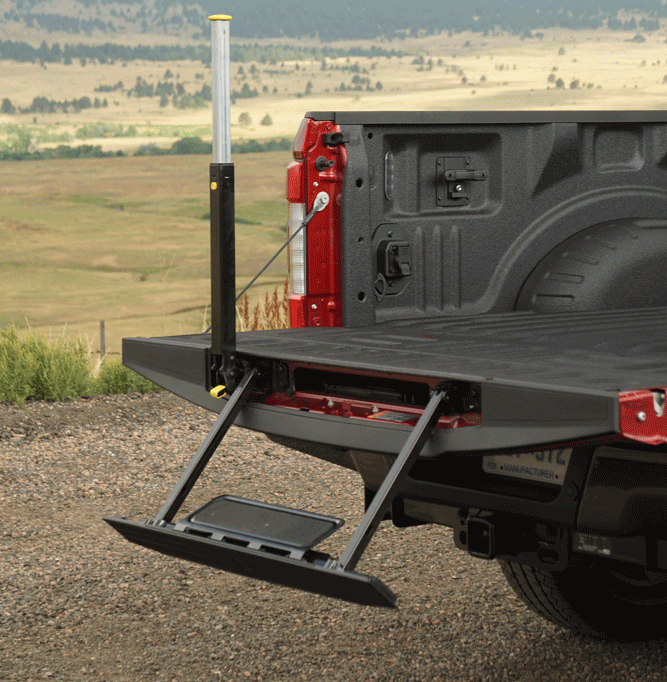 Old steering technology with an innovative new twist
In order to maintain the high axle loading necessary for a heavy-duty pickup—and, we surmise, because the Super Duty is too big to require its fuel economy to be rated by the EPA—the new truck continues to use hydraulic power steering rather than the fuel-saving electric power-assisted steering (EPAS) used in the F-150. This means that the Super Duty misses out on some of the self-steering technologies found on other Ford vehicles, such as lane-drift correction and semi-automated parking.
But that doesn't mean the system doesn't have a few tricks up its sleeve: Ford has a new optional variable-ratio steering system that uses an electric motor and a set of gears in the steering wheel hub to change steering ratio based on driving conditions. It literally changes how far you need to turn the steering wheel. At low speeds—say, when parking—it raises the ratio, requiring less wheel motion to get the truck to full lock. At higher speeds, the system lowers the ratio, making the truck less sensitive to inputs for more relaxed freeway cruising. The system takes some getting used to—you have to be careful not to clip the curve when maneuvering at low speeds—but the ratio-change is smooth and seamless.
So what about that half-ton cab?
Let's talk more about that F-150 cab. Coming as it does from a half-ton truck, you're probably expecting it to have less room, and in some ways you'd be right—the new cab gives up some width compared to the old Super Duty, with a 1" to 2" reduction in shoulder room (front and rear) and a 2" to 5" loss of hip room. But the new cab trades that width for additional length: The extended cab (SuperCab in Ford-speak) is 6" longer and the Crew Cab is 3" longer, yielding a rear-seat legroom increase of around 2" and 1.5" respectively. Headroom is up a fraction of an inch in front; crew cabs lose 0.4" of rear-seat headroom, but SuperCabs pick up nearly two inches.
…but a unique bed
Unlike the cab, the bed is not shared with the F-150: It uses thicker aluminum-alloy panels, a unique stamping pattern, and thicker crossmembers to provide additional strength. (Apparently the folks at Ford have seen that Chevy ad with the concrete blocks…) The built-in tailgate step returns, but Ford has done a better job of integrating it into the tailgate. Other handy options include LED box lighting, BoxLink (E-Track-compatible) tie-down cleats, a remote-release damped tailgate, and a set of fitted tailgate ramps that can be locked into the BoxLink system. Optional power running boards make for an easy reach into the bed for the, ahem, vertically-challenged.
Technology out the wazoo
When it comes to safety technology and driver aids, Ford has been developing new features at a breakneck pace, and we're pleased to see that many of those have made it into the 2017 Super Duty. Options include adaptive cruise control, which detects vehicles ahead and slows to match their speed (using the exhaust and trailer brakes as needed); a blind-spot warning system that compensates for trailer length; and a lane-departure warning system that vibrates the steering wheel should the Super Duty start to drift out of its lane.
Cameras are a big deal nowadays, and the Super Duty can be fitted with seven: Along with a backup camera, the Super Duty can be ordered with a front 180-degree camera (helpful for pulling out of blind alleys) and two mirror-mounted side cameras, which together allow a simulated top-down view of the truck for easier parking. A camera on the cab roof helps with hitching up goosenecks and fifth wheels, and Ford even offers an optional owner-installed wired camera that can be mounted on the back of a trailer, with the image shown on the dashboard screen.
Back that thang up
Another new feature is Ford's Trailer Reverse Guidance system. With a sticker on your trailer and a bit of (quick) programming, the system can detect your trailer and provide backing assistance including straight-line guidance (which tells you how to turn the steering wheel to keep the trailer going straight), cameras that shift their view based on trailer angle, and a jackknife warning that tells you when the angle is getting excessive. We found the straight-line guidance the most helpful, though it's unfortunate that the fully automated self-steering system available in the F-150 (in which the driver uses a dial to set trailer direction, and the truck automatically steers itself) isn't offered in the Super Duty. (Unlike the F-150's electric power steering system, the hydraulic system in the Super Duty can't steer the truck on its own.)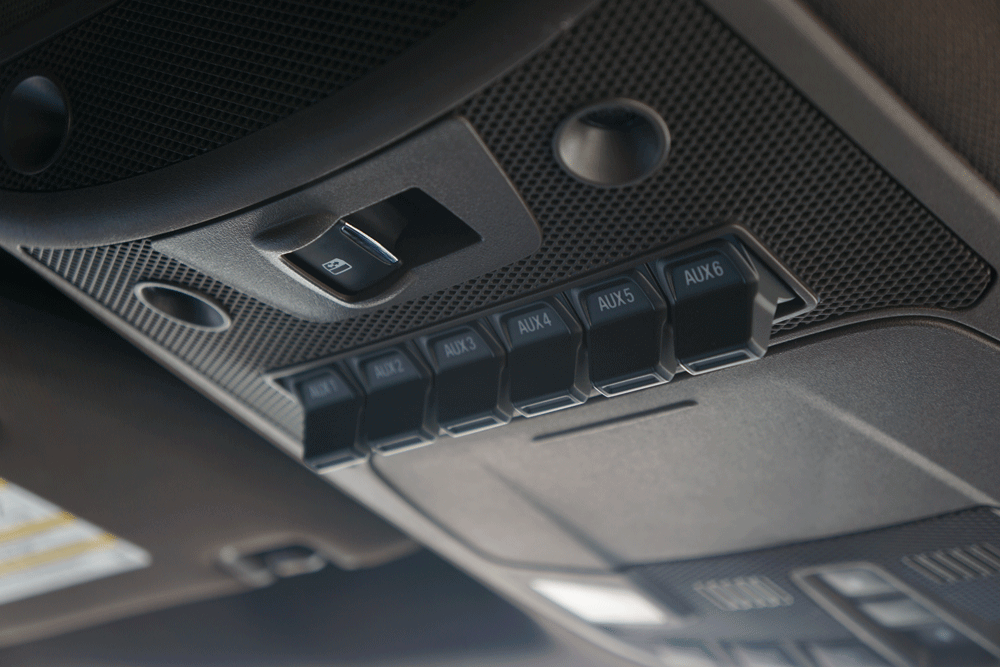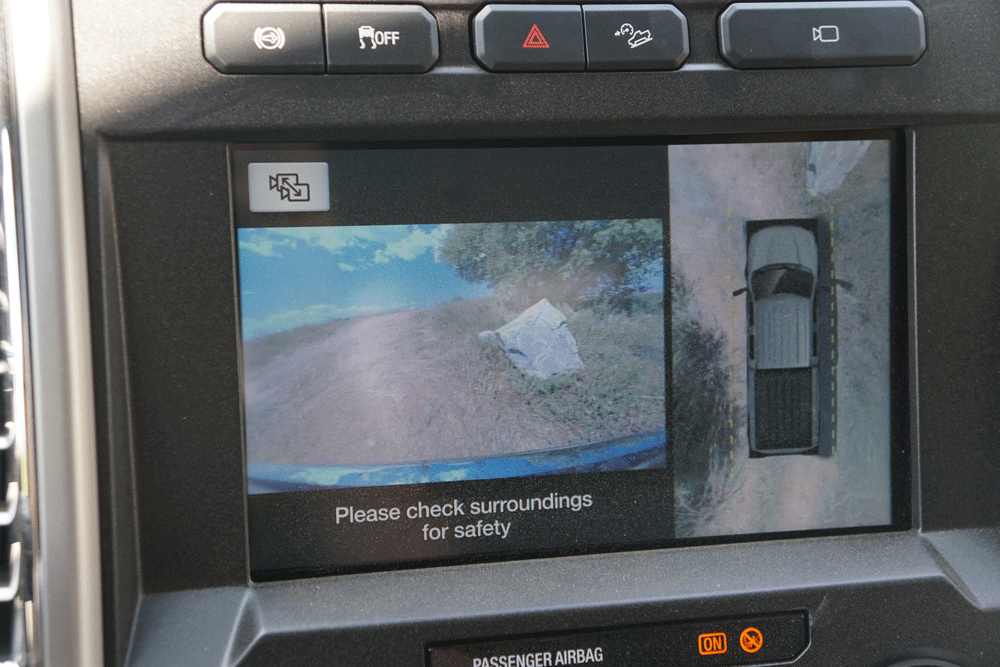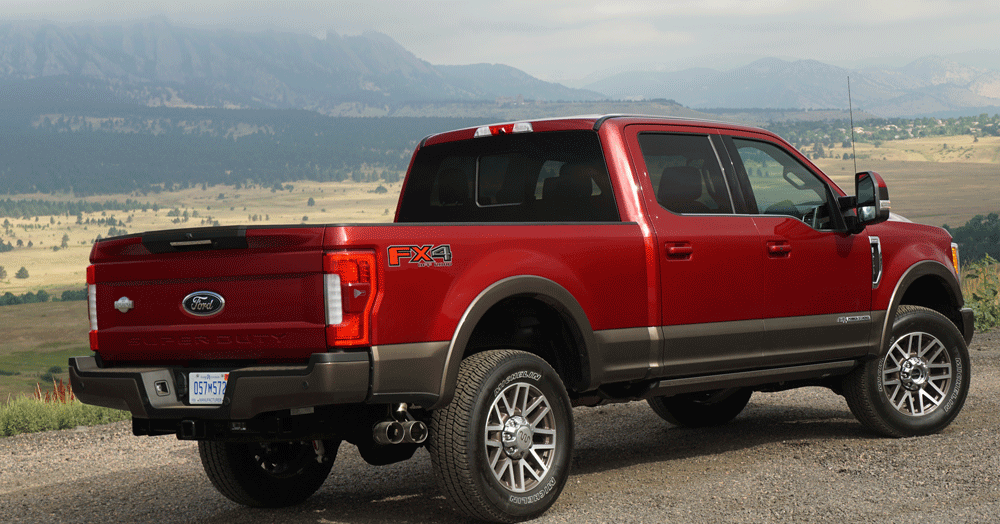 Models and pricing
The 2017 Super Duty will be available in the same five trim levels it has always been available in. With the same cab configurations and bed lengths as well. Pricing starts at $33,730 (including a $1,195 destination fee) for a gas-powered F250 XL regular cab with a short box. Opting for the diesel ups the price to $42,325. How high can you go? An F-450 Platinum 4×4 dually crew cab with all of the option boxes checked off lists for $87,145.
Ready for the next twenty years
Overall, we're very happy with the changes Ford has made to the new Super Duty. We like the look of the new truck, inside and out, and we're pleased that so many safety and convenience features developed for Ford's cars are now available in their heavy-duty pickups. We also like that Ford has developed safety systems specifically for truck owners, like the trailer camera and backup assistance systems. Ford knows what we do with our trucks, and they've designed the Super Duty accordingly.
Do we have any reservations about the new Super Duty? We must admit, there's something about sharing a cab with the F-150 that rubs us the wrong way—even though we know that's our inner-HD-snob talking. Half-tons and HDs shared cabs for years, right up until Ford split the Super Duty off from the F-150 in '99, so we guess we can learn to live with it (again). Besides, the extra cab length is appreciated, and with that massive front end, it's not like anyone will ever mistake a '17 Super Duty for an F-150. We're still hesitant to embrace aluminum: We're concerned about repair costs and whether local collision shops (or backyard mechanics) will have issues working with it. Ford assures us that repair costs and insurance rates are similar to steel, and until we can collect more real-world reports, we'll have to take their word for it.
Bottom line: The 2017 Ford Super Duty is an impressive truck, one that is ready to take on the competition for the next twenty years. What we're really looking forward to is seeing what you do with the new Super Duty. So get those wrenches out and be sure to share your project trucks with us. DW
FAST FACTS:
2017 Ford Super Duty
Price range (including destination): $33,730 – $87,145
Models: F-250, F-350, F-450
Trim levels: XL, XLT, Lariat, King Ranch, Platinum
Diesel engine: 6.7 liter V8, 440 hp @ 2,800 RPM, 925 lb-ft @1,800 RPM
Gas engine: 6.2 liter V8, 385 hp @ 5,750 RPM, 430 lb-ft @ 3,800 RPM
Transmission: Ford TorqShift 6-speed automatic
Front suspension (4×2): Independent twin I-beam with coil springs
Front suspension (4×4): Mono beam with coil springs (narrow and wide track available)
Rear suspension: Live axle with leaf springs
Max towing, conventional trailer: 18,000 lbs (F-250/350 single), 21,000 lbs (F-350 dually/450)
Max towing, gooseneck: 18,600 lbs (F-250), 21,500 lbs (F-350 single), 32,800 lbs (F-350 dually), 32,500 lbs (F-450)