In a day and age where it seems like just about everything has a little extra to go along with it, a vehicle that is purpose-built and sticks to the basics is a welcome change of pace. To be clear, we're a fan of properly placed bells and whistles as much as anyone since we built our community on the bells and whistles attached to custom trucks. So when we say that a build "sticks to the basics" or avoids being easily labeled as "extra," in no way, shape, or form does that exclude the same build from being extremely stylish.
Nevertheless, it's nice from time to time to see a truck still get to be a truck. What makes this particular build so enjoyable is not just its clean style and simplicity, but the fact that it's purpose-built and purpose driven. This truck makes no apologies for what it is and it's not meant to be a trophy-collecting, show-stealing masterpiece. It wasn't built to be coated in extras and way over the top. It was built to lay frame, haul a boat, and look damn good doing so.
Kevin Schiele's (or KevDogg as most know him) 2005 Ram 3500 is the ultimate custom truck enthusiast's daily driver. He purchased his Dodge during a mid-process rebuild from a fellow truck enthusiast. At the time, the 3500 was sporting a very different line of styling and headed further in that direction, with a full camper shell and a two-tone orange-and-black paint job. For Schiele's purposes, less was more. His simple frame of reference for the build was a diesel-powered daily capable of hauling his boat. With regard to the styling, he wanted enough customization and personality for the Ram to make its presence known, but not so much that it would deter Schiele from hopping in the driver seat every day and doing so comfortably.
The ultra-wide backside of Schiele's truck is yanked down to the pavement by way of a parallel 4-link set up with a panhard bar. The confi guration in the rear makes use of Rancho shocks and Firestone sleeve bags. Tucked comfortably around the custom suspension is a custom fuel tank for additional clearance. A narrowed factory rear helps to shove the steep-lipped, 24-inch American Force wheels deep into them rear hips. The wheels are fi nished in satin black and hugged tight by General Grabber 305/35R24 tires. In similar fashion, the front wheel/tire combo tucks hard thanks to the Michigan Metal Works custom control arms, Rancho Shocks, and Ride Tech 'bags and mounts.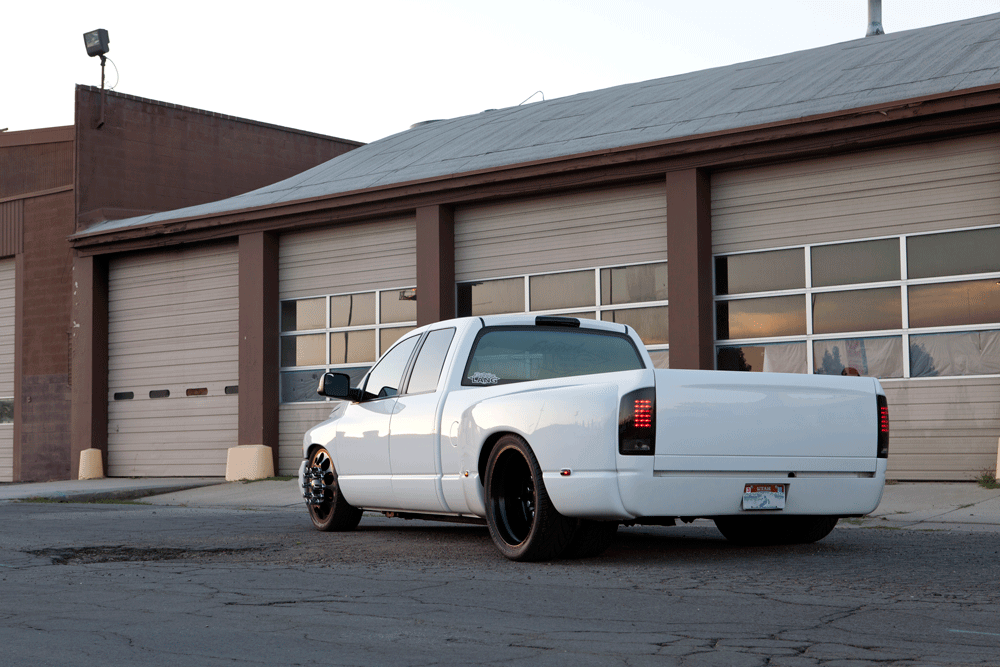 The wheels are motivated by an already potent 24V Cummins powerplant, aided with an Industrial Injections PHATshaft Turbo pushing nearly 40 psi of boost. Edge Products Juice With Attitude CTS tuner, custom cooling hoses, and a custom engine-driven compressor also lend a hand in sprucing up the engine bay for exactly the kind of personality Schiele envisioned for his beast. Ultra-clean and durable bodywork paired with mild custom elements continue the daily-driver theme and personality of the Dodge. A smooth rear roll pan with weld-in plate and SRT-10 style front bumper properly cap the front and back styling. LED tails in the rear are smoked to match the satin black wheels, and the front sports a billet grille powdercoated in black. The fenders are pulled extra wide over the AF rollers and the body is further smoothed out with shaved door handles and tailgate handle. Manuel Bellazetin at Kindig-it Designs finished the clean surface in PPG's Porsche White. Finally, the truck bed was raised, being built over the frame notch for a still-useable bed portion.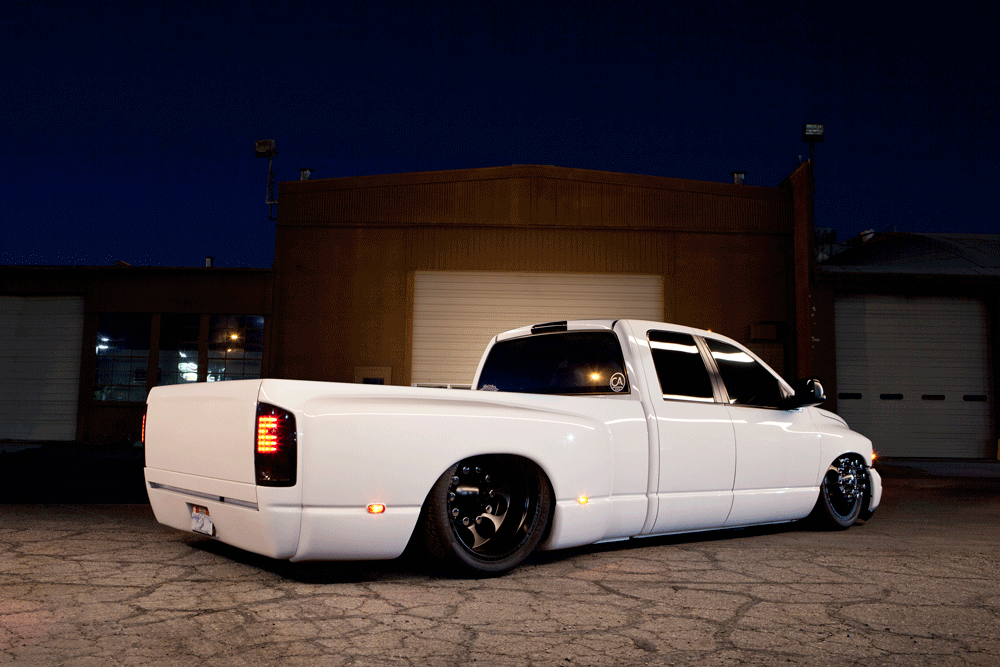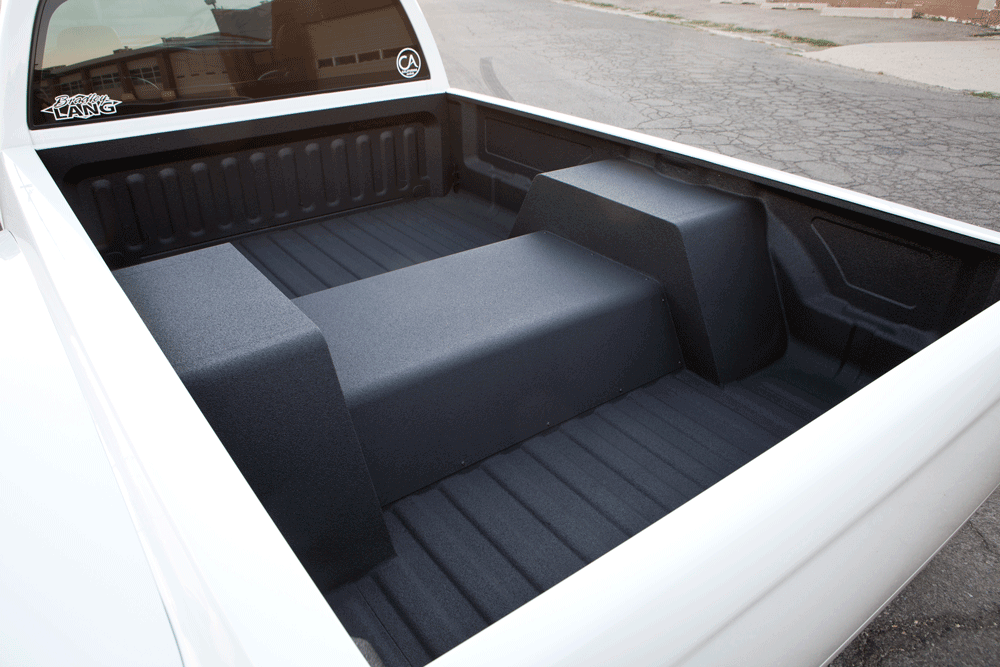 Clean customization, purpose-driven design, and everyday comfort extends throughout the interior of Kevin Schiele's Ram. Justin at JS Custom Upholstery built a new center console to hold the audio system's amps and re-trimmed the interior components in gray vinyl and the seats are wrapped in Katzkin leather. California Audio and Kindig-it teamed up to build the killer sound system. A Pioneer touchscreen head unit sends audio to three Kicker amps tucked cleanly in the custom console. The tunes then reach the Kicker QS 6.5- inch speakers and dual monster Kicker subs mounted beneath the rear seat.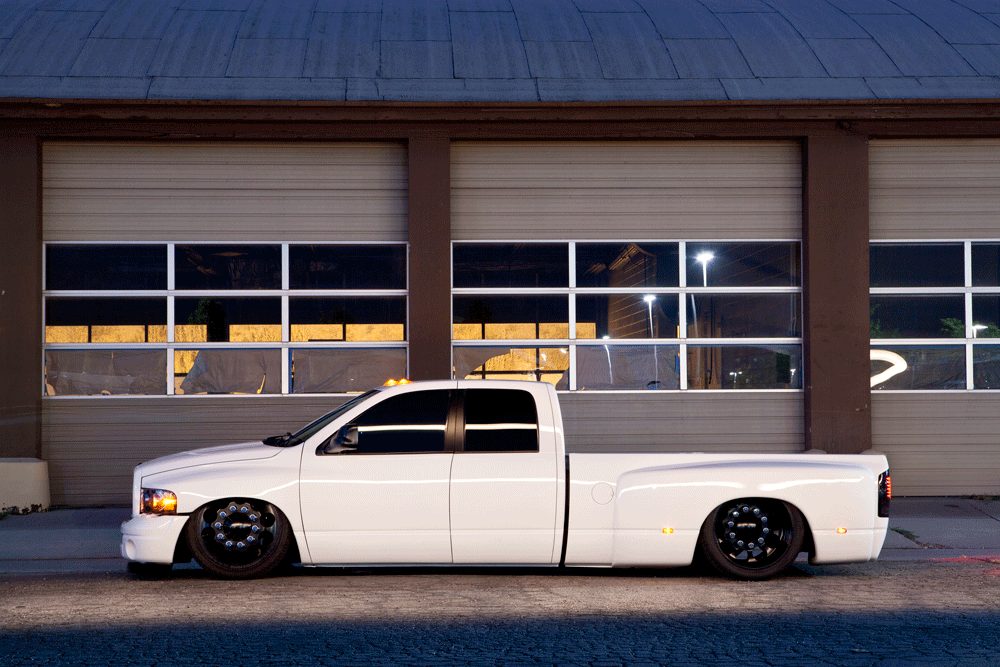 Schiele's 3500 is that one-of-a-kind blend of clean, factory-like appearance enhanced with subtle and unique customization. After all the careful planning, master craftsmanship and countless hours, the end result is a truck unparalleled in daily-driver comforts and top-shelf style. Since Schiele built this beast to drive every single day, it's hard not to call it the ultimate Street Truck.DW
OWNER:
KEVIN SCHIELE 2005 DODGE RAM 3500
Midvale, UT
Severed Ties
ENGINE:
2005 24V Cummins
Industrial Injection PHATshaft Turbo
Custom boots & hoses Custom engine-driven compressor Edge Products (?)
SUSPENSION/CHASSIS:
MMW custom control arms
Rancho shocks
RideTech bags and mounts
Custom fuel tank
Parralel 4-link
Panhard bar
Firestone sleeve airbags
Custom fuel cell
WHEELS & TIRES:
24-inch American Force
Holes wheels
305/35R24 General Grabber tires
BODY/PAINT:
PPG Porsche White paint
SRT-10 front bumper
Smoked LED taillights
Billet grille, powdercoated black
Rear rollpan with weld-in plate
Shaved door and tailgate handles
Pulled fenders
Bed floor built over notch
INTERIOR/STEREO:
Custom console, vinyl wrapped
Katskin leather seats
Pioneer touchscreen head unit
3 Kicker amps
2 Kicker subs
Kicker QS 6.5-inch speakers