20 Years and Still Going Strong
Now in its 20th year, the Scheid Diesel Extravaganza (known as SDX for short) is one of the most exciting events in diesel today. Nearly 15,000 competitors and spectators stream into the town of Terre Haute, Indiana, every August, where sled pulling, drag racing, and dyno action abound. There's 20,000-pound pulling semis, diesel dragsters, and street trucks bent on topping 1,000 horsepower. There's also an expansive vendor row, where some of the biggest names in the business display everything from pistons to transmissions.
DAY ONE
The action got started on the morning of Friday the 26th, where early risers could check out Purdue Diesel Club's Show-n-Shine and the action on twin chassis dynos. On the dynos, the practice of spraying nitrous into the intake has become so popular that the operators had multiple bottles on hand for those who wanted to try and add some extra power. By the time the rollers stopped spinning, Friday's big winner was Tyler Brancifort in his '11 Ford, which put down 1,242 horsepower along with 1,918 lb-ft of torque.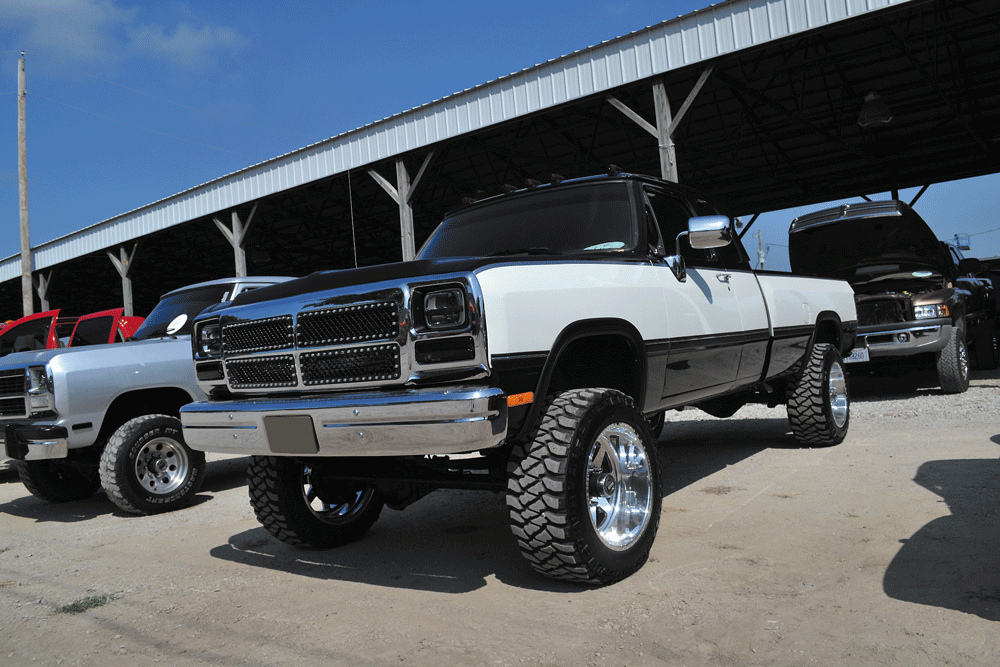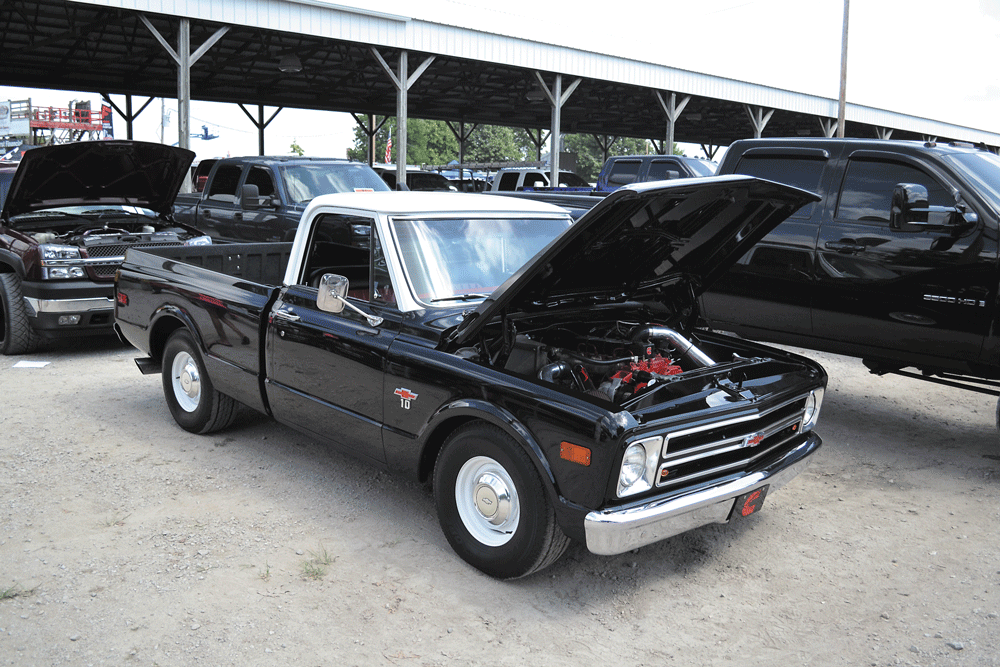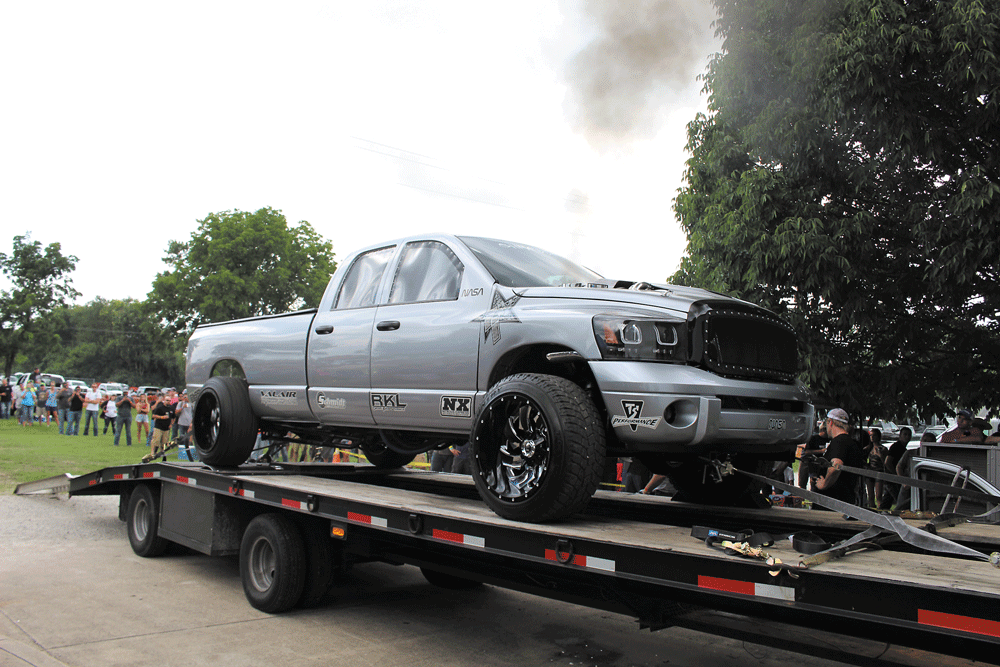 The Show-n-Shine started to fill up quickly as more old-school swaps started rolling in than ever before. There was a 4bt-powered C10, a couple rat rods, and a bunch of older Fords, but the vehicle that really got everyone's attention was Jody Mollet's twin-engine Cummins. Yep, you read that right. Even though it's a work in progress, the mad fabricator fit two 12-valves side-by-side in a '70 Dodge, which is connected via a combination box from Modern Machine. After going viral on Diesel World's Facebook page with more than 300,000 hits, it was clear who stole the show on Day One.
FRIDAY PULLS
After a short break for spectators to wander around vendor row around midday, it was time for qualifying for Limited Pro Stock Truck, a smooth-bore 3.0 class. Limited by inducer size to 76mm, these pullers feature unlimited drivelines and very few restrictions other than turbo size. The class has become so popular (more or less replacing the old 2.6 class) that daytime qualifying was now needed to see who would make the show at night. With two tracks and more than 40 trucks, qualifying held a number of surprises. On the first track, GM/Duramax competitors Daniel Mooney and Casey Clark were able to beat out all of the Cummins-powered rides with their trucks High Maintenance and Khaos. On the second track, Brent Meyer in the Lincoln Diesel Specialties puller had more than eight feet on the entire field with a 328.41-foot pull.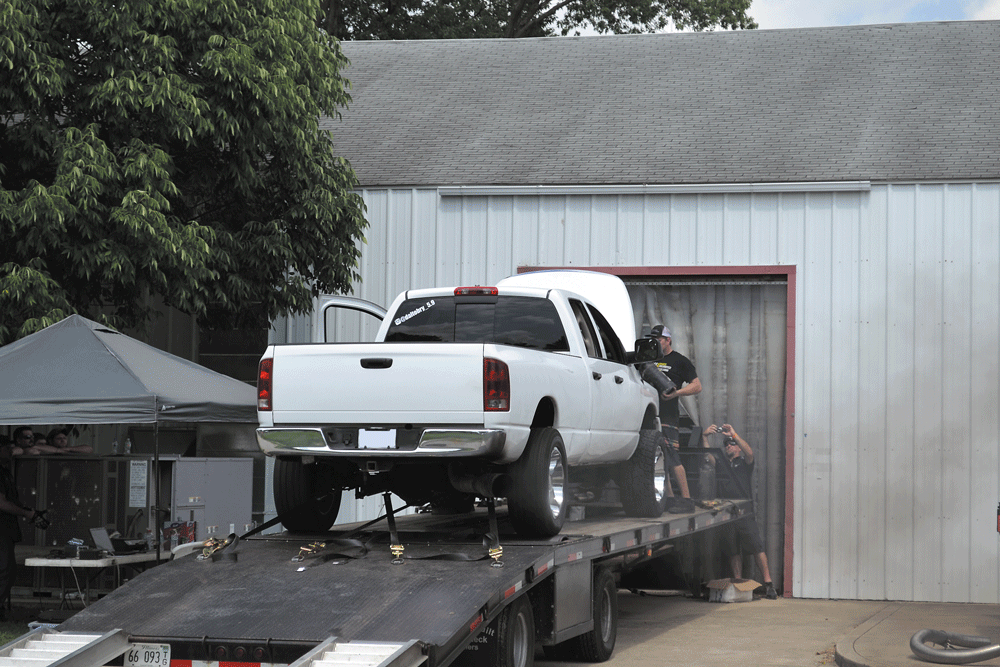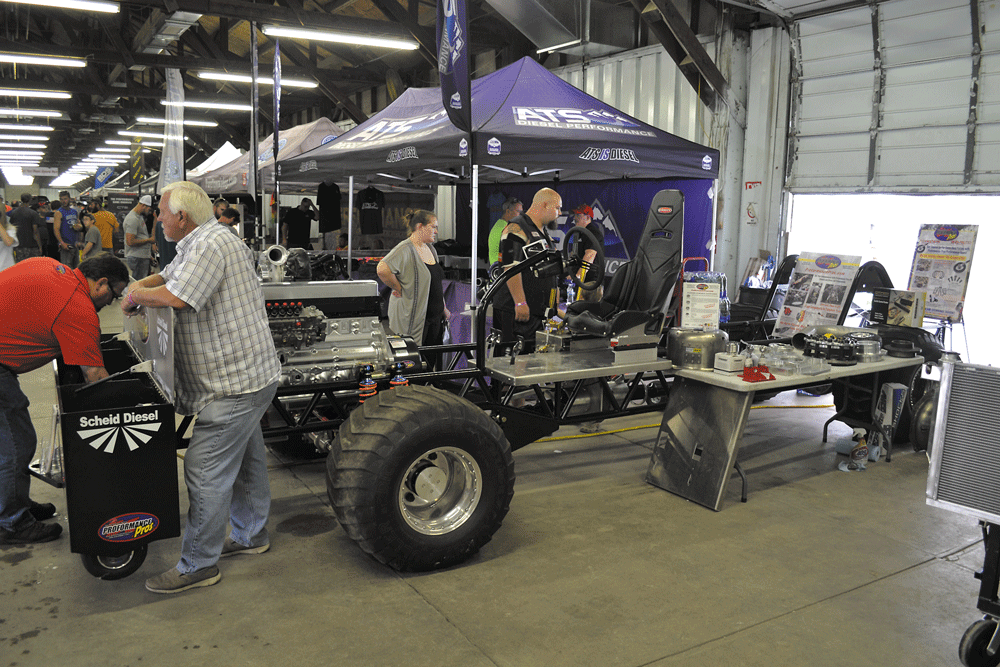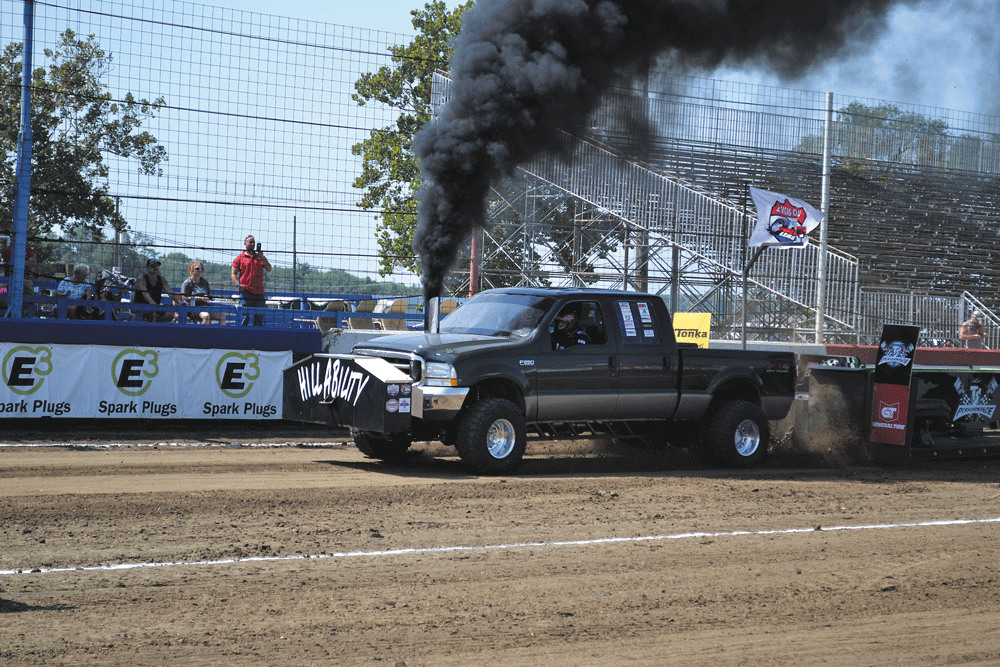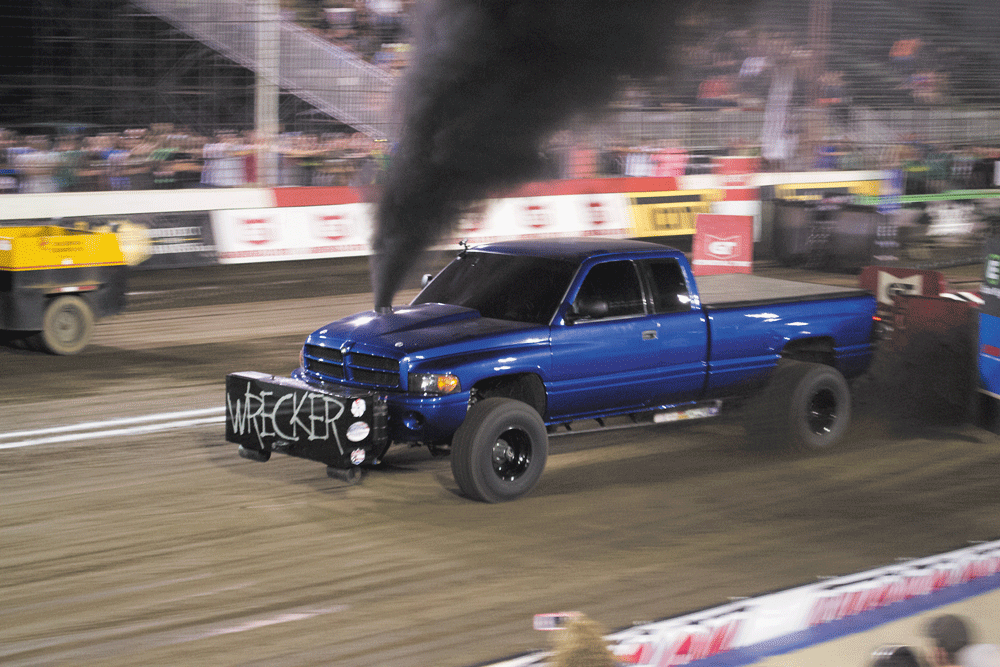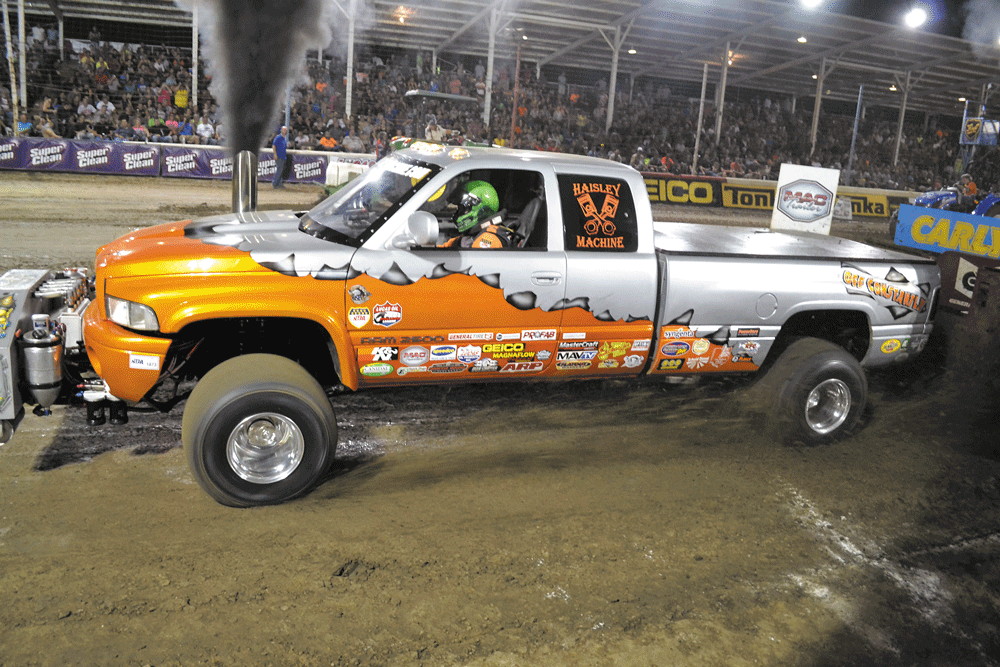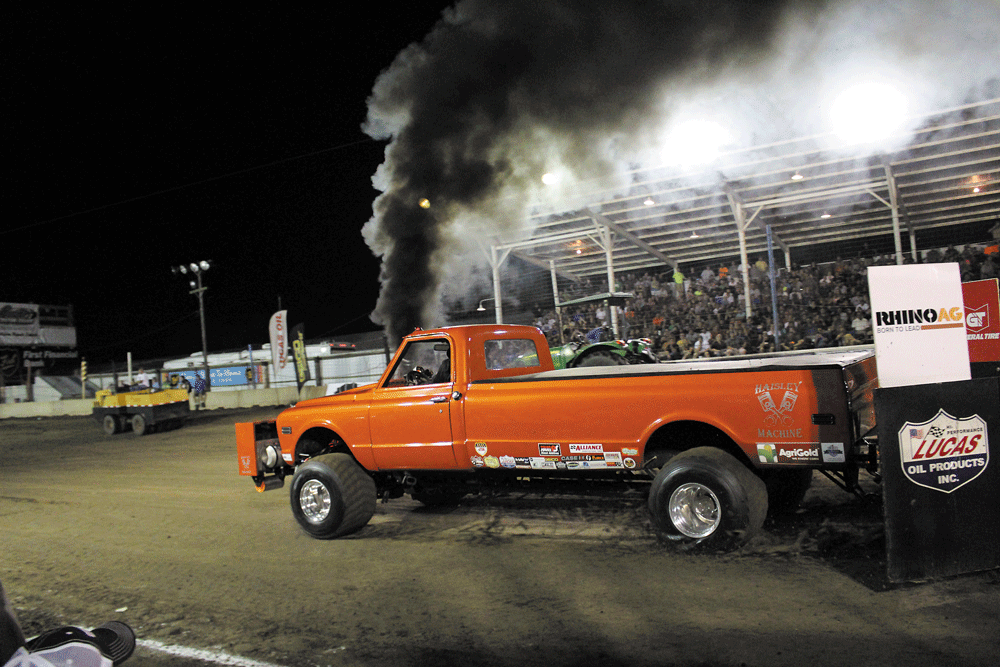 When nighttime rolled around, there were a number of automatic qualifiers that stirred up the pot and the standings quite a bit. Perennial favorite Adam Hallien was able to take the win with 322.75 in a matchup that saw only three feet separate the three first place pulls. Right on Hallien's heels were Adam White at 321.83 feet and Jason Hill with a 319.76-foot pull. Unlike Friday afternoon, the top GM finisher during the night was Zach Andrews in Fancy Hooker with a 15th place, 307.35-foot effort.
Moving up a class meant a move up in charger as well—up to a 3.6-inch (91mm) inducer size. With horsepower in the 1,700- 1,800 range, the Pro Stock class brought out some heavy hitters like Matt Penn, Andrew Grove, and Curt Haisley. Friday also marked the beginning of a spectacular duel between Haisley and Jacob Bair, owner of the Grin and Bair It truck. Both Bair and Haisley were the only competitors to pull in the 320+ foot range, with Bair coming in at 326.45 feet and Haisley inching him out with a 327.69-foot effort.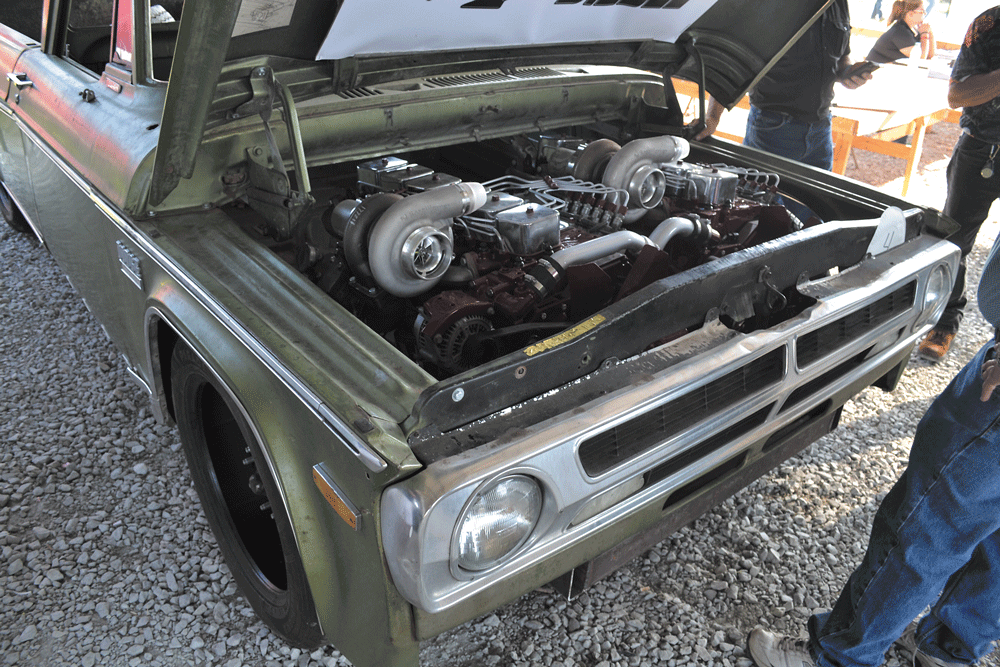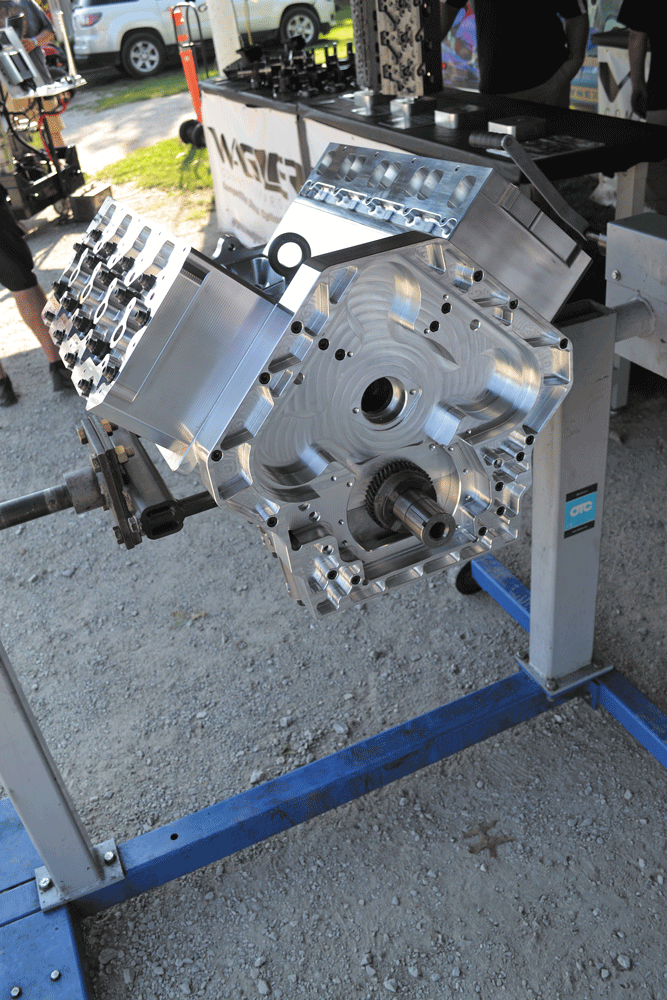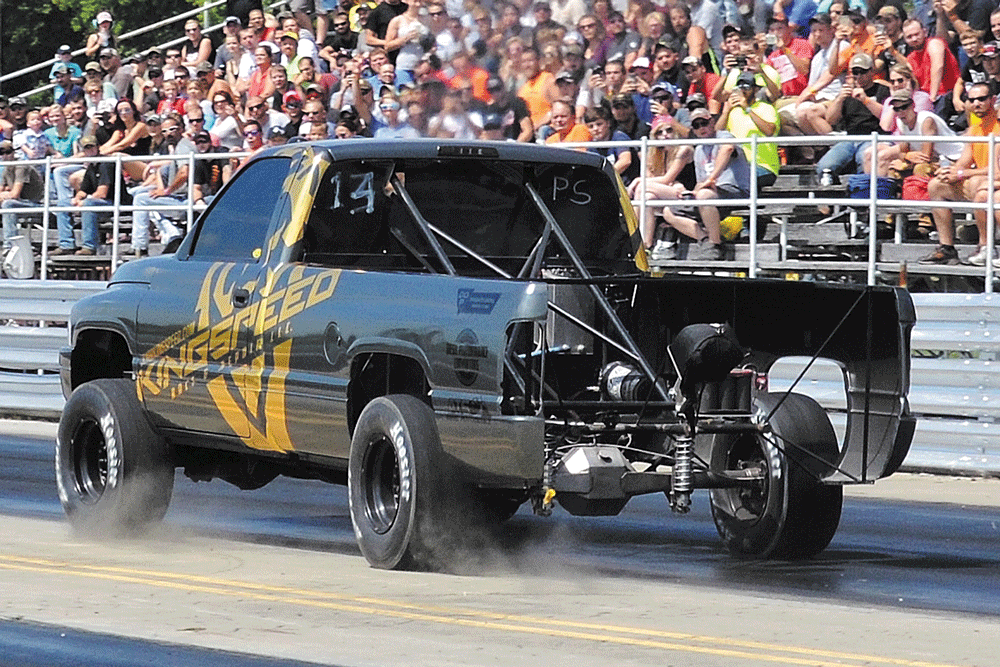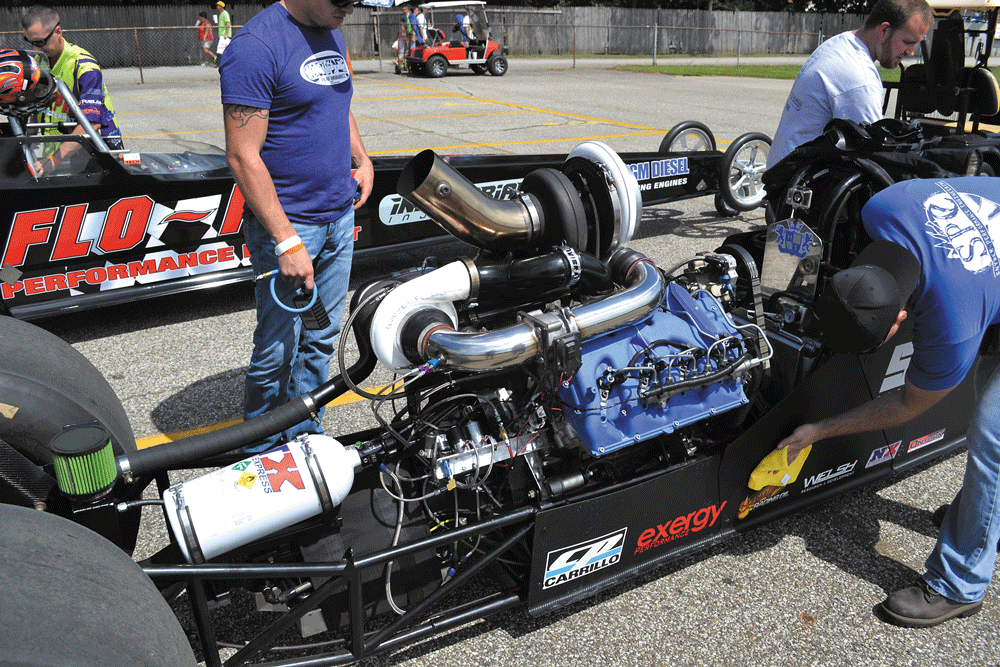 Super Stock Diesel Truck is the pinnacle of pickup pulling performance. With triple-turbo setups and more than 3,000 horsepower, the Super Stock trucks are truly a sight to behold—and there were 20 of them! Points leader Carl Atley has been very tough to beat this year, and he proved he lives up to the hype in the Lethal Weapon truck, with a winning 317.92-foot effort. Right behind Atley was the Scheid Diesel entry driven by Kent Crowder at 315.66 feet, followed by brothers Brad and Josh Deeter at 314.35 and 312.79 feet, respectively.
The action didn't end with the trucks however, as Pro Stock Tractor, Super Farm Tractor, and Hot Rod Semi rounded out the night with some crazy wheelie action. Pro Stock saw an odd double occurrence, as Ross Boersen took both first and second in his Greenline Express and Greenline Express 2 tractors, leaving third to Andrew Boyd in the Boyd & Co. Green Streak. Super Farm saw both Ryan Anderson and Don Slama pull over 330 feet, with Slama taking the win at 333.84. Squeekin Bye didn't live up to its name in Hot Rod Semi, as the semi driven by Tiffany Haselby put more than 8 feet on the nearest competitor with a 336.94- foot pull.
DAY TWO
Saturday morning brought more spotless trucks in the Show-n-Shine, which presented awards for the best Ford, Dodge, and GM, as well as best custom. On the dyno, Tyler Brancifort's Ford broke 1,200 horsepower once again with a 1,215hp pull, only to be edged out by Brian Randall's Dodge, which put down a whopping 1,284.
The big news for Saturday was that it would mark the beginning of the drag races at Crossroads Dragway and one of the final events for the Outlaw Diesel Super Series (ODSS). With semis, bracket racing, and 7.70 and 6.70 index classes, there was plenty of sportsman action to go around, and with heads-up action in Pro Street, Pro Stock, and Top Dragster, spectators were sure to see 4- second, 150+ mph action.
SATURDAY DRAGS
Pro classes saw qualifying and the first round on Saturday to give the trucks plenty of time between rounds for main-tenance. In what would become a 2wd versus 4wd battle in Pro Street, Saturday got the action kicked off with a moonshot from Chase Lunsford, who ran a 5.60- second pass right off the trailer despite going anywhere but straight. Ryan Milliken's Cummins-powered 2wd and Brett Deutch's Duramax-powered C10 would face off in the first round, where Deutch drove around for a narrow 5.98 to 6.11 second victory.
A surprising number of rails showed up for the Pro Dragster class, where the dragsters of John Robinson, Daniel Snyder, Jared Jones, and Wade Moody made the call, along with the funny car of Tony Careccia. In the end, it would be the Duramax/nitrous combination of Wade Moody and the compound turbo Cummins in the Scheid dragster driven by Jared Jones that would outpace the field, as both clicked off high 4-second qualifying passes. Robinson suffered an unfortunate transmission issue, while Snyder was a few ticks behind in the mid 5s.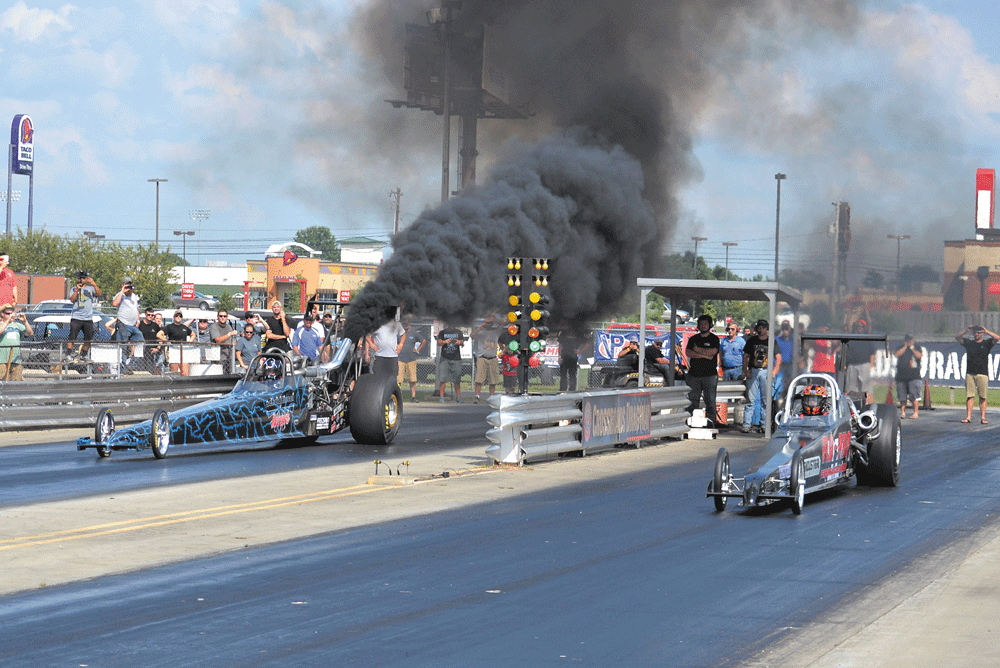 Points in the bracket and index classes would count both Saturday and Sunday, so every racer had the utmost incentive to pull off a victory. Saturday saw a squeaker in the 6.70 Index class, as Rick Fox pulled off a win with a 6.78 versus Banean Woosley's 6.75 ET. The difference was in reaction time, as a slower 6.78 got the victory, thanks to a 0.11 versus 0.17 light. In 7.70, Eric Long rocketed off the line with a 0.02 light and won with an off-pace 9.13-second run. Big Rigs saw Terre Haute's own Matt Crawford take the win with a 13.18-second ET, while in ET Bracket Josh Rogers waded through an impressive six rounds of racing to take the win with a 11.11-second run on an 11.04 dial-in.
SATURDAY PULLS
Saturday night was filled with crazy pulling action once again, as the PPL took center stage. In the 3.0 Class, Saturday's qualifying saw a number of Duramax- powered GMs towards the top, and unlike Friday, which was Cumminsdominated, Daniel Mooney's High Maintenance Chevy was able to pull off a fourth-place finish with a 311.61-foot effort. Blair Beyer clicked off a 312.08 in his Ram, just short of Rob Wright's impressive 312.74 in All Attitude. In the end, it was the Nathan Byrd's Ice Farms entry that would put a gap on the field with a 325.36-foot effort and the win. In the 3.6 class, the rivalry would continue between Curt Haisley in Off Constantly and Jacob Bair in Grin and Bair It.
A surprise decision was made to have a pull-off in Pro Stock, which meant that these two would duke it out with the Barn Yard Bandit driven by Evan Smoot and the Ranch Hand piloted by Andrew Kinsley, both of whom had pulled more than 320 feet on their first runs. When the dust settled, it was Bair who came away with the win with a 327.64-foot pull, narrowly beating Curt Haisley's 324.17-foot run.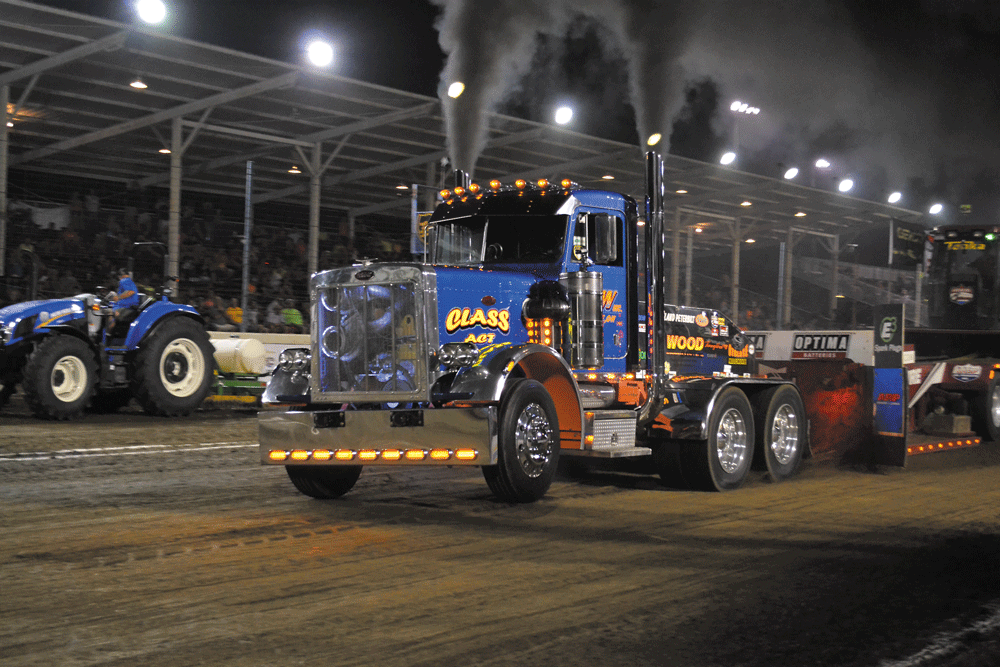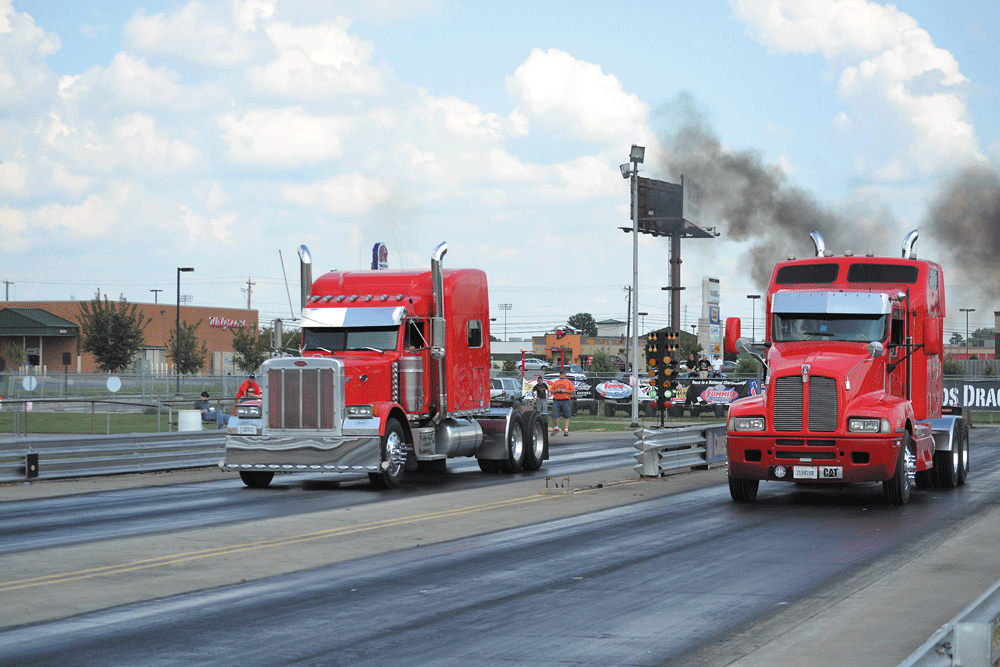 In Super Stock Diesel, Saturday night's action went much like Friday night's, with the same familiar faces up on top of the leader board. Brad Deeter's Oversize Load truck landed in fifth place, just short of Shane Kellogg's Trump entry, which had a much better pull than on Friday night. Kent Crowder and Carl Atley switched places, with Crowder coming out in front on Saturday. The biggest surprise of the night, and perhaps of the whole event, was Kyle Michael's Duramax- powered Climax truck beating out a sea of mechanical Cummins-powered pullers with a Herculean 336-foot effort.
Pro Stock Tractor saw Ross Boersen pull a rare double win, as he took the victory on both Friday and Saturday nights in the Greenline Express. In Hot Rod Semi, Joe Hoffa took the win with the only Peterbilt in the class, closing out the night with a 308.42-foot pull.
DAY THREE: DRAGS
An appreciative crowd stuck around Sunday for the drag racing action, as there was still the second day of bracket and index classes, as well as the finals in the Pro classes. The two Index classes, 6.70 and 7.70, saw tight action once again, as Larson Miller clicked off a 7.77-second ET to Wade Howard's 7.83 in an all commonrail Dodge final. In 6.70, Daniel Pierce was on a mission, running a 6.708 in the semifinals, but in the final an off-pace pass gave the win to Steve King. In the Bracket class it was Eugine Ogle's crowd favorite '72 Ford that took the win with 7.82 on a 7.80 dial-in, while Jason Graves took the victory in the Big Rig class.
In Pro Street, the two quickest qualifiers met up in the finals in one of the best races of the weekend. Chase Lunsford had a better launch and an early lead, but Seth Sullivan was catching up on the big end. In the end, Lunsford won the title with a quicker 5.72 at 132 mph to Sullivan's 5.82 at 136 mph. Top Dragster also promised to be a good show until Jared Jones had to pedal and got under the turbo. Wade Moody, who had already run a 4.50 and a 4.45, went 4.53 in the finals for the well-deserved win.
With 20 years in the bank, we can't imagine that next year's SDX will be any less thrilling. The crowds are amazing, the competition is action-packed, and between the drag racing, dyno runs, sled pulling, and Show-n-Shine, you're sure to see something you've never seen before. With folks coming from as far away as California, Florida, and Canada, there's no excuse for you not to check out next year's event! DW