Power Driven Diesel Cranks out 1,221 hp and 2,532 lb-ft with a Three-Turbo 6.4L Ford
In the last few years, turbocharging has gone through a revolution in the diesel marketplace. With only a few initial choices, diesel enthusiasts' main decision was whether they wanted to run a single turbo or the ever-popular compound two-turbo setup known as "twins." Today, there are virtually endless choices, from ball-bearing turbos, to large but quick-spooling singles, to compound turbo setups that will support a vast amount of horsepower.
ENTER COMPOUND TRIPLE TURBOCHARGERS
It wasn't long before using two turbos in a compound arrangement wasn't enough. Sled-pulling tractors have run three or even four turbos for years, and it was only a matter of time before pickups followed suit. While it may sound like overkill, triple turbos do have their advantages over traditional two-turbo setups. First of all, the atmospheric turbo needed to make massive amounts of horsepower in a two-turbo arrangement can be costly and hard to spool. Instead of a 95 to 106mm turbo, the same amount of airflow can be provided by smaller frame 66 to 69mm turbochargers.
While the cost savings of a triple turbo setup is often offset by extra piping, this configuration does offer other advantages. The exhaust area provided by two housings and exhaust wheels means that high boost pressures can be achieved with a low exhaust-side pressure (known as drive pressure) compared to traditional two-turbo setups. Also, the two atmospheric turbos will take a little bit to get spooled, which actually allows the high-pressure (or manifold) turbo to create boost more quickly. So in the end, you'll have a better driving setup that will have a higher power potential and be easier on parts.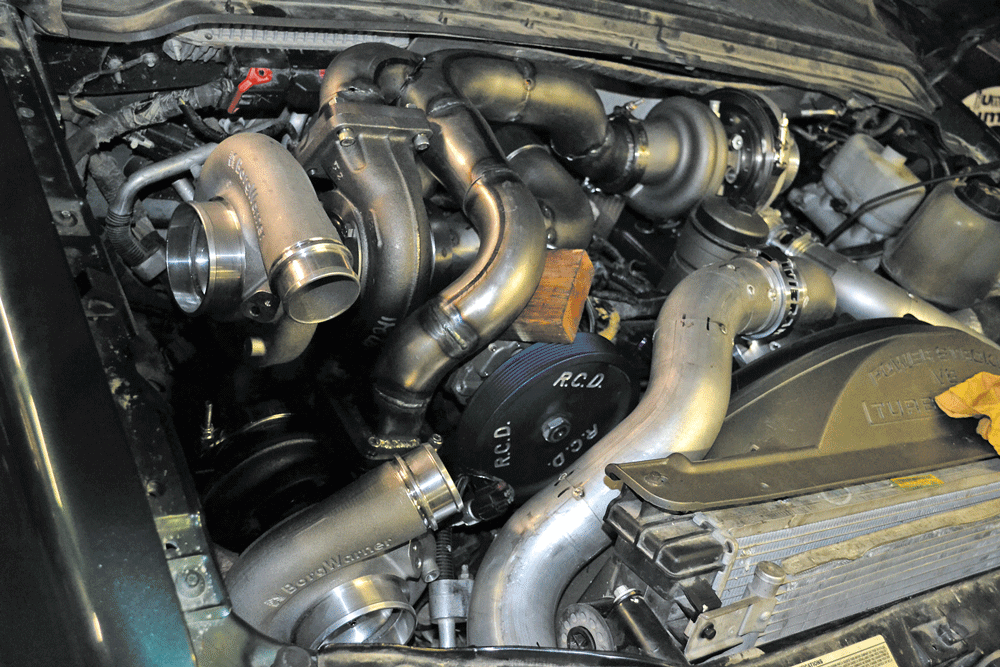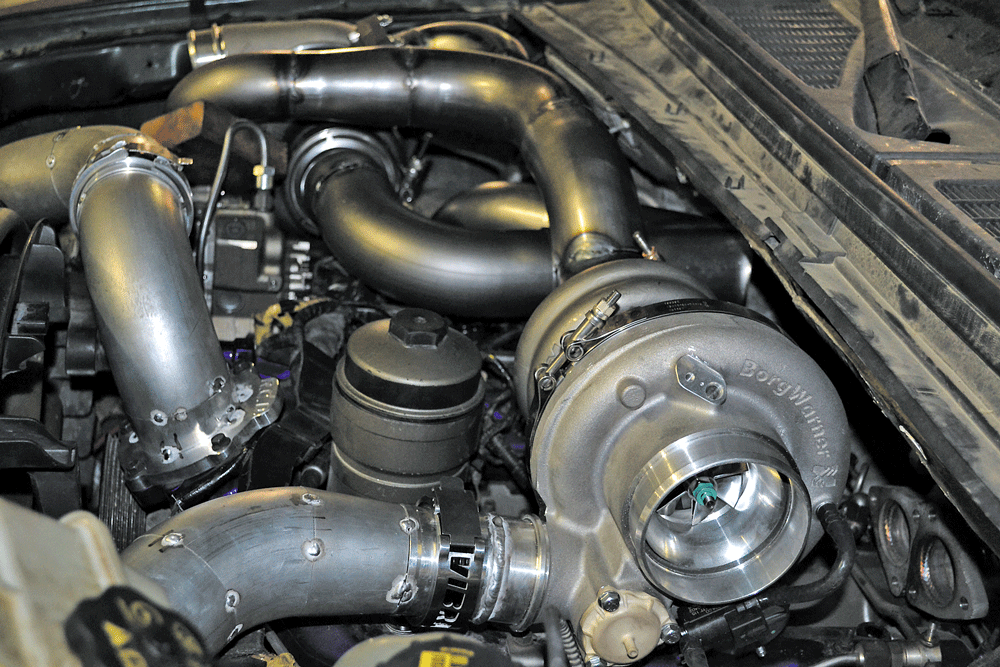 POWER DRIVEN DIESEL'S TRIPLE 6.4L SETUP
When Austin Carter contacted Power Driven Diesel about building a custom triple setup for his 6.4L Power Stroke, owners Will Terry and Todd Welch said they were more than up to the task. Then Carter threw the curveball, something that every diesel owner wants: the truck still had to be able to tow. Most shops would have just walked away from his 1,200hp goal, but PDD was able and willing to build something that spooled like the stock compounds but support well over four-digit power.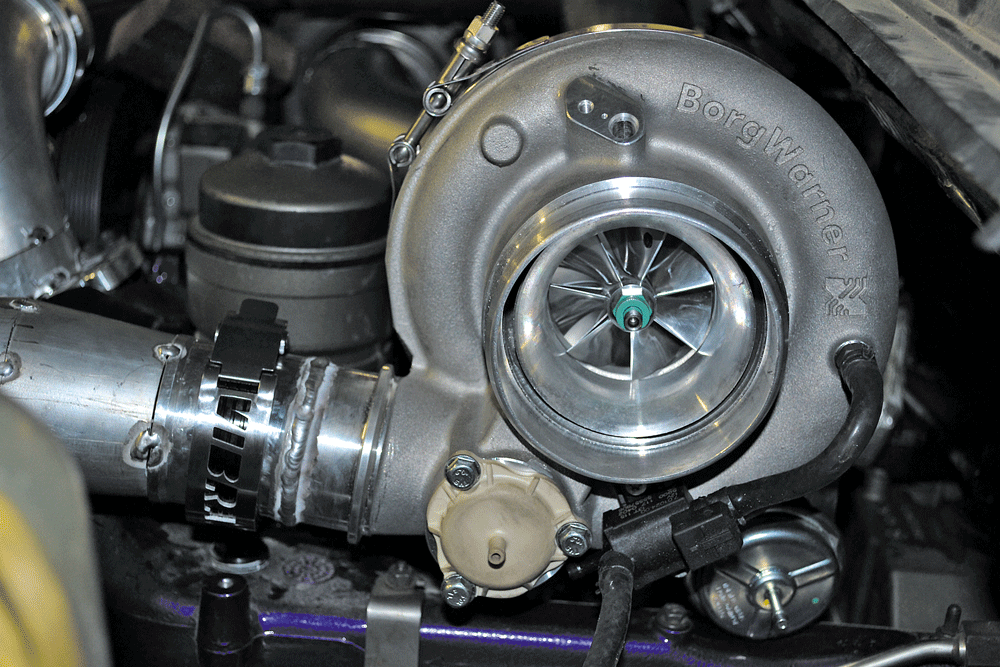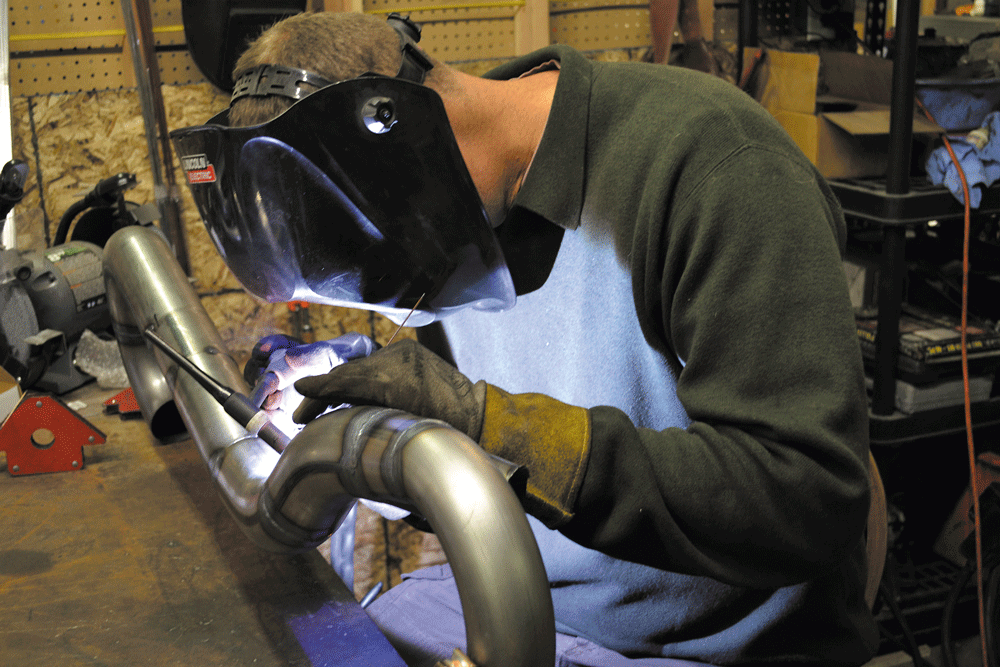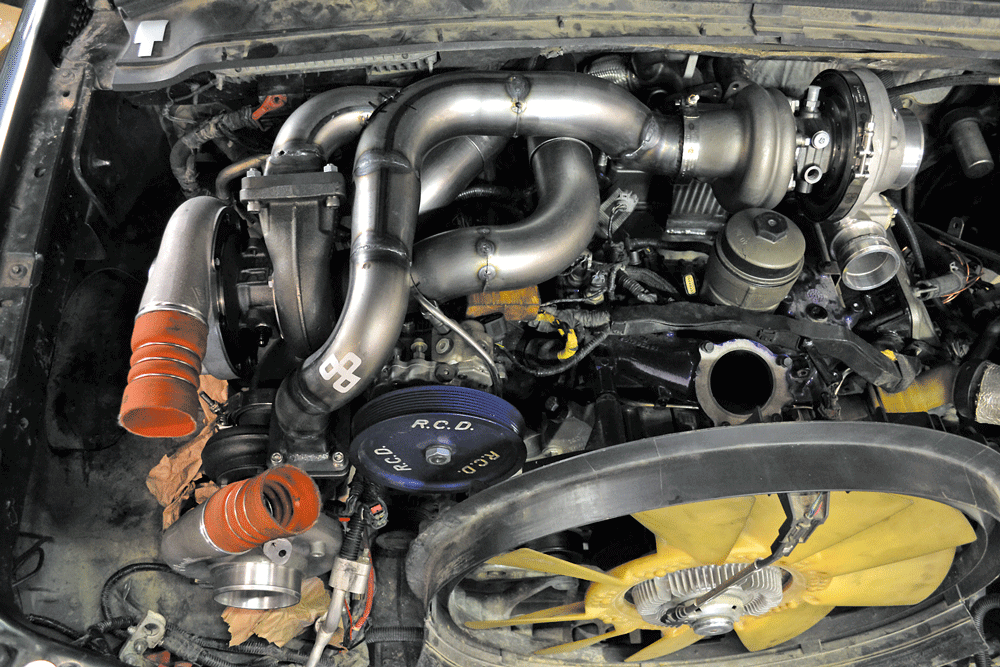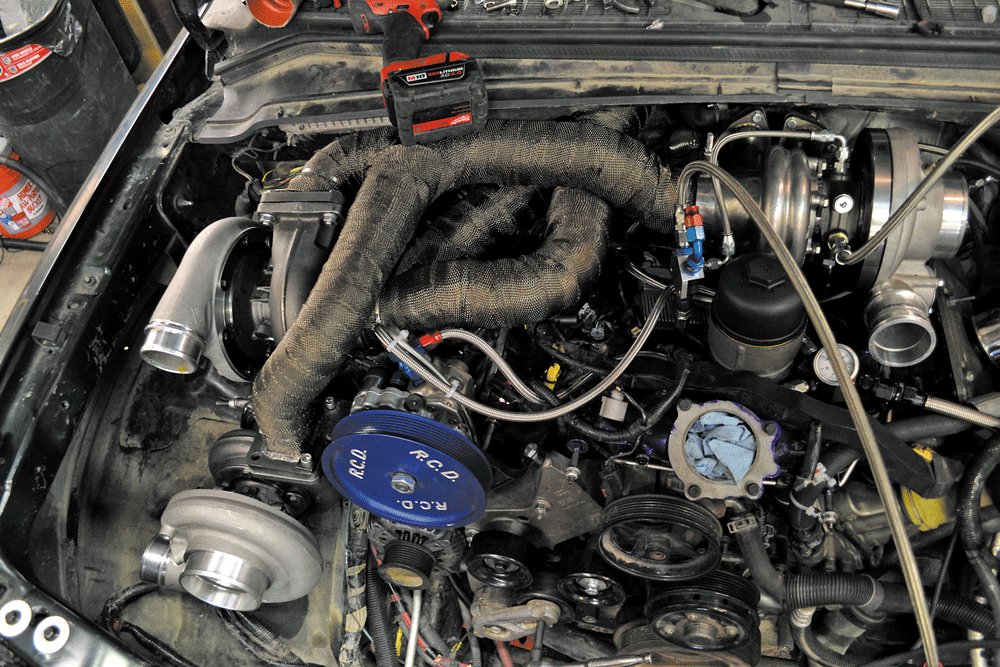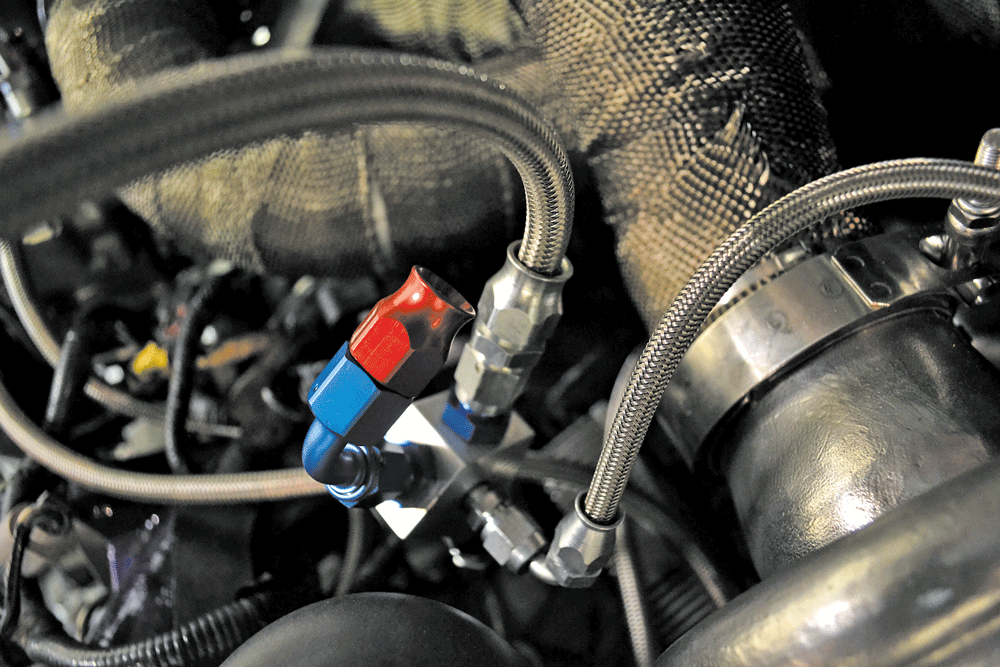 Getting things going down low means a small turbo, so that was PDD's first consideration. The turbo also had to support a decent amount of airflow, handle the boost from the two atmospheric turbos, and wastegate a lot of exhaust. For all these reasons, the team picked a 62.6mm EFR turbocharger from Borg- Warner; this advanced turbo features a huge internal wastegate, ball bearings to handle extreme pressures, and a gamma-ti exhaust wheel that is nearly 50 percent lighter than a traditional turbine wheel. For the atmospheric turbos, twin 69mm SX-E turbochargers (also from BorgWarner) were chosen thanks to their advanced design. The new units "spool like a 66mm, but flow like a 75mm," and at 99 lb/min of air, are good for flow pushing more than 1,400 hp at the wheels. With the turbos of choice set in place, it was time to get to work.
TRIPLE TURBOS IN TWO WEEKS
To get started, PDD sourced a T4 mount for a 6.4L engine, then flipped it on its side in order to mount the EFR turbocharger. Todd Welch, PDD's coowner, then started fabricating the piping out of 16-gauge mild steel. "It took quite a while to mock everything up, and we still had to take it apart, make revisions, then put it back together a number of times," Welch says. From the 3-inch turbo outlet, the TIG-welded exhaust then hits a Ybridge before splitting into two 2.5-inch pipes that mount the twin 69mm T4- flange turbos. Twin air filters from AFE are used on the inlet side for the big turbos, which then blow through two 2.5- inch discharge pipes and into the EFR through a single 3.5-inch pipe, and then into a 3.5-to-4-inch boot. Exhaust from the big twins heads out through twin 3, to 3.5, to 4-inch downpipes, which exit underneath the truck. Sound like a lot of welding? We thought so too.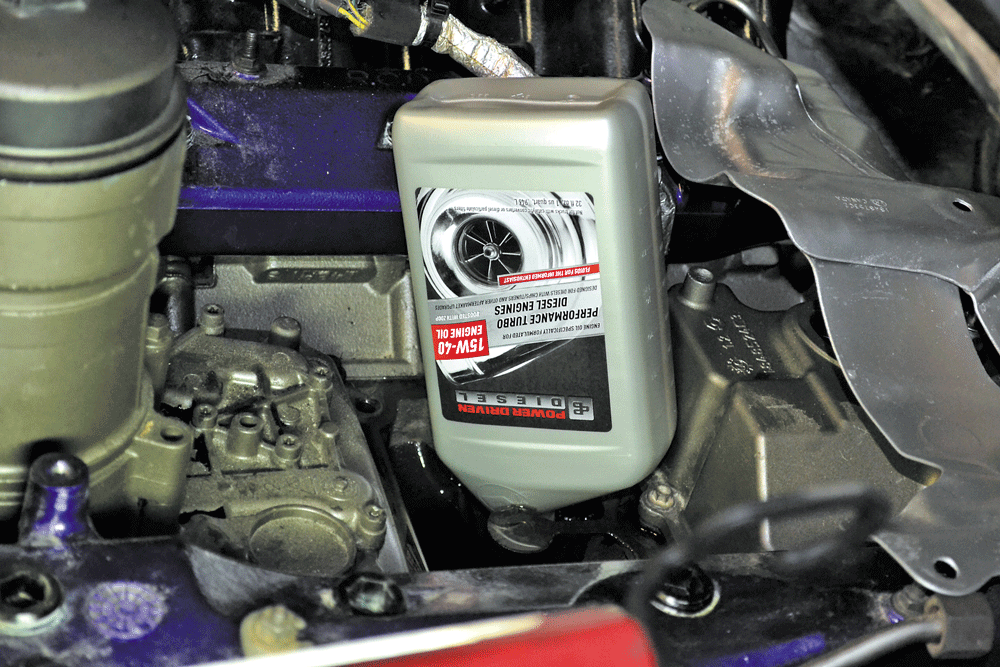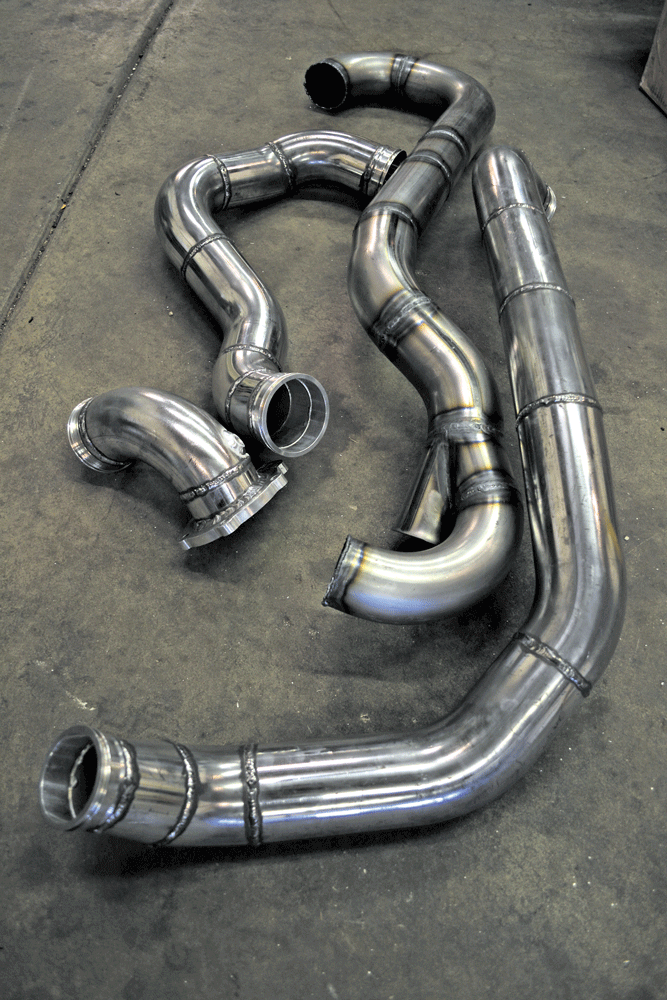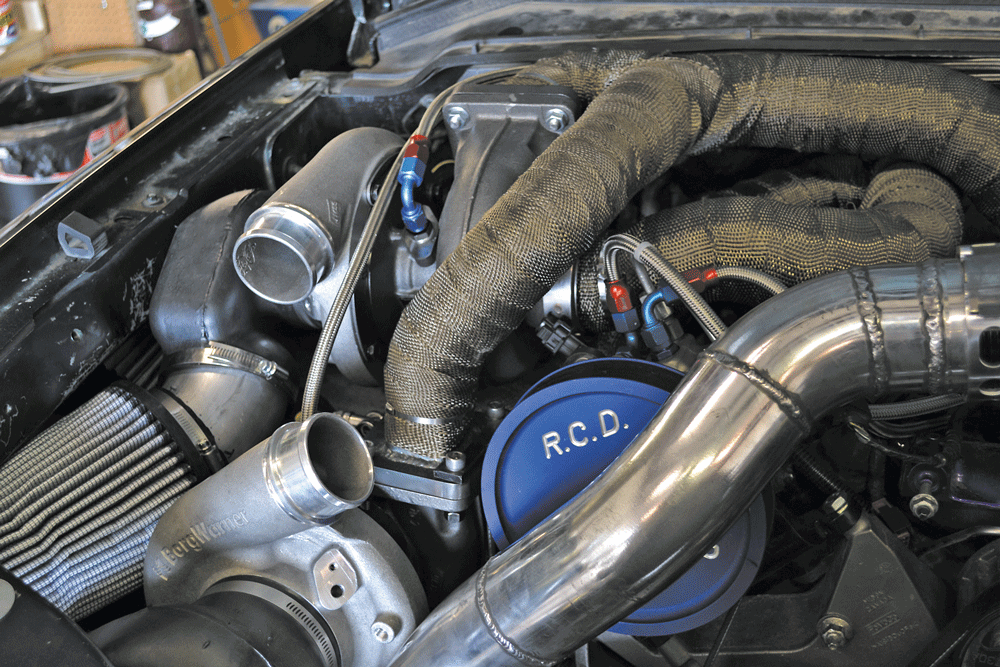 DYNO TESTING
After all the fab work was finished, it was time for PDD to test out their wild creation. Following some initial "easy" dyno pulls at the shop at around 60psi of boost, the "Hulk" (as it's affectionately known) was shipped back to its owner. After some wastegate tuning using PDD's in-cab turbo tuner and loading tunes from a variety of companies, boost was finalized at an impressive 125 psi, with 130 psi of exhaust drive pressure. The astounding boost results meant the truck cleaned up the 100-percent injectors completely, and through a John Woods 4R100 it topped out at a wild 1,221 rear-wheel-horsepower along with 2,532 lb-ft of torque. Remember, this is a truck you can tow with!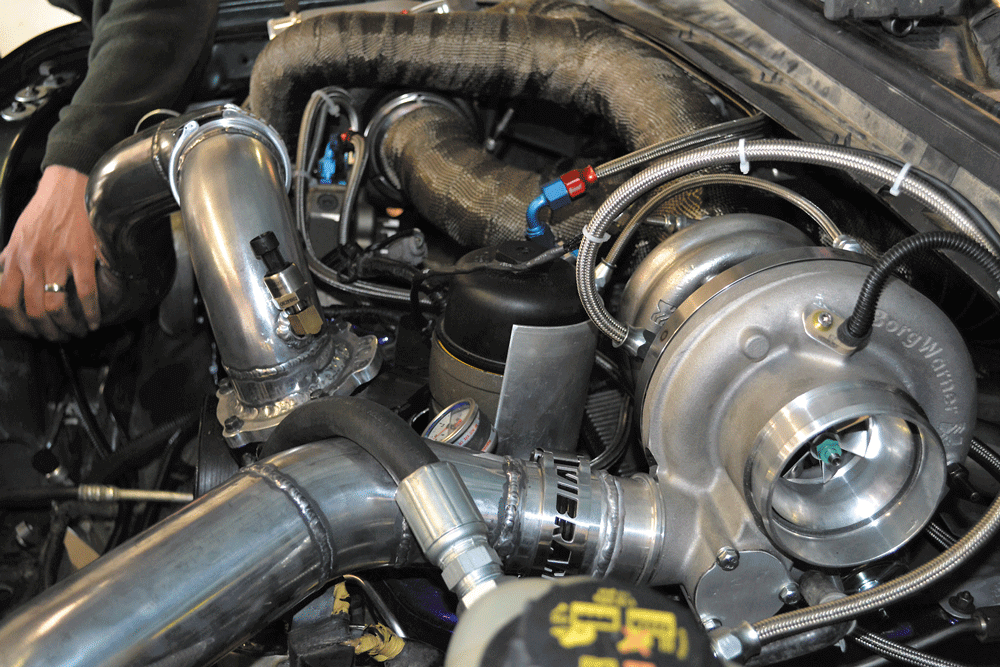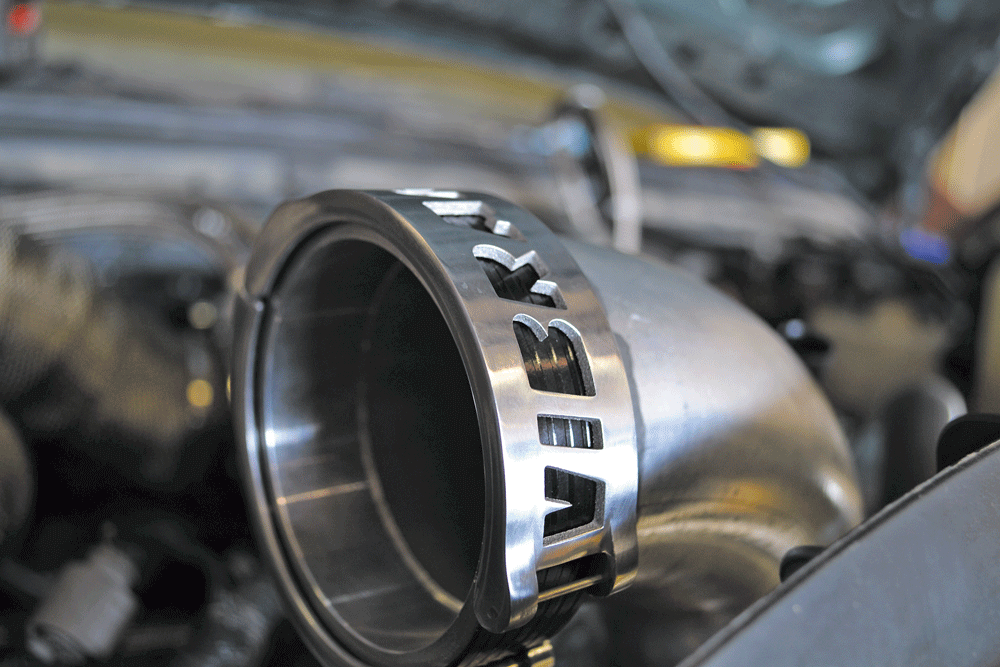 CUSTOM COMPOUNDS—WHAT'S THE COST?
Having a set of custom triple turbos built definitely isn't for the faint of heart or checkbook. Will Terry says that depending on what the customer wants, a big triple setup can run anywhere from $5,000 to $10,000. He also notes that they're working on refining their turbo combinations for power levels well past 1,200; in fact, upwards of 2,000 horsepower is a possibility! With more and more four-digit horsepower trucks out there, a custom triple-turbo setup might be just what the doctor ordered for the ultimate ride. DW