What do you think of the all-new 2016 Nissan Titan XD? Does it stir your heart, make you want a test drive, even persuade you to abandon your current diesel truck? Nissan is certain that some of you will.
Where does this confidence come from? It comes from the "White Space" (it's the new favorite phrase in automotive) that exists between the beefiest 1500 and the least powerful 2500/3500 diesels. According to Nissan, the new Titan XD will recreate what Heavy Duty trucks delivered when the Titan was introduced to the North American market in 2004. In that year, Ford's 2004 SD 6.0-liter made 325 hp and 560 lb-ft of torque, with GVWR of 8,800-9,900 lbs. In comparison, Titan XD is promised to deliver a 2,000-lb payload when properly equipped, and 12,000 lbs. of tow. That's also when properly equipped, though all XDs are delivered with built-in gooseneck trailer connection preparation; no cutting to get towing. Nissan also emphasized that the "Titan is designed in California, engineered in Michigan, tested in Arizona, built in Mississippi, and powered by Indiana and Tennessee." Many of the team on the new Titan launched the previous Titan as well.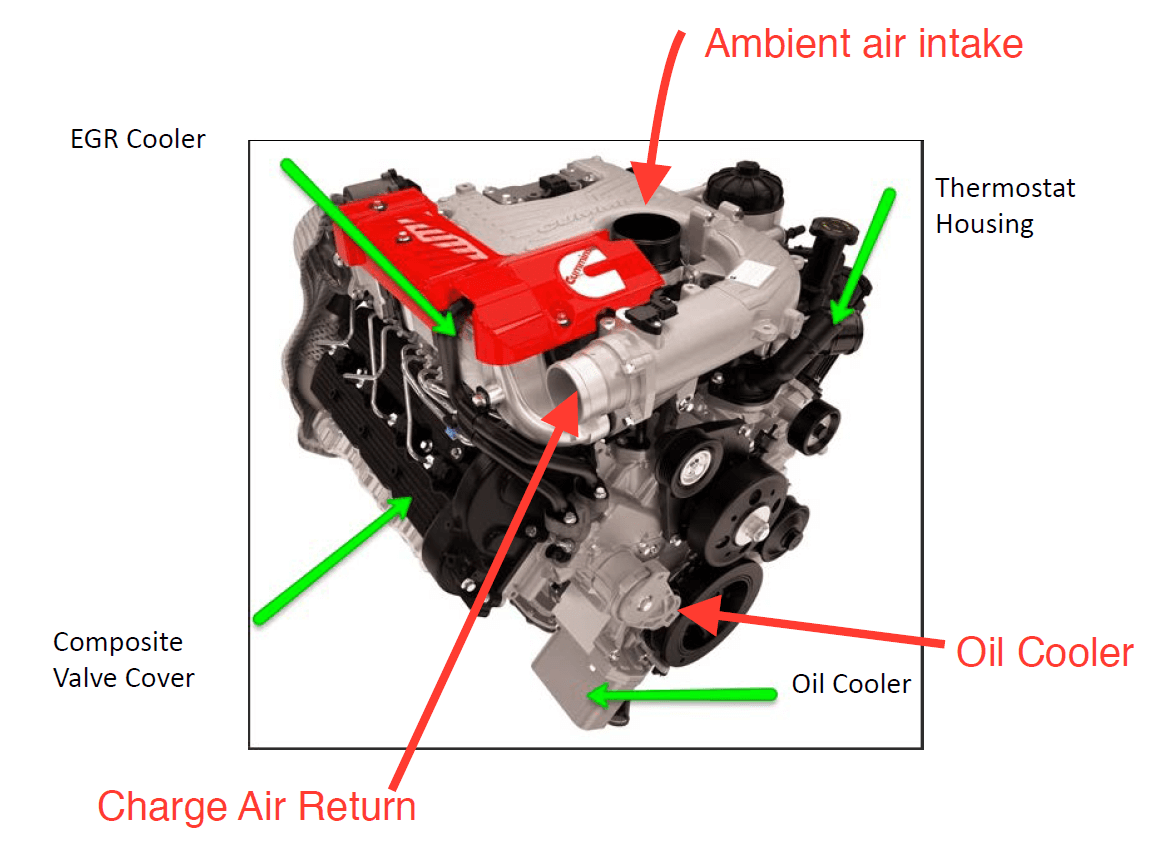 According to Nissan, current HD trucks are far more powerful, with greater capacity than a large number of HD buyers really need. Those HD diesel trucks are also far more expensive. Again according to Nissan, every year 160,000 owners trade up, or down, into or out of Heavy Duty trucks as they prove to be either too much truck (and money) or not enough. That's their target, so let's see if their ammunition is capable.
It's compact, it's compacted (graphite iron, that is) and it's 555 lb-ft of torque. Not to mention it has that big C atop as assurance that you'll get longevity as well as performance.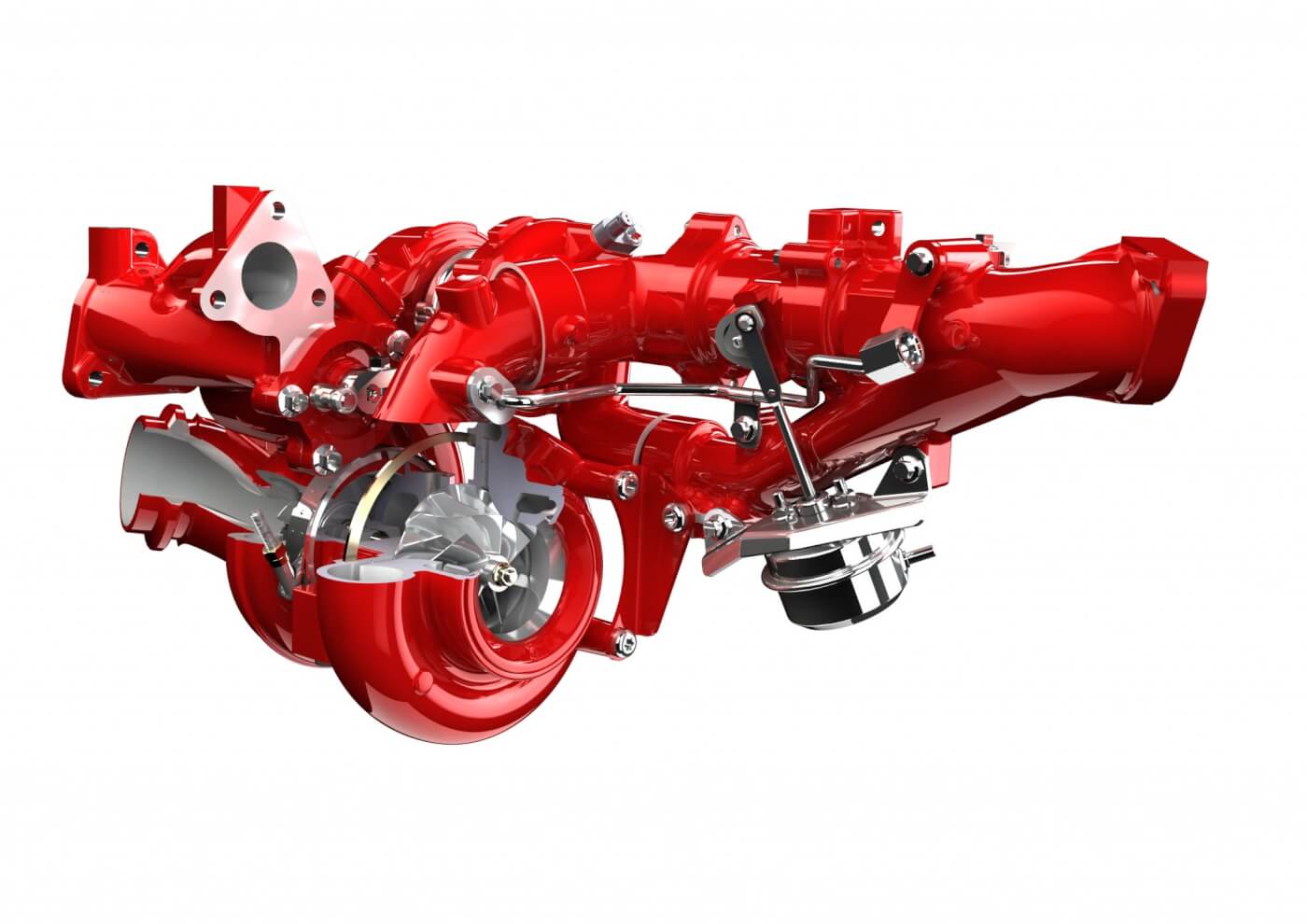 Immediately there's the attraction and allure of a Cummins Diesel. As we reported several months ago, this engine is the result of continuing engineering development initiated back in 2005 with an agreement with then-Chrysler and supported by a DOE grant to develop modern clean diesels. Bankruptcy broke that agreement, but Cummins soldiered on with an engine they now call the ISV5.0. It's the core of what they've delivered to Nissan in a partnership that started in 2007. Cummins has families of engines in 2.8-liter, 3.8-liter, 4.5-liter, and on up to 6.7-liter. Cummins' 25-year relationship with Ram isn't at risk; the Ram with Cummins power delivers 30,000 lbs. of towing power, far more than the numbers slated for the 5.0-liter—in other words, not a realistic comparison.
According to Nissan, current HD trucks are far more powerful, with greater capacity than a large number of HD buyers really need. Those HD diesel trucks are also far more expensive.
The engine, and we'll discuss it first to slake your thirst, is as modern as any and shares huge commonality with the ISV5.0, more than 70 percent similar parts. That's good, as that motor is rated for commercial use up to 30,000 lbs. Beginning with a CGI—Compacted Graphite Iron—cylinder block, it has a similar forged steel crankshaft. Lightweighting starts with aluminum alloy for the cylinder head, and composite valve covers. You've seen similar lightweight heads and covers in most current car engines, not all truck motors. It's a DOHC—double overhead cam engine—formerly uncommon in diesel engines where OHV, overhead valves, are still in use.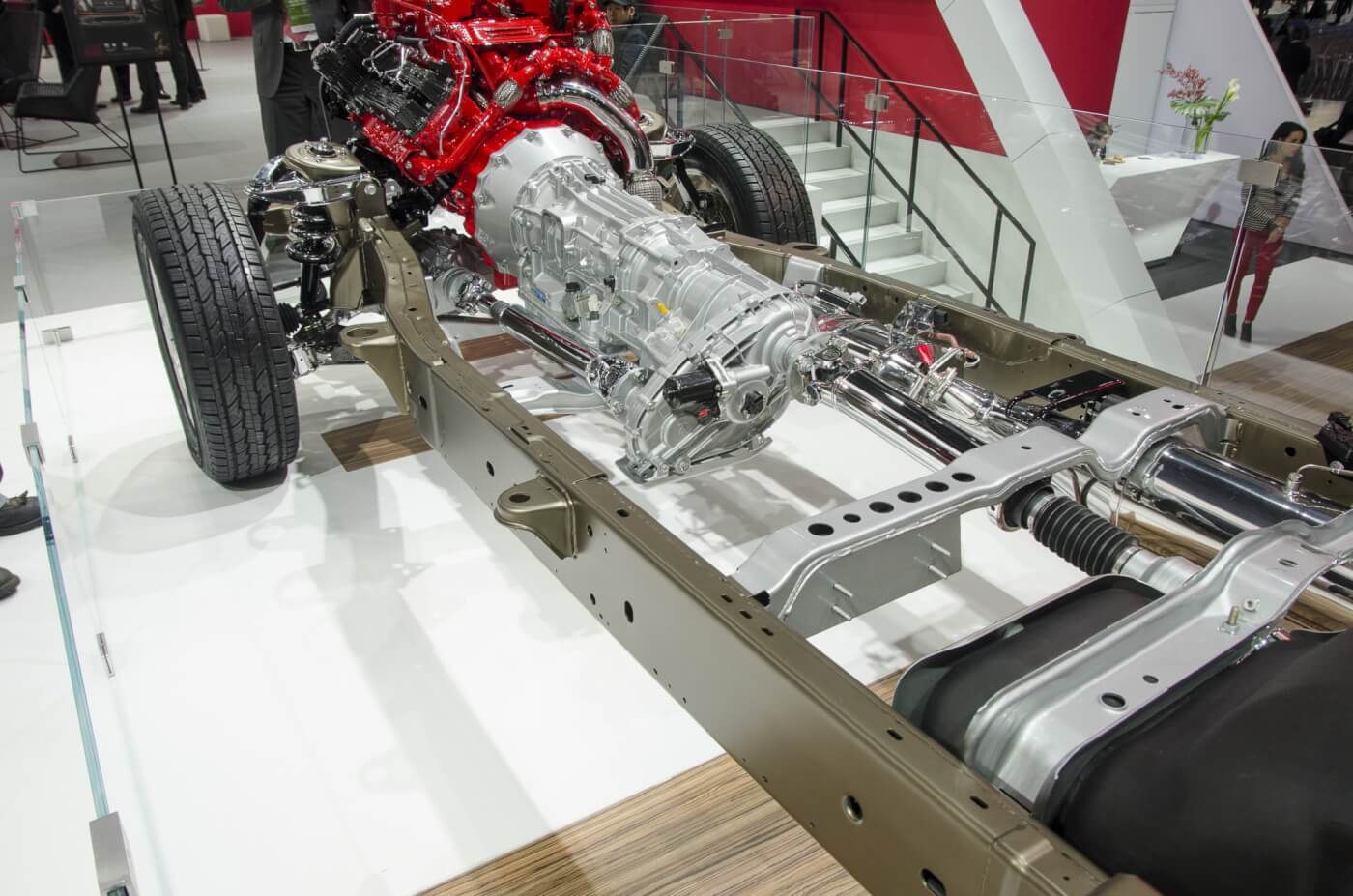 As predicted, the engine is twin turbocharged for reduced lag in power delivery regardless of engine rpm. It's a sequential system with the smaller turbo supplying low airflow requirements and the larger taking over for big air movement. What Cummins emphasized in our conversations at the North American International Auto Show was how the turbos are able to maintain a flat torque curve barely above idle. As in other engines, the small turbo delivers swift pressure at low airflow, minimizing transients. We can't yet document the claim of near-zero turbo lag, but we're incredibly interested to test it. Where proprietary Cummins technology comes in is the patented rotary valve that opens the bypass ports (waste gate)—the M2 system. Cummins also provides the exhaust after-treatment thermal management system.
Injectors for the engine are the latest generation Bosch piezoelectric and the fuel system is Bosch's HPCR—High Pressure Common Rail. How many of the available eight injections are used was not announced. Together—engine, M2 two-stage turbo, HPCR—deliver 555 lb-ft of torque and 310 horsepower.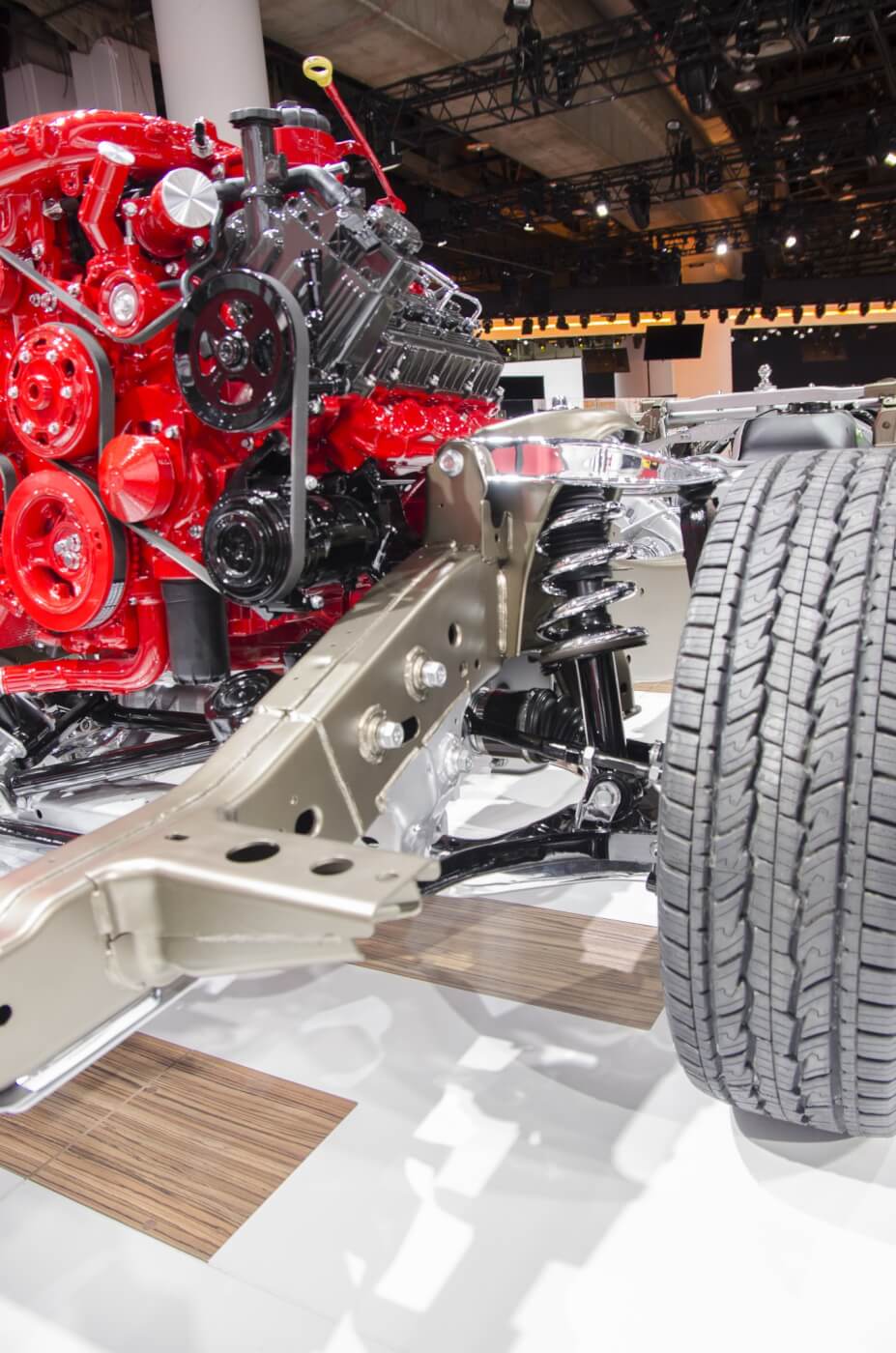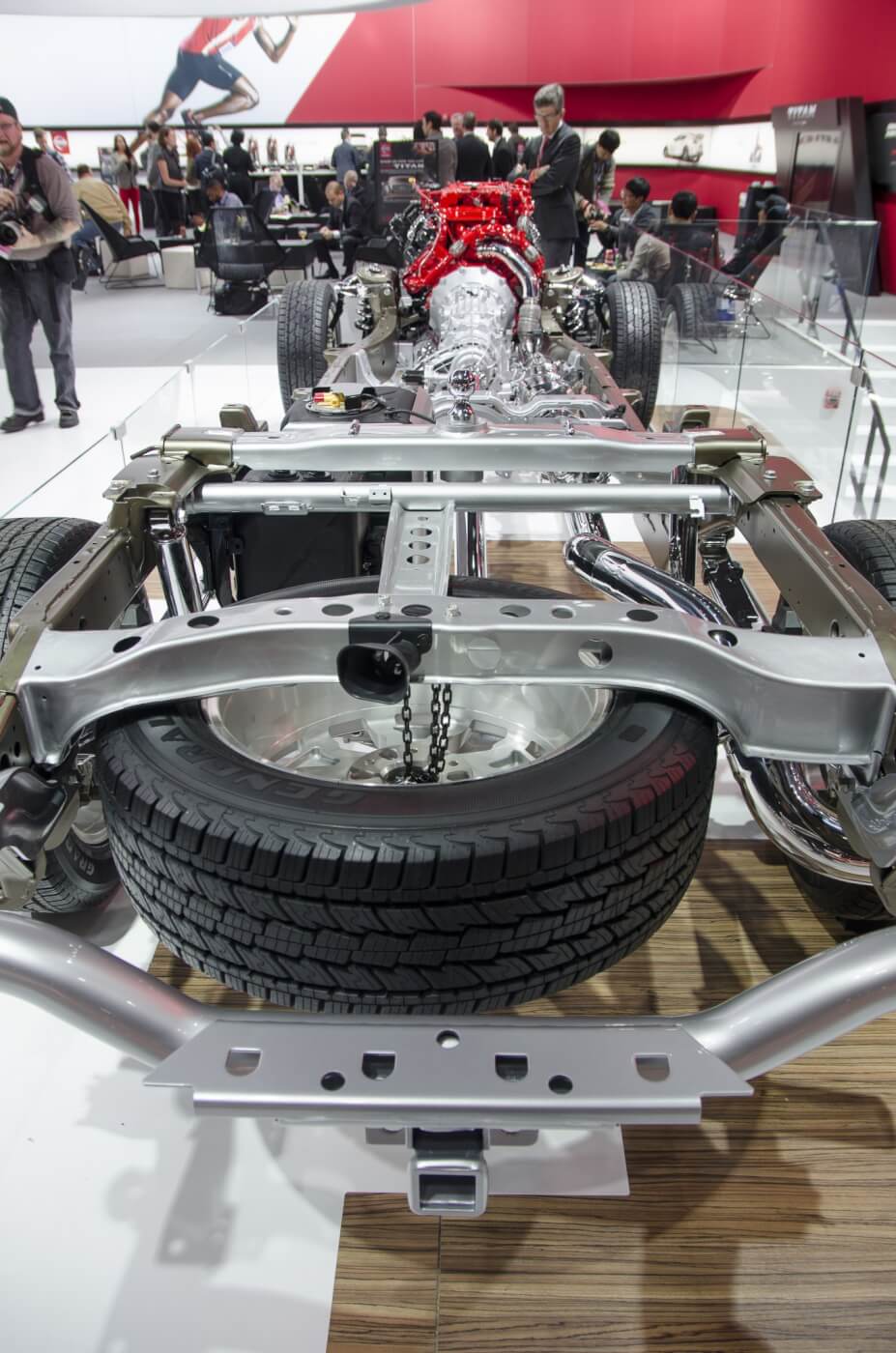 The engine uses ceramic glow plugs to reduce startup time and minimize electric current draw; they are designed to last the life of the engine. For Cummins, that means they're designed for many, many years of use, and then someone will gladly rebuild the engine.
Other information has been gleaned from the Nissan press kit. There's a two-stage fuel filter on the V-8 diesel, again from Cummins and employing proprietary "NanoNet" media to protect against fuel contamination. Cummins says its unique construction is less restrictive to fuel flow while trapping better than 99 percent of contaminants whose particle size is greater than 4 microns.
Another key to the engine's clean diesel status is the combination of a cooled EGR, diesel particulate filter (DPF) and selective catalytic reduction (SCR).
In optimizing the engine for the new 2016 Titan, Cummins says "countless hot and cold test cell hours and more than a million grueling test miles" were accumulated. The engine is manufactured in a new 1,000,000 square foot facility "with capacity suited to multiple customers." That leaves the door open for this engine to appear in other products. Note that Cummins usually has multiple vehicle partners for its engines in each market area. The plant makes both the 5.0-liter motor for Nissan and the ISV5.0 and currently runs a single shift. For that ISV5.0, Job 1 is slated for this year and the announced vehicle is a Freightliner Custom Chassis MT45. Other targets are large RVs, UPS-sized delivery trucks, and school busses.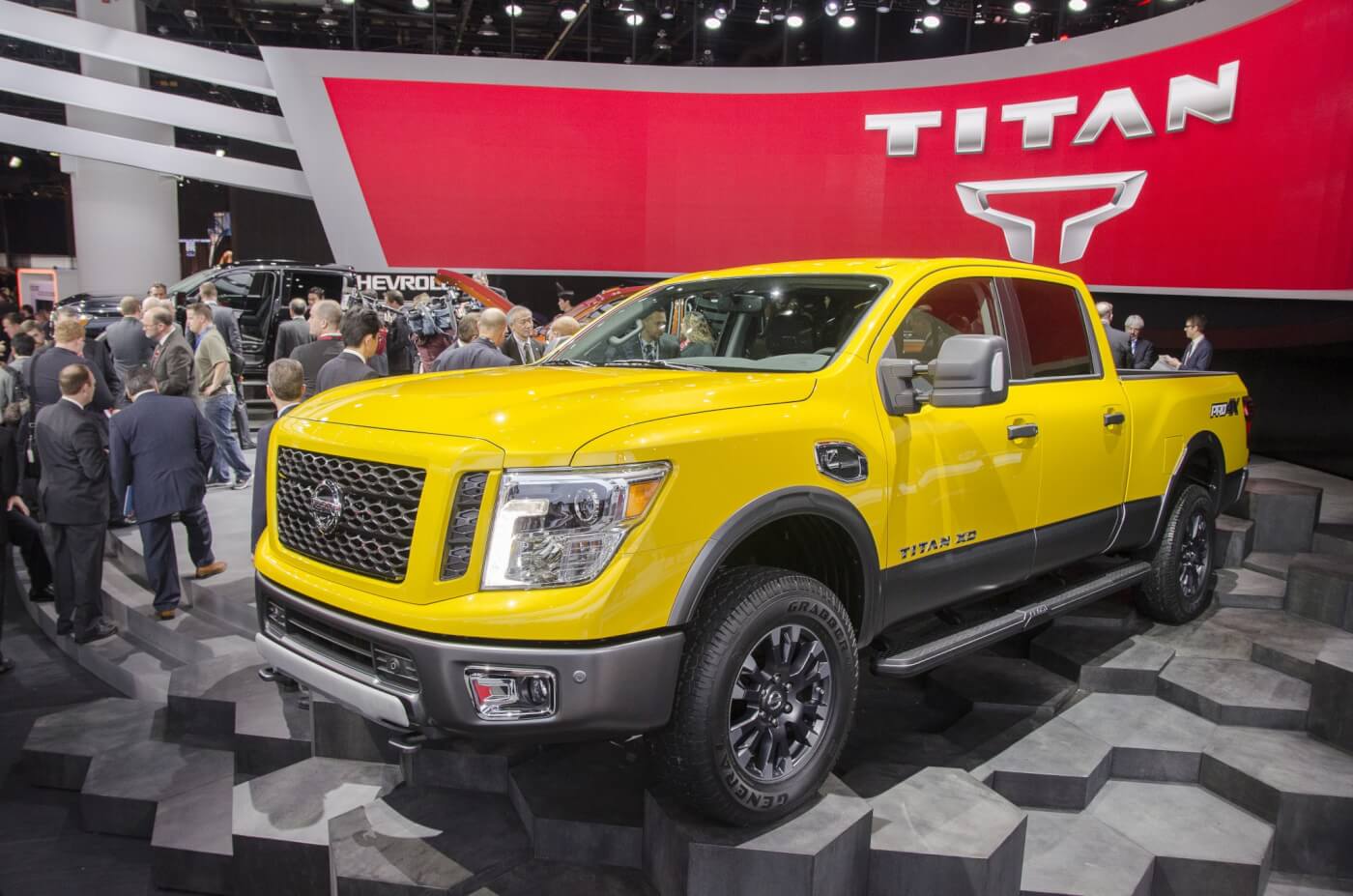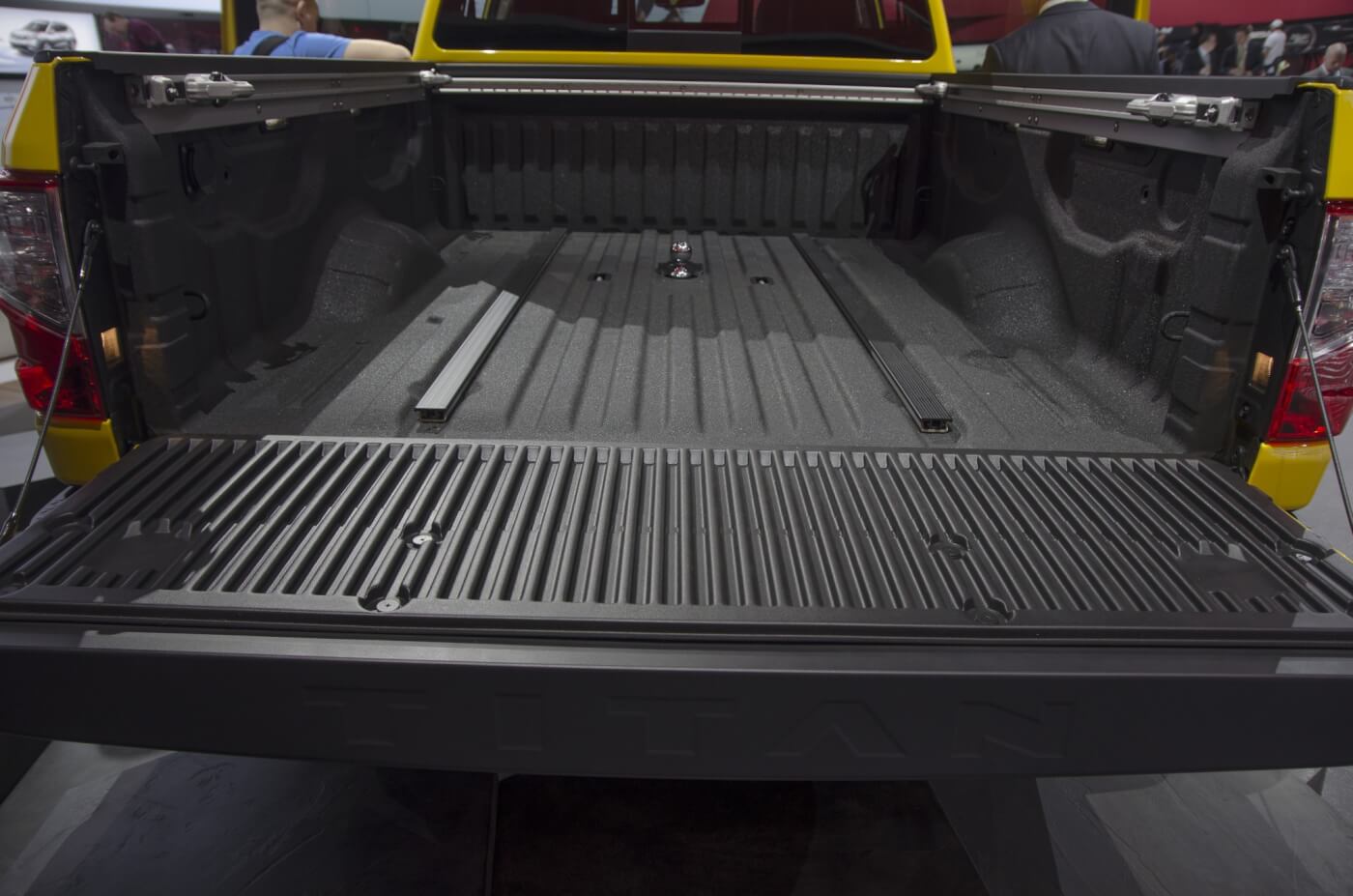 The new Titan will launch equipped with a six-speed Aisin transmission. According to Nissan, "it's made to tow, to haul, to get good fuel economy, but it's not a grocery getter." This sounds good to us, in spite of our soft spot for groceries…
Now that we've looked at the engine, what about the chassis that will carry the engine, haul cargo, and tow loads?
Titan XD launches with Cummins diesel power, though two gas engines arrive in 2016. Titan will offer standard, king and crew cabs, two frame sizes, and three bed lengths. Models include S, SV, SL, Platinum Reserve, and the PRO4X with off-road package.
Front suspension comes, almost intact, from Nissan's NV series of commercial vans. Nissan says some owners have accumulated half a million trouble-free miles, so why mess with its double wishbone with stabilizer bar design? The rear is upgraded from the original Titan, complete with its inverted, nothing below the pumpkin, suspension. It retains the rigid axle with leaf springs and twin-tube shocks.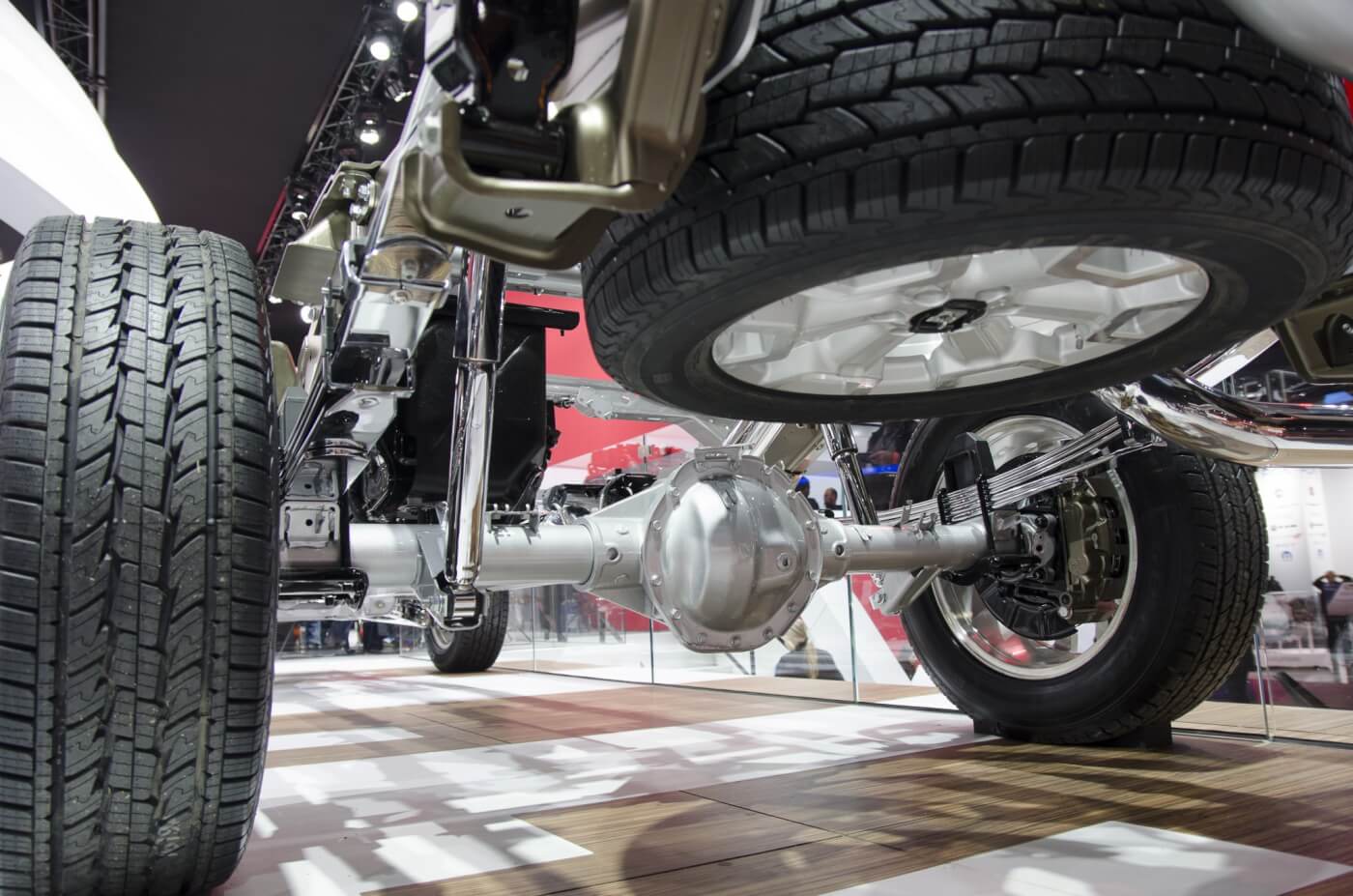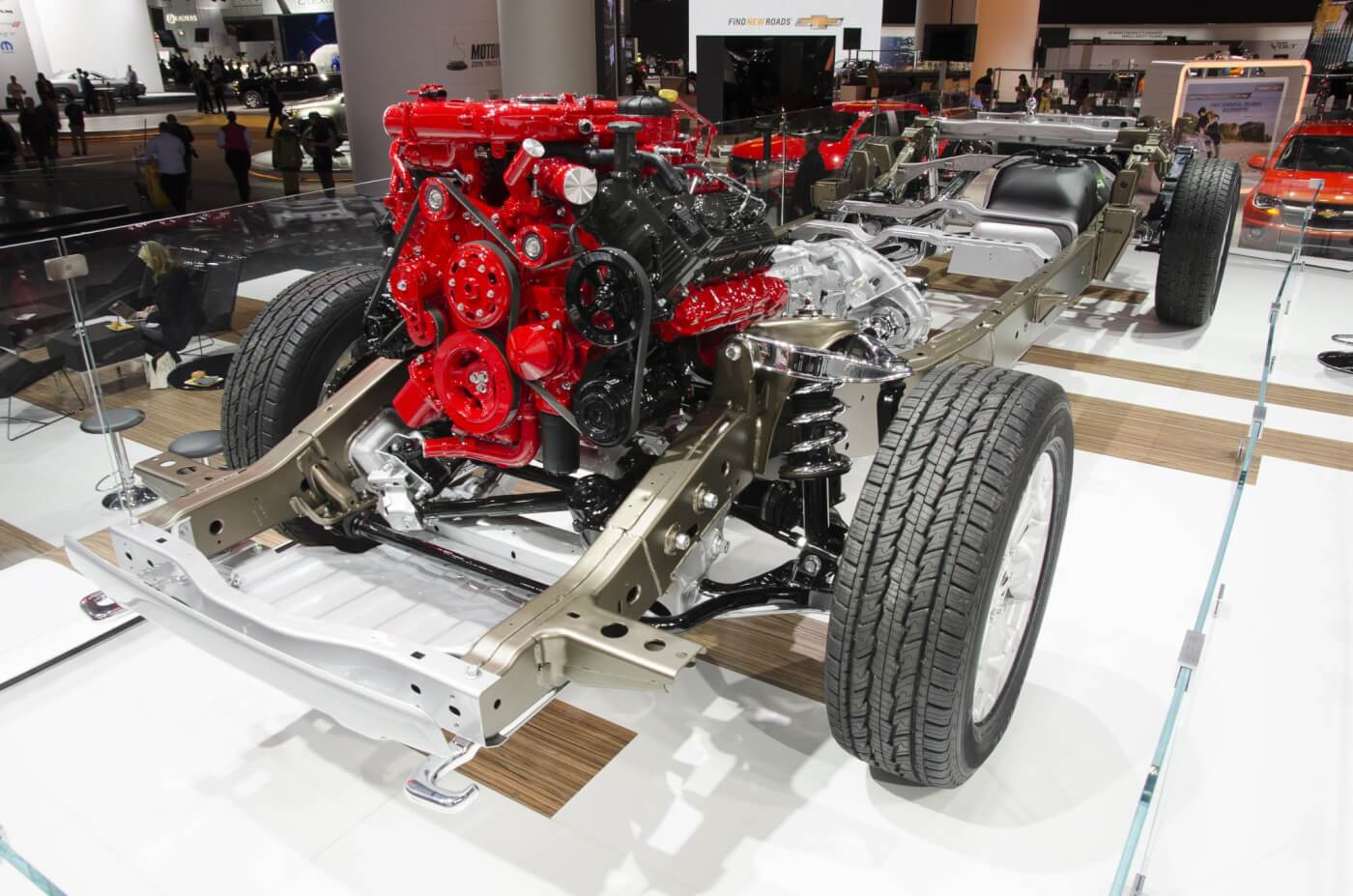 Everything, however, was improved: larger, better brakes (14.2 x 1.5-inch front/14.4 x 1.2-inch rear), heftier rear axle, and a chassis that's drawn from Nissan commercial vehicles. The chassis is fully boxed and uses X-cross beams for both crash mitigation and both torsional and longitudinal stiffness. The frame uses tall X-sections with through X-beams for load deflection, again due to crash regulations. We asked for stiffness numbers and were told "no numbers, yet, but the targets were robust."
The typical Titan XD diesel will have a wheelbase of 151.6 inches and an overall length of 242.9 inches, a width of 79.4 inches front, 80.6 inches rear, and a height of 78.7 inches. Because there's an offroad model we'll include the 21.4° approach angle and 22.8° angle of departure.
Nissan does not use aluminum in the cab or chassis in any significant amount. Rather, they stitch and weld-form the box channels according to computer analysis of structural requirements. No High-Strength Steel (HSS) specifics were offered in our interviews with both Pierre Loing, Vice President of Product And Advanced Planning And Strategy, or later with Rich Miller, the Chief Product Engineer for Titan. We'll keep probing on that significant detail. What Miller did say was that HSS was used in selected areas for mass reduction and strength. This creates a reasonable cost for the average buyer. He says their weld-formed chassis is as tough and stiff as any hydroformed structure, and less expensive.
Nissan looked at, but didn't use hydroforming for frame members. Instead, they relied on proven weld forming for their chassis, still supplied by frame specialist Tower International. However, Miller said, "we looked at every part—bolt, nut, or engine to make it 'Quality First'." What Nissan explained was they didn't try to be Best In Class one in any specific segment and fail elsewhere. Instead, they focused on being in the top two in every measurable area, an impressive goal we'll be anxious to investigate.
By far the most significant, and awaited Titan attribute is its style. Our first note, once the covers were pulled off a Platinum Edition, "Plenty of chrome at the front end, the grille and the mesh beneath." We thought it had a less pronounced signature "V" shape to the grille, now flanked by vertical wings. Maybe it was all the gleaming chrome, but there was an inevitable comparison to Ford's styling. In fact, some writers are calling Titan XD a clone of Ford. We disagree, though wishing there was less similarity. Then we looked at the PRO4X and saw a different look. Same egg crate, now in satin instead of chrome, and the signature V was clarified by body-colored paint. Though not on display, the SL front end rests in the middle with modest chrome and more identifiable signature V; less flashy, more macho.
We followed that with, "It's sleek from nose to tail with a modified slab design; there are distinct curves to the box sides." We next looked at the front quarter panels surrounding the wheel well. Now these are some real shoulders. Arching back from the tall hood, a slope echoes the way muscular shoulders draw into deltoids. Below, and trailing, is the signature Cummins C, and the emphasis line drops to a bold Titan XD logo. Instead of folds or chiseled side lines Titan's designers in California chose smooth curves for the cabin doors, instead using lower cladding to provide length cues. Please note the use of a front-to-rear step that delivers access to the bed without any extras. Again from the side, molded curves rise to emphasize Titan's rear wheel arches and extend to its tail lamps. Somehow, despite massive wheel wells that will make every aftermarket suspension company drool with slamming opportunities, the stance looks right. Not that some 35s wouldn't fit in there nicely.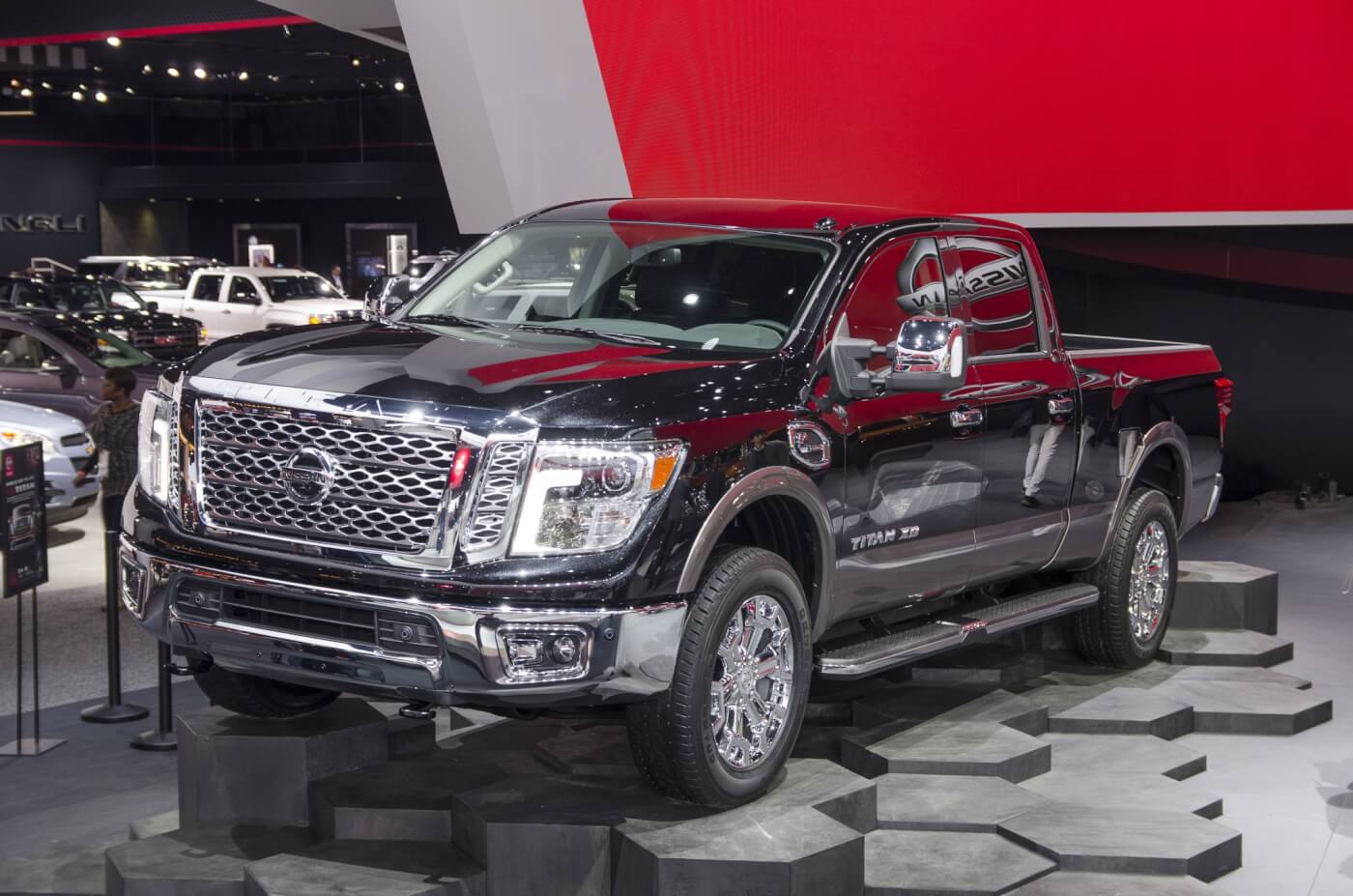 If you're wondering about aluminum body panels or structure, don't. According to VP Loing, the risk and cost of tooling versus their modest volume—compared to Chevy, Ford or Ram—was inadvisable. Besides, he said, using high-strength steels will continue to help them meet corporate CAFE numbers, which have less impact with the footprint of a pickup truck. Oh, and they are very serious about upcoming emissions and fuel economy changes for 2020 and he expects all manufacturers to seek out optimum solutions for their customers. He, like most executives, wishes the Government would allow manufacturers to build solutions customers want, rather than distorting the market. "Forced to buy equals a failure."
At the rear, each Titan XD includes chrome Titan XD lettering and the tailgate is internally balanced for easy gate lowering without all the weight. Lift is assisted as well. The bed itself is noteworthy. Nissan was one of, if not the first, to coat the bed with spray-on liner—black, nubby and not too rough. Nissan also pioneered channeled cargo tie-downs and they have retained an improved version. What's newer is LED bed rail lighting. There's even lights to illuminate the truck's workbench—the tailgate.
For bedside storage, the boxes are fitted into the bed and removable. Nissan says they allow 4×8 cargo into the bed when installed. The boxes are lockable, have built-in drains (presumably for tallboys and Gatorade), and are not as obvious as externally or top-mounted designs. The in-bed tie-down rails—Nissan was the first, here—are covered with an in-channel molded engineered plastic for good looks and protection.
The new Titan XD (and Titan) get aerodynamic aids in the form of rear tire wind deflectors, a seal between bed and cab (it's a huge aerodynamic drag zone), and a tailgate lip spoiler. That's in addition to spoilers integrated into the nose and the roof.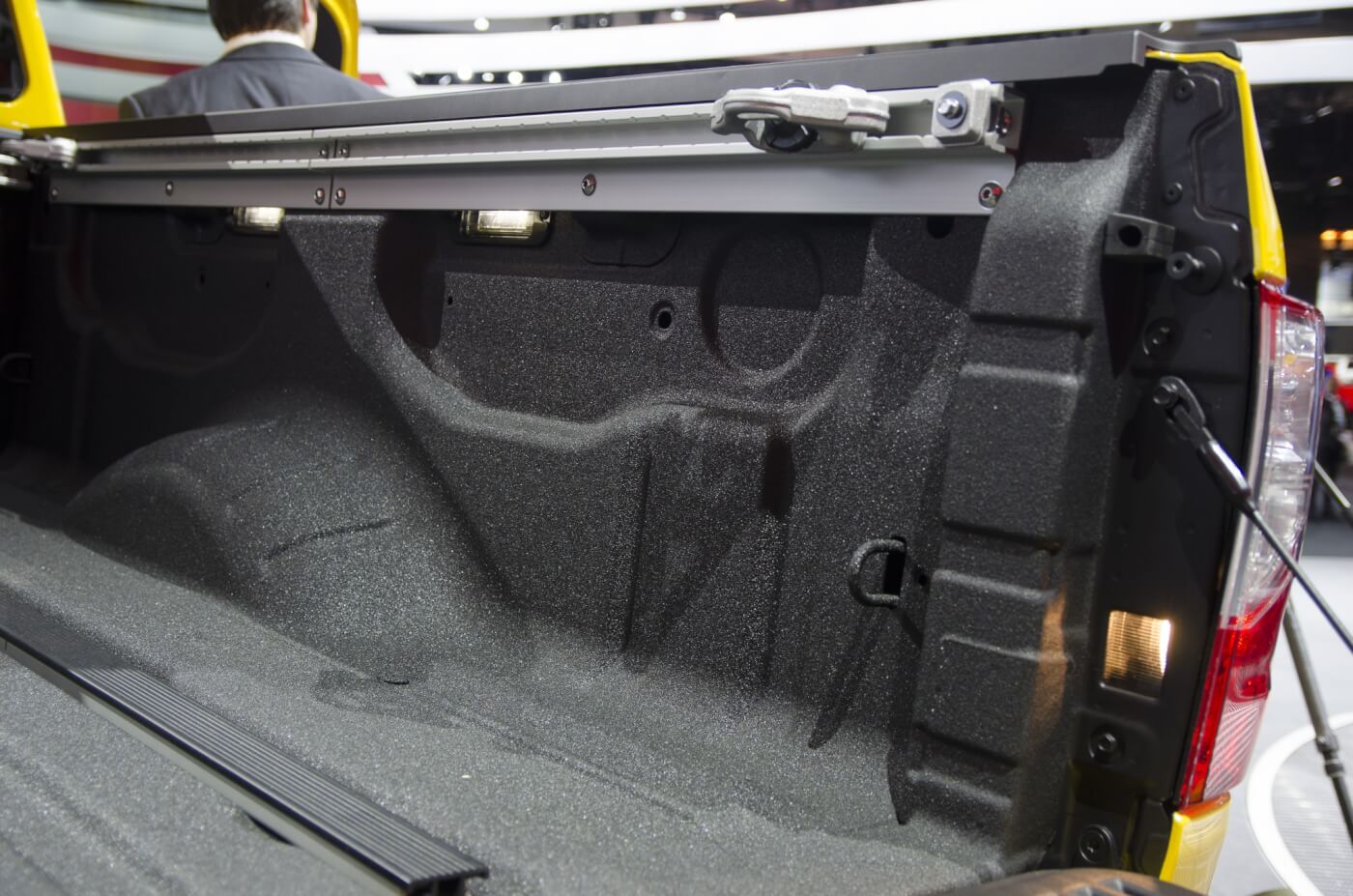 Where we're finding the most similarity to the other brands is in the interior. Not that it isn't handsome, rugged and modern. The included four-spoke steering wheel, front and rear NASA-inspired Zero Gravity seats, man-sized knobs, and center console suited to work are all marvelous, as is the continued use of a column shifter with gear select. What you'll see is that the flanking air grilles and button design just don't seem original.
We missed our appointment with chief designer Diane Allen, who's described as a hard-core truck lady. She's also done the previous Titan and Frontier. So we regret not having a chance to discuss the center stack design. That said, what the heck else is a designer to do? Air outlets simply have to be where they are, beside the near-mandatory display screen, for quiet and powerful air delivery. Knobs to control the auto-HVAC are better than buttons or a touchscreen, and big push buttons to control the HVAC are equally desirable. Below, putting the lesser controls like Park-Aid, four-way flashers, steering wheel heater (yeah!), and then lower a trailer controller, aux/USB input and 12V outlet just makes sense. So we'll give everyone a solid grade because of tight execution and truly functional truck-oriented design.
But what about the cool stuff? Nissan's Infiniti luxury brand gets the credit for first use of a 360° panoramic surround view screen, and Titan has it as an option, and the backup camera is there as well. Ahead of the driver, gauges are simple, clear and useful. The steering wheel has built-in controls for audio/BT cell phone and cruise, again a simple-to-use design. We do like the contrast stitching on the Platinum Edition; it's on the steering wheel, the dash, the seats, anywhere there's leather or pleather. All the rest of the driver controls are in familiar locations, there's been no attempt to put decoration or design above function, no new places to look for the 4WD, Start-Stop button, lights, or other auxiliary functions. Where designers got to play was in the rest of the interior, and they sure had some fun. You're gonna think you're in an Audi or BMW!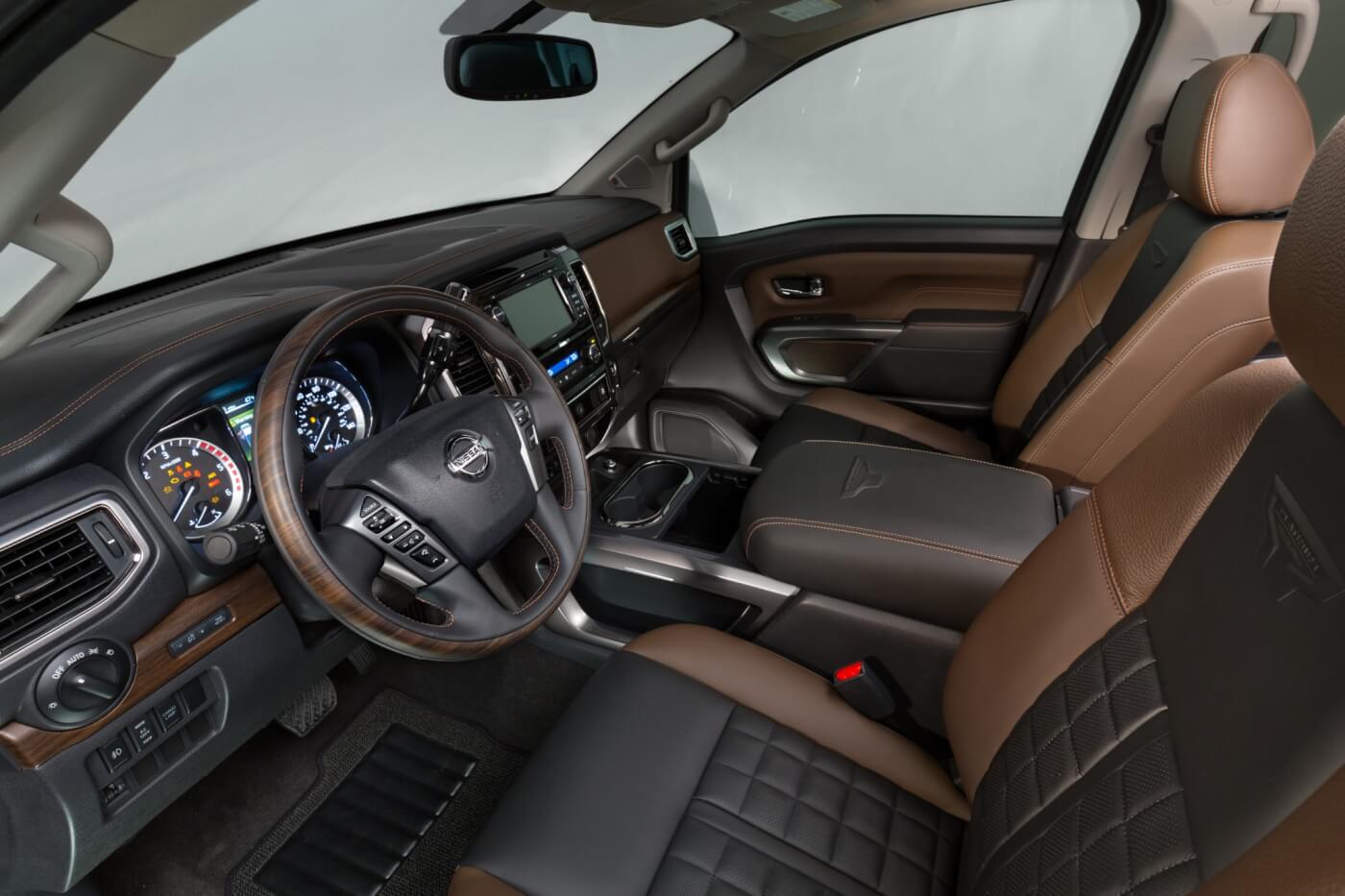 If you've moved up from the cloth interiors of the S and SV, there's contrasting leather, embossed logos, and zero gravity seats designed to provide continuous support from pelvis through the lumbar spine, delivering a more humanly neutral posture. These we have to try!
We've glossed over features like projector headlamps, the hockey stick LED DRLs, even the puddle lamps hidden under the tow mirrors. We've not tried the under-seat storage and left out the in-bed 120V outlet. We still don't know as much about the Cummins as we'd like, precious little about the gas engines (though at launch in 2003 Titan had the most powerful V-8 and Miller promised smiles), nor about key bed lengths, and we've not yet seen all the cabs. In other words, until we get our hands on one later this year, all we can do is wonder if the powerful Cummins will jam our tails into ZG seats, tow a 12,000-lb rig as promised, and what its real world fuel economy will be. We have much yet to learn and more to tell. DW