Just how fuel-efficient is the new Ram 1500 EcoDiesel? On the lonely road between Las Vegas and Los Angeles, I decided to find out.
Because of the crazy way the publishing world works, I'm writing this article in November for a magazine dated March that you will be able to buy some time in January. The upshot of all these time-traveling antics is that I'm just back from SEMA, the annual industry showcase where thousands (and I do mean thousands) of manufacturers show off their latest products.
Though SEMA is largely a hot-rod show, there are a lot of good products for diesels and HD pickups, and we've highlighted 70 new items that diesel and truck enthusiasts ought to know about. We also photographed some beautiful trucks, including the blue Ram on our cover, and you'll see lots of more of these fantastic creations over the next few months.
Last month, I talked about Ford's new aluminum-bodied F-150, and how I thought Chrysler had a superior solution with the 3.0 liter EcoDiesel V-6 offered in the Ram 1500 pickup. Ram touts the EcoDiesel as the most fuel-efficient full-size pickup, with EPA numbers of 20 mpg city and 28 mpg highway for the 4×2 version and 19/27 for the 4×4. The folks at Ram had arranged for me to drive an EcoDiesel-powered 1500 Outdoorsman 4×4 out to SEMA, and I decided to see just what kind of fuel economy I could get out of it.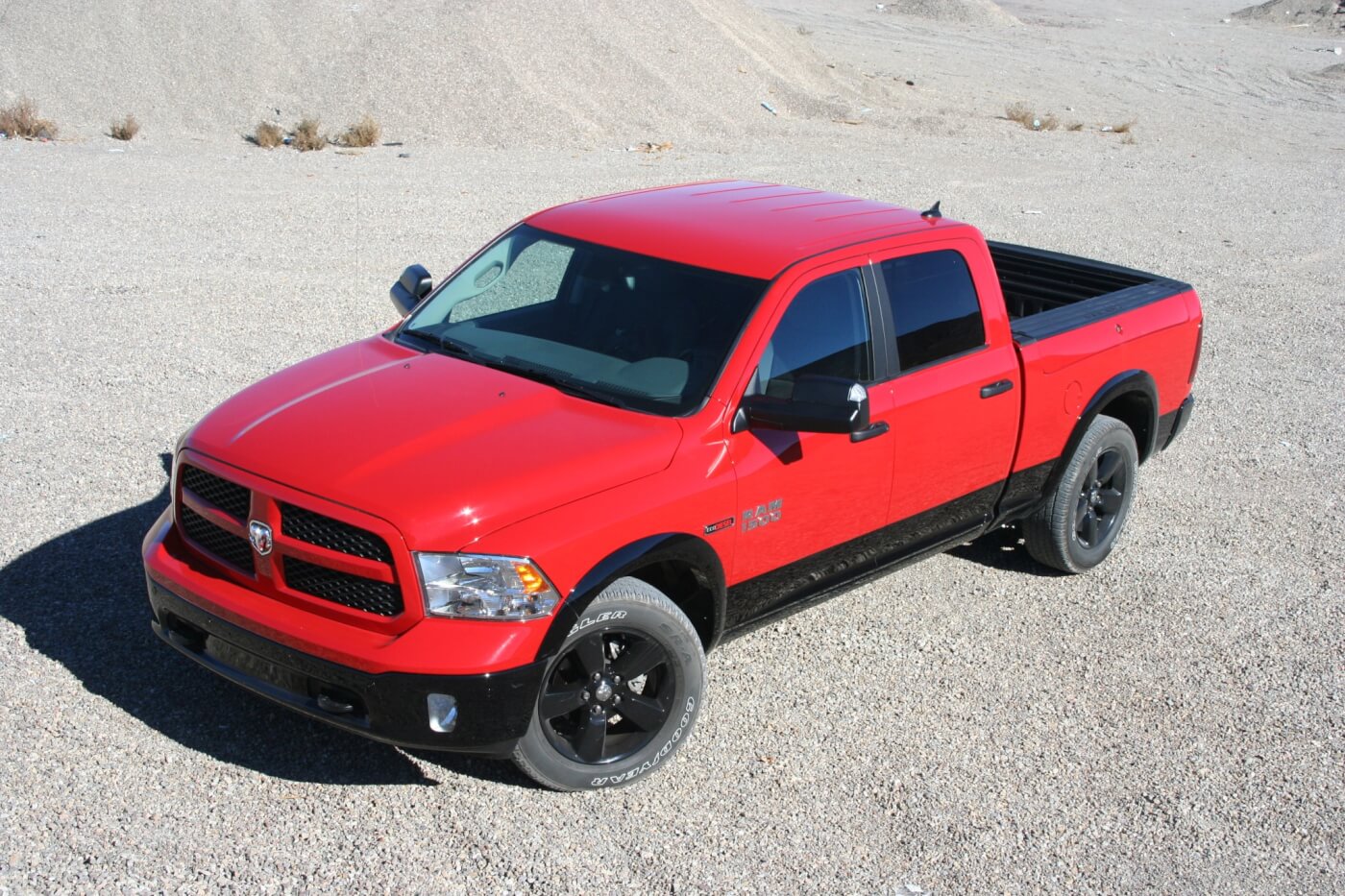 On the drive from Los Angeles to Las Vegas, I drove like I usually do, which means sticking pretty close to the speed limit. (In my line of work, speeding tickets are an occupational hazard, so I find it best to minimize my chances.) Without trying, I averaged an impressive 28.6 mpg—mid-size car fuel economy from a half-ton pickup.
For the return journey, I decided to take it to the limit and see how many miles I could squeeze from each gallon. Now, there are a lot of tricks I could have employed: over-inflating the tires, taping up the body seams, removing the wipers, or fitting a bed cover. I did none of these. I ran the truck with stock tire pressures, just as it would appear in an owner's driveway. (I did ask the folks at Ram if I should open or remove the tailgate. "Definitely not," they said, explaining that the engineers optimized the 1500's aerodynamics with the tailgate closed.) I proceeded to hypermile my way home.
For those not familiar, hypermiling is a fancy new-age word for driving in the most fuel-efficient manner possible. I kept the A/C off, accelerated slowly and cruised at moderate speeds (45 to 60 MPH depending on conditions, slower on steep grades when it was safe to do so). I kept stops to a minimum and split my drive between Interstate and two-lane back roads. End result: 38.0 mpg.
Thirty-eight miles per frickin' gallon! That's subcompact fuel economy from a half-ton pickup. Man, do I love diesel!
Now, I know that most of us are into power rather than fuel economy, but that's what's so great about diesel: The two go hand-in-hand. Diesel fuel is packed for energy, and we can use that power however we want—to tow more weight, to get down the drag strip faster, or drive from Vegas to L.A. on a ridiculously small amount of fuel.
Stock trucks do a good job, but the aftermarket is where the action is—for those willing to put in a little extra money and time, there's power for the picking. In this issue, you'll read about a modification to Ford's just-updated 2015 Super Duty. With minimal shop time, our owner was able to pick up 100 horsepower and 2 mpg. Try that with a four-barrel 454.
Thanks as always for reading Diesel World, and I'll see you out on the road! DW
Aaron