A CHEVY-BODIED, CUMMINS-POWERED PRO STOCK PULLER
This is what happens when a longtime sled puller gets his hands an '80 Chevy body, a '96 Dodge 2500 frame, and lives within reasonable driving distance of Scheid Diesel Service: an 1,800hp Pro Stock puller. After being exposed to Lloyd McVey, a former NTPA Modified class Grand National Champion and family friend, sled pulling was definitely a big part of Todd Cox's DNA growing up. Back in 2004, when diesel truck pulling was beginning to take off, Cox would find himself diving head first into the growing sport with a second-gen Dodge called "Pullin' to Please." By 2010, he would be campaigning a Pro Stock truck based on a '70 Ford named "Old Skool," followed eventually by the truck you see here. Initially graced with the Old Skool name and a dark blue paint scheme in 2014, Cox would repaint, rename, and repower the truck with a new engine for the 2016 season.
COMPETITION-CALIBER CUMMINS
Scheid Diesel's proven Pro Stock engine program is on full display in this truck. A filled 6.7L block, machined to accept 14mm main studs and a girdle, features cylinder sleeves with integrated fire-ring grooves and an inch-thick deck plate up top. The rotating assembly consists of a stock 6.7L crank, R&R connecting rods, and fly-cut, 12:1 compression Arias pistons. One of Scheid's billet-steel roller camshafts compliments a heavily ported, 12-valve cylinder head from Wagler Competition Products. The worked-over head utilizes oversize Inconel intake and exhaust valves, competition valve springs, roller rockers, and fastens to the block via 14mm ARP studs.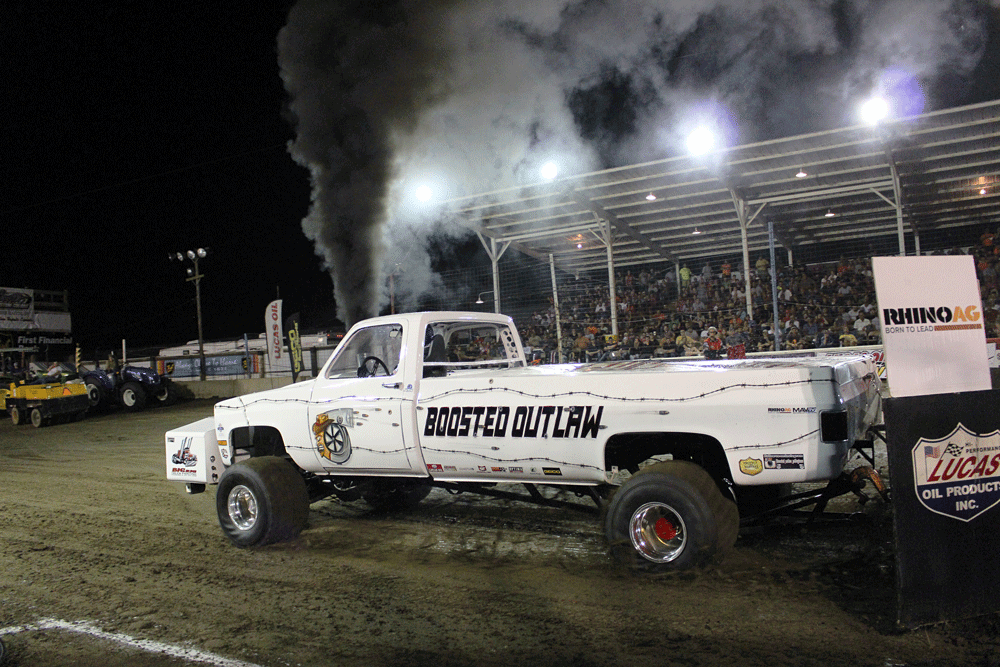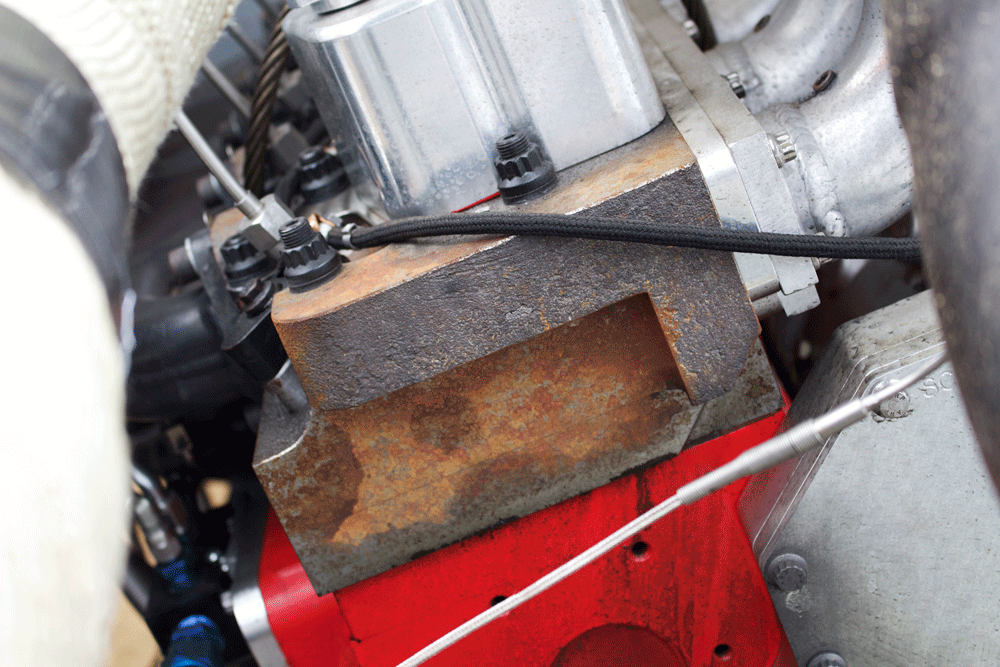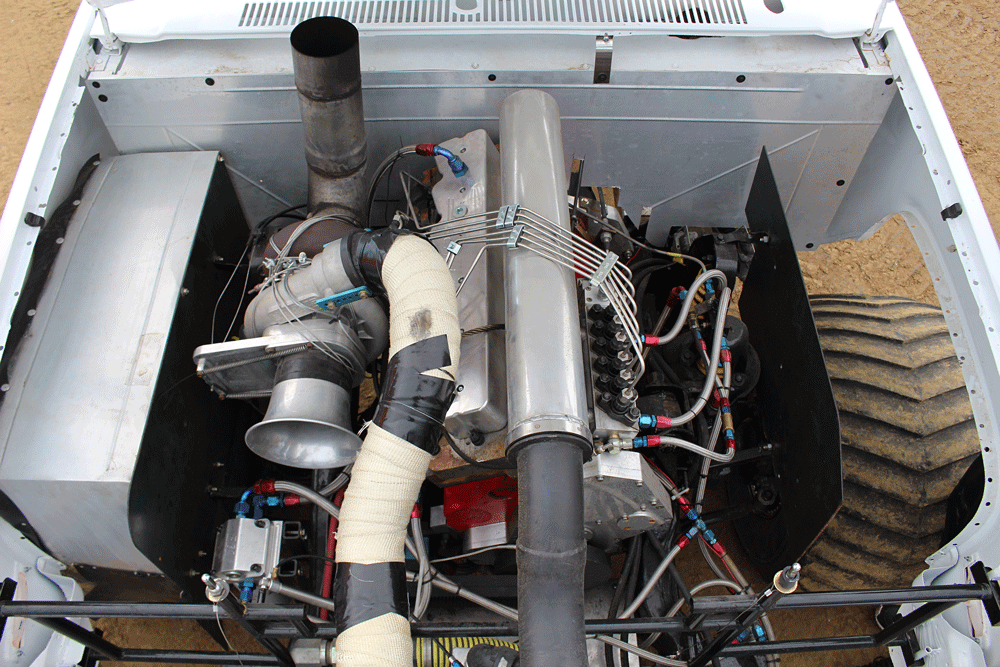 EXTREME FUELING
With P-pumps still ruling the day in truck pulling, a mechanical injection system is employed. At the heart of it all sits one of Scheid's 14mm P8600 units, which utilizes 14mm plungers and barrels, a quick-rate cam, and an Ag governor that allows full fueling past 6,000 rpm. Fuel makes its way to a set of (5 x 0.030-inch) triple-feed injectors after traveling through 0.120-inch injection lines. A gear-driven DSR lift pump keeps more than 50 psi worth of fuel pressure on tap for the P-pump.
THE FRONT HALF OF THE TRUCK ACCOUNTS FOR 6,500 POUNDS OF ITS 7,800-POUND OVERALL HEFT.
3.6-INCH TURBO
A smooth bore turbocharger with a 3.6-inch compressor wheel inducer from Hart's Diesel allows the truck to meet the new (for 2016) Pro Stock rules. The massive charger benefits from a ball-bearing center cartridge, mounts to a T6 flange Steed Speed exhaust manifold, and builds 52 psi of boost. A water-to-air intercooler drops intake air temperature from 500 degrees to a horsepower-friendly 73 degrees F before it enters the engine.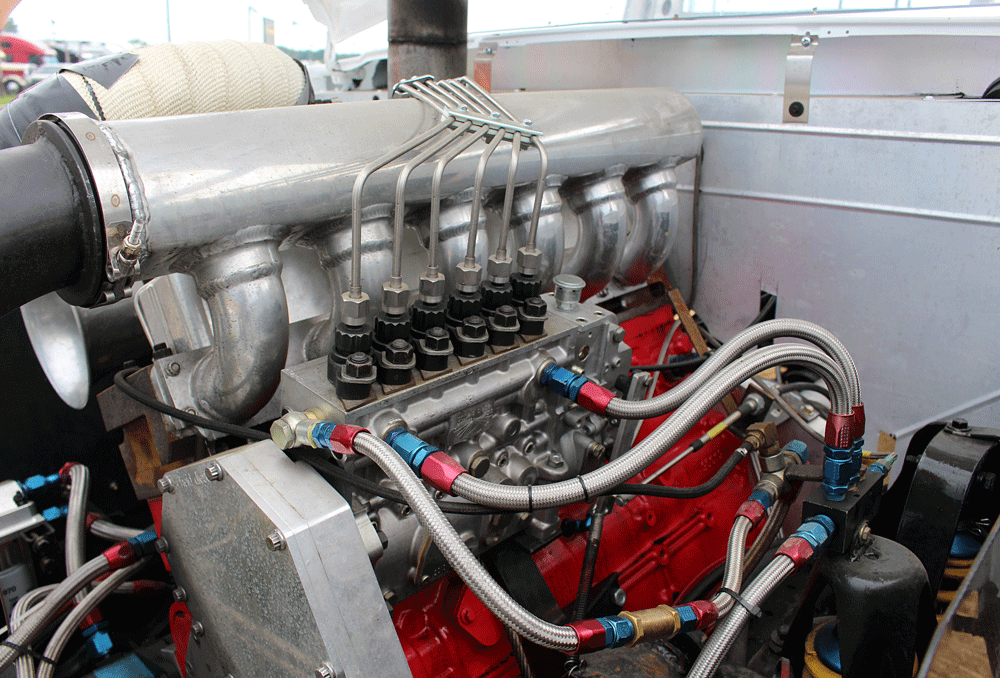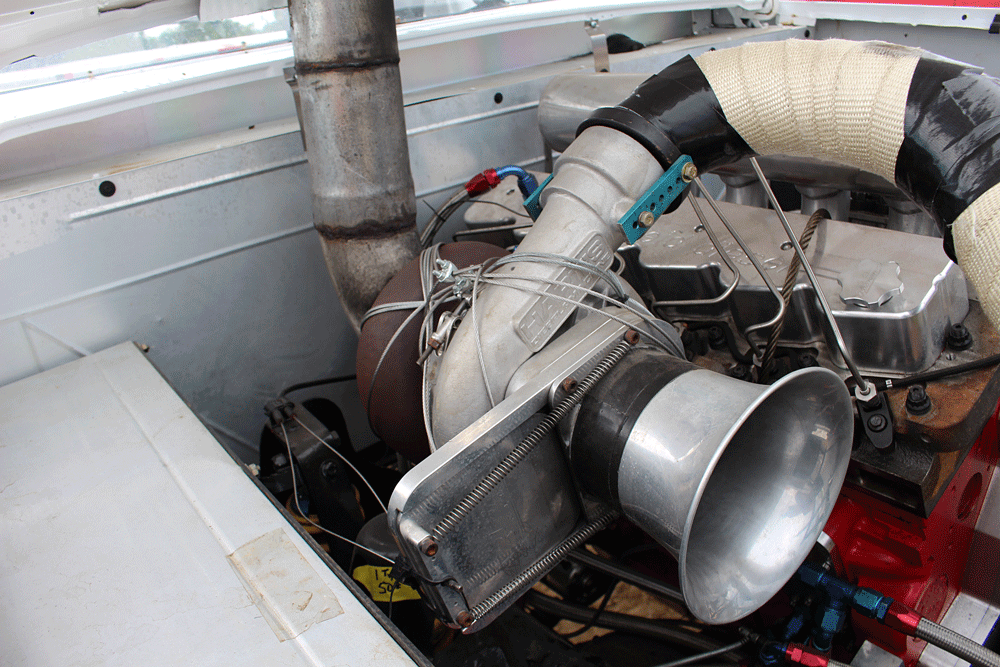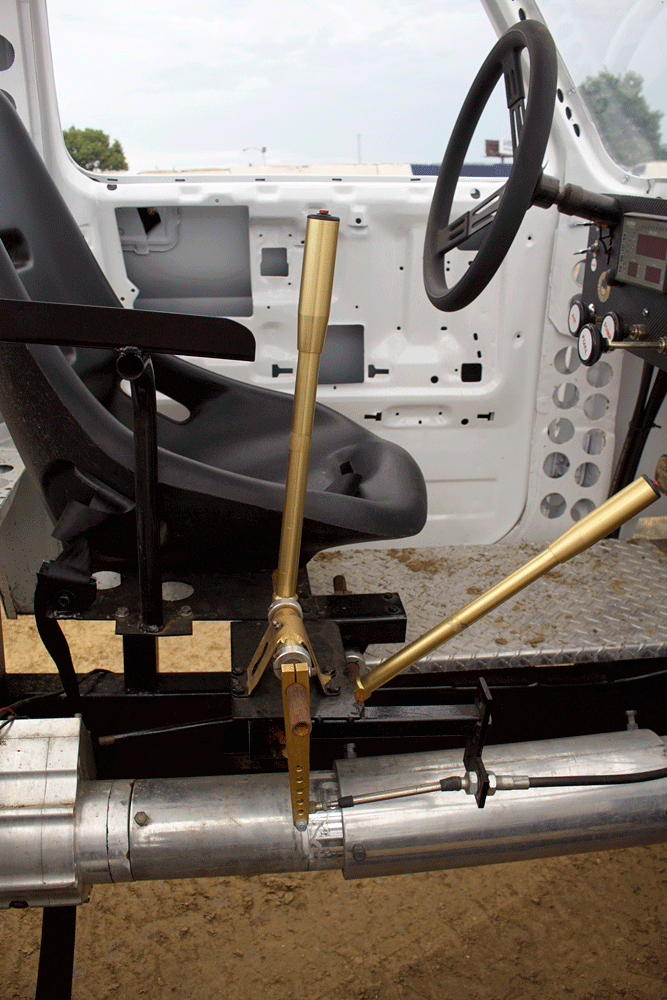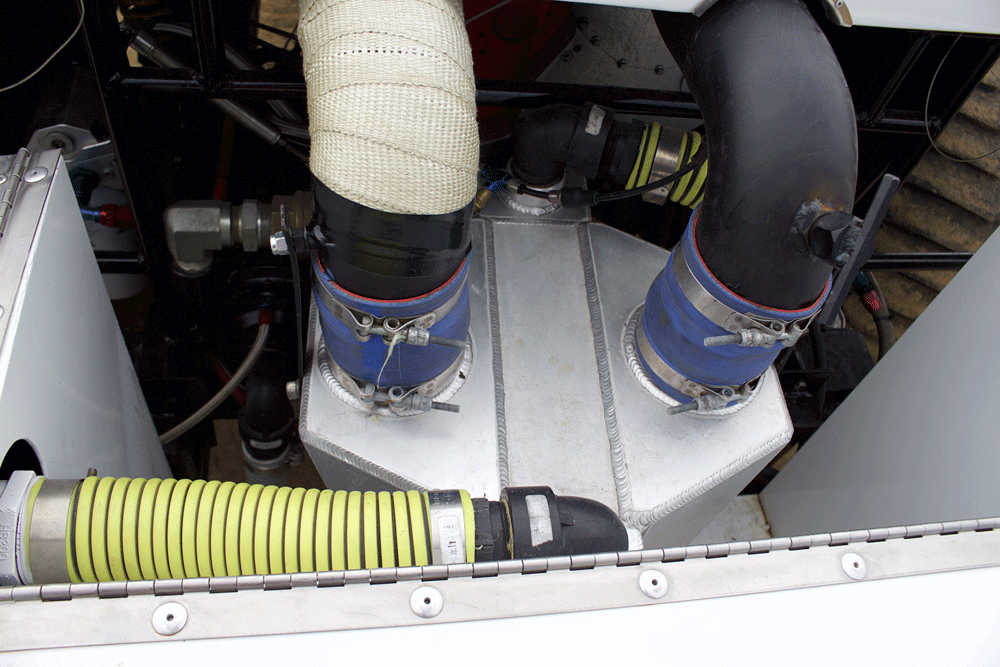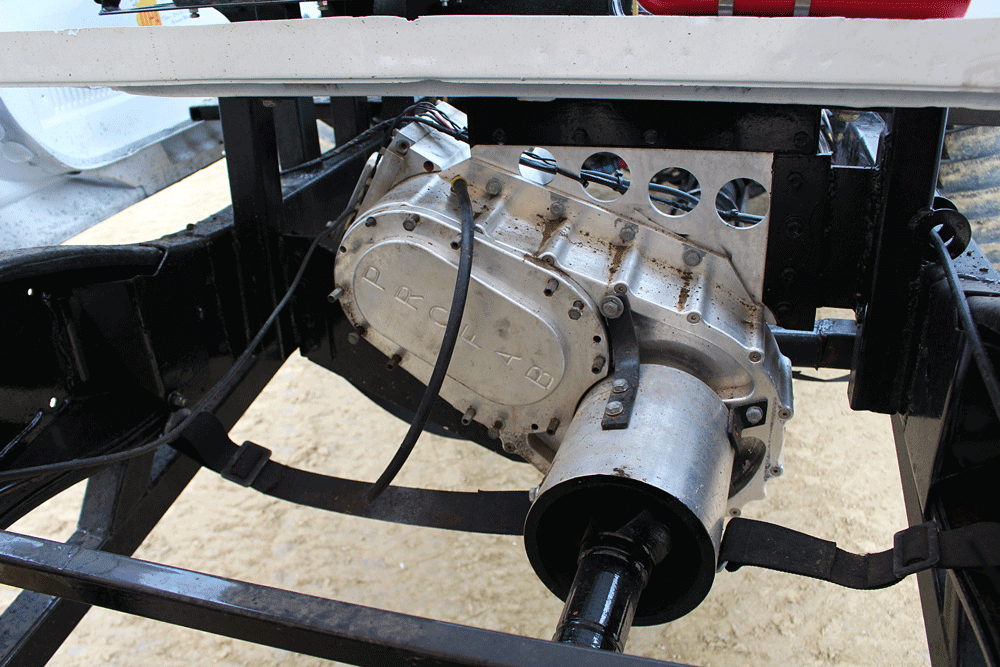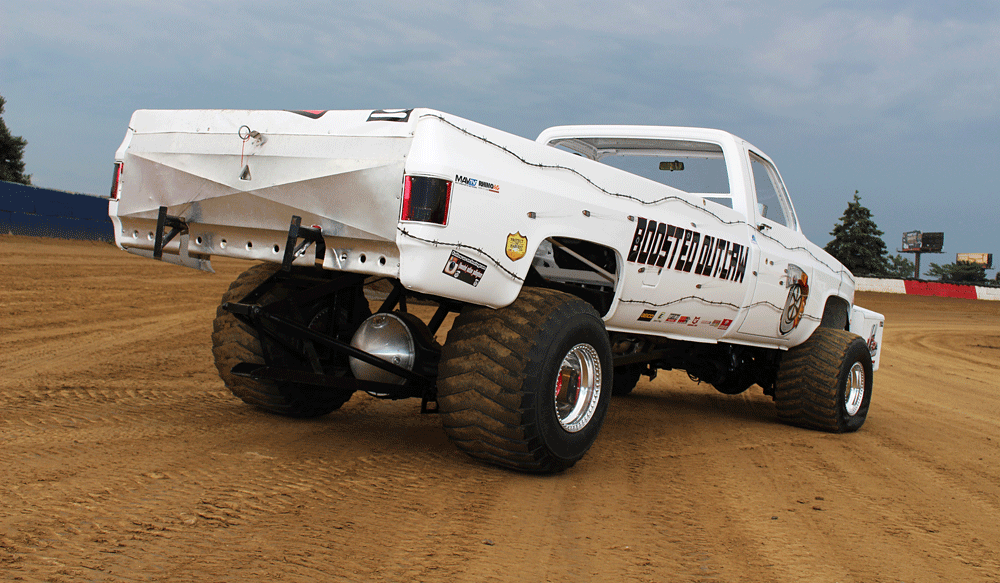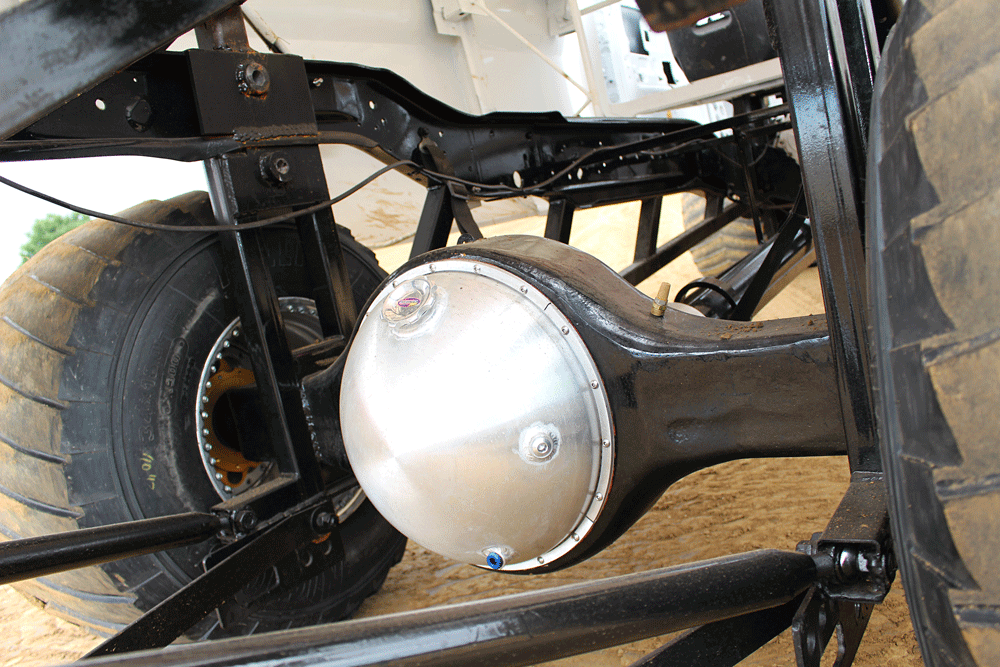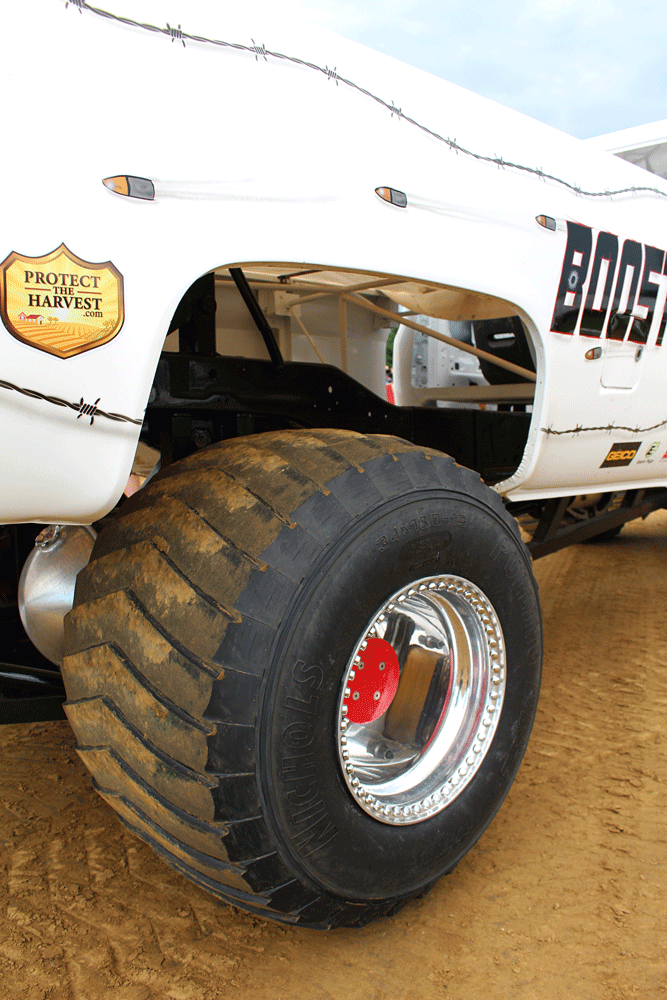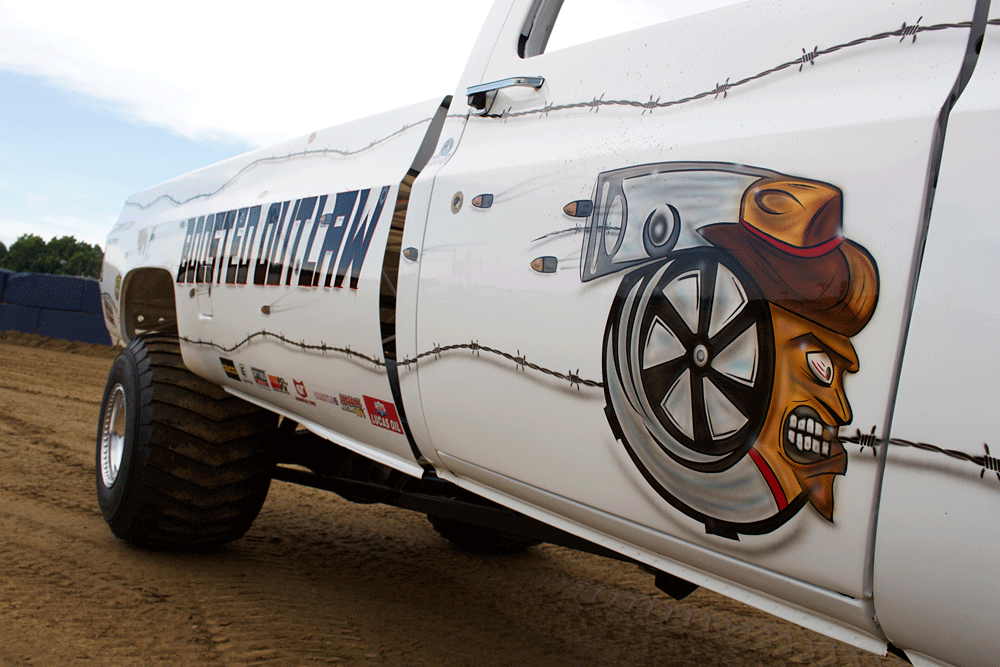 COMPETITIVE EDGE
With a lifetime wrapped up in and around the pulling game, Cox knows a thing or two about finding the all-important competitive edge in the vehicles he builds. The extreme gutting of the interior, the absence of all windows, and the general lack of weight anywhere other than what can be found on top of or forward of the front axle speaks volumes about Cox's background in sled pulling. After all, what's lighter than glass, or even Lexan? Nothing! And how do you keep the front end digging for every last inch? You saddle the front end with as much ballast as possible. According to Cox, the front half of the truck accounts for 6,500 pounds of its 7,800-pound overall heft, and two people can pick it up by the rear end to maneuver it around. Trust us, if this truck comes up short in the dirt it's not going to be due to weight.