We've been following the University of Northwestern Ohio Diesel Club's Cummins-powered pulling truck since 2011, and we've been pleased to see the students transform a shop truck into a serious sled puller.
Work on the project started back in 2006 with a worn-out shop truck and a collection of parts from unused training-aid piles. With the purchase of an additional truck and the donation of another, the Diesel Club soon had enough parts for a working vehicle.
The heart of the truck is a 24-valve engine dating from about 2001, an industrial engine donated by Cummins to the school. It's one of the dreaded Brazilian 53 blocks, which have thin water jacket walls and are more prone to cracking, but so far this engine hasn't presented any problems.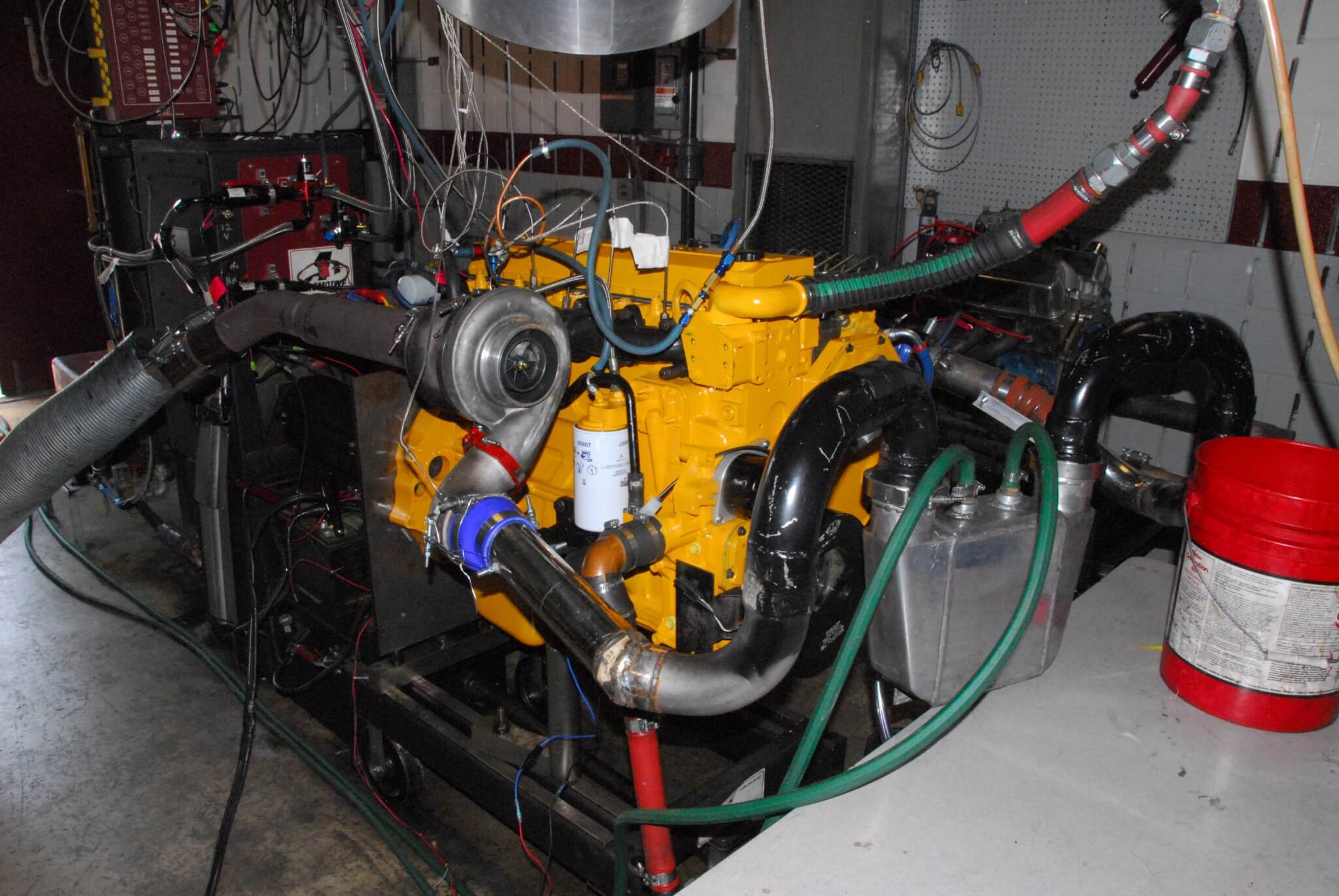 THE BUILD SO FAR
Nobody remembers how the engine was originally configured, but it first made smoke for the Diesel Club with a lightly modified P-pump, no-name "100-hp" injectors (they weren't), and a totally inadequate Holset HX-35W turbo scavenged from a parts pile. In that configuration, and with a locked-down wastegate and 34 psi of boost, the engine made 340 hp at 2,500 rpm and 730 lb-ft at 2,400 rpm on one of the school's DTS engine dynos—and that was excessive exhaust restriction upstream of the turbo and huge clouds of smoke, a sure sign of wasted fuel and an engine struggling to breathe.
This is the point where Diesel World got involved. The club is supported by the University, but is required to generate a significant portion of its project revenue from fund-raising activities. DW was able to facilitate the donation of a number of good products to help them along.
Step one was an overhaul using internal engine parts from Federal Mogul and Fel-Pro. Even in a low-time engine, having fresh, top-quality bearings, pistons, rings, gaskets and seals and seals makes for worry-free tinkering down the road.
Next up, Preble County Diesel in Eaton, Ohio, O-ringed the head using BHJ tooling an ARP supplied a set of its then-new ARP2000 SAE 8740 head studs to hold the head down (see "Rings of Fire" in the November 2011 issue of Diesel World, p. 24).
The club wasn't sure of what had been done to the donated Bosch P-pump, except that it had been "tweaked." Dynomite Diesel Performance (DDP) sac-type injectors were added and the engine jumped to 392 hp and 854 lb-ft, but with 65 psi of drive pressure and only 35 psi of boost, it was clear that it desperately needed more air ("Injection Connection," Diesel World, March 2012, p. 22).
The next step was to give the engine the air it needed using a non-wastegated DDP T-4 turbo with 82mm turbine and 74mm compressor wheels ("Cummins 24V Turbo Upgrade", Diesel World, September 2012, p. 126). Meanwhile, 110-lb. valve springs from Hamilton Cams allowed the engine to rev to 4,300 rpm. With these mods, the engine cranked out 650 hp and nearly 1,200 lb-ft on 60 lbs of boost with 55 psi of drive pressure.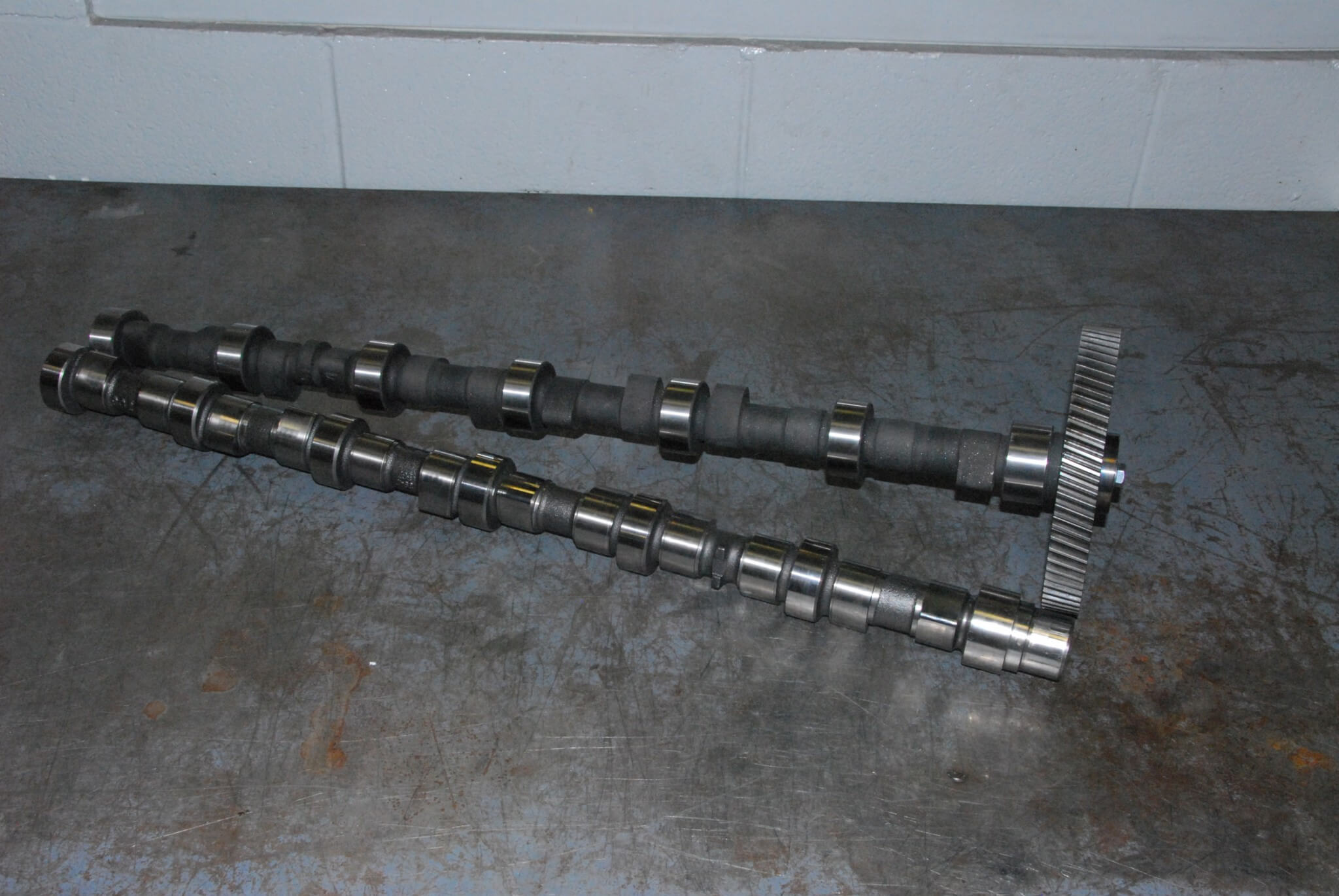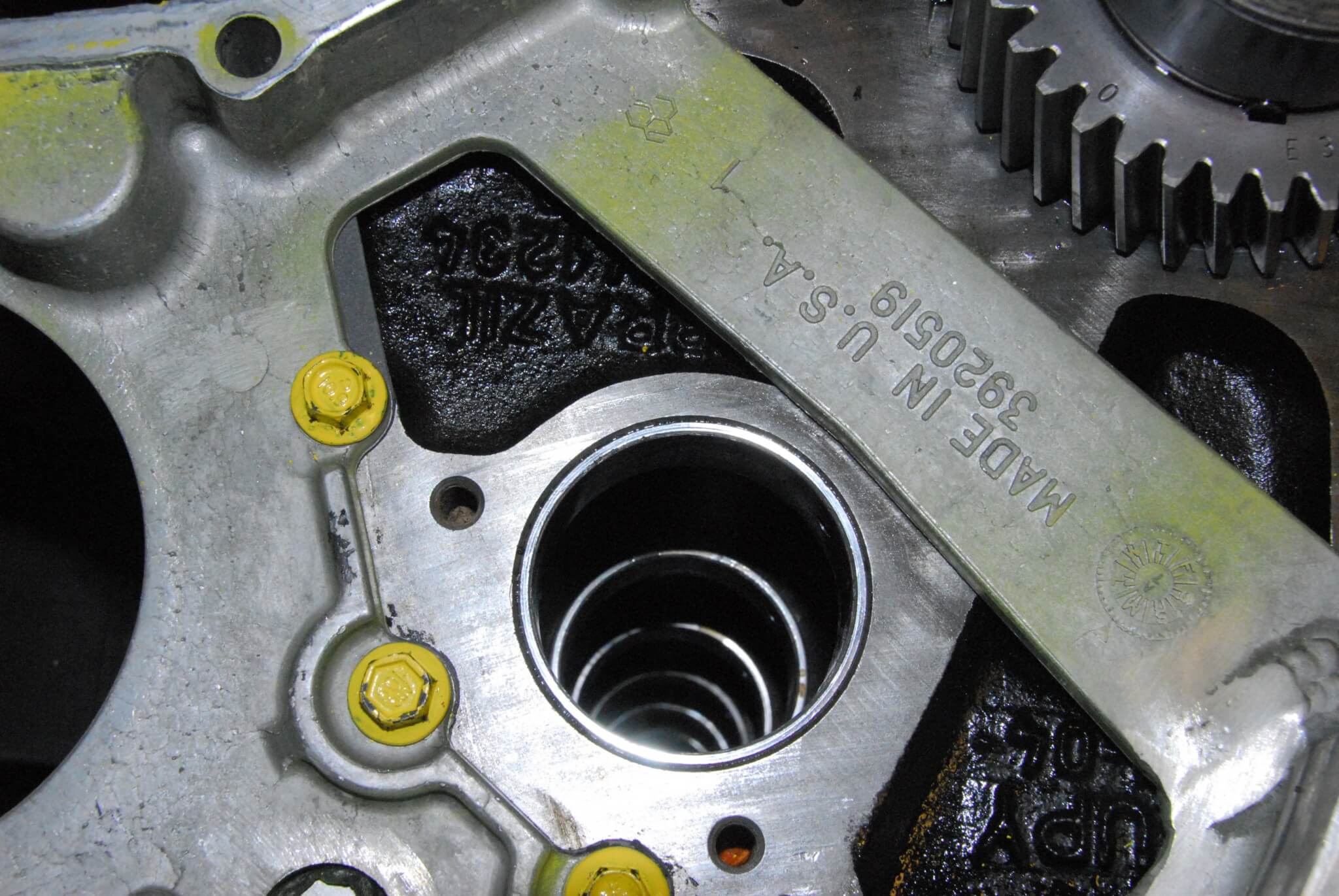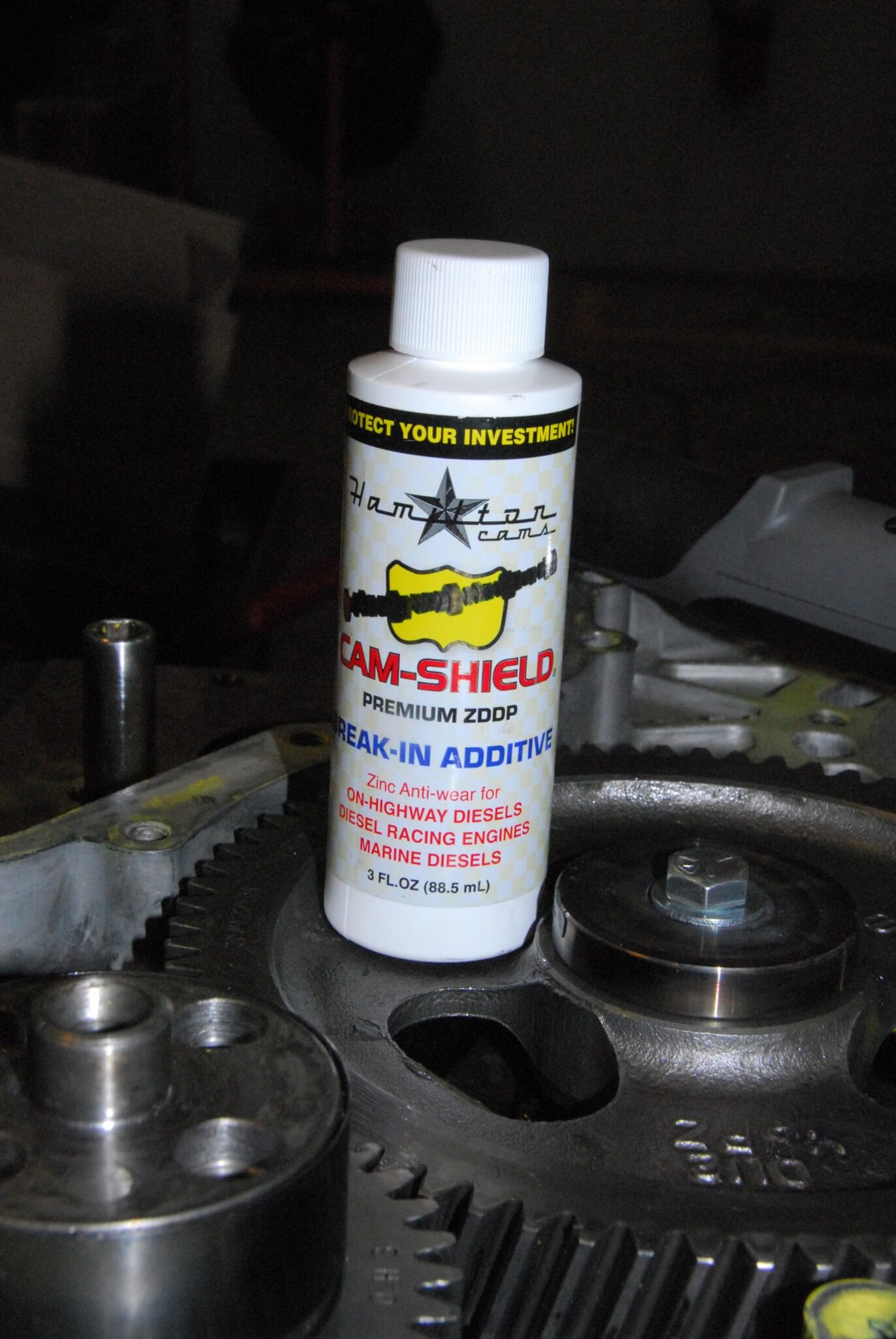 Harland Sharp entered the project with a set of high ratio billet roller rockers ("Rock-and-Rollin'," Diesel World, May 2012, p. 136). They offered an honest 0.050-inch lift increase with reduced friction, adding 13 hp and 26 lb-ft of torque while altering the power curve to improved the lower end and midrange significantly.
Making appropriate timing changes was proving to be a problem, so Pure Diesel Power's adjustable timing gear set was installed. This mod didn't add any power in and of itself, but it did make it easier to set and alter pump timing. A modest 11-degree change was worth almost 25 hp, and future modifications can now be accompanied by easy pump timing changes to fully realize their benefits.
Running a T4 turbo on a T3 exhaust manifold is not optimal in terms of maximizing turbo performance and drive pressure, so the Diesel Club installed an ATS Bigfoot T4 exhaust manifold. A 32 lb-ft increase in torque was accompanied by a substantial change in the torque curve, with more low-end boost and faster turbo light-up.
In our experience, intake horns aren't one of the bigger power producers but ATS Arc Flow horn defied that common knowledge by delivering a substantial 26 ponies and an almost unbelievable 133 lb-ft of torque. We said then, and will say again, those results were very real but may not be typical; we think they came from a curious synergy of parts. However, the power increase came about, the team was certainly happy to have it.
There comes a time in every performance engine's life when the fuel flow to the pump is inadequate for the amount of horsepower being made. A high-volume supply pump is the answer, but if you have a P7100 pump with a stock return valve, you'll be sending back at least a gallon of diesel per minute back to the tank—and that's a GPM that could go to making horsepower. Extra flow is necessary for cooling the pump in day-to-day driving, but when the engine is operated only in short spurts, a device like Tork Technology's High Performance Overflow Valve is key. This tiny, inexpensive upgrade was worth 14 hp and 42 lb-ft as well as a beneficial change in the power and torque curves.
By this time, the engine was producing nearly 850 hp and 1,400 lb-ft, and the truck put in a reasonable performance at a few pulling events in the 2.6 category. More importantly, the truck had become a valuable teaching tool for the students, instructors, and club members.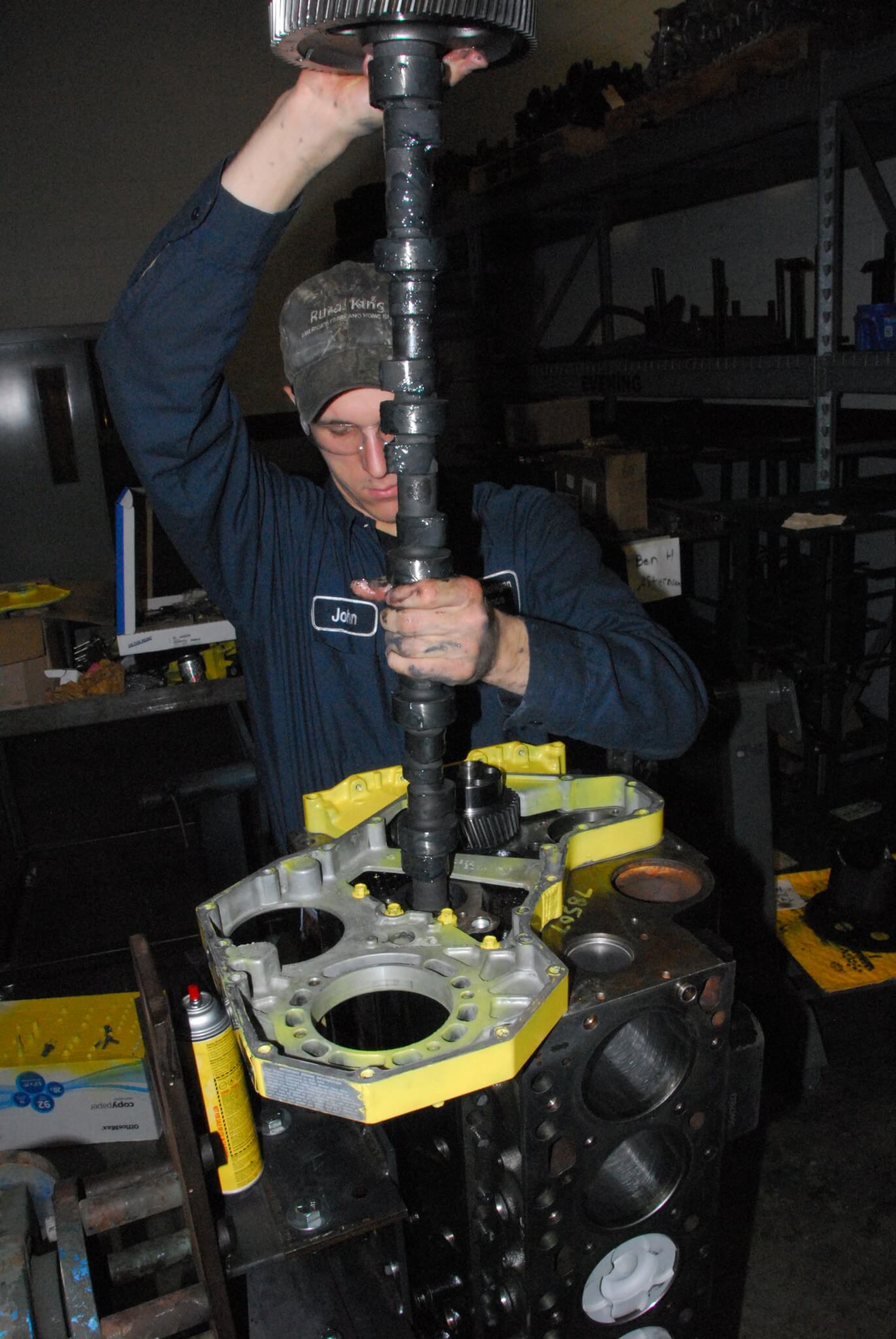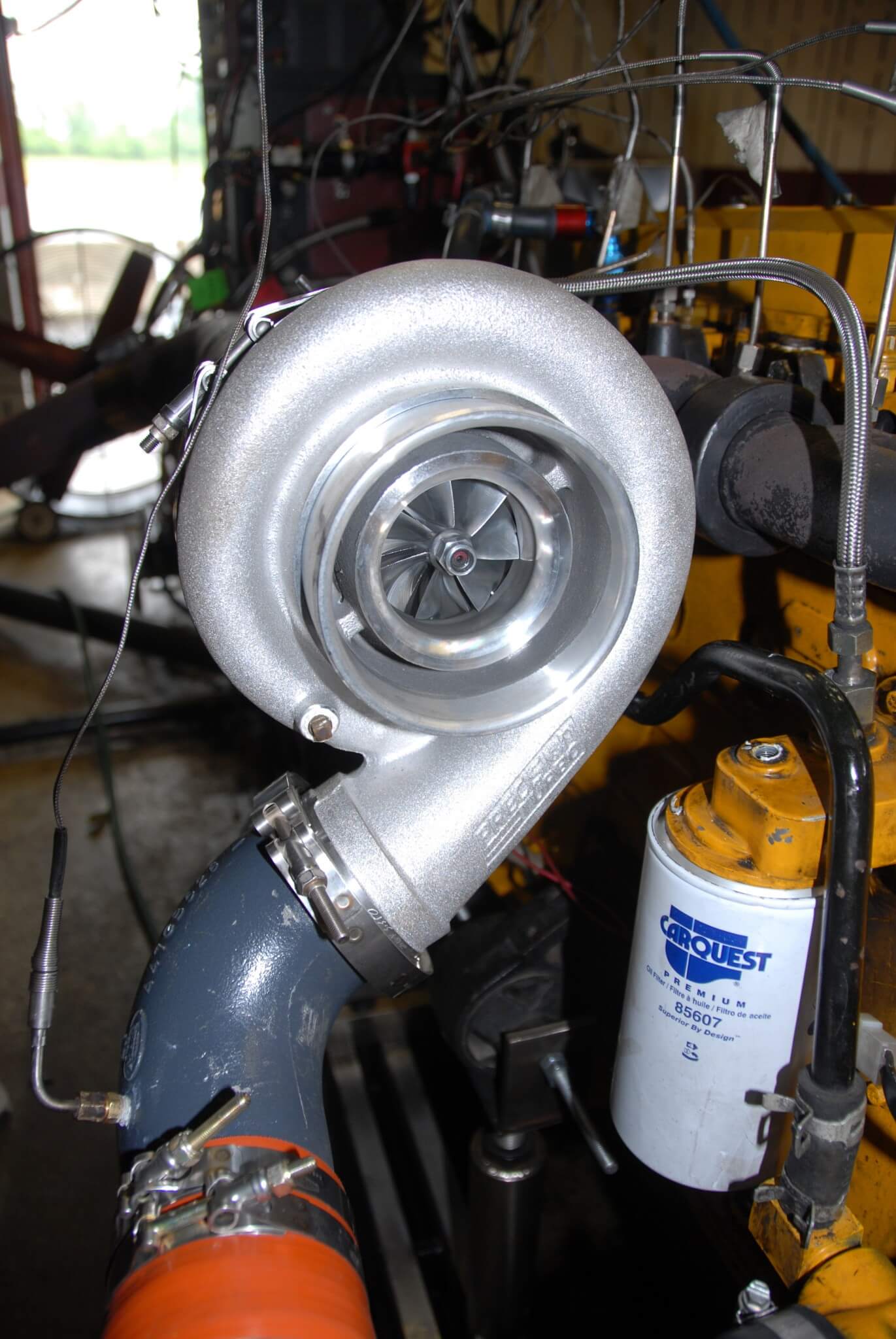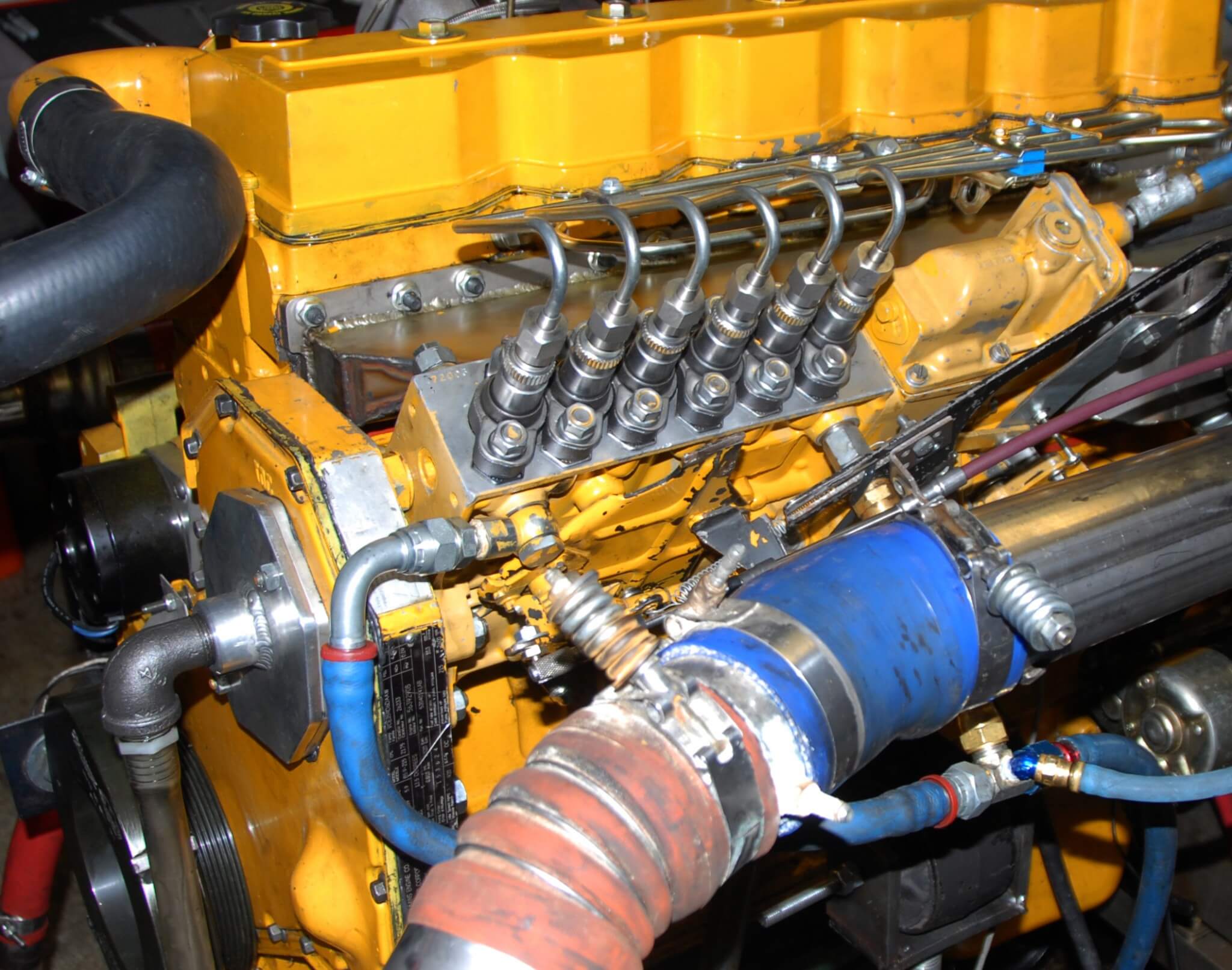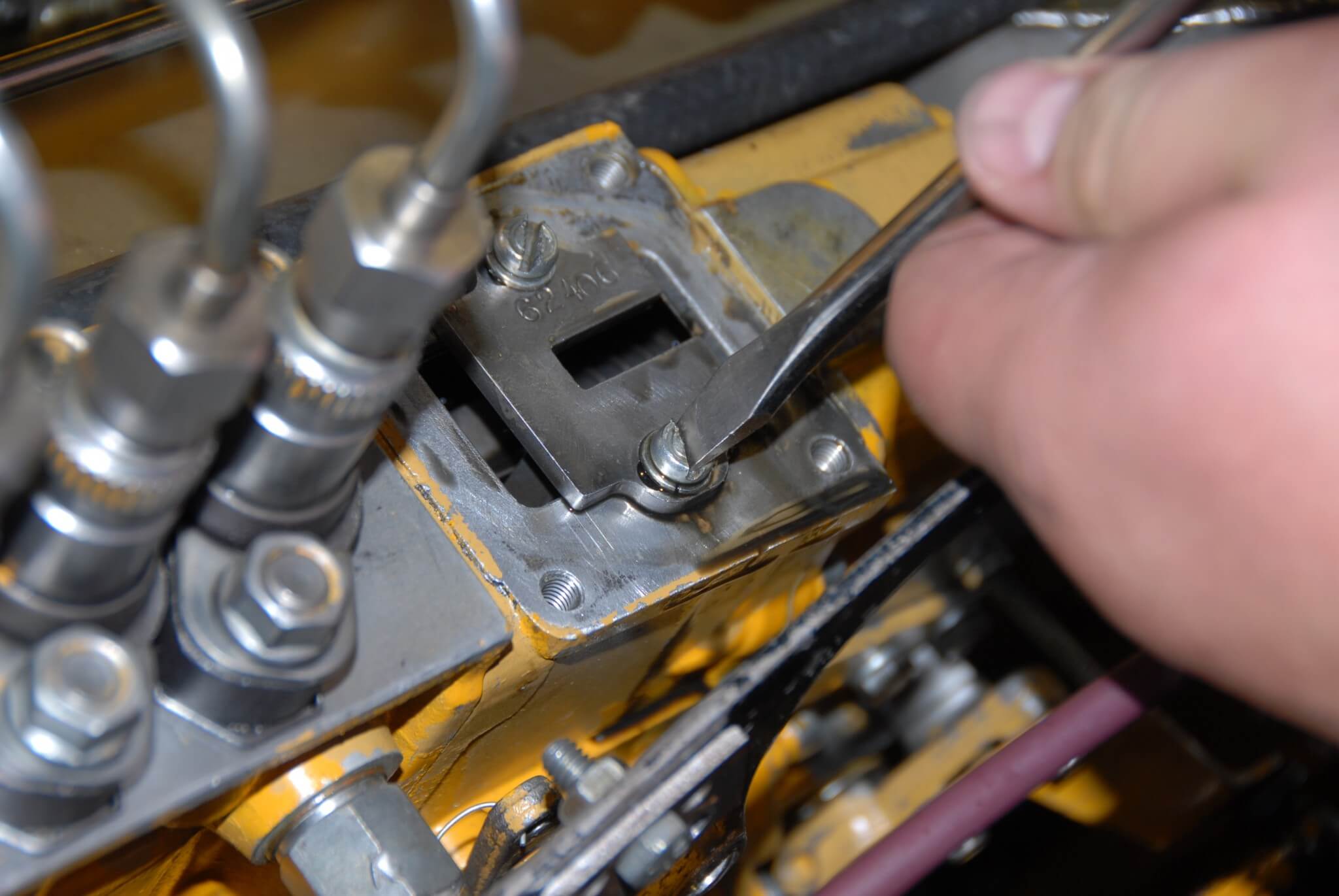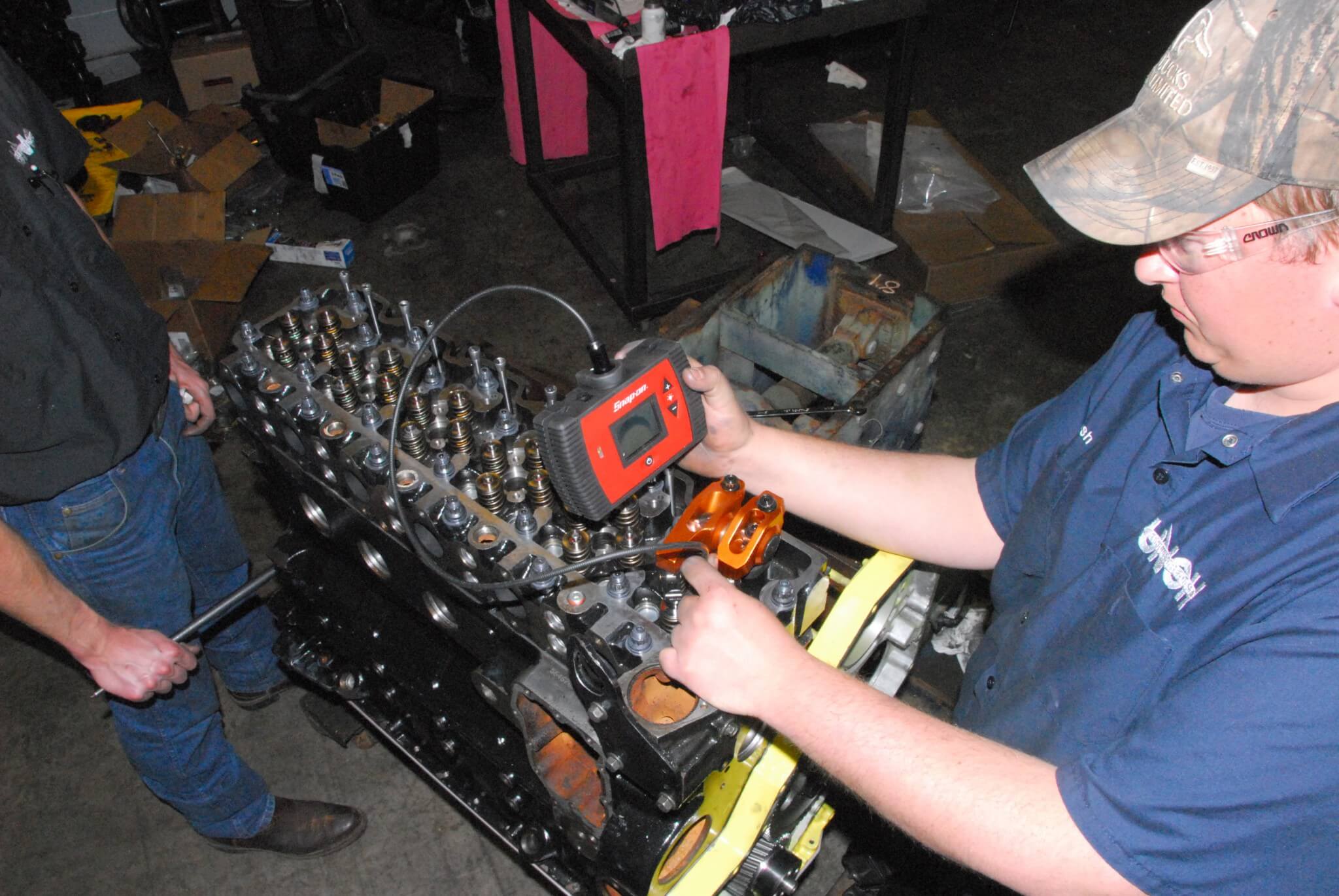 THE LATEST MODS
Our latest round of modifications started with something that had been on the wish list for a long time: a new camshaft. The UNOH Diesel Club went with Hamilton's 232-252 duration (at 0.050-inch lift) cam, a popular pulling truck cam designed for high-rpm operation with heads that have not been massaged for increased flow.
Ryan at Hamilton Cams explained that this cam is ideal for pulling trucks, but not a good choice for street trucks. It moves the power band to 4,000-5,200 rpm at the expense of low-end power, which is needed on the street. It also requires piston flycut valve pockets to be cut into the piston crown for valve clearance. Hamilton says as much as 0.250 inch may be needed, but the actual depth will depend on head gasket thickness and whether the block or head have been machined. Because of the massive increase in lift, the previously installed Harland Sharp roller rockers could not be used with this camshaft.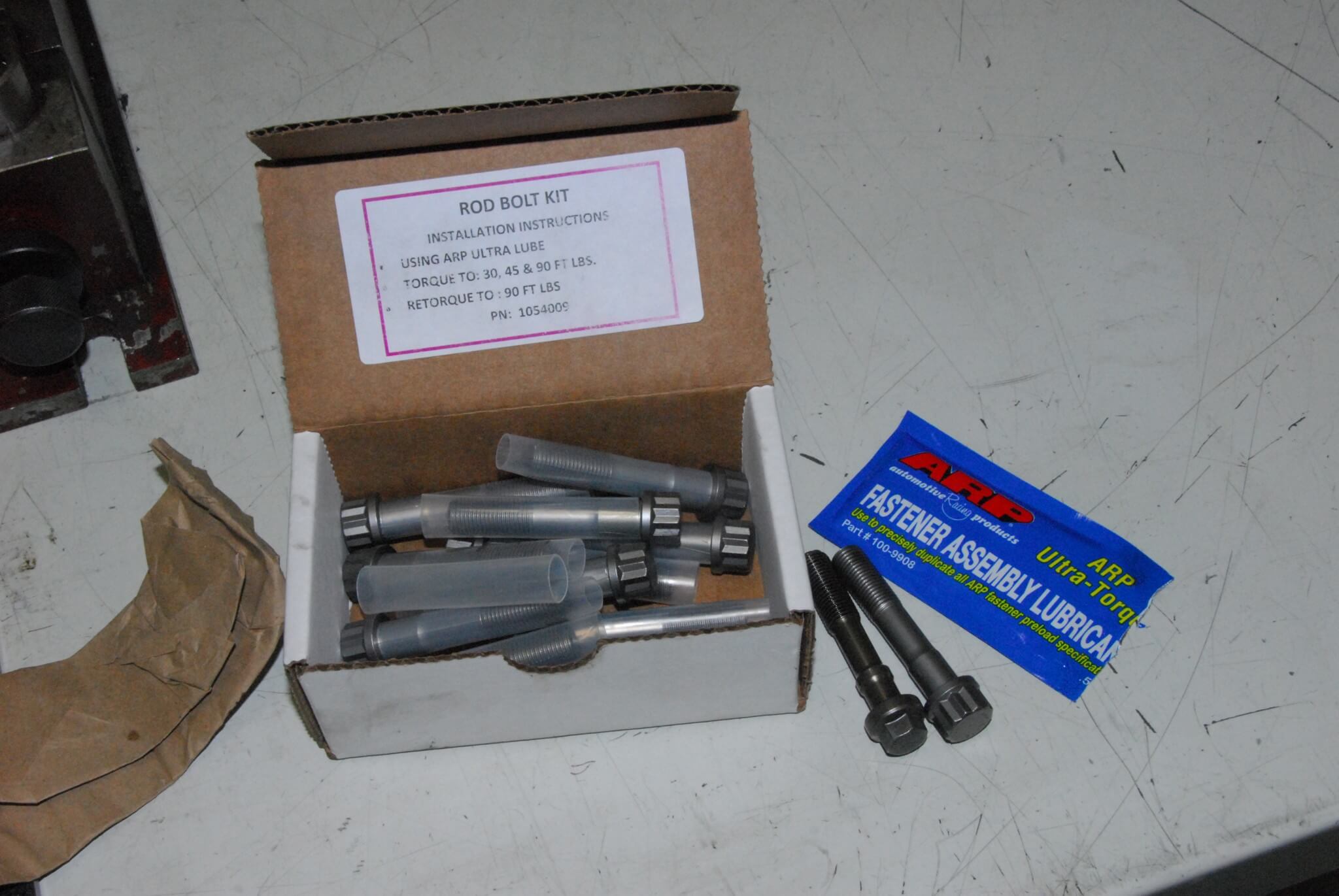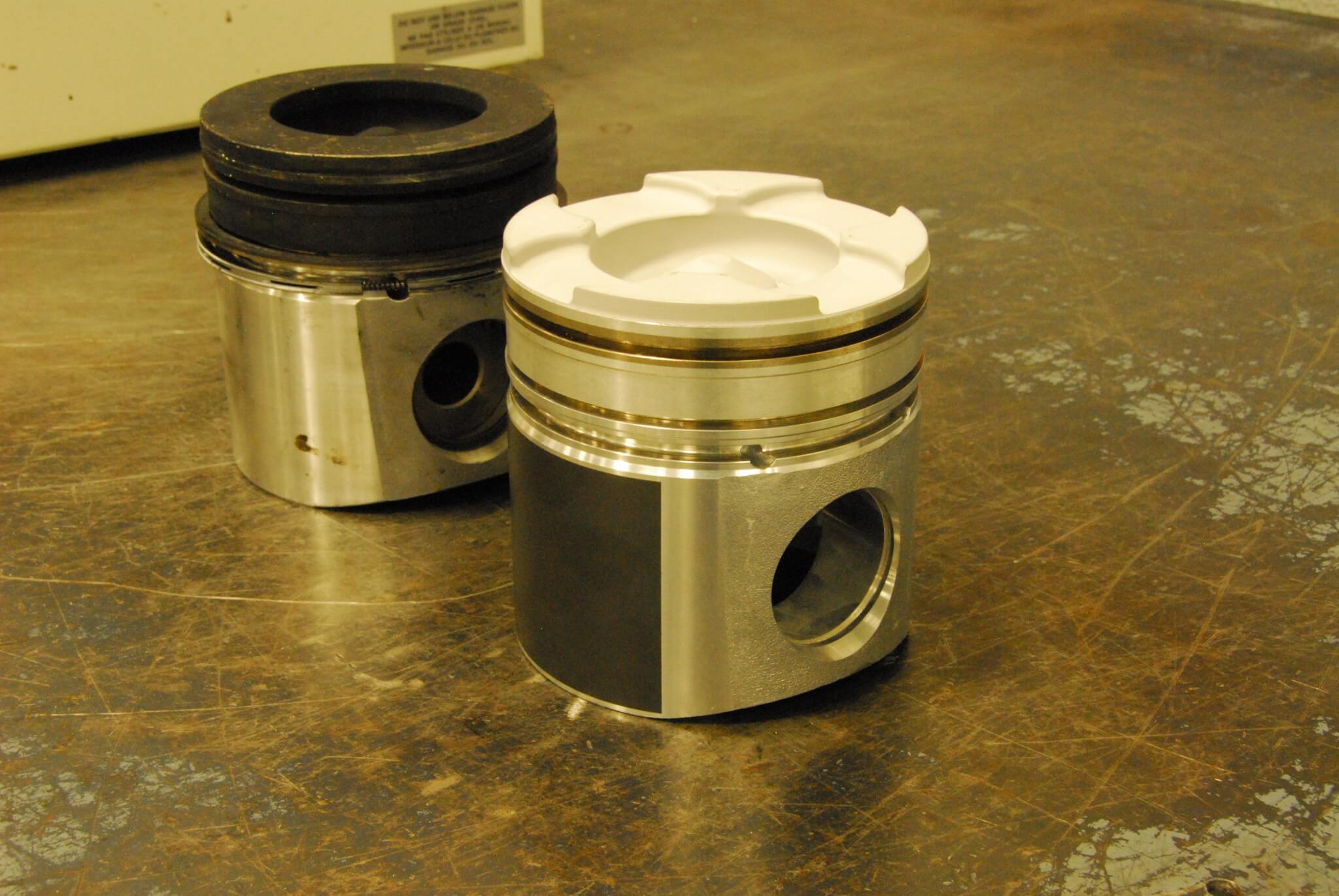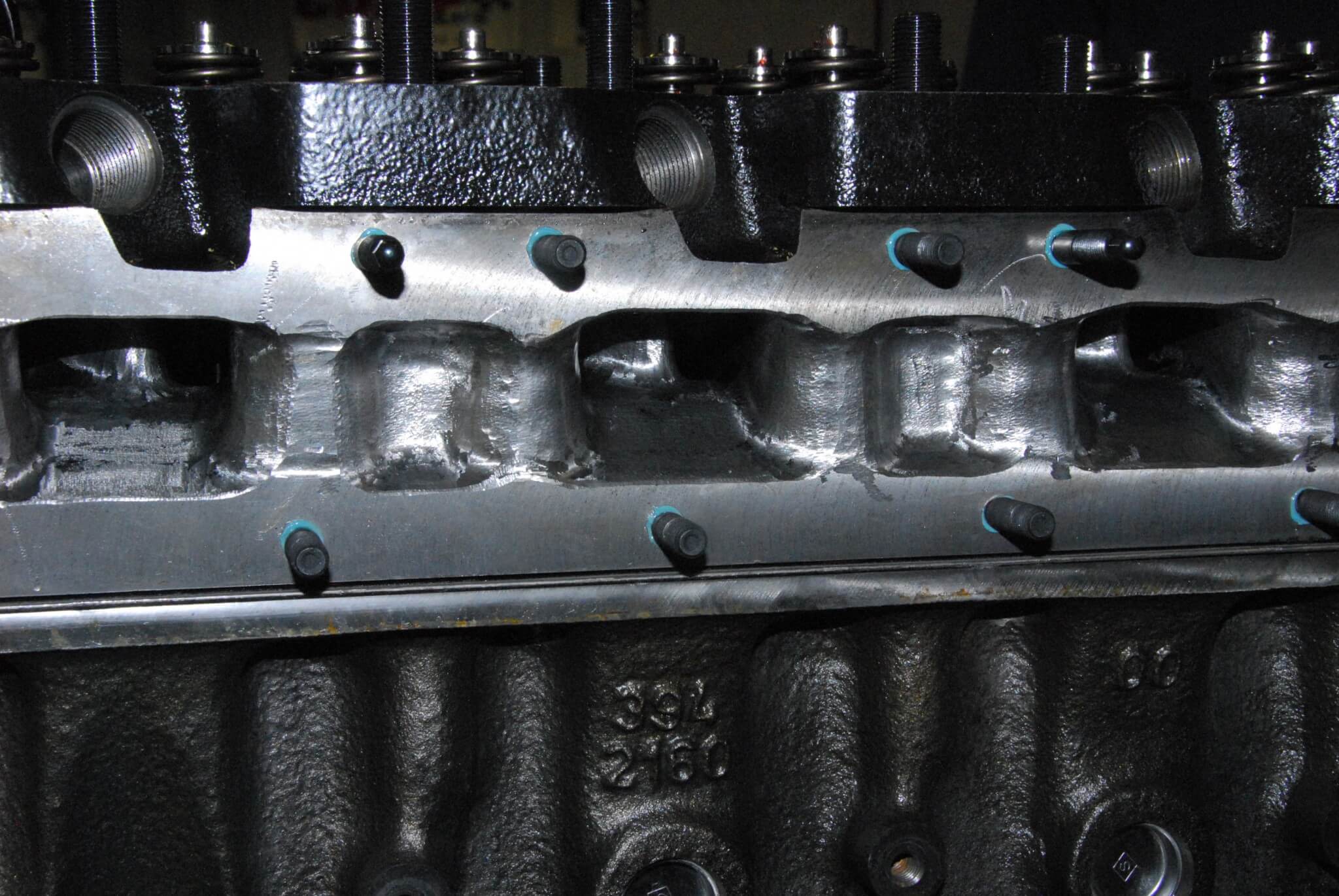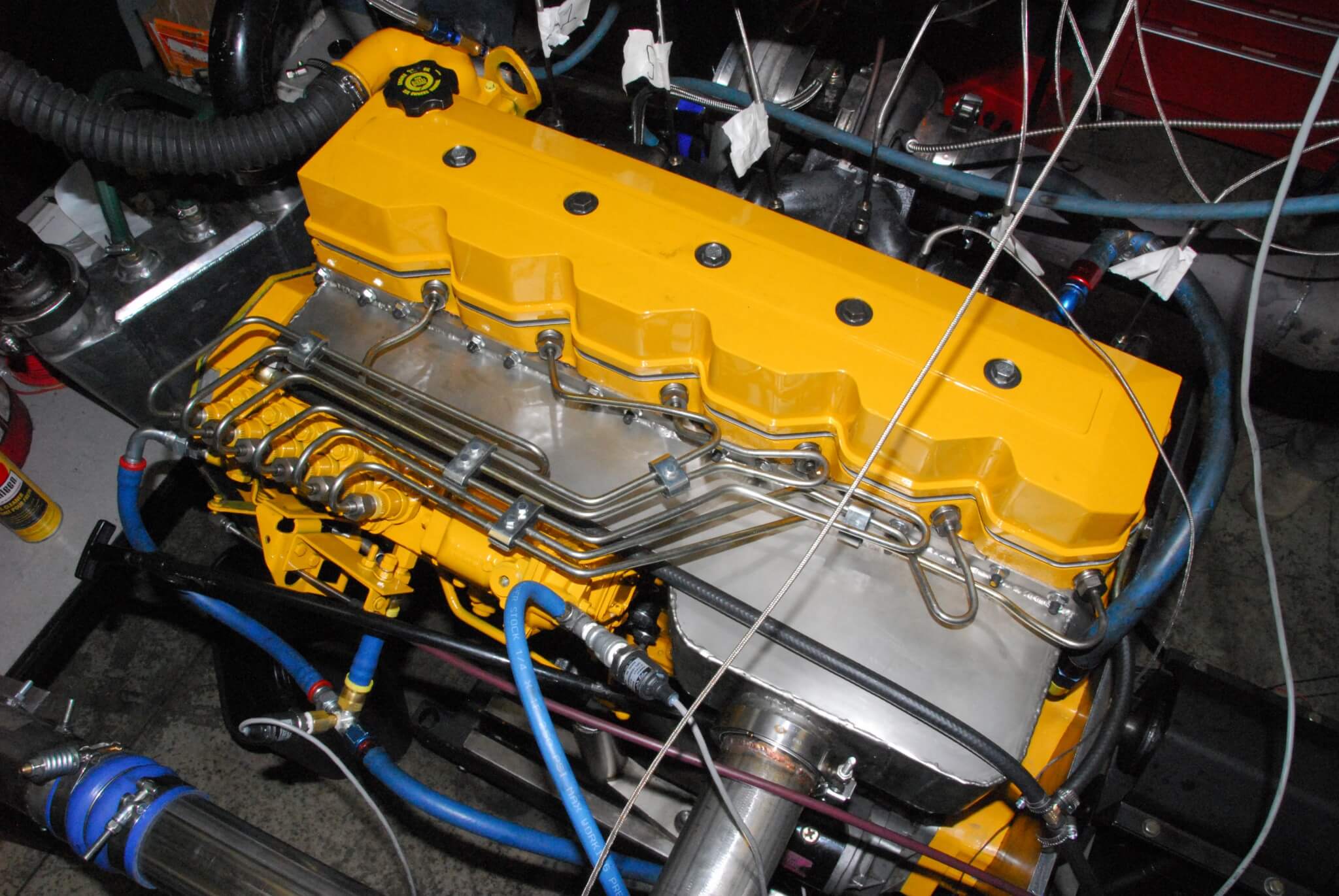 As with any high-revving engine, the valve springs need attention to avoid valve float at high rpm. A stiff valve spring is also necessary when dealing with high boost levels because a highly pressurized intake system can slow valve closure (or even prevent it) with weak stock springs. We mentioned the earlier upgrade to Hamilton 110-lb springs. Hamilton has since determined that these springs may heavier than needed for some applications, and they have introduced 103-lb springs that will reduce camshaft wear. Were we choosing springs today, we'd go for the 103-lb springs. Hamilton calls them a "Three Bears" just-right choice for most high-performance Cummins engines with high-left cams.
Mahle supplied the PowerPak pistons that were custom-flycut by 0.185-inch for valve relief in combination with a thick marine head gasket. These forged pistons feature skirts coated with Grafal, Mahle's proprietary friction-reducing material, and Mahle low-friction rings. Kevin Frische at Kalvinator Engines ceramic-coated the piston crowns with Techline CVX to protect against high combustion temperatures.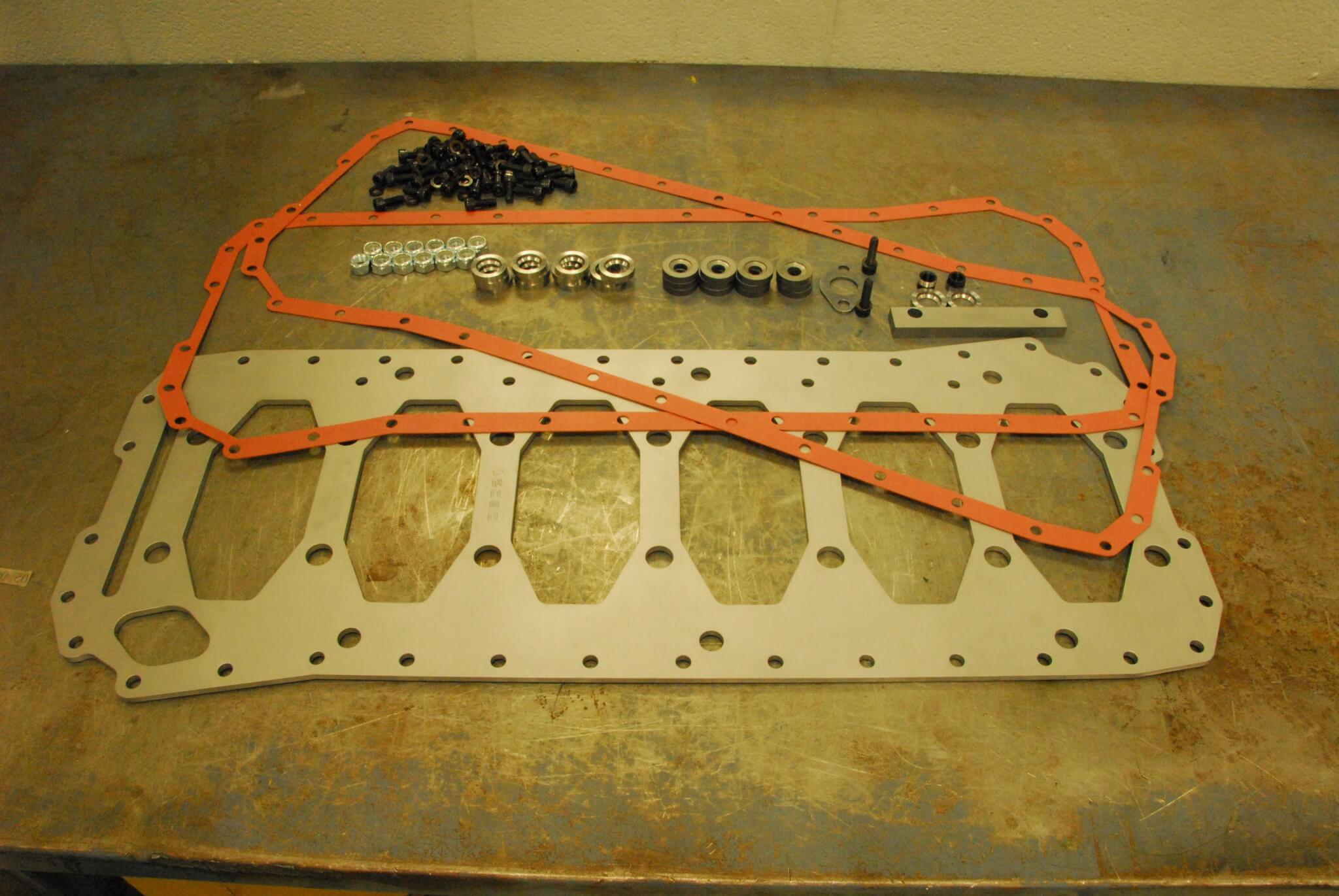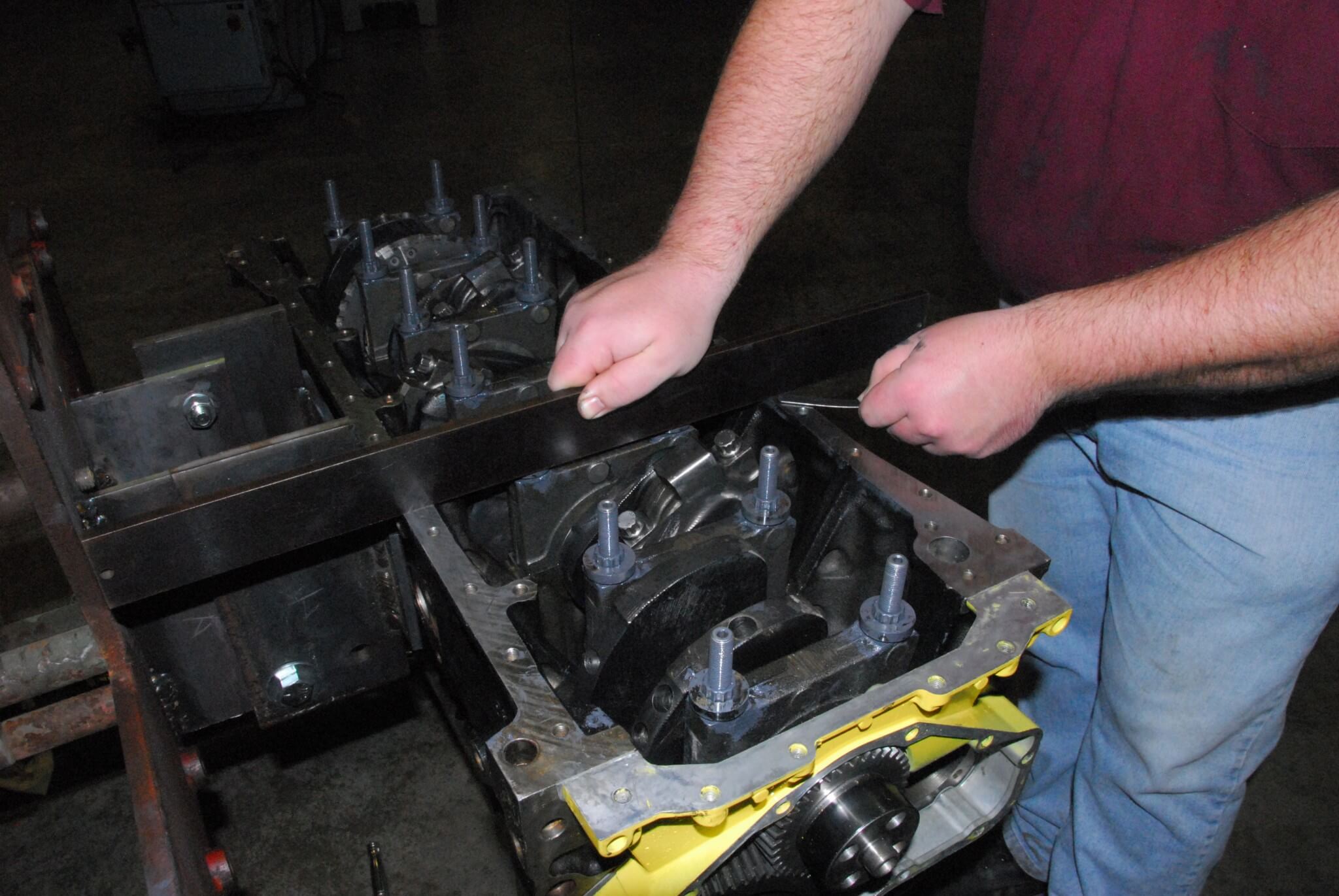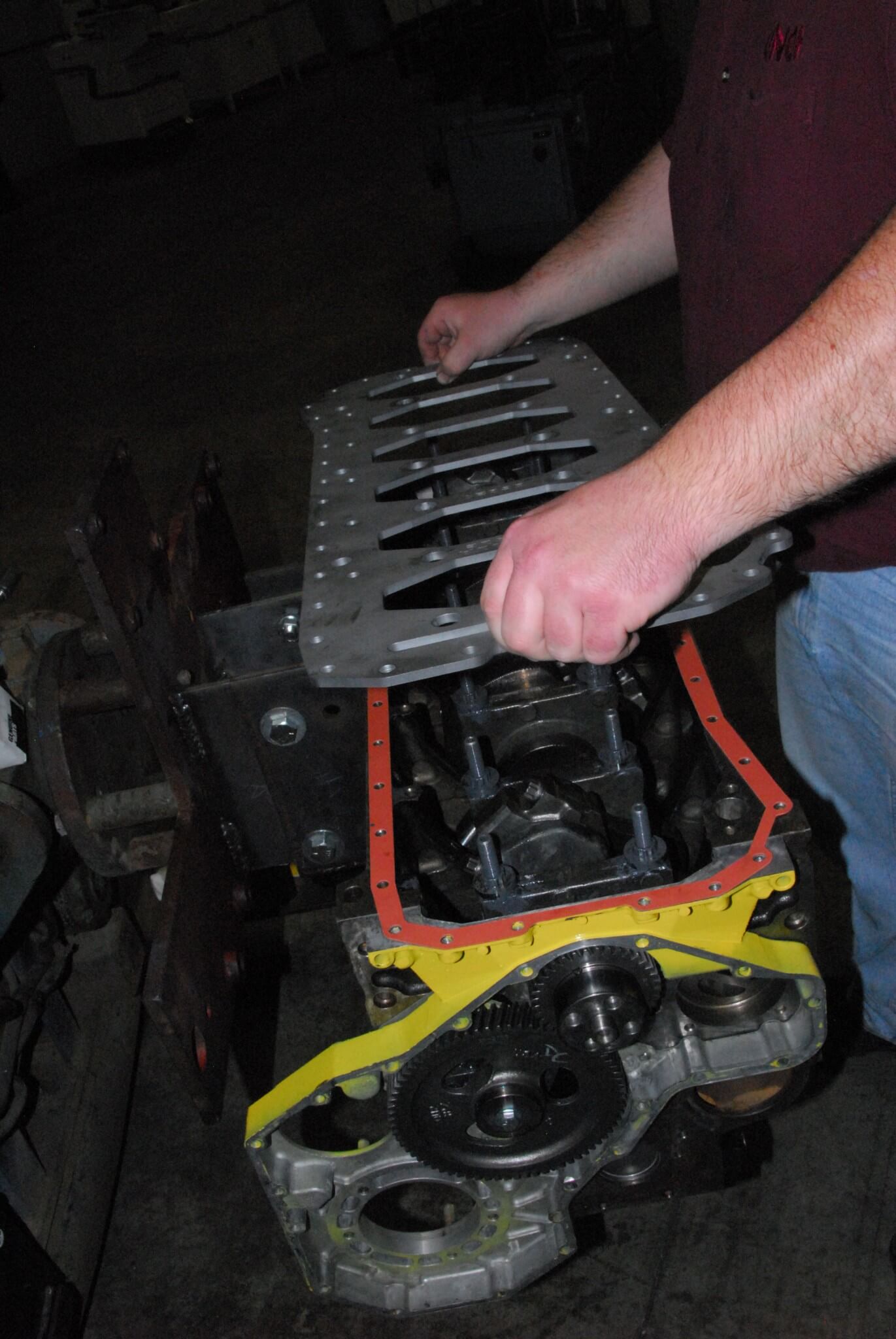 To enhance breathing, the UNOH Diesel Club decided to machine off the cast intake manifold and do some mild head porting. No major changes were made but the major restrictions were taken out of the ports and all edges radiused and smoothed. The valves and seats were also worked over to enhance flow. An intake manifold was built and the head tapped to mount it.
You'll recall that our DDP turbo had been custom-designed for a 700-hp application. With the UNOH Diesel Club's goal of nearly 1,000 horsepower, the turbo had reached its limit. After a donated used turbo from a retired 2.6 competition truck died a spectacular death—fortunately without hurting the engine or anyone around it—Precision Turbo stepped up to the plate. Joe Krivickas at Precision supplied a 2.6 x 3.35 truck pulling truck competition turbos, and did so without prodding from us.
Unfortunately, the higher injection pressures, wear and tear, and heavy handling had resulted in a succession of cracked and leaking injector lines. Scheid Diesel sent a new set of 0.093 inside diameter lines that are both a little stouter than stock and flow more than the stock 0.075-inch lines. But oversize lines are only useful when the injection pump capacity is increased significantly; if the pump doesn't have the capacity to fill the line with each stroke, injector opening is erratic at low speeds. That wasn't a problem after Northeast Diesel rebuilt the Bosch P7100 and opened the door to reaching the 1,000-hp goal.
To beef up the bottom end, the Diesel Club installed a Haisley Machine Gorilla Girdle along with 14mm main studs. The crew also took a set of good English-made 12-valve rods from another training aid engine, polished the beams and shotpeened them for extra strength, and installed new pin bushings and ARP rod bolts.
It was time to put the new engine on the dyno and see what the Diesel Club hath wrought.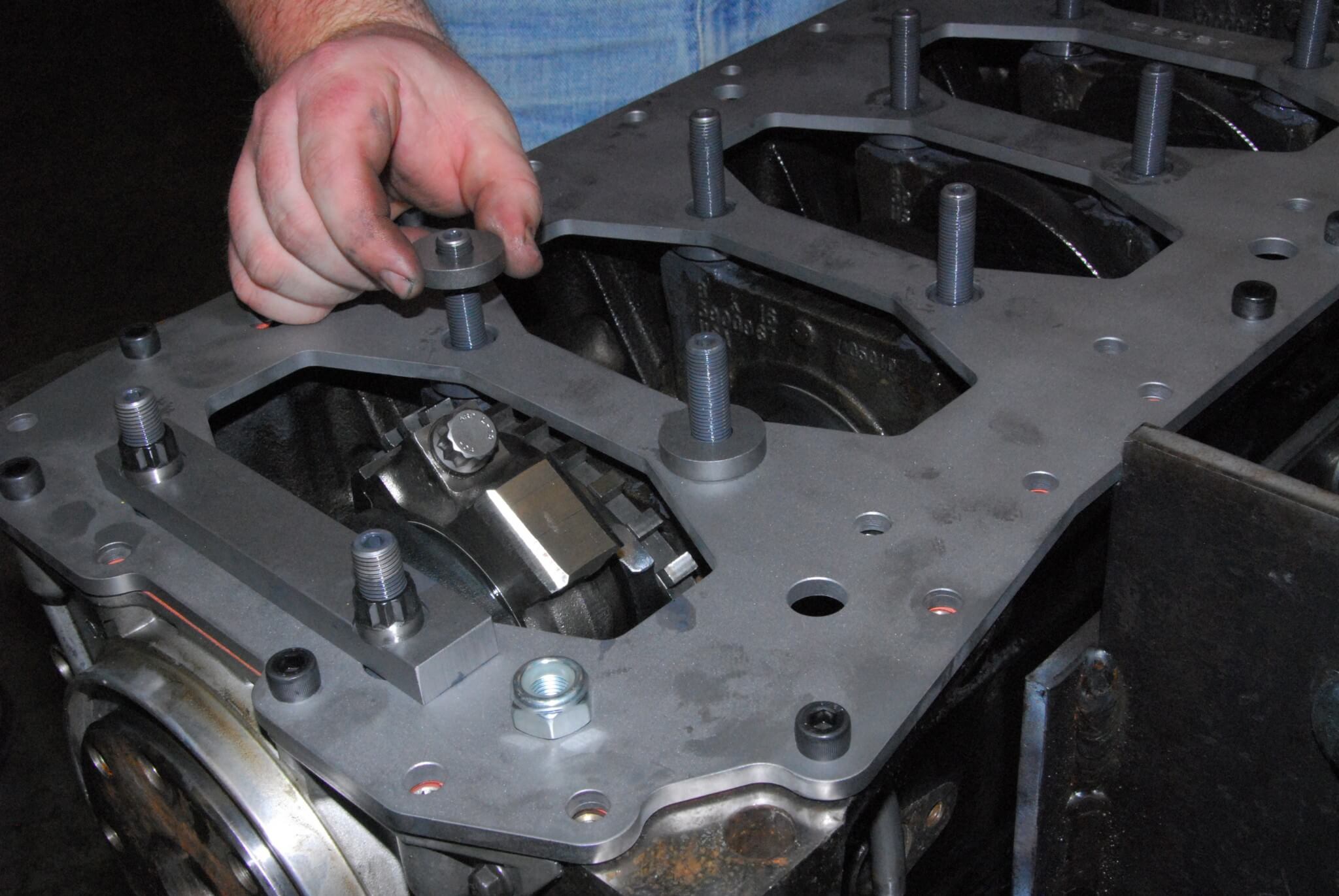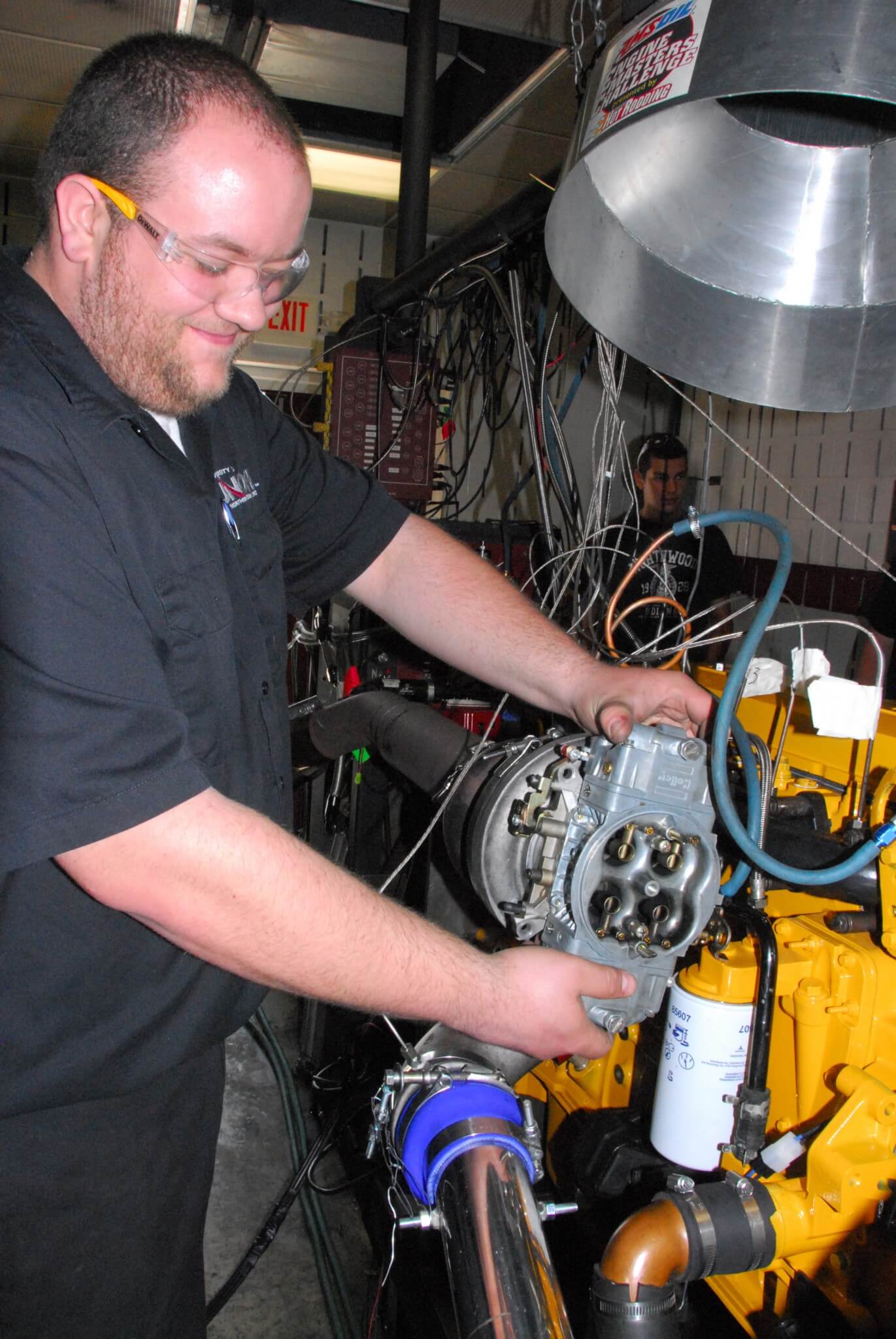 DYNO RESULTS
When the smoke settled at the UNOH dyno facility, the Diesel Club engine had made a high power run of 939 hp at 3,700 rpm and a high torque run of 1,547 lb-ft at 3,100 rpm. Averages ran about 920 hp and 1,525 lb-ft of torque—enough to make the truck competitive, if not put them in the money. Unfortunately, we mean what we said about the smoke settling—the engine managed to break the dyno, which was built for gas engines, before the Diesel Club could make minor tweaks such as injection timing.
This isn't the end for the UNOH diesel project, as the students will continue to learn how to strengthen the engine as well as how to campaign a pulling truck. If you attend pulls in the western Ohio or eastern Indiana area, keep an eye out for the black UNOH Dodge—and be sure to encourage the students who built such a fantastic truck. DW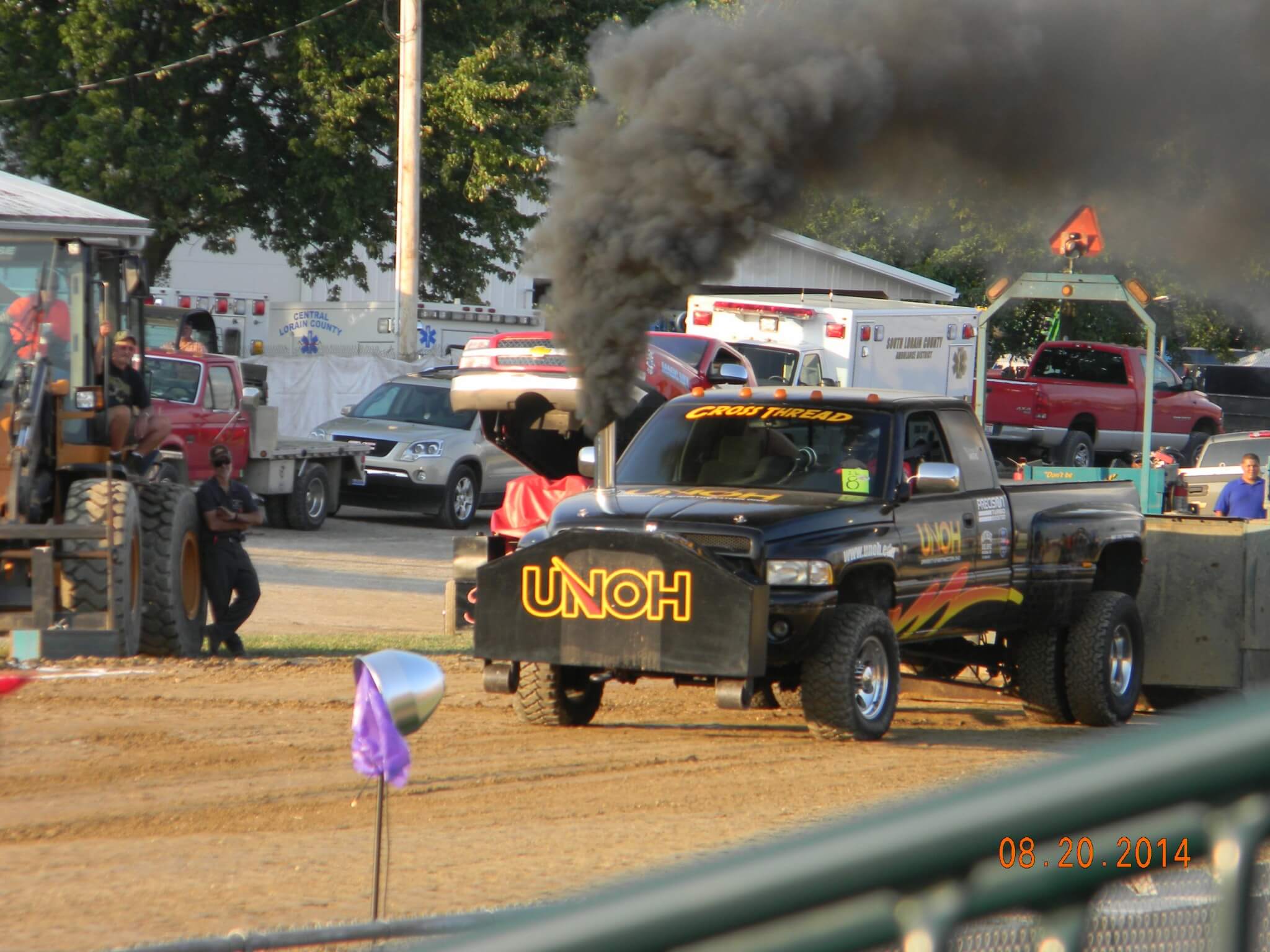 [divider]MEET THE UNOH DIESEL CLUB[/divider]
In the time Diesel World has been associated with the UNOH Diesel Club, we've had the great pleasure of getting to know instructors Aaron Roth, Justin Sorenson and Fred Newhouse, who are the club's official advisors. They are tireless in their devotion to the club and give generously of their free time in supporting it. Randy Lucius and Paul Higgins are instructors who help out as needed. Our participation couldn't happen without the support of Deans Tom Grothous and Andy O'Neal, both of whom come by to get sooty on occasion. But the best part of this experience has been meeting the students. They come and go as their school careers progress, but we've met many standouts who are poised for a stunning career in diesel technology.
SOURCES:
ARP
800.826.3045
ATS Diesel Performance
866.209.3695
BHJ Products
510.797.6780
Dynomite Diesel
360.794.7974
Fel Pro
Haisley Machine
877.948.3164
Harland Sharp
440.238.3260
Kalvinator Engines
419.738.5090
Northeast Diesel Service
573.588.4191
Preble County Diesel
937.452.5505
Precision Turbo
219.996.7832
Pure Diesel Power
715.254.1833
Scheid Diesel
217.536.5311
Tork Teknology
616.298.9103
TorkTeknology.com
University of Northwestern Ohio
419.998.3120