When building your daily driver on a budget, some things just have to be done multiple times. Generally speaking diesel performance goes step by step—tuning, more fuel, more air, then even more fuel and more air. This goes on until something breaks. For Project Grocery-Getter, a 2003 6.0L-powered Ford Excursion, we did things a little backwards. We first took steps in the direction of prevention by studding the heads, adding a better EGR cooler and a better oil filtration system. A light FICM tune was also done to help wake up the engine. Satisfied with the results, now it's time for the big fuel and air.
Project Grocery-Getter lives life doing what many oversized 4×4 minivans do: it's a daily-driven kid transport, weekend warrior mobile, and of course a grocery-getter. The plan is to keep the 2003.5 Excursion extremely reliable and efficient for its day job, yet be able to change the tune and rip down a drag strip now and then with nearly 500 horsepower at the rear wheels.
Big Sticks
In the fuel department we decided to go with a set of 175/30 sticks from Warren Diesel. We opted to go with a set of new remanufactured injectors modified by Warren Diesel as opposed to having them re-work our aging stockers. With more than 150,000 miles on them we felt it was a good time to swap them out for new. The set Warren Diesel sent us flow 175 cc with a 30-percent-over nozzle. Warren Diesel performs multiple modifications to their injectors to increase their flow and efficiency. First, they machine the intensifier piston inside the injector to allow for a higher fuel flow (see sidebar on page XX for more info on the 6.0L's unique injectors). They plug the spill ports which helps lessen oil consumption allowing the use of a stock high-pressure oil pump (HPOP). Plugging the spill ports also allows for higher injection pressure and ultimately better efficiency.
All internal parts are lapped to create perfect tolerances, which equal better reliability and overall performance. Last but not least, Warren Diesel uses 100-percent new nozzles built to their specifications. These nozzles are a six-hole design, which creates better fuel atomization compared to the OEM eight-hole design. These larger sticks will require an upgraded fuel system to supply them. They will also require custom tuning, which Warren Diesel can supply. We'll be doing both a larger fuel system and playing with a few custom tunes in the next issue of Diesel World.
Stage 2 Turbo
The addition of more fuel means more air is needed to burn it so we gave Charlie at KC Turbos a call. Charlie has multiple 6.0L turbochargers available for the 6.0L all the way up to the Stage 3, which has nearly a 68mm compressor wheel and will provide 40-45 psi of boost. Keeping our goals in mind, he recommended his Stage 2 VGT turbo for our application. KC Turbo's Stage 2 charger for the 6.0L Power Stroke has an 11-blade, 64mm single-plane billet compressor wheel with a 10-blade, 72.5mm by 66.4mm Inconel turbine wheel. This combo was chosen for multiple reasons: it's a 100-percent bolt-on charger.
It supports 570 horsepower; and will still spool quickly enough with low backpressure to be used safely for light towing (10,000 lbs. or less). With parasitic loss 570 horsepower at the crank with 38 lbs. of boost should get us extremely close to our 500-rear-wheel horsepower goal.
Bud's Diesel
With our new parts in hand we headed down to Bud's Diesel in Southern California for the install. We've been going to Bud's for years. Owner Bud Anderson is a factory-certified Ford technician with decades of experience working on all diesel engines, but especially Power Strokes. There are only a few people we call on when we need Power Stroke help. Bud's is on that short list. All said and done. the install took roughly three days including the fuel system.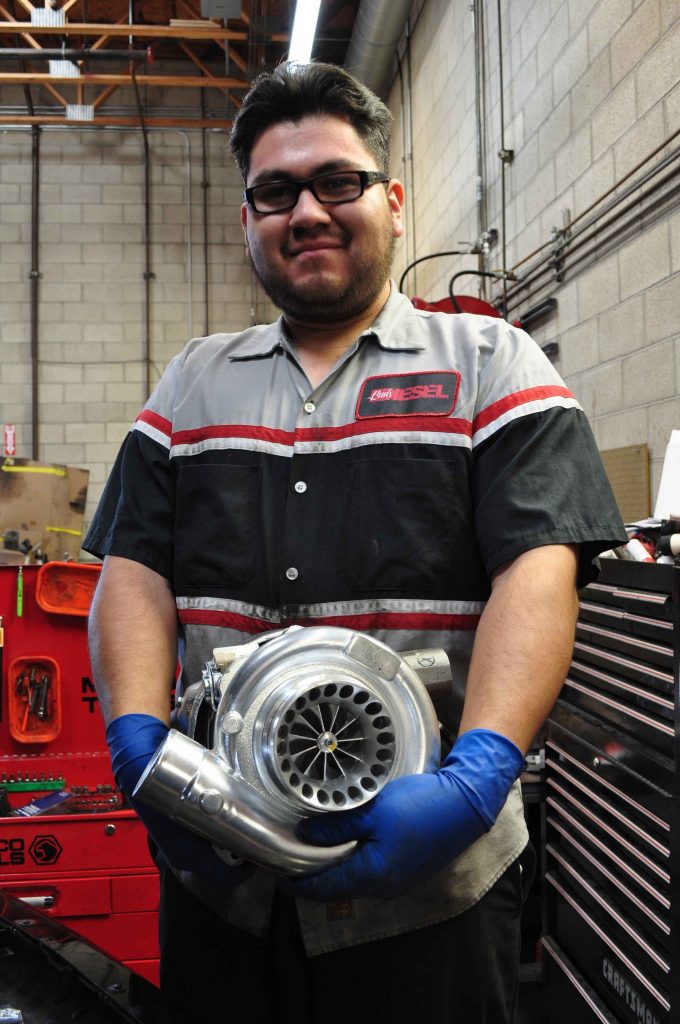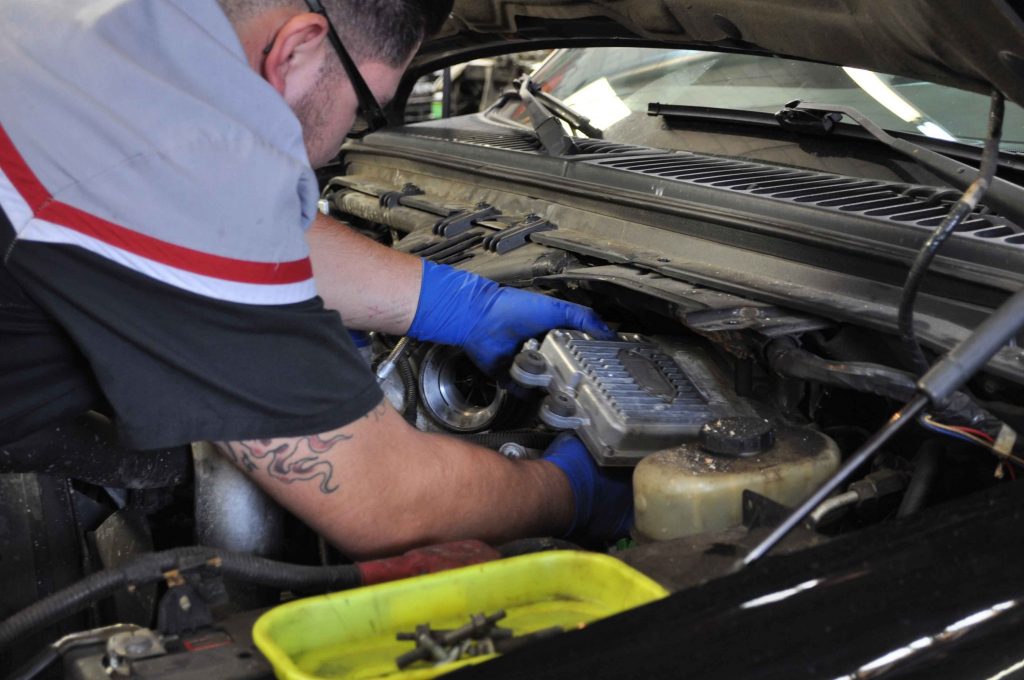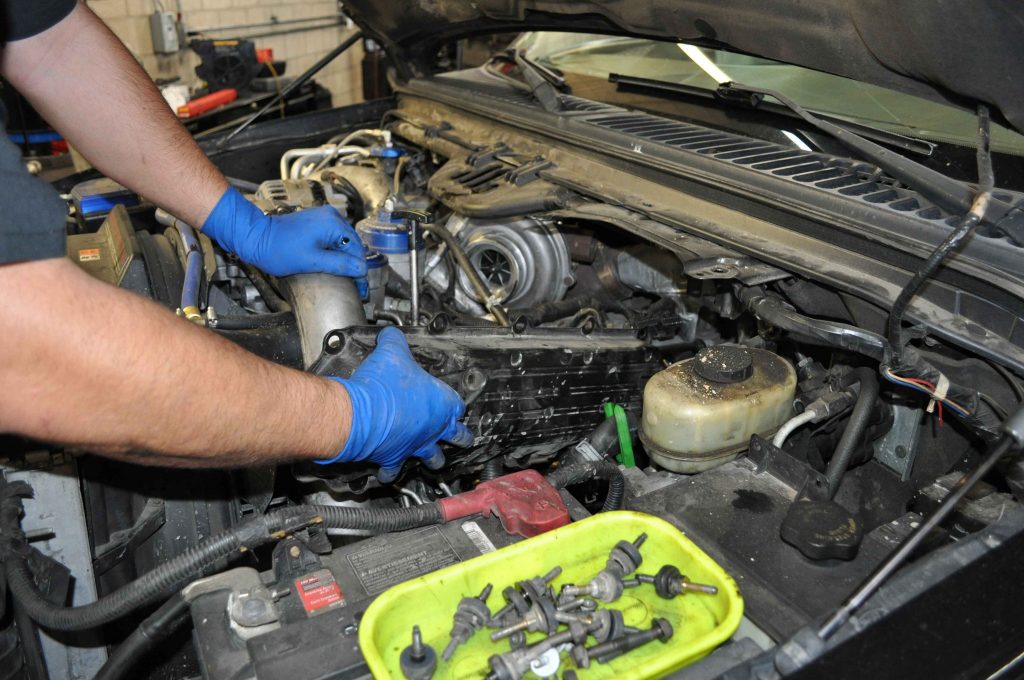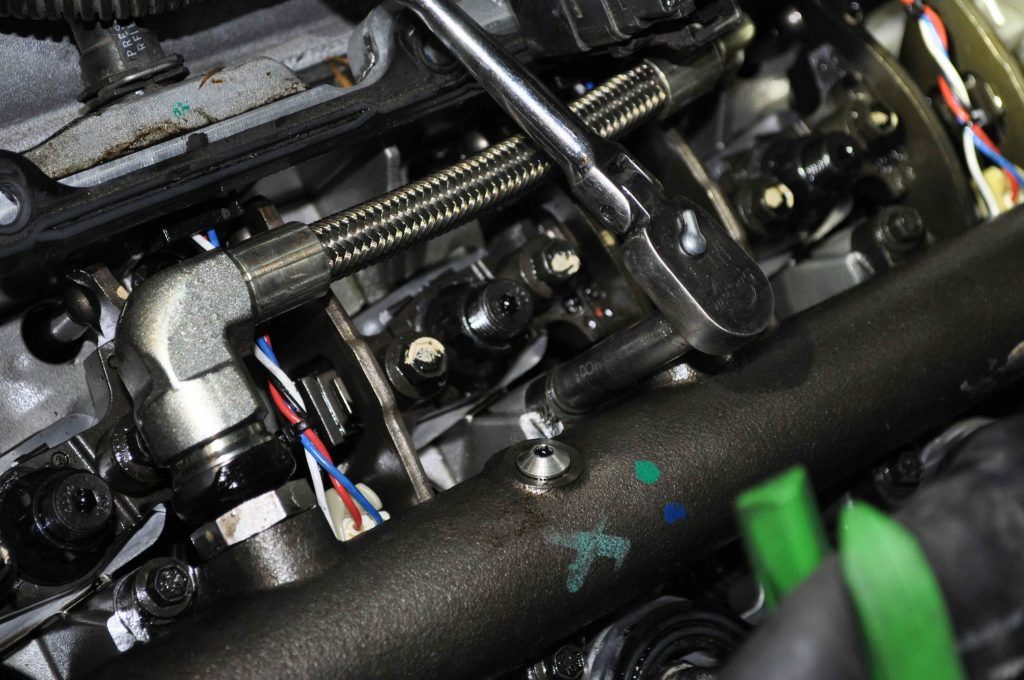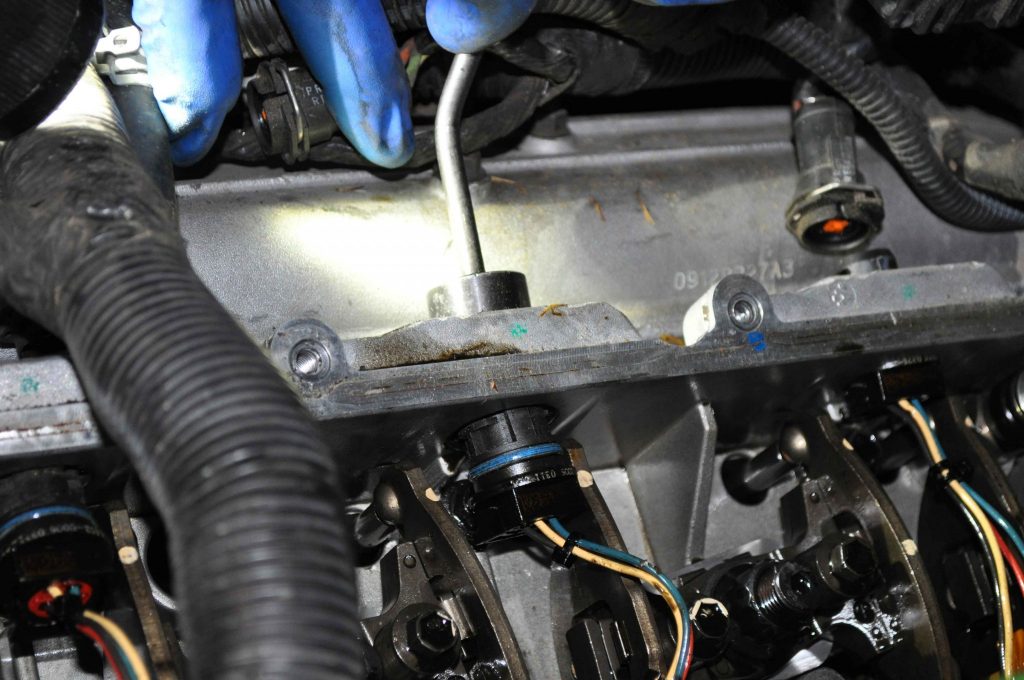 Inside The 6.0L HEUI Injector
The 6.0L and 7.3L Power Strokes use Hydraulic Electric Unit Injectors (HEUI) that are fairly unique in the modern diesel era. The injectors don't rely on a single high-pressure pump like a common rail Cummins or Duramax engine does. HEUI injectors are fed a 60-psi supply from the tank but the injectors themselves create the high pressure needed for complete combustion using a supply of high-pressure oil.
How It Works
Both fuel and oil run through the heads in separate galleries, to each injector. The oil pressure (around 500-600 psi at idle and 4,000 psi max) is fed from the HPOP (High Pressure Oil Pump) to the top of the injectors; fuel (at 60 psi) is fed from the tank via the stock electronic lift pump, towards the bottom or tip of the injectors. Simply put, each injector is equipped with two pistons, one for fuel (a.k.a. "plunger"), and the other for oil (a.k.a. "intensifier piston"). When the solenoid atop an injector is opened electronically it feeds high-pressure oil to the first piston forcing it down onto another piston, which then pressurizes the fuel at 7.1 times the pressure of the oil. Injection pressure can be as high as 28,400 psi but should never drop below 3,100 psi. Once above 3,100 psi the nozzle needle lifts injecting the fuel into the cylinder. DW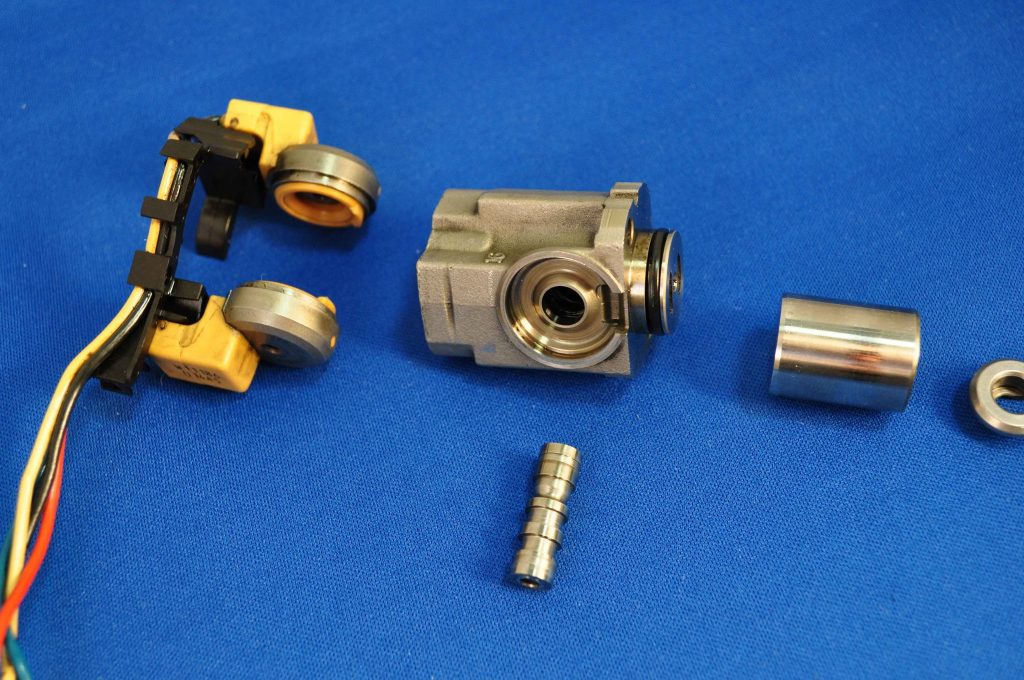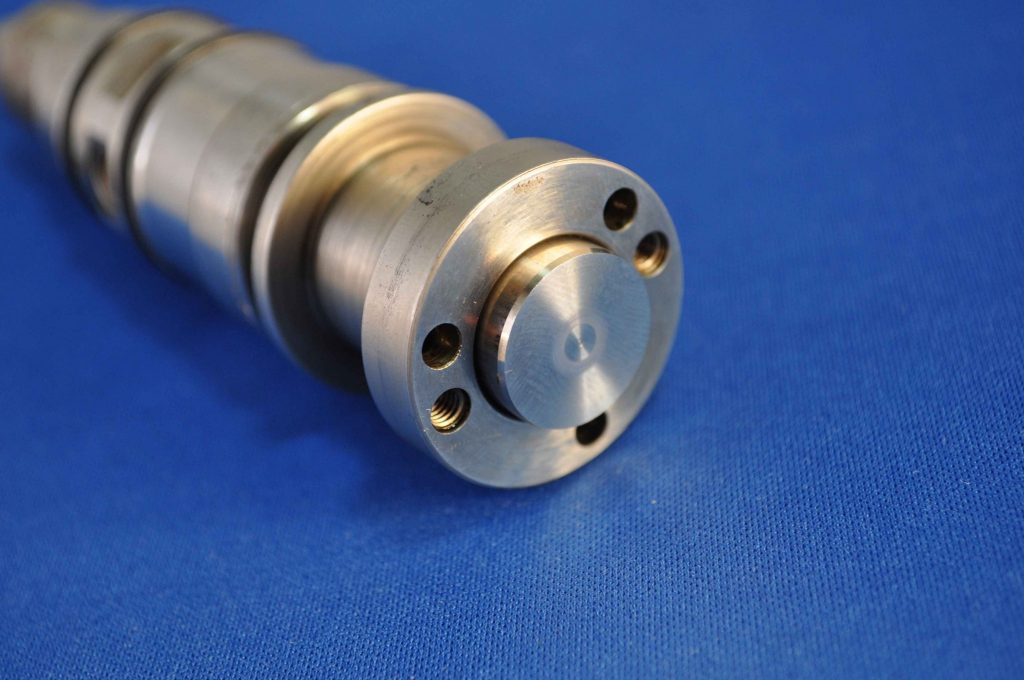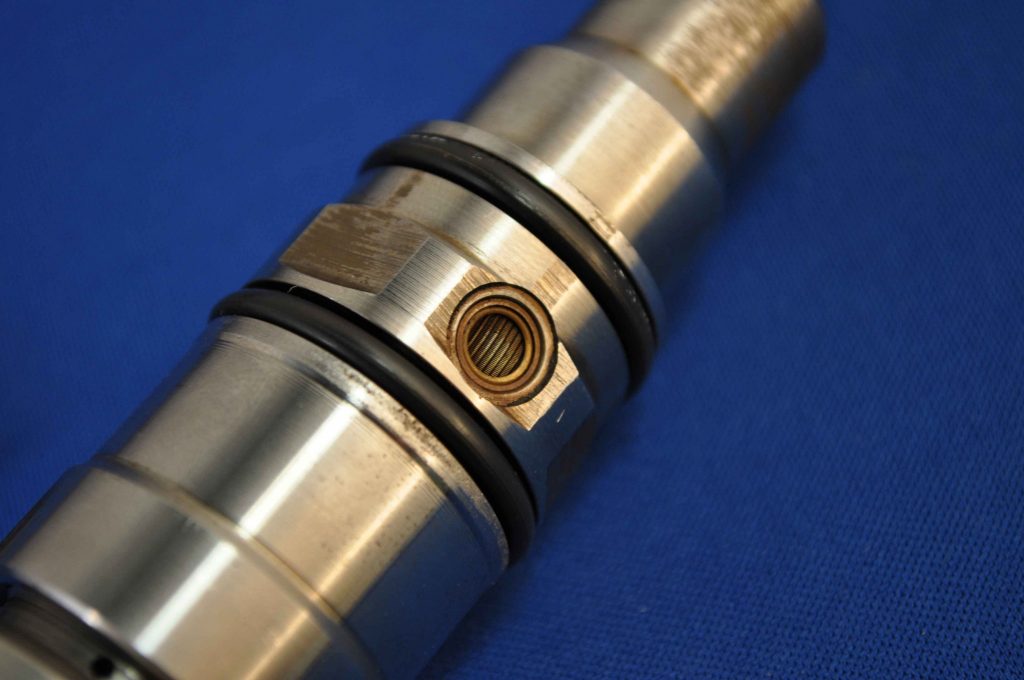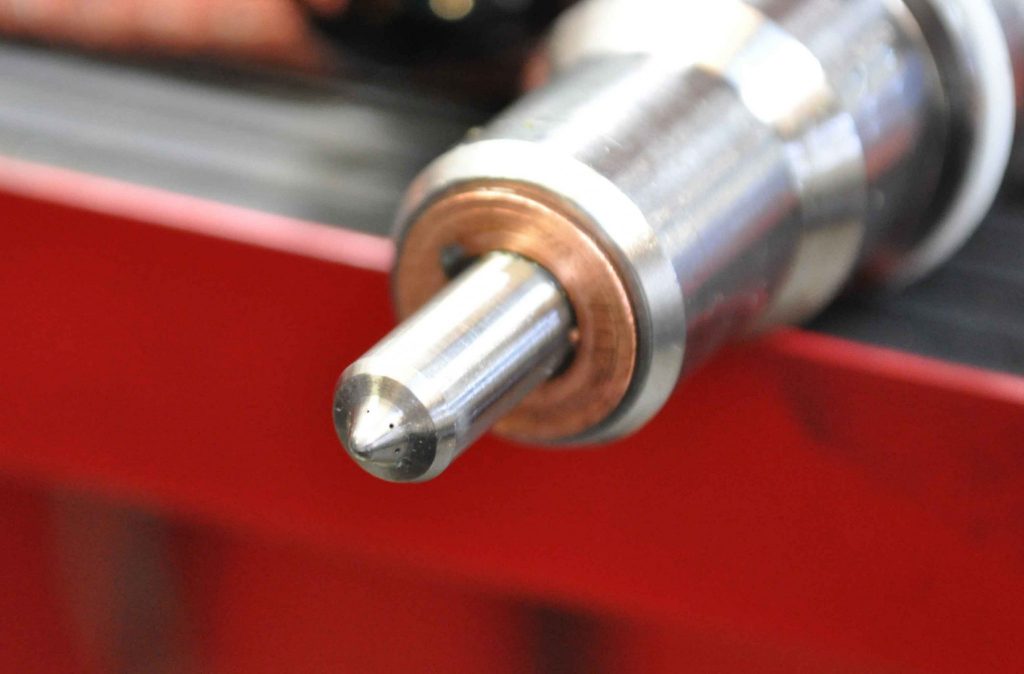 Back to the install…..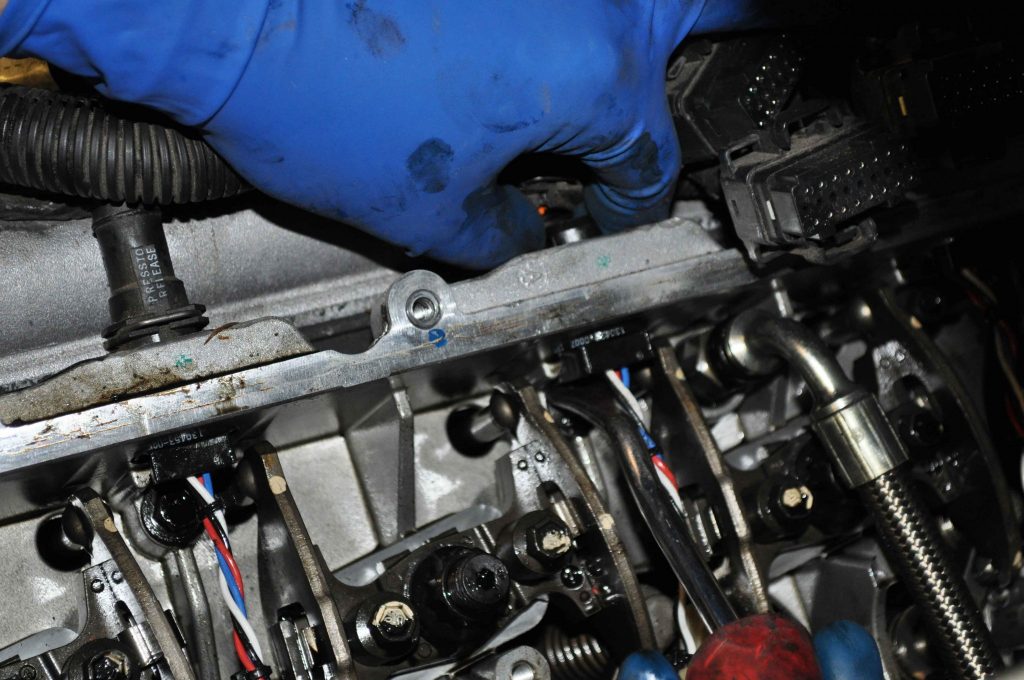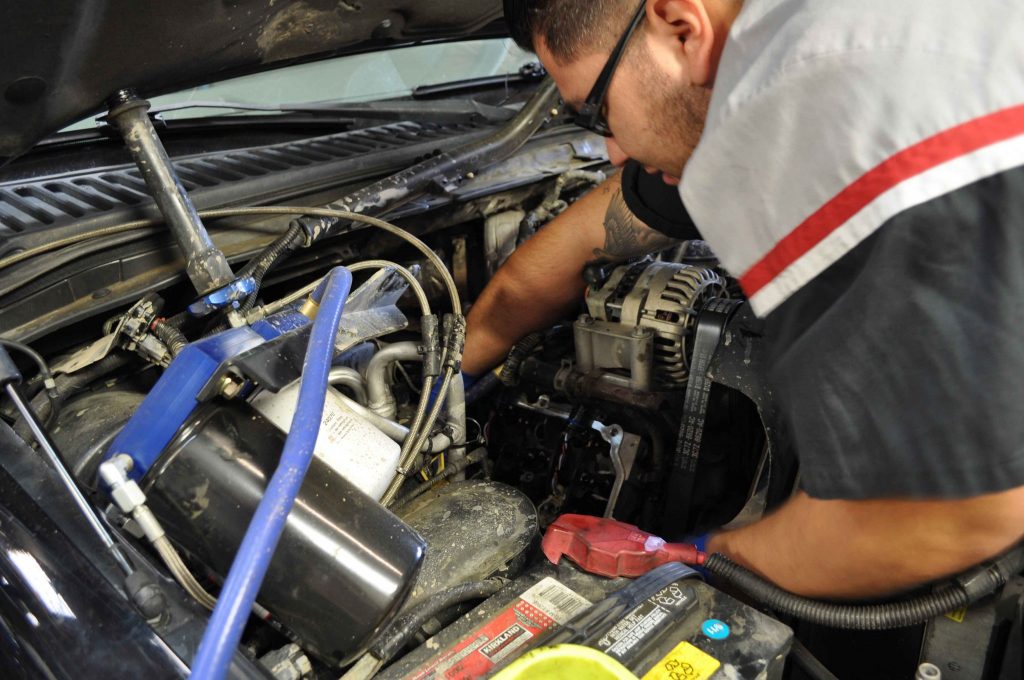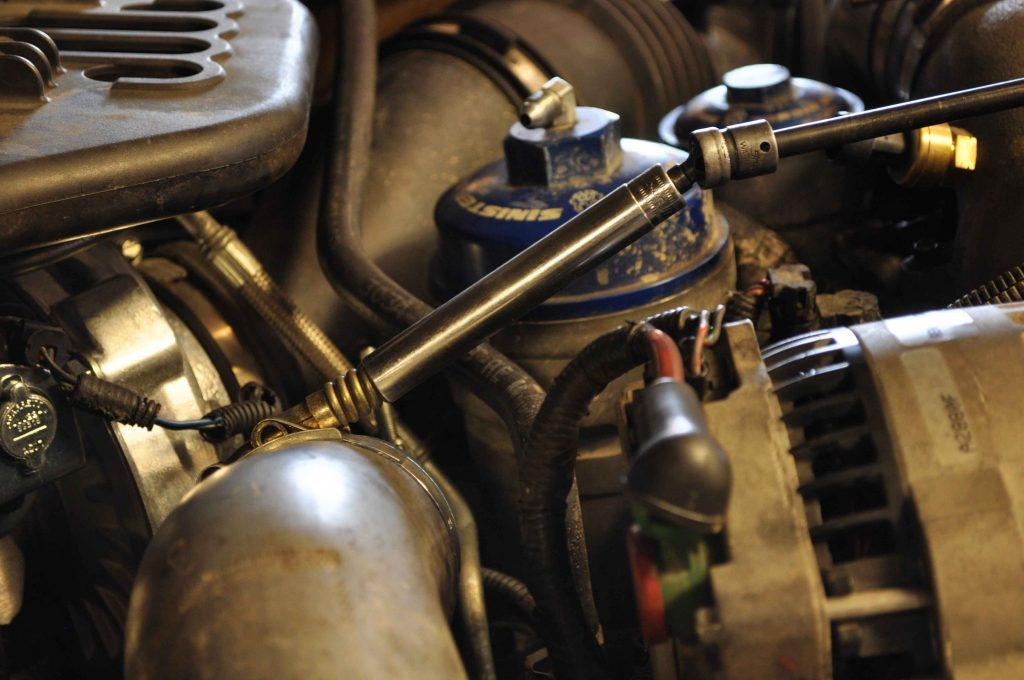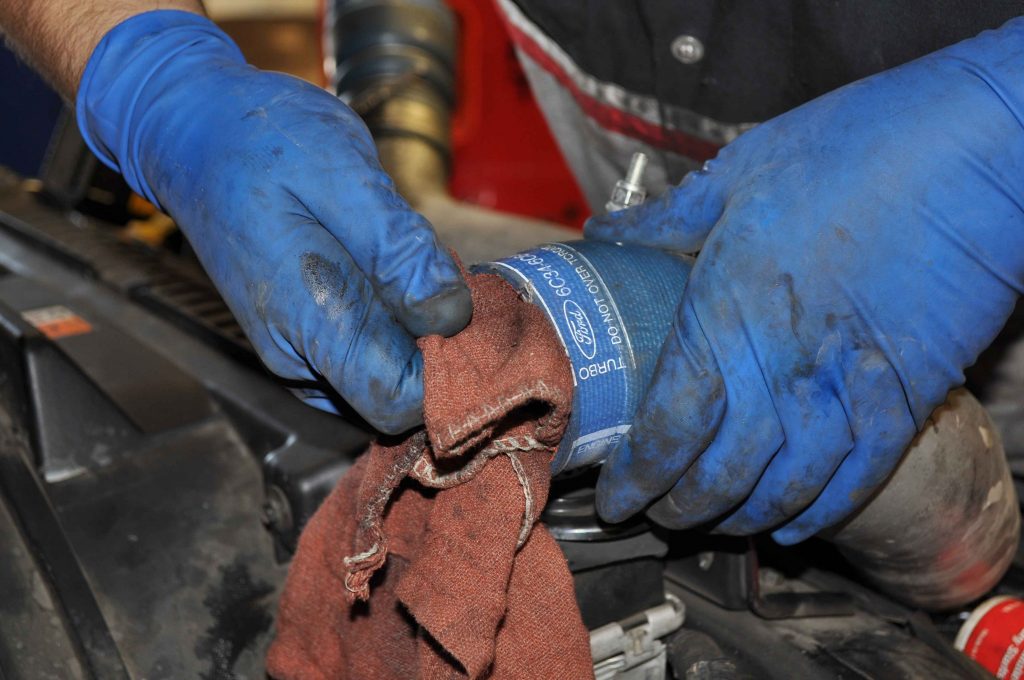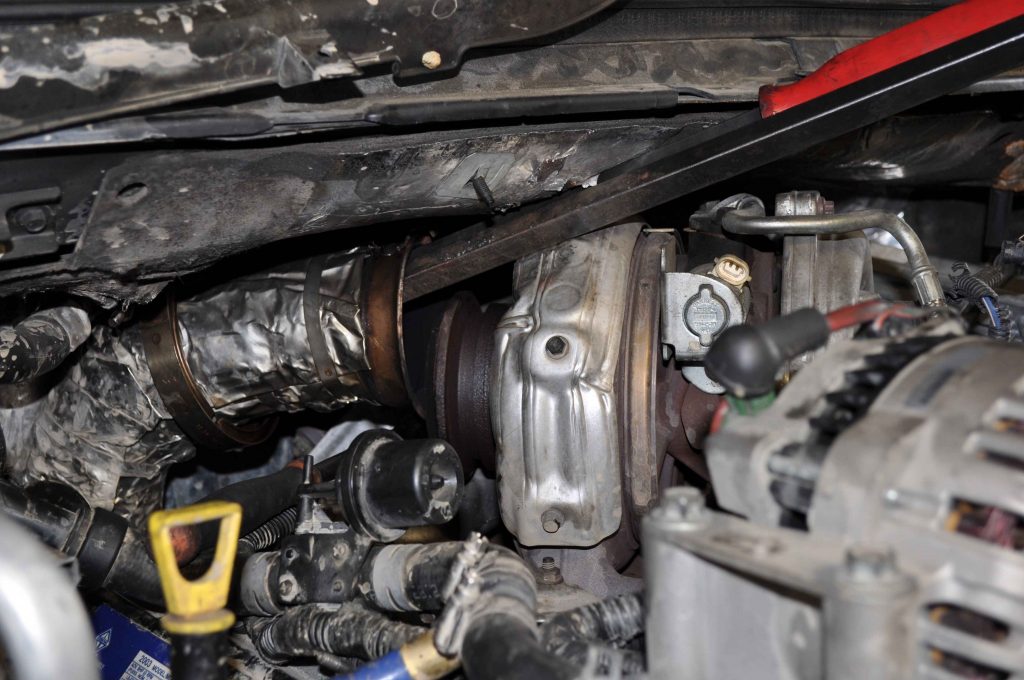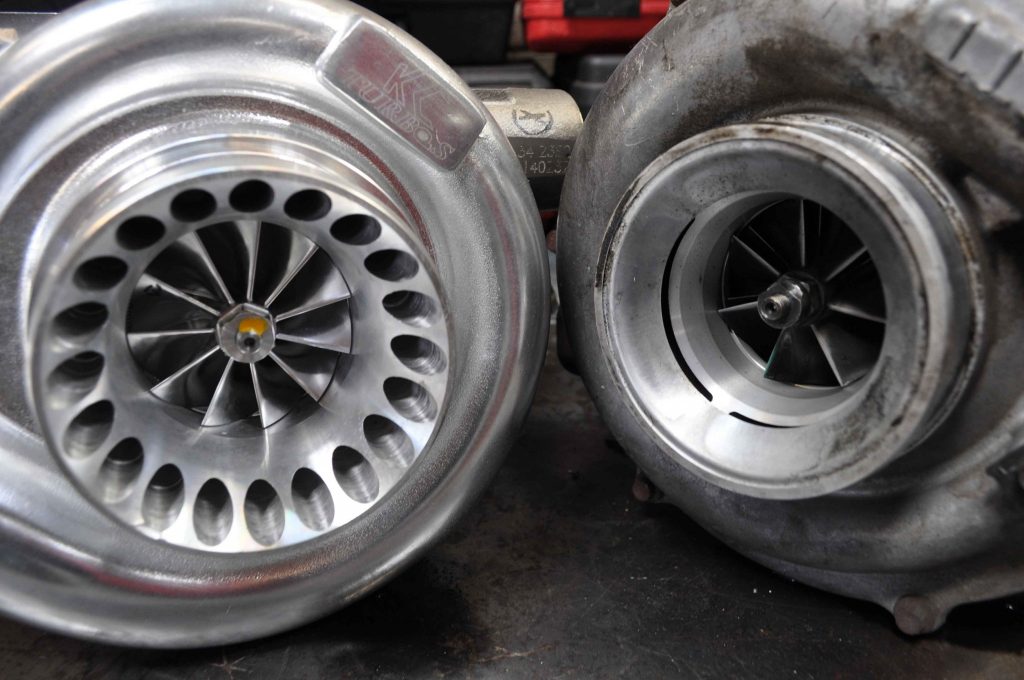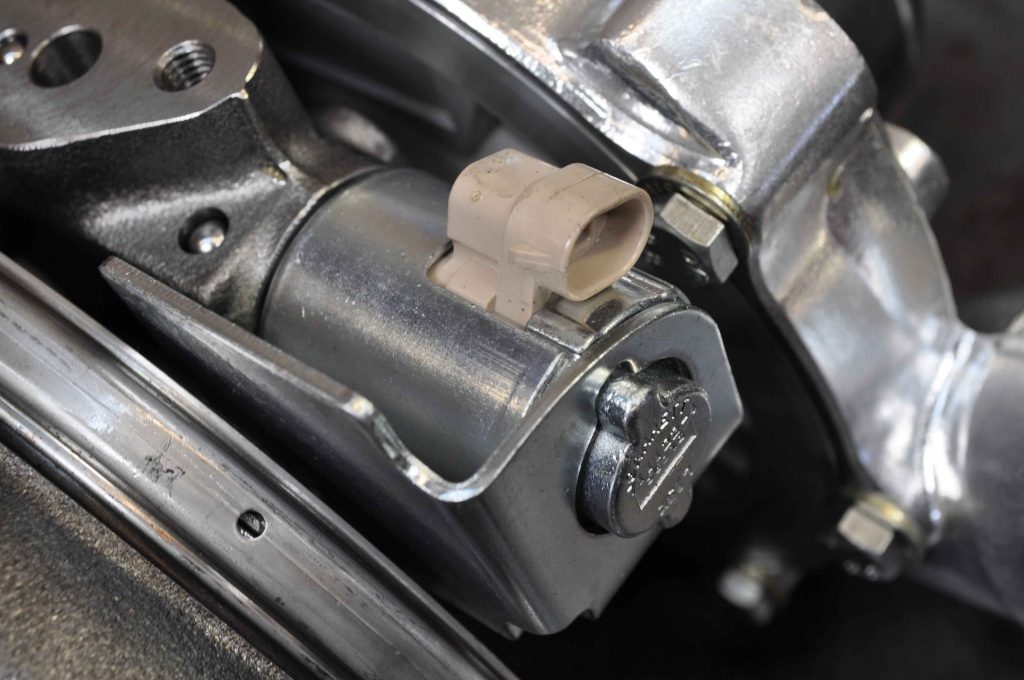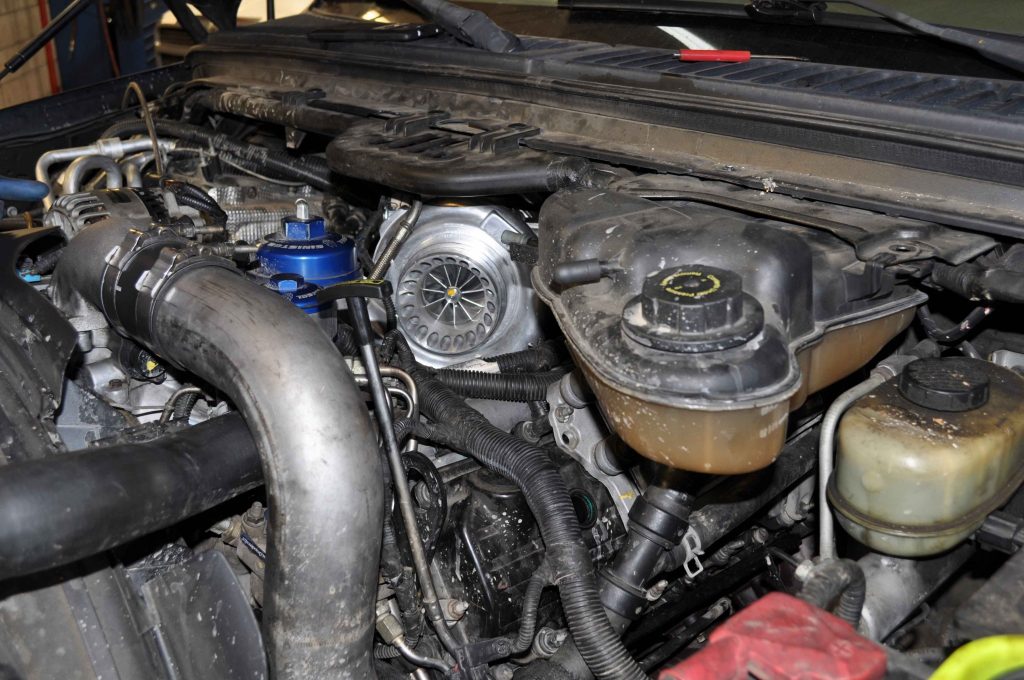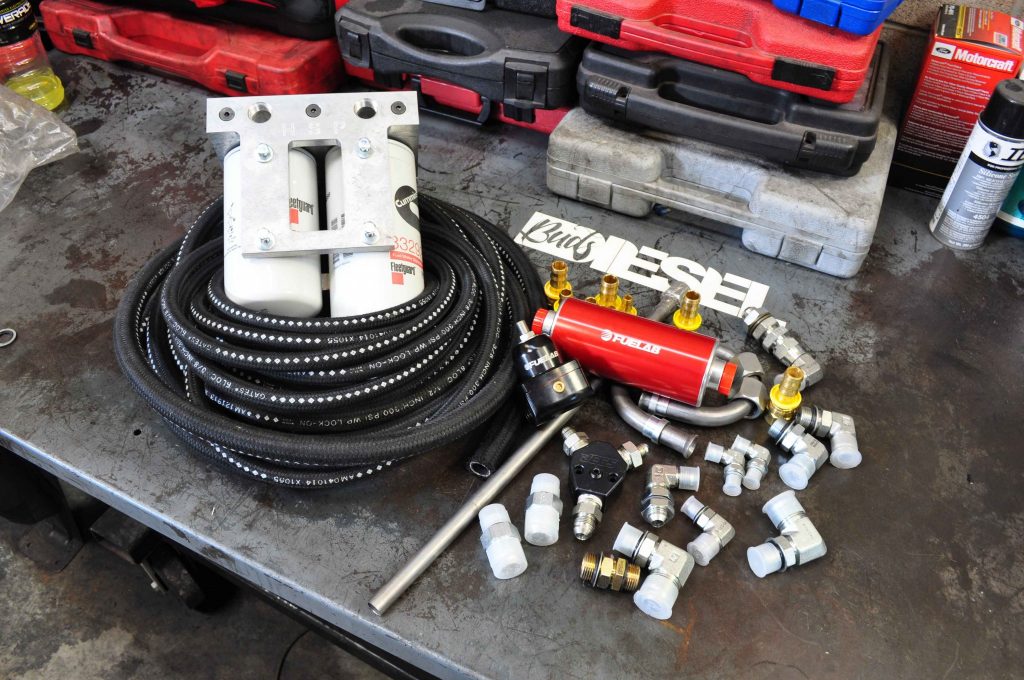 [divider]Note from Bud's Diesel[/divider]
Before starting the truck it's a good idea to change the engine oil. The last thing you want is to pump nasty contaminant filled oil through a brand new turbo and set of injectors. Also, once started, let the truck idle for at least an hour. This will help remove air from the system. If you don't get all the air out of the system before driving the truck, premature injector failure may occur. It's more common than you'd think.