The 2003-2007 5.9L Cummins became known as a true workhorse in the light duty truck market. While Dodge/Ram has moved on to the larger 6.7L powerplant, it doesn't mean the common rail 5.9L 6BT can't continue to get the job done dragging heavy loads. In fact, the 2003-07 Cummins is still one of the most popular trucks out there when it comes time to tow that heavy equipment from one jobsite to another.
Third gen Dodges with the common rail 5.9L represent much improved and refined vehicles all the way around. They sport improved interiors, full four-door cabs and of course the switch from the VP-44 injection pump to the more reliable CP3 common rail injection system. Dodge also made changes to the turbo system in 2003 by switching from the somewhat outdated Holset HX35 technology to the HE351 turbocharger family, which offered tighter turbine sections to help with emissions and low-end response.
While the HE351 turbocharger does work quite well in factory form, once free-flowing exhaust systems, cold air intakes and performance tuners are added to the mix, the factory HE351CW starts to show its shortcomings rather quickly. While the chosen turbine wheel and turbine housing allow for quick spool-up, exhaust back pressure can get much higher than Cummins intended once more fuel is added through performance ECM programming.
Extreme drive pressures not only hurt overall performance, but can negatively affect exhaust gas temperatures, causing the engine to run much hotter than known safe limits, which forces owners to back out of throttle and stare at a pyrometer gauge over every mountain pass. These extreme EGTs can lead to premature parts failure, like warped and cracked exhaust manifolds or even to go as far as melting the aluminum pistons, which means a complete engine overhaul could be needed.
Airflow for Tow Package
To help overcome some of these known issues in the turbocharger system on mildly modified 5.9L CR trucks, High Tech Turbo of Salt Lake City, Utah, developed their Airflow For Tow package, which includes a replacement high-flow intercooler, stainless steel exhaust manifold and 64mm Stage 2.5 HE351CW turbocharger. The system is based on the fact that to combat high EGTs and exhaust back pressure in the Cummins engine, less restriction is needed on both the intake and exhaust side to improve the system's efficiency. For guys already running a free-flow performance exhaust system, cold air intake and performance tuner, but not looking to get into additional fueling changes like CP3 pump upgrades and larger injectors, the Airflow For Tow package could be just the answer to allow full use of the power already on hand without belching heavy black smoke or running nuclear EGTs.
HT TURBO Intercooler
The HT Turbo intercooler system uses a much thicker and taller core when compared to the stock piece and is built to fit all Ram truck models from 2003 to 2009. Using thick cast-aluminum end tanks, the robust cooler is pressure tested to 100 psi and bolts directly in place of the factory cooler in less than 45 minutes with basic hand tools. HT Turbo says they recommend a performance intercooler to reduce restriction in the charge air system for just about any application, but especially those running larger than 64mm turbochargers. Even if EGT isn't an issue, the restriction of airflow through the factory core with those high-flowing turbochargers can really hinder the engine's ability to perform as it should. Certain model years were equipped with plastic end tank intercoolers, which are prone to failure from boost pressure and extreme duty use; all the more reason to look into a performance replacement like the polished unit supplied in the Airflow For Tow package.
Exhaust Manifold
On the exhaust side of the engine, the factory cast iron exhaust manifold is extremely prone to warping and cracking under the extreme temperature changes it undergoes, mile after mile. While it may not be something you can plainly see with it bolted on the engine, should you ever have reason to remove the manifold, in most cases once it's laying on a flat surface with no bolts holding it tightly, they'll start to show their warpage, which will become an even more frustrating part when it comes time to reinstall it and get all the mounting holes to line back up with the cylinder head.
HT Turbo has been casting their own line of stainless steel exhaust manifold for both the second and third generation trucks for quite a few years now and includes their T3 3rd Gen manifold as part of this kit. While still being a one-piece manifold like the factory manifold, the stainless material it's cast from is much more durable and resistant to warping and cracking, holding up much better to the hot exhaust gases that continually flow through it. The HT Turbo manifold kit will also include new gaskets for both the cylinder head mating surfaces and the turbo charger exhaust inlet.
HT TURBO Modified Turbo
The true heart to the airflow package lies within their massaged stock turbo that comes outfitted with a larger 64mm compressor wheel and upgraded 10-blade turbine wheel. Using factory turbochargers that are completely torn down, cleaned and rebuilt with OEM repair kits, technicians at HT Turbo machine out the factory compressor cover and turbine housing to accept the larger wheels, which helps to increase air being fed to the 5.9L engine and expelled out the exhaust side.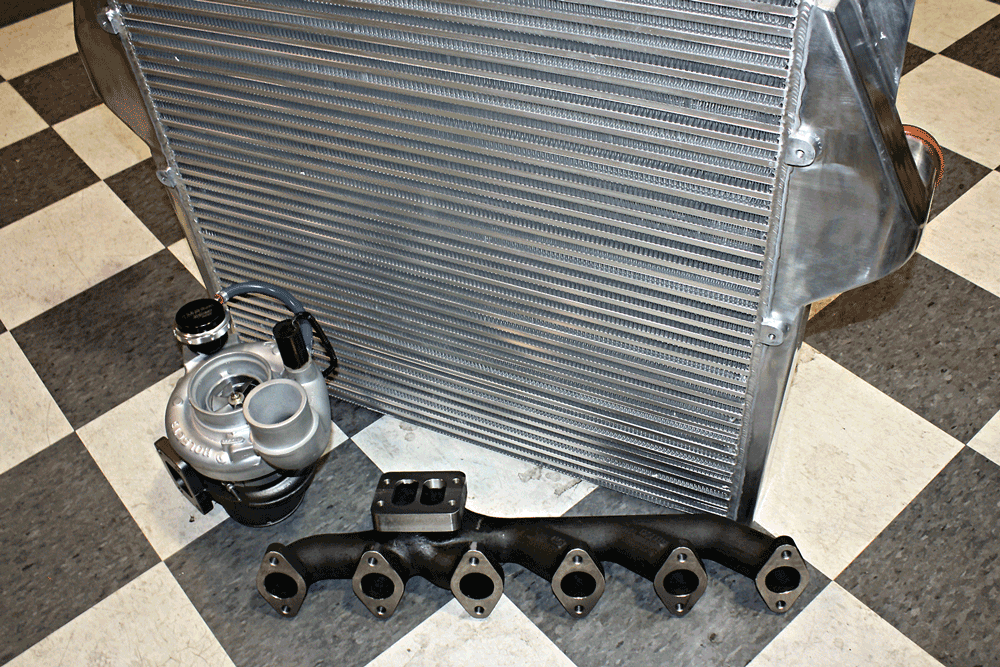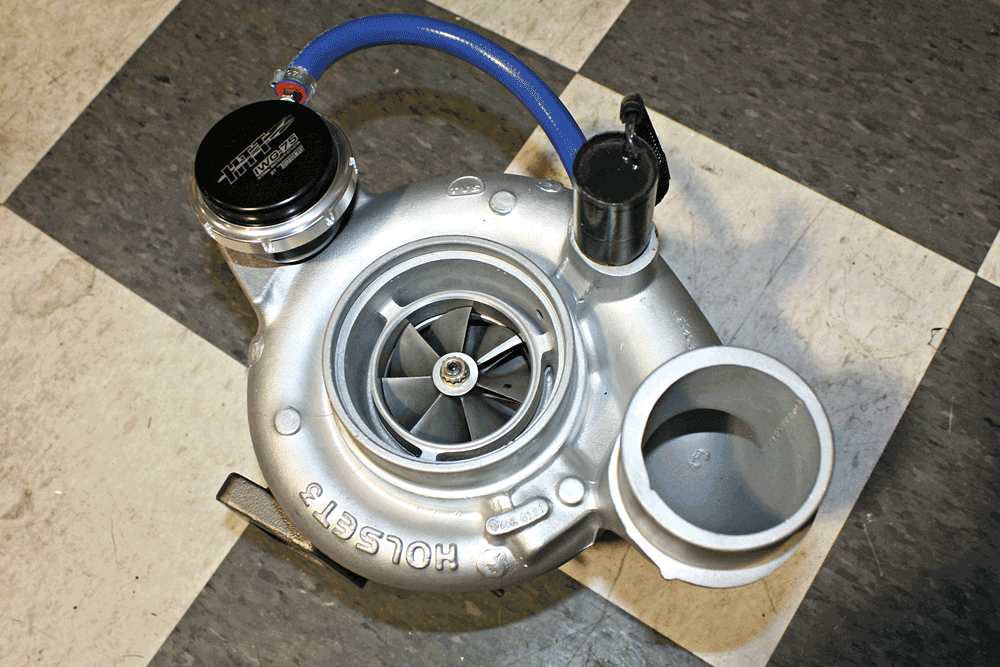 The compressor-side upgrade pulls quite a bit more air from the intake system and compresses it before feeding it through the intercooler to the intake manifold and cylinders. The additional airflow helps to burn the extra fuel being commanded by the performance tuner, which helps efficiency, power and EGT. Once that fuel and air have been combusted inside the cylinder, the exhaust flows through the new stainless steel exhaust manifold and through the upgraded turbine section of the HE351 turbo. By using a larger-than-stock turbine wheel with a smaller fin count, a major restriction is removed from the exhaust side of the turbo, helping reduce back pressure which also helps with the engine's efficiency, power and EGT. The unique turbine wheel profile, while helping to reduce back pressure, still spools close to stock, so there should be no fear of additional lag time or a lazy low end, which makes this the perfect option for a daily driver and towing application.
Installation and Testing
With a bed full of parts ready to be installed, the test vehicle was taken to Edge Products in Ogden, Utah, to be tested on their in-house chassis dyno. HT Turbo wanted to have hard data to prove the performance and EGT reduction potential from this package, and by making back to back to back dyno runs after the installation of each individual part, we'd have the numbers to back their claims of better power with lower EGTs. Along with the Airflow For Tow parts being installed, the 2005 Ram would also be outfitted with an Edge Evolution CTS tuner to make sure the engine could take full advantage of the increased airflow by adding the needed fueling and timing through enhanced ECM calibrations of the tuner.
TEST VEHICLE:
Our test vehicle was a 2005 Dodge Ram 2500 5.9L CR Cummins with 4-inch turbo back MBRP exhaust, Airaid intake, AirDog fuel lift pump, RKL Diesel 48RE auto transmission, 285/75/R17 Hankook ATM tires, and 3.73 gears.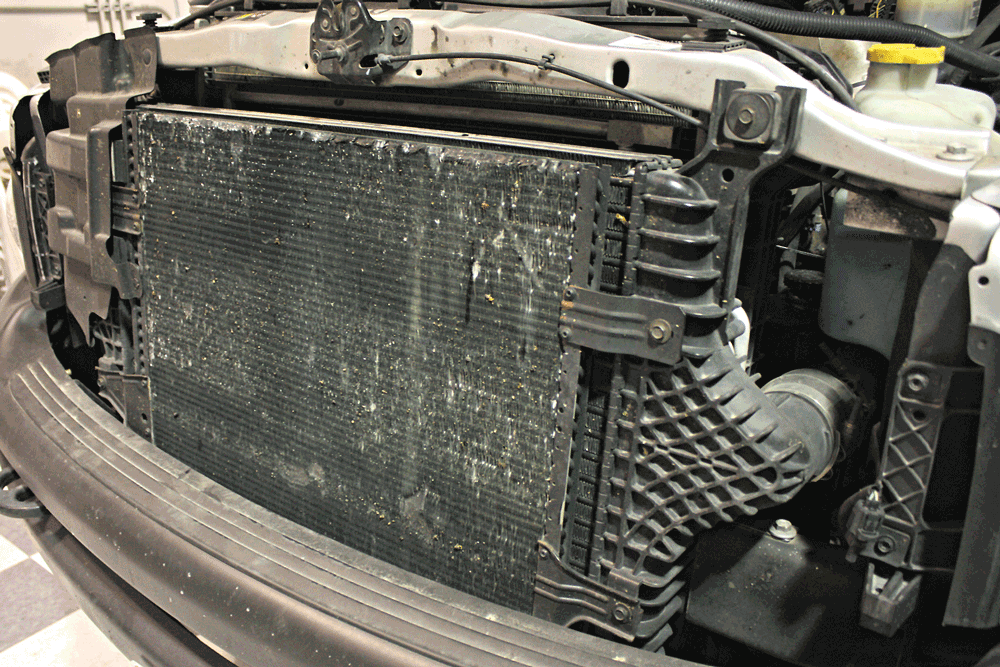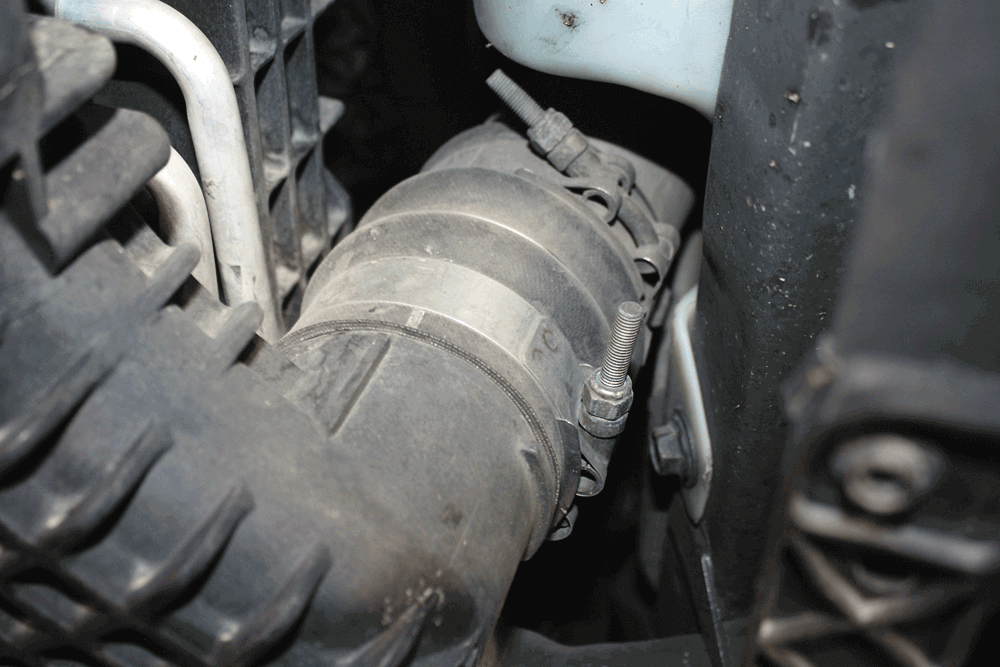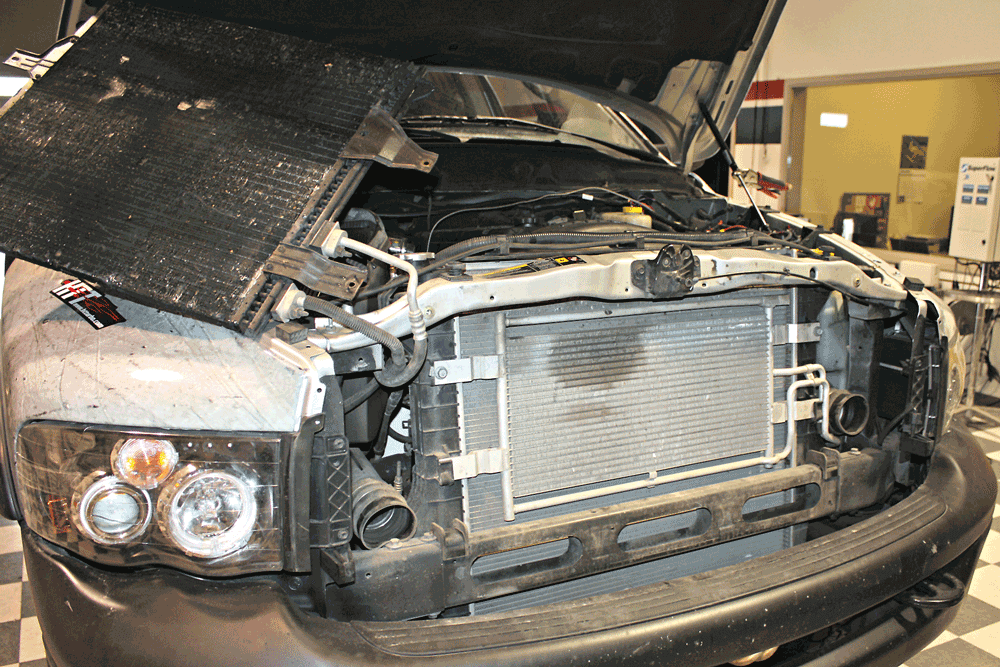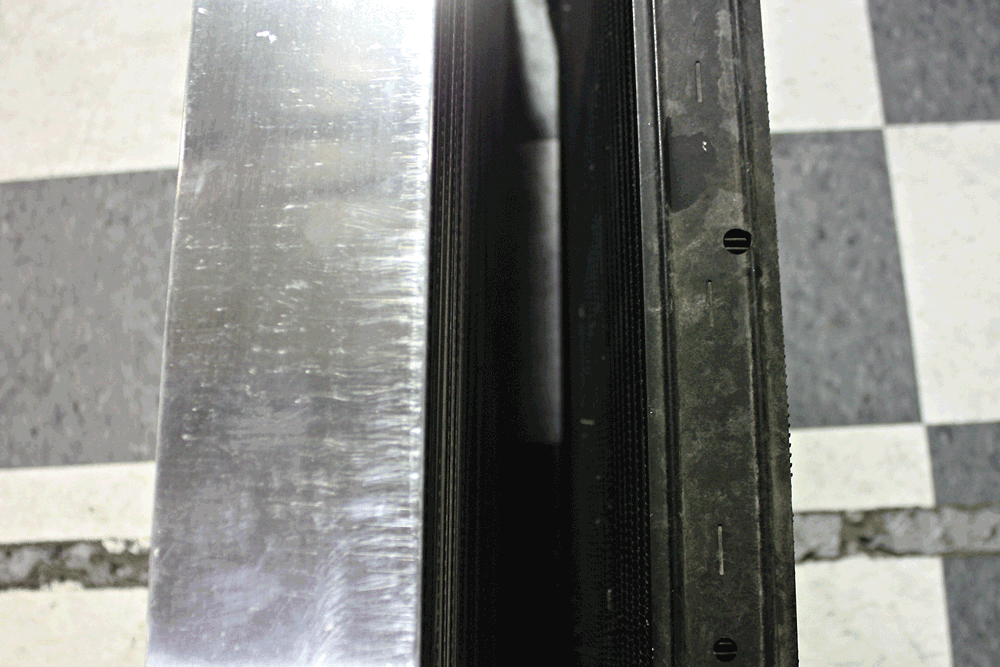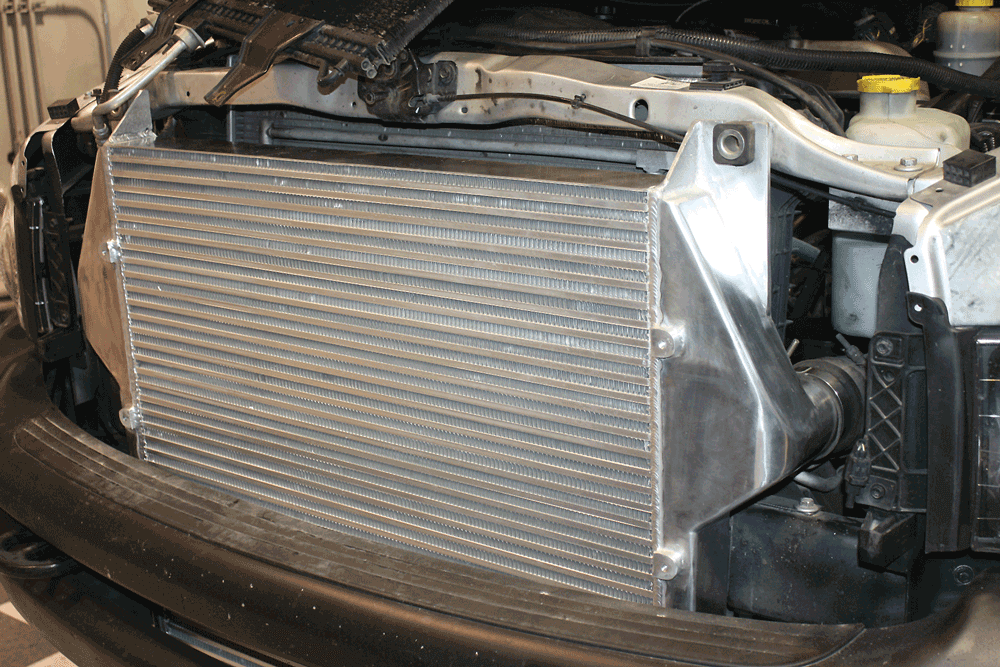 Wanting to get the most realistic before and after power and EGT numbers, it was decided that the complete install could be done while still strapped to the chassis dyno at the Edge Products headquarters. With the intercooler being a simple 30-minute install and the turbo/manifold swap only taking about two hours, the complete job including, time for pictures and dyno runs, only took the better part of an afternoon.
Baseline Numbers
To get good baseline numbers, the 2005 Dodge made three consecutive runs with the stock programming, stock intercooler and stock turbo system before any parts were added. The test vehicle was already equipped with an Airaid intake, MBRP turbo back exhaust, AirDog fuel lift pump and a built transmission with triple-disc torque converter. With a large industrial-sized fan blowing air onto the front of the truck, after averaging the three baseline runs together, power numbers came out to 320 hp and 601 lb/ft of torque to the rear tires, with peak EGTs averaging 1,333 degrees. Again, this is with the factory Dodge programming, no tuner installed.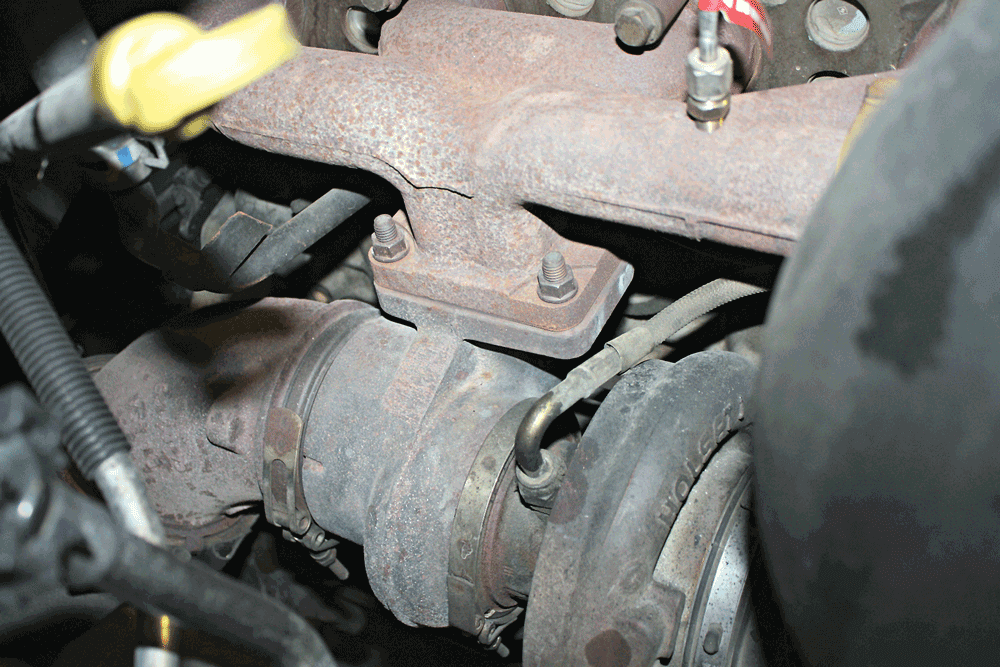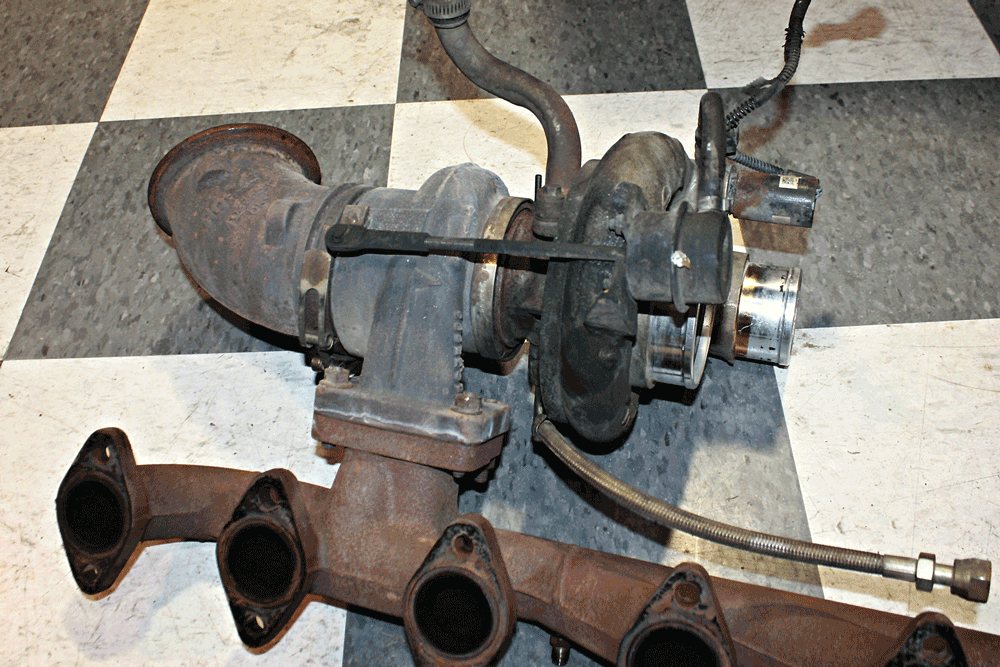 Intercooler Results
With the baseline runs completed, the new High Tech Turbo high-flow cast intercooler core was installed in place of the factory unit. Running the stock ECM tuning again, three more dyno runs were made with the numbers averaged together for final results. At 322 hp and 598 lb/ft of torque, power numbers stayed pretty consistent with the baseline runs, which we had predicted. The intriguing part was that exhaust gas temperatures did show a significant drop peaking at just 1,283 degrees. With a solid 50-degree drop with no change in tuning or boost pressure, this data helped prove the larger than stock cooler can be quite effective, even in a bone-stock application.
Edge Evolution Level 1
The next part of our testing was to install and download the Level 1 Tow program from the Edge Evolution CTS tuner into the ECM to see what improvement could be had with some mild fueling, timing, and engine calibration changes. Edge markets this tune as a 55-hp tune safe for heavy towing. Once the download had completed we again made three consecutive runs, which averaged out to 390 hp and 768 lb/ft of torque, a gain of 68 rear-wheel horsepower and 170 lb/ft of torque. Like our intercooler results, we were once again completely baffled by our peak EGT results, which actually dropped from the stock ECM runs more than 100 degrees to just a peak of 1,170 degrees on the pyrometer gauge. Normal thinking would leave you to believe that with more power, the additional fuel being injected would cause EGTs to rise, but this shows that with the right programming changes, you can actually see safe usable power increases. More power and less EGT while towing sounds like a win-win situation to us.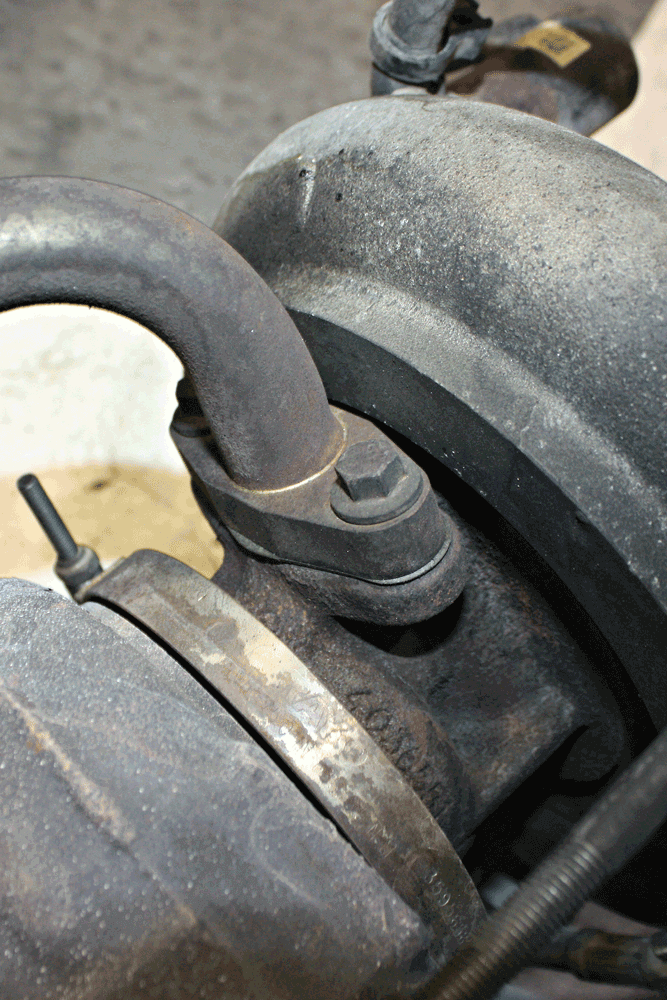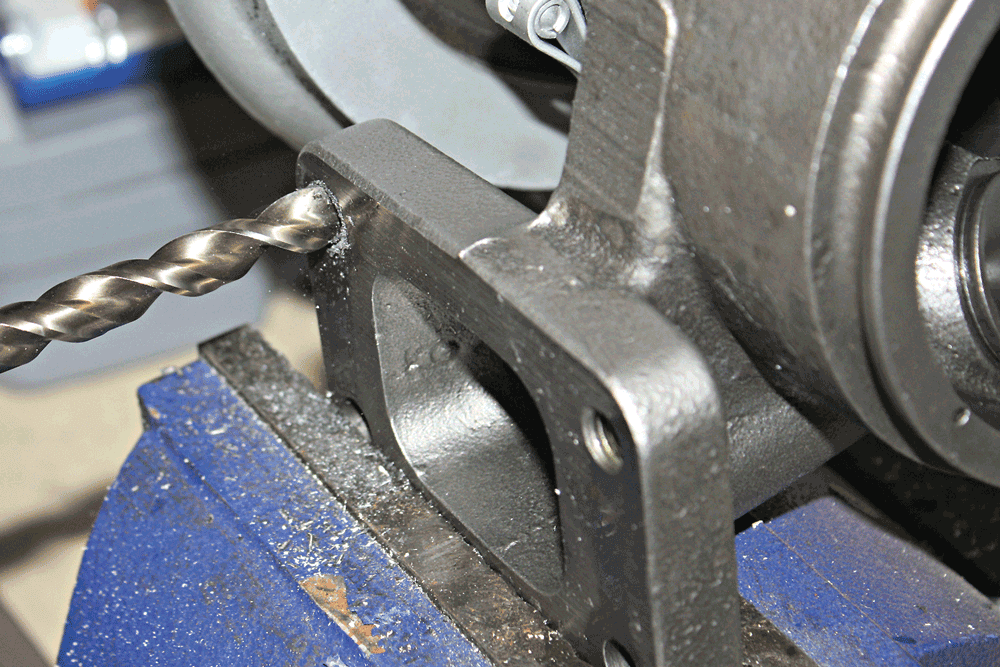 Turbo and Manifold
The fourth part to our installation and data-collection process was the installation of the new 64mm Stage 2.5 HE351CW turbocharger and stainless steel exhaust manifold. Since High Tech Turbo markets these parts as "the complete towing performance package," we opted to leave our Evolution tuner in the Level 1 Tow file. By doing this we could better compare power and EGT differences to those produced by the stock turbocharger in the truck's current configuration. The install took just a matter of an hour or two and was a complete bolt-in replacement with no modifications to the truck or engine bay required. The factory exhaust downpipe, intercooler plumbing and existing intake system mounted right up.
Once getting the truck back up and running and driving on the dyno rollers for a few minutes to check for oil and exhaust leaks and get the engine back up to operating temperatures, three full dyno pulls were made. Again, taking the average of all three runs to account for heat soak and any variations, horsepower and torque numbers jumped yet again, even without adding additional fuel and tuning. Jumping from the previous 390 hp to 405 hp with torque coming up to 785 lb/ft, the new turbo and manifold combination showed a modest 15 hp and 17 lb/ft torque improvement Best of all, the power band and torque curve followed right along with the stock curves, telling us that low-end spool-up remained virtually the same, so the fear of additional turbo lag while towing shouldn't be an issue.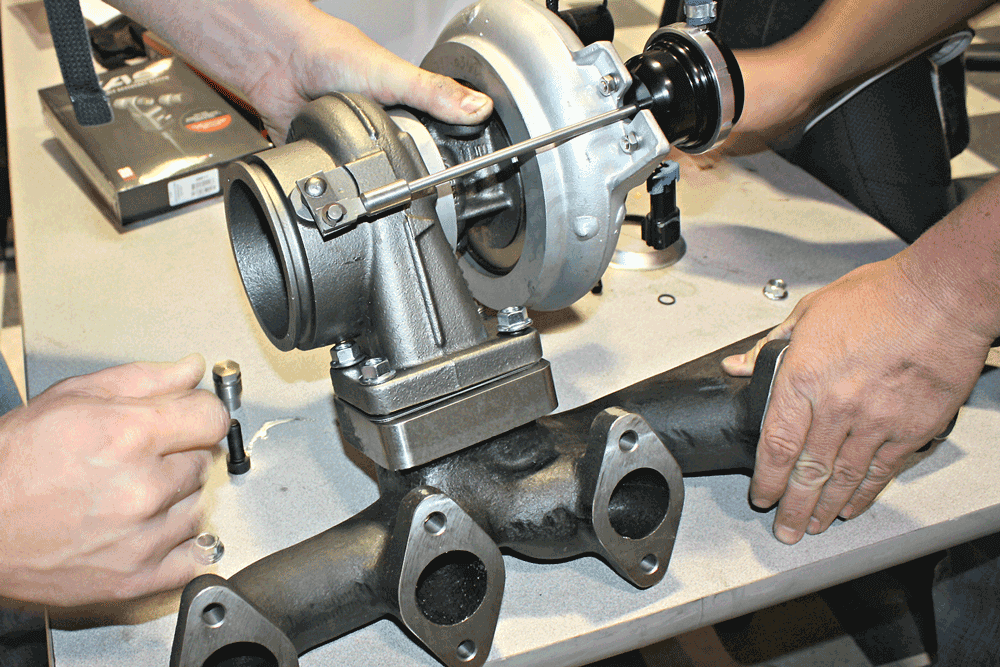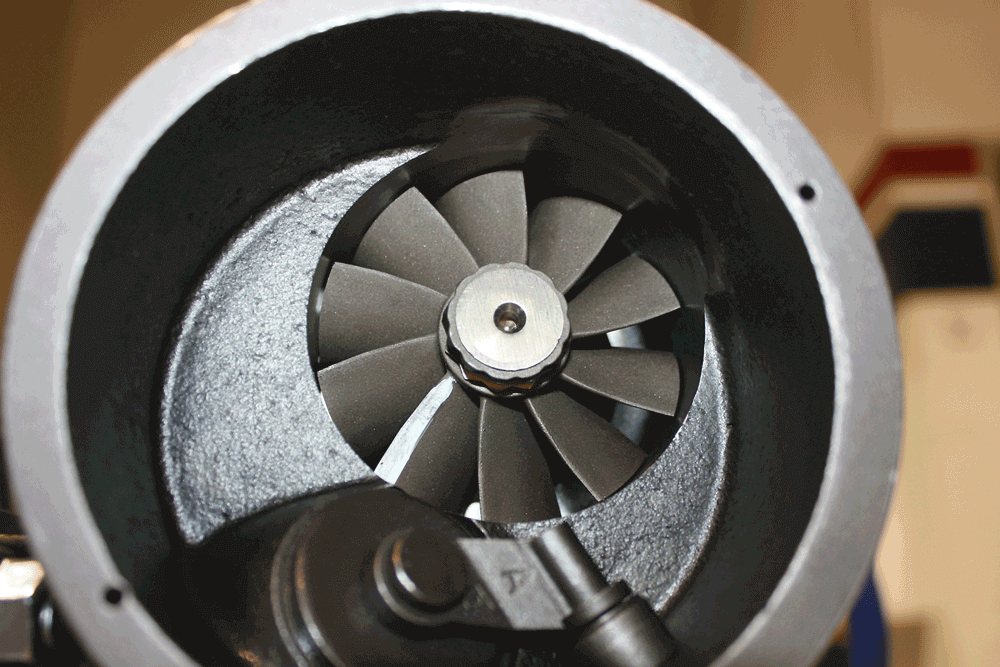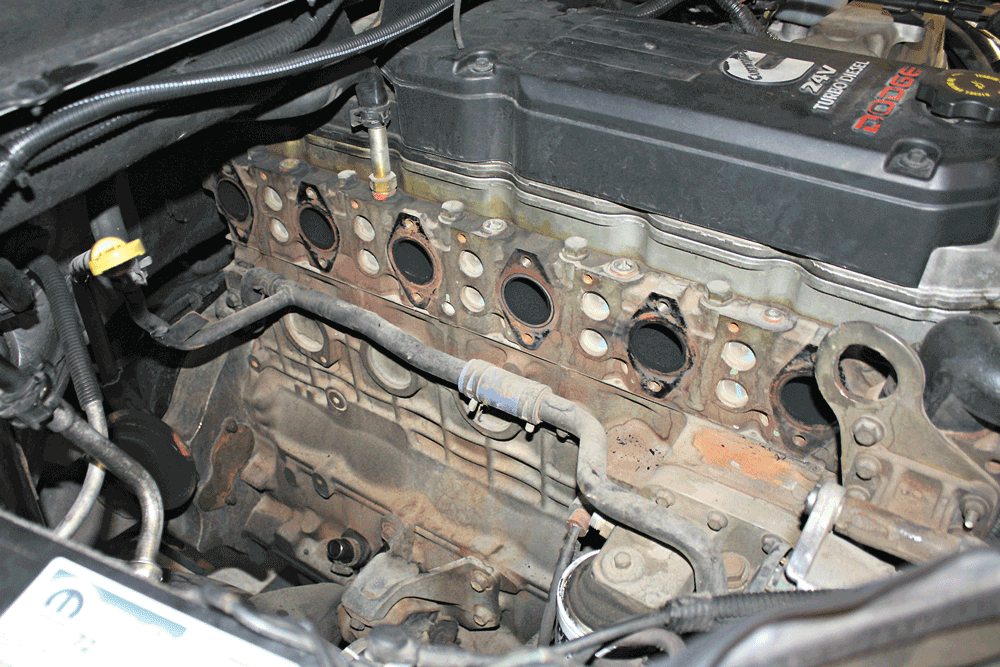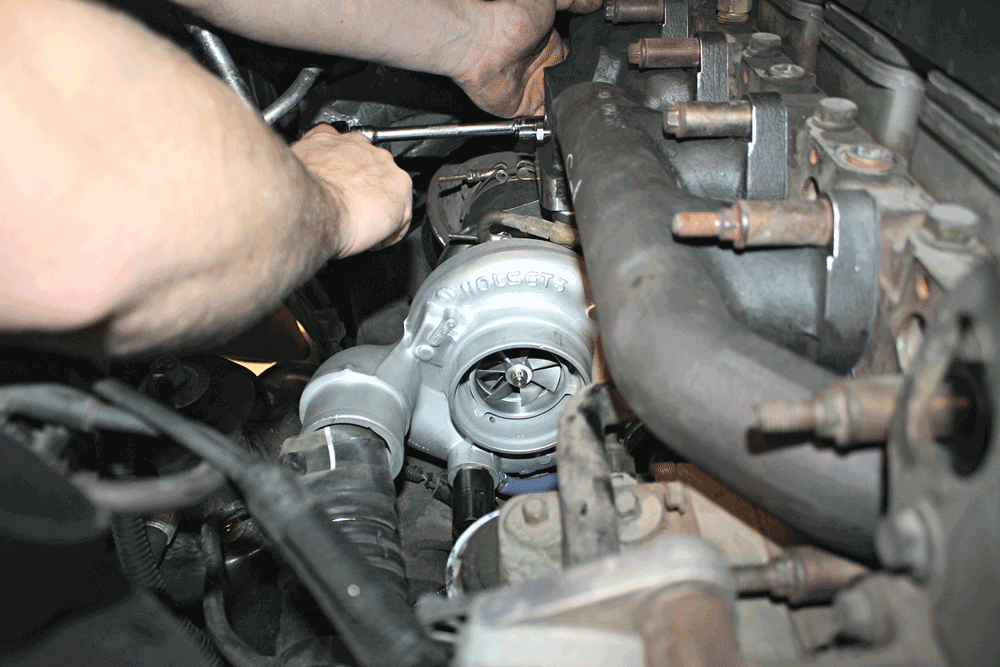 While power improvements are always nice to see, with a package like this engineered specifically for towing, it's the usable power we like to see and this usually equates to how controllable the EGTs are. With a peak of just 1,069 degrees in the Tow program, EGTs are down another 100+ degrees, which means the system now runs more than 250 degrees cooler than stock, all while producing 85 additional horsepower.
Edge Evolution Level 4
While the installation of all our test products had been completed, the true motorhead and horsepower junkie within all of us came shining through as it was decided some dyno runs in Edge's most extreme tune on the Evolution were in order. Boost pressures had been limited to 32 psi with the use of the turbocharger's wastegate controlled electronically with the Edge programming in the Tow file runs. In the Extreme file, the more aggressive fueling curves and timing tables allow for more boost pressure to be run through the engine, peaking at 38 psi on all three dyno passes.
When the first dyno pass showed 549 hp and 1,186 lb/ft of torque, it was thought there was a glitch with the dyno or computer system, as those are extremely strong numbers for a stock injector and stock CP3 truck, especially with a stock frame-sized turbocharger still equipped. The two follow-up runs, however, showed a consistent 550 hp and 548 hp, proving the first run was no fluke. Just as a side note, EGTs in the Extreme file peaked at 1,428 degrees, which is starting to get on the warm side of things, but is only 100 degrees hotter than the original base runs were (1,333 degrees) in pure stock form. That's 230 additional horsepower and 577 additional lb/ft of torque with less than a 100-degree increase in exhaust gas temperatures.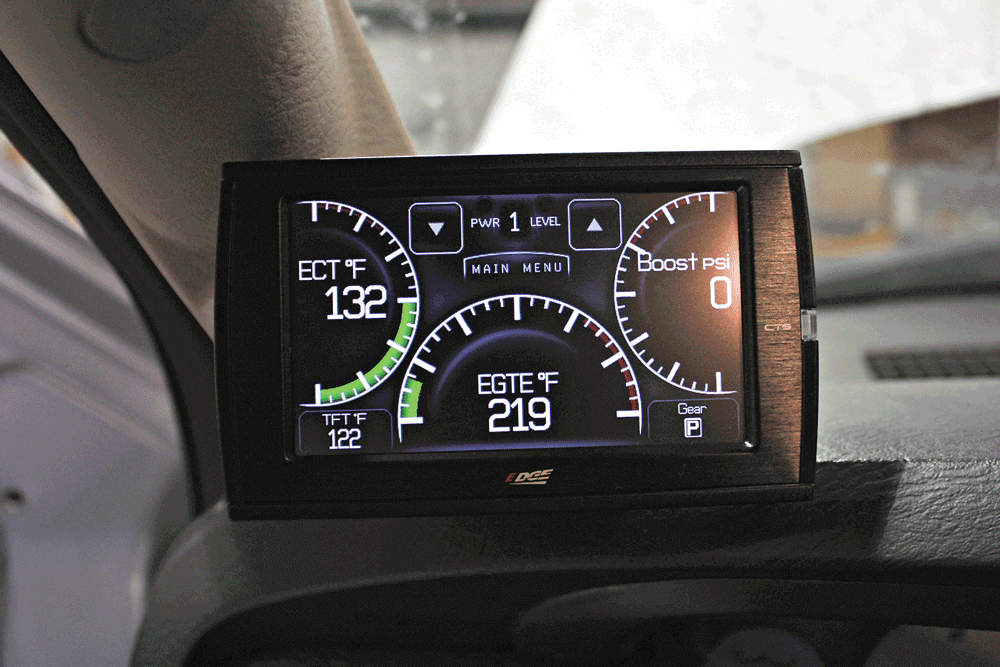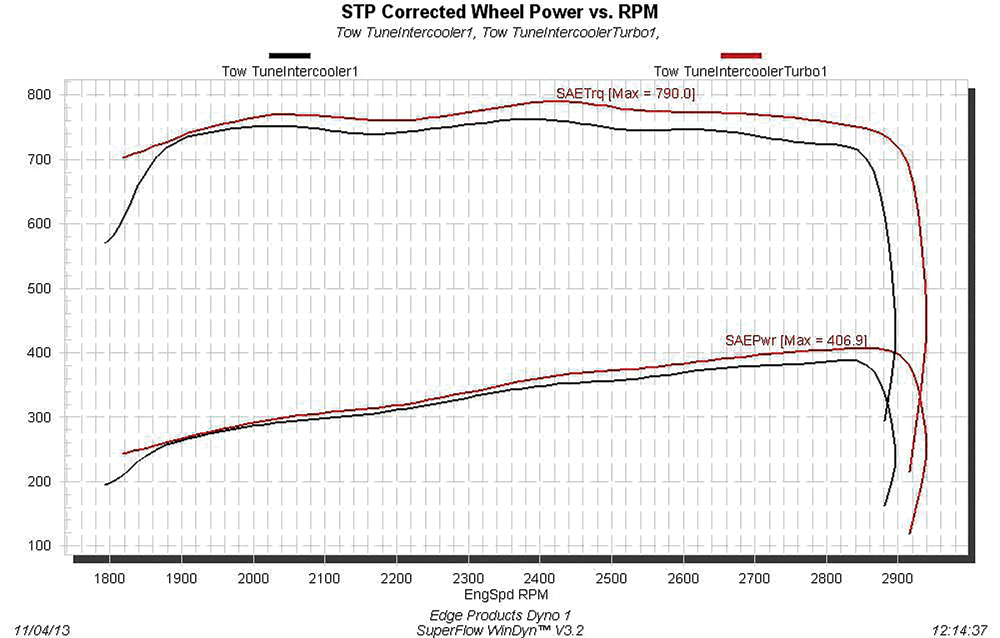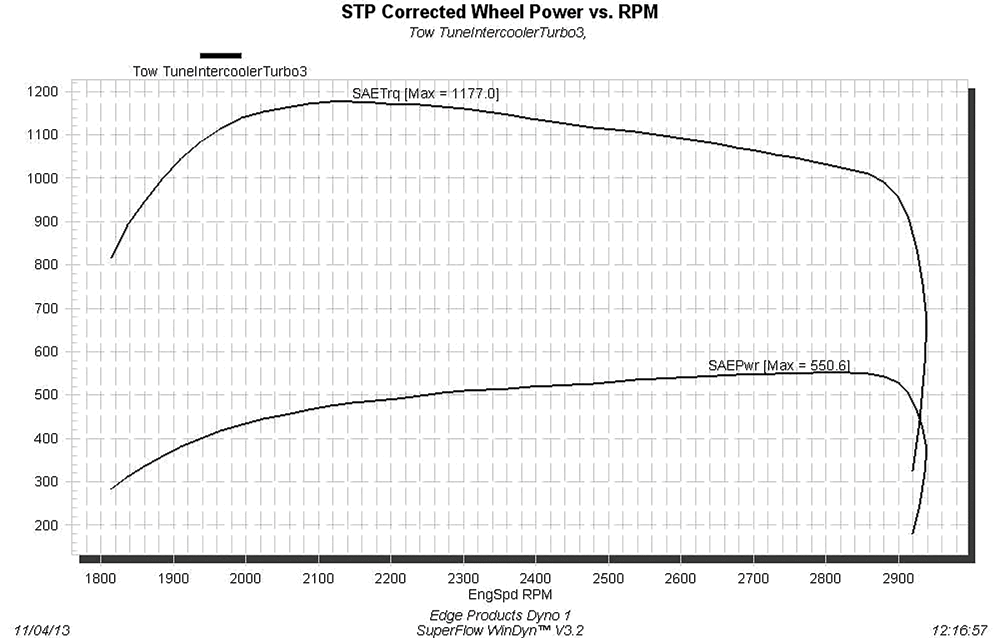 In the end, with 400 rear-wheel horsepower on tap in a Tow file, with ultra-cool EGTs and next to no smoke out the tailpipe, the HT Turbo Airflow For Tow package can turn just about any mildly modified 2003-07 Cummins into the ultimate tow rig. With just a few hours of wrench time, the addition of the Airflow For Tow package and Edge Evolution CTS Tow tune resulted in an additional 85 rear wheel horsepower and more than a 250-degree drop in EGTs.
While the data we collected was just taken on a chassis dyno, later testing on the street has backed up its real world driving characteristics with quick low-end spool-up and a strong, broad power band. Depending on the particular Evolution program chosen, the truck can have extremely drivable and tame commuting to and from work characteristics, while still having more than enough grunt to break tires loose on command and put that arrogant late model Camaro or Mustang owner way back in your rear view mirror. DW
SOURCES
High Tech Turbo
801-304-0700
www.ht turbourbo.com
Edge Products
888-360-3343
www.edgeproducts.com