EPA regulations have continued to get stricter for manufacturers. Ford, GM, and Ram have had to thrust countless resources into developing the growth of their diesel engine platforms while simultaneously competing in the horsepower battle that consumers demand. Around 2007, the launch of Diesel Particulate Filter (DPF) and stricter Exhaust Gas Recirculation (EGR) provisions was thought to lead to the end of diesel performance as we knew it. Much like the major hit the muscle car market underwent with the launch of unleaded gasoline, owners and performance junkies were left scrambling, wondering what would come of the high performance market.
SAVED BY THE AFTERMARKET
However, regardless of what the EPA can dish out, there always seems to be a backup plan. Luckily for us, most of these entities belong to the aftermarket and it didn't take long for the performance offerings for the 2007.5-2010 LMM Duramax to expand into a list that never ends. Two of these companies, AFE Power and Edge Products have been working tediously for years to bring emissions friendly and even some CARB compliant products to the market to make an already great performing truck even better, without having to remove the EPA mandated DPF and EGR systems.
Like every internal combustion engine ever produced, the fourth generation of Duramax, the LMM, can benefit from additional airflow, both in and out. By opening up the intake passage with a high flowing Momentum HD intake and a less restrictive Bladerunner turbo intake manifold, air can enter the turbocharger easier, creating quicker spool-up, better throttle response and improved engine efficiency. On the exhaust side of things, the DPF and Catalytic Converter will continue to be the main restriction, but an Atlas 5-inch DPF Back exhaust system with mandrel bends can reduce turbulence and increase power and torque while helping reduce exhaust gas temperatures. To go along with the additional airflow, some tuning support via the all new Edge Juice Attitude CTS2 system can offer up to 100-additional horsepower at the touch of your fingers without hurting the OEM drivetrain or emissions equipment.
EDGE JUICE CTS2
For those looking for a little extra pep or mileage from their new truck, improvements to the intake system and performance tuning are always one of the first places to look. The Edge Juice CTS2 is all new to the market this past year and offers a sleeker and more user friendly monitor with touch screen and swipe technology. By running the under hood Juice module, the performance settings can be adjusted on-the-fly—giving the user power on demand for every situation, whether it be towing a fifth wheel or keeping that Camaro in the next lane in the rear view mirror. The Juice system also allows control over transmission defuels, EGT's power back down, a built in turbo timer, mileage coach, data logging and even maintenance reminders. The CTS2 is completely user adjustable with multiple display screens and dozens of factory sensors you can monitor, including the DPF regeneration status. The Edge Juice CTS2 really offers complete control over the LMM Duramax, which is an added bonus to the extra 100 hp it can add at just the push of a button.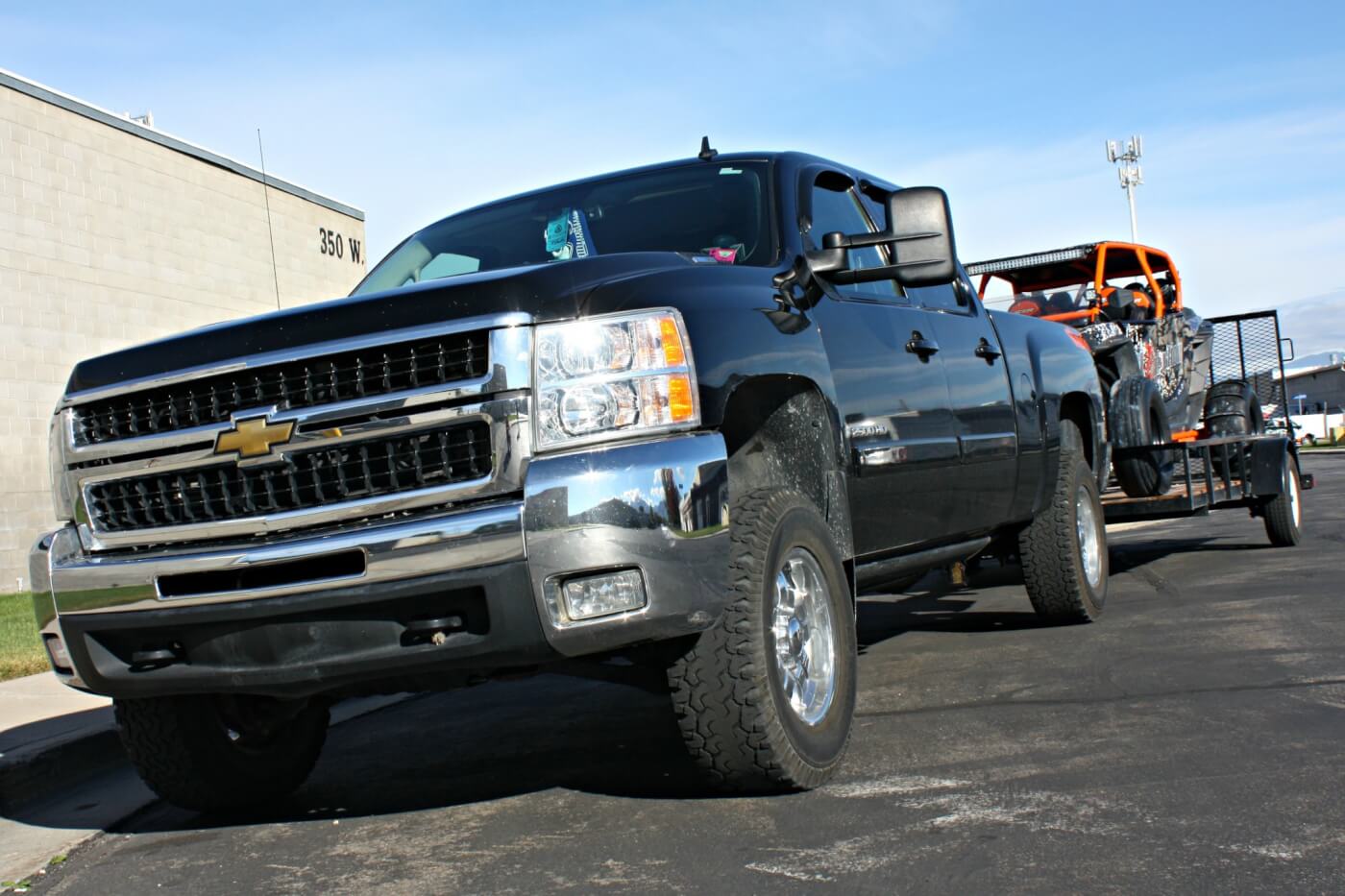 AFE POWER MOMENTUM HD
The all-new Momentum HD intake systems from aFe Power offer a revolutionary design that offers the best in both flow and filtration. Running a massive 1,000 cfm 10-layer 360-degree radial flow filter, the cotton media offers 99.59% filtration efficiency without hurting flow to even the hungriest engines. All stainless steel hardware, reinforced 2-ply silicone boots and T-bolt clamps ensure years of trouble free performance and durability in harsh conditions. Testing has shown up to a 42% improvement in flow over the stock air box, which equates to better turbo spool-up and better overall engine efficiency.
ATLAS 5-INCH DPF BACK EXHAUST
The Atlas DPF-Back exhaust uses 5-inch mandrel-bent aluminized steel tubing and OE-style bayonet hangers for near perfect fitment and durability. Each kit includes a massive 7-inch black powder coated or polished 304-stainless exhaust tip to really beef up the look of your truck and replace that ugly trumpet-style tailpipe. Maximizing flow is the name of the game when it comes to exhaust, so the 5-inch diameter is a no-brainer, especially when the DPF and catalytic converter are being kept intact (as they act as mufflers) bringing down the sound levels from the healthy Duramax power plant.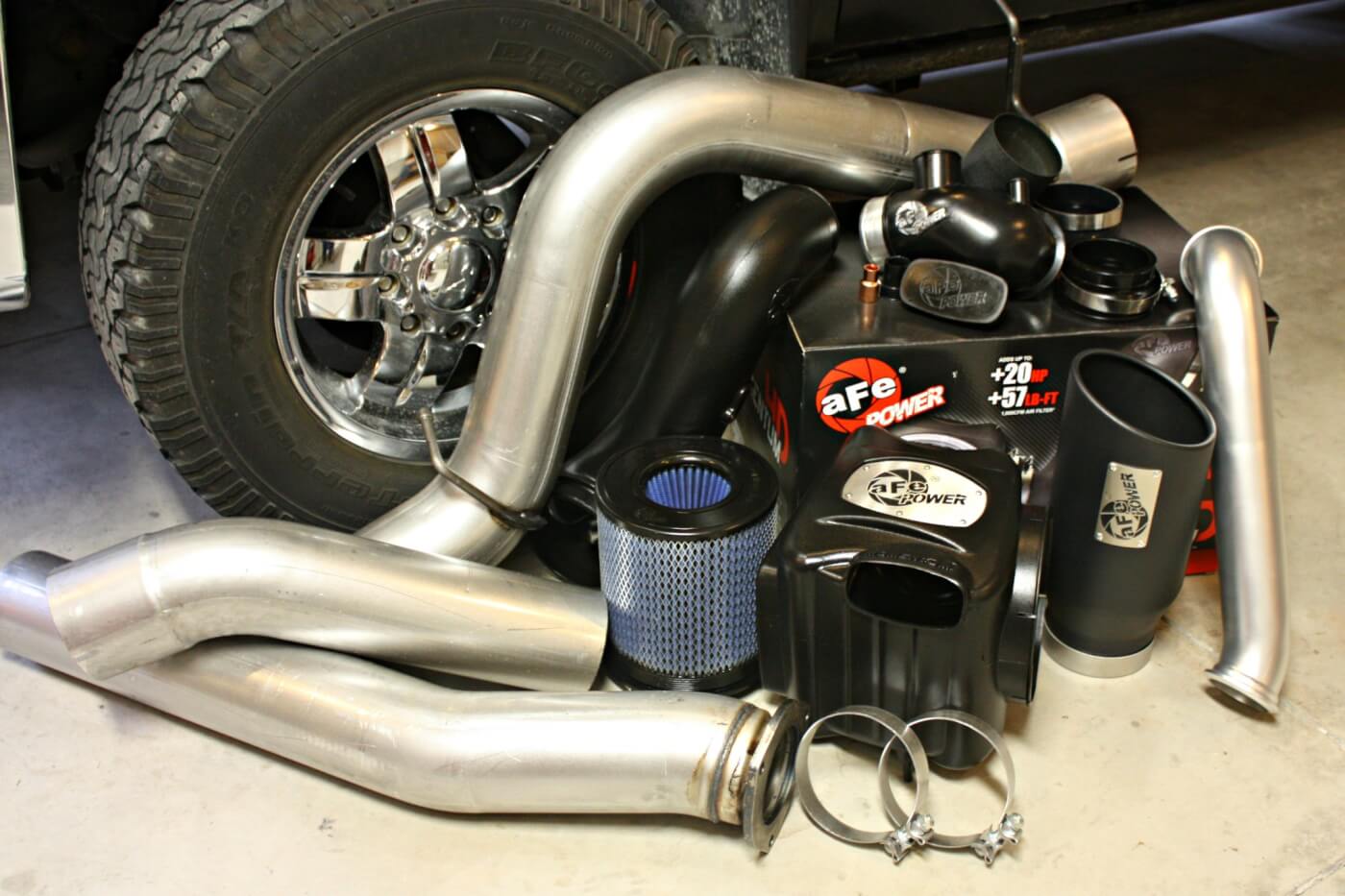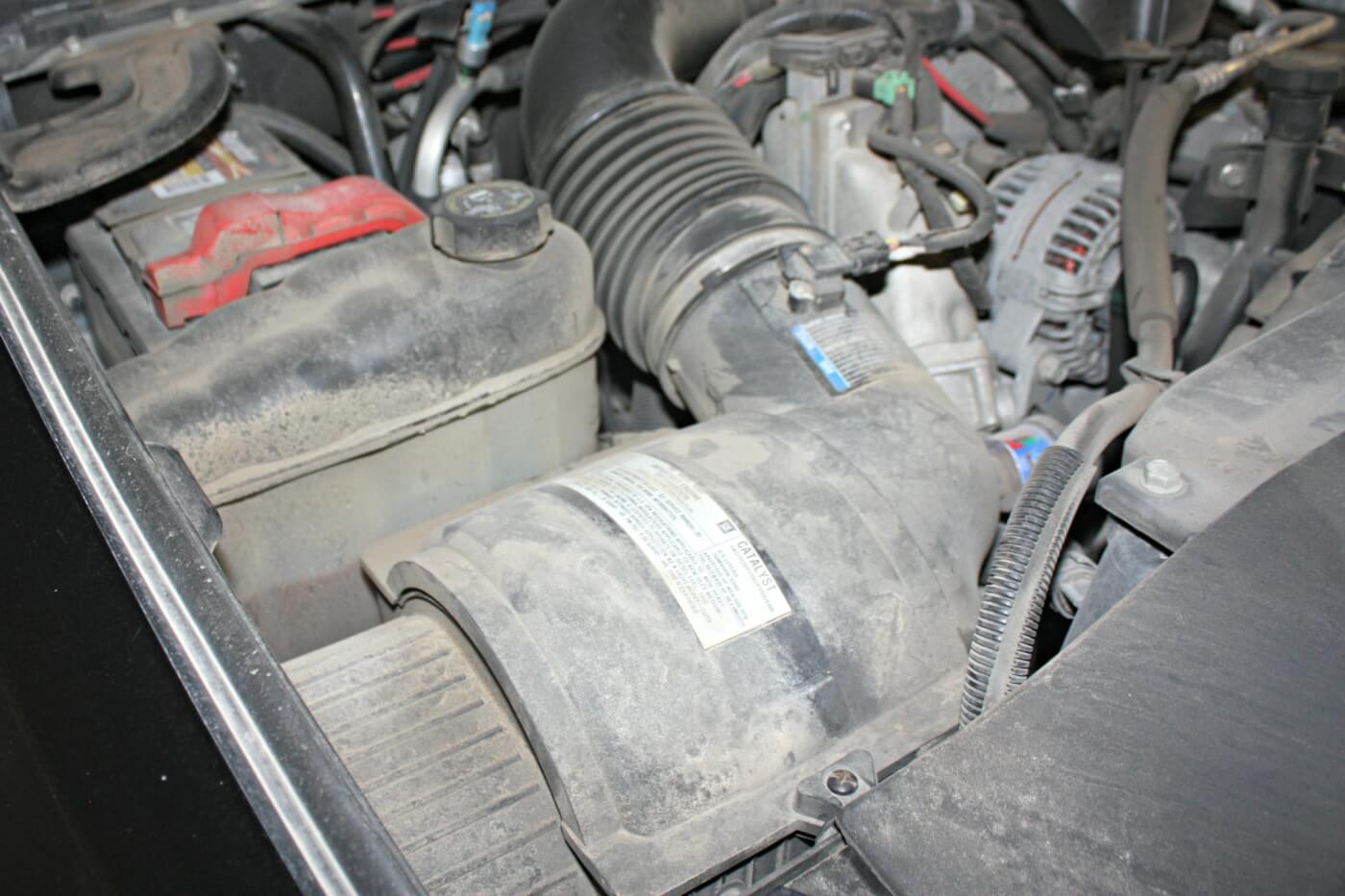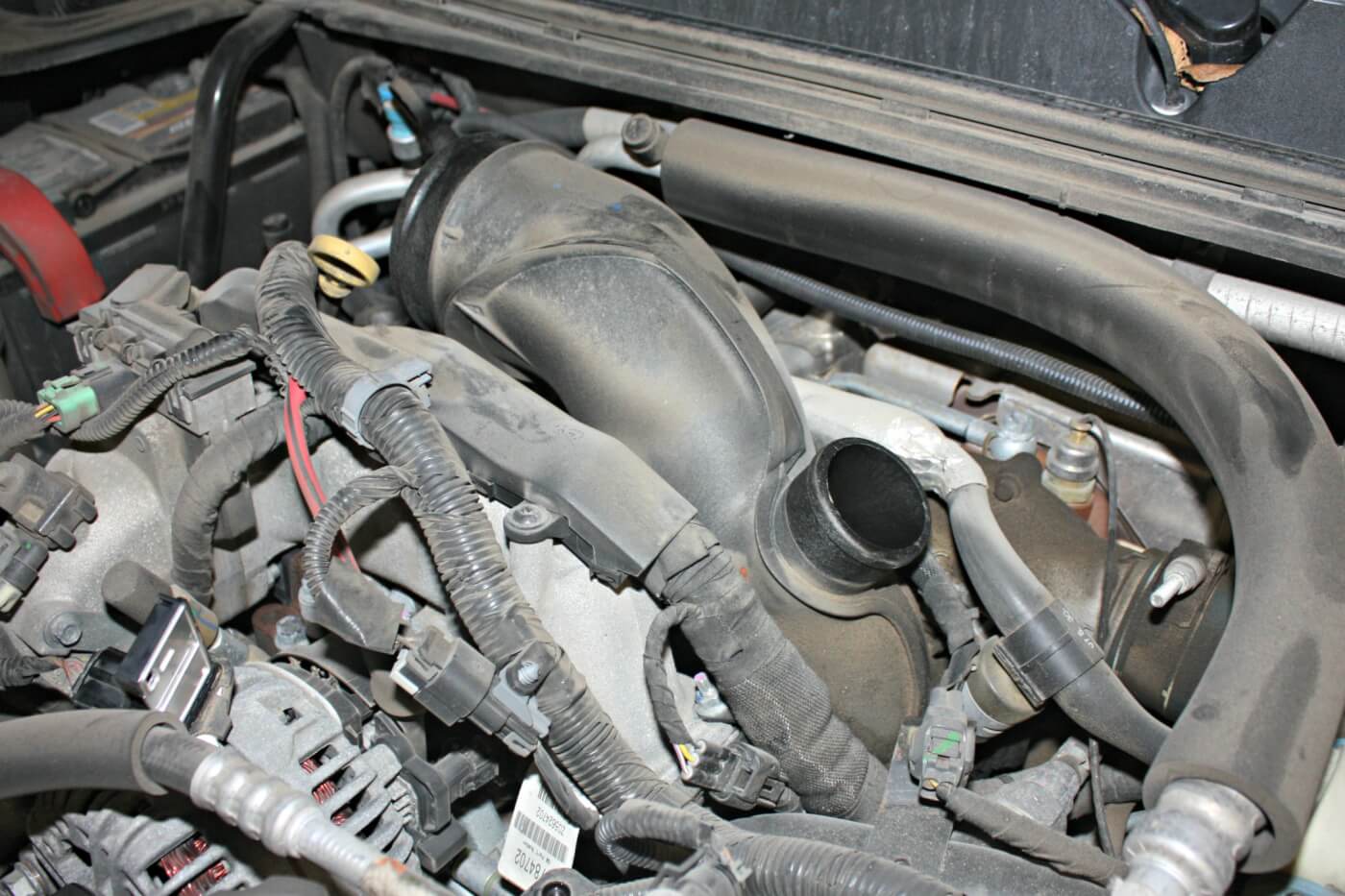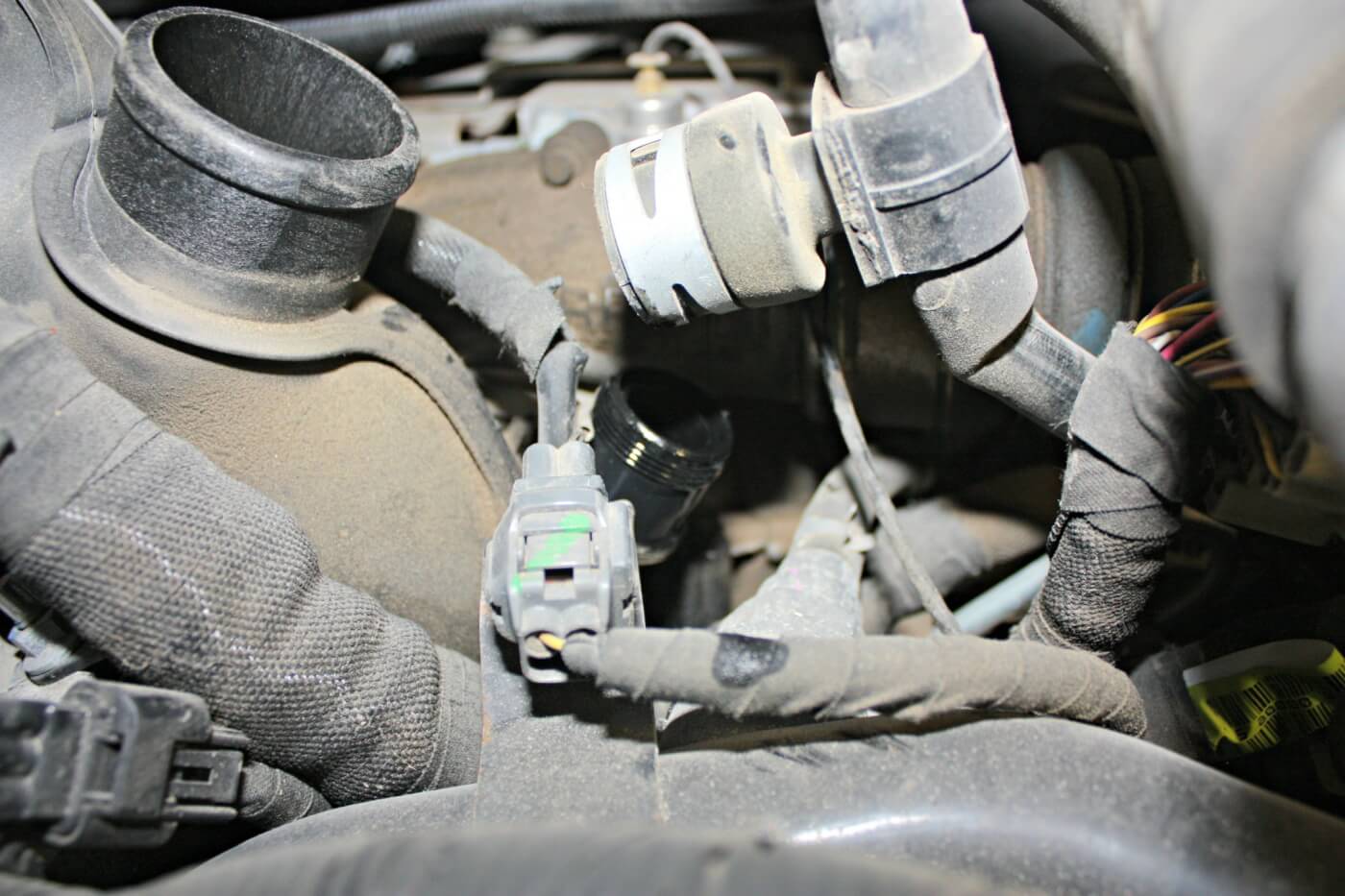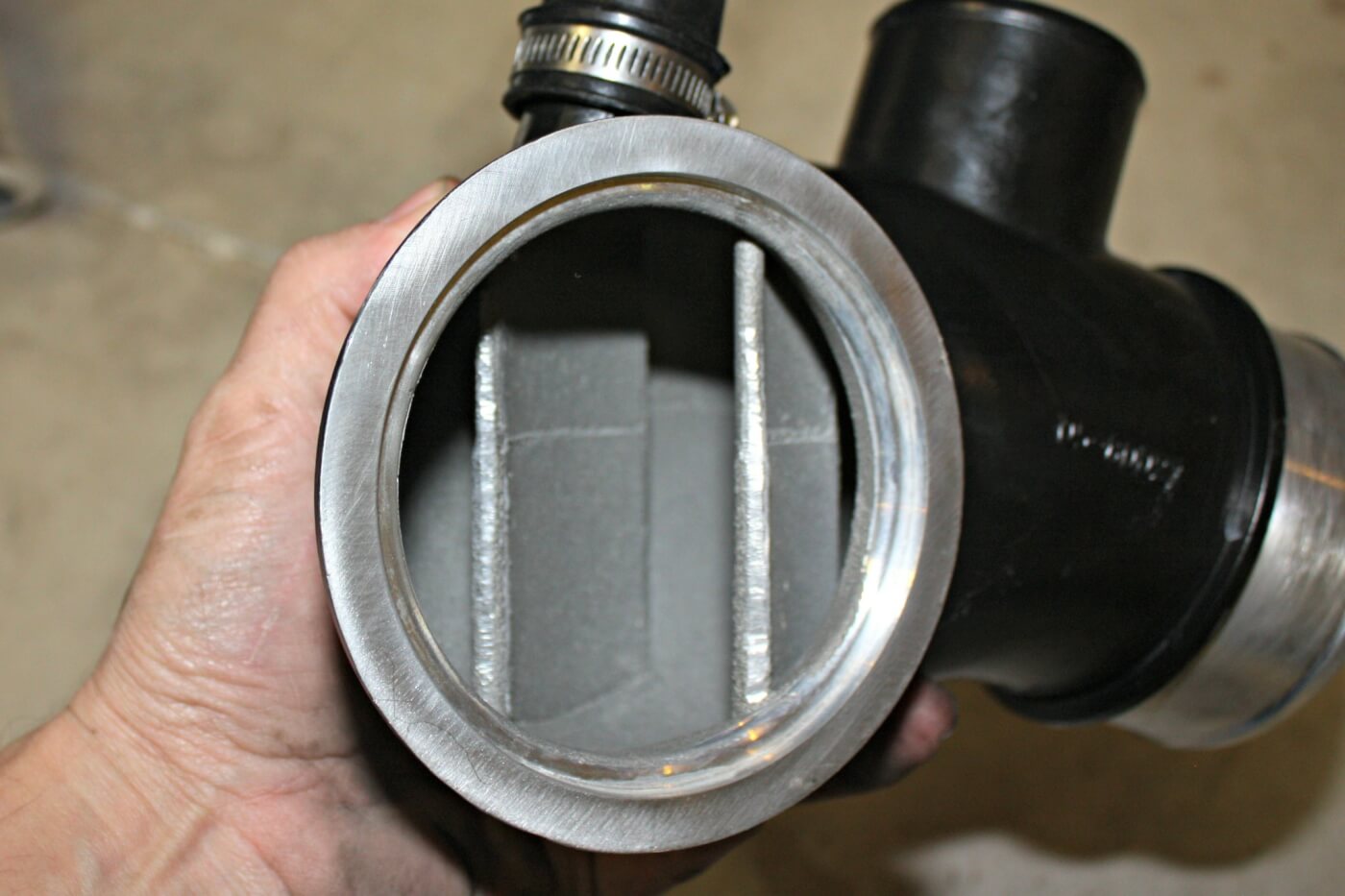 AFE BLADERUNNER INTAKE MANIFOLD
The Bladerunner Turbo Inlet Manifold, also from aFe Power can help increase performance by creating quicker turbo spool-up off idle and throughout the midrange which can help lower exhaust gas temperature and improve throttle response. Cast from durable A356-T6 aluminum with a patented multi-direction vane (MDV) design, inside it helps guide air through the manifold to your turbo inlet to maximize flow coming from that massive Momentum HD intake. Best of all, the Bladerunner intake manifold is CARB compliant and will maintain the factory crankcase breather system and can be used with stock and aftermarket air intake systems. DW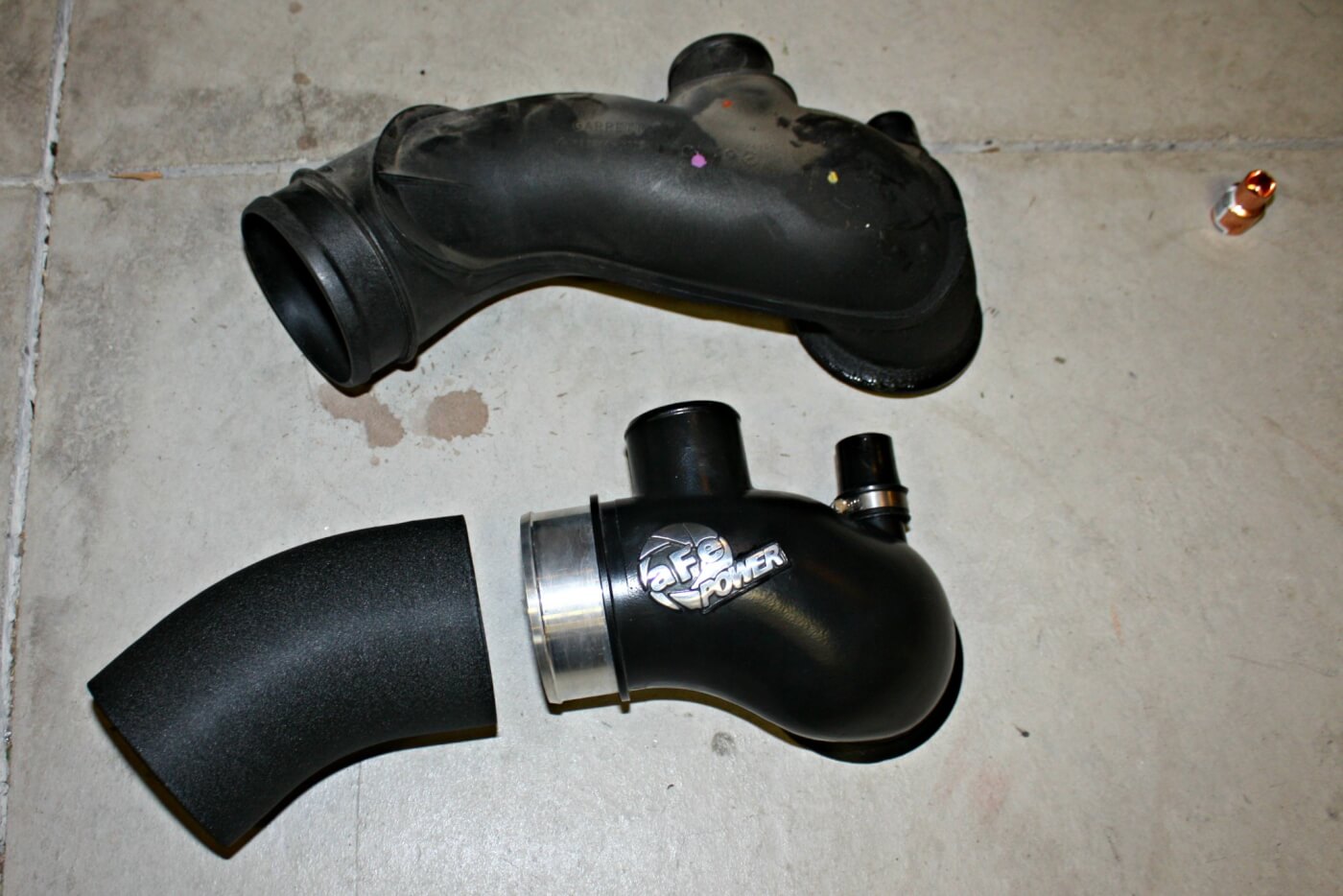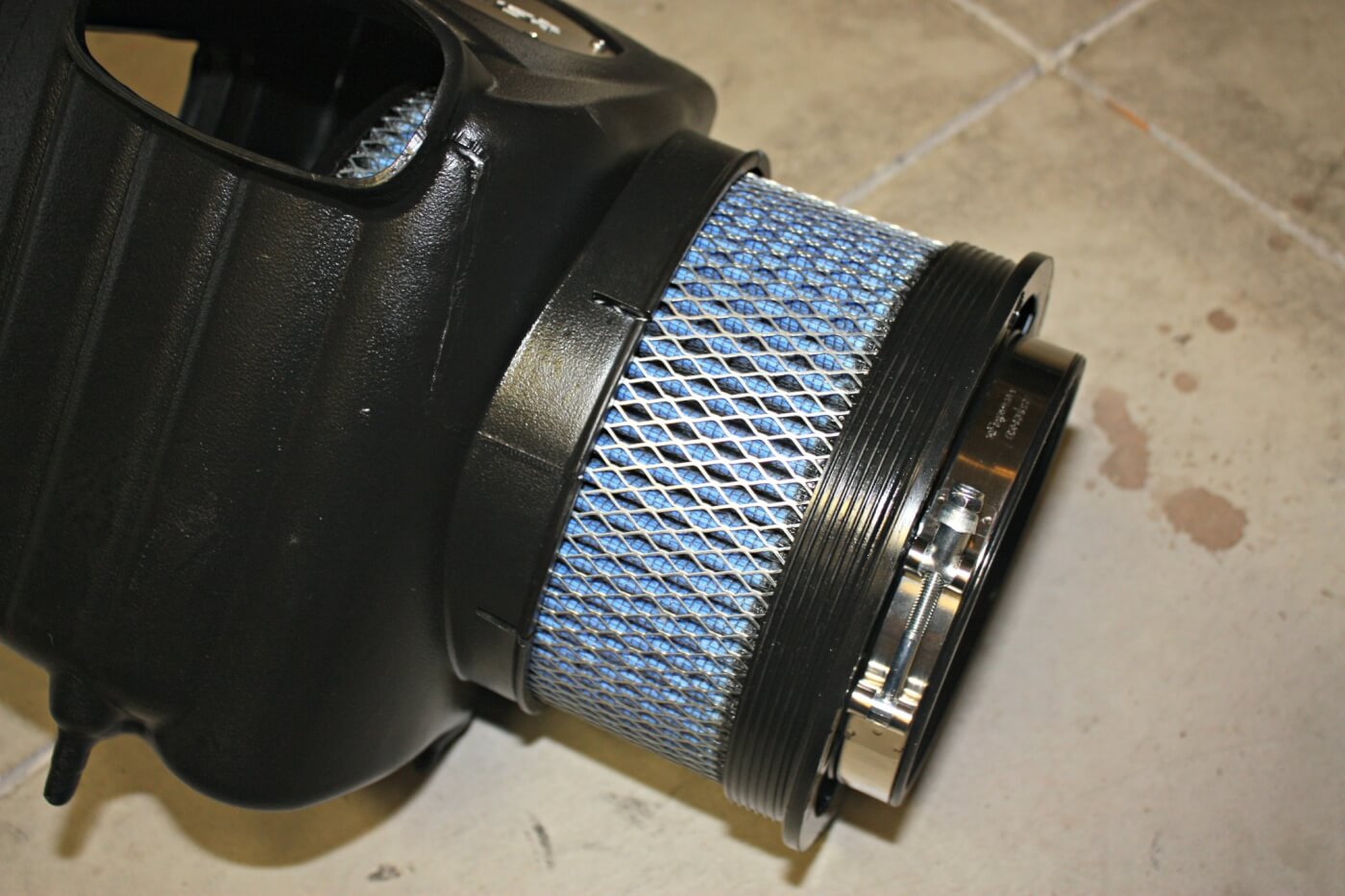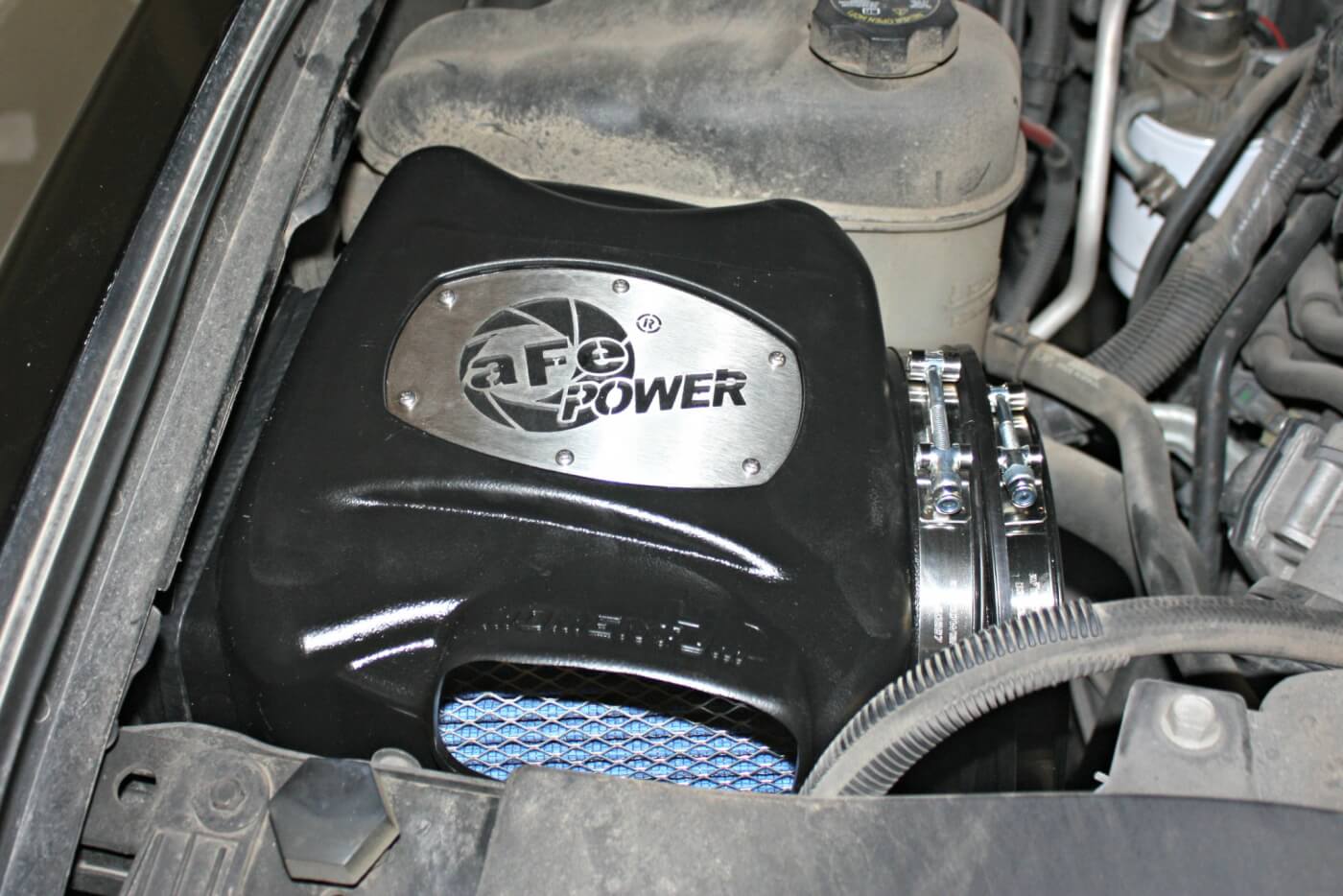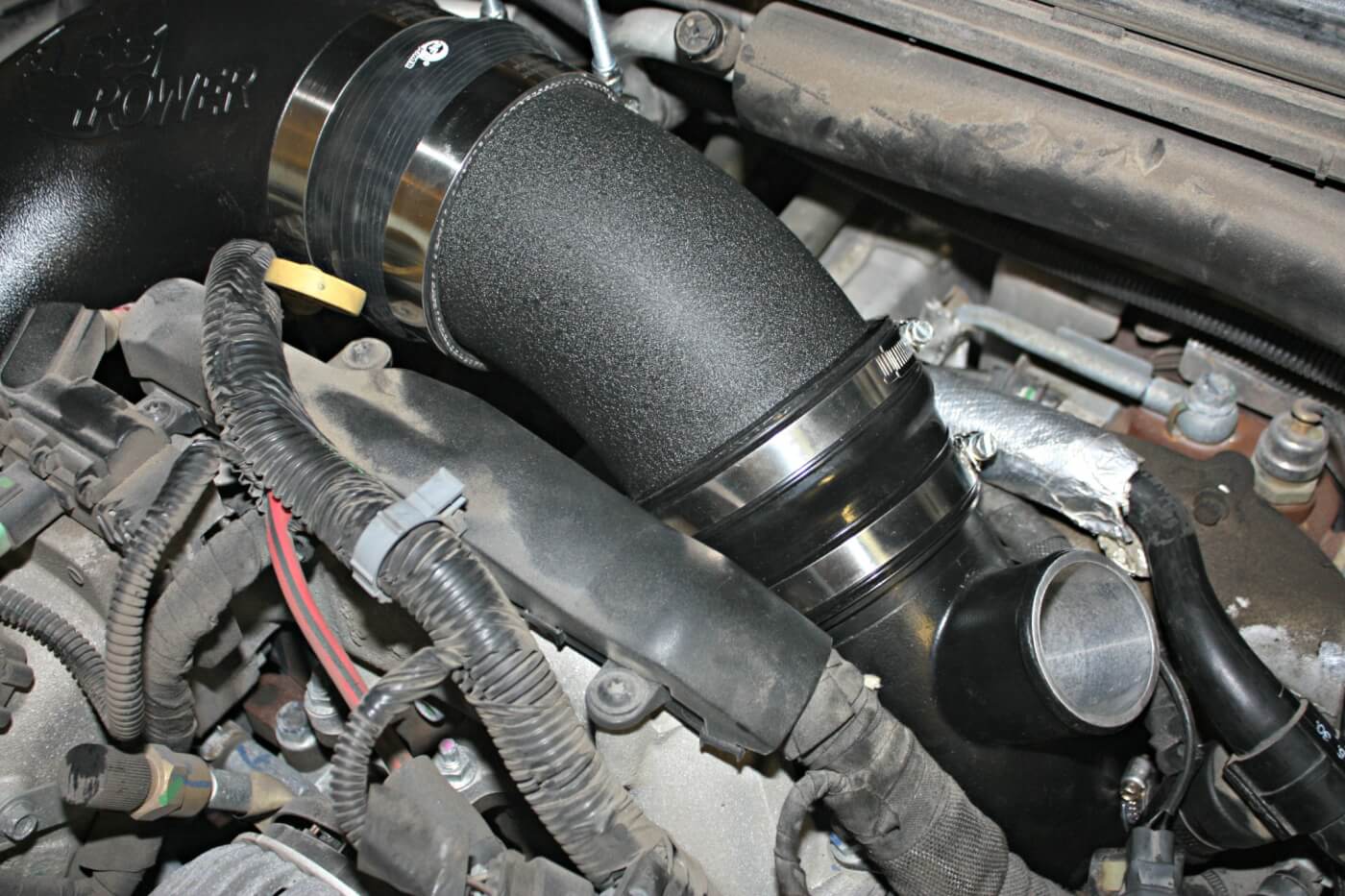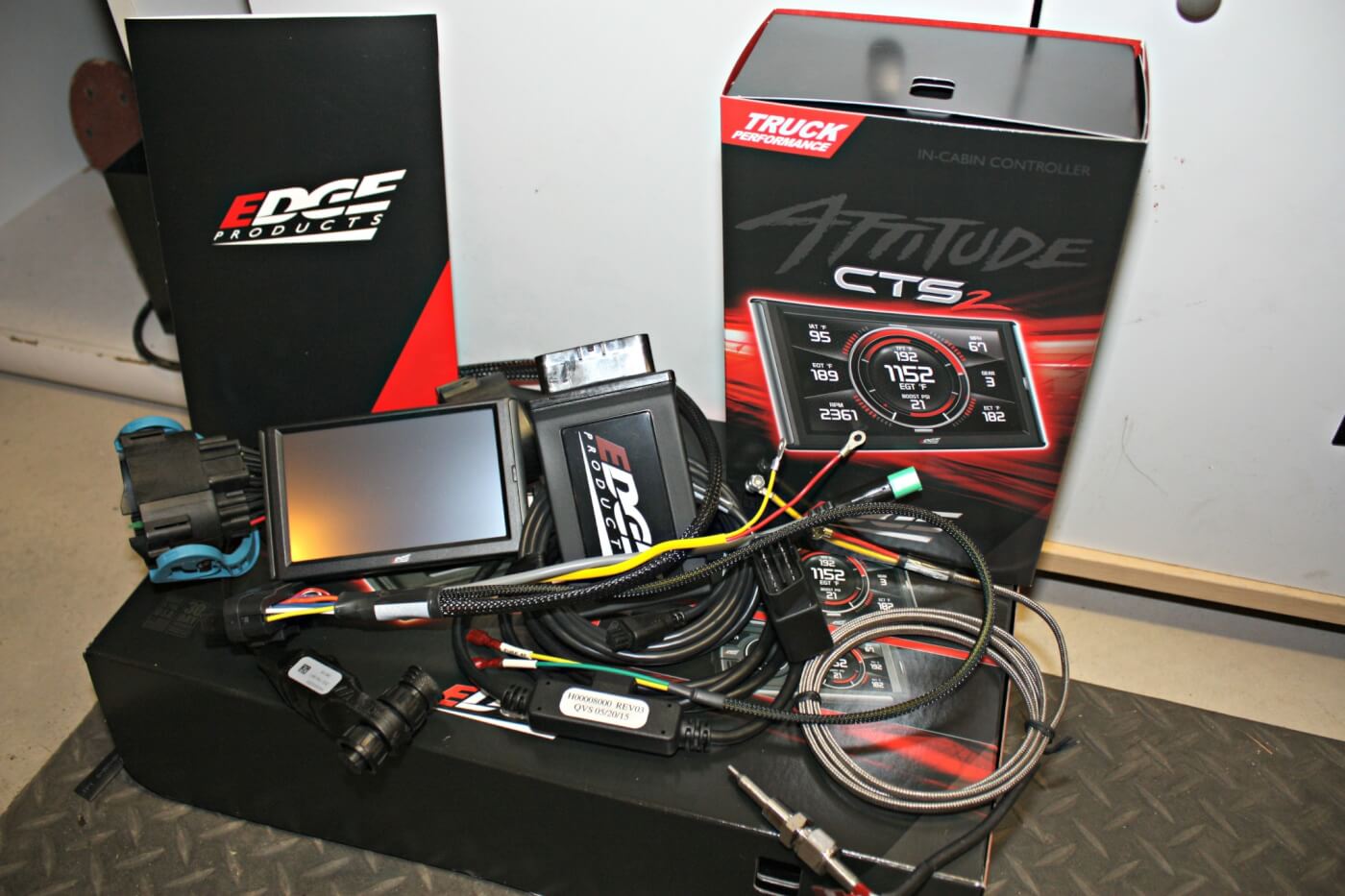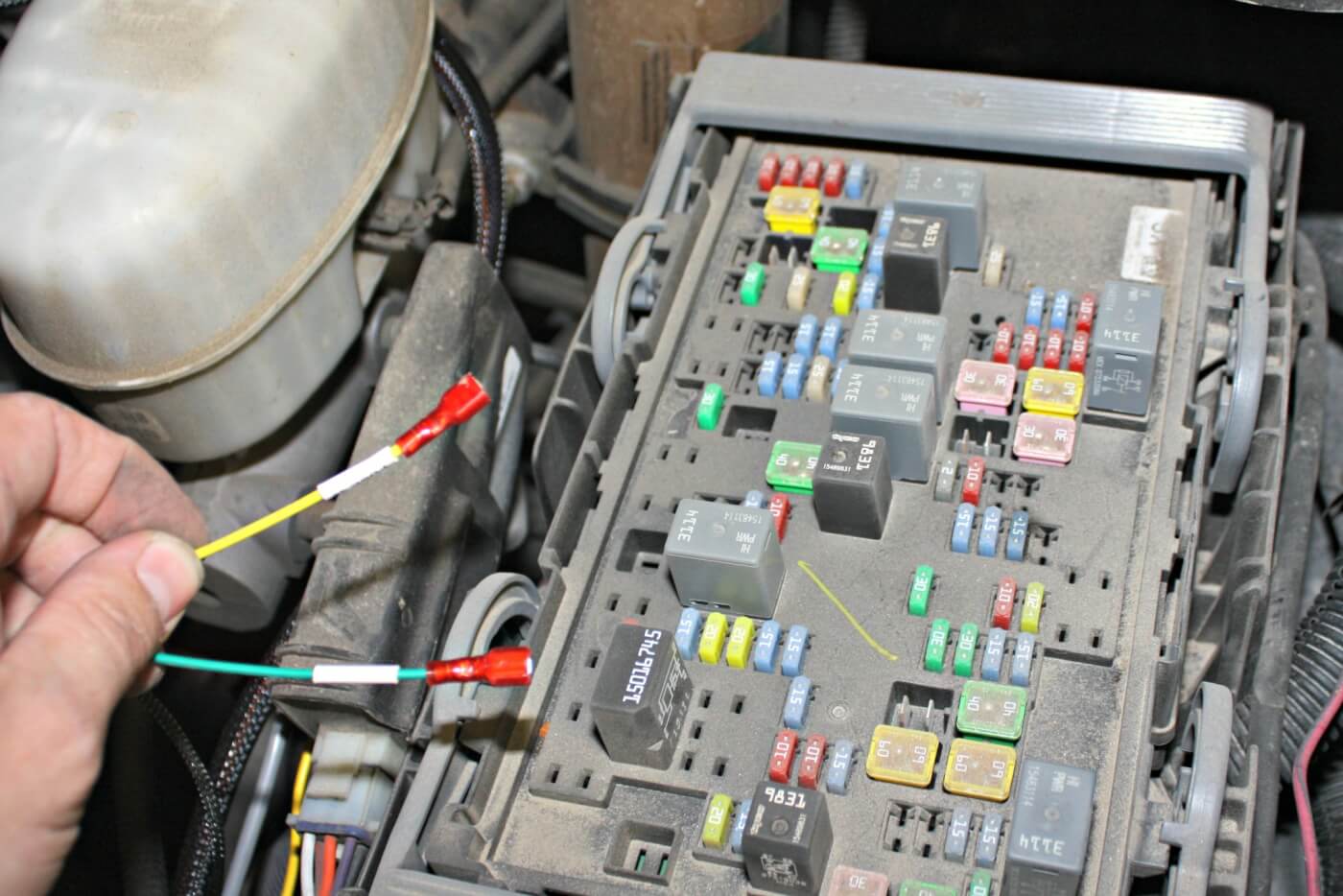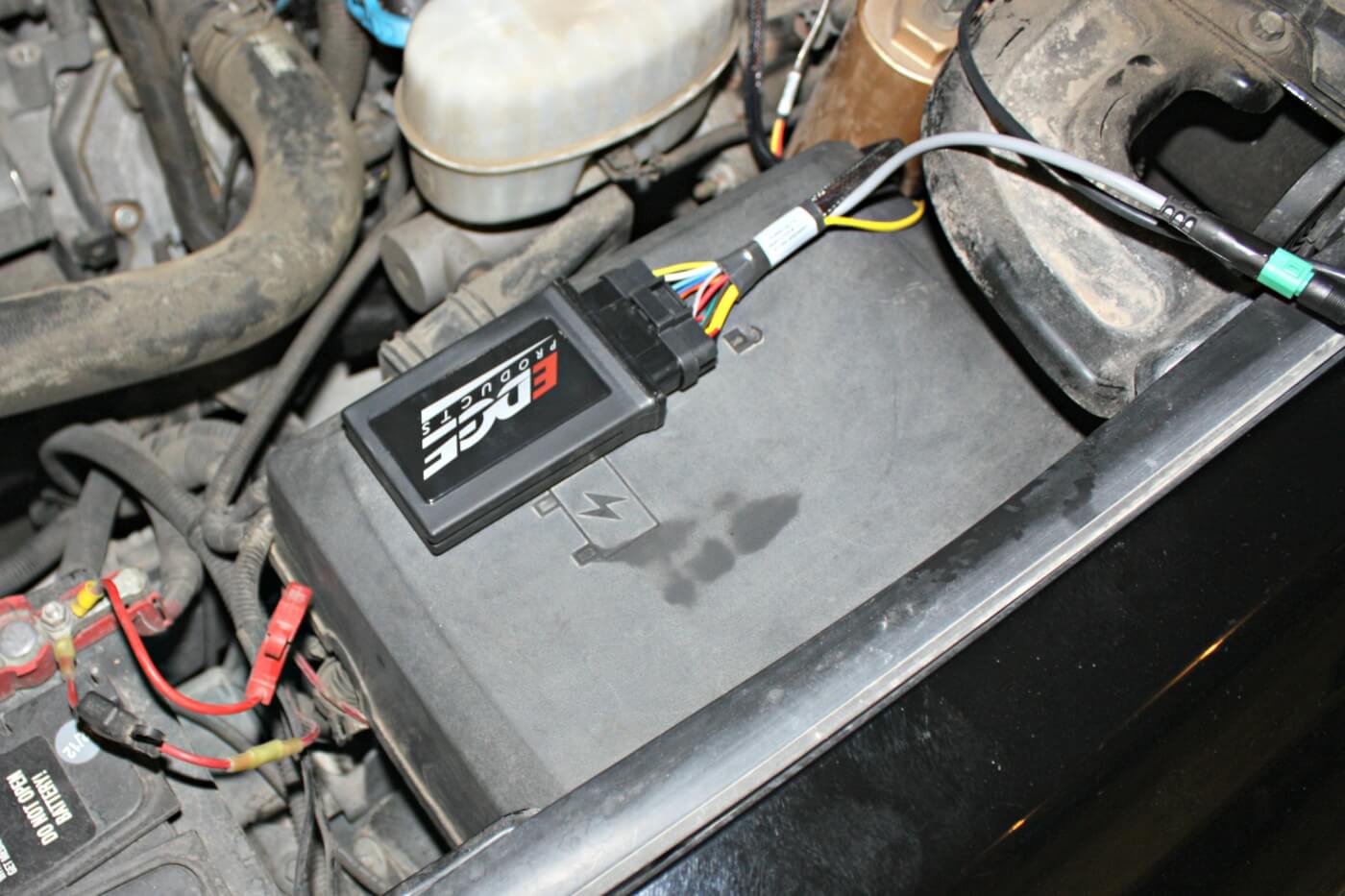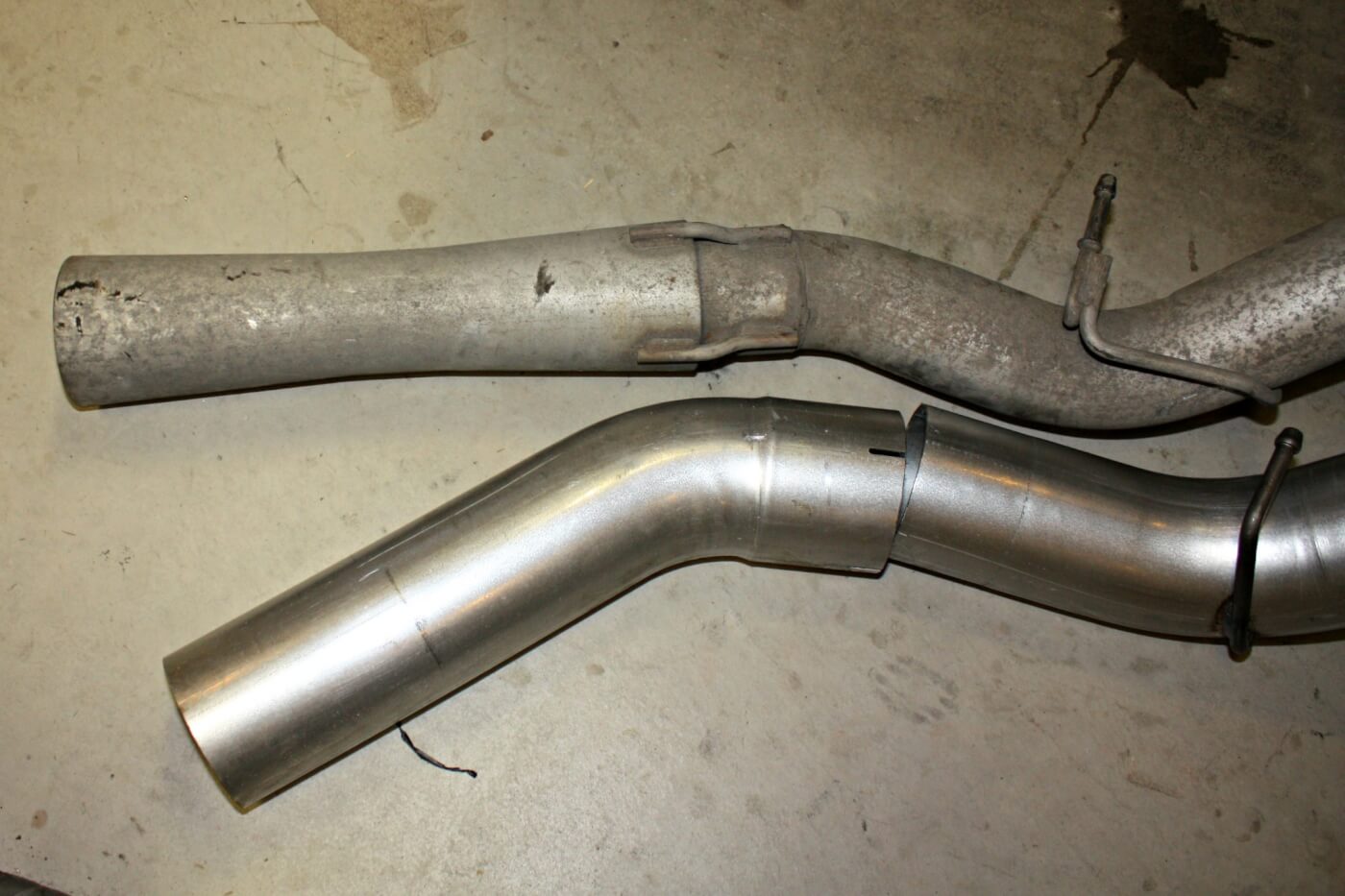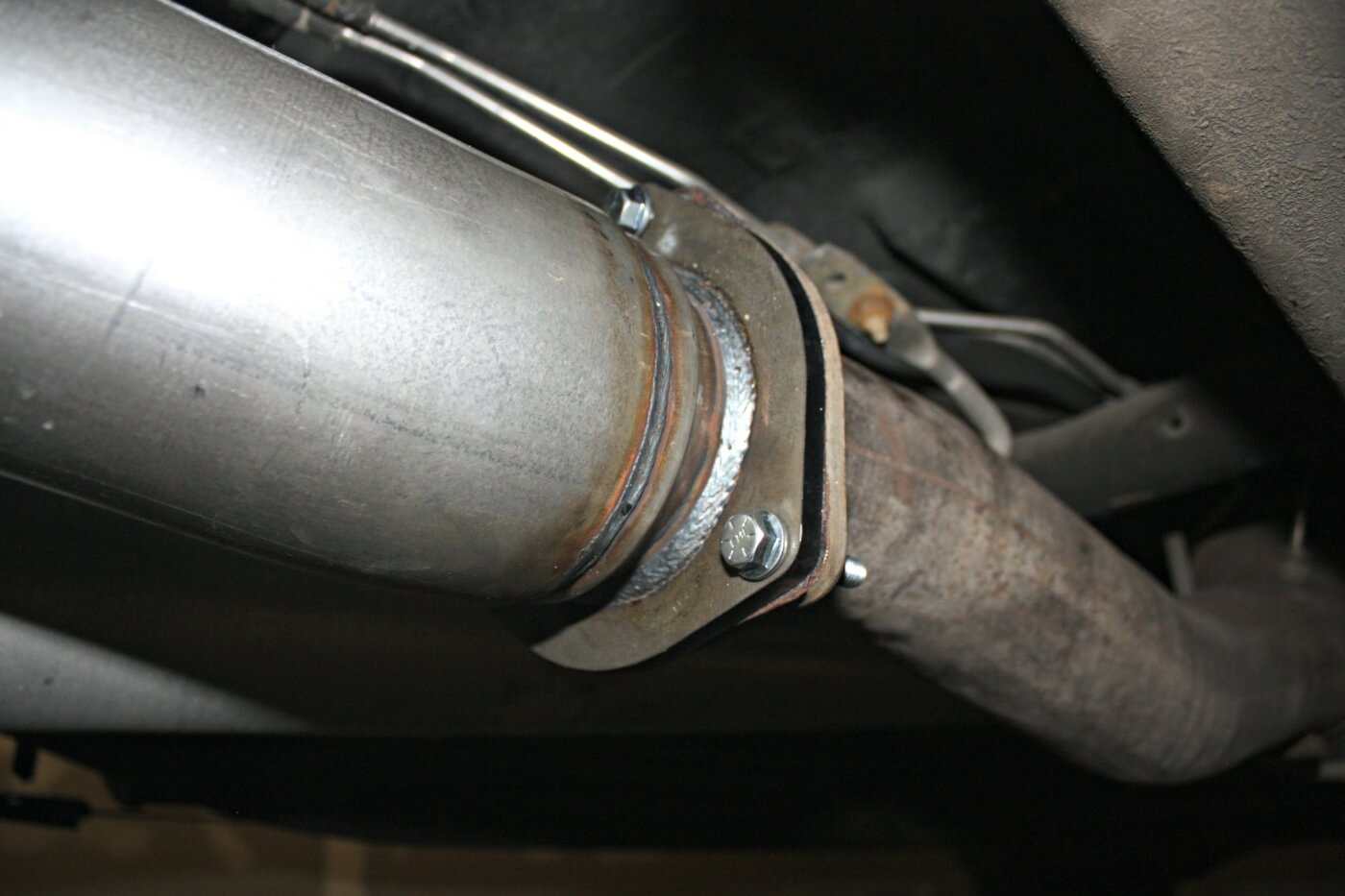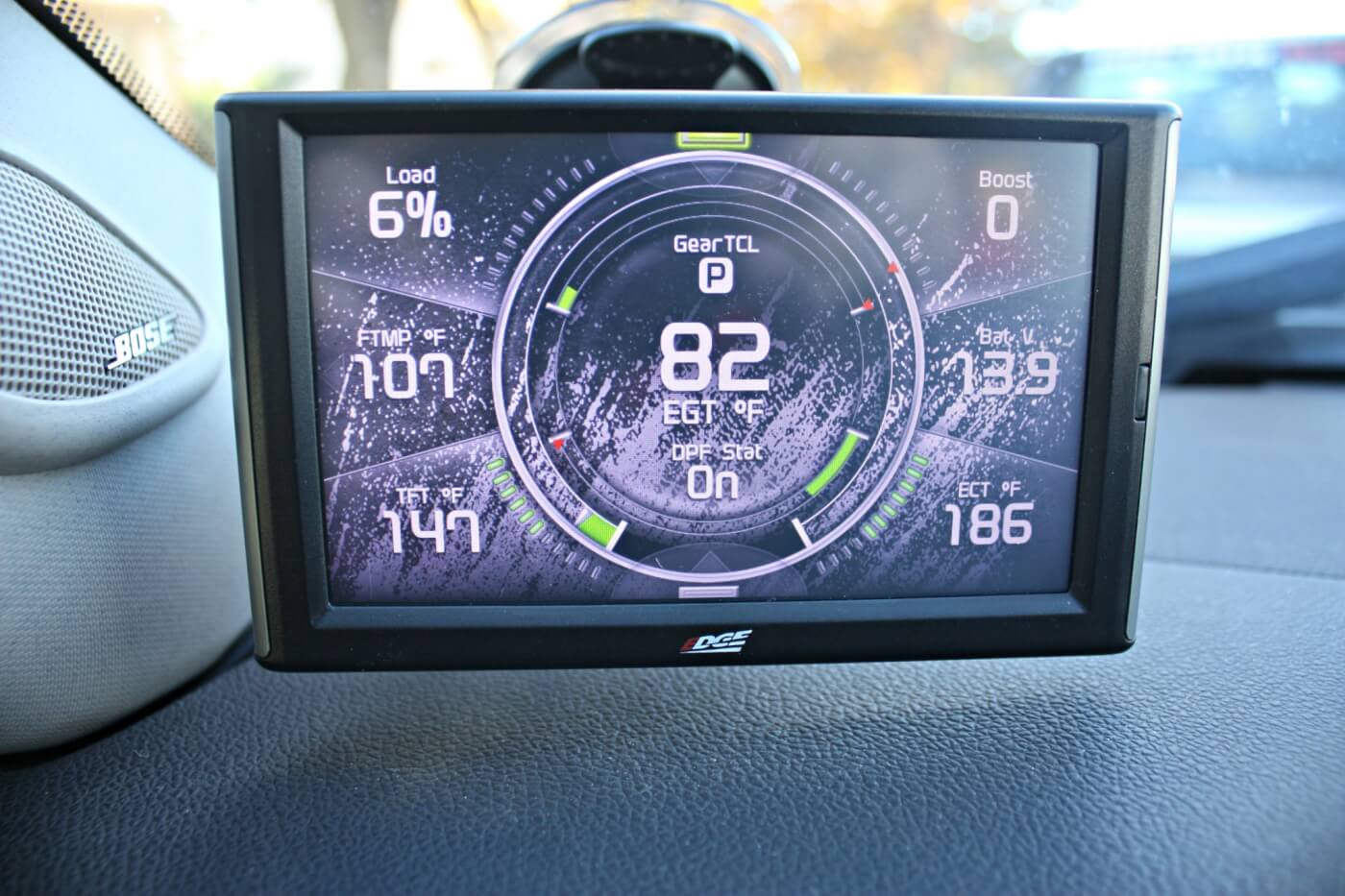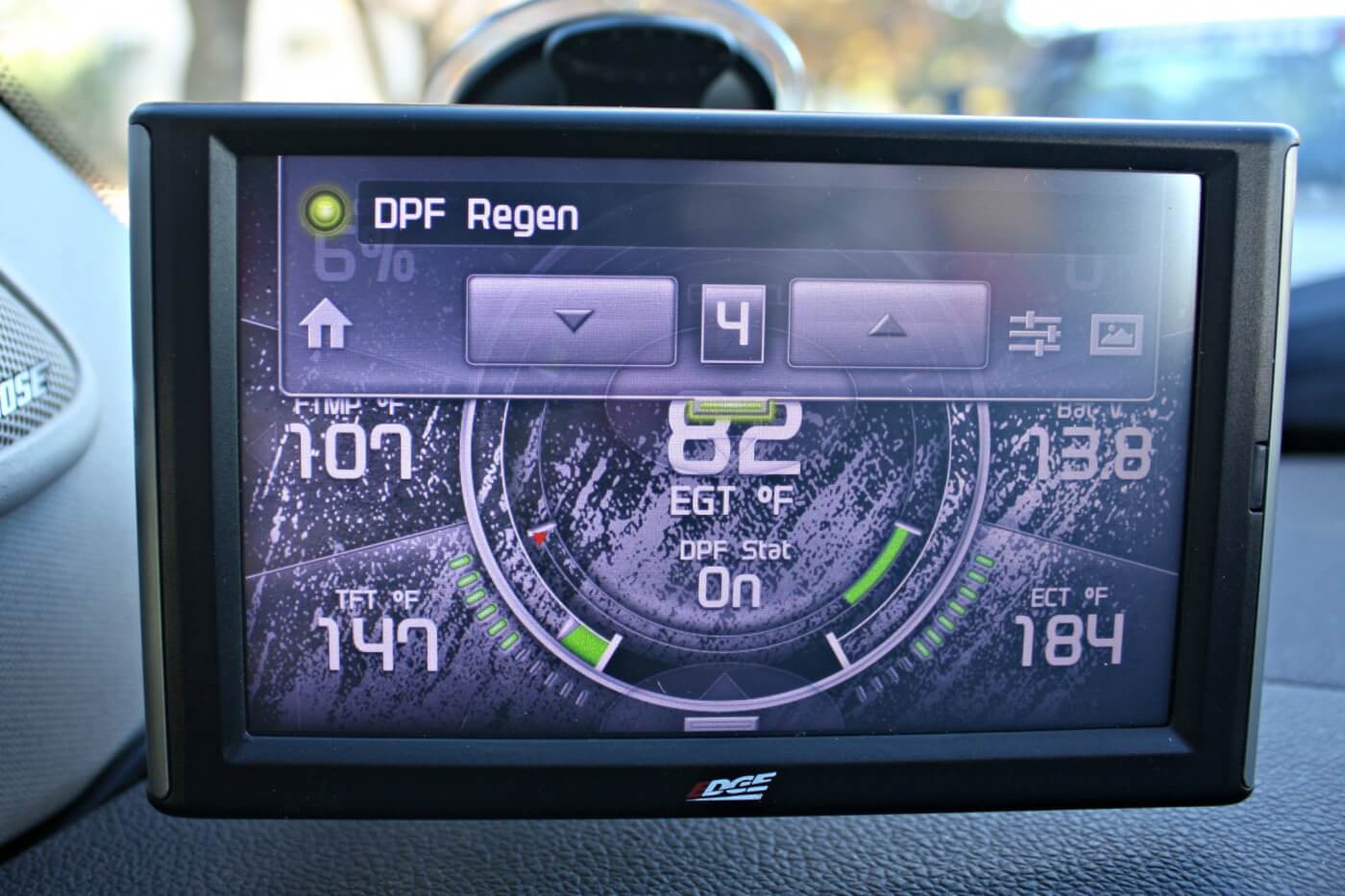 [divider]Results[/divider]
It took less than four hours to complete the installation of all these parts, and the initial test drive proved it was four hours well spent. With much better acceleration from a stop, quicker spool-up and better passing performance on the freeway, the additional airflow and power really made the truck fun to drive again. The owner was able to swing by the Edge Products headquarters located in Ogden, Utah, for some final chassis dyno tests to see just how much improvement was made in the horsepower department. The dyno chart comparison between stock and modified, while maintaining legal emissions equipment, offers proof that the DPF and EGR system weren't the final blow to diesel performance and there is still plenty of power left on the table in 2008-plus trucks.
In complete stock form, before bolting on any aftermarket parts, the 2007.5 LMM Duramax managed to squeeze out 319 hp and 620lb-ft. of torque, which is actually a very solid number, especially for being "showroom stock." Running the Edge Juice with Attitude CTS2 system on Level 0 (stock), the dyno showed the AFE Power package gained an additional 12 hp at peak. The most commonly used power level for daily driving and towing is Level 3, so it was tested next with a peak of 381 hp and 724lb-ft. of torque, which is definitely something you can feel when leaving a stop light. To see max potential from this setup, the Juice system was set to Level 5, and the tests were re-run at wide open throttle, this time bumping numbers to a very respectable 410 hp and 775lb-ft. of torque. Overall gains of 91hp/159tq are right on par for the advertised numbers from Edge. The increased throttle response and power while towing have really brought some fun into driving again and make life from behind the wheel much more pleasurable as a whole. Fewer stops at the gas station have become a welcomed side effect from all of this too, with a minor bump in fuel mileage as well.
SOURCES:
aFe Power
888.901.7693
Edge Products
888.360.3343