Mass Airflow Sensor Mounts
What It Is:
AIRAID Universal MAF Adaptors
Why You NEED It:
Available in 3-, 3.5- and 4-in. diameter housings, AIRAID Universal MAF Adaptors feature a removable MAF mounting plate. Two different plates are available: one machined to accept common Hitachi MAF sensors, while the other is blank and allows the user to machine the plate to accept whatever sensor is needed. The MAF Adaptor Housings join AIRAID's growing line of U-Build-It (UBI) components, which make it easier than ever before to build a clean and effective cold air intake for any custom application.
Where To Get It:
AIRAID
www.AIRAID.com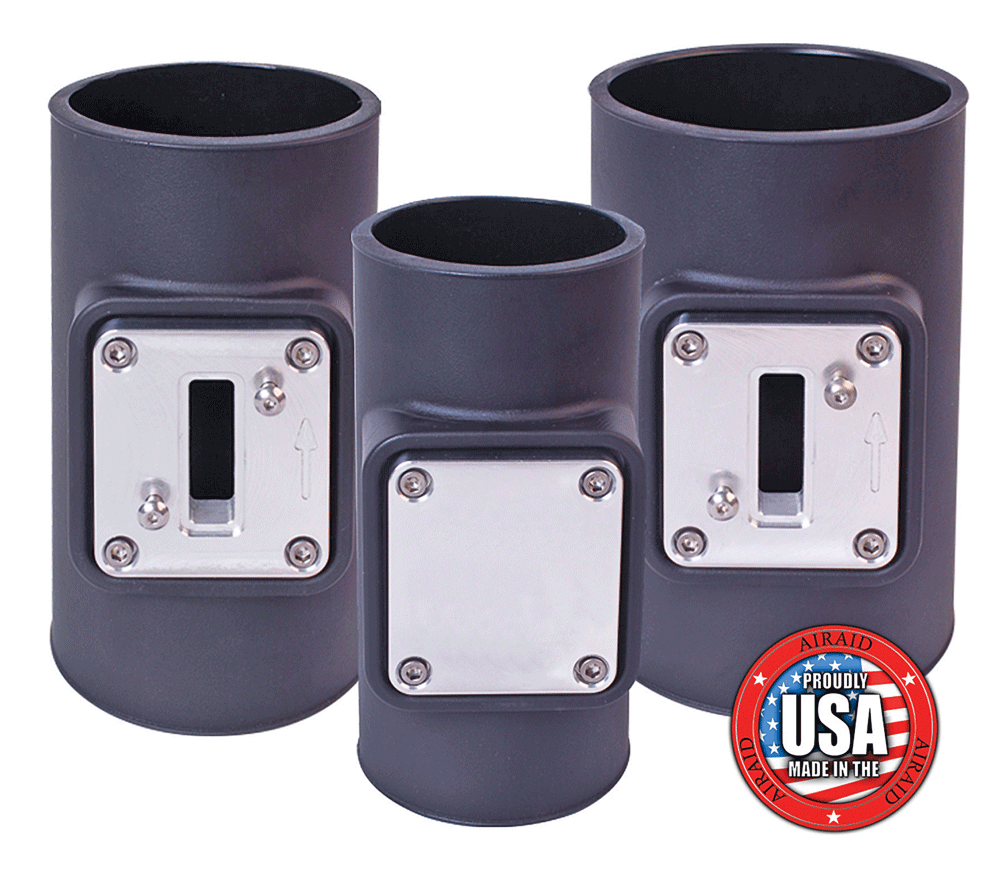 Water Methanol For The Eco-Diesel
What It Is:
Snow Performance Power-Max System
Why You Need It:
Snow Performance's new Power-Max water-methanol injection system is now available for Ram pickups equipped with the 3.0L Eco-Diesel engine. The Power-Max system is a complete Plug & Play unit that makes it easy to install without any drilling or wiring. A wire harness complete with weather tight connectors for each component is included. The system uses a new VC-50 hybrid Controller that provides precise water-methanol delivery and features a standard 2 1/16-inch gauge mount, is boost referenced, and uses the latest OLED display technology with low-level indicator, on-board diagnostics and more. When installed, the Power-Max system delivers an additional 50+ horsepower in the 3.0L EcoDiesel with proven increases in fuel economy of 1-2 mpg.
Where To Get It:
Snow Performance
www.SnowPerformance.net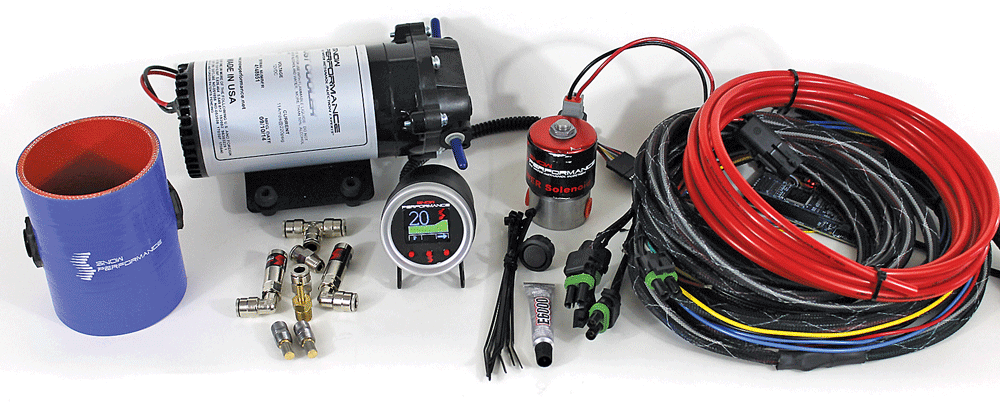 Better Filtration
What It Is:
Volant-HV Filter With Donaldson PowerCore Filtration
Why You Need It:
The New Volant-HV Filter with Donaldson PowerCore Filtration Technology provides an additional 15-20 percent increase in CFM over the original filter for applications where performance engines require maximum flow and filtration. Turbo-diesel pickups can now utilize this 100,000-mile, no-maintenance filter that provides the airflow necessary to increase power, while providing up to 99.97 percent filtration efficiency. Volant-HV filters have newly designed air chambers and Ultra-Web Nanofiber Filtration Technology to trap more dirt and improve airflow into the engine. Available in a variety of Volant CAI Kit applications, Volant filters offer the highest level of performance, durability, filtration and value for your vehicle.
Where To Get It:
Volant
www.Volant.com

Dodge Lift Kit
What It Is:
Skyjacker 4-6 Inch 2014-2015 1500 Ram Lift Kit
Why You Need It:
Skyjacker is introducing 4- and 6-inch lift kits for the 2014-2015 Ram EcoDiesel. These kits are constructed using high-clearance laser-cut and CNC-formed cross members and strut spacers, along with CNC-machined steering knuckles. Each kit is engineered using cutting-edge technology to ensure a perfect fit, while retaining OEM alignment specifications. These lift kits include a heavy-duty differential skid plate to help protect your important underside when on or off the trail. Both kits allow the use of 35-inch tires. The 6-inch kit can be used with 37-inch tires, but slight trimming of the inner fender plastic liner may be required. All kits are specifically designed for models with factory Electronic Stability Control on the EcoDiesel.
Where To Get It:
Skyjacker
www.Skyjacker.com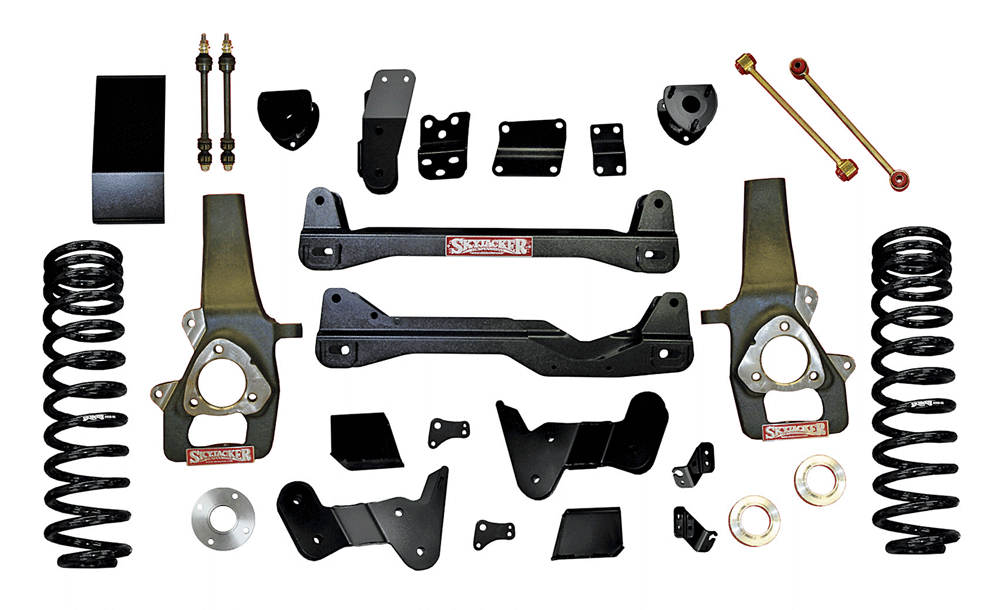 New Polyurethane Mounts
What It Is:
Energy Suspension Ford F-250/350 Polyurethane Components
Why You Need It:
Revive the suspension on your F-250/350 by replacing tired or worn-out rubber bushings with Energy Suspension proven polyurethane components. Energy Suspension now offers front and rear sway bar bushings, front and rear bump stops, front spring isolators, front track bar bushings, rear leaf spring bushings and cab body mounts. These components allow the suspension system to function more effectively through turning, accelerating and braking. Available in red or black polyurethane.
Where To Get It:
Energy Suspension
www.EnergySuspension.com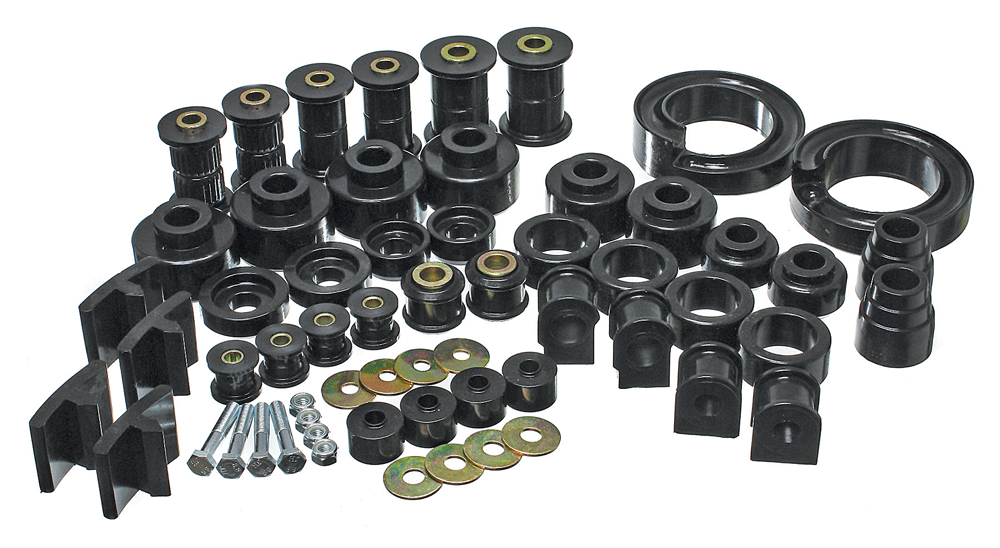 Smart Cummins Tuner
What It Is:
Smarty Touch For 1998.5-2012 Dodge Ram Cummins
Why You NEED It:
The new Smarty Touch offers the ultimate digital display and programming solution for your 1998.5-2012+ Dodge Ram Cummins.
Utilizing cutting-edge high-speed twin CPU design, Smarty Touch combines industry leading monitoring capabilities, including data logging and the best tuning software available anywhere. Features a 4.3 Inch display, EGT monitoring capable (with optional probe), multiple gauge layouts, tire height adjustments, and much more.
Where To Get It:
Smarty Resource
www.SmartyResource.com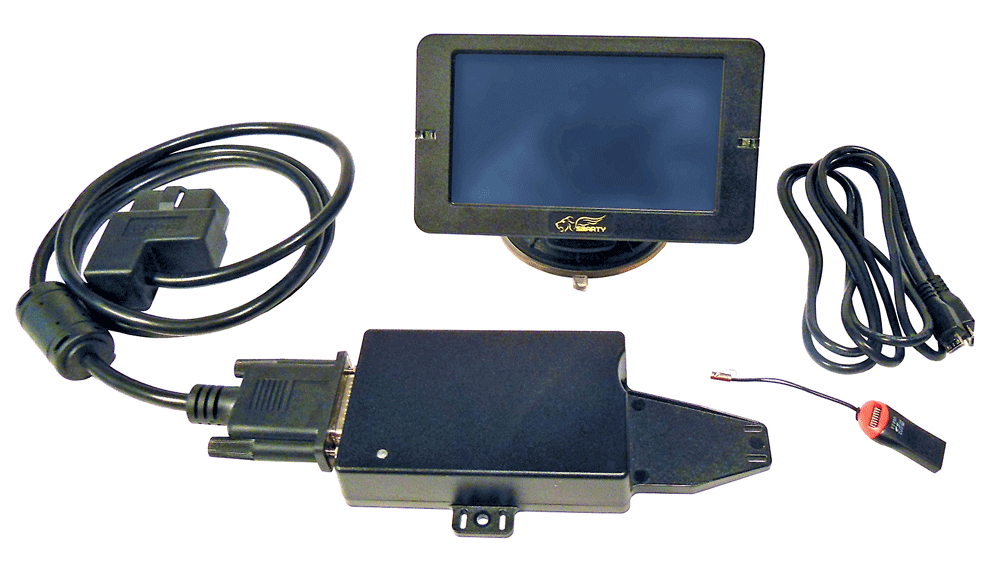 Automatic Axle Locker
What It Is:
Detroit Trutrac For The AAM 10.5 And 11.5-Inch Axles
Why You Need It:
This highly engineered unit will provide maximum power to the ground while enhancing driving and handling characteristics. Helical-style gears drive the Detroit Truetrac. When needed, the gear separation forces automatically transfer torque to the high traction wheel. The Detroit Truetrac is designed for a variety of uses. Towing, off-road and high-performance vehicles will all benefit by installing a Truetrac. Its smooth, automatic operation and proven strength make the Truetrac for AAM 10.5-inch and AAM 11.5-inch axles ideal for upgrading existing units or building custom power trains.
Where To Get It:
Eaton
www.Eaton.com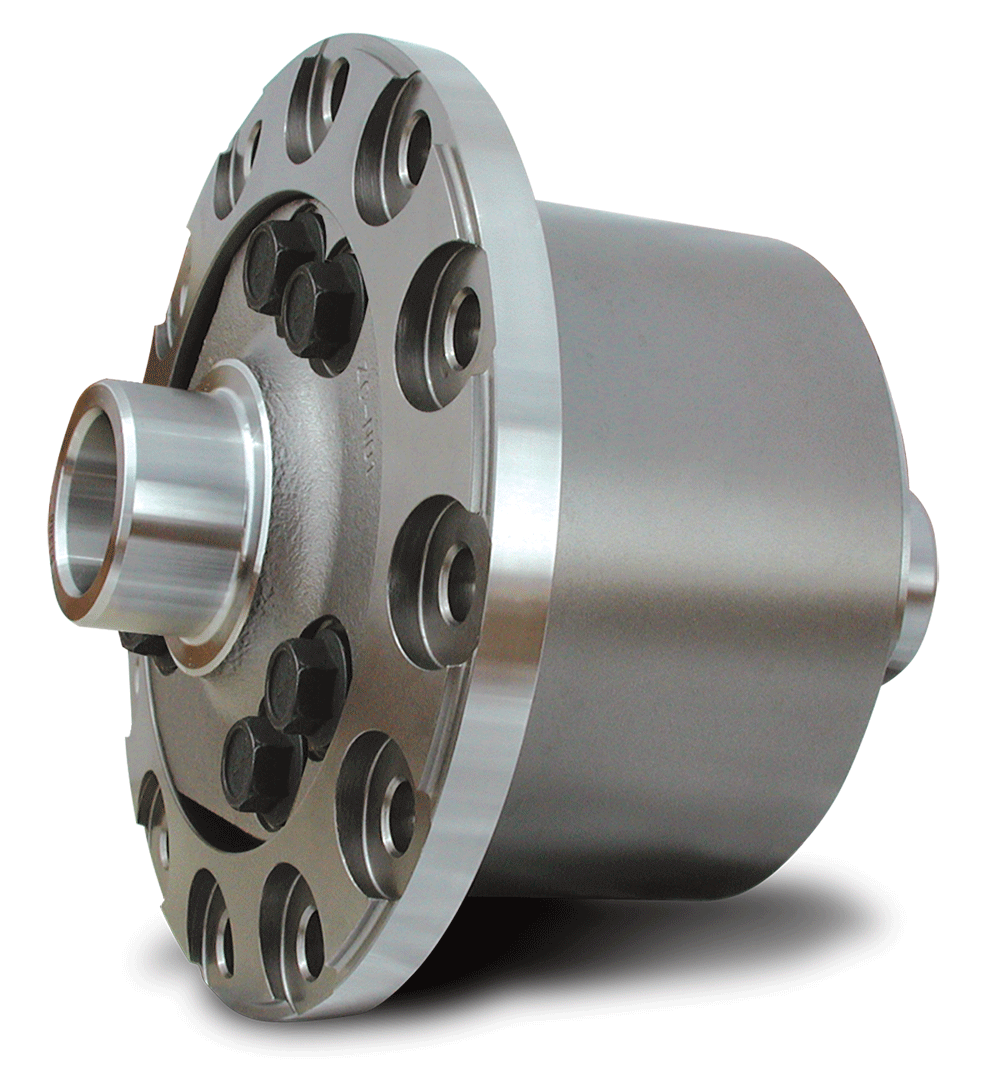 LED Light Bar Grille
What It Is:
Royalty Core LED RC2X Grilles
Why You Need It:
Royalty Core's new RC2X grille model leads the industry with twin-mesh design, cutouts in the corners and two horizontal LED light bars designed through the middle. Choose among a variety of diamond mesh styles for the main grille opening to accent Royalty Core's Twin-Mesh in the corners. Each Vision X LED bar is framed with Royalty Core iconic one-of-a-kind studs and T304 stainless steel with upgradable OEM color matching.
Where To Get It:
Royalty Core
www.RoyaltyCore.com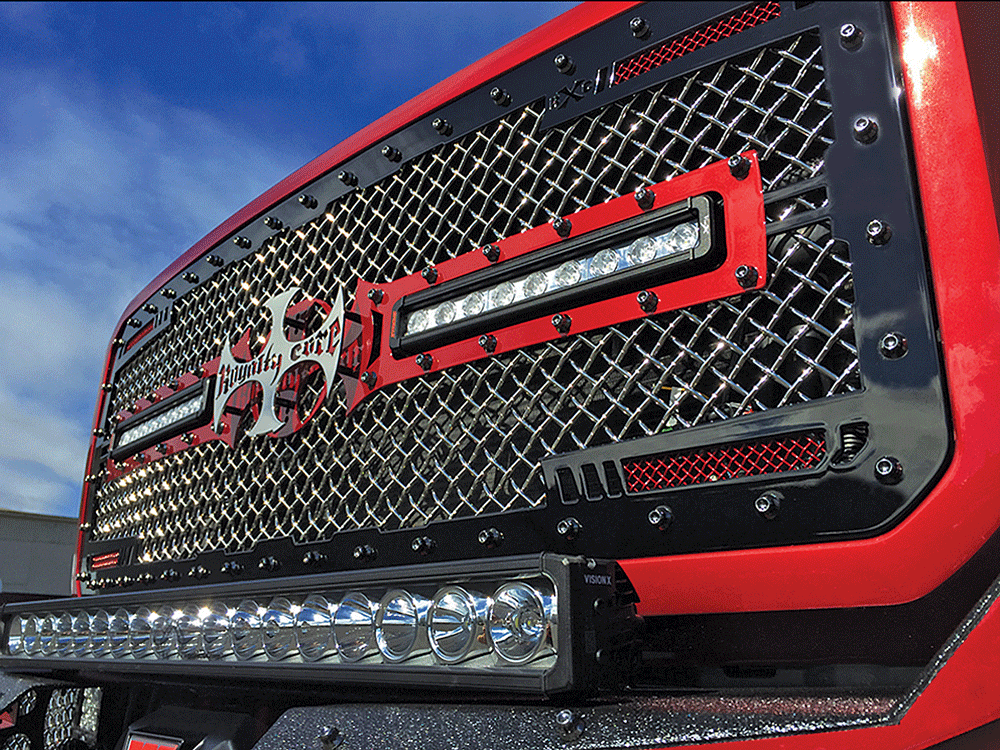 Cummins Turbo Upgrade
What It Is:
Fleece Performance 2nd Gen Dodge Turbo Swap Kit
Why You Want It:
This kit from Fleece Performance Engineering is referred as a "2nd Gen Swap" due to the turbo relocating from the back of the manifold to the same location as the second generation Dodge (1998.5-2002) turbo location. In other words, the swap kit locates the turbo in the center of the manifold with the outlet flange angled down. The major benefit for 2003+ common rail Cummins trucks is the use of a divided manifold. Capitalizing on the individual cylinder impulses in a divided manifold greatly increases spool up and driving characteristics with a properly matched turbo.
Where To Get It:
Fleece Performance
www.FleecePerformance.com