It takes a lot to stand out from the crowd of powerful diesel lifted trucks in the Lone Star State, but the MaddMax GMC Mega Cab always turns heads. This truck started life as a plain-Jane 2015 GMC Denali 2500HD, and was chopped, sectioned and customized to become the lifted GMC Mega Cab monster you see here.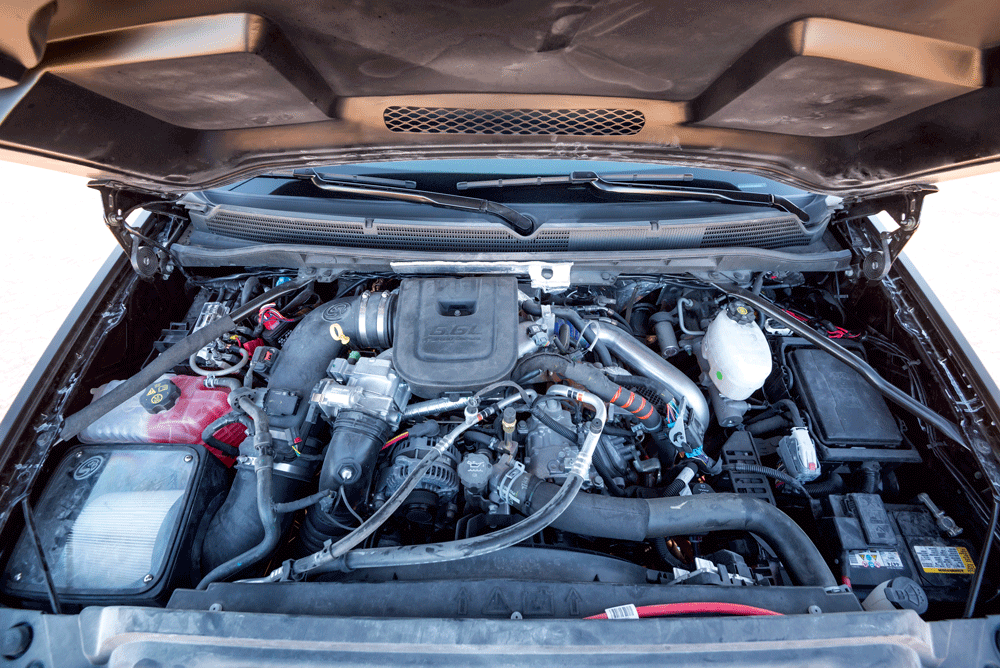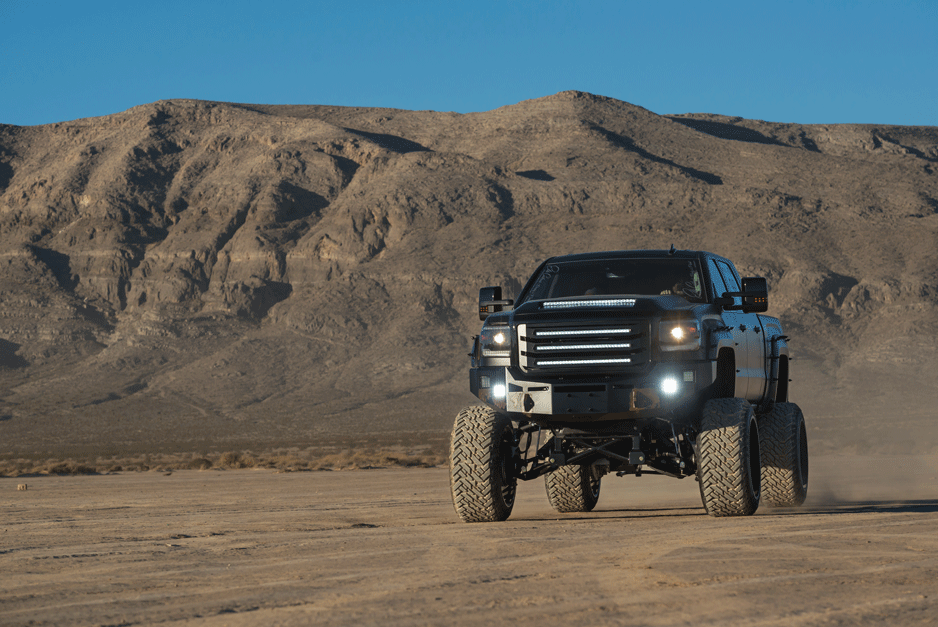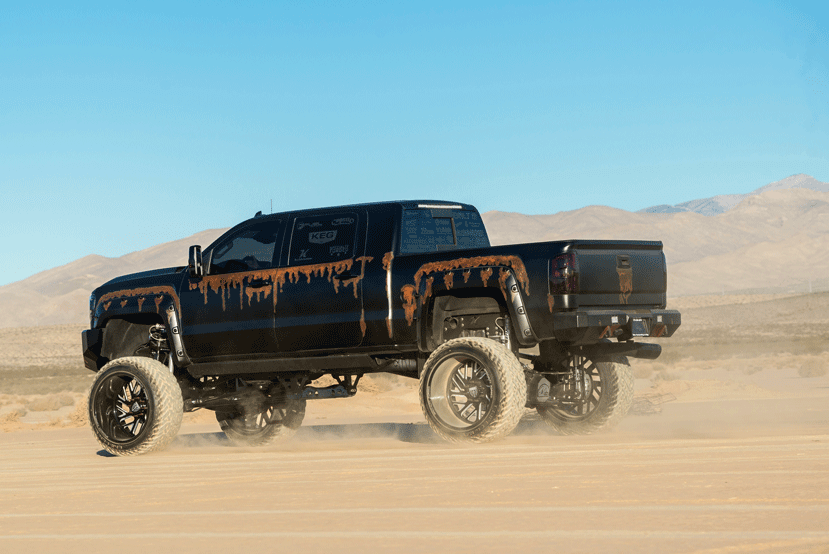 John "Mik" Mikalik, a GM/Chevy truck guy from Texas who has always loved the interior room available in the RAM Mega Cab trucks, dreamed up this crazy creation. This is Mik's first major custom truck build, so he reached out to a family friend for help. That friend was Robbie Bryant, owner of KEG Media.
SAWZALL BLADES GALORE
Bryant thought Mik was "mad crazy" to want to chop up a really nice brand-new truck to create this GMC Mega Cab Denali concept, and initially tried to talk him out of it. After fully understanding Mik's passion and resolve to see this build come to fruition, Bryant hopped on board and helped guide the project.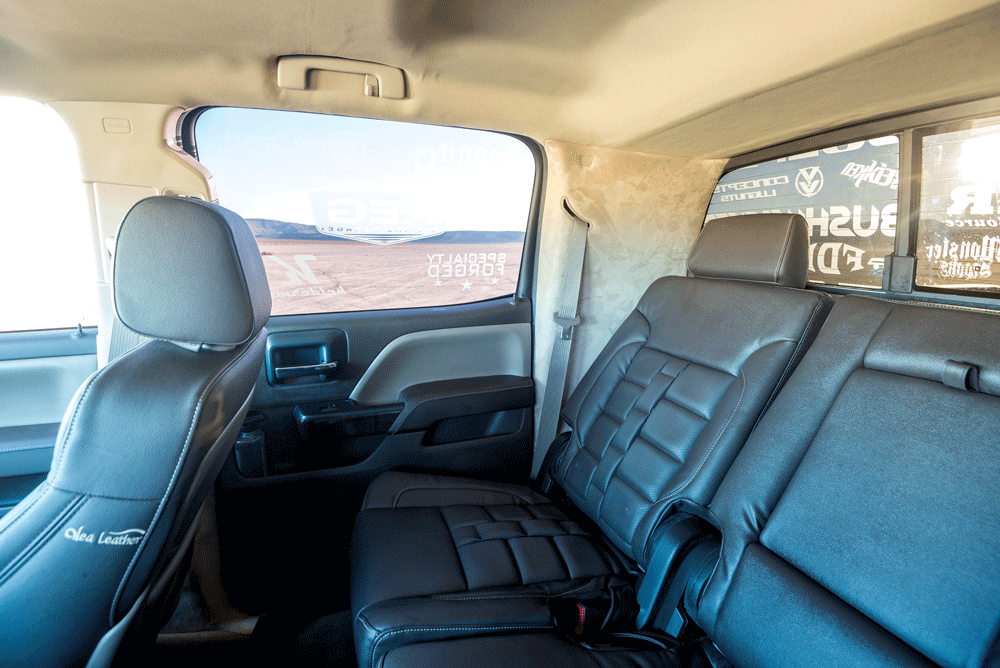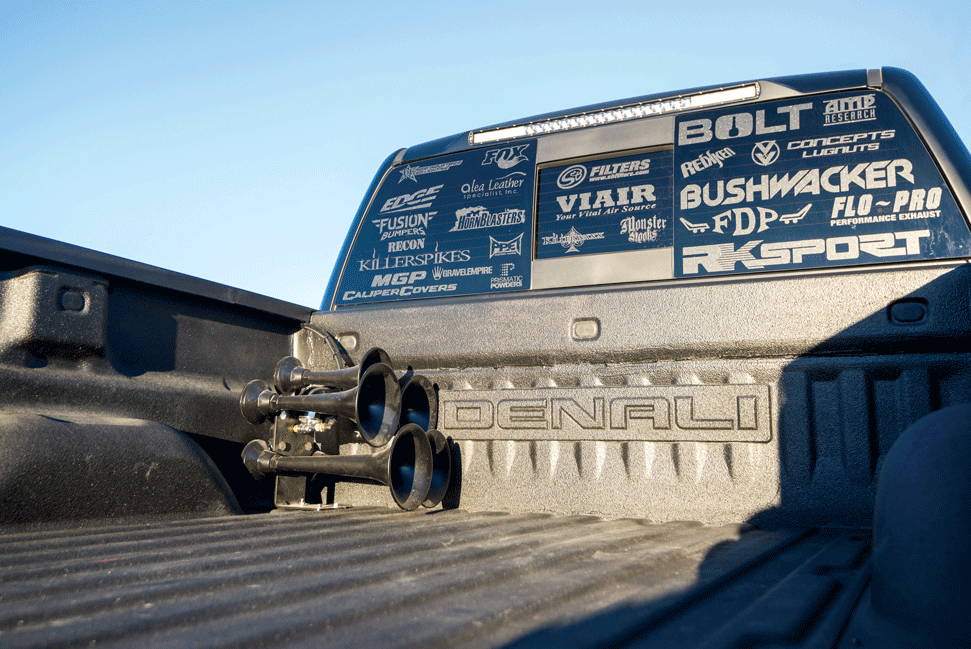 The MaddMax project was born with the "simple" Mega Cab concept, and it became so much more. The name came about quickly, and has nothing to do with the movie of the same name, as you might at first guess. It's a play on words, from Robbie Bryant's first reaction to the concept and the Duramax powerplant in the truck. A mad crazy Duramax, or MaddMax.
Bryant immediately recommended Jimmy at Elite Customs Body & Paint in Sparks, Nevada, for the job, as very few shops could pull off a build of this magnitude properly. The key to doing the job right was to create an OEM-looking truck body and bed, even though a large amount of custom work would be entailed to create the Mega Cab look. The cab was sectioned and stretched, and then the bed was sectioned and shortened, with the gas filler being relocated. When the sparks stopped flying and the welds were all cleaned up, a one-of-a-kind, factory-fresh-looking GMC Mega Cab Denali was born.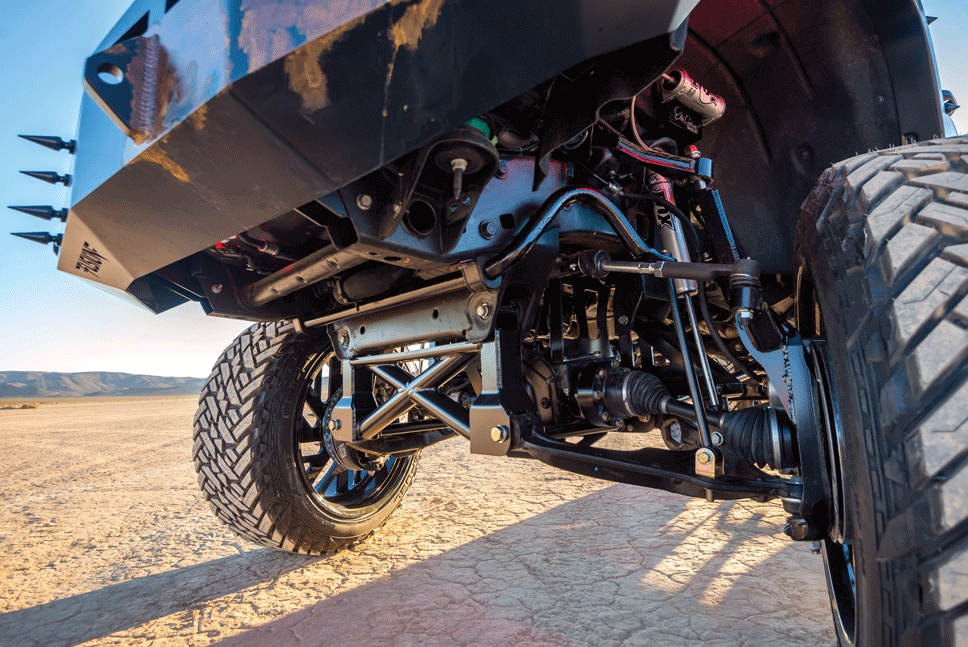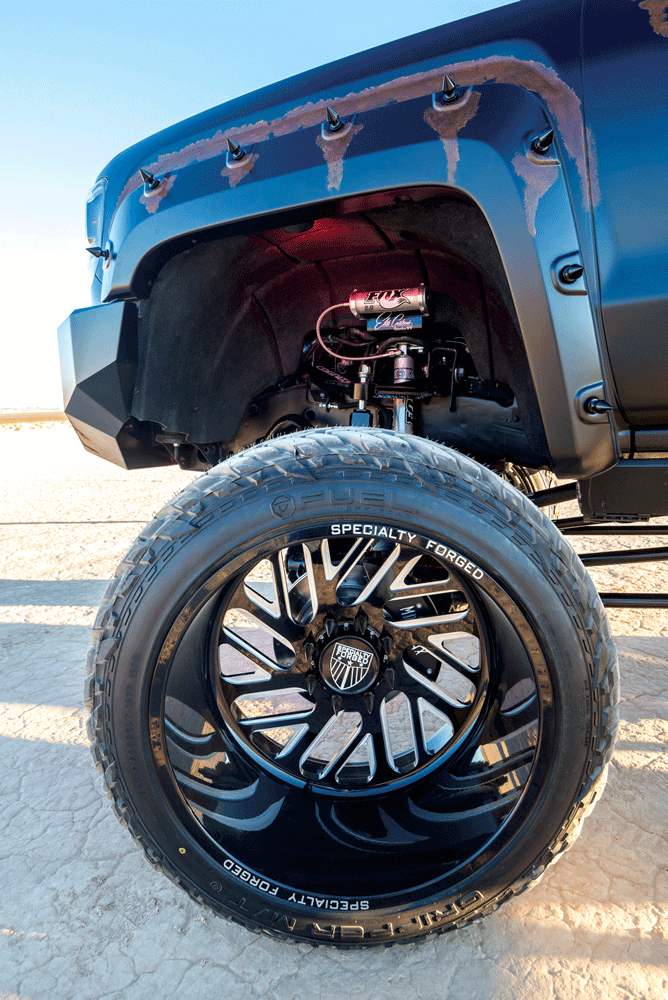 The custom GMC Mega Cab ended up providing over three inches more rear seat legroom than you'd find in the already expansive RAM Mega Cab. Second row seats out of a GMC Yukon were utilized for the rear seating to allow the seats to lean back, fold down, and flip up and out of the way. This setup provides a palatial rear seating area, fit for a king and queen, with plenty of room for the rest of the family as well.
SUSPENSION WORK
It took eight months of hard work to realize Mik's dream, with the build being completed just in time to debut in the Cognito Motorsports booth at SEMA 2015. The truck features a complete 10"-12" Cognito lift with Fox Performance remote-reservoir shocks and Kelderman rear air bags. The Cognito lift kit includes full suspension, driveline and steering upgrades, providing a smooth OEM-style ride and massive lift. That massive lift requires massive wheels and tires, like the Specialty Forged SF015 26×16 wheels, with VV Concepts Spike Lug Nuts, and Fuel Gripper MT 40 x 15.50 x 26 tires.
AESTHETICS
MaddMax has a mean, aggressive theme that's carried throughout the build. The look is accomplished with a custom matte-black paint job with rust-colored accents, black Monster Hooks hanging off the color-matched Fusion bumpers, blacked-out door handles, tinted windows, Bushwacker fender fl ares and Killer Spikes on the fenders, grille and bumpers. The nose of the truck is made even more aggressive with an array of Rigid Industries light bars,mounted in a custom Gravel Empire front grille and RK Sport hood. Besides the Rigid lights utilized throughout the build, there are also Recon/ Diode Dynamics headlights and taillights to help light the way and carry on the aggressive custom theme.
D-MAX
While the 6.6L Duramax puts out 395 hp and 765 lb-ft from the factory, MaddMax has turned up the power a bit using an EFI Live tuner with a custom tune by Flying Diesel Performance. A stealthy black Flo Pro Exhaust lets the big diesel breathe easy, while the stock 6-speed Allison 1000 automatic transmission sends the power to the wheels.
INSIDE THE BEAST
The interior of MaddMax is a good place to be, especially with all the extra volume created by the custom Mega Cab. To help passengers get into this lifted beast there are Amp Research powered drop-down side steps. Once inside, you get to enjoy custom Alea leather-covered seats, a suede headliner, US Speedo gauges, and even a roof-mounted flip down DVD/Video Screen for the rear seat passengers. The MaddMax branding is carried from the interior, on the backrests of the front seats, to the outside with branding on the MGP brake caliper covers and on the personalized Texas license plates.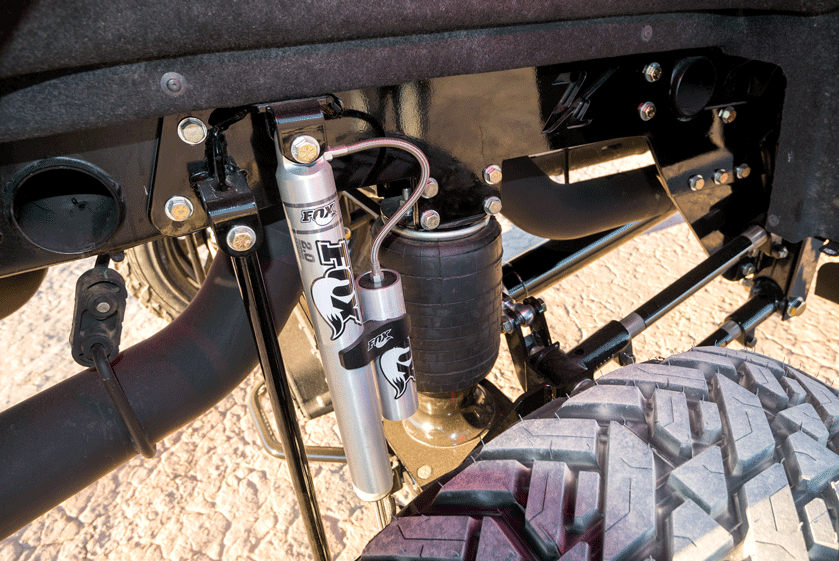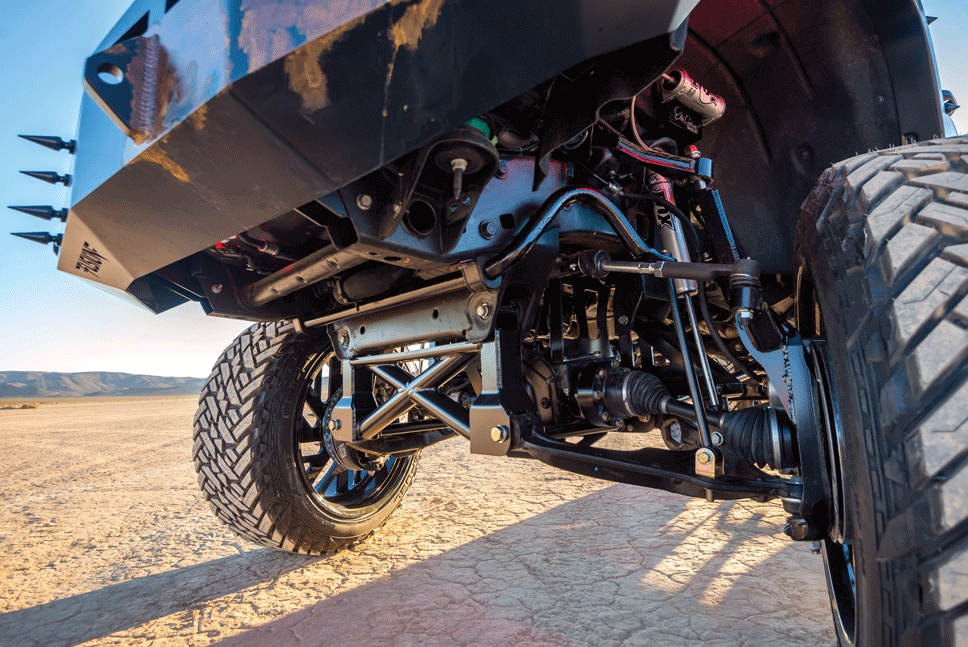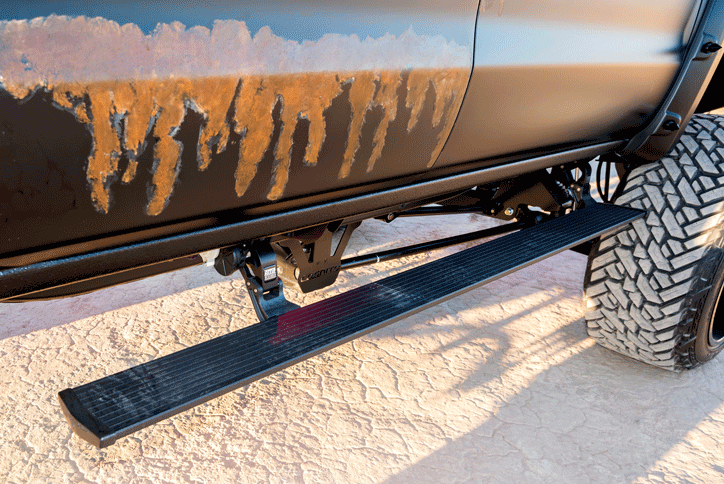 Not a whole lot has changed on this build since its debut at SEMA, but one glaring thing has: The faux rust and most of the spikes have been removed, creating a much more stealthy and clean look. MaddMax mostly lives its life as a show truck, making the rounds for KEG Media and Specialty Forged Wheels. It gets a ton of recognition wherever it goes, with first place awards like Heat Wave Best Truck, Battle in Bama Best in Show and Scrap In The Coast Most Radical Build.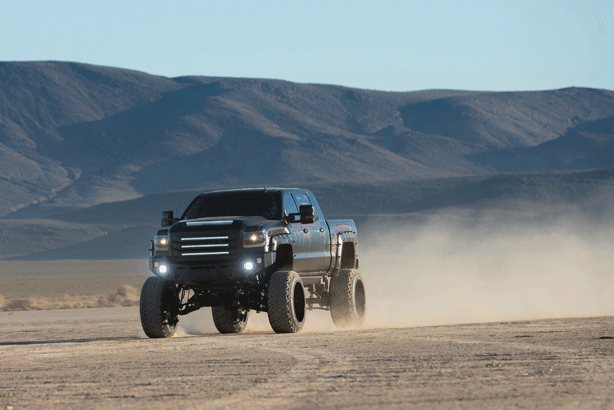 Mik is the humble and proud owner of this truly unique truck, and wants to send a huge thank you out to his wife Jessica and all the sponsors that helped bring MaddMax to life.
[divider]SPECIFICATIONS[/divider]
2015 GMC DENALI 2500HD 6.6L V8 DIESEL CREW CAB SHORT BOX 4X4
SUSPENSION: 2.5" remote reservoir Fox shocks, 10-12" Cognito Lift, Kelderman rear airbags
WHEELS/TIRES: Specialty Forged SF015 26"x 16" with VV Concepts Spike Lug Nuts / Fuel Gripper MT 40"x 15.50″ R26
INTERIOR: Alea leather seat covers, rear seats replaced with Yukon second row seats, suede headliner, US Speedo gauges, flip-down DVD video screen in headliner
APPEARANCE: RK Sport hood, Gravel Empire grille, Fusion bumpers, Bushwacker fender flares, Amp Research running boards, Killer Spikes on fenders/grille/bumper, blacked-out door handles, Recon/Diode Dynamics headlights/taillights, tinted windows, matte-black paint with rust accents, Monster Hooks, MGP brake caliper covers with "MADDMAX" logo
MISC: Rigid Industries auxiliary lighting, Reikken batteries, Flo Pro Exhaust, Horn Blasters Katrina Series air horn