What's in a name? Well, a rose by any other name would still smell as sweet, as Bill Shakespeare famously observed. On the other hand, sometimes a moniker aptly describes something, as in the case of Andrew Stover's "Plexus," a 2015 GMC Denali HD 3500 Dually. Even though he also used this term as label for his computer firm, plexus can refer to any complex structure with an intricate network of parts. Which is exactly what his Denali proved to be.
ALWAYS INNOVATING
As Preston Peebles of 5 Knights (the shop that handled this rig) notes: "The thing that stands out the most about this build would be the dual 50-inch Rigid curved LED light bars frenched into the roof." While it might seem to be a relatively simple addition, the plot thickens, to use yet another dramatic phrase.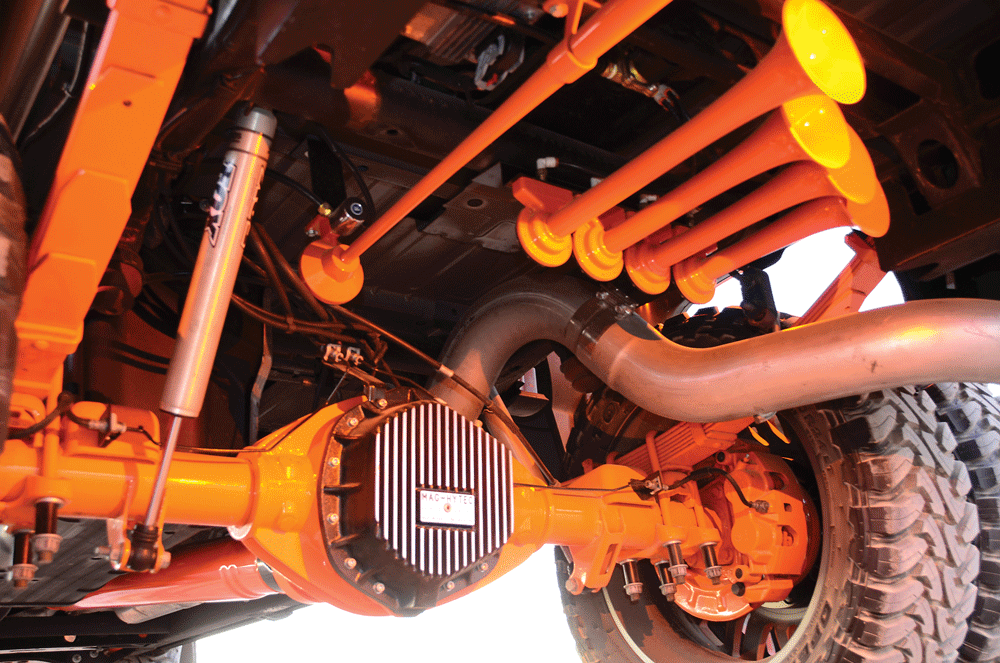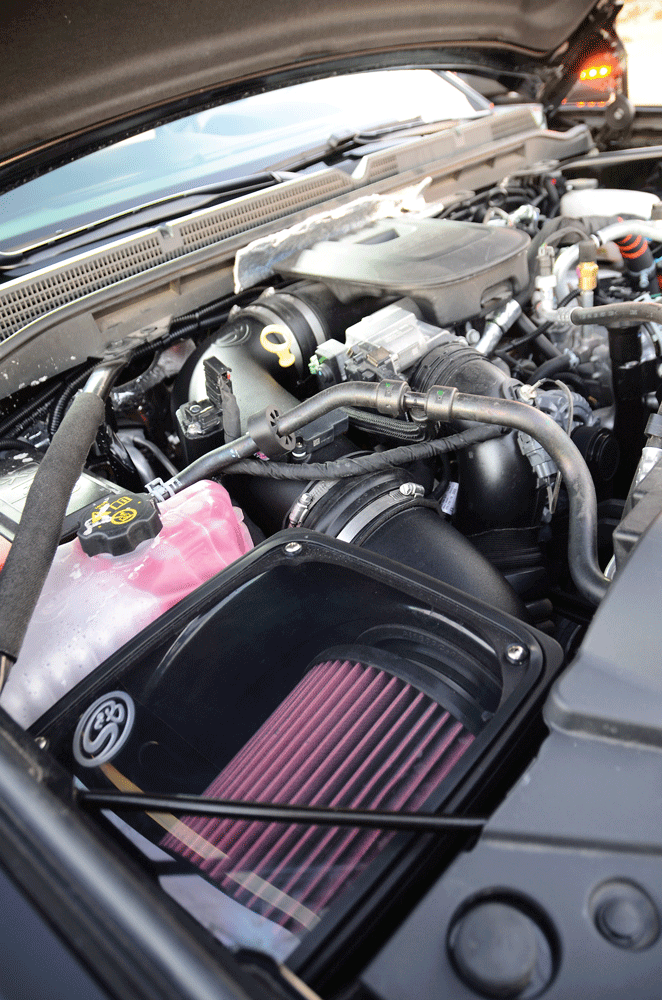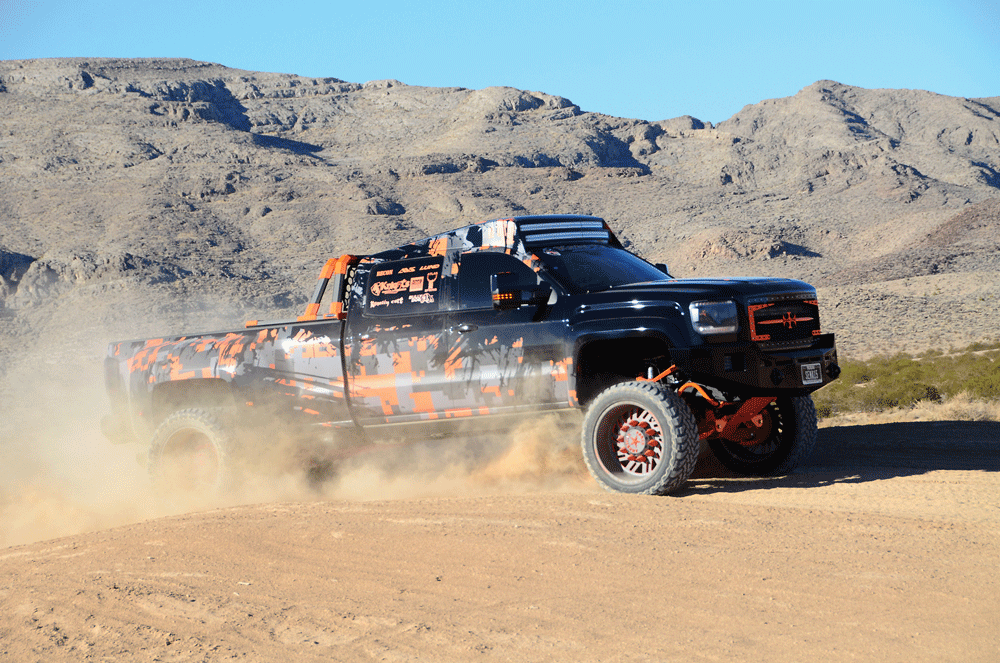 This idea for raising the roof came about one March 2015 Saturday morning at a local car show in Lubbock, Texas, during a conversation among three members of 5 Knights: Aaron Kennemur (owner), Preston Peebles (general manager), and Jesse Palacios (lead tech). While they were discussing various specs for Stover's buildup, the subject of roofmount light bars came up, along with related issues about the intensity of West Texas winds and the noise inevitably created by a traditional mounting method.
Realizing something different was needed, they had a rendering drawn up by KEG Media to help visualize the desired look. Sounds simple enough, but sometimes "the best-laid plans… oft go awry."
SECOND STORY
Okay, enough of the literary quotes. How did the project go down? After the truck was dropped off in late August of last year, the balance of the build went smoothly. The roof, on the other hand, was a project all of its own.
"Our goal was to build basically a false roof, allowing the inside of the truck to maintain the factory interior, not to mention saving a bunch of time and money," Peebles recalls. "We had the customer order the truck with a sunroof, allowing a way to service the lights and creating an extra-cool storage space."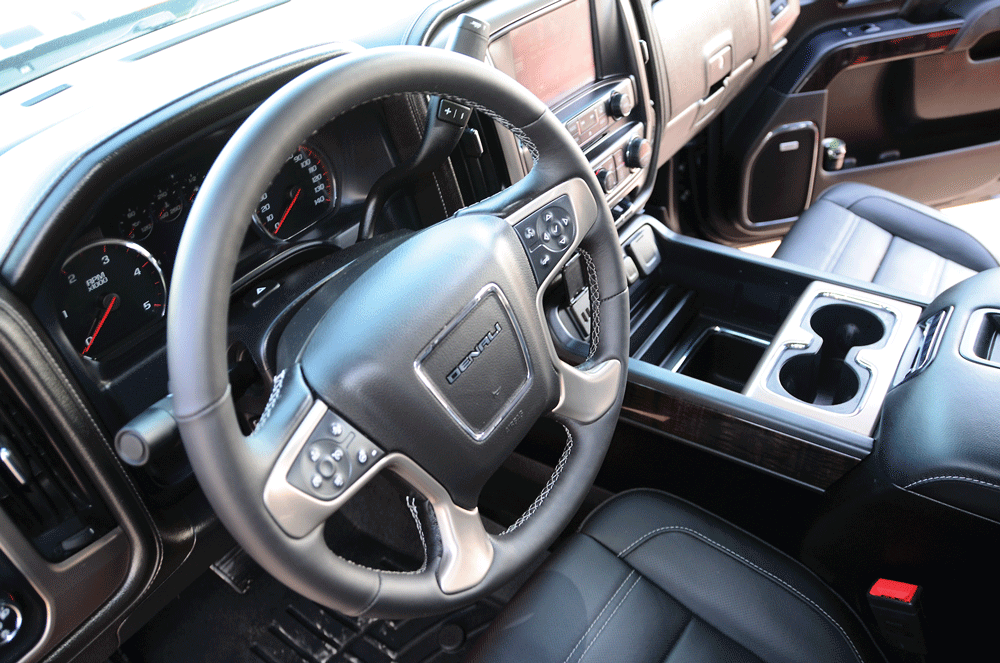 Truth be told, though, the process of actually building this roof light bar setup was a stressful one. As they were mocking up the ceiling addition, before they knew it, "We had this ugly, two-foottall, mohawk-shaped, Frankenstein-looking piece on the top of this brand-new truck." Sheesh! Right idea, flawed execution.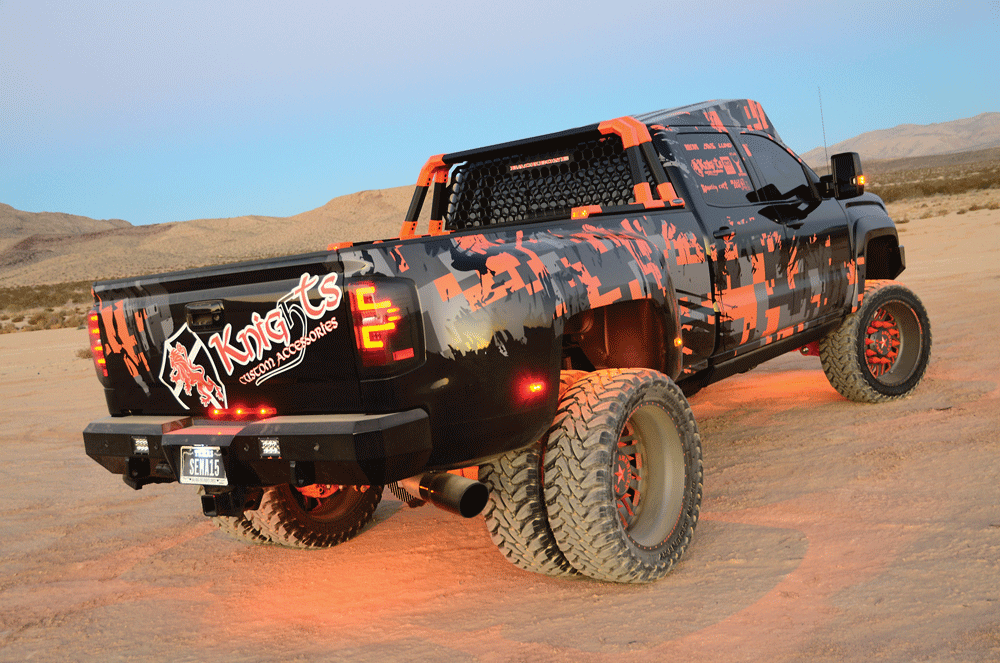 Aesthetics aside, worse yet, the 5 Knights were also a little concerned with making it all fit. While the rendering looked great, there's often a big difference between computer drawings and real life. Originally the crew planned for the top line to have an inverted bow or curve, but found it made the roof a little too tall, which they were trying to avoid. Also, it looked much better for the lines of the new roof to match the curve of the existing roof.
To keep the height down the crew bounced around the idea of switching to just one light bar rather than two. Stover was firm in his resolve, however, about keeping the original dual-row setup. "Looking back on it," Peebles admits, "I'm glad he was."
After some head scratching, knuckle scraping, and tedious trial-and-error fitment, the guys in the shop finally got the overall shape figured out, and the roof progressed nicely and began to take on a pretty mean, monstrous look.
"Everyone who came by the shop seemed to dig it," Peebles says he thought to himself. "But we figured this is going to be one of those trucks that people either love or hate." Luckily, it received much more love than hate, and anyway they figured if you're not building stuff that ruffles some feathers, then you're not doing it right.
JUST RIGHT
The mechanical upgrades, as with many of the trucks 5 Knights builds, were made to preserve the truck as a fairly practical driver. There's not a really huge lift considering the already high profile of the roof, but a 6.5-inch system from BDS Suspension, combined with the Zone Offroad 3" Kit, Atlas Springs, and Fox shocks. This all made for a great dailydriven height with a smooth ride. On each side, an AMP Research PowerStep helps bridge the gap from ground to cab.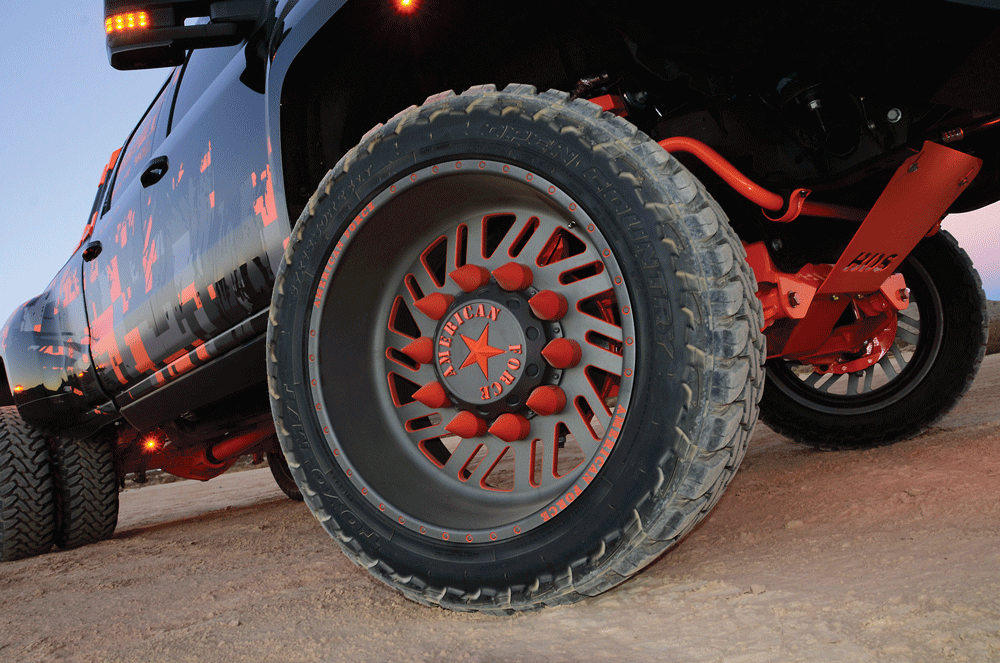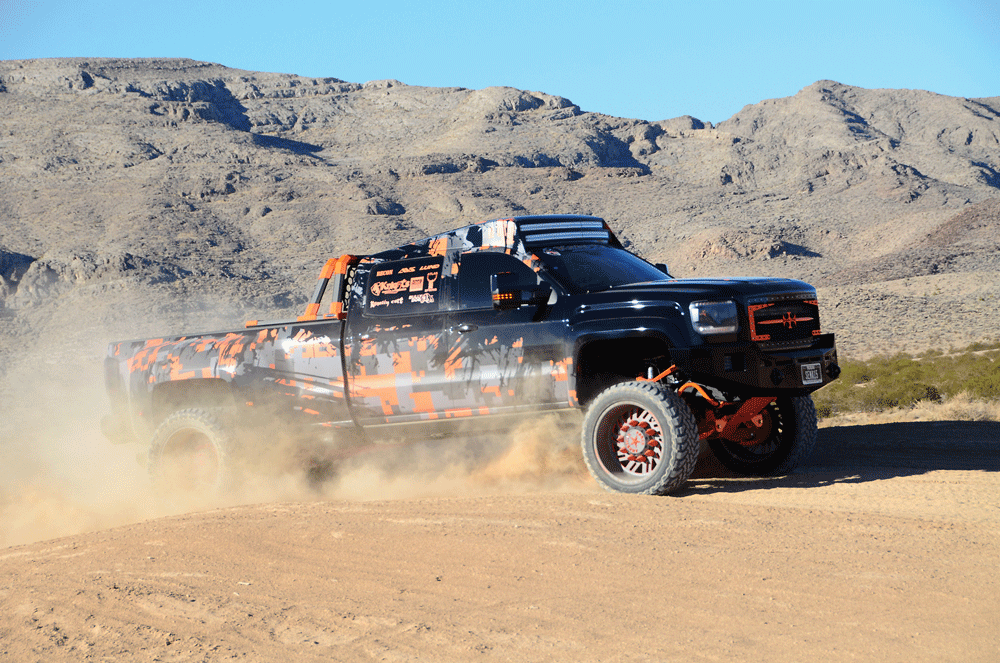 Partnering once again with American Force, 5 Knights threw on a set of 24-inch Super Dually Series wheels that were custom painted in-house. "That was a chore," Peebles admits, "but was a great way to accent the orange on the truck."
Another approach that gives all of the shop's builds a super-clean, flawless look is to install Fusion bumpers, which also accommodate Rigid Industries Q-Series LEDs. Keeping with that style, Royalty Core grilles and Back Bone Truck Racks were an ideal fit for this build.
THE ROAD AHEAD
Lamps from Rigid Industries light up this rig: It has the brilliantly obvious double-stacked 50-inch RDS bars on the roof as well as a 40-incher tucked away behind the Royalty Core grille, a pair of Q-Series in the front bumper, a pair of 4-inch E-Series in the rear bumper, and six Amber A-Series rock light kits underneath the truck. Custom build headlights from 5 Knights include colorshift DRLs, colorshift Demon Eyes, and the 5 Knights shield logo lit up in the markers and turn signals for some extra flair. This pickup could illuminate a rock concert at midnight in the middle of the desert.
For more performance, 5 Knights also fitted the engine with an S&B Intake, which is carefully designed to keep out engine-damaging dust and debris. A Bully Dog GT Platinum Programmer optimizes the torque and horsepower levels, along with providing an array of engine parameters and drivetrain functionality. Last, a Flo-Pro 5-inch performance exhaust with specially designed flares and clamps improves the engine discharge. What's the net effect?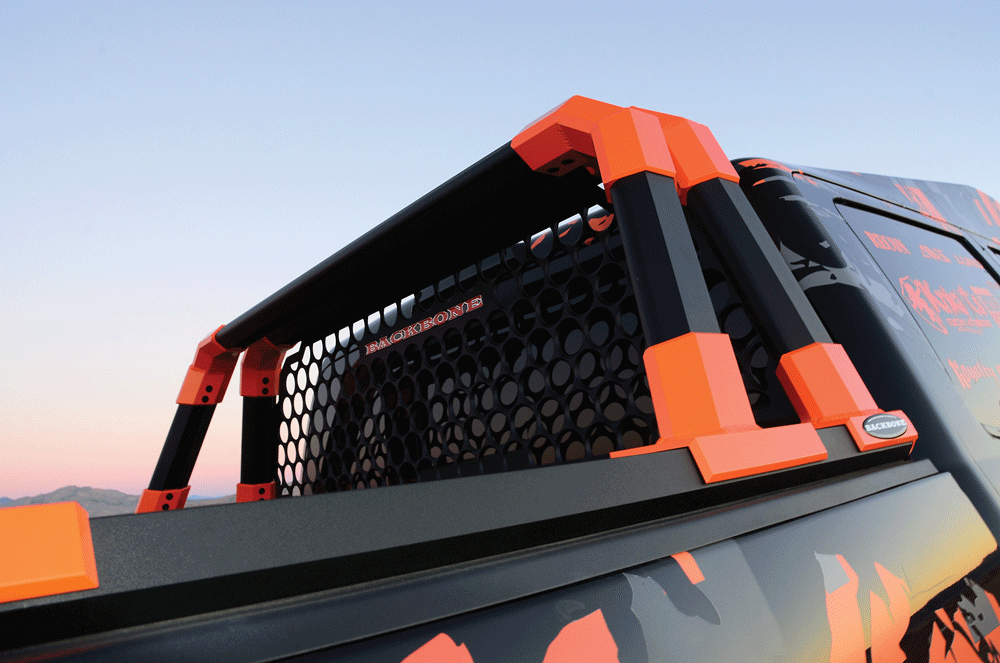 "Driving this truck is an experience," Peebles exclaims. "Not only do you have multiple buttons and controllers to push for lighting, you have multiple horn buttons to blast two separate HornBlasters train horn kits. One being the unique sounding tug horn and the other being the four trumpet conductor's special."
You can not only hear this rig acomin', but also can't miss the custom vinyl wrap. It was originally going to be a solid digital camo wrap. But after some conversations with the truck's owner and almost going a totally different direction, they ended up with the black, orange, and gray torn digital camo look.
"The guys at Wrapvision.com really spent some time perfecting the design," Peebles says. "It helped bring out the modifications that we had done at 5 Knights, plus accent the suspension, wheels and other parts."
There's a bittersweet ending to the story of this project, though. As striking as Andy Stover's truck turned out, it would ultimately be his last project, since he passed away unexpectedly in January 2015. He was very proud of Plexus, as it fittingly showed off his passion as a car and truck enthusiast. Everyone at 5 Knights was saddened with the news of Andy's passing. "He was an energetic and fun guy to be around and always had something interesting to say when he came into the shop," Peebles notes. "We want the Project Plexus build to be in memory of Andy Stover, as an example of how he lived." DW
[divider]SOURCE[/divider]