Whoever once said, "You can't get there from here" never met Tiger Garcia. You see, he figured out a way to reach a new height with a 2016 Ford F-450 that's probably never been done before.
What prompted such a unique project? "This specialized build was for a loyal customer and my good friend, James Navarro," Tiger explains. "James was one of our first customers, and has always liked to "go big" with his builds. But this time he wanted to go even bigger."
Given that James has done seven or so different trucks with Tiger's shop, Go Big Truck Performance, this one had to top them all. "Our goal was to build a truck that you wouldn't typically run across in your daily commute," he says. Also, since he's a paver by profession, and bulked up from lifting a lot of stones, he wanted "A big truck for a big guy." (Ironically, he used to be into lowriders, but now feels there a lot more positives with a lifted diesel truck—"In the construction business can't make money with a low rider!")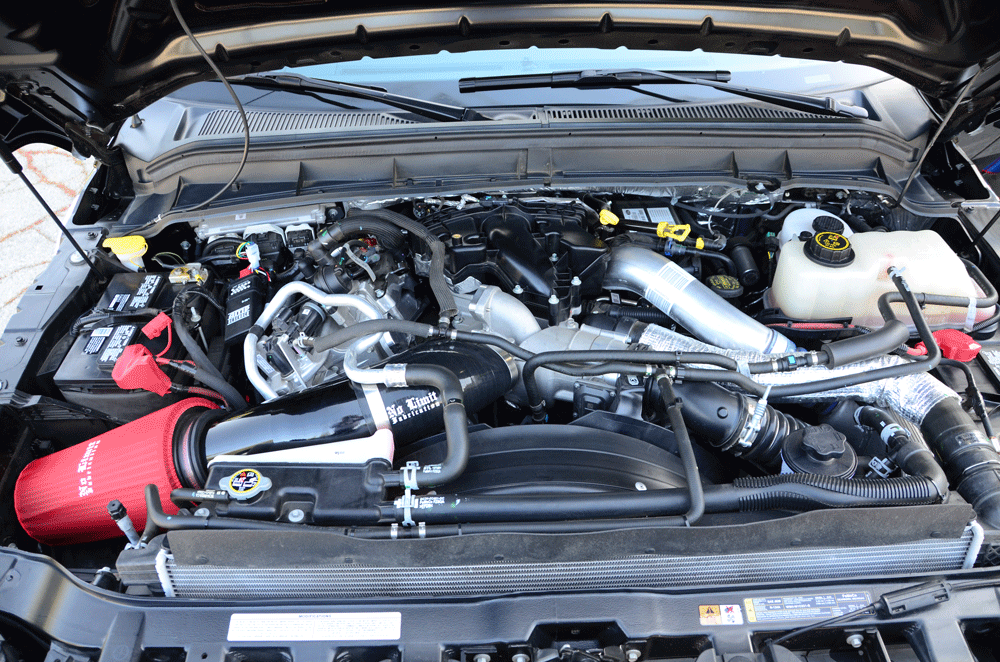 Tiger's extra efforts for James' rig shouldn't come as a surprise, since he's earned his stripes over the years by showing a willingness to take risks. Before founding Go Big, he had 20 some years of experience modifying suspensions and related mechanical work. But he grew weary working for somebody else, and yearned to his own boss. It all came to a head during a game of basketball with his daughters. They challenged him to make a half-court shot, and he hit it all-net. That became a turning point for him. He realized that life is all about taking those long shots, and that's what he went for with James' F-450.
Big 8 Inch
Unaware of any bolt-on 8-inch kits for a F450, Tiger decided to do things a bit differently with this Ford. Since suspension is his specialty he decided to use multiple parts from different kits in order to get the 8-inches of lift he was after. A sort of best-of-the-best collection.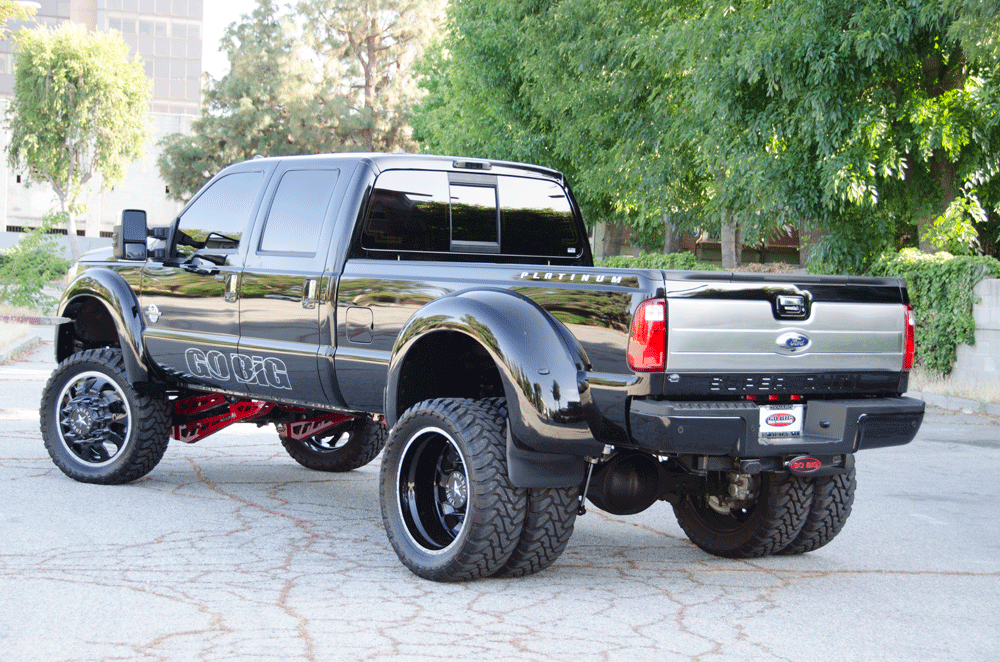 He knew that the McGaughys four-link arms would bolt right into the front of the frame. The shock setup was not so easy, though. Icon's Coilover Shock Hoops are for F-250/350's. On the passenger side, the hoop went on just fine, but due to some dimensional differences of the F-450's frame on the driver side, the front of the hoop had to be cut off and re-angled to fit properly. And that was just the beginning of all the customizing. With that done, he was able to fit on a set of Omega Double Bypass shocks side by side with the coilovers. Finishing off the front are dual Icon 2.0 Reservoir Steering Stabilizers. But they proved to be a challenge as well. "We thought the mounting bracket would bolt right on," Tiger notes. "But once installed, we realized the bracket was too wide, and made the shocks bottom out too fast, which limited turning." So his crew cut out the center of it and made a narrower bracket to get full turning radius back. In addition, to keep the steering angles correct, they inserted a longer Pitman arm from Fabtech in order to lower the drag link. That way it has same angle as track bar which minimizes bump steer.
Out Back
As for the rear, it required a lot of head-scratching and customizing as well. The McGaughys Traction Bars are also for F-250/350's, because once again nobody makes them for the F-450. The challenge was that the axle is round on the F-250/350, while it's square on the F-450. Tiger's shop was able to use the front side of the rear axle mount and bolt it up, but had to weld on tabs to fit it on square axle, so it all looks factory.
In addition, while the lifting blocks from McGaughys were the right size, the U-shaped bolts securing them wouldn't fit snugly on the squared-off edges of the axle (kinda like trying to put a square peg in a round hole). Solution? Heavy-duty U-bolts from Franklin Truck Parts, a supplier of products for semis. These bolts exactly aligned with the box shape of the axle.
As at the front, the rear rides on Omega Double Bypass shocks that dampen jounce for a soft, smooth ride even when running empty. Tiger likes these units because, "They have adjustable knobs for both compression and rebound." But getting all the parts to fit isn't the whole story, since this setup was all new and untested, heading into uncharted territory. But like we said at the outset, Tiger didn't know the meaning about not being able to get there from here. It took a few days of testing and tweaking to make sure they all functioned in concert, with no bumps or binding.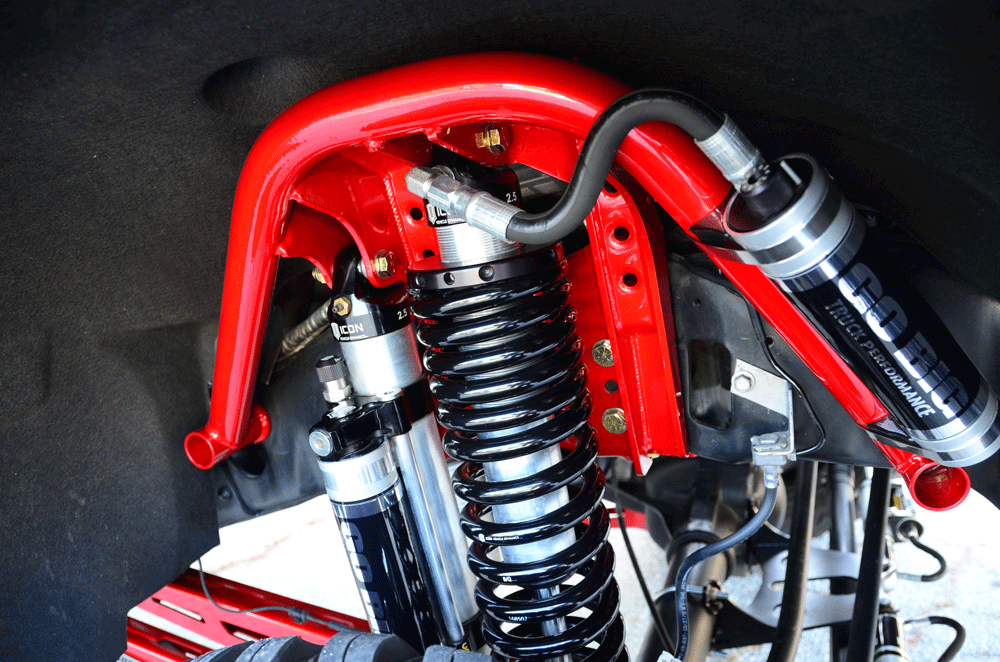 "We weren't sure how it would all work," he admits. "But we kept cycling our steering, checking clearances and ride height, along with the stance on the ground, until we were happy with all the angles." Once done, the truck went back on the rack and the suspension was disassembled so it could be sent out for powder coating. All told, the entire suspension setup took about a week's worth of wrenching, with help from Tiger's dad, Ray Garcia, and Corey Guetter.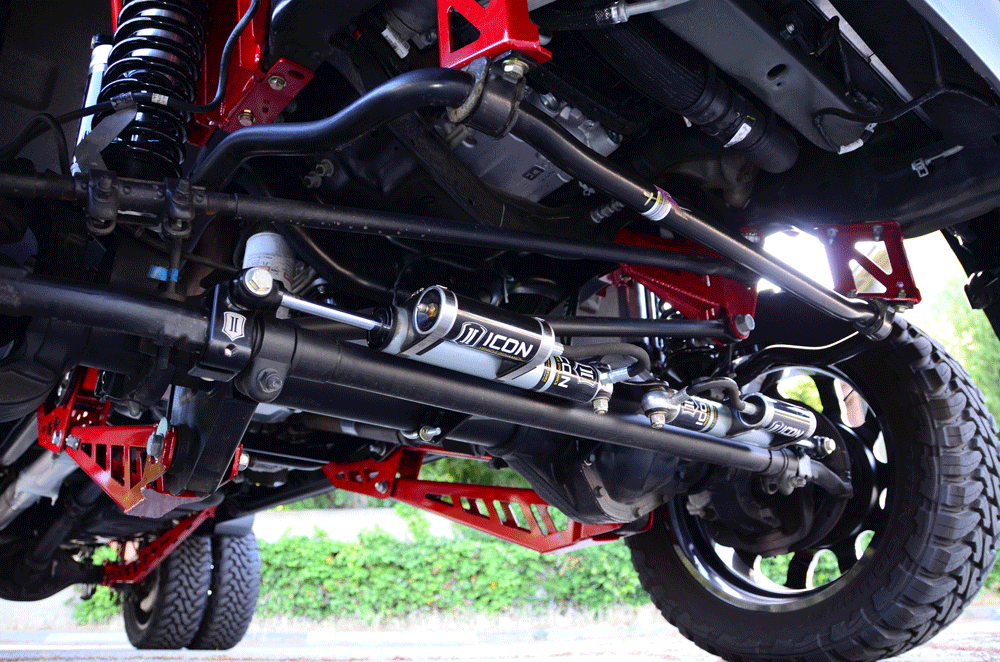 Paint and Powder
James chose candy-red powder coating because, simply, "I wanted it to really pop." (Which sometimes raises eyebrows with his customers, who usually expect a plain-vanilla work truck to pull up at the job site.) But he didn't go crazy with color choices either, since he handles high-end jobs for SoCal celebs and pro athletes, which requires some restraint and artistic judgment. "I'm big on balance," he notes. "It can't stick out like a sore thumb." Just like his hardscape projects, he looks at his truck like art. "Every job is different," he adds. "You need a good eye, as it has to look right and everything has to complement and look balanced. You don't want to overdo things."
So when it came to the rims, Tiger and Navarro went the extra distance to create that same effect. For rolling stock, Navarro started out with American Force rims (24 x 8.25 inches) wrapped with Toyo Open Country M/T tires (35 x 13.50R24). The American force wheels were then all polished, but "We wanted to black out the wheels but leave the edges and windows polished," Tiger points out. "Gas Powder Coating did it perfectly for us. It's rare to find certain sections powder coated next to polished aluminum edges, and it turned out nicer than the paint job than on the truck."
6.7L Power Stroke
As noted, Navarro hauls a lot of heavy loads with his F-450, so he enhanced the turbocharged 6.7L Power Stroke with some upgrades. For better airflow both in and out, there's an intake from No Limit Fabrication, and a FLO-PRO 5-inch turbo-back exhaust and muffler, finished off with six-inch tip from MBRP. Optimizing the engine management is a programmer from SCT, which can go from econo to tow mode to a full race tune for competition use. While Navarro hasn't hit the track with that setting, dyno testing indicates the output can be dialed up well over 520 hp, and 1000 lb/ft of torque. An Edge Insight CTS2 monitors vitals such as EGT, boost, trans temp, and other engine data.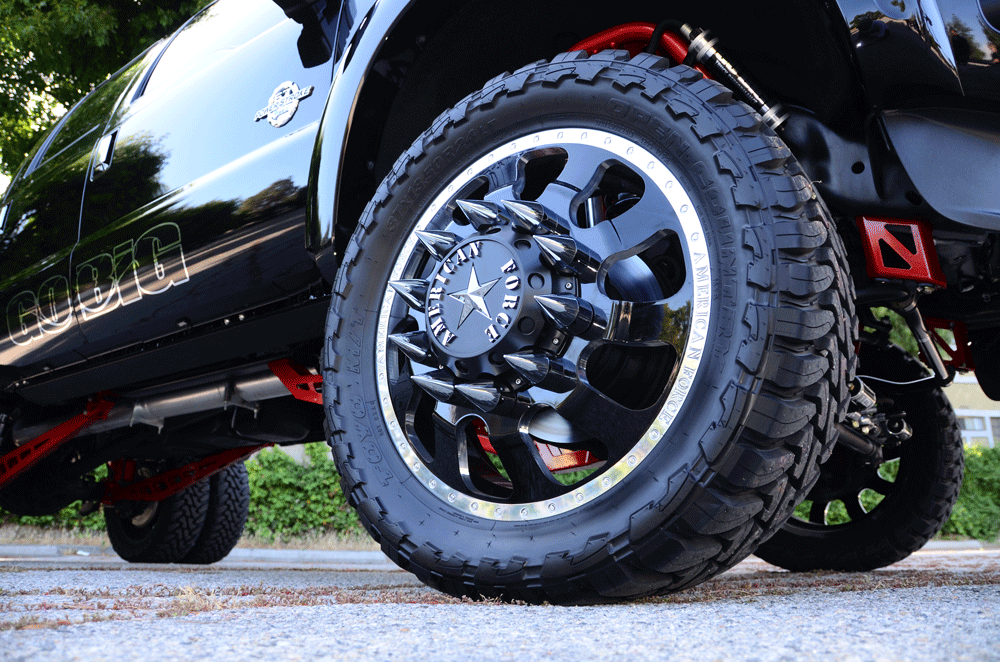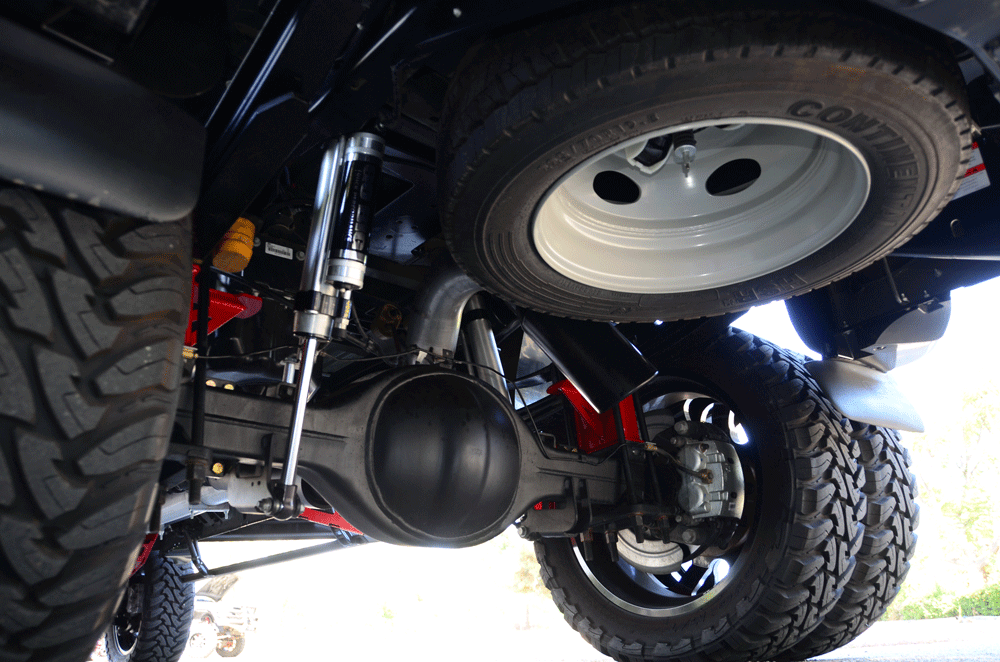 Even though the Platinum version of the Ford F-450 comes straight from the factory with a primo level of trim, Navarro isn't done yet. He plans to have Tiger add matching Fusion bumpers with integral lights, and also have a diff cover custom fabbed and powdercoated in candy red, to match the suspension. "I wouldn't have anybody else touch my truck," he insists. No problem, as you can bet that Go Big won't settle for going home on this rig. When all is said and done, size matters. And so do those long shots. DW
SOURCE:
Go Big Truck Performance, Inc.
805.650.6169
GoBigTruckPerformance.com