Country Cuties And Their Rides
Thanks to the overwhelming response from last year's "Girls Gone Diesel" section, which debuted in our February 2013 issue, this year's Girls Gone Diesel section is bigger and better than ever.
The idea behind the section is that there are a whole lot of gals out there who own, drive and customize their diesels. These girls are just as passionate about their trucks as the guys are and aren't afraid to use them for both work and play. To highlight their accomplishments, and try and capture some of that passion, we created the Girls Gone Diesel section in the magazine.
We put out "casting calls" on both our website and Facebook page,and provided a written invite a few months back in the magazine. And this year's response was overwhelming.
If you'd like to be a part of next year's Girls Gone Diesel section, here's how. First, send us high-quality photos of both you and your truck, including a couple of close-ups of yourself. Use what you see here in the magazine as a guide. Next, we'll need some basic information on you such as age, hometown and why you got into diesels in the first place. We'll also need full info on your truck and the modifications you've done to it, along with some info on what you do with your truck. Send your info to our Editor at kwilson@beckett.com and we'll go from there.
Caitlin Aiken
2001 Ford F-350 Power Stroke
Steve Day Photography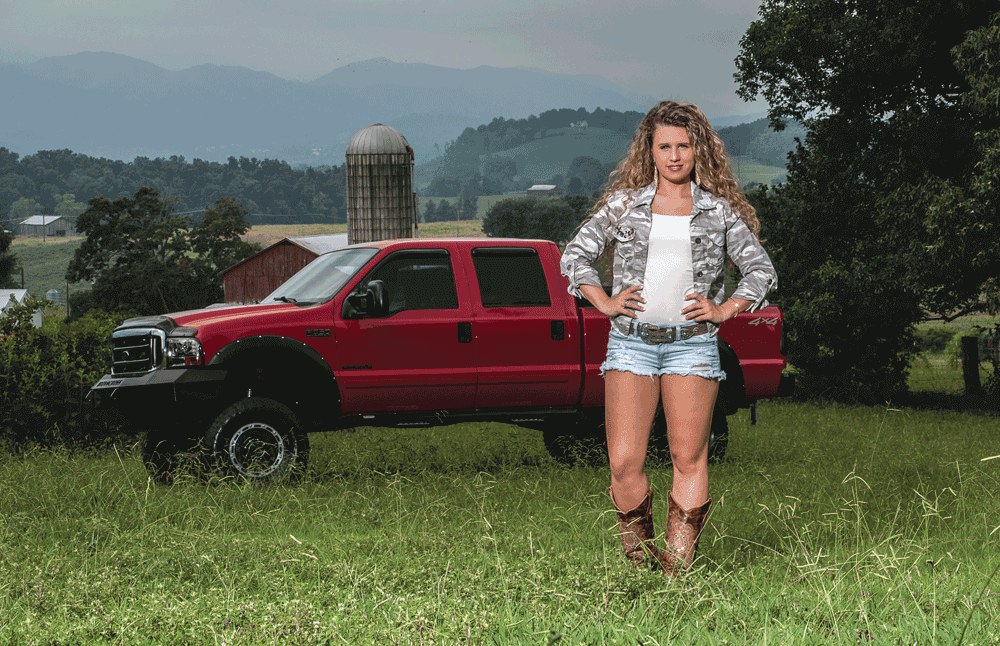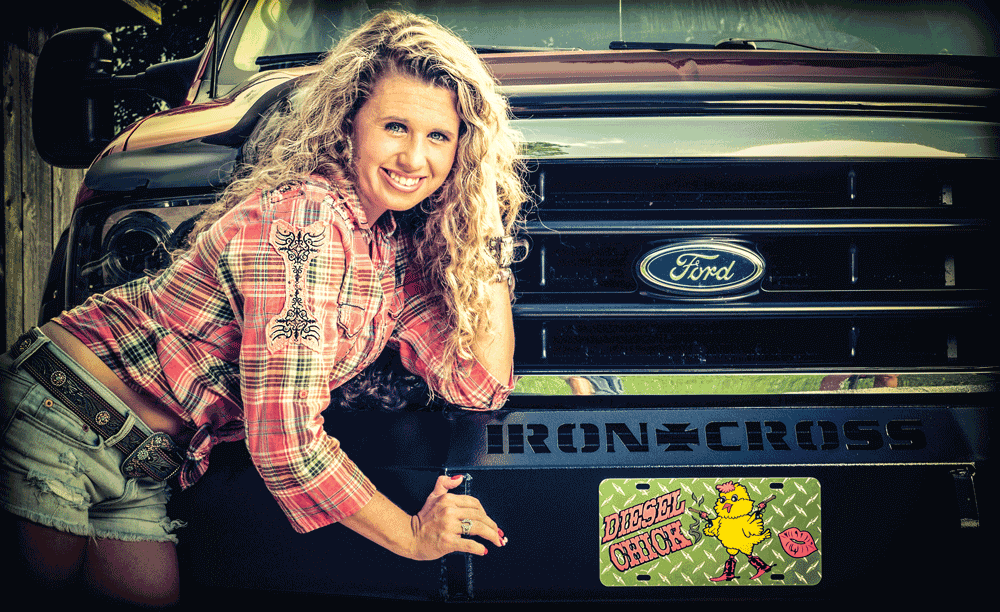 Do little girls dream about owning diesels? You bet. Just ask Caitlin Aiken of Limestone, Tennessee. Not only is she the proud owner of a 2001-F-350 with a 7.3L Power Stroke, she's also the founder of the Diesel Chick website and Facebook page. "We're a group of girls all sharing the same love and passion for diesels while trying to encourage other ladies to do the same," Caitlin added.
And her Super Duty is also as good as any built by the guys. The truck sports a Rough Country suspension, 35-inch Nitto Terra Grapplers mounted on 16-inch Eagle Alloy wheels and Bushwacker fender flares. Iron Cross Automotive bumpers are mounted front and rear with a Mile Marker winch mounted up front. Power comes from a TS Performance six-position chip while entertainment is courtesy of a full Rockford Fosgate sound system.
Unique touches include HIDs, Iron Cross side steps, pink underbody lighting by FireWire and FireWire lighted Diesel Chick doorsills. Caitlin also wanted to thank sponsors Iron Cross Automotive, Bushwacker, Mile Marker Winch, Rough Country Suspension, All HIDs and FireWire LEDs.
Katie Pajestka
2003 GMC Duramax
Jake Martin Photography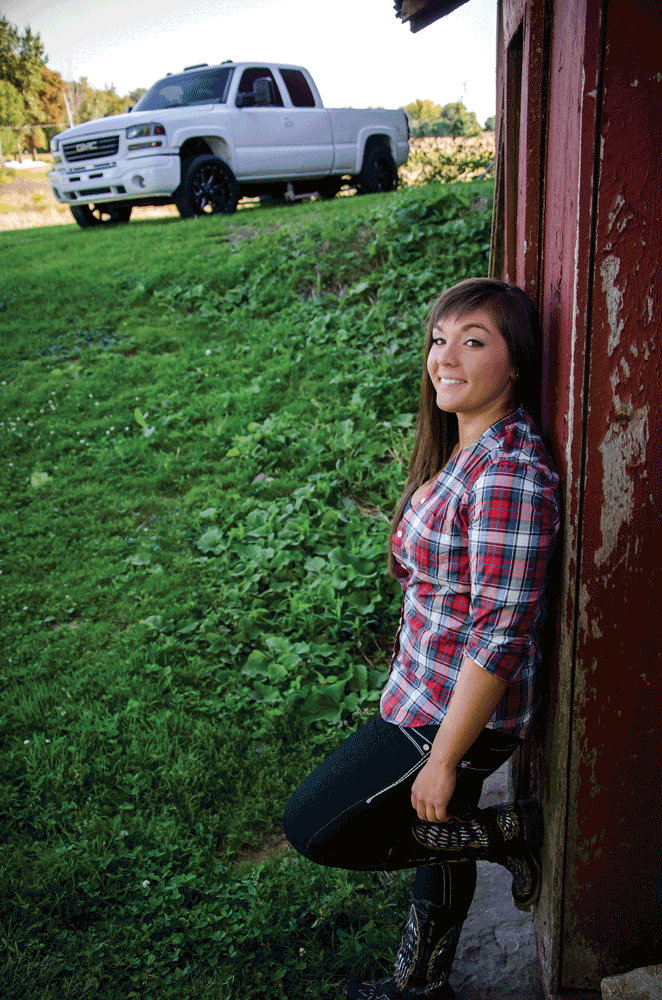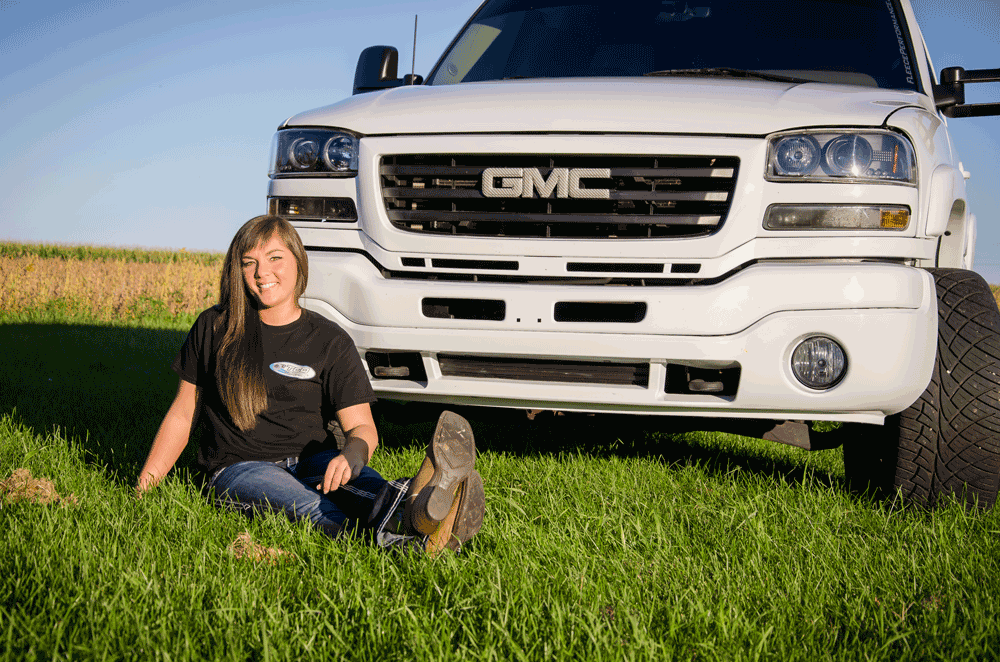 A regular on the Midwest diesel scene, Katie bought her first diesel at the age of 18, which was a 2005 Dodge Cummins. A year later, she "fell in love with the Duramax engine" and picked up her 2003 GMC. Since then, her GMC has been a labor of love. "I love horsepower and challenging myself with new projects," the Cortland, Ohio, resident admitted. She's currently working on a mechanical engineering degree when not working on the truck.
The D-Max LB7 has EFI Live tuning via Kory Willis and a DSP5 switch. A FASS 150 fuel system provides clean diesel to the CP3. An S&B intake and cool carbon fiber white stack provide added breathing. To hold the added horsepower and torque, the truck is fitted with a PPE Stage 4 transmission fitted with an ATS 5-Star torque converter, which was built by TCD Performance, who also added a deep-sump pan and upgraded lines from Alligator Performance. The trans is activated via a Fleece Performance tap shifter. Future mods include a new BorgWarner turbo, ARP head studs, 60-percent over injectors and an ATS dual CP3 system.
The white GMC has been lowered 3 inches and rolls on 305/50/20 Nitto 420s wrapped around 20×10-inch Fuel Mavericks. Custom Flight Fab traction bars keep the rear wheels planted while a steel roll pan replaces the stock bumper. Additional mods include All HIDs lighting, black housing projector headlights, color-matched front end and custom OldSkoolFab hydro-dipped emblems.
Kelsie Epp
2003 Chevy Duramax/2005 Chevy Duramax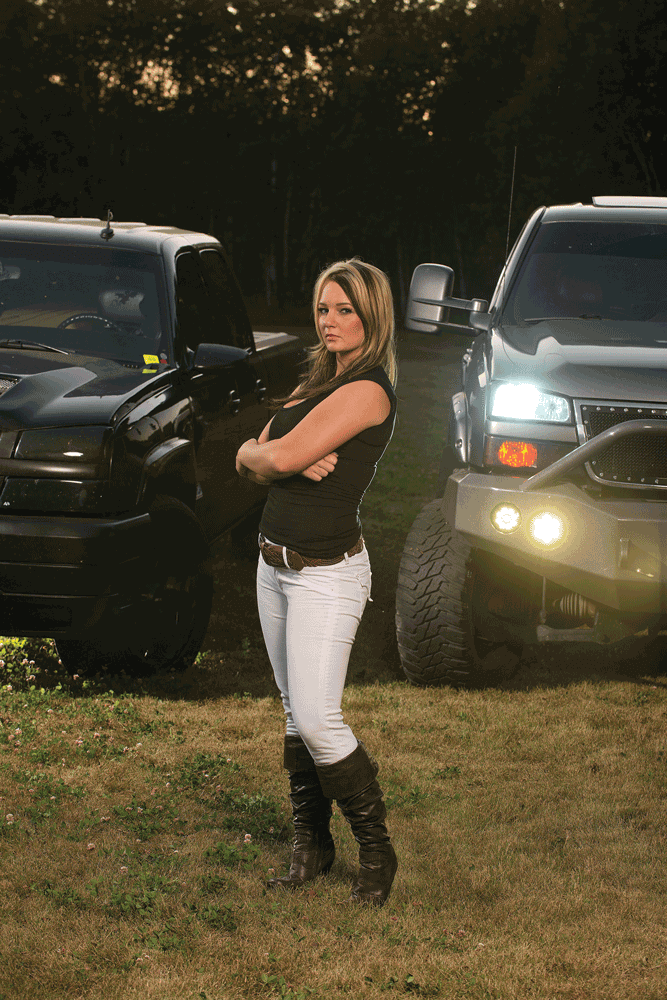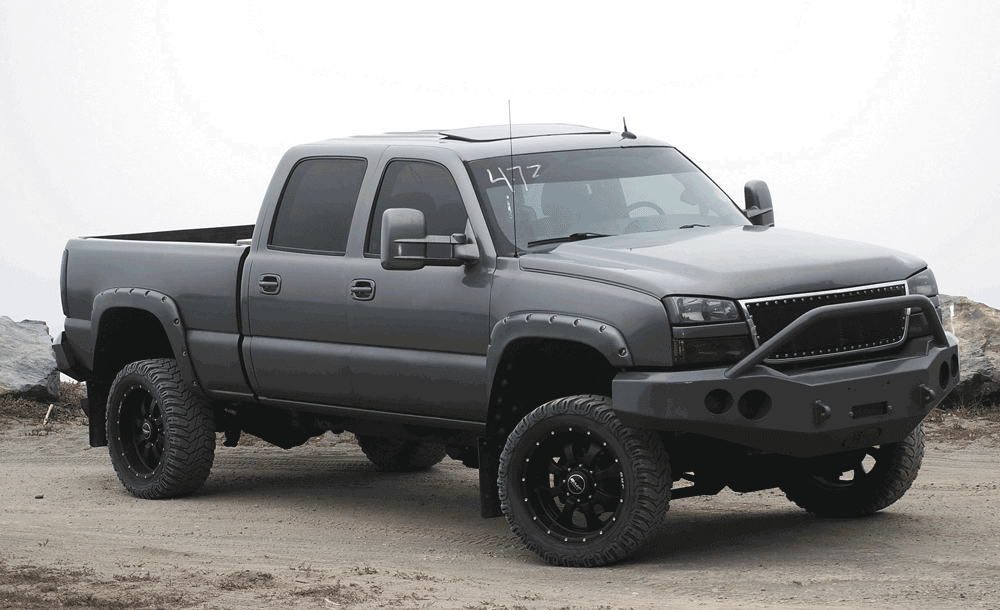 Yep, you read it right, the 24-year-old Northern Alberta, Canada, resident owns two GM diesels. A power engineer and contract operating company owner, Kelsie tells us she got into diesels at a very young age, buying the 2003 D-Max from her grandparents.
"I basically live, eat and sleep diesel motorsports," Kelsie admits. "I got into the industry five years ago and it's become a lifestyle tradition as well as a total passion for me."
The black "Maxx" as it's known competed in the NHRDA Sportsman class for several years and has won many burnout titles as well. It features Rob Coddens EFI Live tuning and a huge laundry list of performance goodies such as 60-horse Industrial Injection injectors, hot rod CP3 and FASS 150 system to name just a few. It also runs consistent 12-second passes.
Her current project truck is a 2005 Chevy Duramax that also makes 500 rear wheel horsepower, due in part to Xtreme Diesel Canada EFI Live tuning. Mods include a FASS fuel system, aFe intake and intercooler tubes, MBRP exhaust, BD intercooler and Edge Insight CTS. The truck also spots 20-inch BMF Novakane Wheels wrapped with 33-inch Cooper tires, a 4.5-inch BDS lift, and Bulletproof bumpers and mud flaps.
Chelsey Henning
2007.5 Chevrolet Duramax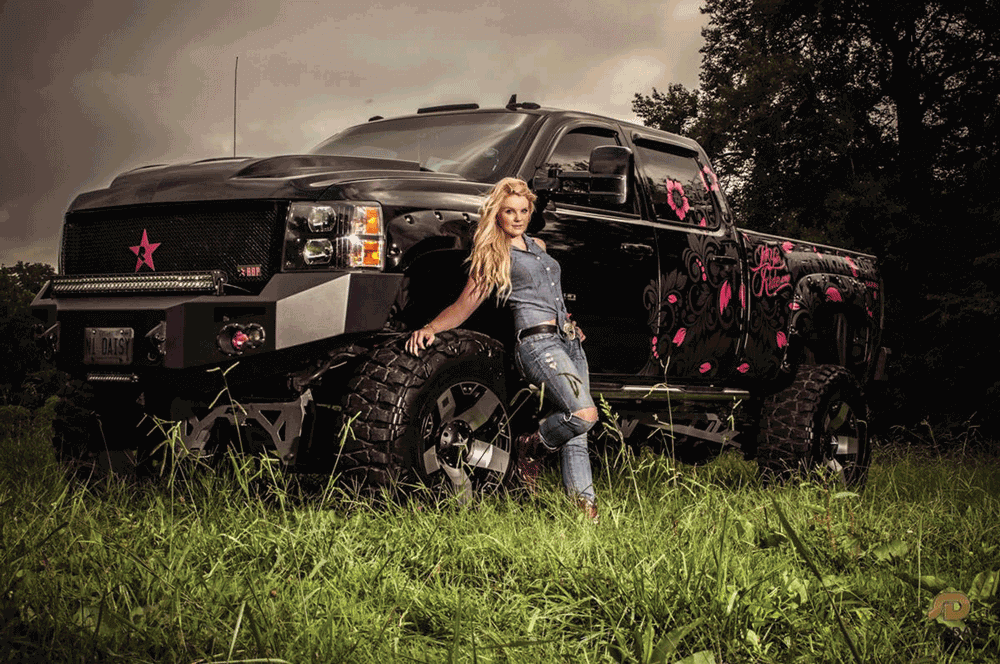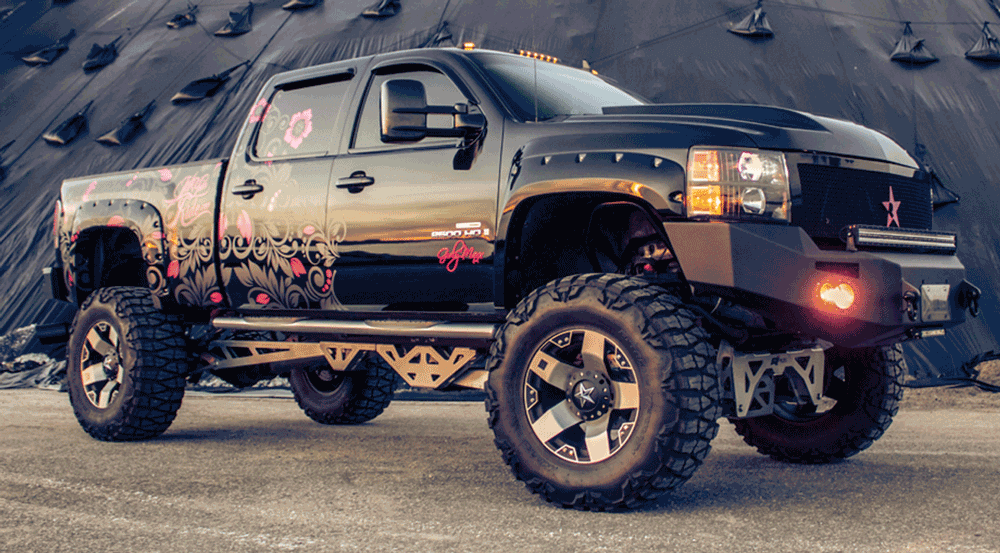 You may recognize Chelsey Henning of Ontario, Canada, from last year's Girls Gone Diesel section. After getting a lot of ribbing from guys asking whether her truck belonged to her father or boyfriend, Chelsey went full-out to build a wild custom to show what kind of rig a woman can build. A life-long auto enthusiast and director of the International Women's Diesel Association, Chelsey's ride, dubbed "Girlymaxx," was given a dramatic transformation since its appearance last year in preparation for the SEMA Show in Las Vegas.
"My goal for Girlymaxx is to promote women within not only the diesel truck industry, but in the automotive industry as a whole," commented the 22-year-old. Check out the list of the latest modifications to the Chevy.
Crystal Nicole Sims
2008 Ford F-250 Power Stroke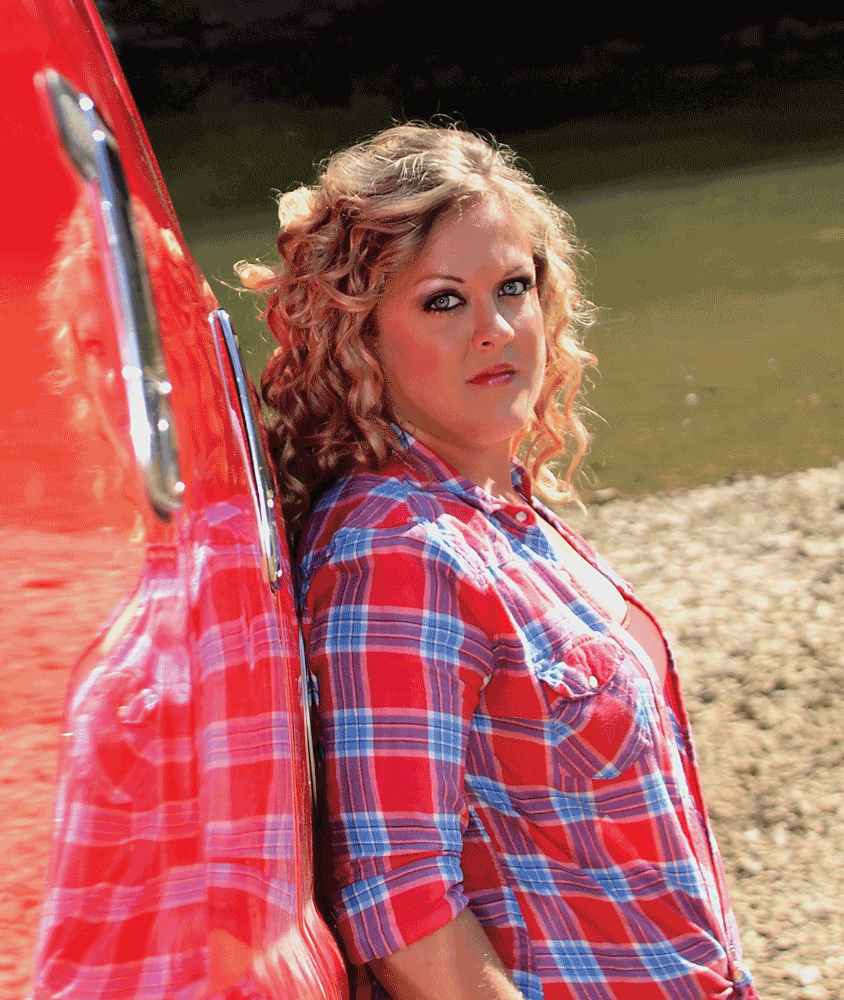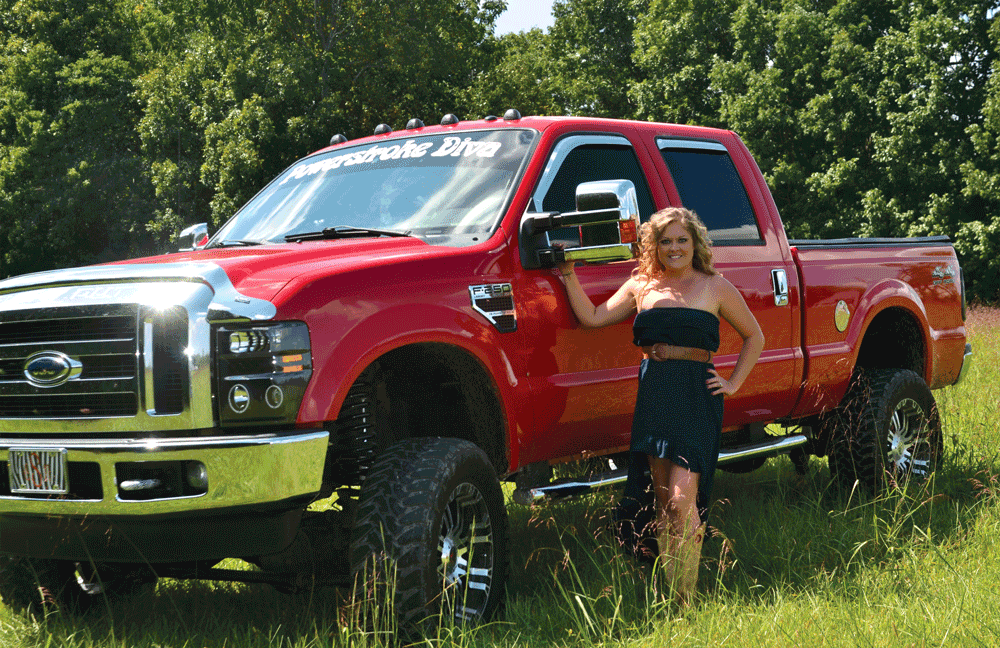 The Chevy vs. Ford family feud is alive and well in the Sims household in Middleburg, Kentucky. Crystal's father wanted a Duramax while Crystal is a Ford girl. "I never paid him any mind because I'm my father's daughter and I like Fords better."
But she's the first to credit her dad for her love for diesel, since she worked at a family business and diesel always fascinated her as a kid. "While he was looking for his Chevy, I found the Ladies of Diesel on Facebook and that's when I really became interested in owning my own diesel," Crystal said. And with the help of her husband, who made her 2008 Ford F-250 a rolling Christmas present, she was off and running in diesel land.
The Super Duty is fitted with the 6.4L Power Stroke, which her kids call "Whistling Dixie" because of the sound the twin turbos make. The truck is fitted with a Zone 6-inch suspension lift and rides on 35-inch Toyo Open Country M/T's mounted on 20×9-inch RBP wheels. A K&N air intake and 4-inch downpipe-back exhaust and SCT LiveWire/TS Performance tuning help generate tire-smoking power.
Other personalizations include Recon smoked headlights, LED brake lights, a wild custom zebra print interior, and chrome rain guards, grille and fuel cap. On her wish list are electronic running boards, underbody lights, fender flares and a vinyl wrap.
Christine M. Ruggles
2004 F-350 Power Stroke
L West Photography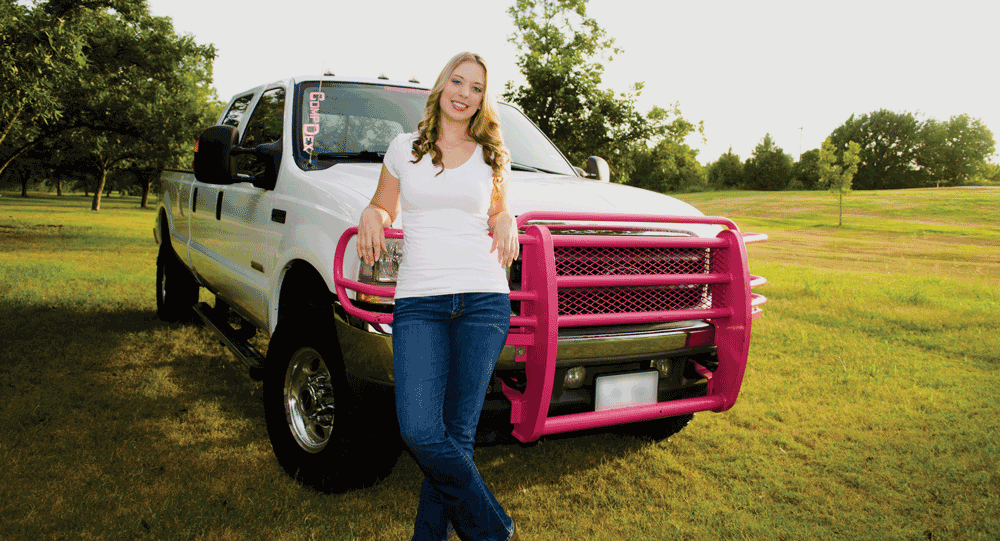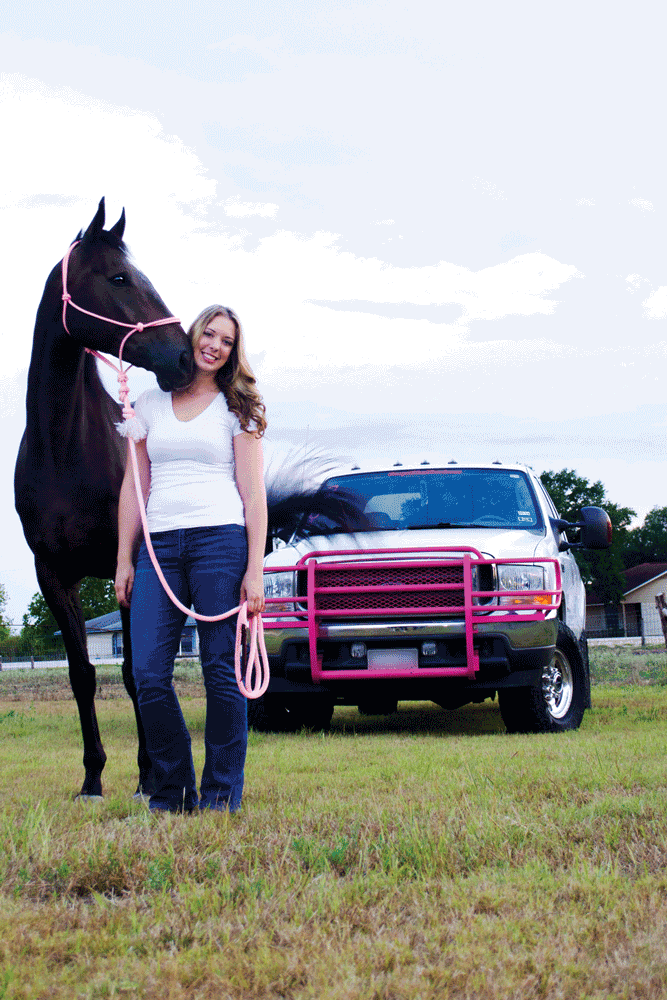 Don't let the pink trim on Christine's Ford fool you… it's more than just a pretty face. According to the new Mesa, Arizona, resident, the truck is her daily driver, "dog mobile and horse limousine." After watching her first truck pull in late 2004, she got hooked on diesels, which lead to a hands-on experience rebuilding an old 6.9L IDI engine a year later. She still wrenches on her Power Stroke to this day, and vows to head to the dragstrip eventually to see what the Super Duty can do.
A graduate of James Madison University in Harrisonburg, Virginia, her home state, Christine is now neck deep in the world of diesel as the newest team member at Bullet Proof Diesel in Mesa. In fact, her 6.0L sports a handful of Bullet Proof Diesel upgrades, including a billet water pump, FICM along with an aftermarket EGR delete kit and coolant filtration system. The truck rolls on 33-inch Cooper STTs. You'll also notice a late-model tailgate on the truck, complete with pink lettering.
Christine added, "that as the diesel world constantly changes, grows and evolves, she hopes to be right in the middle of it learning more, contributing positively and promoting women in the sport."
Jamie DeGrazia
2007 Dodge 2500 Cummins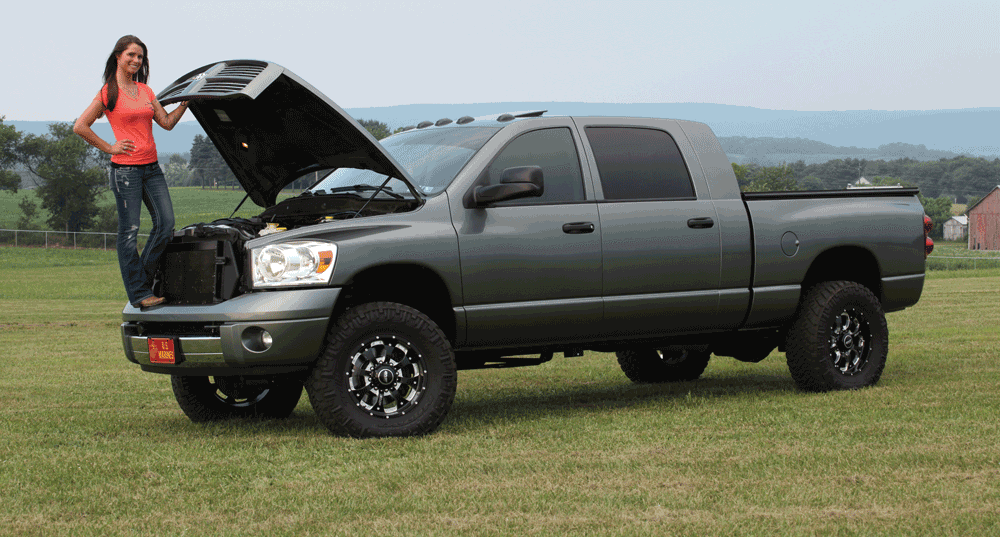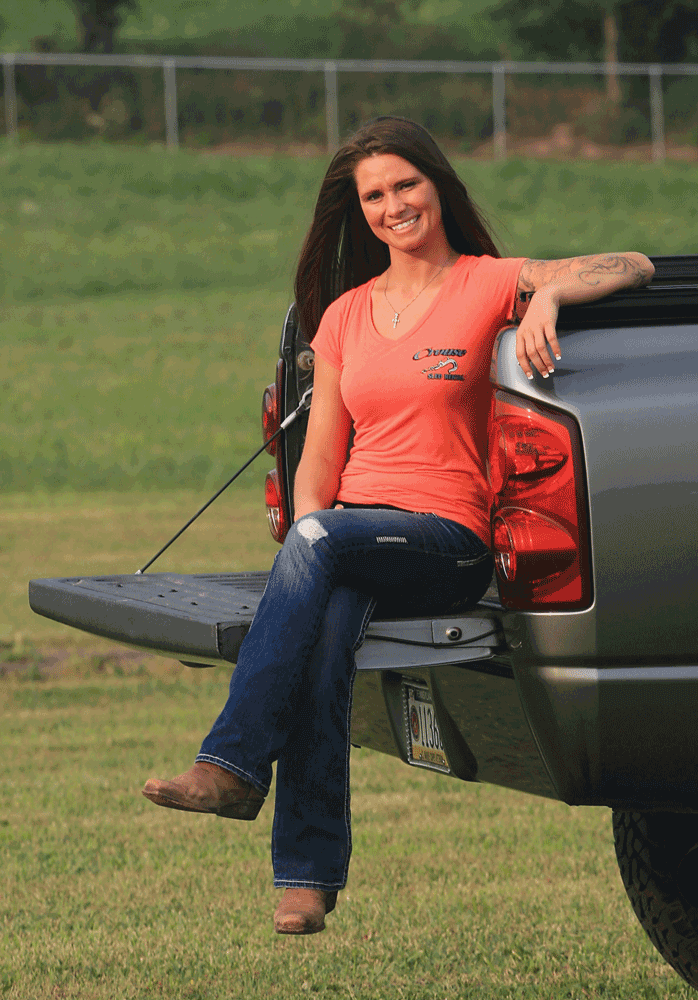 You get bit by the diesel bug at an early age and Jamie DeGrazia of York, Pennsylvania, is a perfect example. After watching sled pulls as a kid in Illinois, she began her sled pulling career in 2011. Her second-gen Dodge, "Copperhead," sporting a 24-valve Cummins, was a regular on the street class circuit for years.
A former U.S. Marine and welder by trade, Jamie decided it was time to move up to a common rail and purchased the 2007 Dodge you see here. "My '07 was everything I was looking for… one owner, zero upgrades, Laramie, sunroof and a six-speed," Jamie said. "I originally wanted to pull with my '07, but later decided it was too nice."
The gray Dodge sports Bilstein 5100 shocks and BMF Novakane 18×9 wheels wrapped with 35-inch Nitto Trail Grappler M/Ts. An AirDog DF165 fuel system pushes clean fuel forward to 6.7L, which features an XRTPro tuner from H&S. An intake and 5-inch exhaust help with breathing while a South Bend Clutch street dual-disc clutch puts the power to the ground. Other upgrades include ISSPRO fuel pressure, EGT and boost gauges, and Retrax roll-top bed cover.
Jamie's future plans for the Dodge include adding a welder's bed so she can follow her dream of becoming a pipeline welder. Plus, the extra weight will help during sled pulls. Just kidding.
Kassey Geiswite
2008 Chevy 2500 Duramax
Natasha Wray/High Horsepower Photography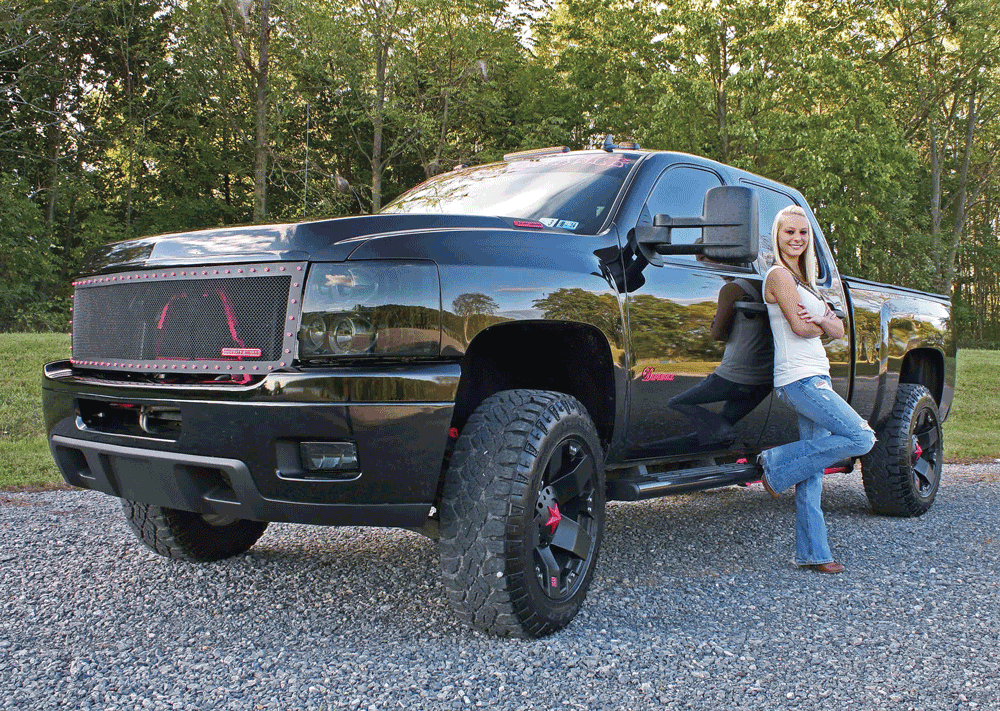 Very few people get to start a project with a blank canvas, but Kassey Geiswite of New Berlin, Pennsylvania, is one of the lucky ones. She got into diesel thanks to her boyfriend, Caleb Herman who owns HT Performance. After buying the truck bone stock, she added a 2013 LML front bumper and mesh grille conversion, roll pan, and custom hitch behind the license plate. HID headlights complement the smoked headlights and taillights.
'I love beating the boys,' Kassey  commented."
Under the hood, the D-Max gets EFI Live tuning, DHD Y-bridge, LML intake and 5-inch exhaust with an Edge CTS unit to monitor vitals. The stock turbo was ported and given a Batmo-wheel. According to Kassey, all of the work was done by HT Peformance.
To give the truck a lady's touch, the interior was disassembled and much of the trim and hard parts were painted pink by Justin at Hummel's Auto Body, including several parts under the hood.
Not only is the truck a daily driver, but it also sees time on the sled-pulling track on the weekends. "I love beating the boys," Kassey commented.
Chelsey Grayson
2006 Dodge 2500 Cummins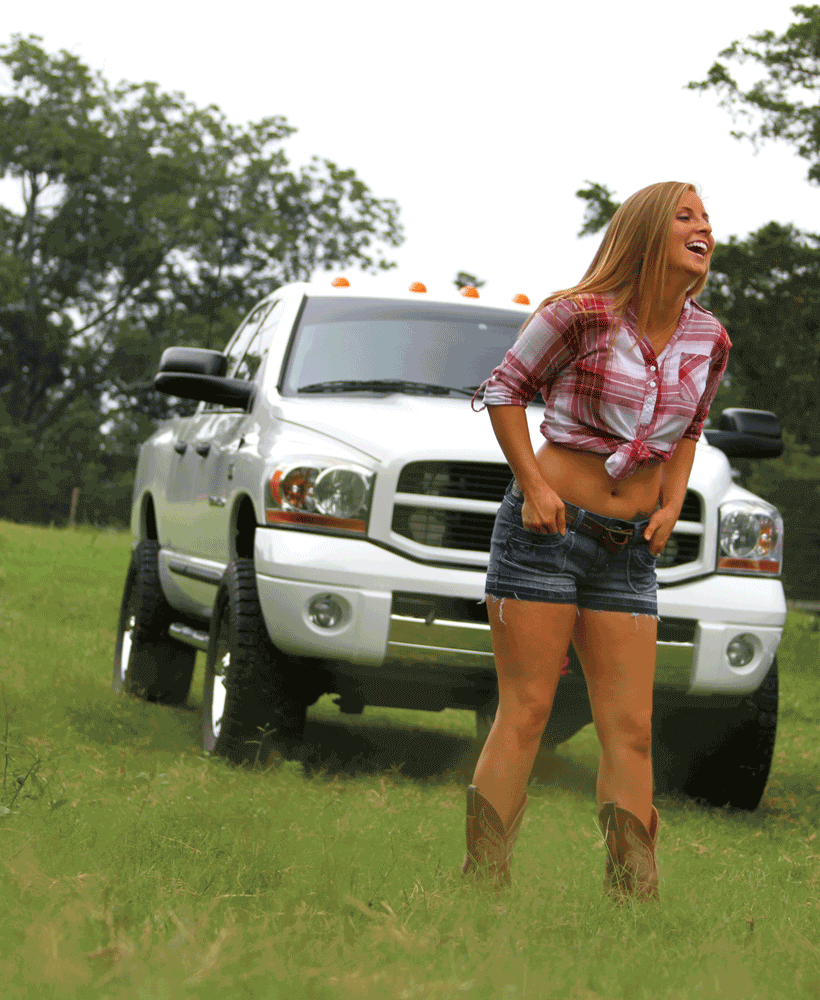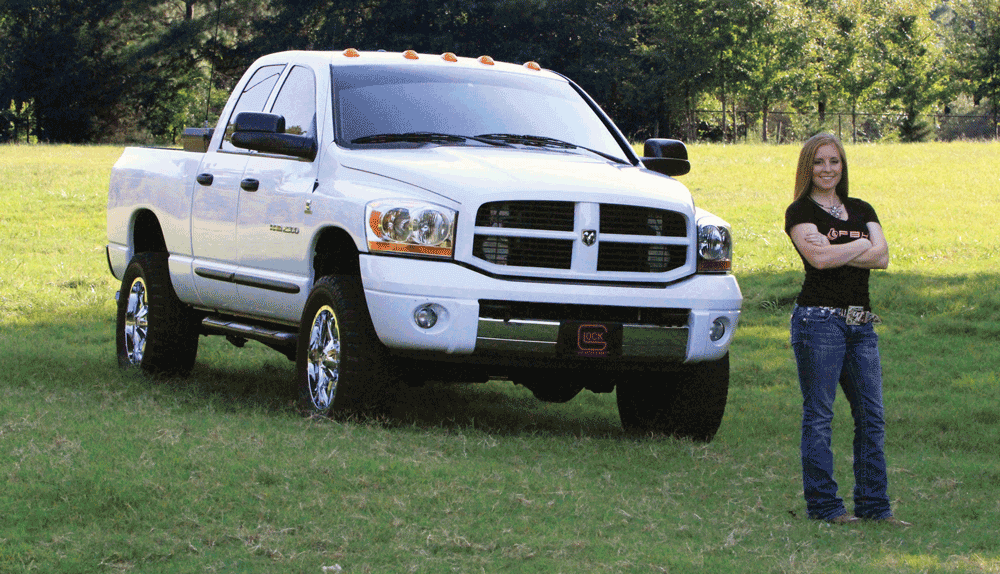 The couple that diesels together, stays together. At least that's what Chelsey Grayson of Watkinsville, Georgia, tells us. She and her active-duty Marine husband have his and her matching white Dodges. His is a 2007 with a whole laundry list of go-fast goodies such as a Wilson Thrasher intake, aFe intercooler, TRE trans, Carli suspension and 35s.
Chelsey's 2006 is also white and sports a Rancho leveling kit and 35-inch Pro Comp Extreme ATs mounted on 20×9 Fuel wheels. In the power department, the truck is fitted with a K&N intake, 5-inch exhaust and EFI Live from Cummins tuner. A South Bend dual-disc clutch keeps things hooked up and DiPricol gauges keep track of things under the hood.
Chelsey admits the couple spends a lot of time in the shop together tinkering on their trucks and their next project, which she declined to disclose. She also said her truck is used more for towing and called her husband's Dodge the trailer queen.
She credits her interest in diesels to helping her dad wrench on his truck, tractors and hay equipment on the farm. "When high school rolled around, I confiscated his 2001 Dodge 3500 dually to drive to school," Chelsey says. "Seeing how dependable and strong my father's Cummins was working in the hay fields and how it performed on many cross-country trips, my heart was stuck on a Cummins."
Brittany Taylor
2000 Ram 12-Valve Conversion
Larry Maupin Photography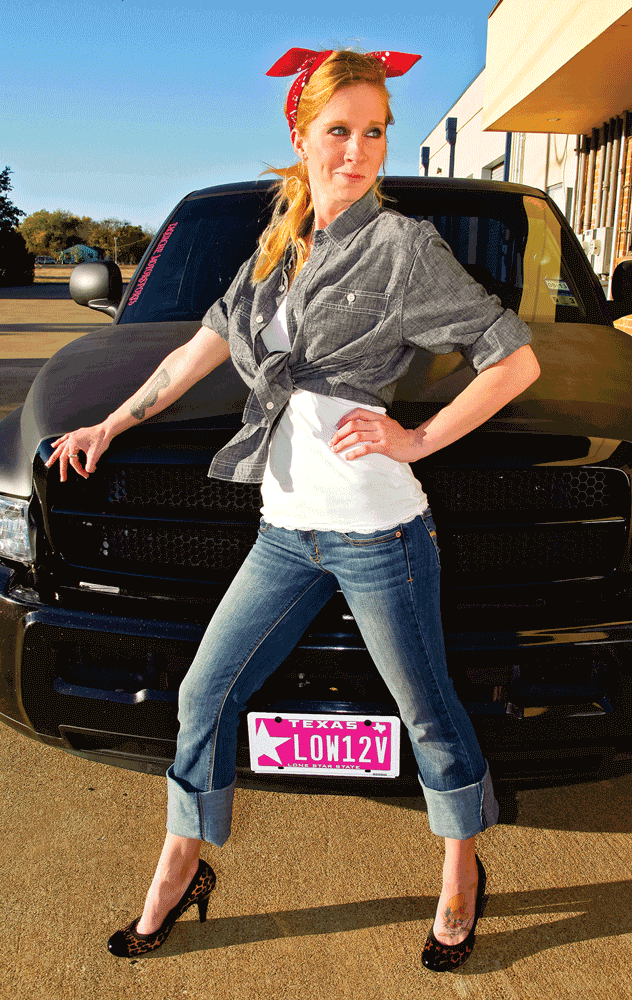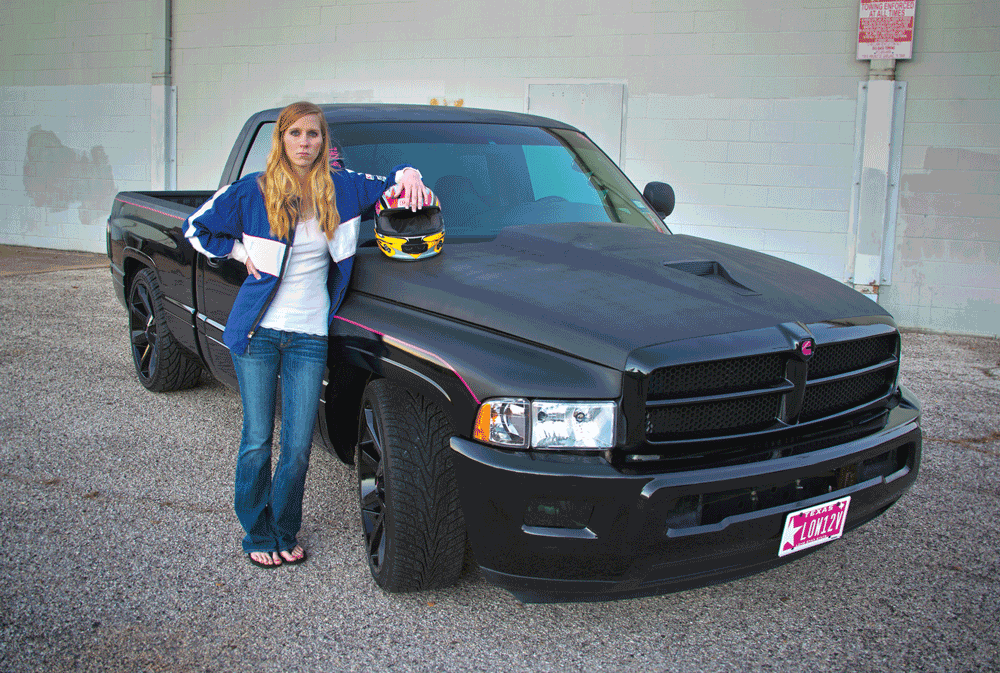 Dare to be different. We'd guess that would be the story behind Brittany Taylor from Midland, Texas, and her cool Ram 1500 conversion. Brittany got the diesel bug from her boyfriend, Bryant Blakemore with Taquache Motorsports, and teamed up with Ele Cass of Southbound 87 Fab to drop a '95 P-pumped 12-valve Cummins into the standard cab half-ton.
The truck has a street-smart lowered stance and rolls on 22-inch KMC wheels and low-profile tires. The engine is still stock, but has a 7-inch French stack that exits in the bed. Future plans include a compound turbo setup and bigger injectors.
Visually, the truck has a fourth-gen front bumper, SRT-10 hood, roll pan and custom interior, including tweed headliner, custom center console, coach door panel inserts, carbon fiber Auto Meter gauges and a touchscreen radio. And of course the 12-valve gets a bit of pink accents to go with the Plasti-dip paint job with pink pinstriping that Brittany did herself in the garage. "I'm truly building my absolute dream truck," she admitted.
Stephanee Wright
2003 Ford F-250 Power Stroke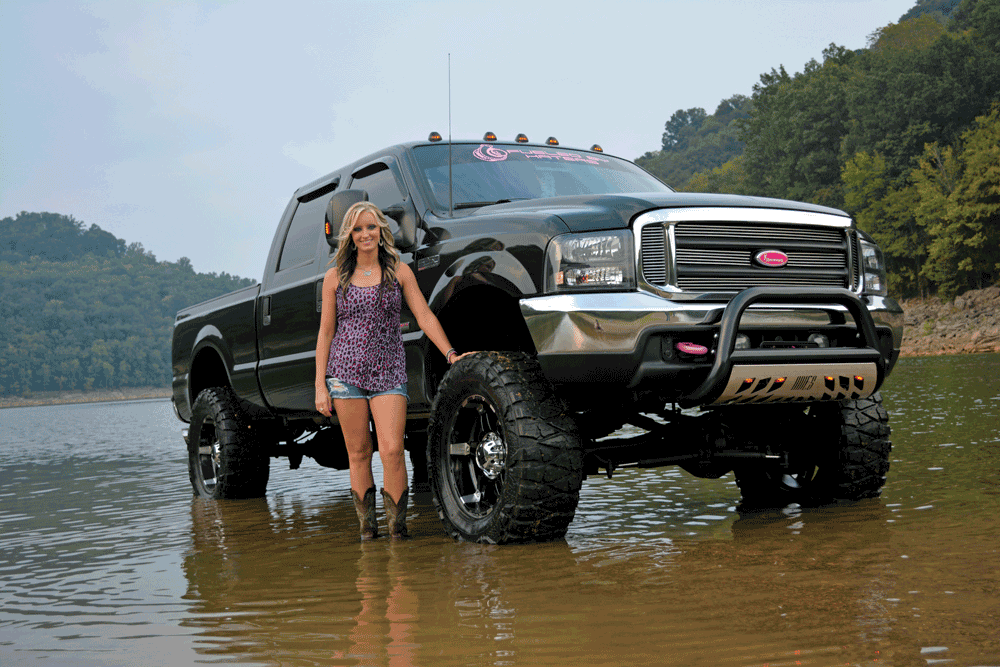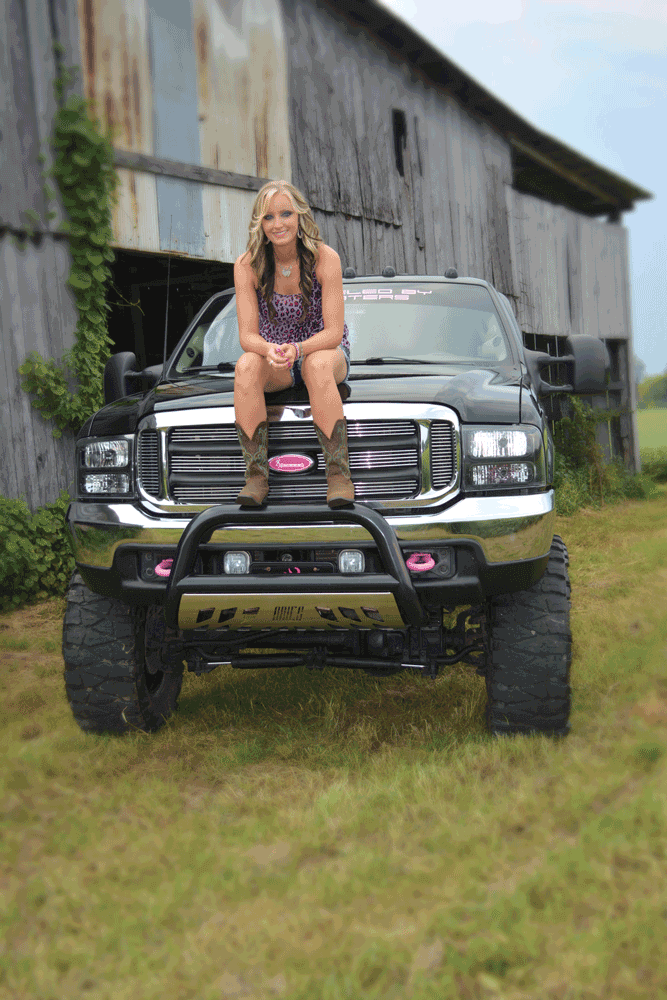 Stephanee Wright of Smithville, Tennessee, likes to get dirty. Her 2003 Ford F-250 is more than just a pretty face since it tows tractors and other farm equipment for Close Farms, and is also called into hauling duty for Never Satisfied Diesel Performance.
She bought the truck stock in 2008 and went to work making it her own with a 6-inch Rough Country suspension system which provides plenty of room for 37-inch Nitto Mud Grappler tires mounted on 20-inch XD Spy wheels.
Under the hood, the 6.0L Power Stroke is fitted with a Powermax turbo, K&N cold air intake, 4-inch straight pipe exhaust and SCT tuning. To handle the newfound power, Stephanee went to Way Fast Whites in Morrison, Tennessee, for trans upgrades for performance and towing.
Other mods include Recon LED lighting, an Aries Bull Bar along with custom pink emblems and tow hooks. "The truck was built to look pretty and play dirty," Stephanee said. "I'm not afraid to get a little mud on the tires."
Emily Waters
2000 Dodge 3500 2.6 Sled Puller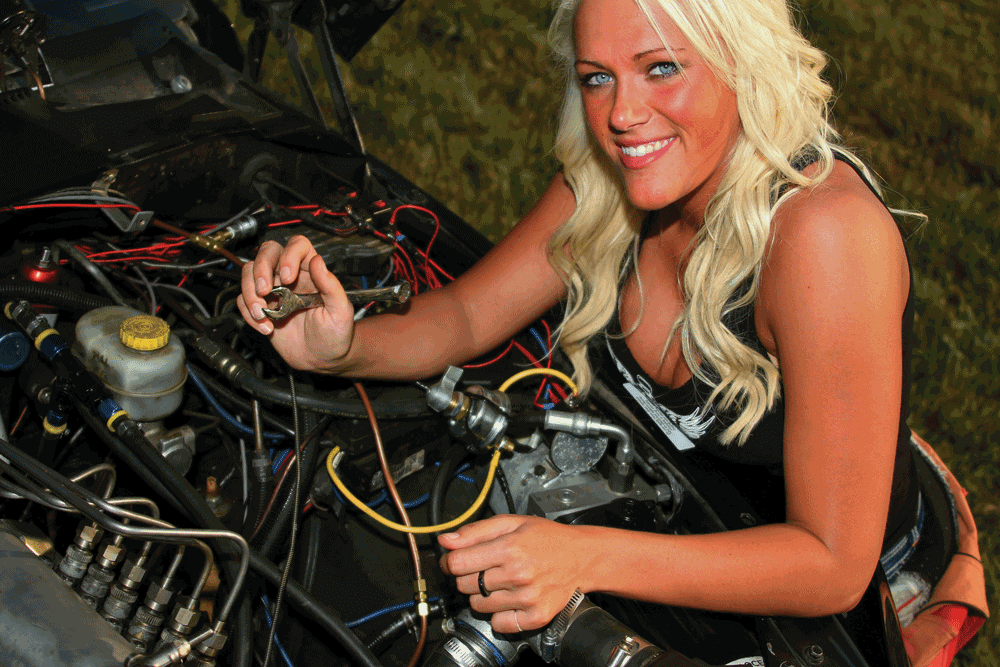 A hairdresser by trade and a representative for the Little Power Shop, it's hard to believe that the stunning blonde actually campaigns the "Clam Digger" sled-pulling Dodge in East Coast sled-pulling events. As an active member of Western New York Pullers and Empire State Pullers, Emily is puttin' the hurt on the boys in style.
"I went to my first truck pull and loved the sound of an engine designed to turn 2,800 rpms go down a track at 5,000 rpm with a candle out the stack," Emily said. "I thought to myself, the only thing to make it better is to have a chick behind the wheel."
The oomph behind the Dodge comes from under the hood with a fully built 24-valve Cummins. The engine is chock full of top-notch performance stuff including Carrillo billet rods, forged pistons, Hamilton camshaft and a fully ported cylinder head fitted with Max Spool pushrods, larger-than-stock valves, billet bridges, common rail lifters and ARP rocker studs to name a few. A Garrett GT 50 turbo provides boost via a custom individual runner intake manifold. A Fuelab system pushes fuel up to a 13mm P7100 pump from Diesel Performance Engineering to feed "custom big injectors," Emily says. A built 47RE with a Goerend triple-disc torque converter puts the power to the ground via 37-spline axles in the Dana 80 rear end.
Emily says it took three years to build the truck, with a little help from her boyfriend Chris Waite, and like most competition vehicles it's never done. The kicker is that she looks better in a driving suit than the competition and you should see the look on competitors' faces when she climbs out of the rig after a full pull.
Lyndsay Johnston
2008 F-250 Power Stroke
"Diesel trucks have been a passion of mine since I was younger," comments Lyndsay Johnston of Summit Point, West Virginia. "I work for a construction company and work my butt off in order to afford my obsession with my truck. I'm the type of girl who stops in mid-sentence when I hear a turbo spool up. I will own a diesel 'til the day I die and you can bet on that."
We'd say that's true passion. Lyndsay's Ford is fitted with a 6.4L Power Stroke that gets help from an H&S Mini Maxx tuner and MBRP 5-inch turbo back exhaust. The truck rolls on 18-inch Rockstars, which are now fitted with 33-inch Nitto Terra Grapplers. A Skyjacker leveling kit provides the stance. Custom touches include pink and camo graphics and trim.
Susan Stump
1934 Chevy Diesel Rat Rod
Don Carrick Photography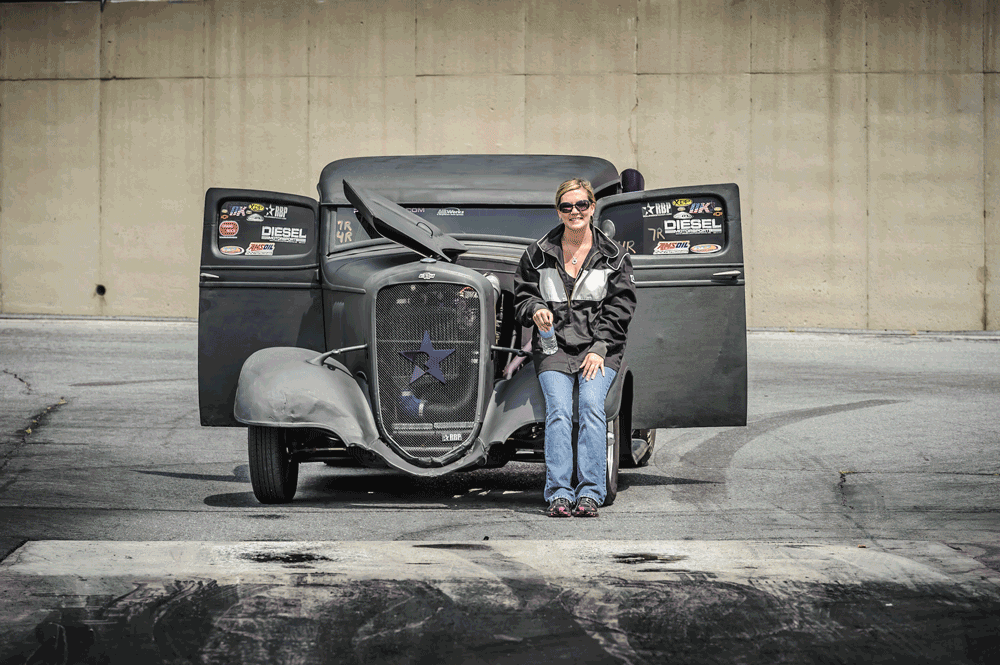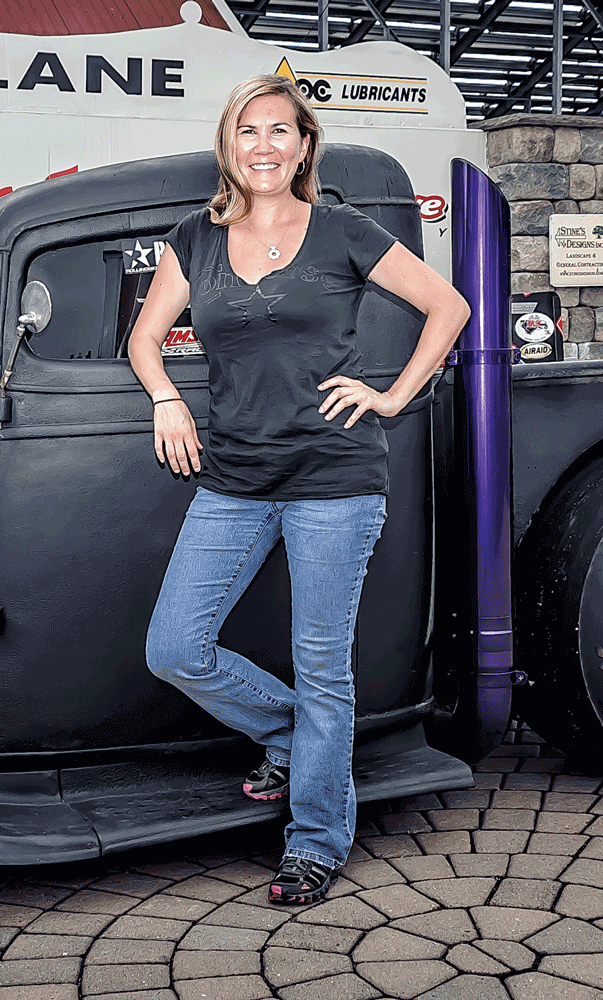 If this contraption looks familiar, that's because it's a regular on the diesel drag racing circuit, and it's piloted by a girl! Susan regularly puts the whoopin' on the boys with 11-and 12-second passes at well over 100 mph. She's competed all over the country in 2013, including her home state of Pennsylvania, as well as New Jersey, Maryland, Virginia, Kentucky, Ohio and Florida to name just a few. She was the top 12.0-index qualifier at the TS Performance event and won first place in the Quick Diesel class at the East Coast Nationals in Numidia, Pennsylvania.
"I really enjoy beating up on the guys and turning heads when I get out of the truck," admits Susan. "I'm acquiring a fan base and it's so rewarding to have men, women and children come up to me at events to wish me luck and cheer me on."
"My first time down the track was in a Ford Taurus rental car," she added. "I raced in the trophy class and won the first round. I was hooked and have to thank Doug Brarens for this amazing opportunity for the past five years."
The '34 Chevy was "rescued" from a farm field and was full of rust. After plenty of work, the rod received a 5.9L Cummins lifted out of an old school bus. The Cummins features a BorgWarner S300G, and Industrial Injection 80 horse injectors. Backing up the Cummins is a racing PowerGlide and 9-inch Ford rear end with 2:70 gearing.
Look for Susan and her wild creation at a diesel event near you next season and join the chorus saying, "Wow! That's a girl!"
Jennifer Alvarez
2000 Dodge 2500 Cummins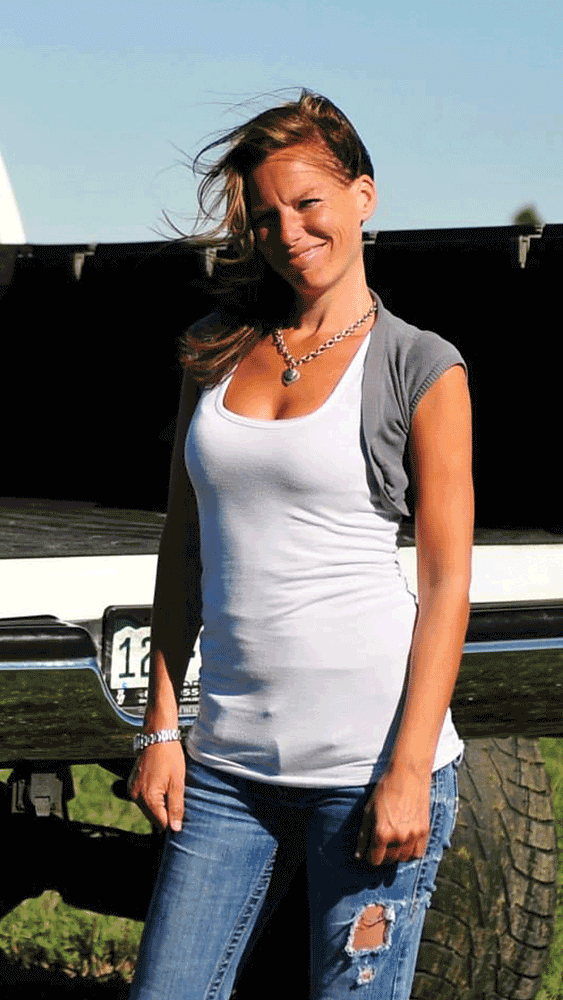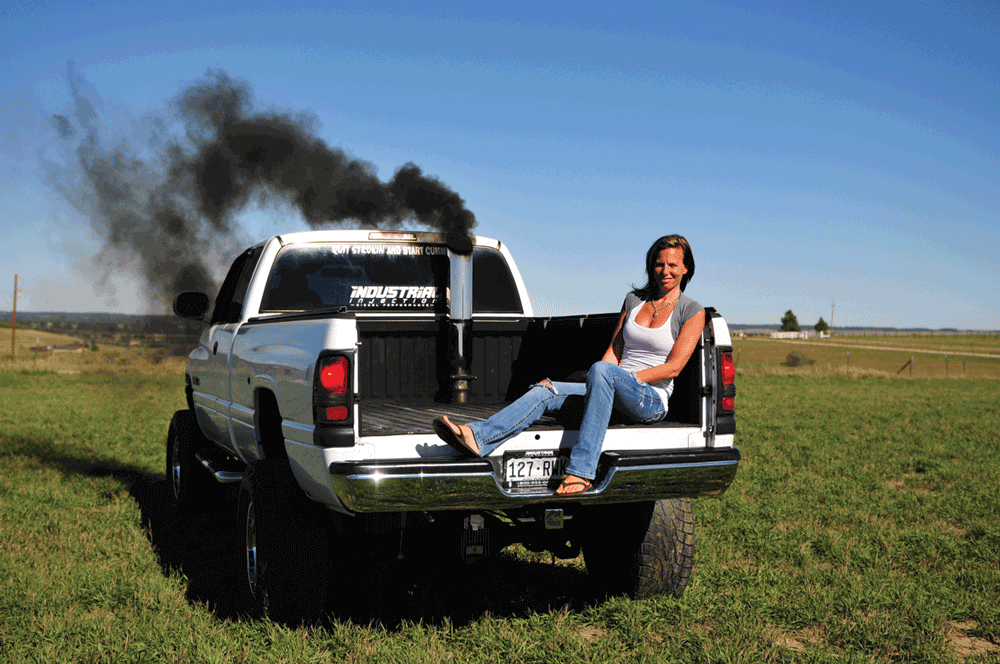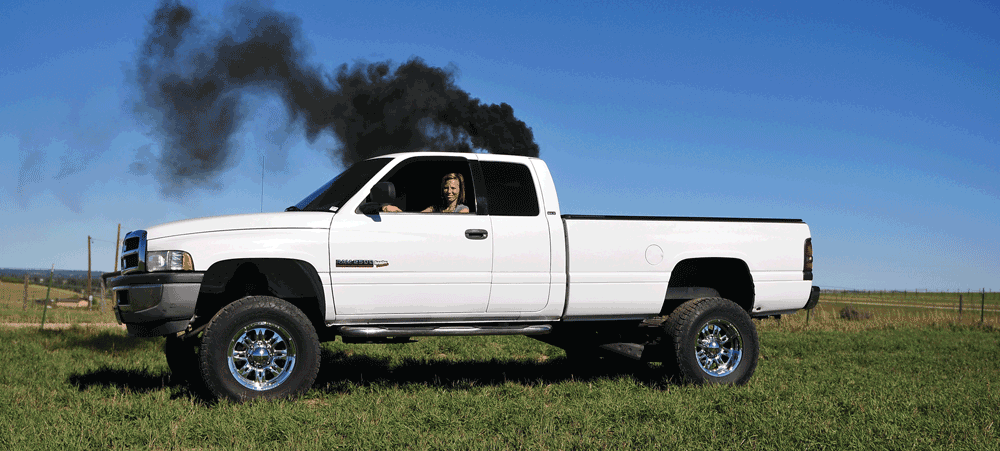 A lot of folks use their diesels for work and Jennifer Alvarez of Castle Rock, Colorado, is one of them. She and her husband own a flooring business and we all know flooring, especially tile, is heavy and needs the grunt of a diesel to move the load. But Jennifer's Cummins is more than just a work truck.
Despite its nearly stock appearance, the truck runs 12.5-second quarter-miles and just dyno'd at 874 horsepower and 1,500 lb/ft of torque on fuel alone. "The truck is my pride and joy," she said.
The 24-valve sports compound turbos, a Banks intake manifold, aFe intercooler, Scheid Lightning race pump, 6×22 injectors, FASS fuel system and a Snow Performance water methanol injection system. Who says you can't have fun in the family work truck?
Jamie Pike
2007 Ram 3500 Cummins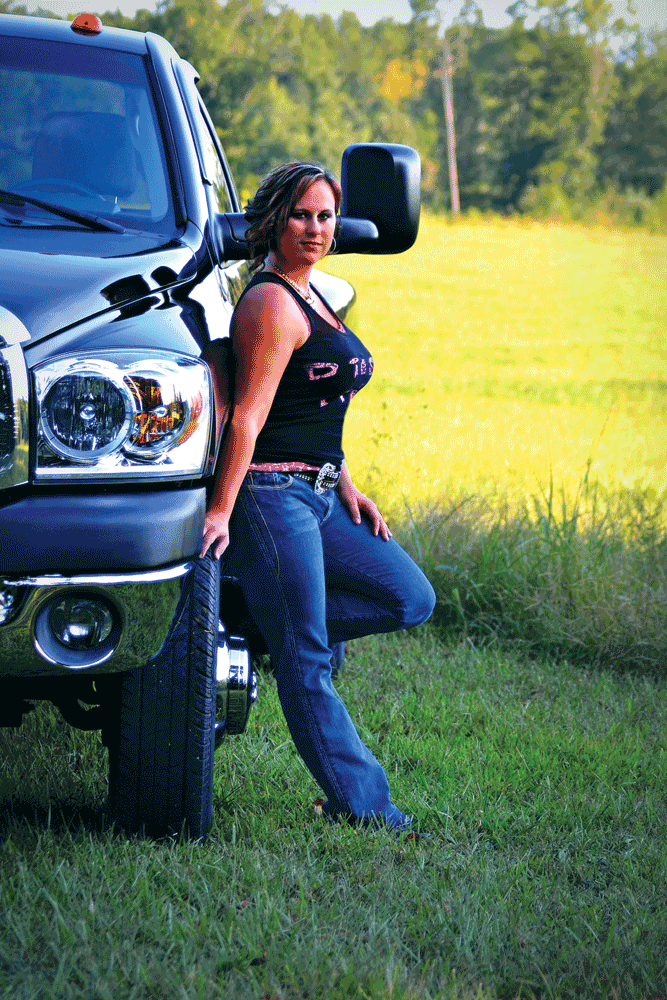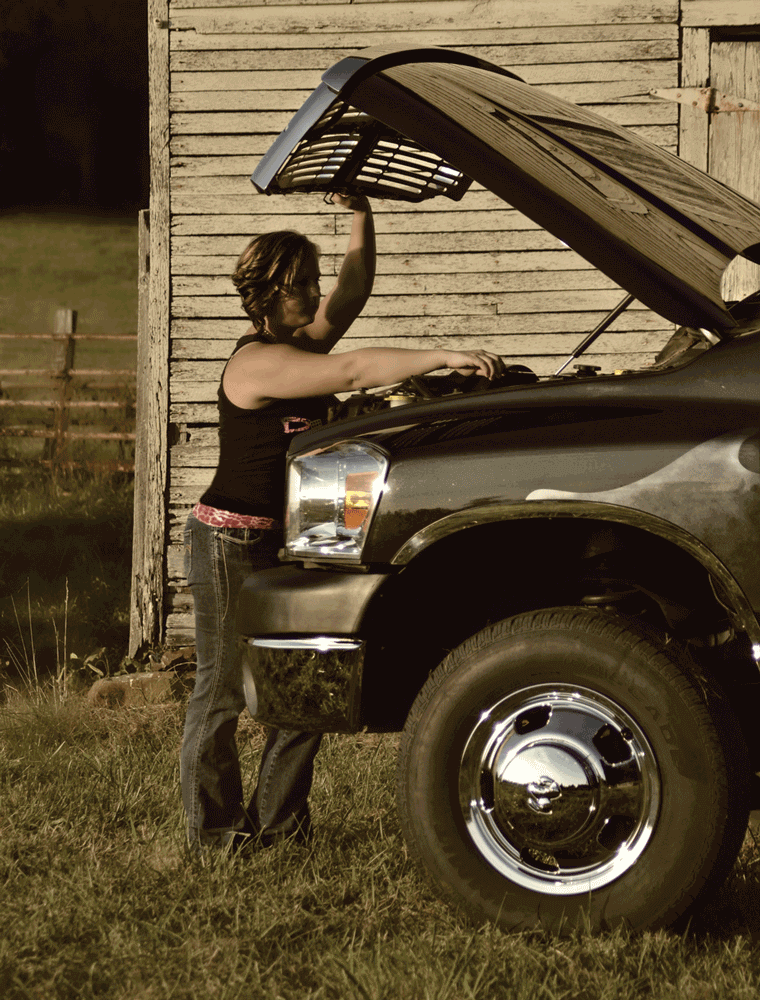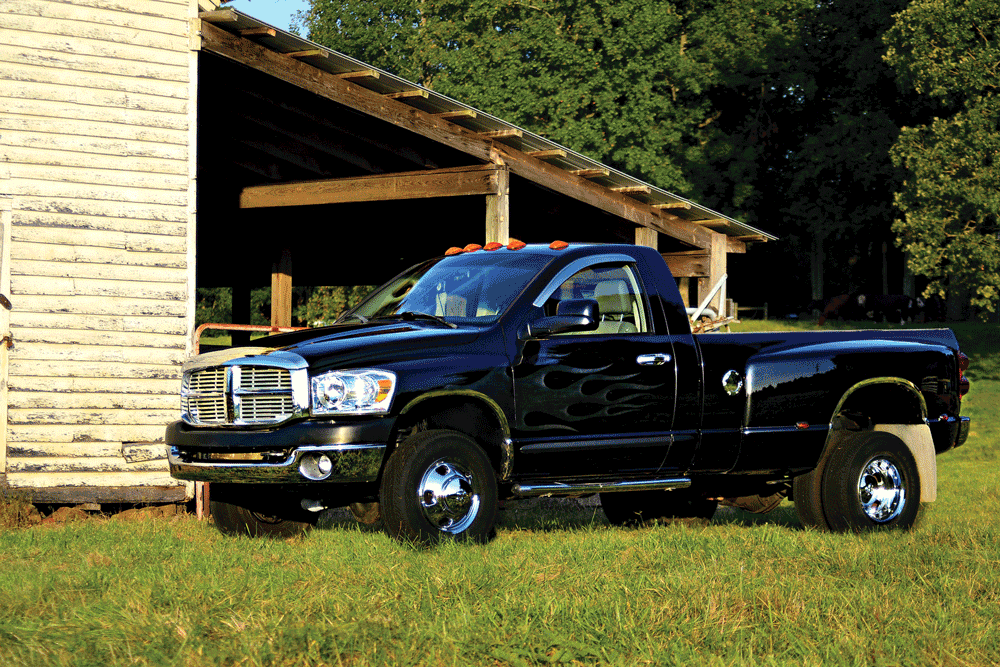 If you own a dually, chances are it's a work truck, but for Jamie Pike and her husband, Nathan, of Burlington, North Carolina, the truck does double duty for work and play. The dually is equipped with the 5.9L Cummins mated to a six-speed manual and sees plenty of work on the family's 300-acre farm.
To boost performance, the truck was fitted with a K&N intake, 4-inch straight pipe exhaust capped with a 5-inch stainless steel tip. Future plans include a Smarty tuner, Hillsboro flat bed, leveling kit with 33s, and a full set of gauges.
Meghan Lyn Maroney
1998 Dodge Ram Cummins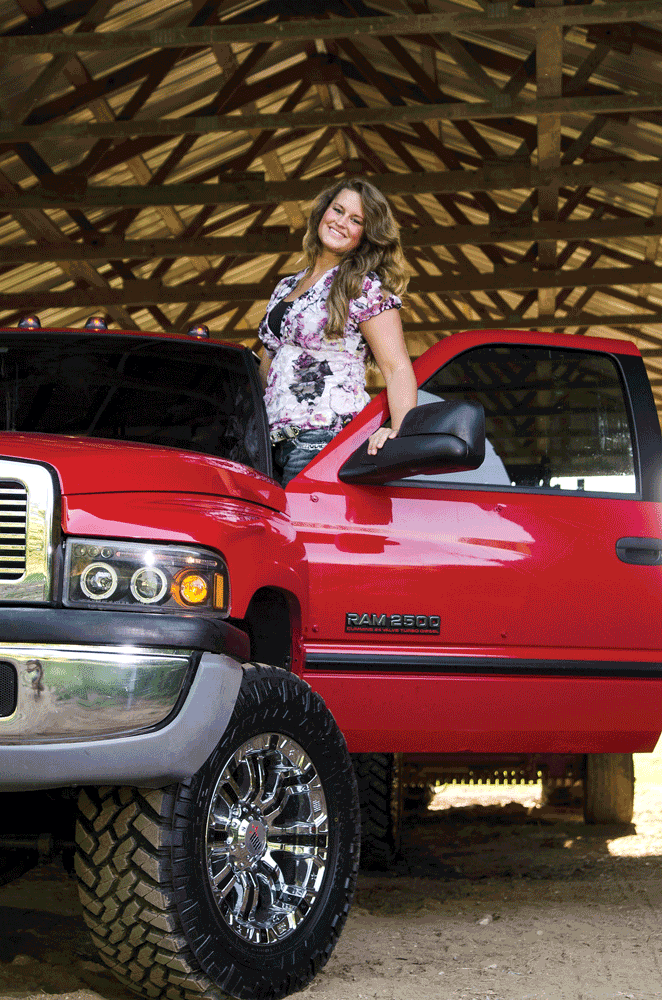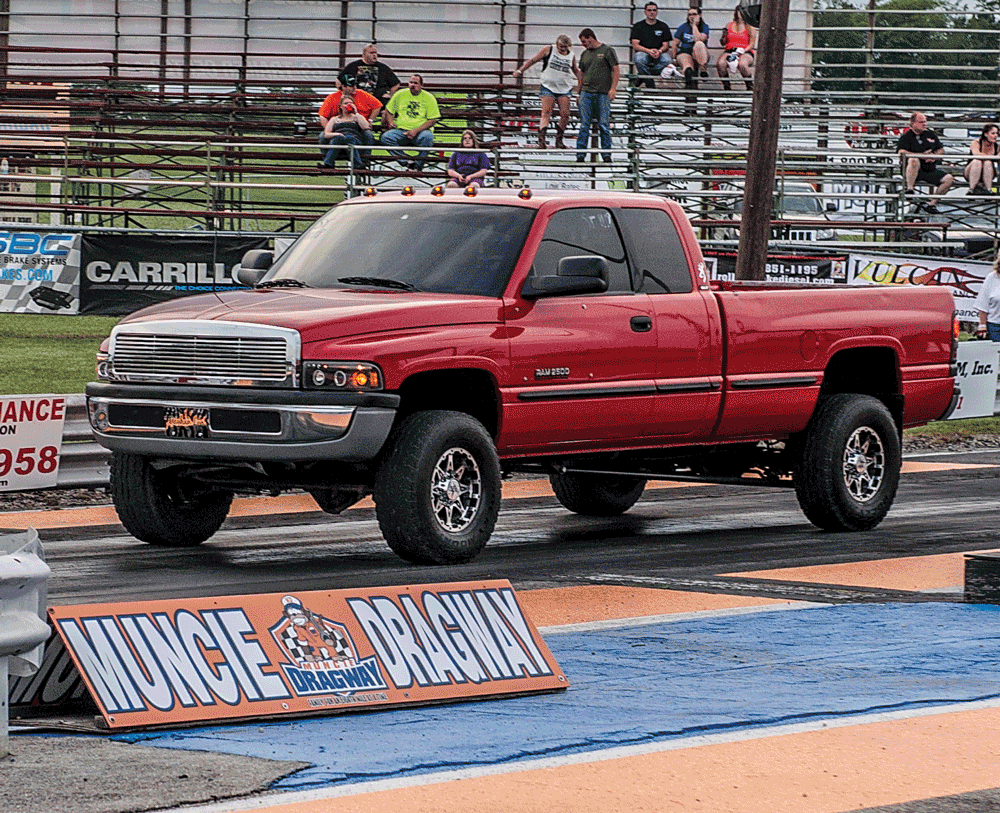 We spotted Meghan in victory lane at the dragstrip during Thunder in Muncie this year where she locked down the ET Bracket Championship after going round after round in her 1998 Dodge Ram. The event was only the second drag race she ever entered and her efforts let her take home $1,000 and a plaque at the end of the night.
Her truck was ordered new in 1998 and has been in the family ever since. Despite having the dreaded "53" block, Meghan is not shy about making more power, thanks to the addition of an AirDog fuel system, cold air intake, Edge Drag Comp, Smarty tune, built trans and a set of ISSPRO gauges.
As an Indiana native who hails from Kokomo, we bet we'll run into her again at Thunder in Muncie this summer.
Kaitlyn Ludwig
2000 Dodge 2500 Cummins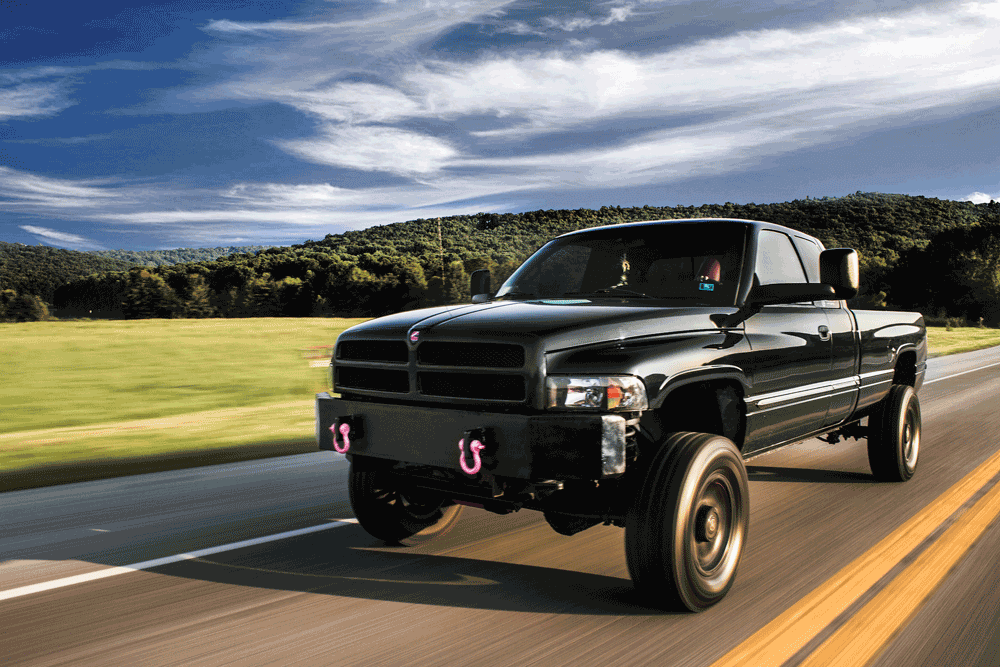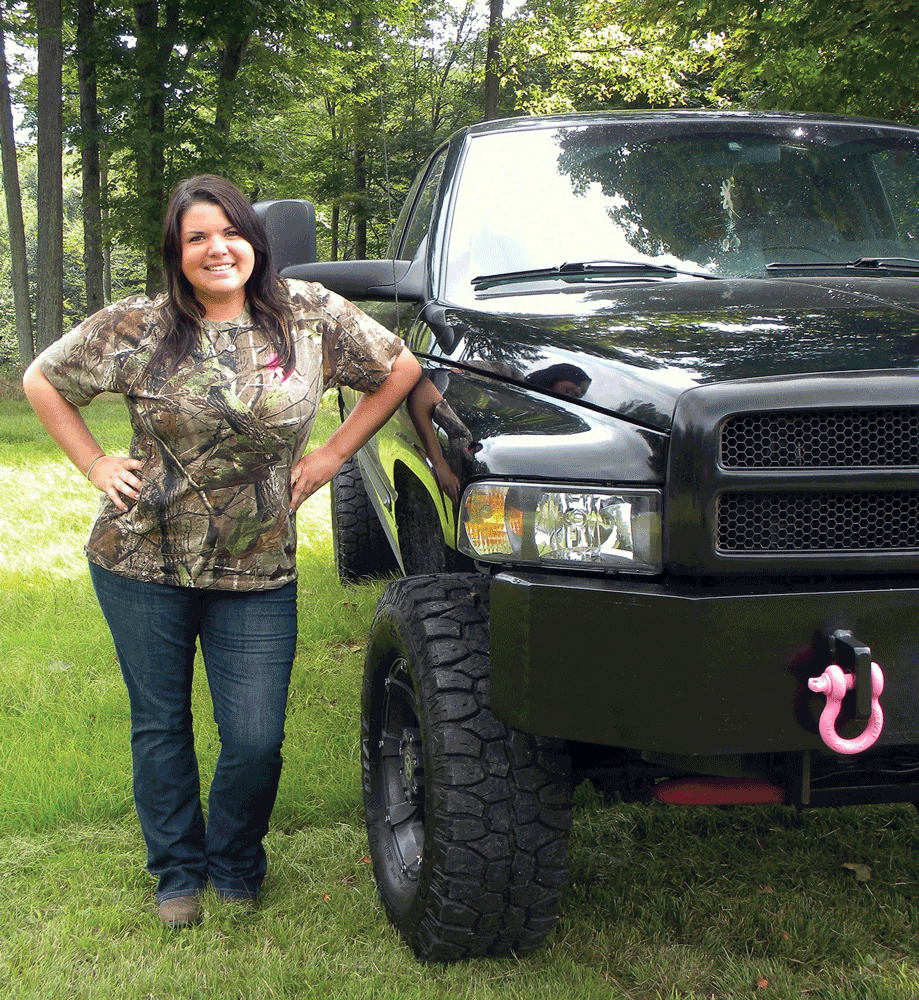 Kaitlyn's love for diesel is well documented in her own words. "I have always had a love for pickup trucks. I went to my first-ever diesel sled pull about six years ago. I fell in love with the amount of horsepower pushed out and the sound of the turbo spool, along with the black soot cloud that followed."
"When my boss had told me he was selling his Cummins, I instantly knew this was my chance and I jumped on it! This truck was an all stock 'grandpa truck' when I bought it a year and a half ago. Since then I've been building it up the way I want," she added. "I'm the only one in my family who has this love for diesels, so I had to learn more about them through friends, magazines, online, and at diesel events. "
"The truck is my daily driver, but I've recently taken up sled pulling," Kaitlyn said. "I had never been a part of anything before, but I'm proud to say I'm part of the friendly, strong-knitted diesel community. I wouldn't have it any other way."
Shay Hill
2005 Chevy 3500 Duramax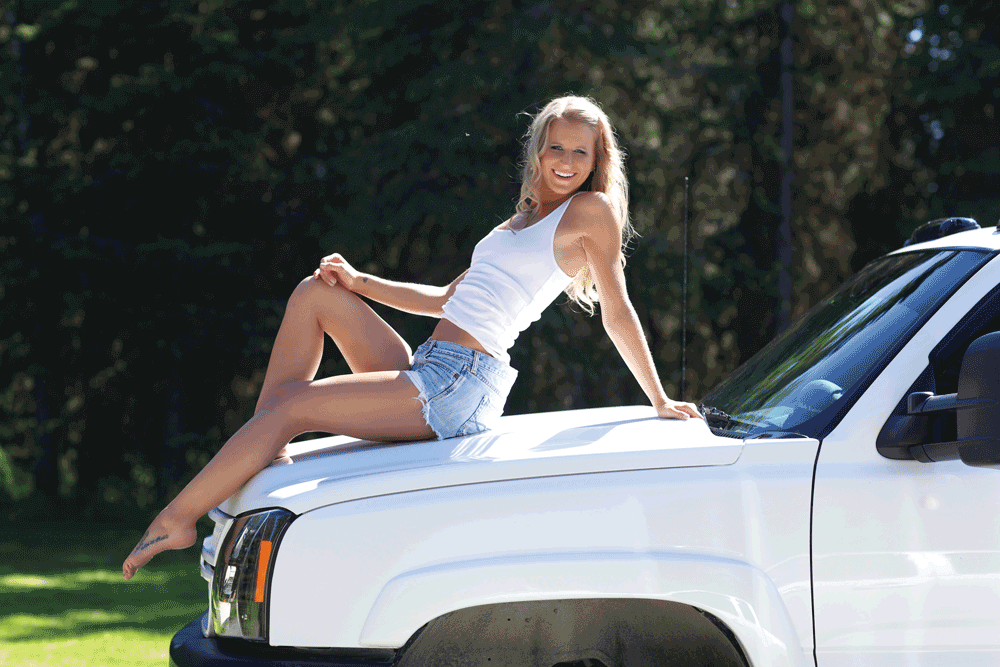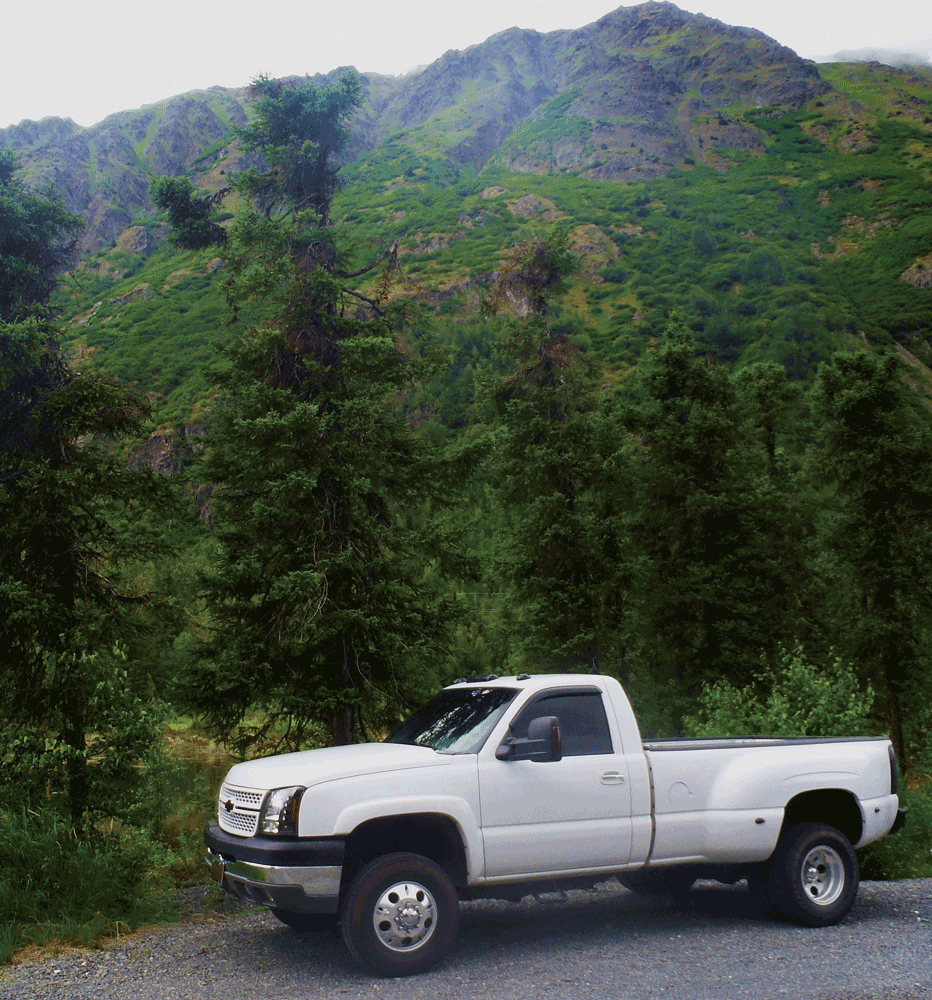 Hailing all the way from the "Great White North," Soldotna, Alaska, which is on the Kenai Peninsula, Shay Hill makes her 2005 Chevy dually really look good. Dubbed "Curvy D," the truck has real world mods such as a 5-inch exhaust and a programmer to boost power. The truck is a daily driver, but we have to wonder how do you find a white truck in the winter in Alaska?
Samantha Johansen
1999 Dodge Ram Cummins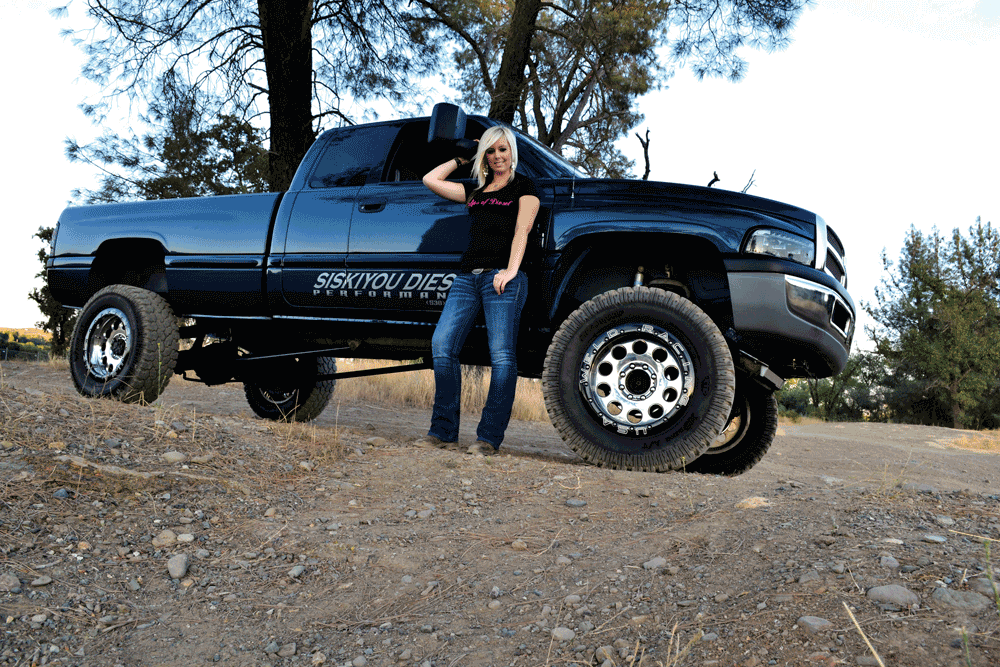 Samantha Johansen contacted us last year for our first Girls Gone Diesel section. The Santa Rosa, California, resident takes diesel seriously, as you can judge from her laundry list of go-fast goods. With a little help from her boyfriend, they have built the truck to more than 600 horsepower. She runs it in the 2.6 sled pulling class and runs consistently in the top two places.