These days, many over-the-top trucks are either made to drag race, kill dynos, sled pull, work, show, or play in the dirt. It's somewhat rare to find a truck build that does multiple things extremely well. Some diesel performance enthusiasts would even call that "un-pure," but we disagree. Kellan Meadows knew exactly what he wanted his truck to do: be extremely capable on any off-road trail, (especially the dunes) be a great daily driver, and do this all with an over-the-top amount of power while still being able to drag a decent-sized trailer. 
Kellan chose this Ram because he felt it would fit the bill perfectly. Eventually at least–4×4 Rams come with a stout, solid axle up front that's already four-linked, so with simple customization, they can handle the trails and sand dunes that Kellan wanted to hit on a regular basis. The time-tested Cummins powerplant has a healthy aftermarket backing and has proven to be very reliable with over 1000hp at the rear wheels (making it a great tow rig and daily driver). When describing the truck Kellan says, "The reason for the build was to have a Swiss Army Knife of a vehicle. It can do everything really well, not just OK. I can tow anything, take the family to the desert or the track, beat it up and still drive it home."
"I can tow anything, take the family to the desert or the track, beat it up and still drive it home"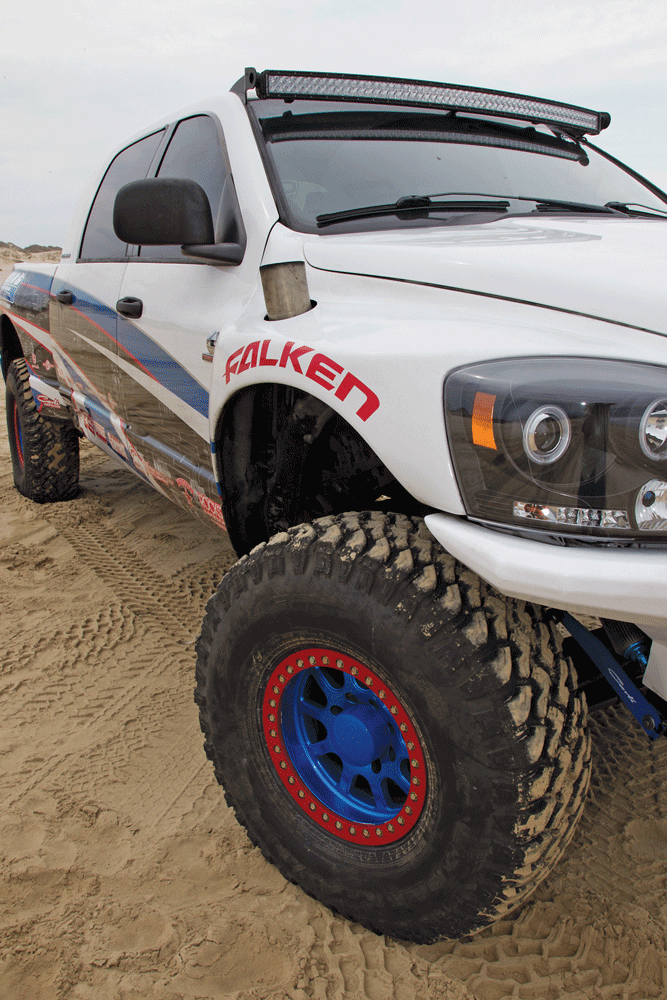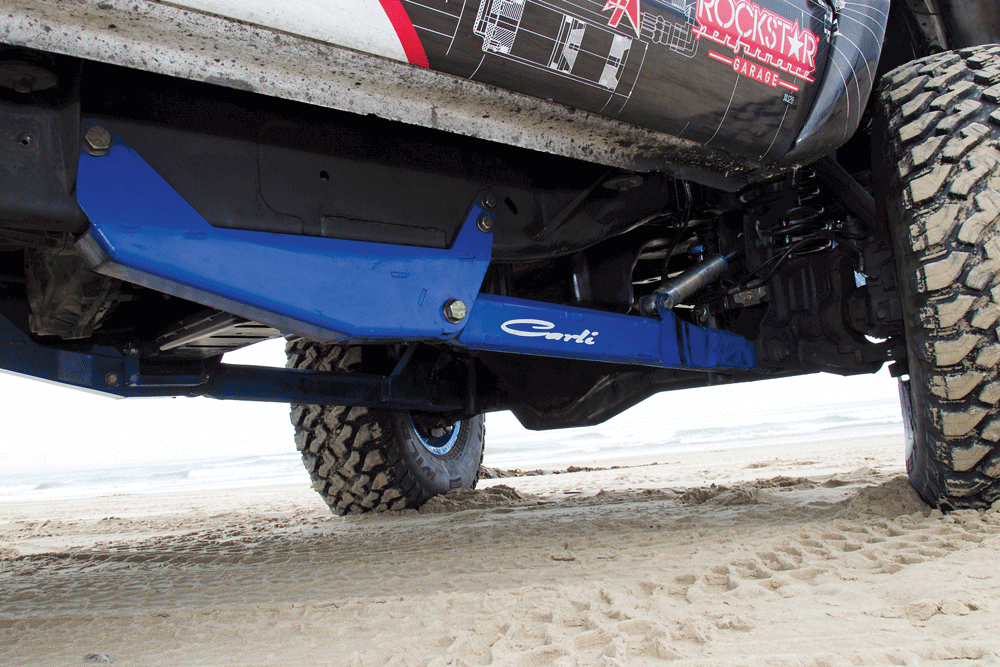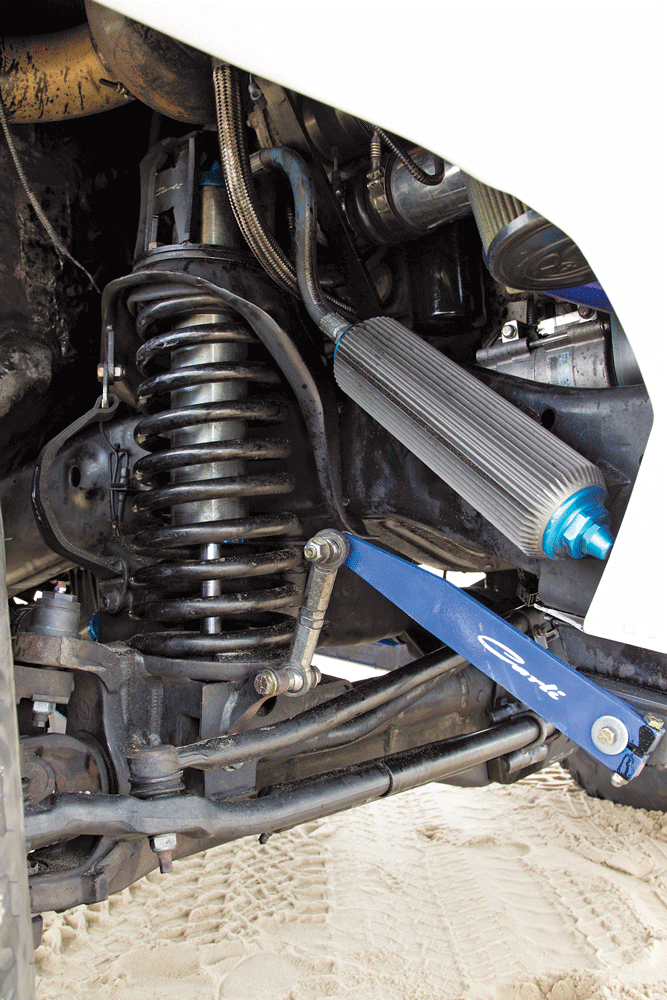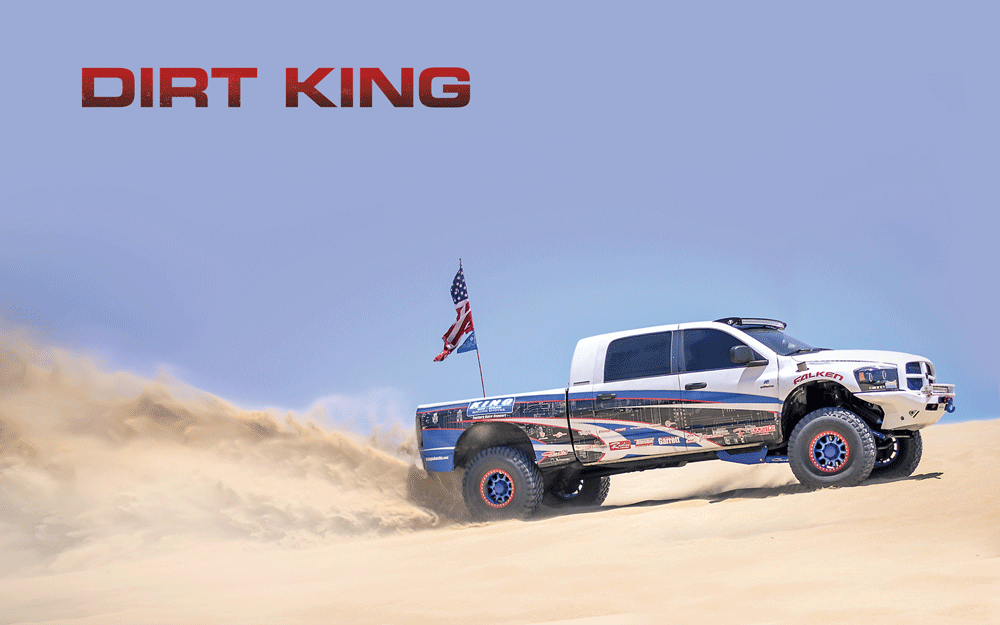 Suspension
Since Kellan works for King Shock Technologies, a heavy-duty shock company famous for their off-road shocks, taking care of the suspension was an easier endeavor than it would be for most. Carli Suspension stepped in and took care of everything except the shocks with a prototype kit designed just for Kellan's needs. Up front is an Unchained 3.5 Radius Arm System that utilizes King 3.5-inch by 12-inch stroke smooth bodies with finned reservoirs designed to shed the extreme heat that is created when dampening the heavy axle's movement over the rough stuff. A set of 2.0-inch King bumpstops were chosen to smoothly bring the suspension to a stop at the top of its travel. A Carli Suspension Low Mount Steering Stabilizer mount kit paired with a set of King 2.0-inch by 10-inch IFP shocks helps keep the wheels steering smoothly in the right direction. Out back, Carli stepped up again with a custom leaf pack, and of course, a set of King shocks were utilized in the form of two 3.0-inch by 13-inch of travel, four tube bypasses with finned piggyback reservoirs (to help keep the fluid inside nice and cool).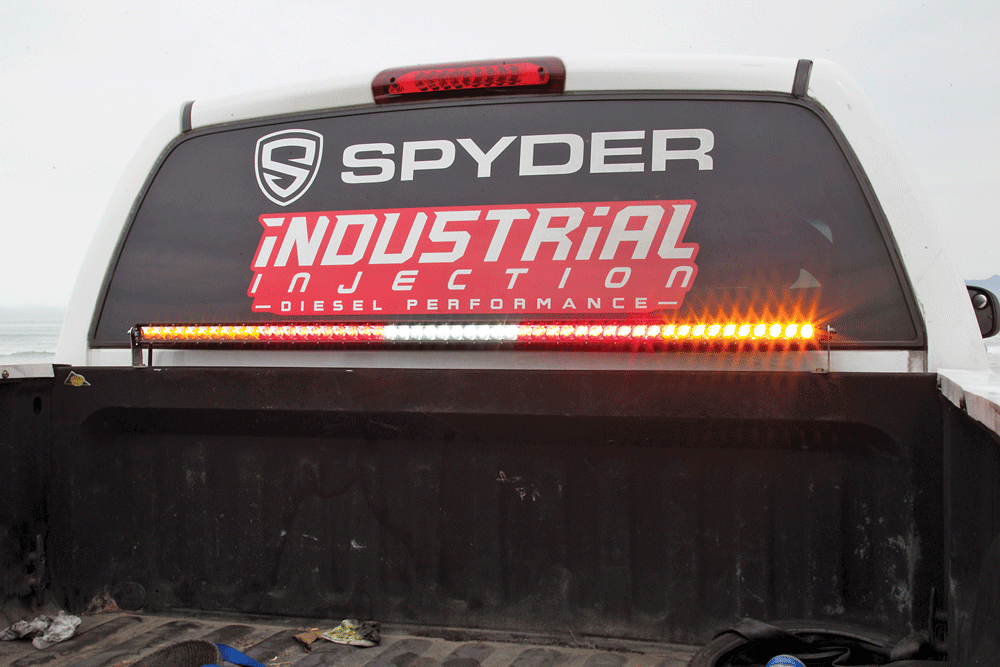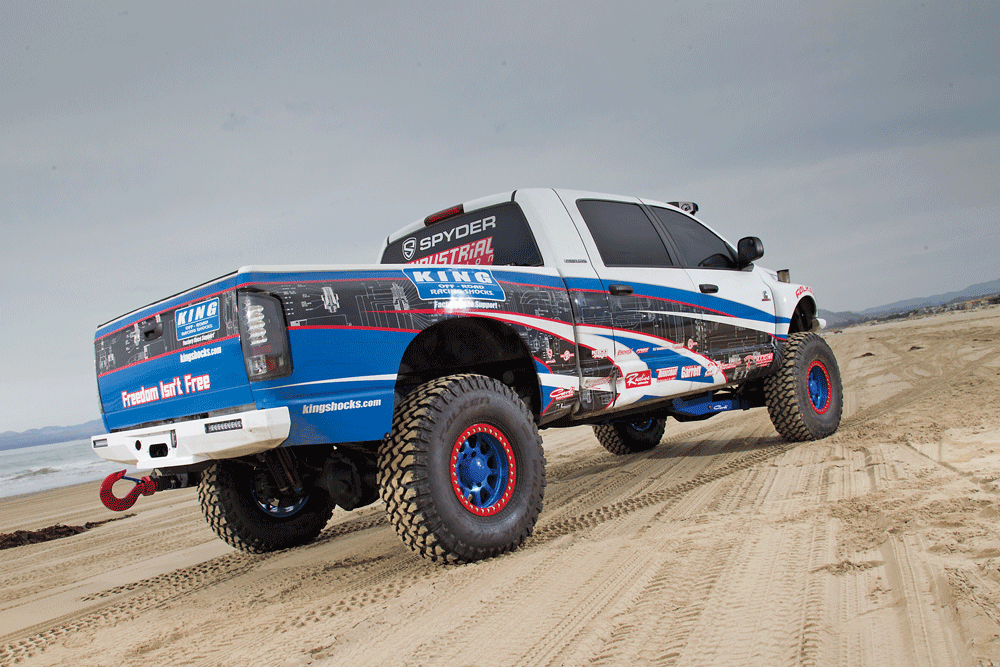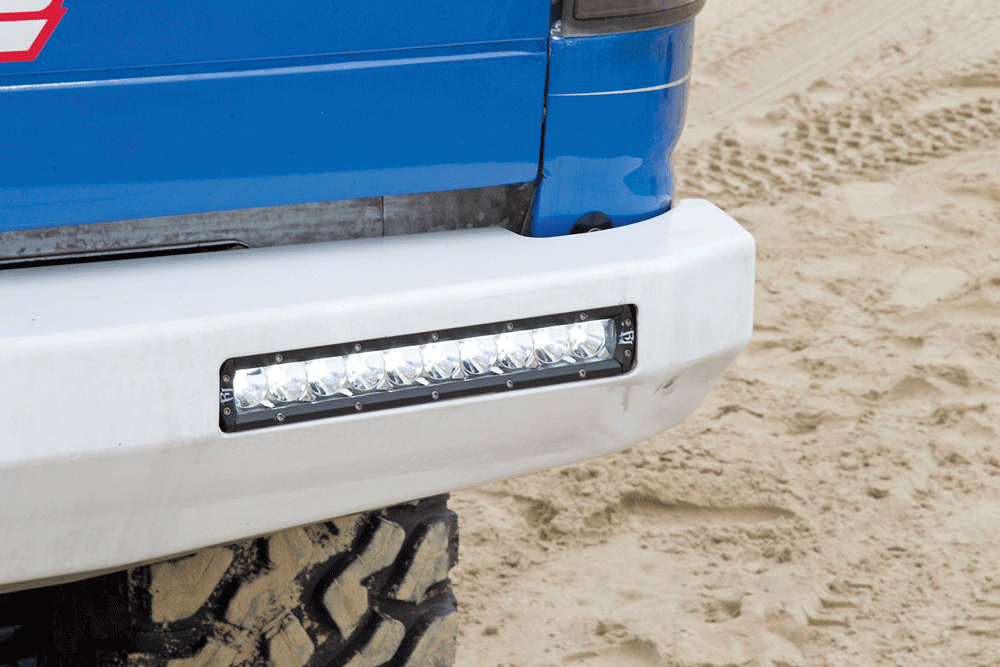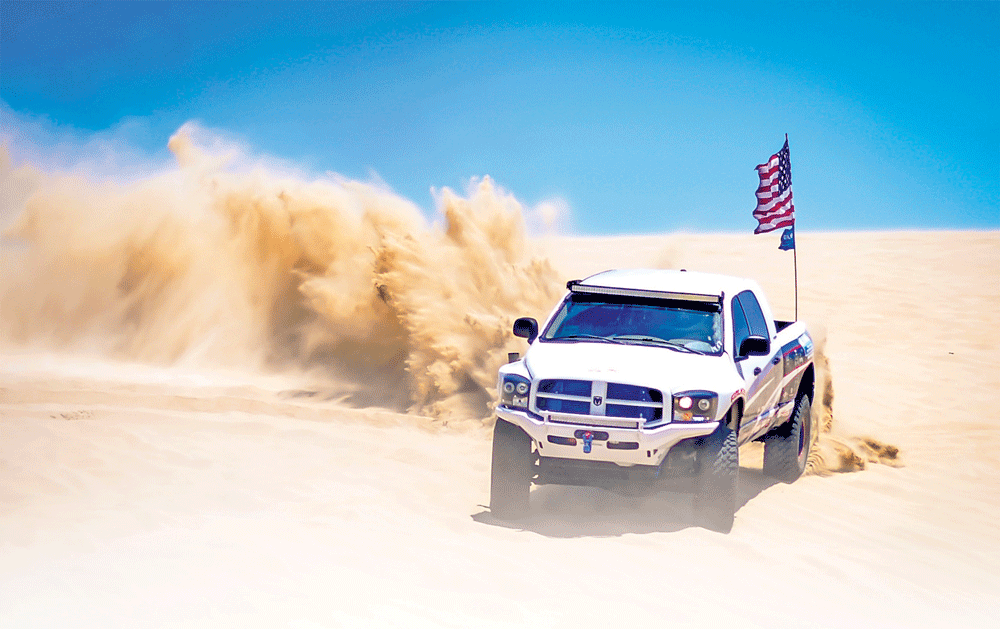 Cummins Power
The go-fast department was trusted to the crew at Industrial Injection. While Kellan currently has a 6.4L Cummins race motor being built, the engine in the truck at the moment has a stock bottom end. But other than that, not too many stock parts left. Industrial Injection installed a set of ARP 625 Head Studs to keep cylinder pressure where it belongs. Hamilton valve springs and pushrods were chosen to keep the valves from floating under the extra boost. Fueling needs were taken care of via Industrial's Dual CP3 kit loaded with two 85% over pumps. The dual CP3s get their supply of #2 from dual FASS 150GPH lift pumps sucking from a sump kit in the stock tank. All this fuel is then fed to six of Industrial Injection's 275hp injectors.
With all that fuel, Kellan needed a set of compounds that would allow for quick spool and near smokeless (aka efficient) power. Playing around in the dirt means you're on and off the power often. Industrial installed their compound kit with a set of Garrett turbos, an atmospheric with an 88mm compressor wheel over a 66mm high-pressure turbo. Boost control is handled by a single Turbosmart Big Bubba blow-off valve. Further intake mods include an S&B Billet Intake Horn and S&B air filter. All this fuel and air, along with tuning from Starlight Diesel, netted Kellan's Ram 1,148 rear wheel horsepower.
"Randy's built the trans with a manual valve body as well as manual torque converter lockup and overdrive activation"
Transmission and Driveline
Getting all that power to the ground, and well, the sand too, is taken care of by a heavily built 48RE tranny from Randy's Transmission, built to handle sled pulling and drag racing. The truck originally came with a 68RFE transmission, but Kellan swapped it out because the 68 just couldn't handle the power. Amazingly, Kellan went through more than five extensively modified 48RE transmissions before going with one from Randy's. Randy's built the trans with a manual valve body as well as manual torque converter lockup and overdrive activation. This means that Kellan is in 100% control of the 48RE at all times.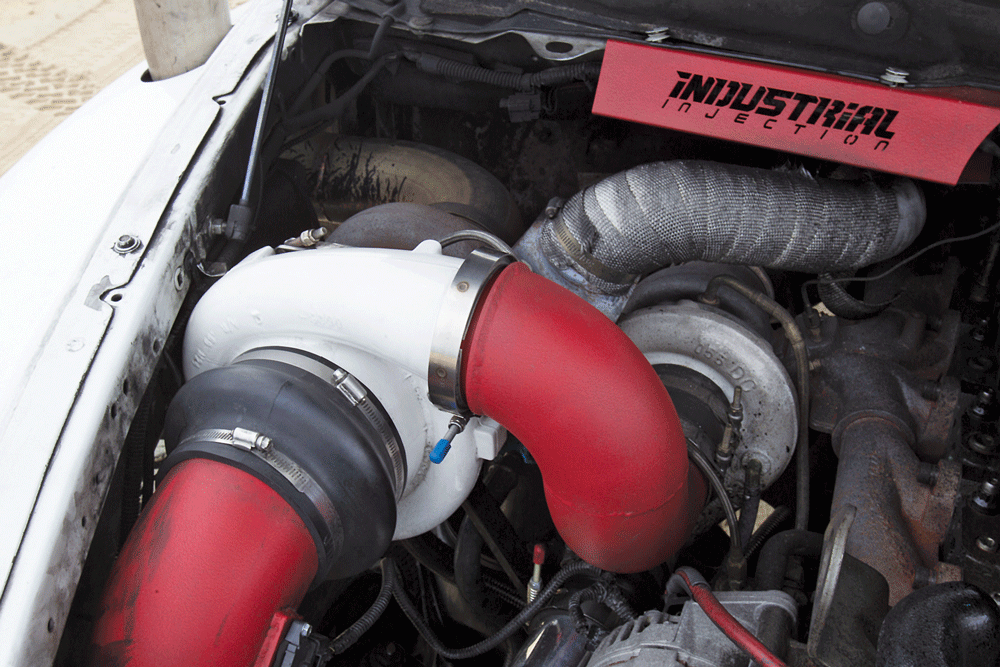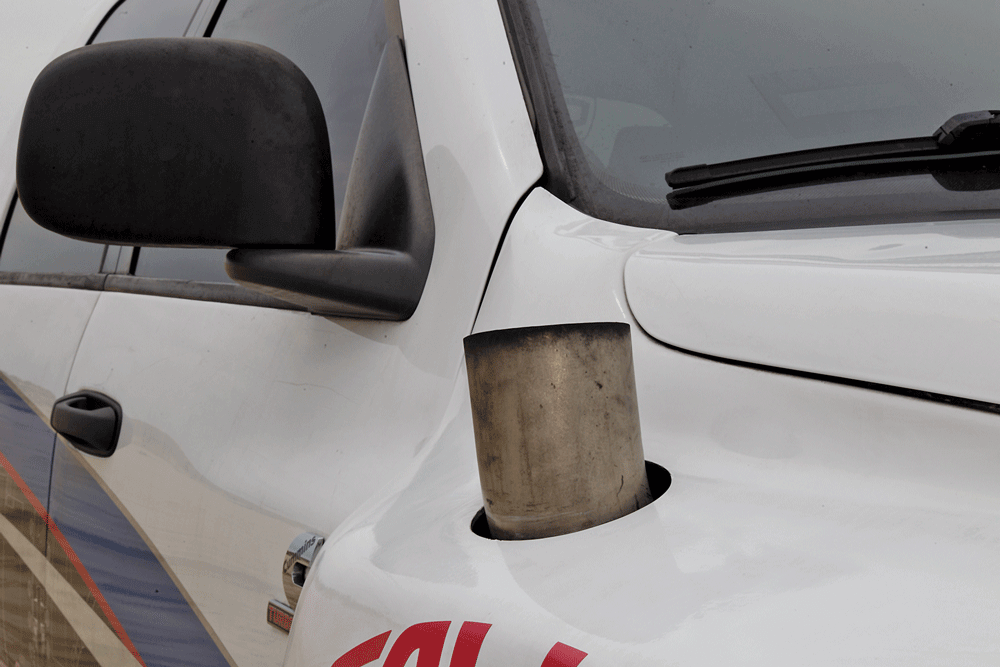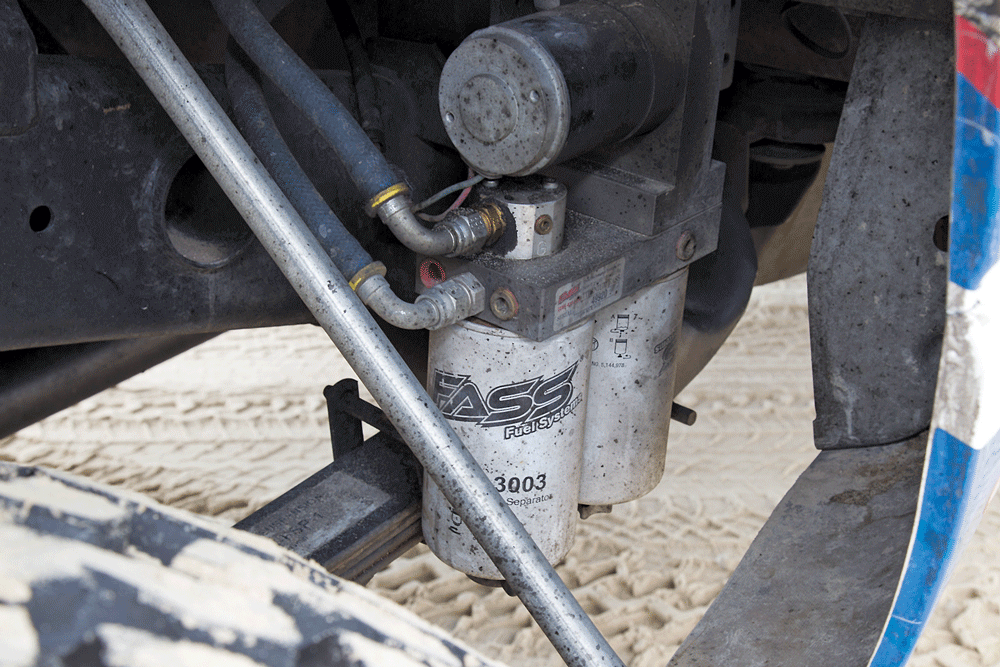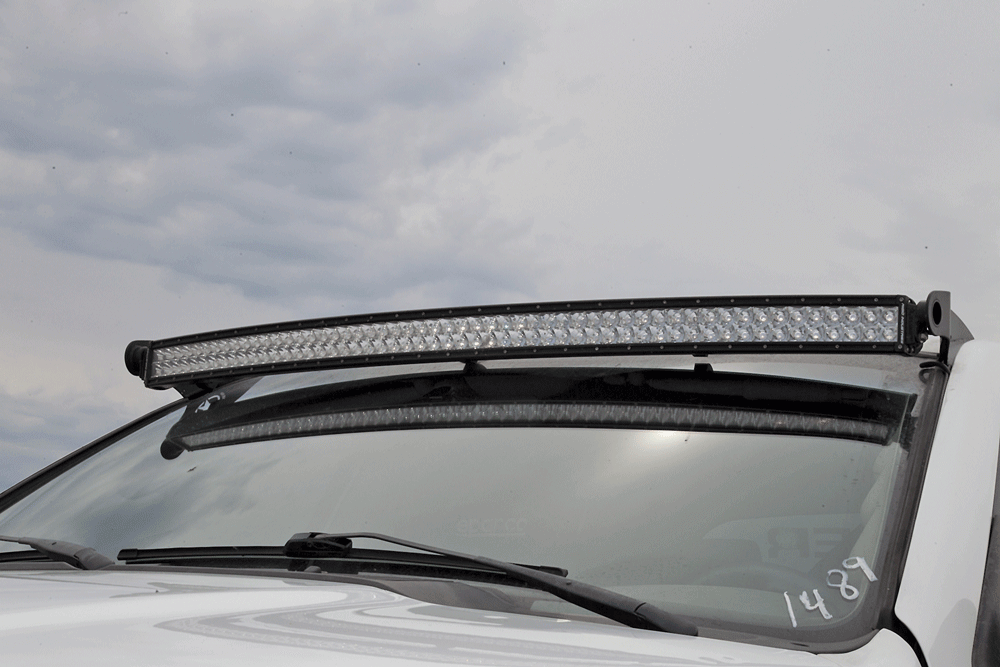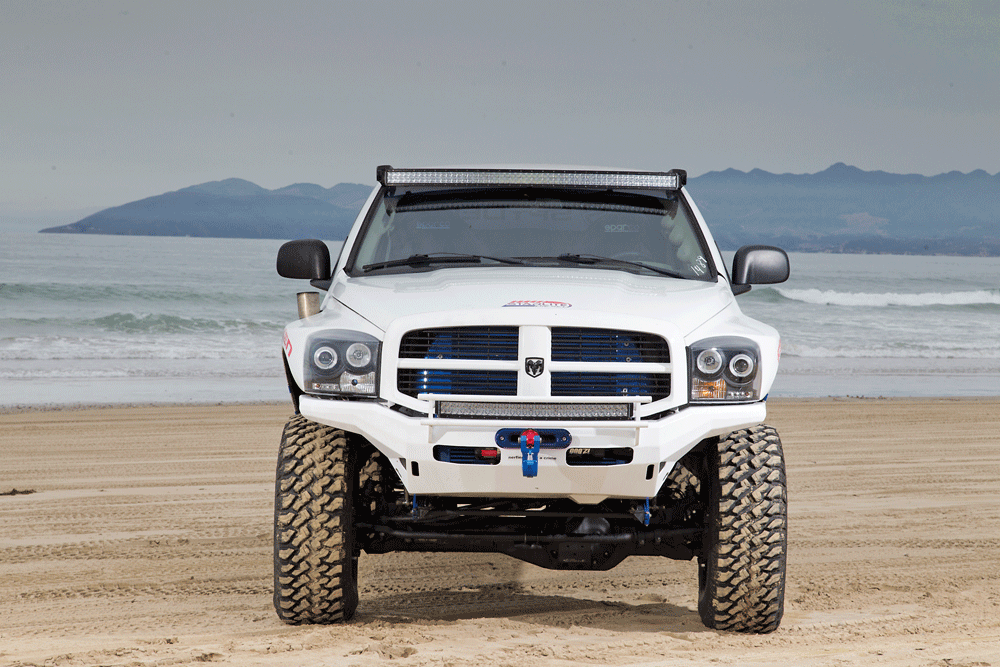 From the trans back is a custom 5-inch, blue anodized driveshaft with more blue anodizing on the 1550 u-joints. The rear axle was also treated to an Eaton Detroit Locker while the front received an Eaton ECTED electronic locker. Both axles have matching 4:10 gearing.
Interior
Kellan's interior is simple and set up for high-comfort desert cruising. A set of Sparco reclining racing seats keep the passengers safely restrained while a five-person intercom from PCI Race Radios lets them converse easily no matter the noise level. In the back between the two Spearco race seats sits a 12V DC powered refrigerator as well.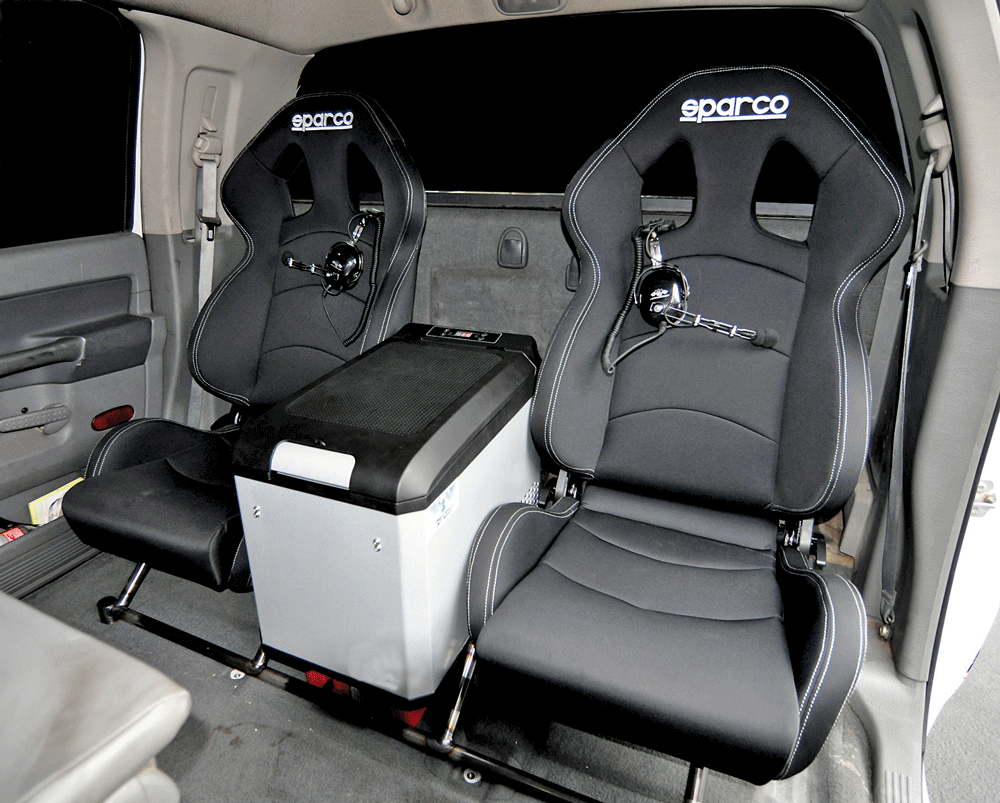 Future Plans
For most of us, our trucks will never really be completely done. Kellan's wild Ram is no different. He's got a massive list or modifications planned: there's a new exterior wrap in the works, new fiberglass fenders will be going on later this year; a more race-ready four link front suspension setup with coilover shocks is being designed, and a roll cage also goes in before the end of the year. However, we're sure there's much more. With all the modifications and the new 6.4L race motor going under the hood, Kellan's Ram will be a truly amazing ride, and we can't wait to see what it morphs into in the years to come. DW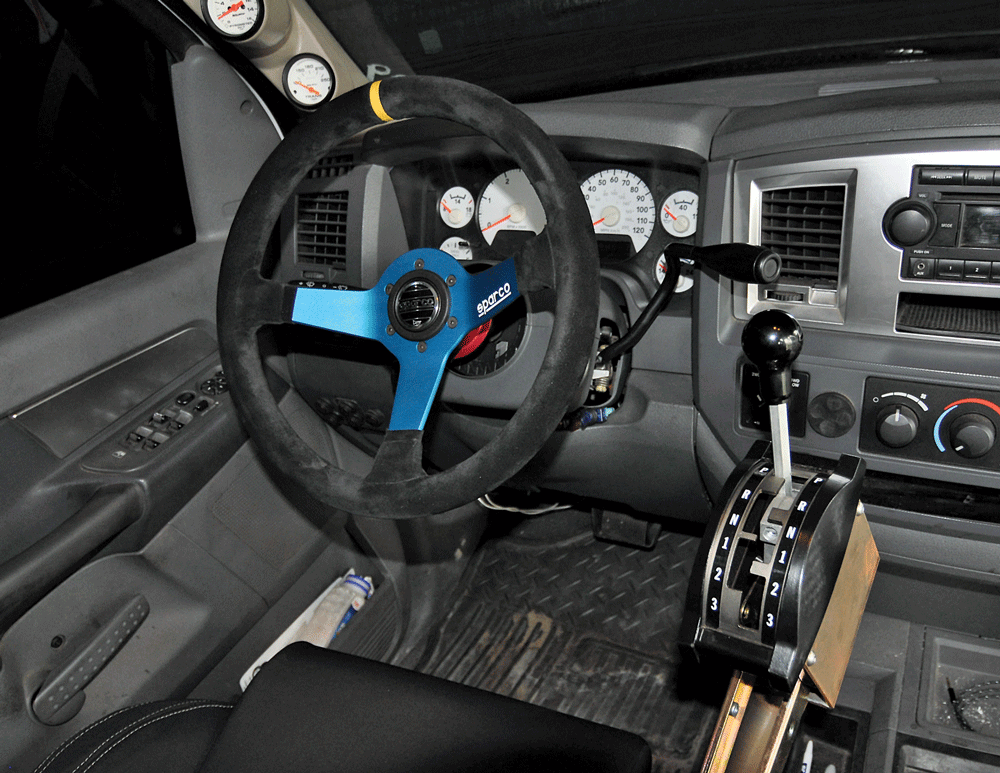 [divider]SPECIFICATIONS[/divider]
2007 Ram 2500 4×4
Engine:
Built by Industrial Injection
Stock Bottom End
Hamilton Valve Springs and Push Rods
ARP 625 Head Studs
Fleece Coolant Bypass Kit
Dual FASS 150gph Lift Pumps
Dual CP# Kit with Two Industrial Injection 85% Over CP3's
Industrial Injection 275 HP Injectors
Industrial Injection Compound Turbo Kit
88mm Garrett Atmospheric Turbo
66mm Garrett High Pressure Turbo
Turbosmart Bigg Bubba Blow Off Valve
S&B Billet Intake Horn
S&B Air Filter
Transmission:
48RE Built by Randy's Transmission
Manual Valve Body
Manual Torque Converter Lockup
Manual Overdrive Activation
Axles and Driveline:
5-inch Inland Empire Aluminum Driveshaft Rear and Front
Eaton Lockers Front and Rear
4.10 Gears
Suspension:
Carli Prototyle 3-inch, Unchained Radius Arm System
King 3.5 x 12-inch Shocks with Finned Reservoirs Up Front
King 2.0 x 2.0 Bump Stops Up Front
Carli Suspension Low Mount Steering Stabilizer Mount Kit
King 2.0 x 10 IFP Steering Stabilizers
King 3.0 x 13-inch 4 Tube Bypass Shocks with Finned Reservoirs Out Back
Carli Heavy Duty Ball Joints
Custom Carli Built Sway Bar
Interior:
Sparco Chrono Seats-Power Adjustable (4)
Pro Eagle Refrigerator
Autometer and Turbosmart Gauges
Art Carr Shifter
PCI 5 Person Intercom System
Exterior:
Mercenary Off Road Bumpers Front and Rear
Fiberwerx Fiberglass Fenders Front and Rear
Smittybuilt 12K Winch
Rigid LED Lights Throughout