Sean O'Hara is the proud owner of Street Diesel Performance (SDP), a Ford power-stroke specialty shop in Chaplin, Connecticut, with a forte in complete builds from the frame up. Every year, the crew at SDP builds a truck for the Las Vegas-hosted SEMA convention in order to show off all of their latest products, and this year, they had a little more time than usual to create their monster machine. With eight weeks available to build, the crew upped their SEMA game and did some extra paint and body work to this F450.
"The front suspension has a 14" Rize Industries four link conversion"
For the build, they also included Rize Industries suspension, Fox shocks, Toyo tires and American Force wheels in the project, and the truck was shown in the American Force booth.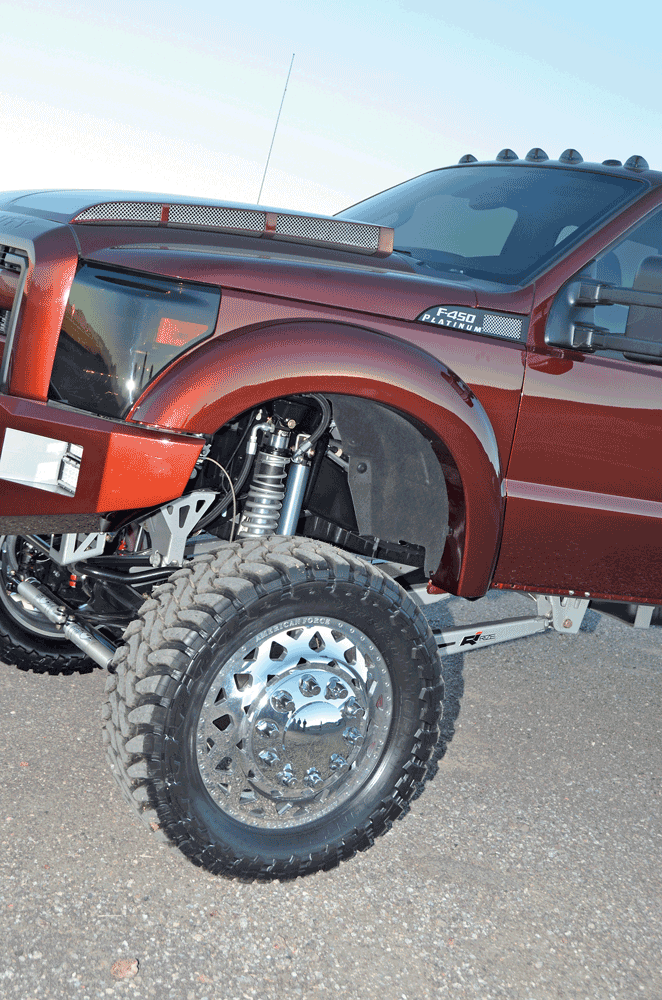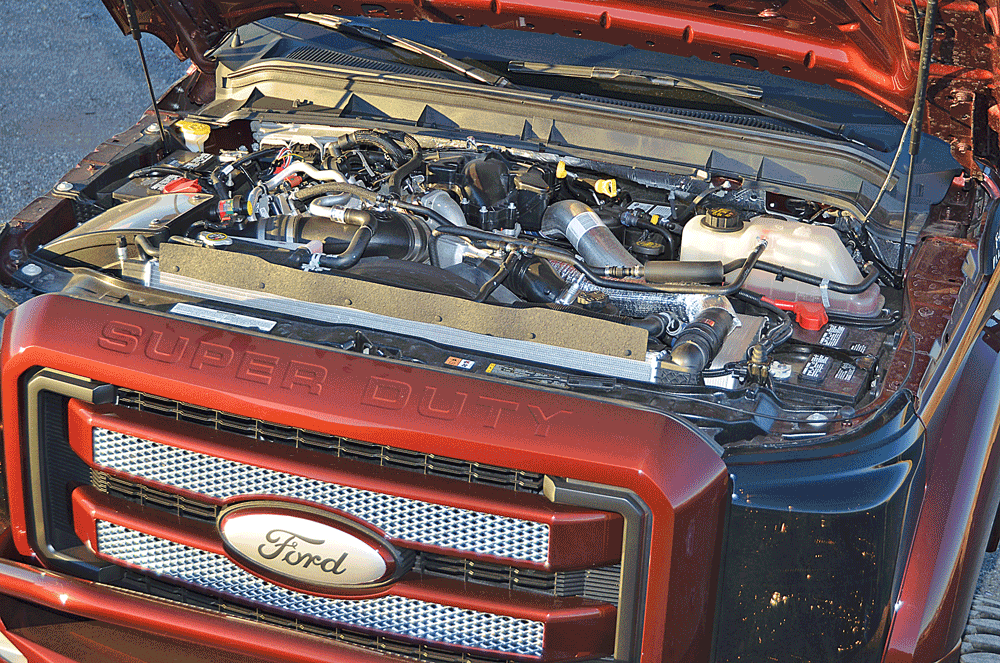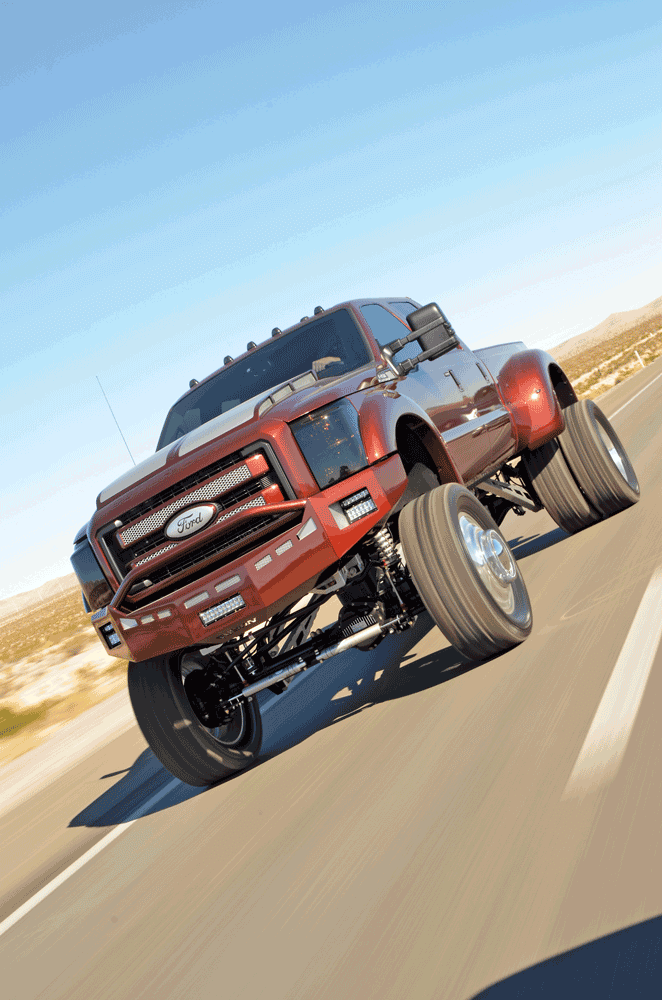 SKY-HIGH STANCE
The F450 frame was primarily left stock, since it was already strong enough for the build. To begin the mods, this truck had the stock steering replaced with an SDP custom steering system that also included a WC Motorsports track bar with heim ends. The rear suspension starts with Atlas 12-inch rear leafs, supporting a 4.30-geared limited slip DANA 135 axle. At the rear, bumps are dampened with 2.5" Fox remote reservoir shocks. Rear traction and wheel hop are controlled by a set of Rize Industries traction bars. These bars had to be custom built so they could be mounted to the bottom of the axle housing, due to the square tube axle housing of the Dana 135. Up front, it has a 4.30-geared DANA 60 wide track front end with a Fox 2.5 coil-over set up, 600-lbs Eibach coils and 2.5-inch secondary shocks with remote reservoirs mounted on SDP custom mounts, with Billet Clamps. The drive shafts are from High Angle Driveline, the rear uses a 1410 CV 2-piece unit with 1480 joints and the front has a1350 CV High Angle setup. Sean went with the Crown SDP custom-built brake lines for the brake lines on this lifted truck. The front end also has a Mag Hytec cover, and a 14" Rize Industries four link conversion. All of this had to be customized to fit the new design of the F-450 suspension, but combined together, it all makes for a nicely lifted truck.
"The front suspension has a 14" Rize Industries four link conversion"
With the lift completed, it was time to add new tires and wheels to this rig for the great SEMA look. For new clearance with this lift, Sean used 24" American Force Mayday polished wheels all around, wrapped in 40×15.50×24 Toyo MT rubber.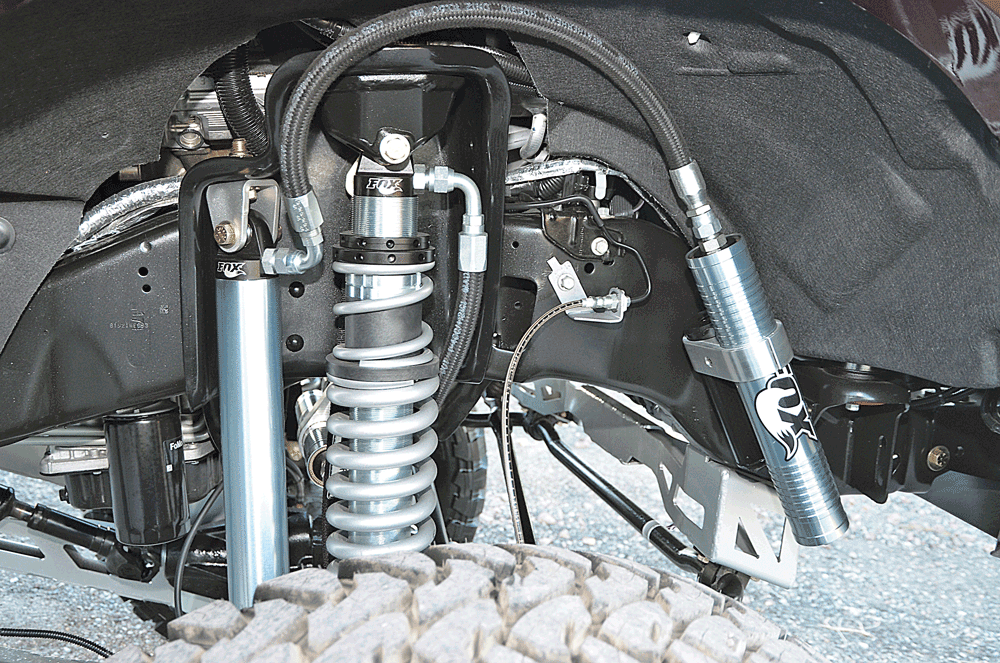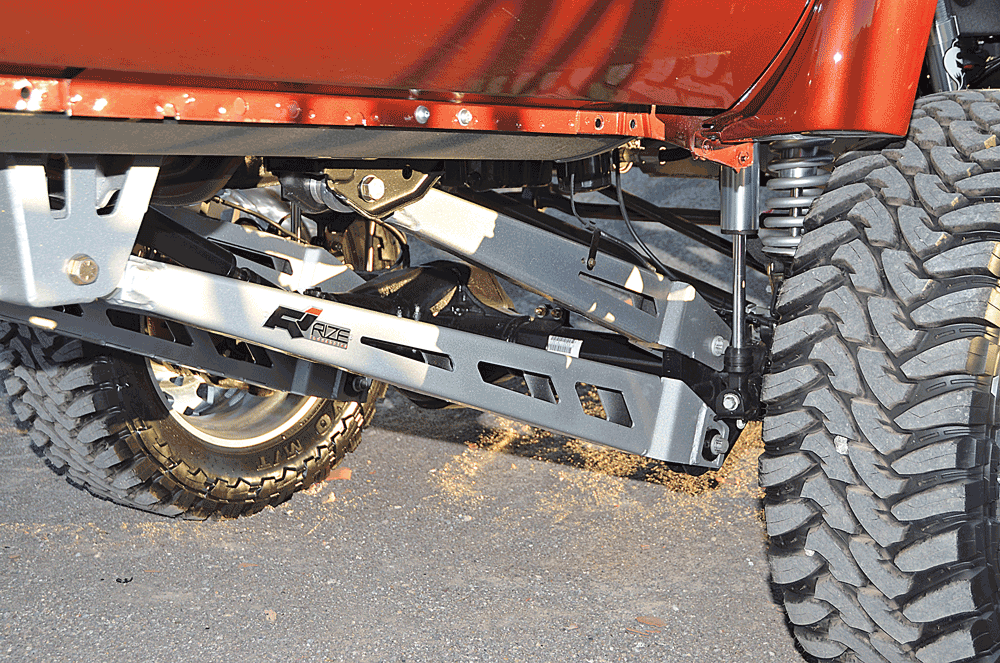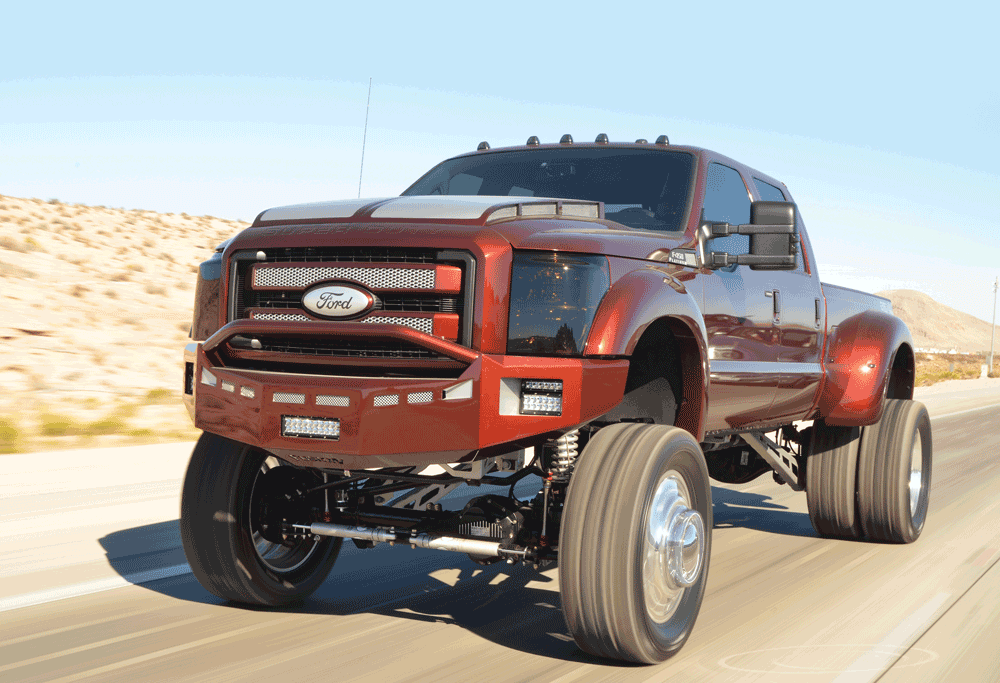 6.7L POWER STROKE
The engine is the tried-and-proven stock 2015 6.7L 8-cylinder power plant, which for 2015, received a new turbo and larger fuel system to bring the stock horsepower up to 440 with 865 ft-lbs. of torque. Sean swapped the stock Diesel air intake with an S+B cold air Intake, for the added air input. He also went with the MagnaFlow 5-inch DPF back exhaust, stainless steel with muffler and 6" tip for the increased exhaust flow. Sean also added an SCT 7015 X4 programmer with custom tuning by KEM. He decided to include an Edge Insite CTS with pyro for monitoring, mounted on a SDP custom dash mount. The transmission is the stock 6R140 6-speed Ford unit.
"24-inch American Force Mayday polished wheels wrapped in 40×15.50×24 Toyo MT tires"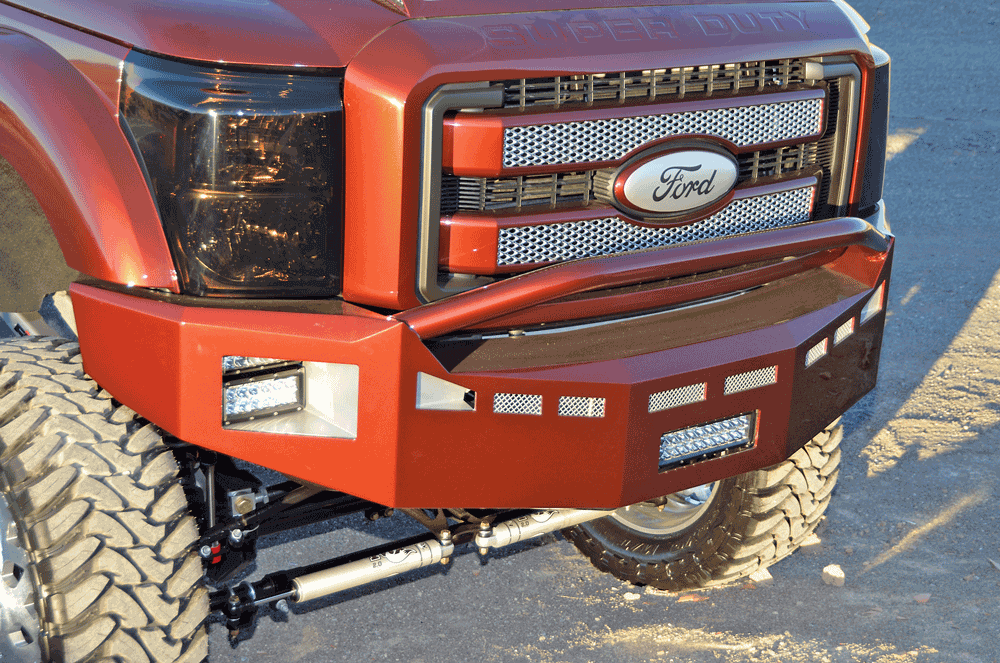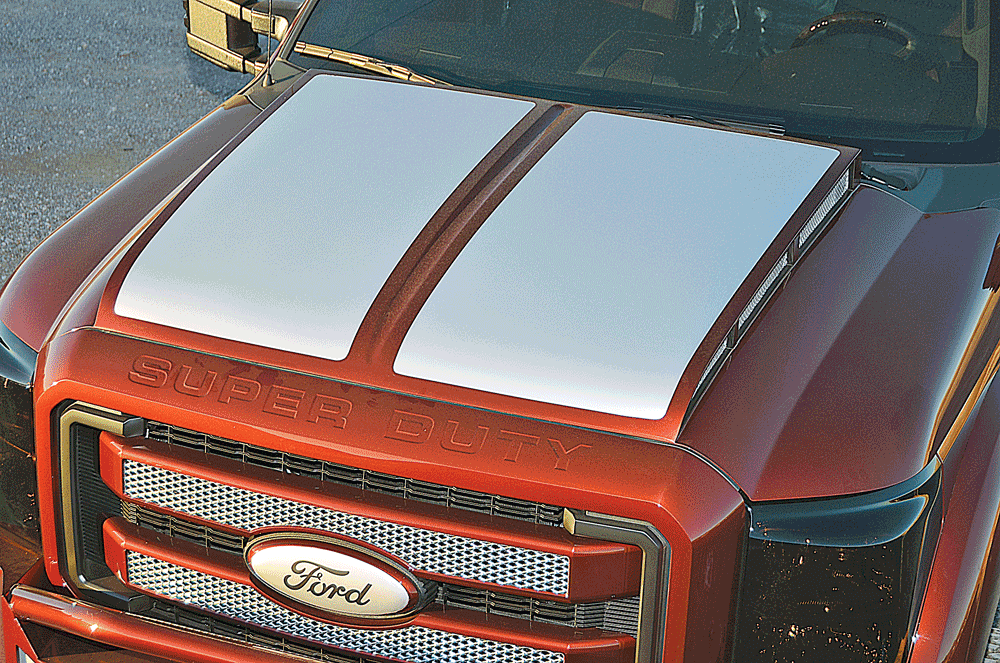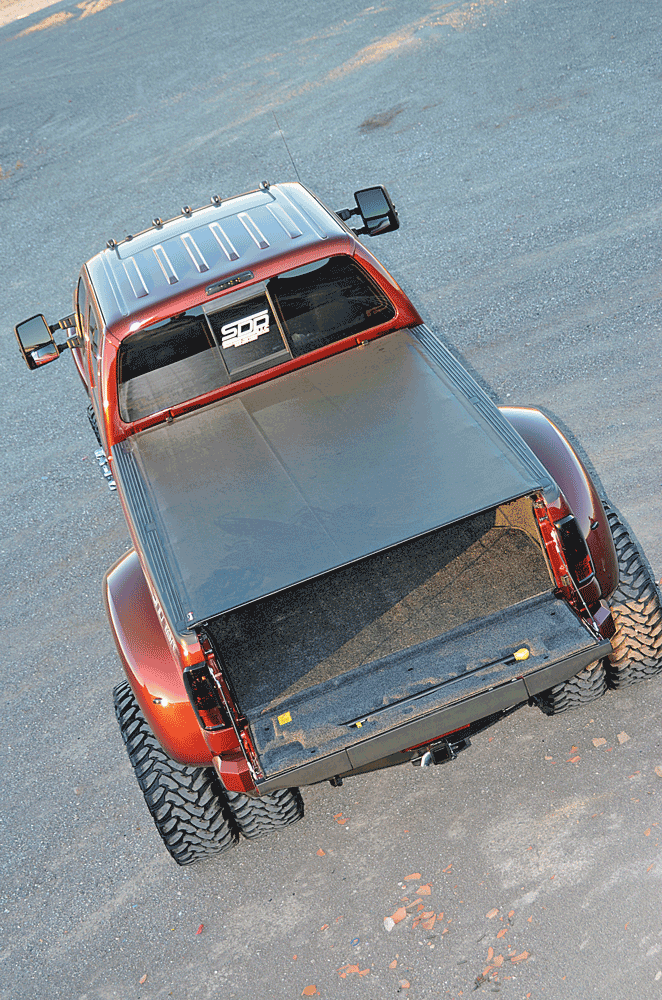 FINAL TOUCHES
With all the mechanical work completed, it was time for the body mods: The front fender flares were shortened and then capped on the bottoms, since the factory fixed steps were removed and replaced by the Amp Power Steps. The rear fenders where smoothed to remove the stock plastic stone guards from the front of each fender. Next, the hood was replaced with a custom full cowl hood built by using a new 2015 stock hood and a 2001 center section with the screening to match the billet Street to Sand side custom emblems. The stock bumpers, front and rear, were removed and replaced with welded steel, Fusion Bumpers fitted with Rigid Industries LED lighting throughout. The bumpers, tailgate panel and grill were all painted to match the body. In the bed, an Extang Revolution Tonno covers a Bed Rug linwe.
As for paint, Sean went with a brand new color that Ford brought out this year called Bronze Fire metallic. To extend the truck's range, a 65-gallon, direct replacement, Titan fuel tank replaced the stock unit.
All of the bodywork and paint was completed by Tom Ryan at Johnson Auto body in Tolland, Connecticut. Of course, Ryan wasn't the only helper: Even though this SEMA truck took only eight weeks to build, it also required the help of Kreg, Ryan and Lisa O'Hara, Tom Ryan, Scott Johnson and Tyler Brancifort. Without their help it would have never made it to the American Force wheel booth at SEMA. DW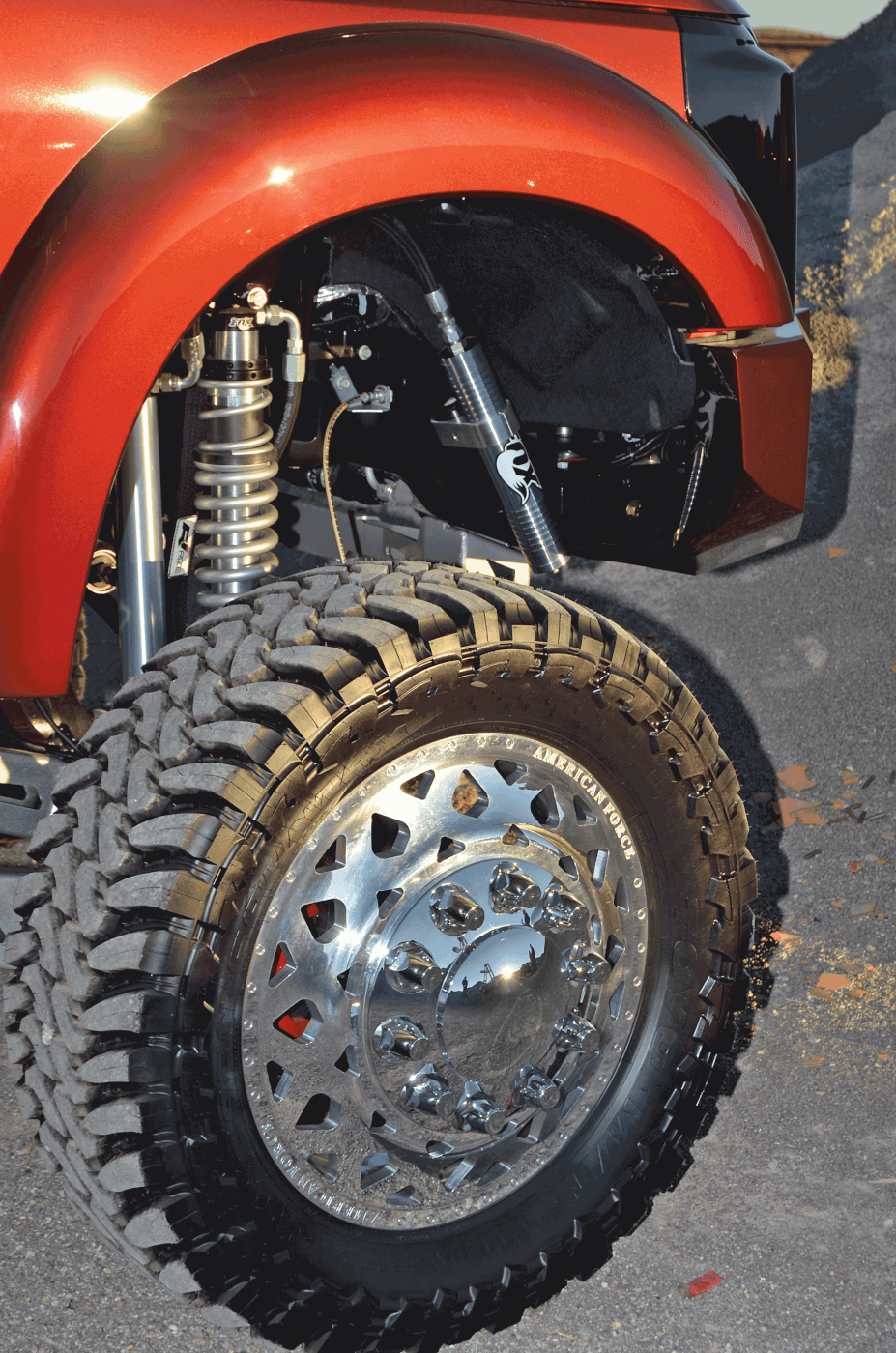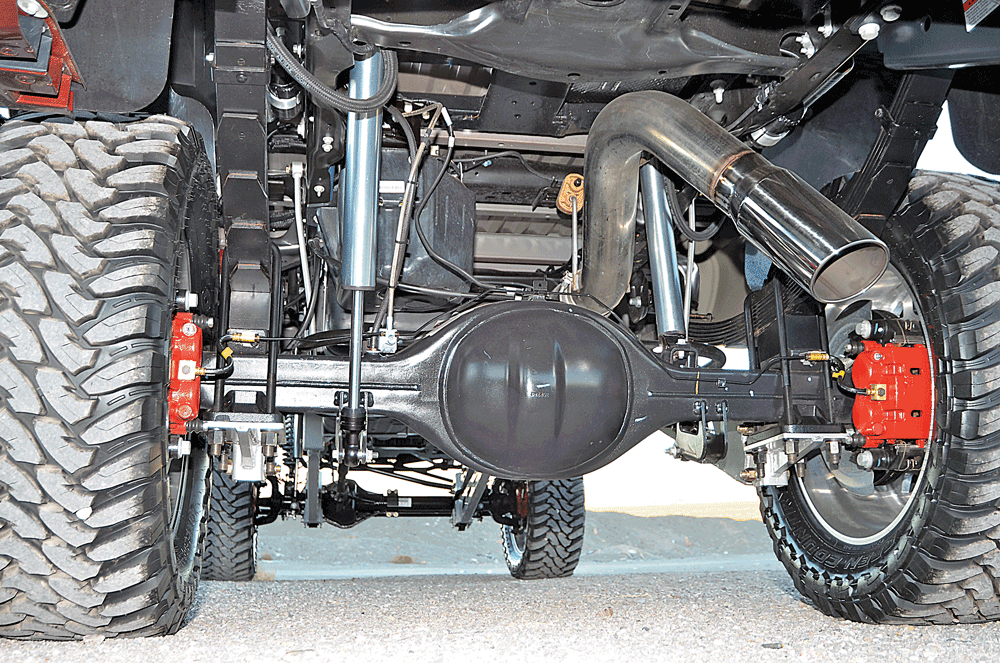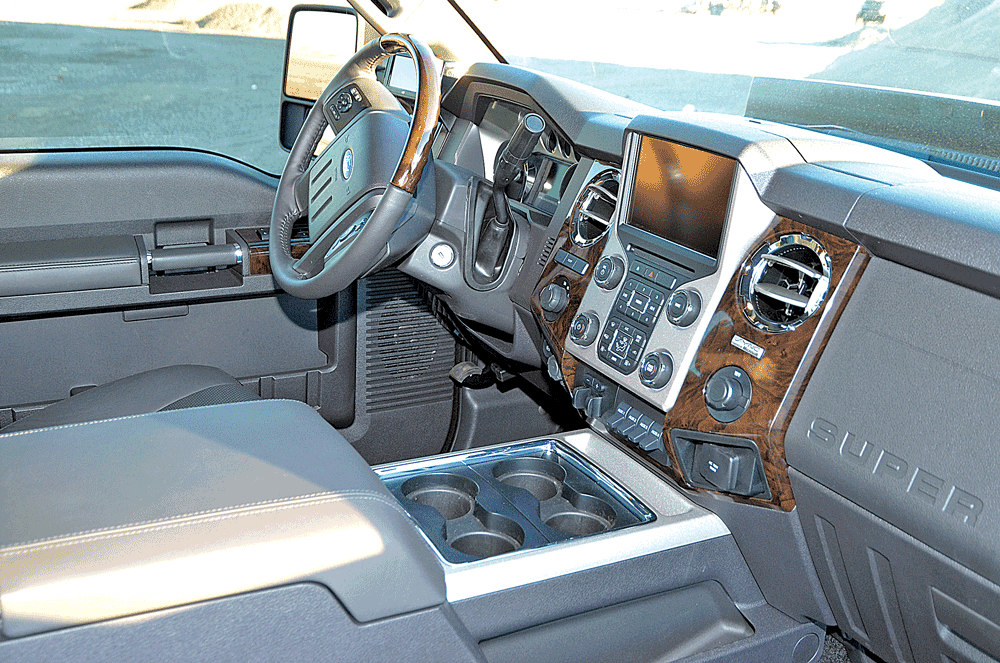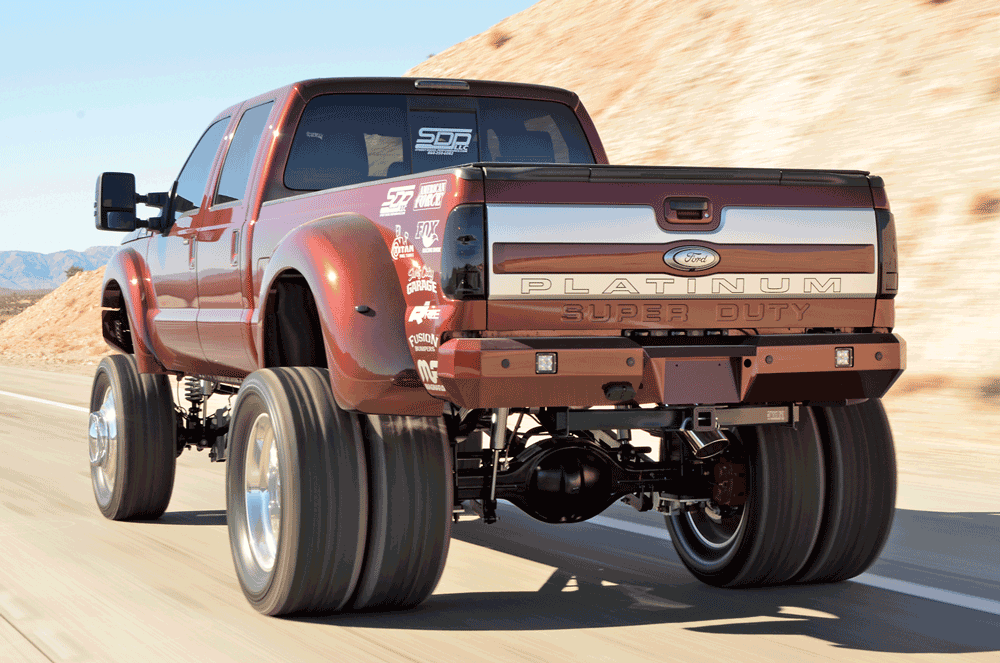 [divider]At a Glance: 2015 F450 4×4[/divider]Suspension:
Rize Industries 14" Lift
SDP custom steering
WC Motorsports track bar
Wheel's and Tires:
24" American Force Mayday polished wheels
40×15.50×24 Toyo MT tires
Performance:
440 HP; 865 LB.-FT
S&B Intake
Magnaflow 5" Stainless Exhaust
SCT 7015 X4 programmer (custom tuned by KEM)
Edge Insite CTS
Miscellaneous:
Amp Power Steps
Fusion Bumpers
Ridgid LED Lighting
65 gallon Titan fuel tank
Bed Rug
Extang Revolution Tonno cover.