UCC 2017 BRINGS UNPRECEDENTED CARNAGE
The Ultimate Callout Challenge has become one of the biggest events in the diesel industry in only its second year of existence. With more than a hundred vendors, a show n' shine, and more than 10,000 spectators, it's an event unlike any other, one that tests man and machine to their limits. The rules are simple: Bring a diesel powered pickup to drag race, sled pull, and dyno, and hope you brought enough. The winner of UCC 2017 would be the truck that was able to finish with the highest total point value in all three events.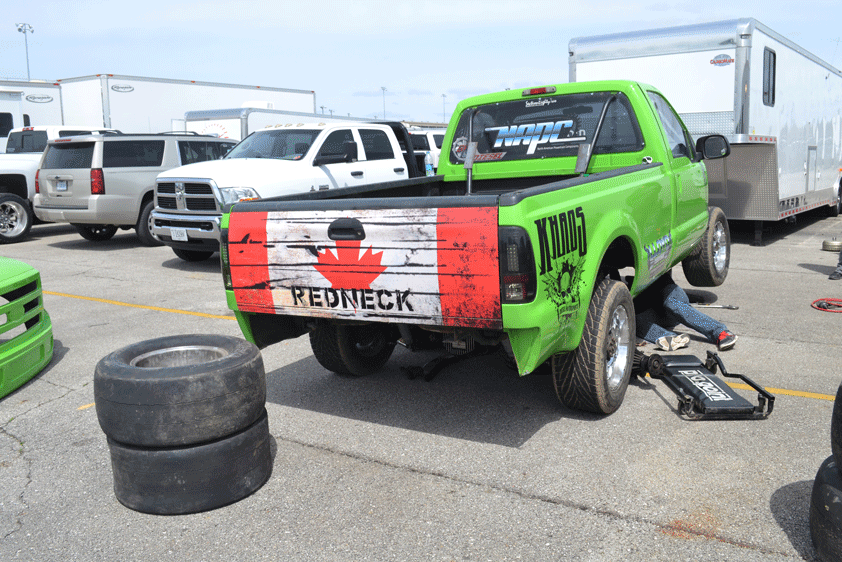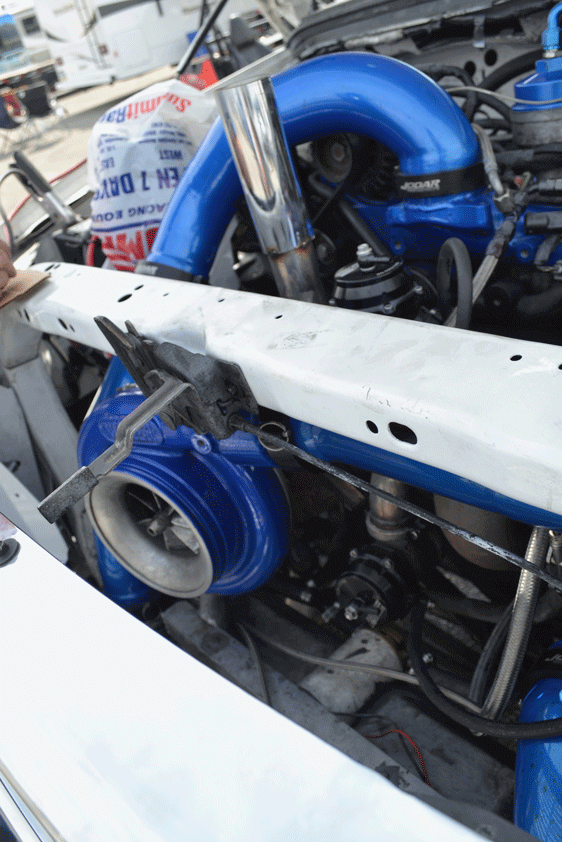 With 27 trucks making the call this year, UCC 2017 at the Lucas Oil Raceway in Indianapolis was sure to be a barn burner. Last year's winner Lavon Miller returned with the Firepunk crew, as did runner-up Derek Rose. Team Trippplemax made their way from Texas with a 9.0-second Chevy representing SoCal Diesel, as did the drag race trucks of Aaron Rudolf, Chase Fleece, and Donovan Harris. There were heavyweights too, as Jesse Warren brought his big-power 6.0L Ford, Randy Reyes showed up in his 2,000hp dually, and Shawn Baca brought his amazing "Master Shredder" Ram. Perhaps the most chatter revolved around the Wagler Competition Products 2WD puller, which featured a blown and turbocharged DX500 and would be driven by none other than Street Outlaw's "Farmtruck." Who would win? Would the lightweight trucks prevail? Could a 2WD take the title? The only way to find out was to get the action started!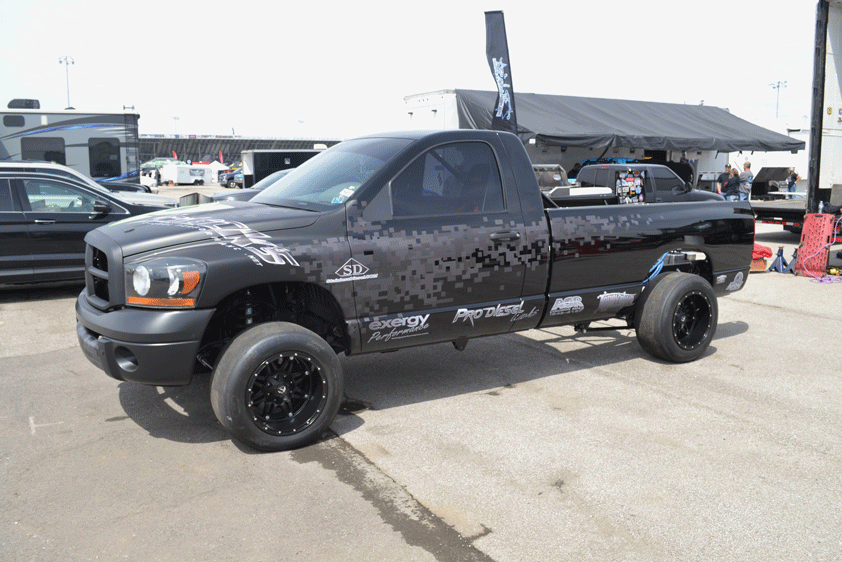 DAY ONE: DRAGS
UCC 2017 kicked off with the drag race, where competitors would vie for the quickest elapsed time down the quarter mile track. At the back of the group was the unfortunate Chase Fleece, whose Dodge Ram launched with too much power and swapped lanes, resulting in a disqualification. In front of him was Todd Welch and his '96 Ram, which chugged and smoked its way to a 15.73-second run. Unbeknownst to them, a leaky air-to-water intercooler core was injecting huge amounts of water into the engine, and killing it when the boost hit. Anthony Reams also had issues with an aborted 15.57-second run, but that didn't compare to Ashley Black, who broke his block well before the eighth-mile mark and coasted to a 14.07-second pass. Jaran Holder was just ahead of Black, and a bouncing 13.96 is simply miles away from the 10s the truck is capable of. Andrew Tovornick from Midget Diesel also expected to be competing for the win, but a coasting 12.86 ET would be his last run of the event. Shawn Baca had shifting issues and ran a 12.28 with only about 300 feet of that pass under power. Just ahead of Baca was the traction-less Randy Reyes, who slipped and slid his 9-second dually to a 12.24-second time.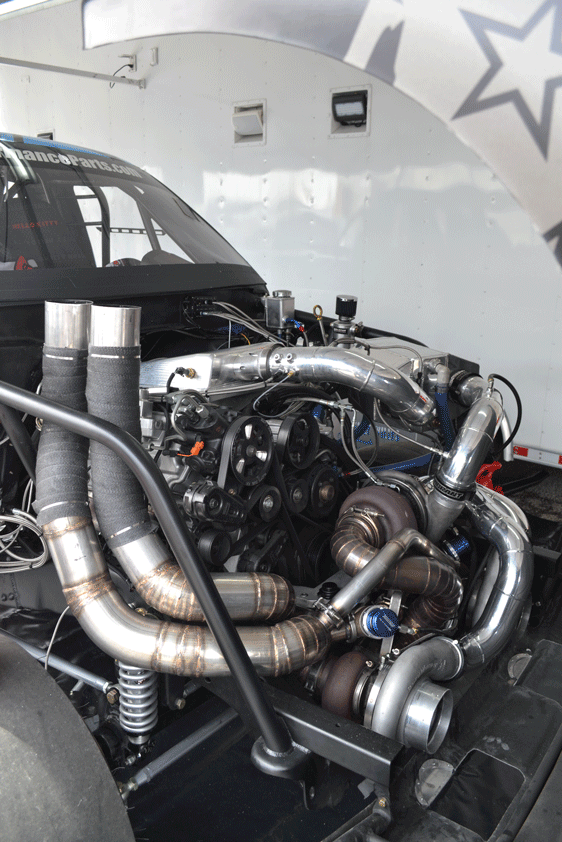 Running a 10 or 11-second quarter mile in a 7,000-pound truck is no easy task, and with three trucks in the 11s and six entries in the 10s, it was clear that some of these competitors weren't here to play games. As with the 12-second group, a few of the trucks in the 11s also had problems. Cody Hopkins from Destructive Diesel and Shawn Ellerton both had shifting issues, running 11.56 and 11.64, respectively. Also in the 11s was the much anticipated Wagler entry, which was on its way to a 9-second pass when the engine suffered a meltdown just past the eighth mile, resulting in a 11.45 ET.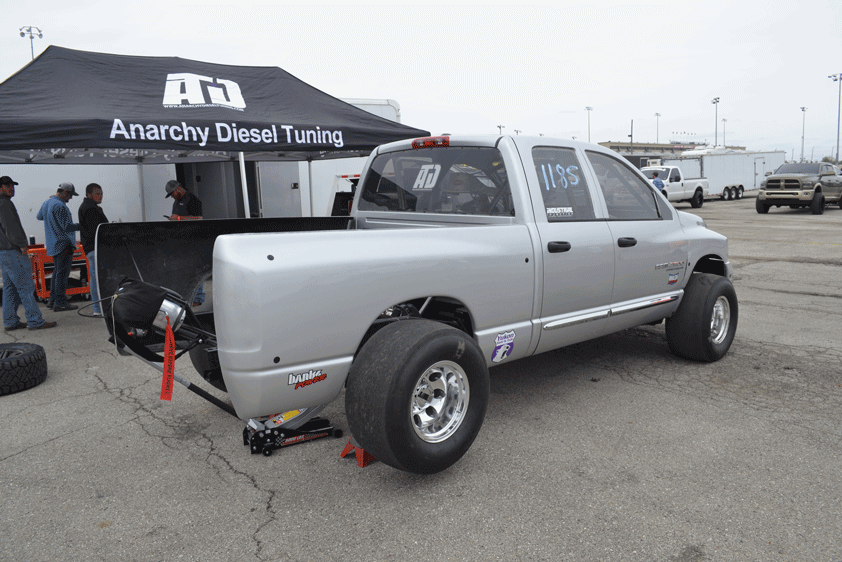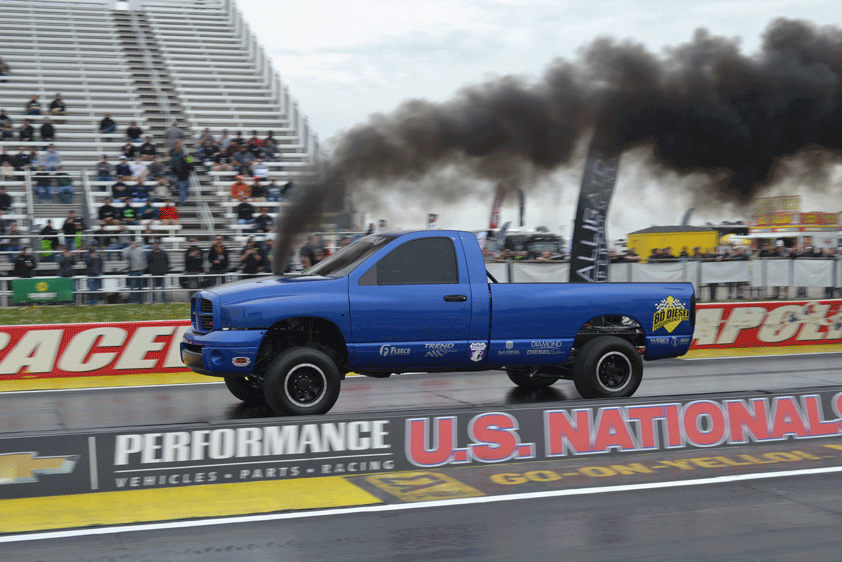 The 10-second group was a mixture of heavy trucks, lower horsepower rides, and runs that didn't go as planned. Ben Shadday was a member of this group; the experimental engine in his Dodge blew a head gasket while still pulling off a 10.93 at only 79 mph. Up from there was the surprisingly competitive Revmax entry of Tom Hauser. The Dodge clicked off a 10.79, proving that this 2WD truck could put up a number at the dragstrip. The first Ford to the 10s was driven by Wesley Beech, who laid down a 10.59 before making a mysterious exit. The Rudy's Diesel 6.4L drag truck was also a member of the 10-second club, running a 10.21-second pass at 141 mph. Two heavyweights were just ticks away from the 9s, as Jesse Warren's 7,600-pound monster ran a 10.20 at 144 mph and Zach Fuller from Starlite Diesel managed a 10.05 in his Chevy dually.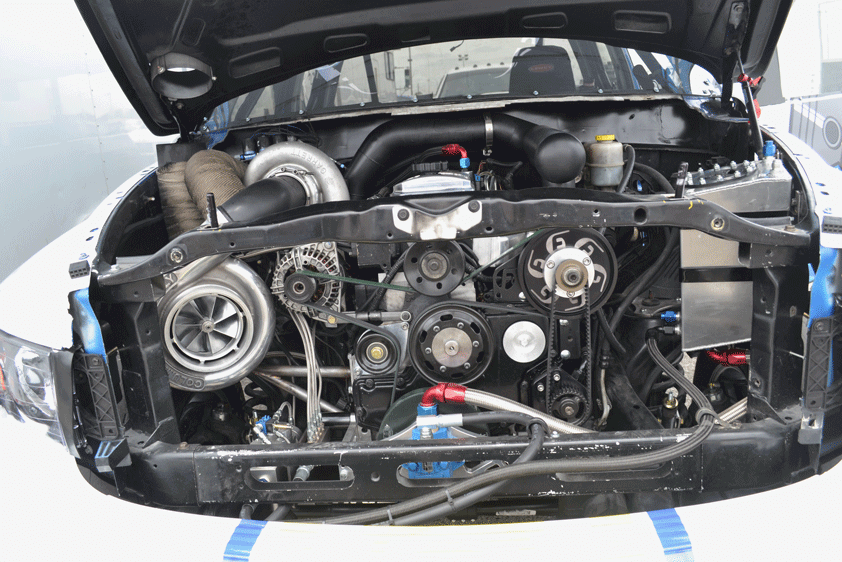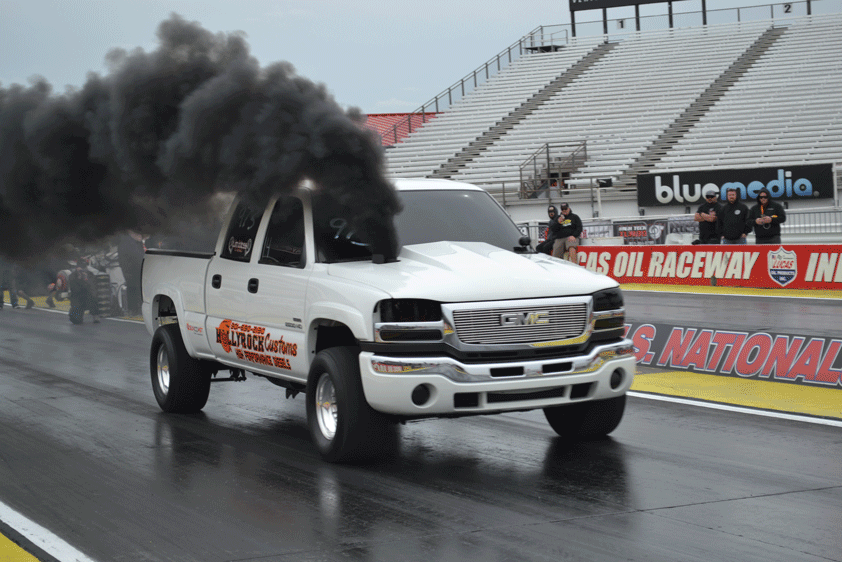 There are only a handful of 9-second diesel trucks in the nation, and we were lucky enough to witness six of them at UCC 2017. The Anarchy Diesel Ram was the first truck into the 9s with a 9.91, followed by the Jag's Pro Shop Dodge, which broke right before the finish line and coasted to a 9.797 at 105 mph. Mere inches away was the Trippplemax '06 Chevy, which with a 5.84 eighth-mile was on the way to an 8-second run. However, the output shaft on its Dodge transmission broke on the overdrive shift, and the truck coasted to a 9.796-second time. Two Duramax-powered entries surprised us with 9s as the Allisontransmission trucks of Husker Diesel and Hollyrock Customs clicked off a 9.62 and 9.55 respectively. There was only one truck in the bottom 9s: Derek Rose hit a 9.16 in his all-aluminum Cummins-powered Ram 2500 and made it look easy. And then there was one. In a virtual repeat of last year, the sub-5,000- pound Firepunk Ram driven by Lavon Miller was the only truck in the 8-second zone, clicking it off early, still managing an 8.63, and winning the drag portion of the event by a healthy margin.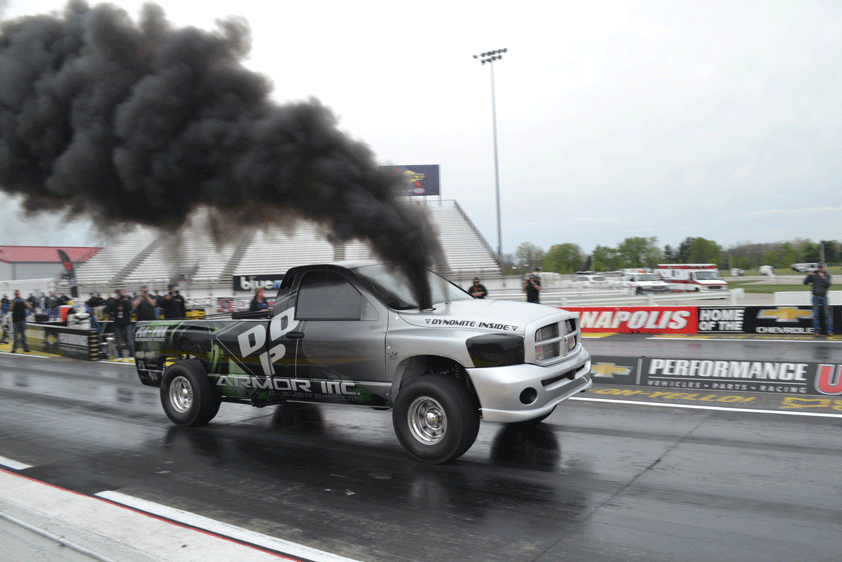 DAY TWO: DYNO
Day Two of the Ultimate Callout Challenge saw a surprising number of competitors out due to breakage at the dragstrip. Still, there were 20 trucks left to spin the rollers and see who reigned supreme. With an entire evening between the drag races and the dyno runs, there was a good amount of mad thrashing going on overnight. Event favorite Lavon Miller had his engine out, as did Ben Shadday, who brought a spare bullet. The XDP team switched to a single turbo after their triple setup failed, and Rudy's Ford only had one gear left in its Dodge transmission (well, one plus reverse). Notably absent was the Wagler Performance two-wheel-drive, the 10-second truck of Wesley Beech, and the flyin' Duramax-powered Husker Diesel entry, which ran a 9.62-second ET the day before.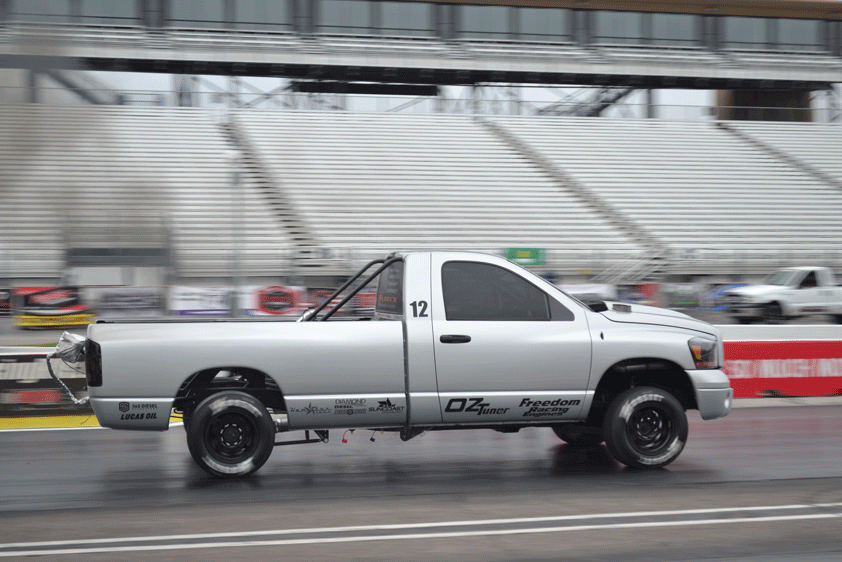 When the smoke cleared (literally), there were some familiar faces atop the podium, and probably the biggest surprise of the year as well. Having the dubious honor of taking last place among the trucks that were still working was Todd Welch and the Power Driven Diesel team. As with their experience on the dragstrip, the PDD crew had unforeseen problems on the dyno as a pump key sheared off and the injection timing slipped midpull. With less than half as much boost as normal, the 12-valve Ram only put down 754 hp along with 1,308 lb-ft of torque. The Revmax entry jumped up well past PDD. On the dyno, the Dodge made 996 hp and 1,636 lb-ft of torque, which were very impressive numbers through a 68RFE transmission.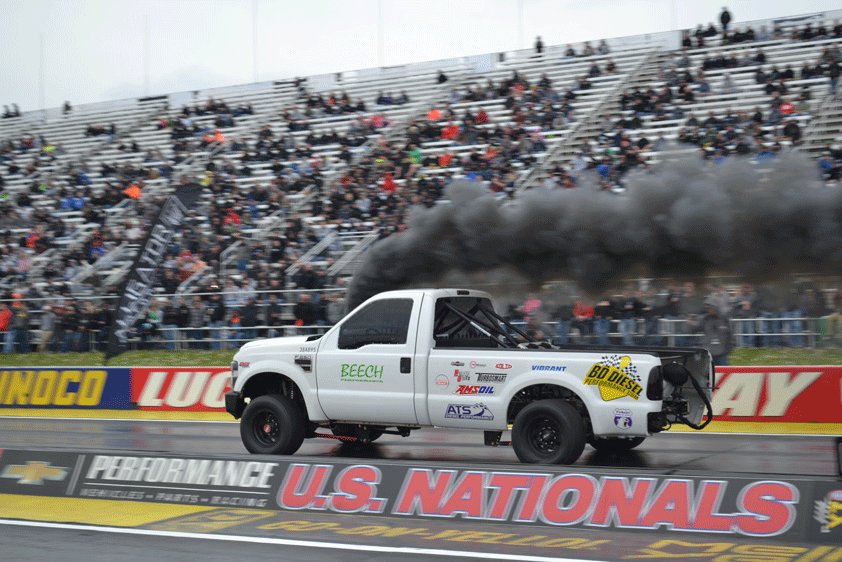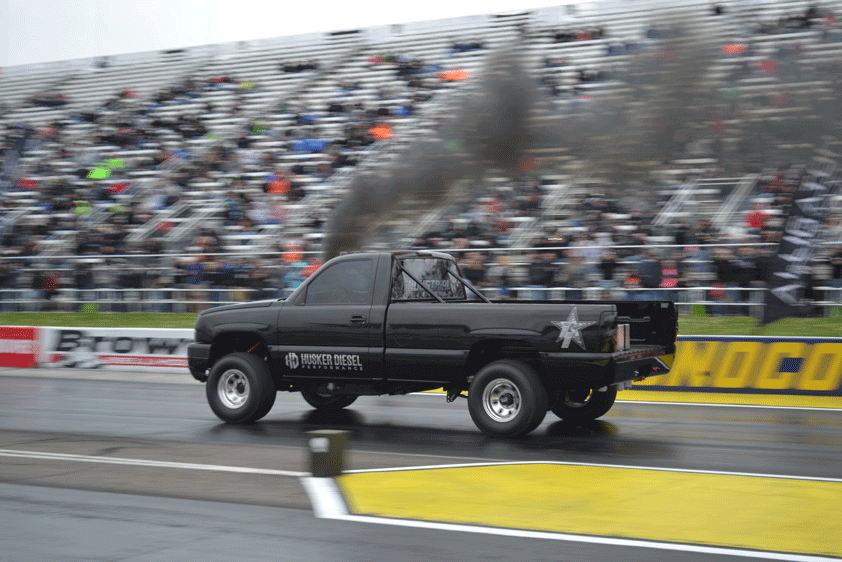 Since the dyno competition was based on horsepower and torque combined, a couple entries that were high on horsepower but low on grunt were next. After running a 10.20 at the dragstrip Aaron Rudolf needed to make some serious power, but his engine had other ideas. When they pulled it on to the dyno, Rudy noticed that the oil pressure needle never moved from zero. Broken gauge? Nope—no oil pressure! Still, he made the decision to press forward with a dyno run that saw the engine lock up, but only after a 1,122hp, 1,577 lb-ft pull. Obviously, those weren't the numbers Rudy was looking for, but he remained upbeat: "We have 20 hours until the sled pulls. We'll get it fixed!"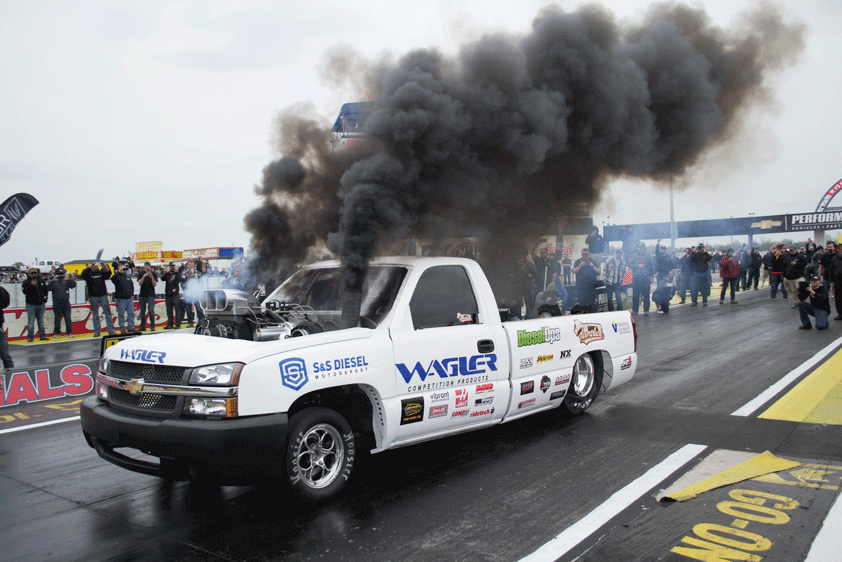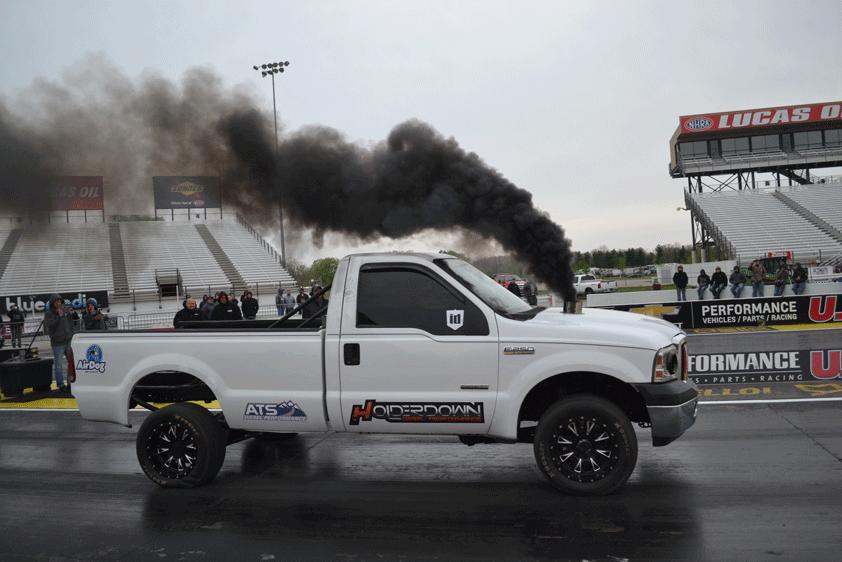 Just a few points ahead of Rudolf was the Destructive Diesel entry (with 1,105 hp, but with more torque than Rudy) followed by Shawn Ellerton's spectacular engine explosion at 1,062 hp and 1,843 lb-ft, and Anthony Reams' turbo-splitting 1,197 hp and 1,709 lb-ft. Just ahead of Ellerton and Reams were a grouping of trucks that made plain solid runs as evidenced by their healthy horsepower and torque numbers. Zach Fuller from Starlite Diesel made 1,227 hp and 1,862 lb-ft, and Hollyrock Customs backed up its awesome 9.55-second dragstrip time with a 1,385-hp, 1,811-lb-ft dyno pull. Perhaps the two closest competitors were two Fords, the 6.7L-powered truck of Dan Snyder (who had just missed the drags), and the 6.0L of Jaran Holder. Holder was the first truck to break 2,000 lb-ft of torque, with a massive 2,159 lb-ft (along with 1,172 hp), but Snyder was the horsepower king at 1,400 hp, and 1,933 lb-ft. In the end, the combined reading was 3,331 to 3,333, with SNyder winning the matchup in a nail-biter. Josh Gruis and Cody Hail both had 9-second passes at the track, and they were close on the dyno as well, with Gruis barely edging out Hail thanks to a bit more power, 1,393 hp versus 1,372.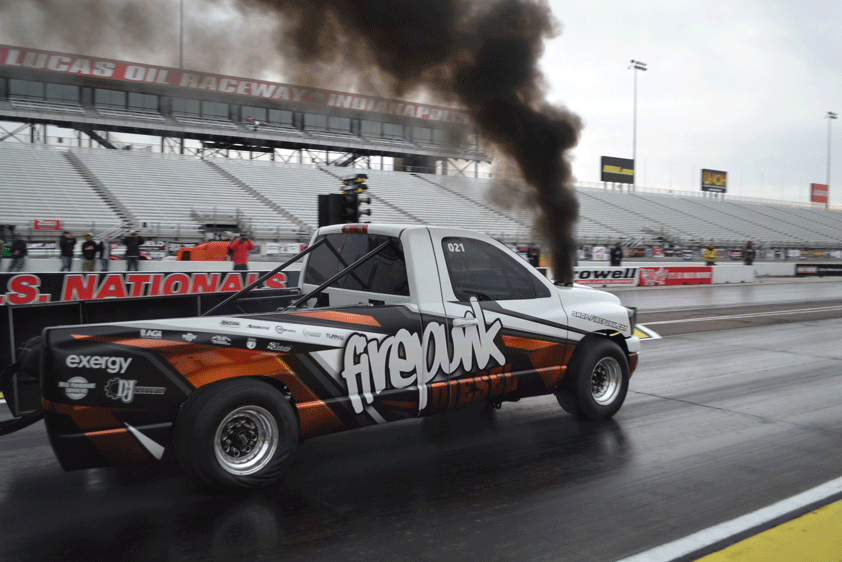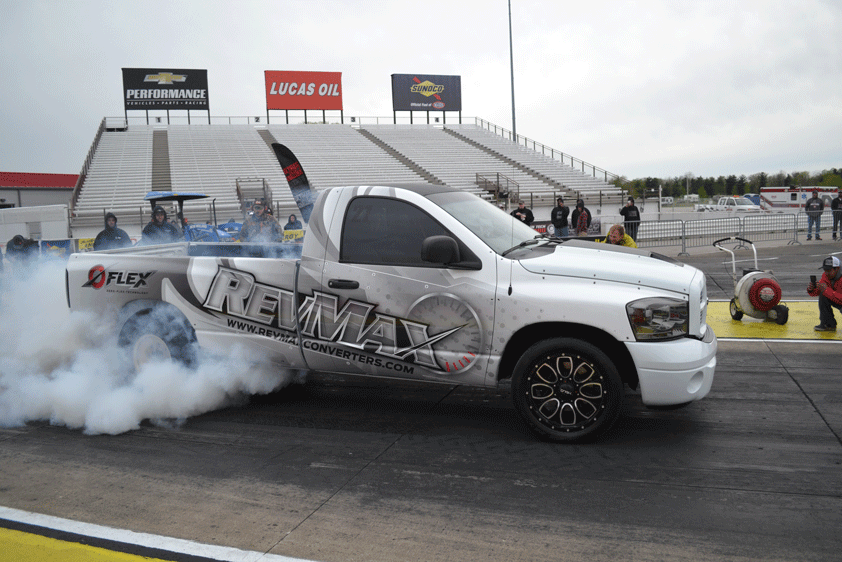 We expected the top trucks to make insane power levels, and they didn't disappoint, with 10 trucks and teams above 1,500 horsepower. Chase Lunsford from Kingspeed used a load of nitrous to spray his way to 1,576 horsepower and 2,307 lbft of torque. Donovan Harris broke the 1,600hp mark in his common-rail Dodge but was outpaced by Jesse Warren's '06 6.0L truck, which made 1,611 hp and an astounding 2,422 lb-ft of torque. An astounding number of Cummins-powered Dodges were close to or over the 1,90-hp mark, as Randy Reyes made up for his dragstrip outing with a 1,898hp pull, Chase Fleece hit 1,855, and Ben Shadday came in at 1,930 hp but toasted another head gasket in the process. There to ruin the Cummins party was Wade Minter, who laid down more than 1,700 hp on fuel alone, then sprayed to a mammoth 1,960-hp, 2,727 lb-ft throwdown. Minter's run was early on in the day, and as the afternoon progressed, we wondered if anyone would catch him.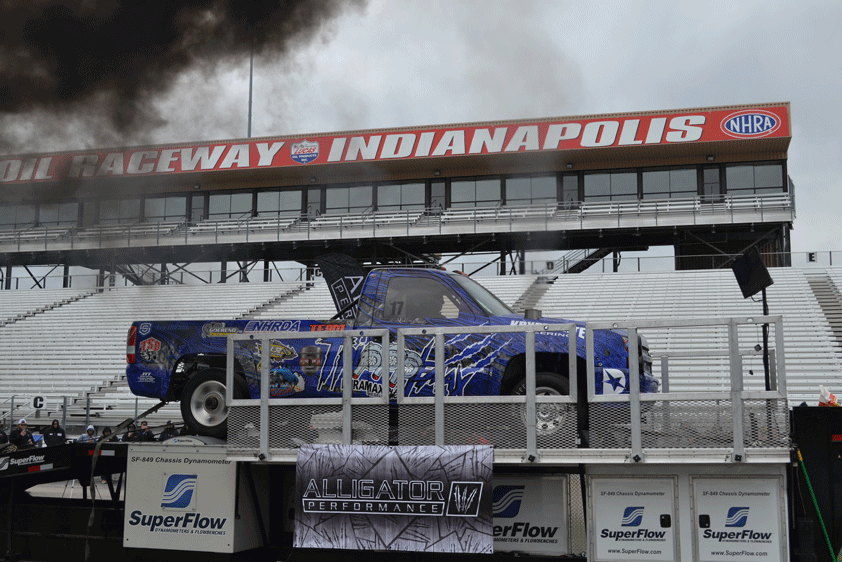 Ten years ago, 1,000 horsepower was an incredible number, but now it seems like the 2K mark is what everyone was shooting for. A few teams had already tested close to or over 2,000 hp, and with a brand-new aluminum Cummins, Derek Rose wasn't looking to hold back. With copious amounts of fuel, his Dodge was the first truck to hit the magical number, with a nitrous-assisted 2,047hp pull. At this point, only two trucks could beat him—Shawn Baca's outrageous Dodge and the common-rail of Lavon Miller. Baca was first up, and the cold-blooded truck was barely running on the dyno. Would the favorite be out? With just minutes to spare on the 20-minute time limit, a stuck nitrous solenoid was discovered and Baca was up and running. With a huge set of triple pumps and triple turbos, Baca didn't disappoint; 144 psi of boost and three 0.088-inch jets resulted in an incredible 2,447-hp, 3,311 lb-ft pull that left us wondering how it could be beat.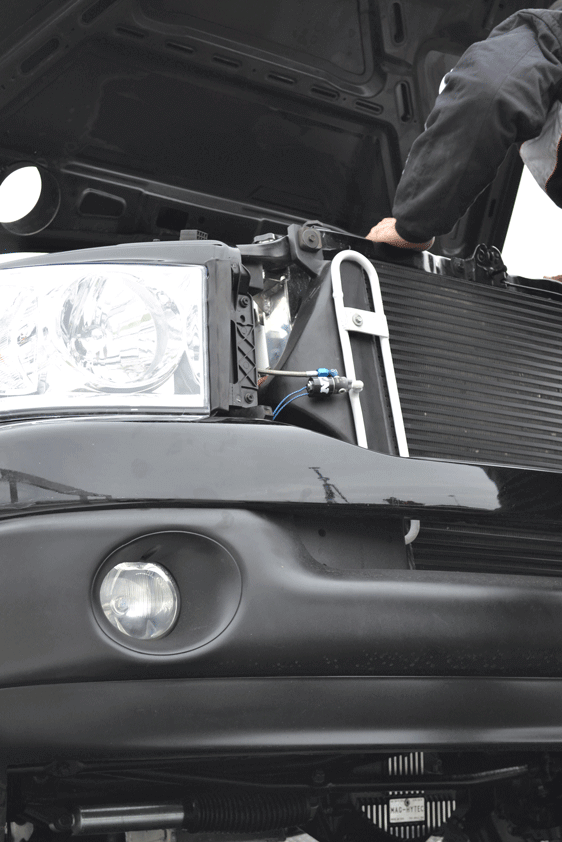 But there was still one competitor left. From deep in the pits we heard the unmistakable thump-thump-thump of a Super Stock sled puller. There was just one problem—there weren't any of those trucks in attendance! Or so we thought. In a herculean effort to win the dyno competition, Lavon Miller and team Firepunk had switched to a 3,000-plus horsepower, mechanically-injected 6.7L with a 17mm Sigma injection pump. In one of the wildest dyno runs ever, Miller revved the truck past 6,000 rpm and set the brakes on fire trying to beat Baca, but in the end he came up just short, with a 2,399-hp, 2,712-lb-ft dyno run that will be forever seared in our memories.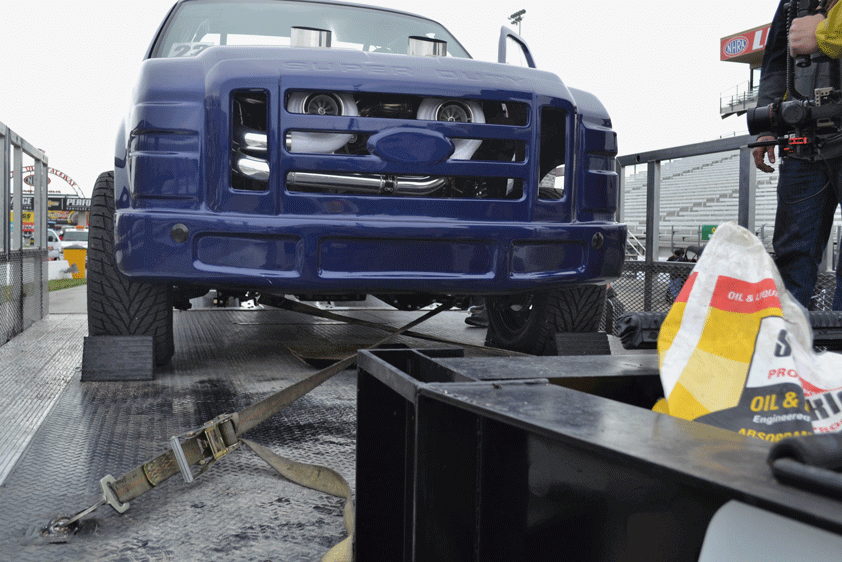 DAY THREE: SLED PULLS
As Day Three rolled around, there was only one event left: the sled pull. The dyno had taken out a few more trucks, most notably Ben Shadday, who had been in fifth place. Lavon Miller was holding on to first, but it was far from a runaway. Derek Rose, Wade Minter, and the DDP/Armor Inc. truck were all right on his heels should he make a mistake. "I see a lot of unreinforced axles around here. This is going to be bad," one of the sled operators noted. Unlike drag racing (which is hard on driveline parts), sled pulling is absolute murder, and it looked like we were in for some carnage. Once the smoke cleared, the Rudy's Diesel entry, Power Driven Diesel, Firepunk, Hollyrock, Randy's Transmission, and Industrial Injection were all left with broken trucks. But the question remained: How far did they pull?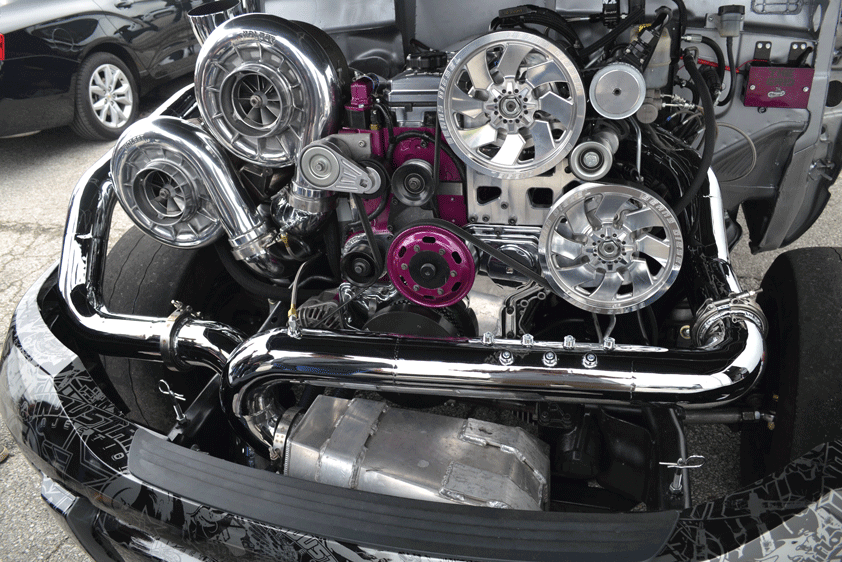 Out of the trucks that remained, the shortest distance of 81.07 feet belonged to Shawn Baca in his Master Shredder Dodge, who was just having a heck of a time with the truck's transmission. Randy Reyes was truckin' along in his dually until he pretzeled a driveshaft at 141.09 feet. Dan Snyder's beautiful drag truck had been completed just as the event started and didn't have a weight bar. The ultra-light truck hopped its way to 183.11 feet, third to last. Coming in 15th was the underdog 2WD of Tom Hauser, who added weight to the bed of his truck to improve traction and managed a 226.10-foot effort. In the closest finish of any of the competitions, Zach Fuller from Starlite pulled 247.01 feet while Aaron Rudolf pulled 247.02! Cody Hopkins also put in a strong effort, 255.01 feet, but was slightly edged out by Holderdown Performance's F-250, at 263.09 feet.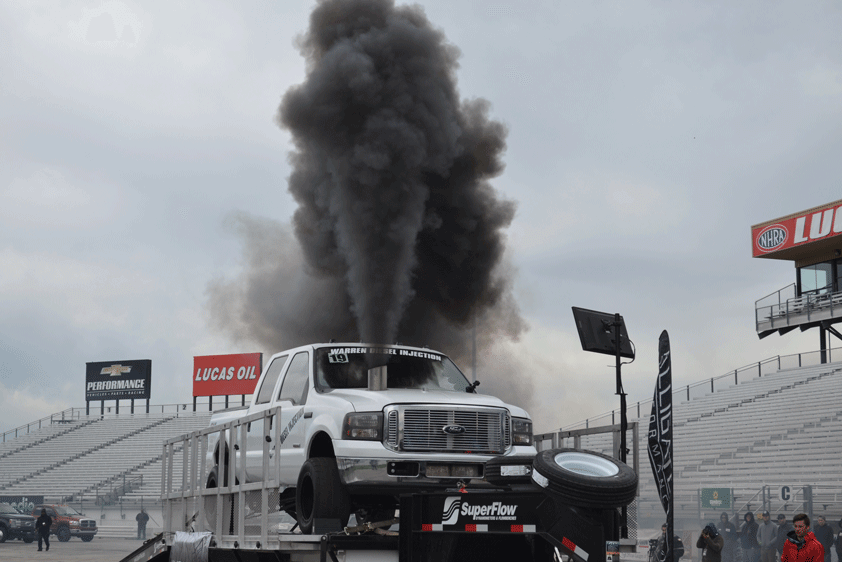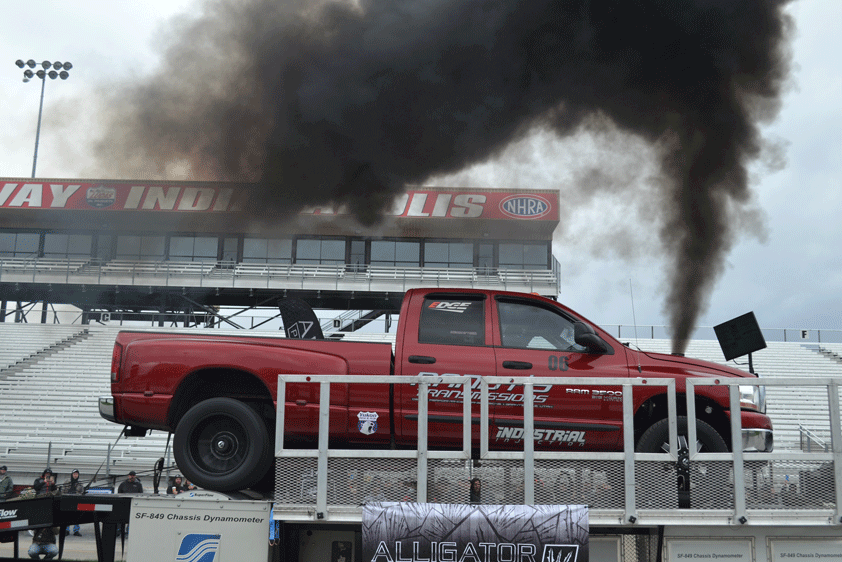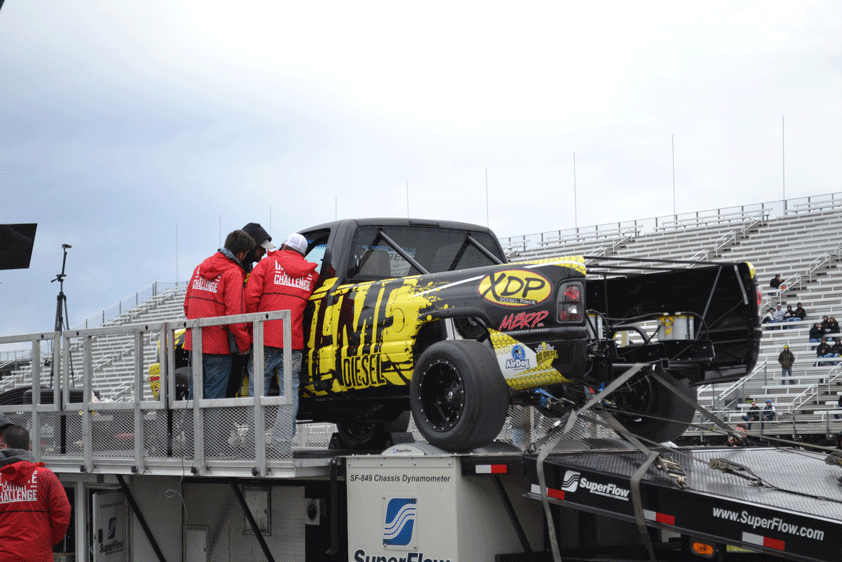 It was expected that the top part of the field would finish in the 270 to 310-foot range, and indeed that was one of the densest groupings of competitors. Mike Graves from Hollyrock Customs had done well so far, and he was able to manage 275.11 feet before his rear axle gave up. Jesse Warren was first in the 280s, with a 283.03-foot pull, right behind the Jag's Pro Shop truck at 286.07. In sled pulling, battles are won by inches, as evidenced by the 296.06-foot and 296.09-foot respective pulls by Chase Fleece and Lavon Miller. After skipping the dyno due to breakage, the Wagler Competition entry returned for the sled pull, where it proved that a 2WD could compete with a 297.05- foot run.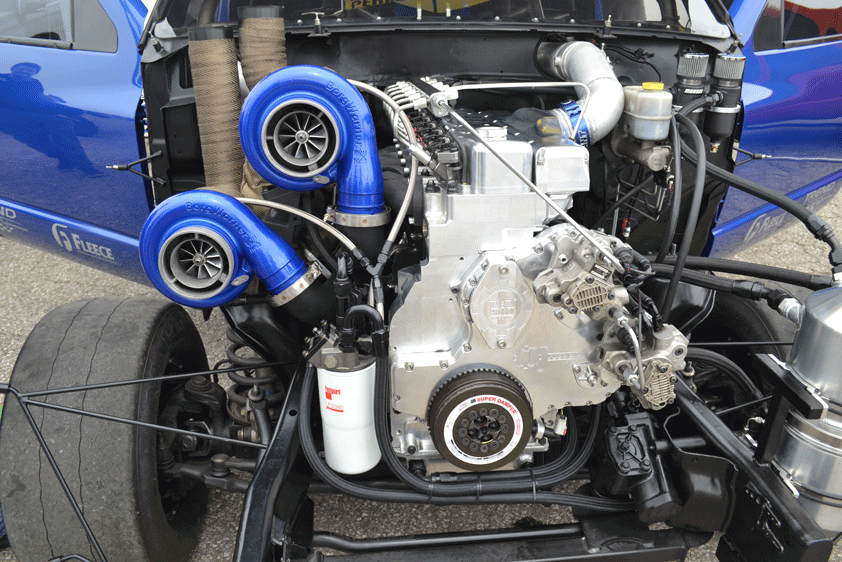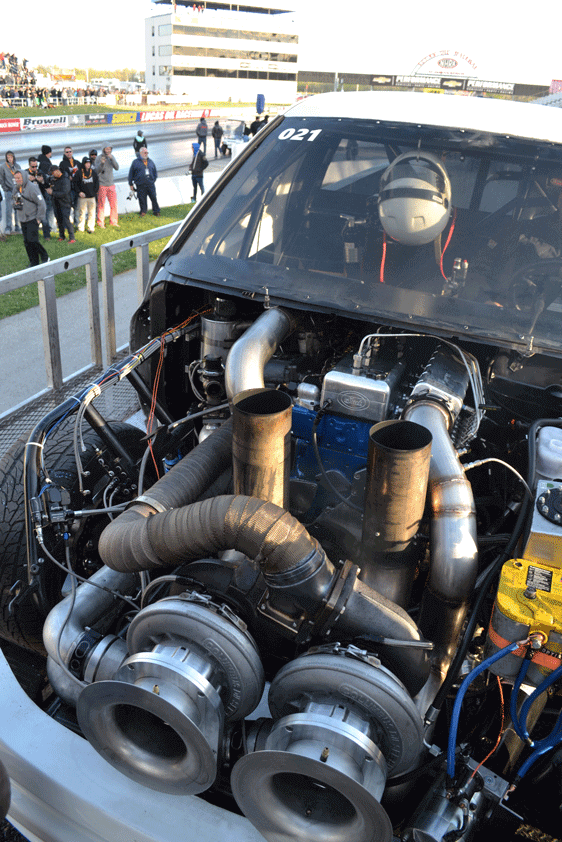 With the Firepunk team failing to break the 300-foot mark, the door was open for Derek Rose, Wade Minter, and Donavan Harris to make their move. They'd need to put 20 to 30 feet on Miller for a chance at the victory, and all three had incredible hooks. In a heart-stopping finale, all three trucks pulled past 310 feet, with Donovan Harris pulling the furthest at 312.11.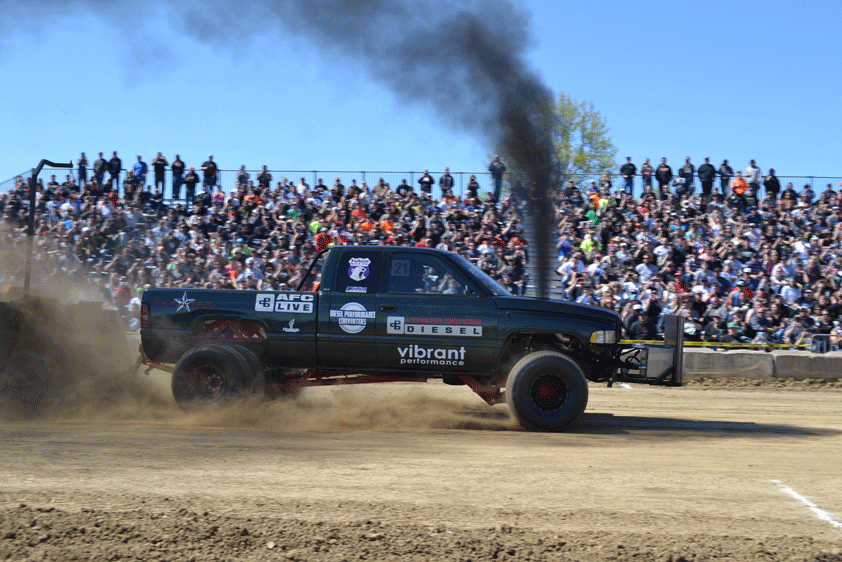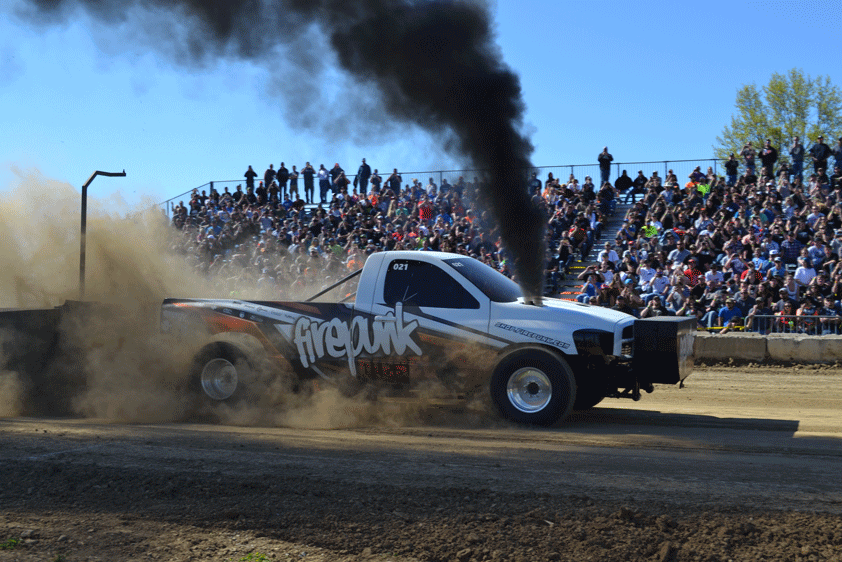 Which leaves us the winner of the sled pull. In an incredible effort of labor, Todd Welch and the Power Driven Diesel crew swapped out their entire driveline, replacing their drag racing hardware with an SQHD rear-end and a HD Dana 60 up front. To top it all off, the team ran six cut pulling tires, which brought the truck up to ludicrous levels for the pull. To everyone's surprise, the setup actually worked, and put a good 10 feet on the rest of the field with a 321.02 feet.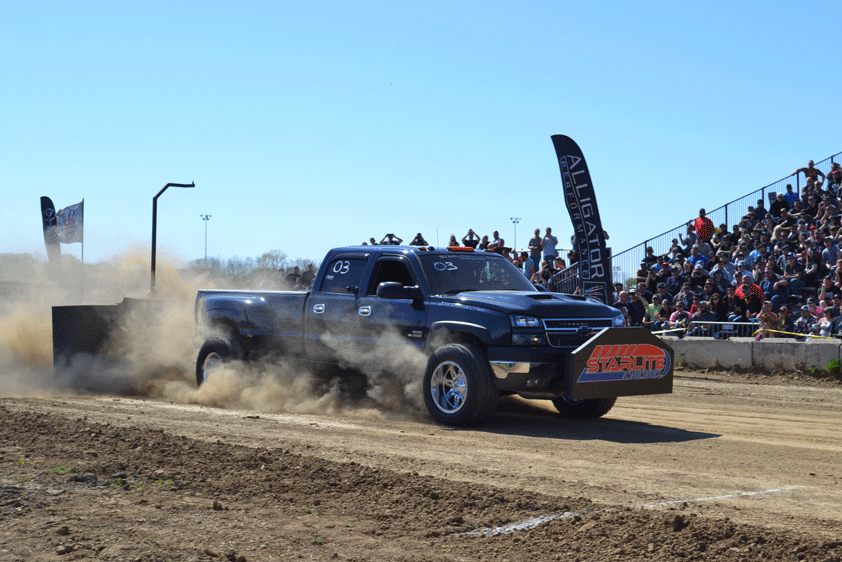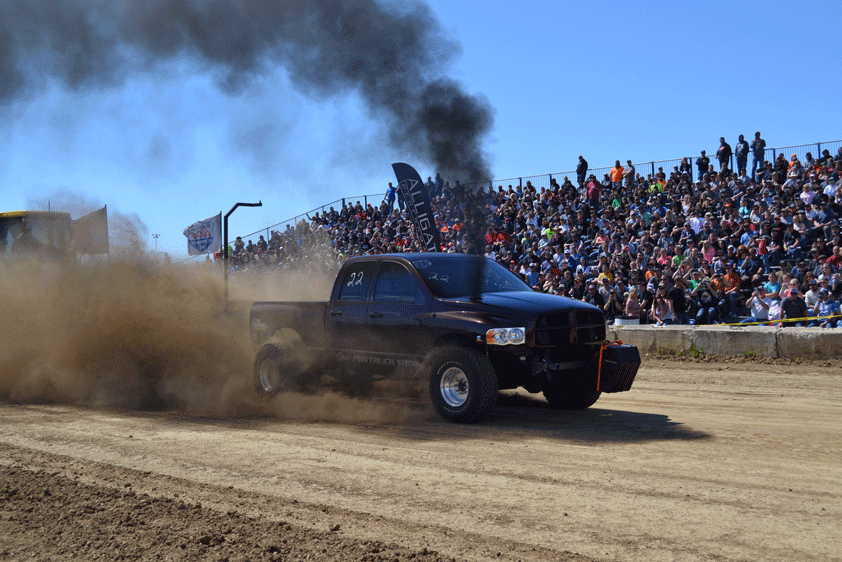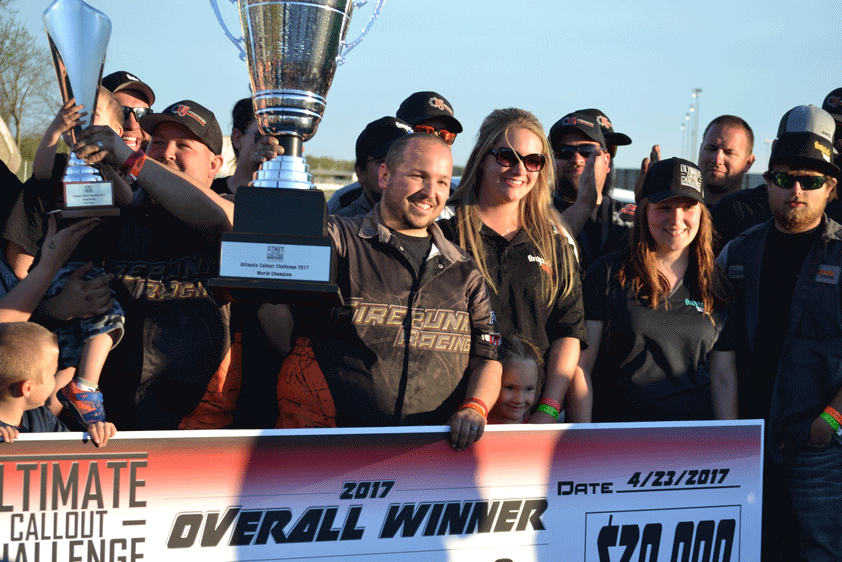 AND THE WINNER IS…
After the last hook, all that was left was to tabulate the final results to see who would be the winner after three days of unimaginable action. Unlike 2016, a number of competitors were right on Lavon Miller's heels this year, with Derek Rose just a few points behind and Wade Minter right behind him, just ahead of Donovan Harris. Jesse Warren also proved that Fords can hang with the best of them and rounded out the top five. But for the second year in a row it was Lavon Miller and team Firepunk who took top honors. While Miller may have had one of the best mechanical setups, there's no dismissing all the time and effort, lack of sleep, and hours of testing he and his team put in to make sure they were in the best shape possible. From first place to 27th, every team at UCC came to fight, and the resulting melee and back-to-back wins by Firepunk is something that will be not soon be forgotten. Who's ready for 2018 ? DW