Hummer on Steroids
The Hummer H1 Humvee has been one of the most capable factory off-road vehicles ever produced, a purpose-built, go-anywhere vehicle that the US Army and Marine Corps have used all over the world to get troops into and out of hairy situations. Due to its popularity, the H1 became available to the public in the '90s but definitely left something to be desired for your average daily-driven SUV.
Looking to capitalize on this segment, GM later released the H2 Hummer, which offered that same brute-force image with more city-friendly mannerisms. The original H1 was powered by the GM 6.5L diesel, while the H2 got power from an LS-based gas engine from the GM trucks. For a true diesel enthusiast, both powerplant options are lacking in just about every area. One is super-underpowered, and the other, well, it just isn't diesel.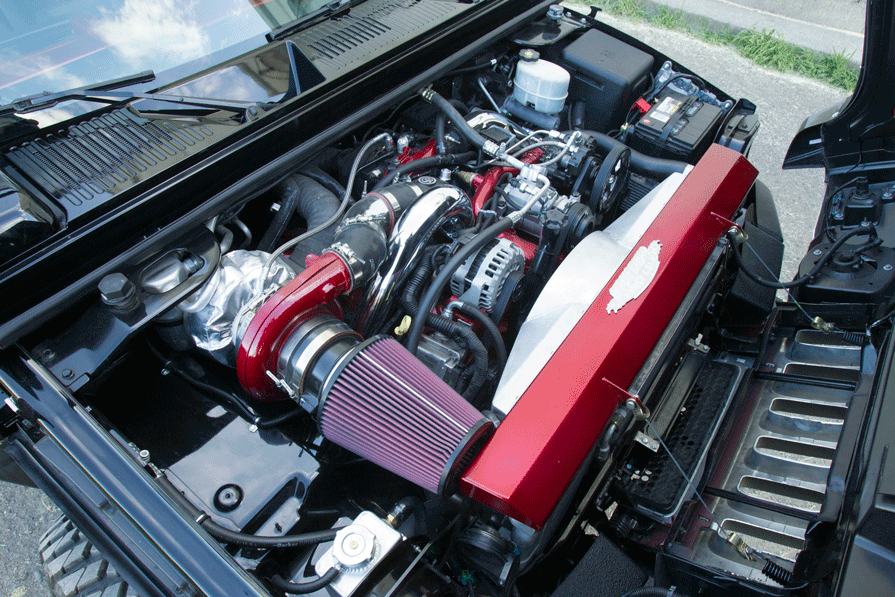 Dennis Olson, owner of Diamond Eye Performance, purchased this 2004 H2 for a nice little get-around truck and for a few years it was perfect for what he wanted. But as someone who makes a living engineering products for the diesel market, the novelty of the H2 soon wore off and he found himself preferring the power and comfort of his Duramax Silverado. He was leaving the H2 at home more often than not, and it soon became nothing more than a spare vehicle and in fact sat in storage for quite a few years. Flash forward to Diamond Eye company meetings, fall 2014. The team wanted a new, unique build to showcase at SEMA 2015 and the old H2 was brought out from hiding. Some quick sketches were drawn up, ideas were tossed around, and a few phone calls were made. What you see here is the result of that crazy brainstorming session.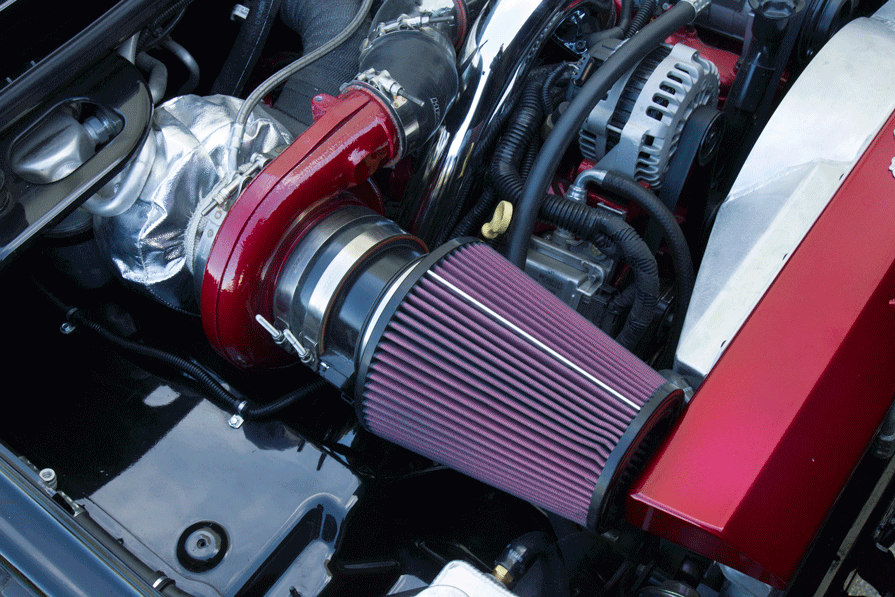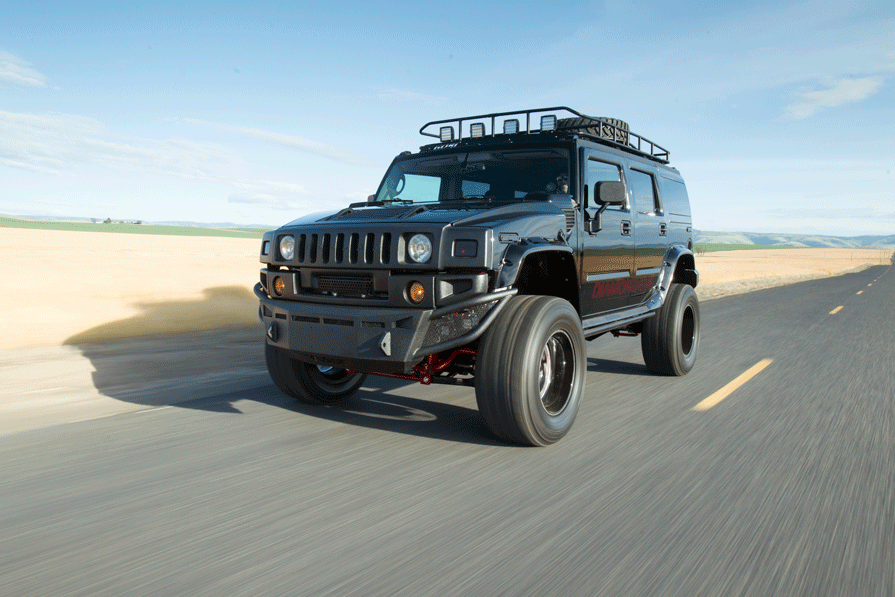 The stock LLY long block probably would've been sufficient for a display vehicle, but Diamond Eye wanted to push the limits and really create something special. This wasn't just a SEMA vehicle; it was also going to be used as a marketing tool, traveling to events all over the greater Northwest region. The engine was completely torn down and upgraded from oil pan to valve covers. The block was machined and prepped for a polished stock crankshaft, forged Carrillo connecting rods and forged Mahle .020+ pistons. An alternate-fire camshaft was also installed. The cylinder heads were given a little love with oversize valves, mild porting and polishing and stiffer Hamilton Cams valve springs. On the fueling side of things, the engine received an ATS Diesel dual-fueler CP3 kit fed by a FASS Fuel lift pump. For injectors, Dynomite Diesel supplied a set of extrude-honed 80% over injectors. Boost was handled by ATS Diesel with a custom compound-turbo kit that uses the stock LLY variable geometry turbo and their Aurora 7000.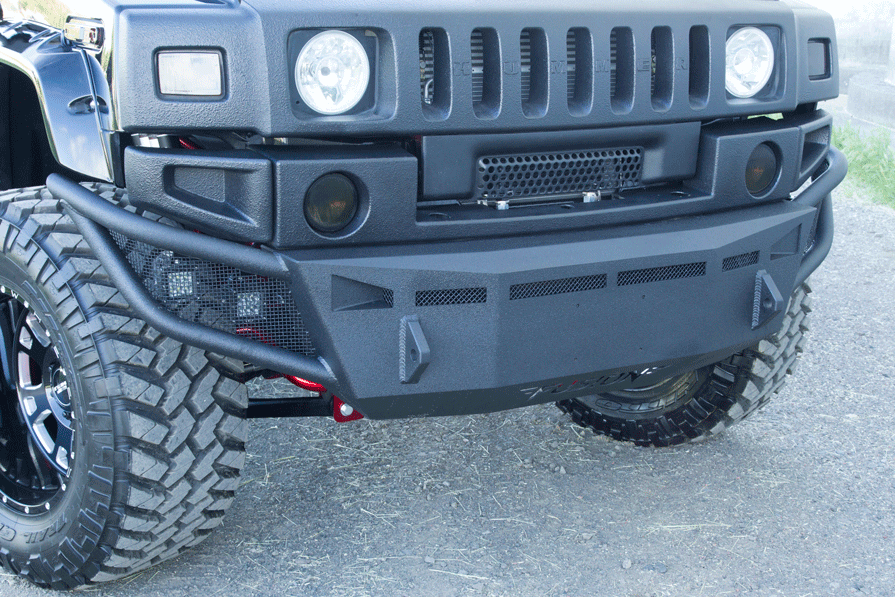 The exhaust manifolds were upgraded to BD Diesel pieces, and of course Diamond Eye handled the turbo-back exhaust system with a custom mandrel bent 4-inch downpipe and custom 4-inch exhaust with embossed tip. Tuning the setup was handled by Performance Authority through custom EFI Live DSP5 programming and an Edge CTS Insight monitor. The H2 has never been on a chassis dyno, but Olson expects it produces around 800-hp and 1,400 lb-ft of torque. To transfer all that power to the ground, the stock Allison 1000 transmission was beefed up by Cordray's Performance Transmission of Albany, Ore.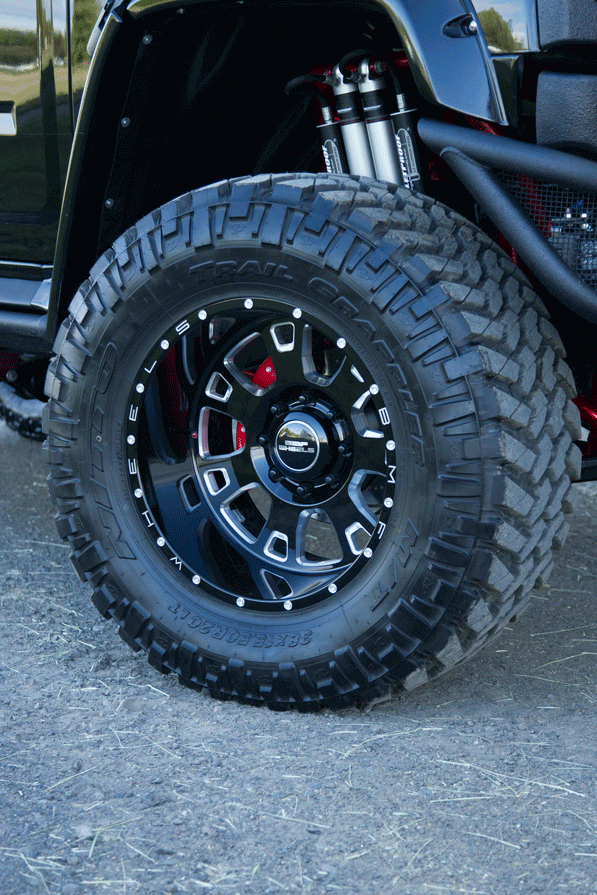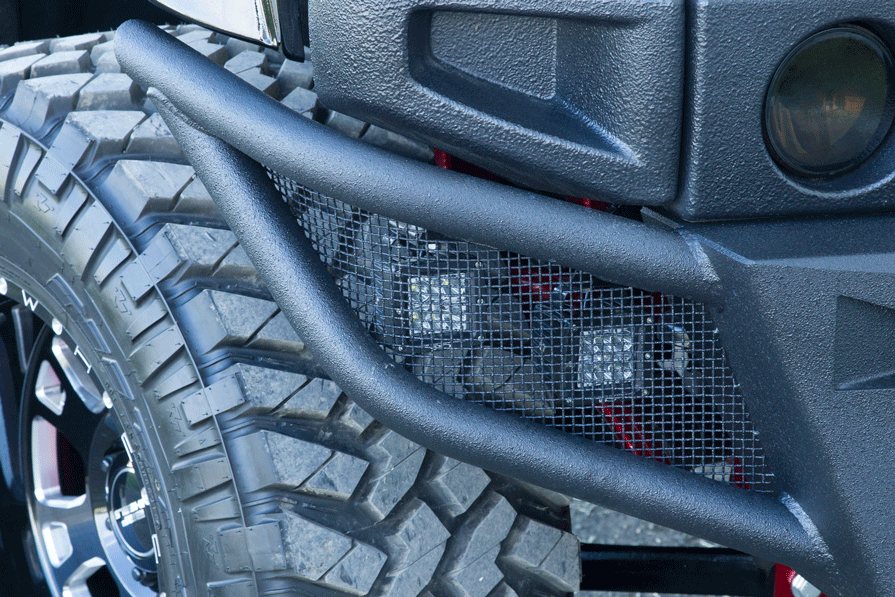 Clutches and pressure plates were upgraded to Alto Kolenes. A BD Diesel triple-disc converter and Transgo shift kit were installed along with an ATS Diesel deep transmission pan for a little extra fluid capacity and cooling. With the drivetrain parts ready to go into the chassis, Performance Authority enlisted the help of Mike Mash of Mash Motorsports to help get the wiring and engine conversion completed on time.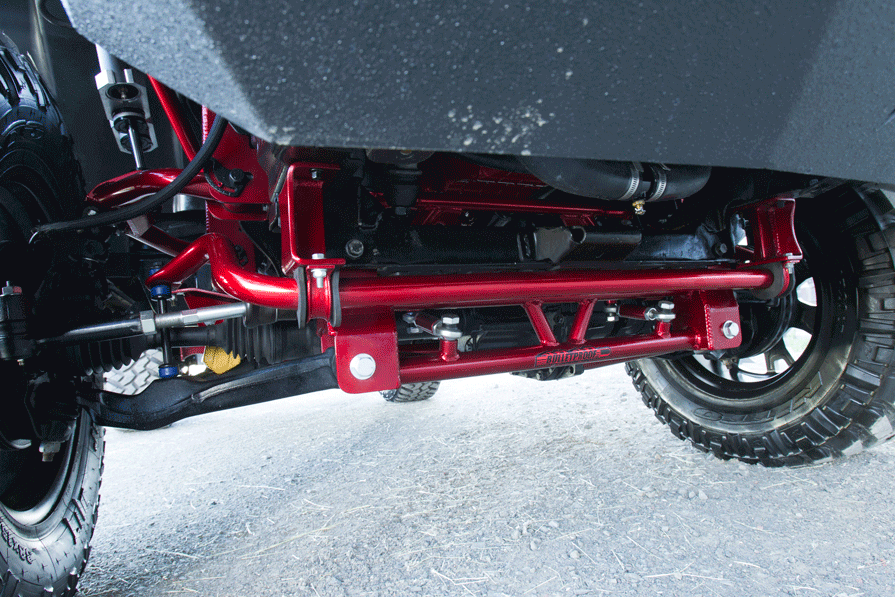 Once the H2 was driving with Duramax power, the builders moved on to the chassis and suspension upgrades, which consist of an 8-inch Bullet Proof lift kit that uses a custom upper control arms and dual shock hoop for the remote-reservoir Fox shocks. The rear is also up 8 inches, riding on Fox remote reservoir shocks back there as well. Brakes were upgraded to EBC pads and rotors with MGP caliper covers and stainless steel braided lines. The massive altitude adjustment made room for 38×15.50R20 Nitto Trail Grappler tires wrapped around SOTA Off-Road 20×12 Brawl death metal wheels.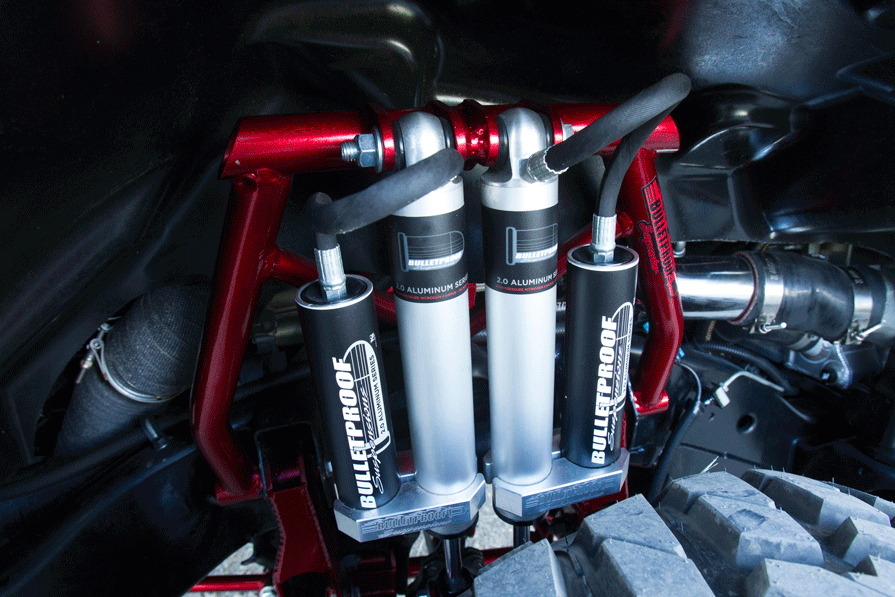 With that all completed, Elite Customs of Sparks, Nevada, was chosen to complete the body work and paint and install the final accessories. Custom Fusion front and rear bumpers were installed with OLB LED lights along with AMP Research PowerSteps and color-matched E&G Classics fender flares. A Gobi Roof Rack was bolted on with additional OLB LED lighting, rear access ladder and a full-size 38-inch spare tire. The original maroon body color was sprayed over with a sinister black with Diamond Eye-branded graphics.
On the inside, Elite Customs installed Katzkin Tuscany leather seat covers with custom embroidery, US Speedo gauges, a full stereo with headrest DVD monitors, and a Ride Controller with Wi-Fi and a smart phone app for auxiliary power switches.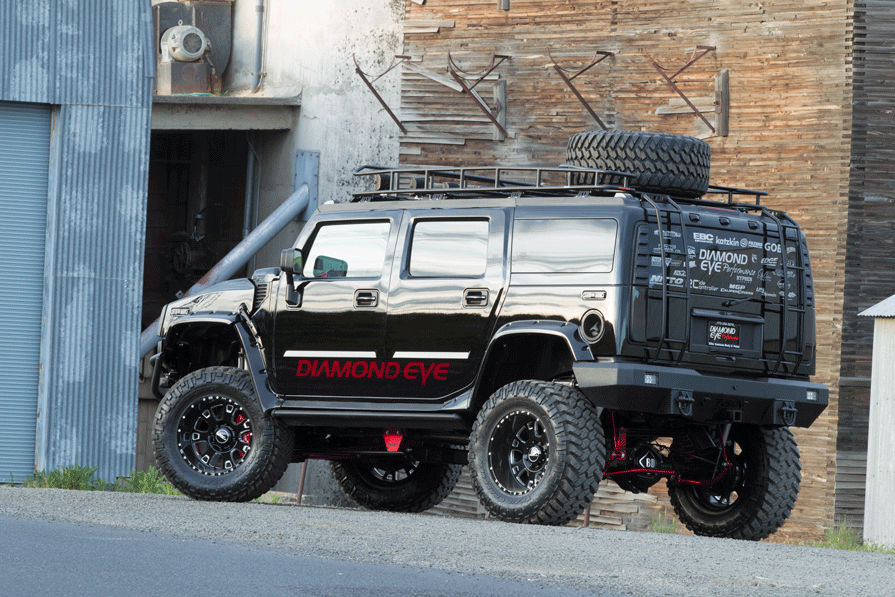 This build was a major undertaking to try and tackle with less than a year to get everything completed in time for SEMA and the crew spent every waking moment making sure it was perfect, with the last pieces being bolted on in the parking lot before entering the show. For a company like Diamond Eye, the image you portray to your dealers and the public give a glimpse of the kind of product you offer and who you are as a company, so it's important to have something worth sharing and showing off. This unique monster H2 gets a 5-star approval in every aspect. With all that Duramax diesel power, an imposing stance and sinister good looks, this is one Hummer that even the US Army may like to have around. DW