Approximately 30 miles northeast of Austin, Texas, sits Taylor, an oasis of small town charm surrounded by the vast agriculture industry that is central Texas. Taylor was called home by early rodeo star Bill Pickett, Bugs Bunny and Porky Pig creator Tex Avery, and NBA Hall of Famer KC Jones. However, on the south side of town, down a long dirt driveway, reside two brothers, Brandon and Dustin Naivar, and their custom fabrication shop, ShowTime Metal Works (STMW).
Sharing a passion for the off-road industry, they quickly gained a name for themselves on the show circuit for not only producing unique and high-quality builds but for their ingenuity in designing and building several types of link suspensions, aftermarket (and highly custom) grilles, and basic bolt-on suspension kits. They explain their popularity: "We knew that there were already many great companies and designs in the industry. Yet we felt that there was this monotony. The last thing we wanted to do was come out with another cookie-cutter design."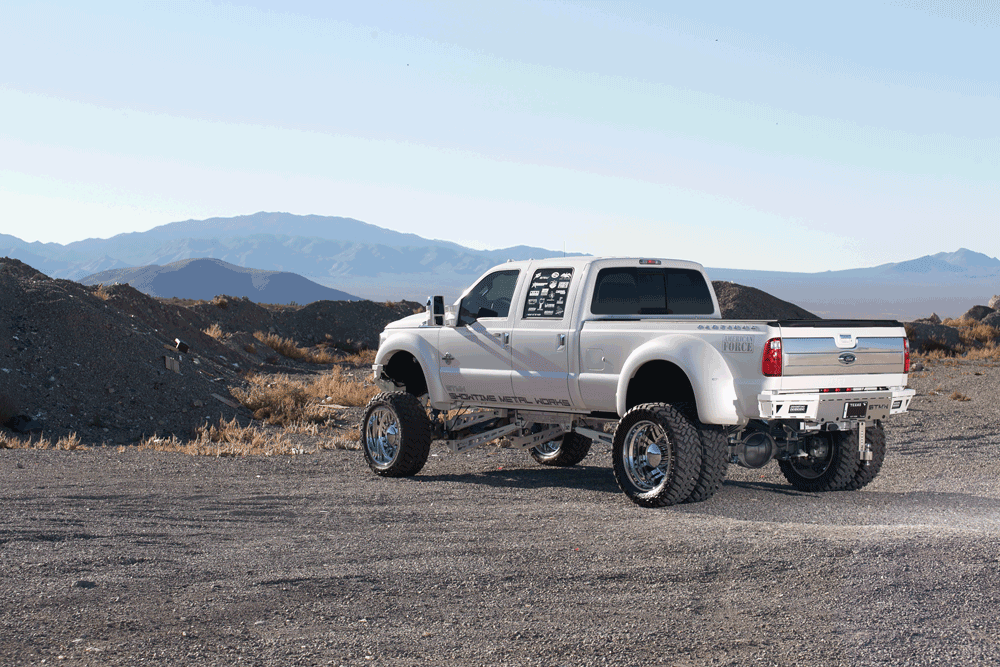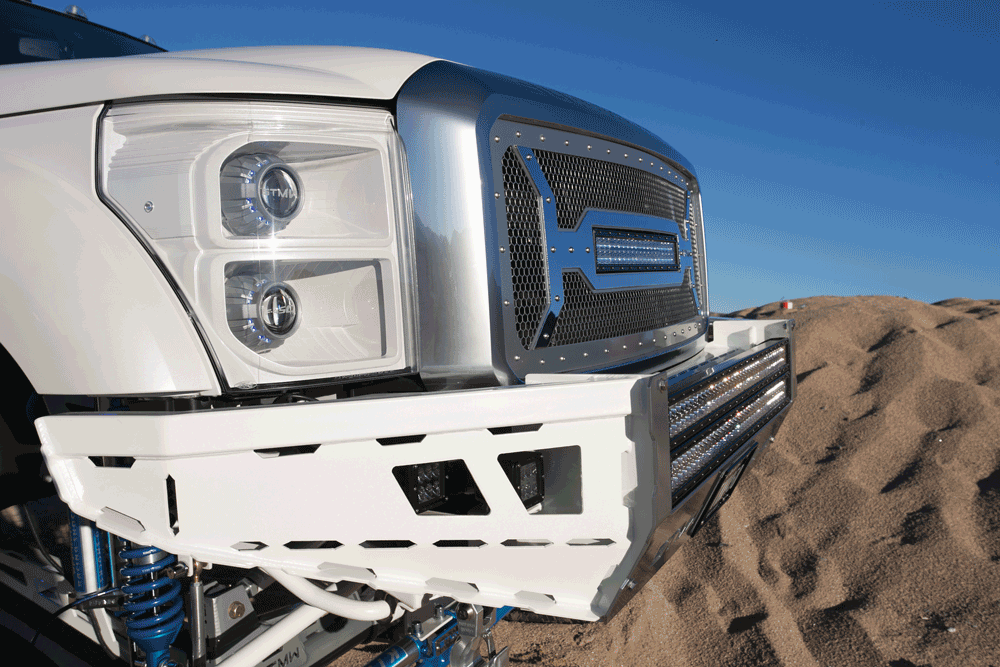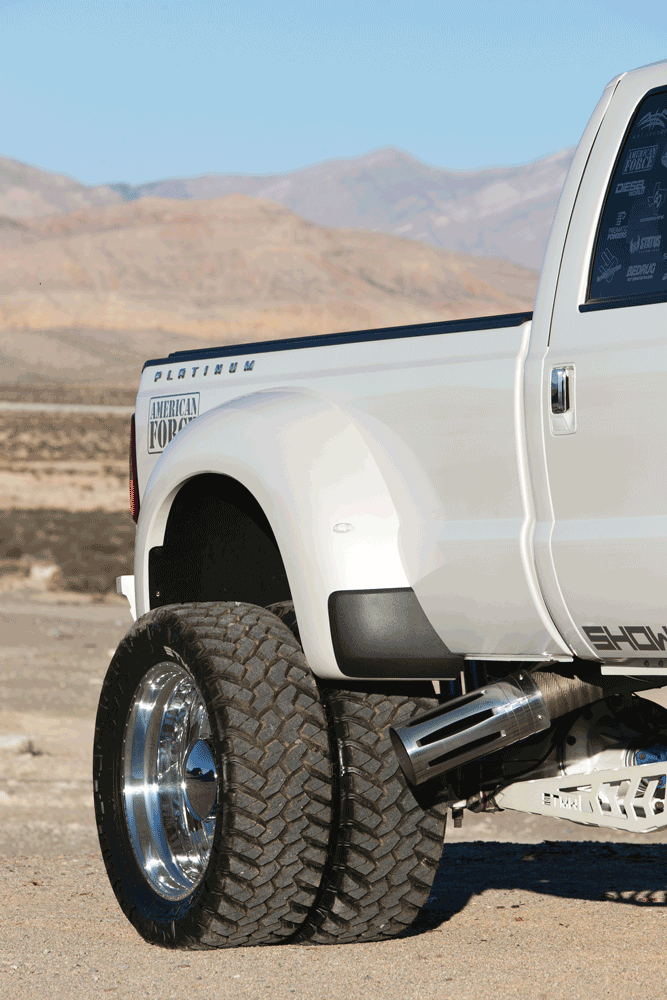 As STMW's motto points out: "We want to be the biggest, baddest, and most well put together builds out there" and bring innovative products to the market. The latest to grace the diesel show truck industry is this behemoth, a 2015 Ford F-450 Super Duty Platinum. Brandon says: "We built it as a showcase vehicle for the SEMA Show. We wanted to show the world our fabrication skills on suspensions, bumpers, and grilles that our company makes daily."
For Starters
With only 200 miles on its odometer, the Naivars tore the F-450 down to the bare frame before taking less than three months to put it back together. Since their main 9 to 5 is running a successful custom parts and fabrication shop, the pair labored into the early hours of the morning and most weekends. With help from Jason Calhoun's skills on the drivetrain, Barett "50 Built" Wygant's nimble fingers in the engine, Blain Ogea's powdercoating abilities, and Van Witbeck's custom machining services, the brothers were able to focus on design, fabrication, and execution.
Power and Drive
There are some show trucks that only look good in the booth or on the trailer, and as soon as you turn the key, a stock motor rumbles under the hood, providing that underwhelming feeling of being duped. At STMW, the engines in their builds get the same treatment as the rest of the truck, and that is to trick them out to match the theme. This 6.7-liter Power Stroke engine was outfitted and assembled by 50 Built, who managed to massage it to 30 percent more horsepower over stock so it packs 625 ponies and 975 lb-ft of torque under the hood—impressive stats. Up on top and out front is the intake manifold, intercooler piping, and cold air intake, which were all formed and TIG welded to fit perfectly by 50 Built.
Mated to the powerplant is Ford's topof- the-line 6R140 heavy-duty, six-speed Torqshift automatic transmission, and the power reaches all four corners of this 4×4 via a driveshaft from Driveshafts Unlimited in San Antonio.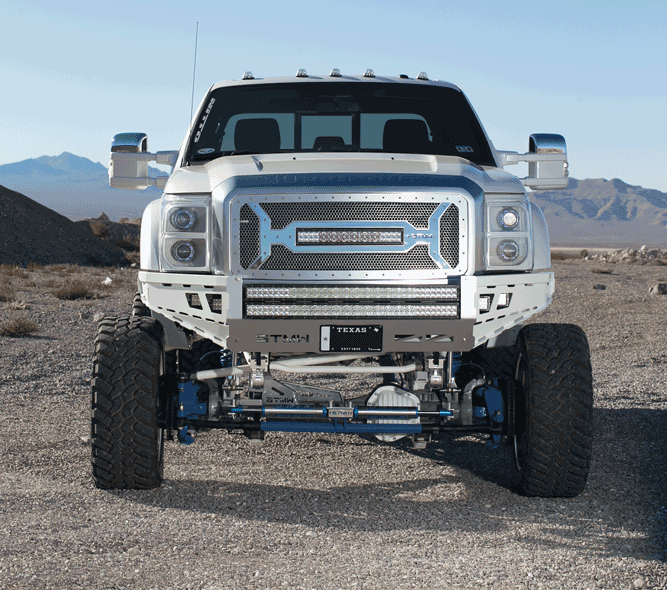 Power is then split to the tires in the rear by a Dana S110 dropout differential and axle with a final gear ratio of 4.30. Up front, each tire gets its share of the power via a the Dana Super 60 axle, a perfect choice for trucks with high axle gears, torque nearing one thousand, and 33-inchplus tires. PML provided the heavy-duty, sand-cast aluminum differential covers and transmission pan.
The Four Corners
Keeping the body from scraping the ground is a custom suspension kit made by the Naiver Brothers at ShowTime Metal Works. The traction bars, front long arms, control arms, and upper coilover mounts were all designed and fabricated at the STMW shop.
On the front and rear, much of the bumps in the road are absorbed by a pair of King 2.5 coilovers with remote reservoirs. They provide 14 inches of travel (37.25 to 23.25 inches from extended to compressed). Up front, the hi-steer spindles were sourced from Weaver Fabrication in Redding, California, while a pair of King steering stabilizer shocks keeps the vibration transfer to a minimum.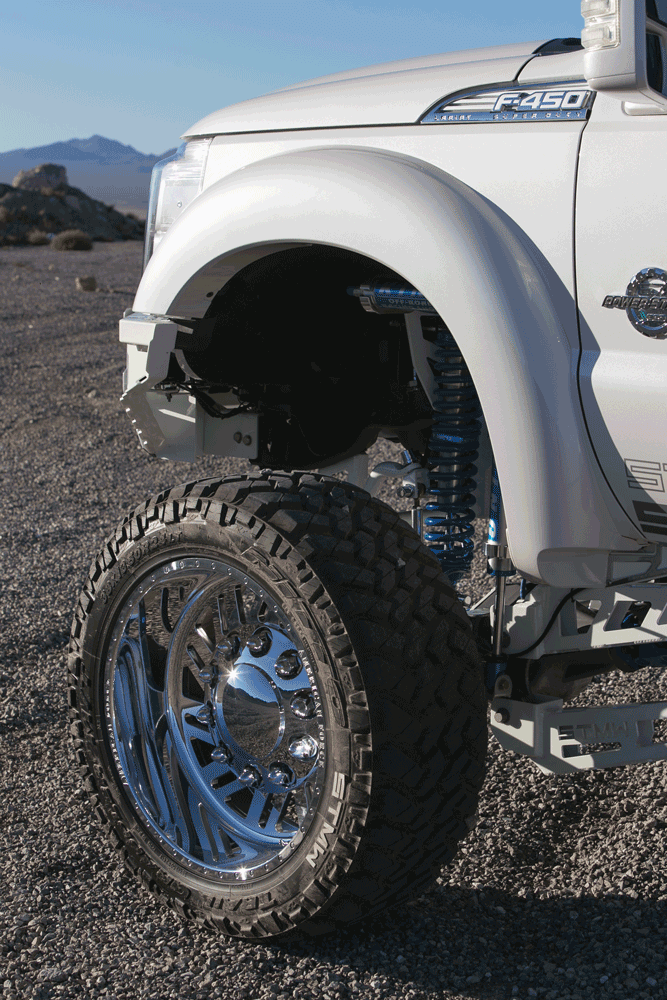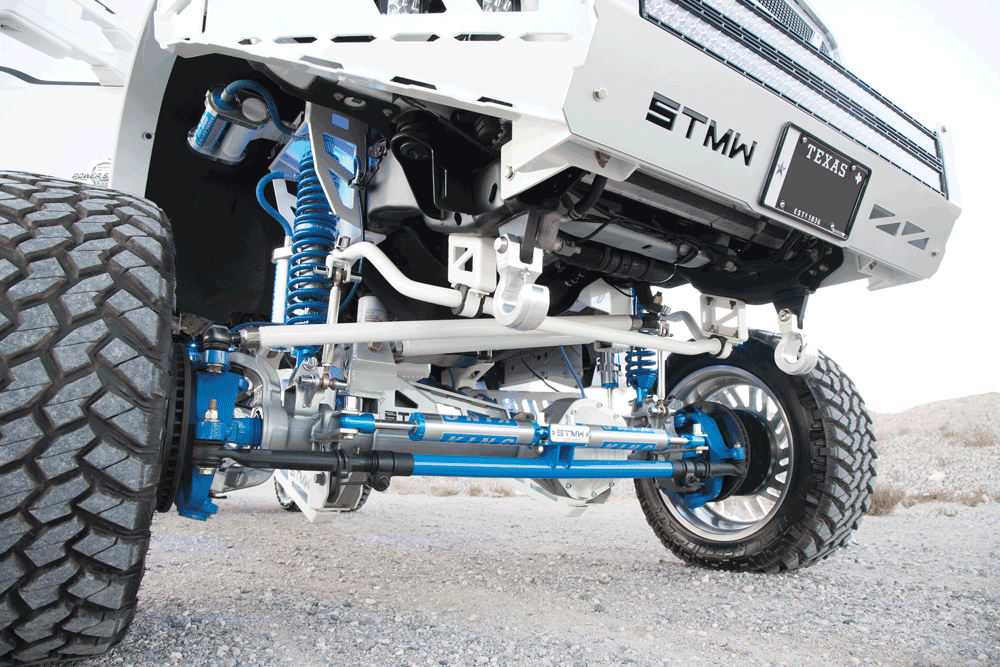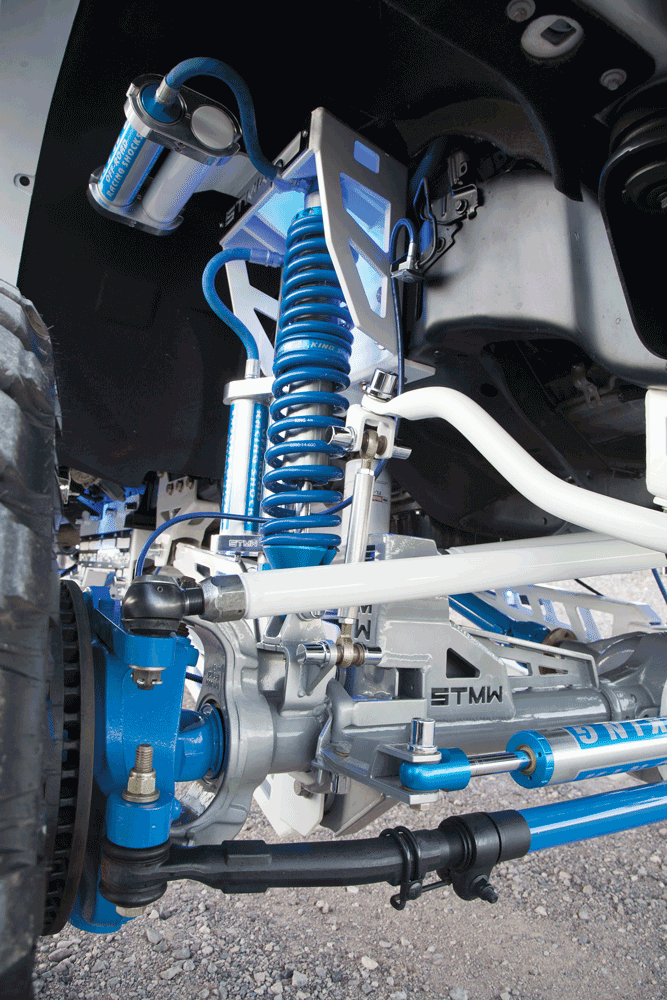 The brake system, from the calipers and pads back to the master cylinder and booster, was left just as the factory intended. However, the stock wheels and tires were ditched to make way for a set of polished American Force Shift wheels, part of the company's Super Dually series, 24 x 12s on the front and 24 x 8-1/4 in the rear. Wrapped around those are six Nitto Trail Grapplers, sized 38 x 13.50 x 24 all around.
For added ambiance, the suspension system is lit via blue-tinted lights from Rigid Industries.
Body Upgrades
Much of what Ford included on the exterior front and back of the F-450— bumpers, grille, et al—ended up on the workshop floor. In their places, the Naivar Brothers and STMW added custom-made bumpers front and rear, F-450 fender flares, a pair of retractable running boards from Amp Research, and a 20-inch LED grille insert. STMW teamed up with Rogue-4 LED lighting to offer a unique bumper/LED light package.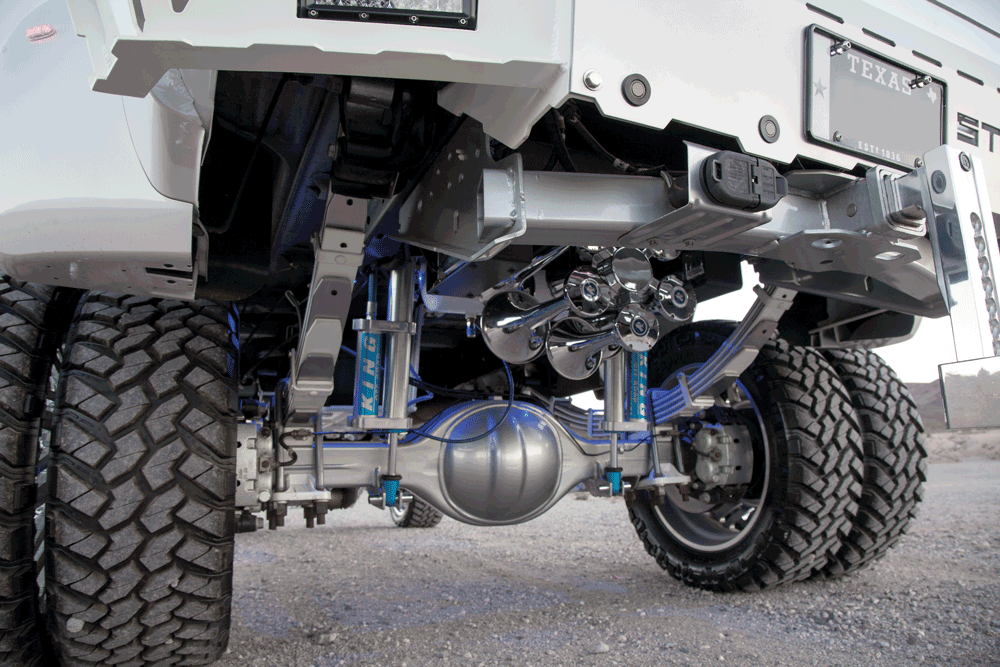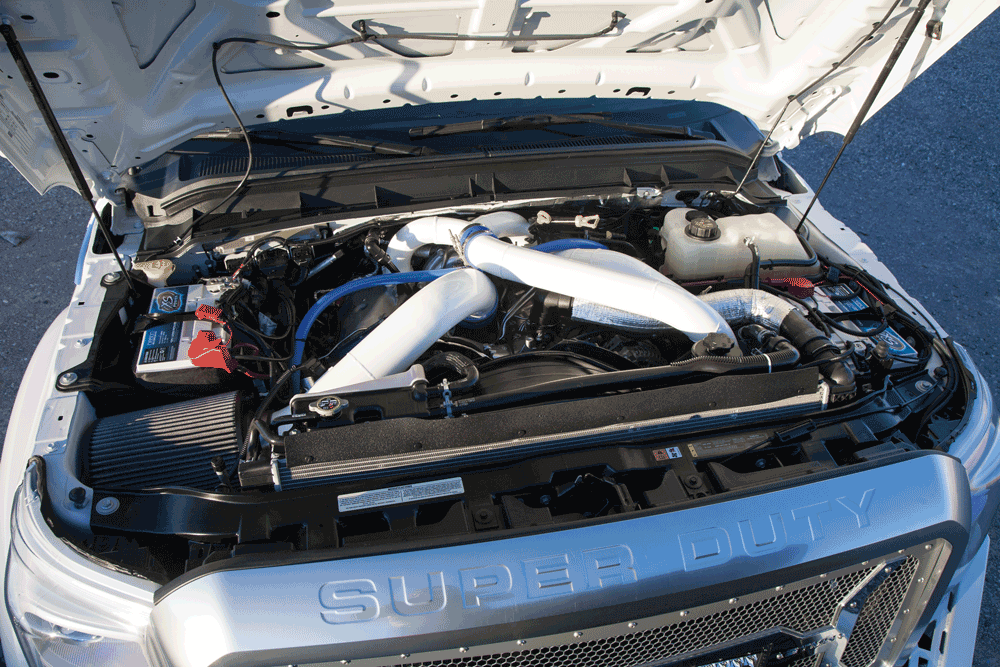 The bed was treated to a bed floor from Bed Rug and the tonneau cover was provided by Retrax. Lighting the way are custom-built units by Gold Standard Lighting in San Antonio. The lenses inside the housings are custom etched with the STMW logos, while the turn indicators feature "F-450" etched on their glass.
While the white platinum metallic tri-coat paint was kept stock, the window decals were custom made by Status Custom Shop and applied by the guys at STMW. All powdercoated pieces received their white color from Prismatic Powders in Georgetown, Texas.
Conclusion
The crowning glory to the F-450 built for STMW's SEMA booth is that the Naiver Brothers have taken carefully calculated steps to ensure that every detail of this truck has been given its due attention. As well, they spend this dedication, commitment, and effort on every truck that leaves their shop and on every part that leaves their factory floor. In fact, each and every STMW product is still hand built by the two brothers, and they build each product to order for quality assurance.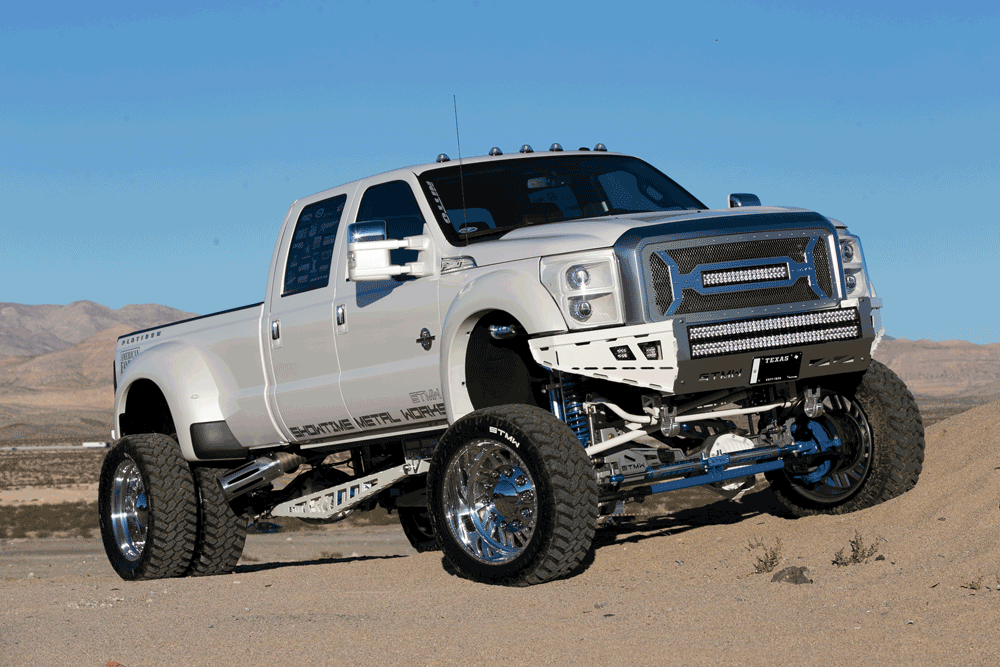 The Naiver Brothers at STMW show up big. "From our 2015 F-450 Platinum build, 2015 F-350 Platinum build, our 2015 Duramax build, and all our previous builds, we mean business. We want to turn out the biggest, baddest, and most well put together builds out there."
We think they've succeeded. DW
SOURCES
SHOW TIME METAL WORKS
ShowTimeMetalWorks.com