Blue Beast
Since they say everything's bigger in Texas, it's no surprise that Texans like their trucks big, too. Jesus Zubia, who hails from the Lone Star State, is a fitting example, having owned a slew of lifted trucks. The latest is the 2015 GMC Denali shown here. More about all the mods in a moment, but first some background. Zubia has lots of brothers in arms, since Texas is the largest market for new pickups in the United States. More large pickups are purchased in Texas than the next three largest truck markets— California, Oklahoma, and Florida—combined. Zubia lives in Midland, Texas, named for being the midway point between Fort Worth and El Paso. Cattle and oil have figured prominently in the city's history since its founding in 1881. And what's a ranch hand or an oil worker without a pickup truck?
Hooked for Life
Working as welder on wellhead pulling units for oil rigs, a hard and dangerous occupation, Zubia obviously needs a good work truck.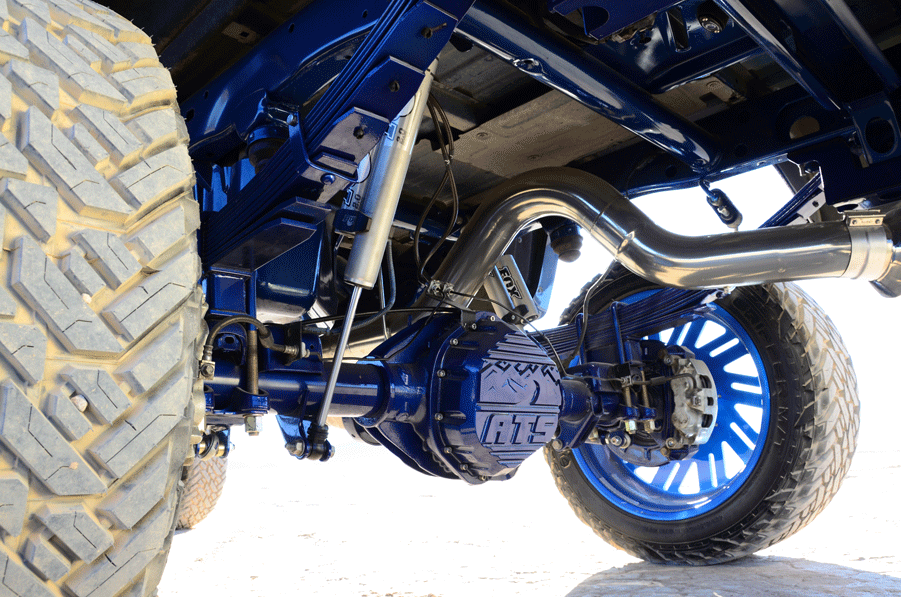 But he also has customized several pickups for his personal pleasure since high school, when he was initially inspired by all the cool vehicles he saw in the first Fast and Furious movie. He started with a '97 GMC Sierra, painted it candy tangerine, and dropped and rolling on dubs (20-inch rims), which was a fairly new thing at the time. Staying on the cutting edge with new design elements would prove to be a point of pride for him.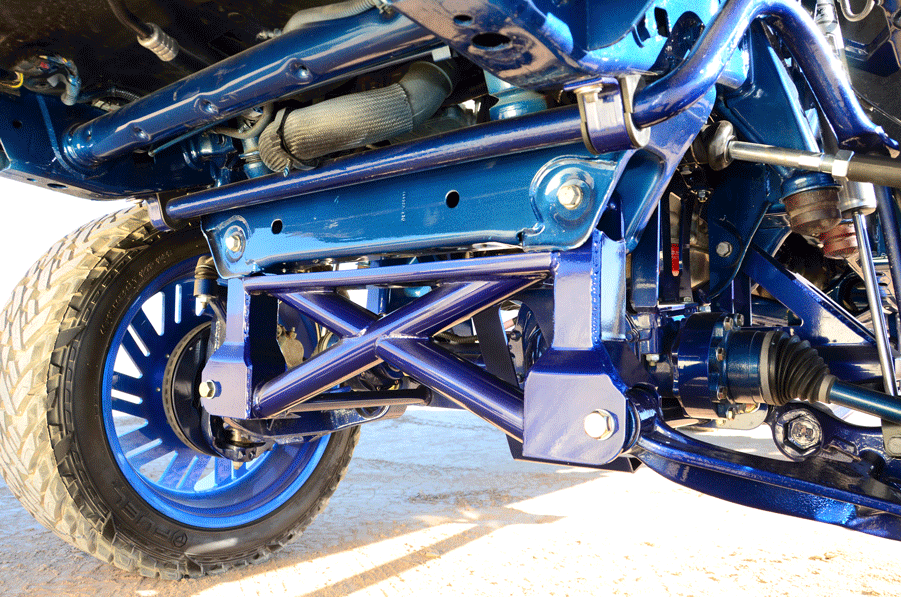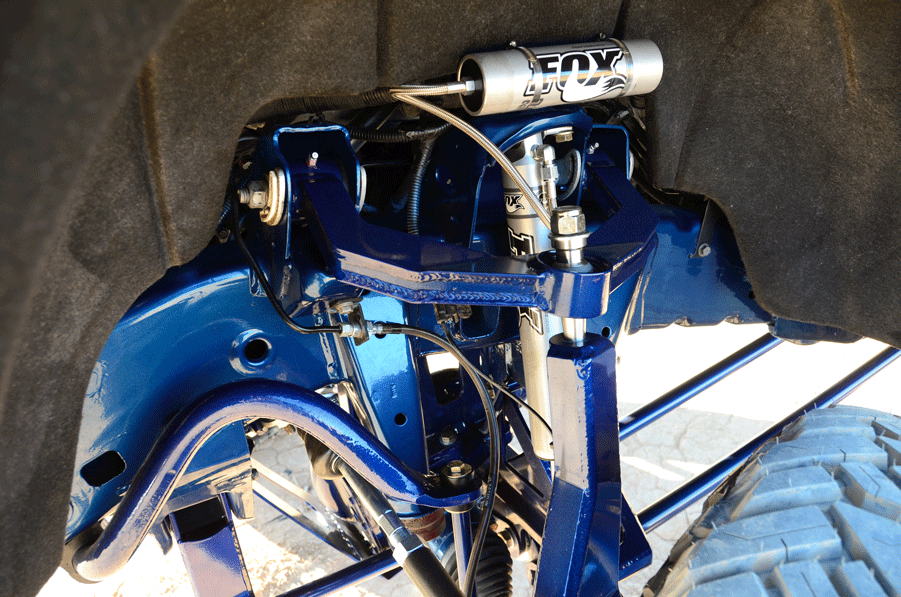 A lowered pickup isn't all that practical for rough Texas ranching roads, so he got into lifted trucks after that. His next truck was a 2001 Chevy with a Cadillac front end. In addition to its Escalade body conversion, it was elevated 10 inches and fitted with 24-inch wheels wrapped in Toyo tires, once again a novelty for its time.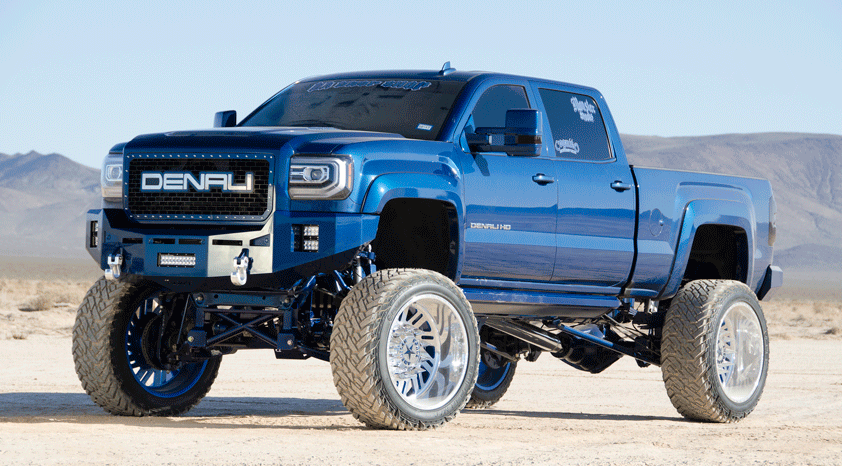 That was followed by a 2008 GMC 2500, also with American Force 24x14s and 37-inch Toyos. Other trucks have included a Dodge Ram 3500 Megacab. But his favorite brand is from the General, as he now just finished modifying a 2015 GMC Denali as well. Why so?
The New Ride
"I like their ride and horsepower," Zubia notes. What has made the latest GMC stand out in his long line of trucks? "My dream was to just go to the SEMA show," he relates. "I never thought I would attend, much less take a truck there." Of course, it often takes one your friends lending a hand to make things happen. "Thanks to my buddy Fernando Sanchez who owns Da Drop Shop," Zubia says. "He's the one that helped me out on building my dream SEMA truck." As to why he has owned so many tricked-out trucks over the years, all he has to say is: "It runs in your blood."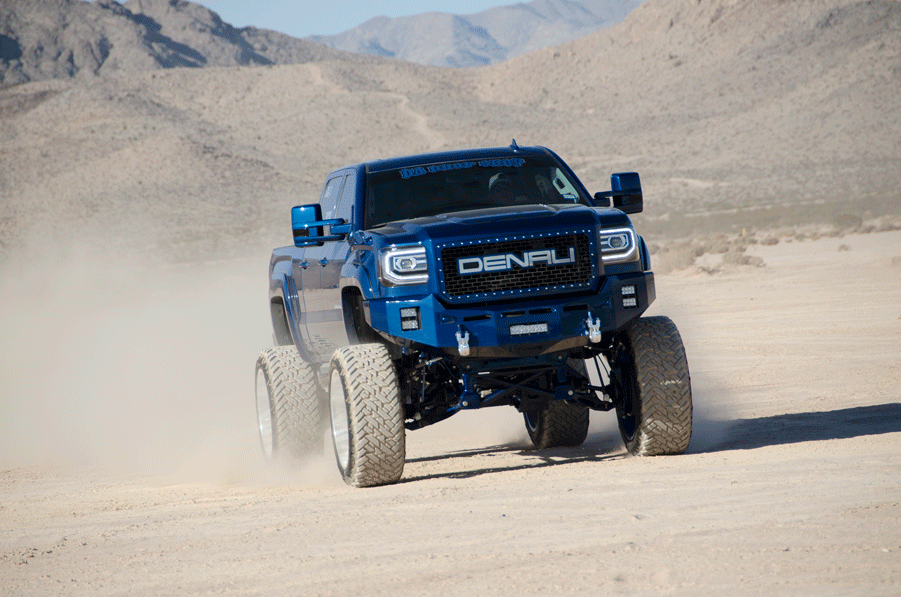 As you might expect, Zubia went with even bigger rims this time, American Force 26×14 Shift wheels with a simulated 10-lug look. That was created on a direct bolt-on rim using tap-anddie nut spacers. After fitting an adaptor into the tapped holes, it was finished off with a lug-nut cover. "I liked that big center cap," Zubia relates. Wrapping those rims are meaty Fuel M/T tires are big meats, measuring 40×15.50R26.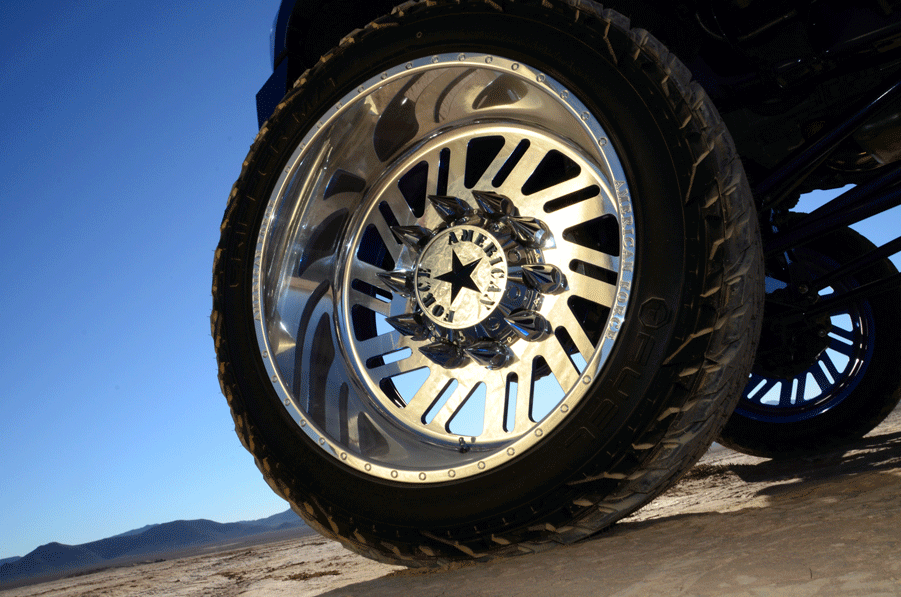 As for the suspension, the Denali has a Cognito lift kit that ranges from 10 to 12 inches by cranking up a torsion key. Zubia naturally went for the maximum height, but his friend Fernando points out that you can't go up more than 12 inches or the ride gets too rough. The rear end runs Deaver springs with 5-inch lift, so only a 5-inch block is required. The factory rear is already two inches higher than the front, so when the truck is leveled it all adds up to 12 inches total. Fox 2.0 reservoir shocks dampen the rear. An ATS diff cover creates a custom look, along with providing more oil and cooling capacity. The front has Fox shocks as well, plus a Cognito cage with cross members and related steering components.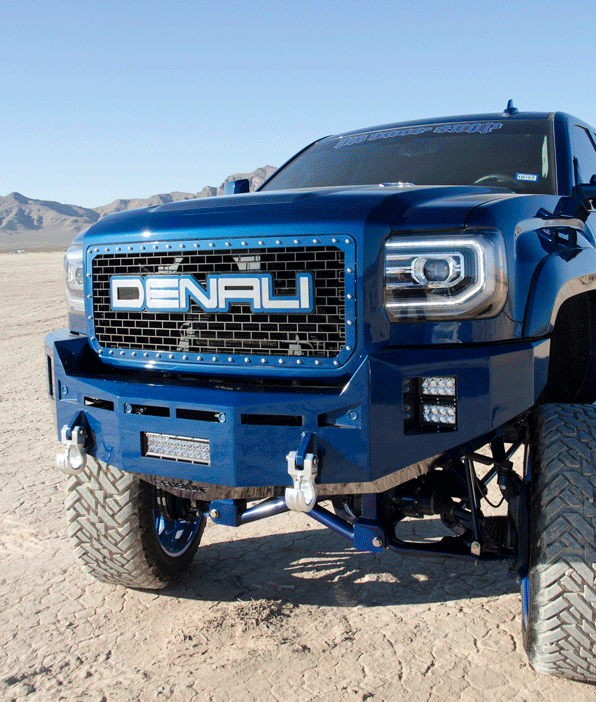 Sanchez notes that whole suspension system went together smoothly with no hiccups. All the frame and suspension components were either painted or powder-coated to match the factory Stone Blue Metallic body color. Ditto on the door handles, interior trim and steering wheel. "Matching the color was tricky," Zubia admits. "We tried a few different test shoots, and eyeballed them in the sun to see which one looked the closest."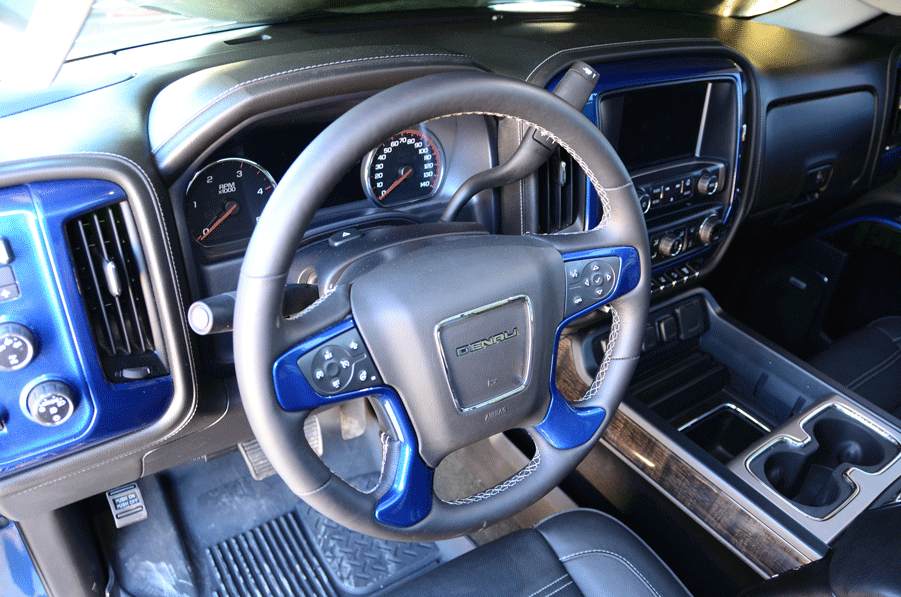 There's an old Texas saying about "all hat and no cattle," referring to somebody who talks big but can't deliver. That's certainly not the case with Zubia's GMC, since it has an array of other upgrades that are all tough as Texas. For instance, don't mess with those Fusion bumpers, which could push through a herd of longhorn cattle if need be. The aptly named Bushwacker fenders and Gravel Empire grille add to the truck's rugged attitude, along with Rigid LEDs and a set of four Monster tow hooks. For more power, Cory Willis supplied a PPE tuner so Sanchez could enhance the output by about 150 more horses. For better breathing, he also added a five-inch Flo-Pro turbo back exhaust dressed in a chrome powder-coating.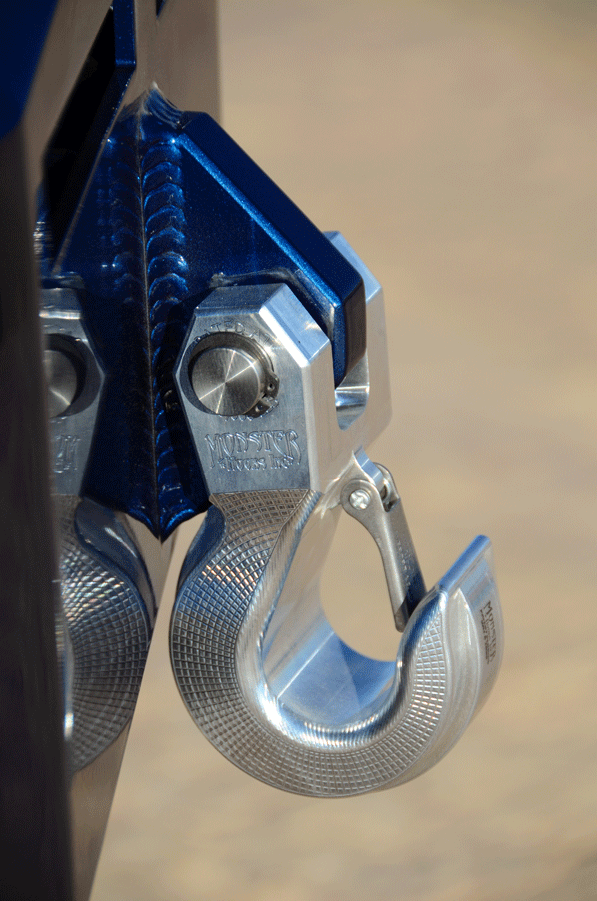 But there's a softer side to this GMC as well, with a Bedrug in the cargo area and AMP PowerSteps that make it easier to climb into the raised cockpit. The cabin glass is tinted to cut down on glare, and the taillights are tinted dark as well, using a bit of black paint in the clear coat. All told, this GMC is obviously no work truck, but a weekend warrior, built in just a couple weeks for SEMA (along with three others from the Da Drop Shop). Once at the show, it showed nicely in the Cognito lineup. "A lot of people complimented it with comments like, 'That's a sick truck,'" Zubia says with a note pride. Sanchez agrees: "It's a very likeable truck. People were really impressed with the color match on the frame. That little detail made it stand out."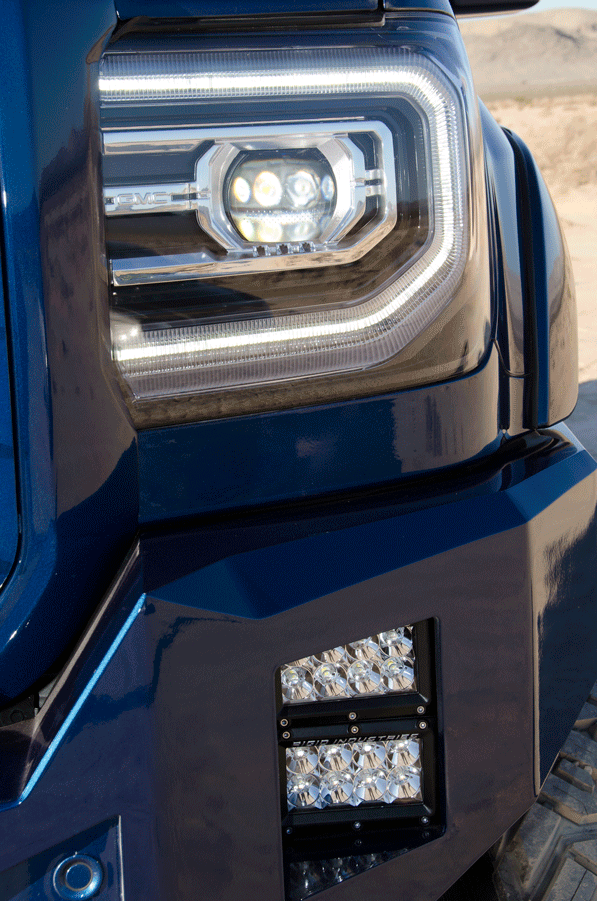 How was the drive from Midland to Las Vegas and back? Even with the tall profile and big meats it rode fairly smooth, Zubia says. Once he returned to Midland, he joined up with a posse of pickups to help with a Toys for Tots fundraiser.
In general, Fernando Sanchez appreciates working with Jesus Zubia on all his pickups. "He's really pretty mellow, and lets me do my thing. He gets down to the point."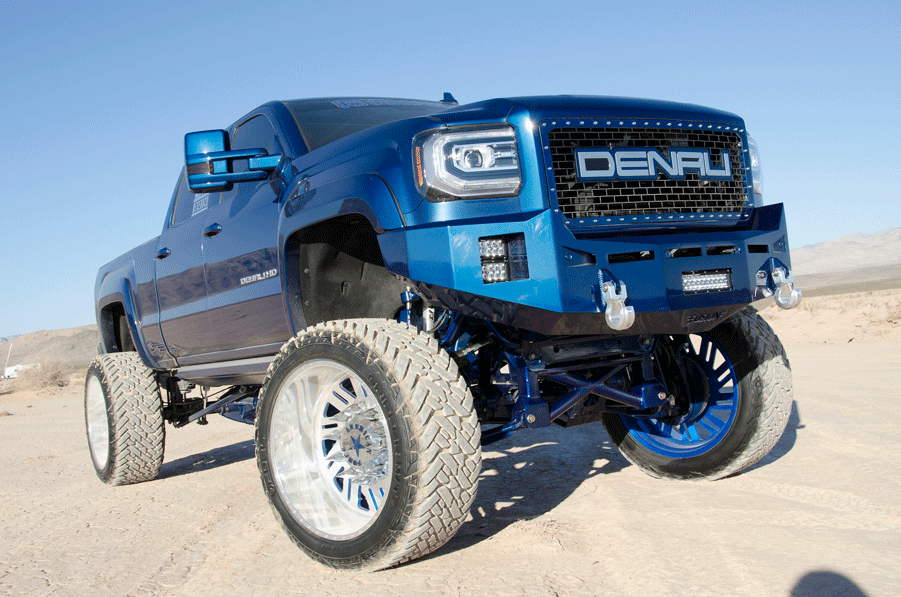 What's the future for Zubia and his project trucks? He already has plans for another cutting-edge pickup with—get this—28×14 rims with 42-inch tires. Some might say that's a tall Texas tale, but to Zubia, it's just another lifted truck from the Lone Star State. DW