With a growing business, Morgan Primm knew he needed a truck to showcase the talents of his shop, Midwest Diesel and Auto in Athens, Illinois. Since Morgan lived firmly in horsepower country, a show truck just wasn't going to make the grade. So, he decided to see just how far he could push the 6.7L Power Stroke engine and 6R140 transmission and purchased a 2011 Ford F-250.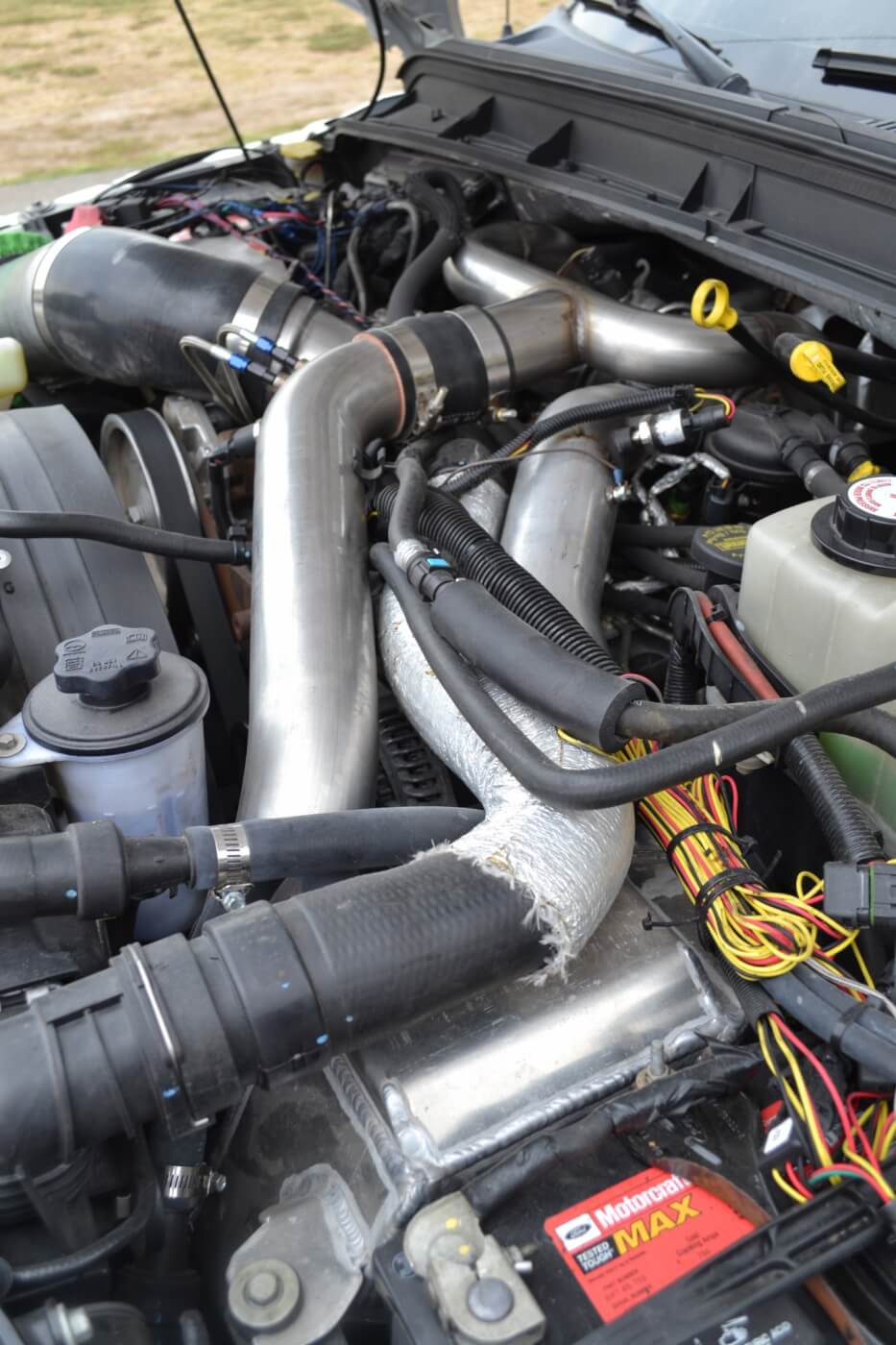 6.7L POWER STROKE
"There were certain weak links in the platform that we knew about," said Morgan. "Our plan was to push an upgraded factory platform as much as we could, without doing anything too exotic." With the type of power he knew he'd be looking for (more than 1,000 hp), a fully built engine was the first step in ensuring lasting performance. The crank and block are factory pieces, but they've been balanced with a set of R&R connecting rods, and cut and ceramic-coated pistons. The factory heads were also ported and secured with ARP studs, with Midwest Diesel supplying its own pushrods and HD springs. Surprisingly, no o-rings or fire-rings were used in the combination.
Morgan Primm decided to see just how far he could push the 6.7L Power Stroke engine and 6R140 transmission.
The upper end of the Power Stroke was also modified with a number of fuel and turbo system upgrades. The fuel side starts with a stock lift pump (surprisingly) which feeds a Midwest Diesel-modified CP4 pump in the valley, with a Fleece Performance stroker CP3 mounted up top. The 6.7L engine's injectors were also set off to Exergy Engineering where they were modified to flow 100 percent more than stock.
One interesting aspect of Morgan's build is that he retained a variable geometry turbocharger. The 2011 unit was replaced with an updated and upgraded '15 turbo, which was further modified with a 66mm compressor wheel (Boost on a hot tune is 45 psi with 62 psi drive pressure). For nitrous use, a 44mm Tial wastegate was also installed with Midwest's own gate kit. The final icing on the cake was a two-stage Nitrous Express diesel nitrous system, which adds an incredible 600 horsepower to the mix when it's jetted all the way up.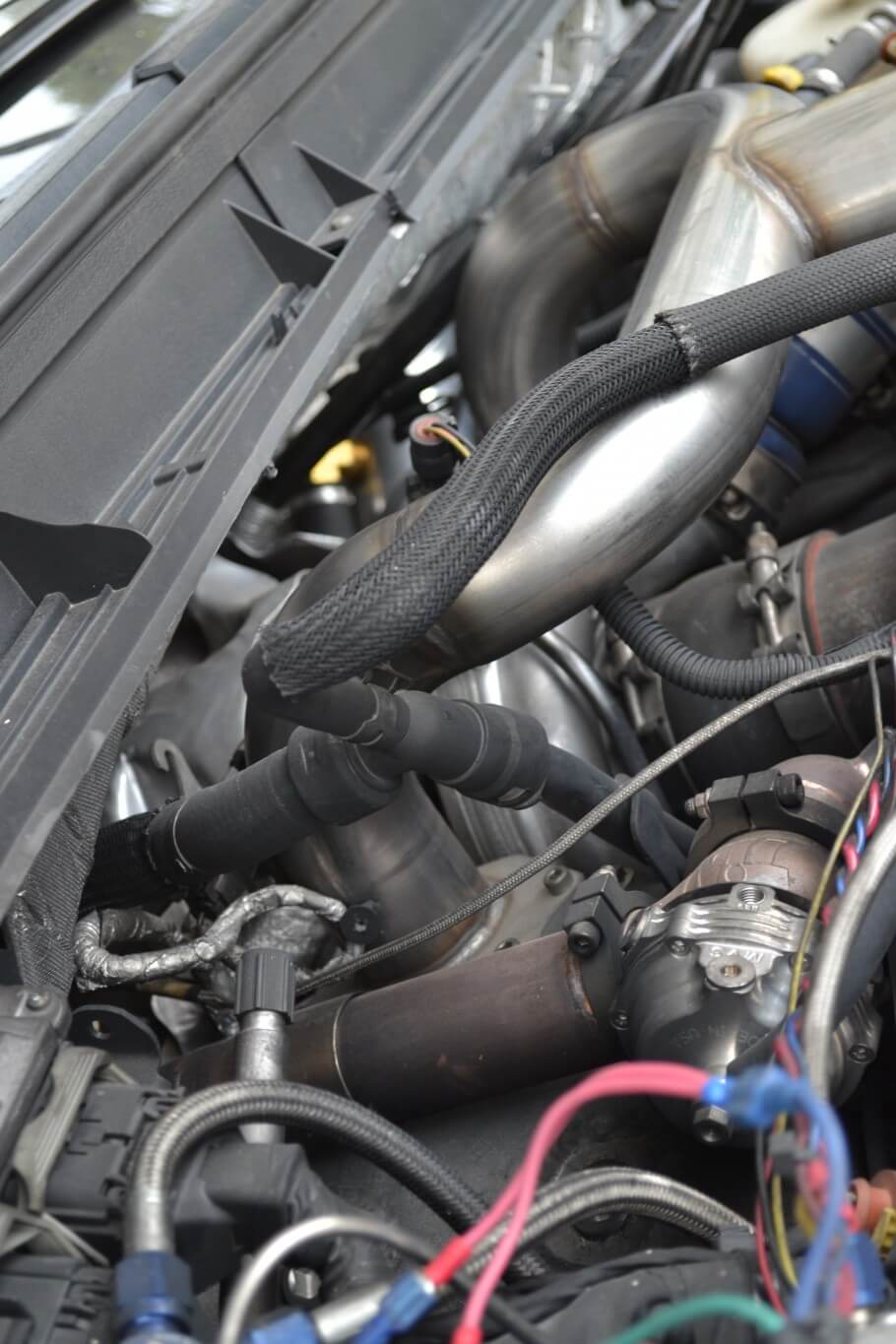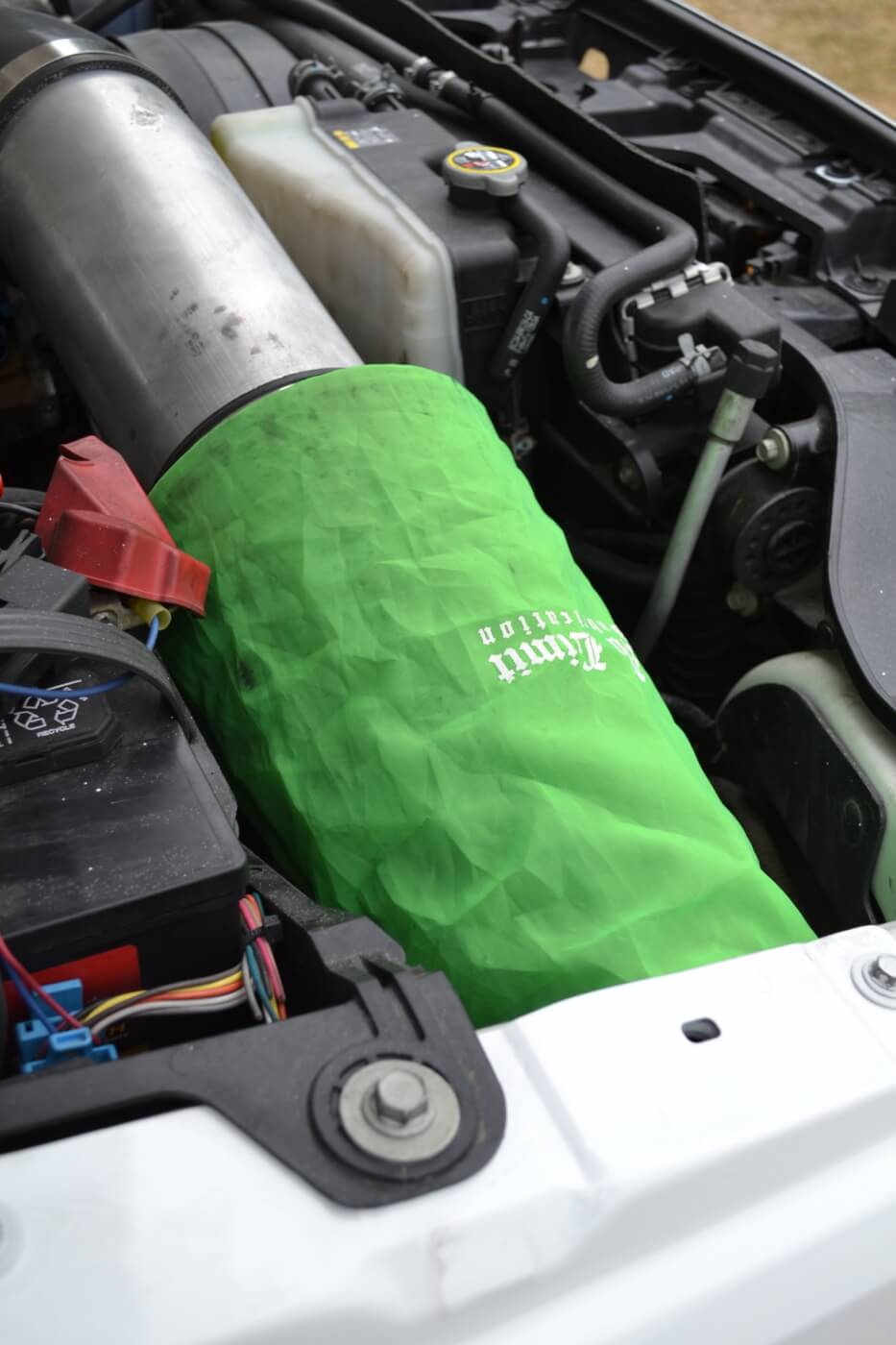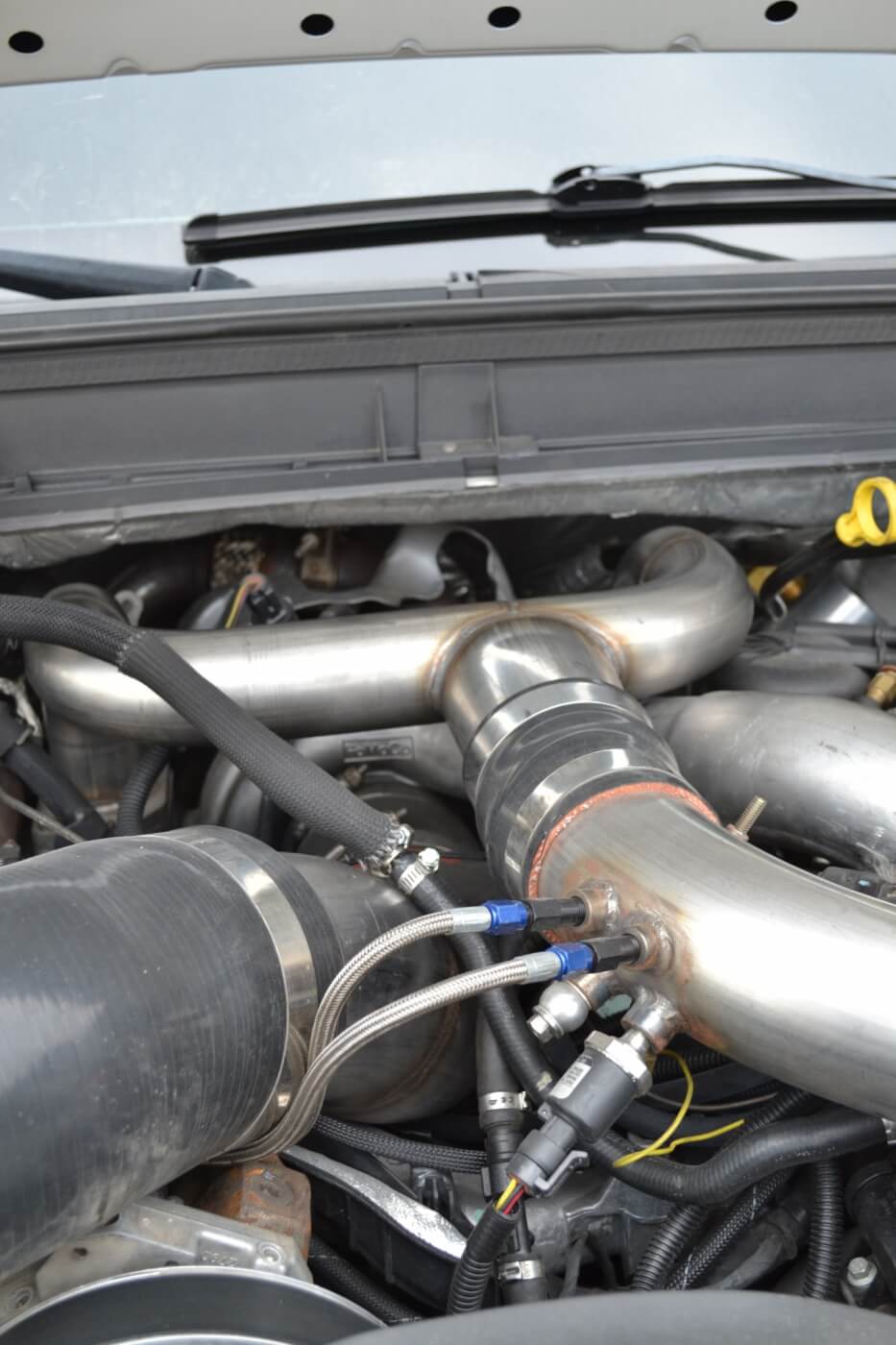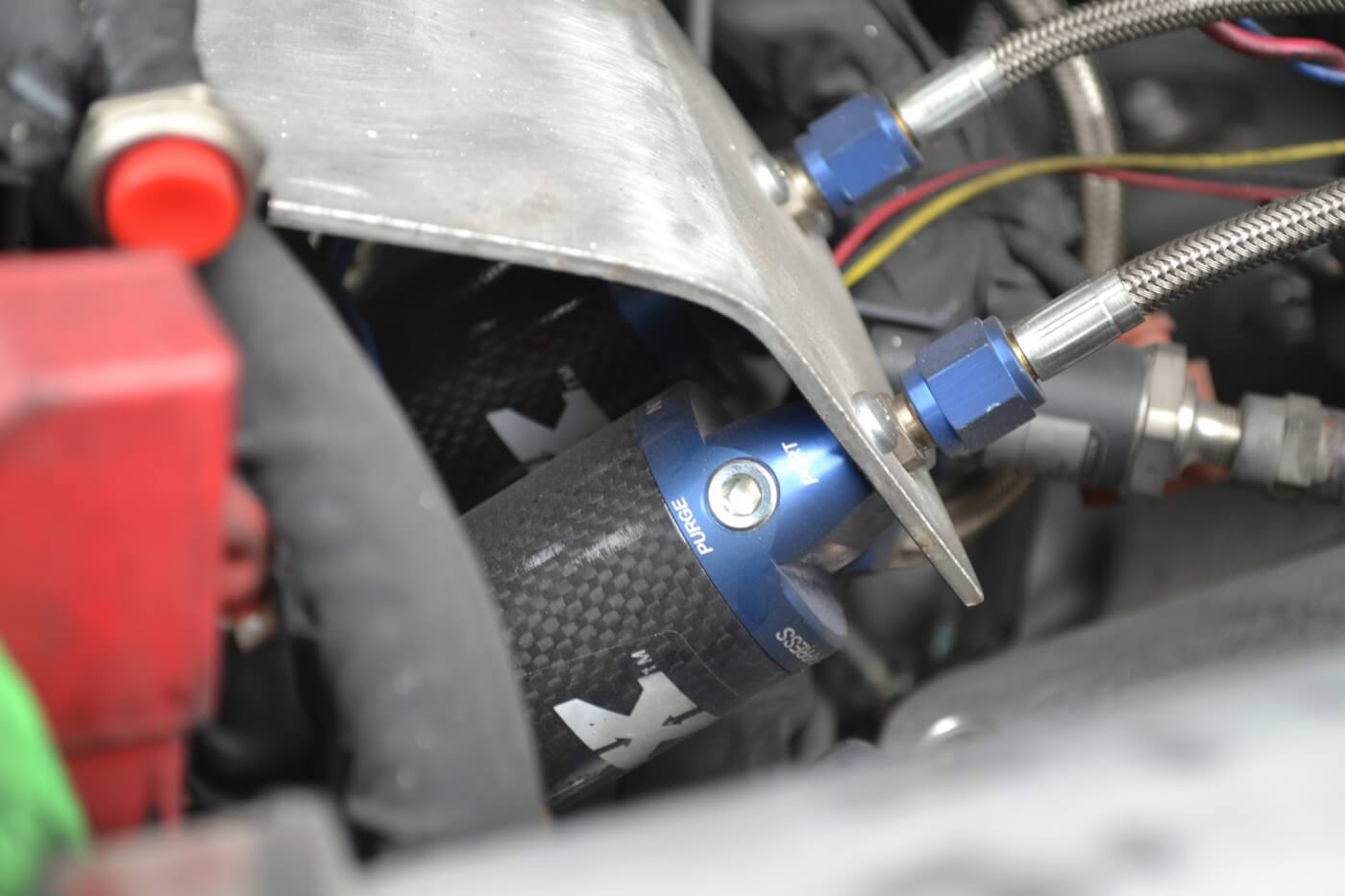 TRANSMISSION WORK
Morgan's experimentation didn't end with the engine, however. He also pushed the limits of Ford's 6R140 transmission. The converter was cut apart and re-stalled to allow quick spool-up times with the larger turbocharger. The internals of the transmission were also modified, as plates were cut and clutches were added to nearly every gear to help the 6R140 hold the power. Finally, Morgan spent hours tuning the transmission himself with the MCC program, including perfecting second gear launches at the dragstrip.
750 rear-wheel horsepower without nitrous, 1,365 rear-wheel horsepower with the bottle.
While a number of parts were developed to be drop-in pieces, that doesn't mean Morgan ended up with a slow ride. The engine makes a little over 750 rear-wheel horsepower without nitrous, and with a 1,000-rwhp tune, it has run an impressive 10.77 at 125 mph at the dragstrip. All-out on the dyno, it put down a whopping 1,365 rear-wheel horsepower and 2,135lb-ft. of torque. True to its shop truck heritage, it's still used to haul and carry various truck parts and pieces around town. When it comes to a "triple threat" truck that can do it all, it's hard to beat Morgan's wild 6.7L Ford. DW